Delicious, buttery Chocolate Chip Toffee Shortbread Cookies recipe. Perfect to bake and share, or freeze for later!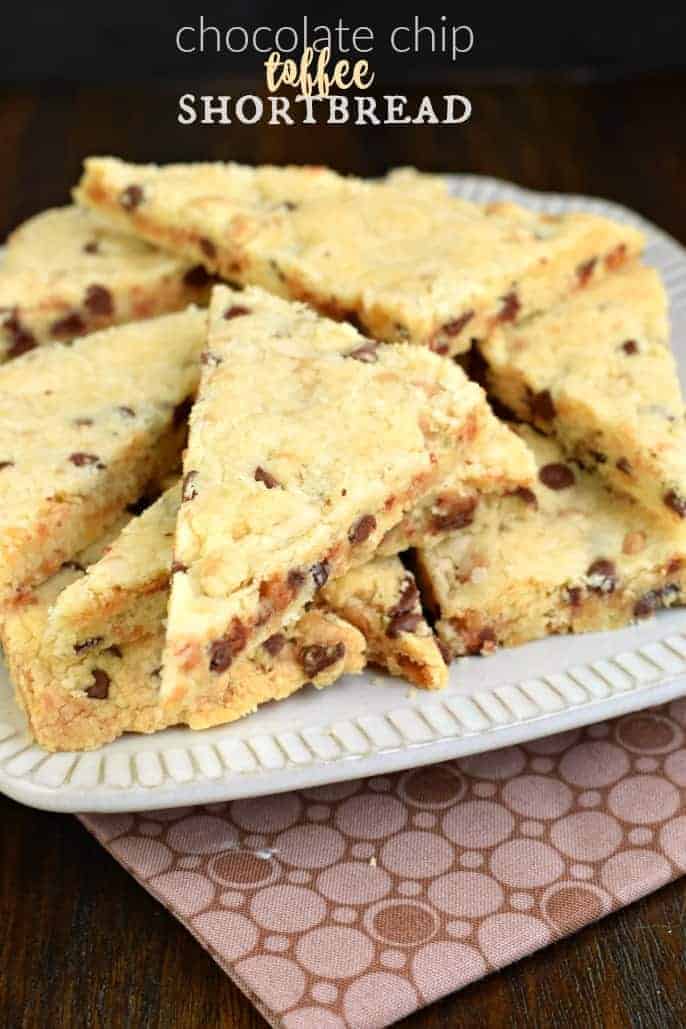 What is a shortbread cookie? I get asked this often, believe it or not. Traditionally, shortbread cookies are made with 1 part butter, 2 parts sugar, 3 parts flour. Easy right?
Unless I'm making a classic shortbread recipe, I change those ratios. Why? Because for example, today's recipe has chocolate chips and toffee in it…2 parts of sugar would be WAY too sweet.
My husband has a coworker who calls them biscuits. Cookies, Shortbread, Biscuits…it's all delicious to me!
How to make Shortbread Cookies
First, beat your softened butter with the powdered sugar, vanilla, and almond extracts until creamy. This takes about 3-4 minutes. Add in your flour, mini chocolate chips, and toffee pieces. Blend until fully combined. The mixture will be crumbled and soft.
Pour your dough onto a parchment paper lined baking sheet. Using your hands, pat the dough into a large rectangle. The dough may be slightly crumbly at first, but keep patting until the dough is the same thickness throughout, and you'll want it to measure about 12″x 10″, and be about 1/4″ thick.
In a 350 degree F oven, bake cookies for 20-25 minutes. The edges will begin to lightly brown. Remove from oven and immediately use a sharp knife to cut the cookie bar into strips. I cut large rectangles, then cut them into triangles for a fun shape. Allow these cookies to cool completely.
Store in an airtight container at room temperature for up to 7 days. ENJOY.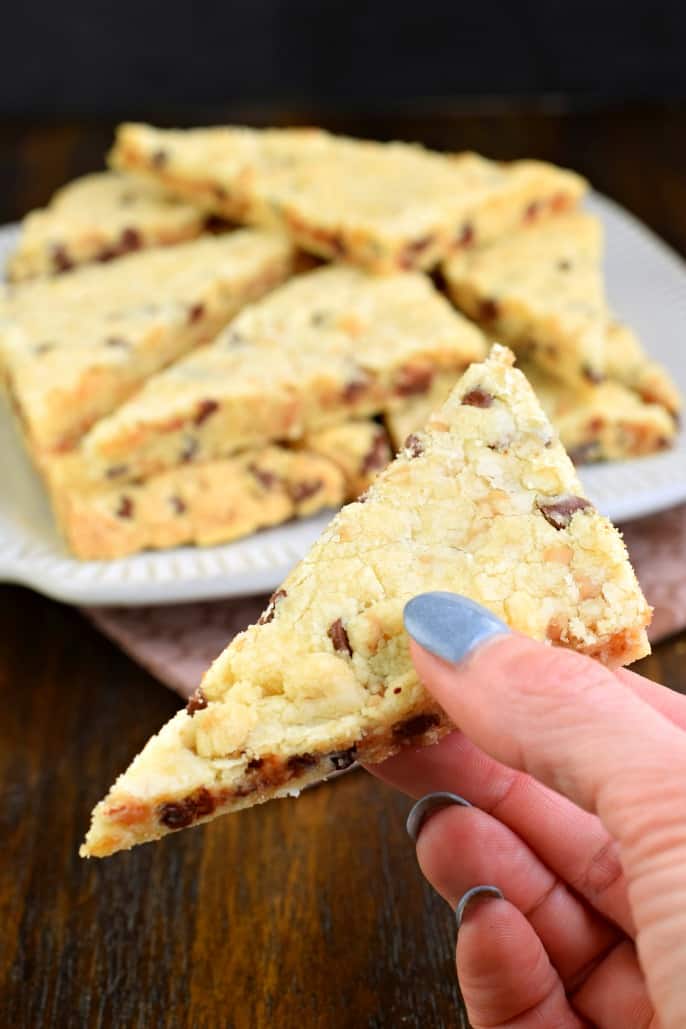 Frequently Asked Questions
Q: Why do shortbread cookies spread when I bake them? 
A: Typically if you're finding that your cookies are spreading, I suggest you chill your dough before baking. This allows the fats (butter) to re-solidify making it more difficult to spread in a short baking time.
Q: Why is my shortbread dough crumbly?
A: This is normal. For the most part. First, double check your ingredients to make sure that you have used the correct amounts. Second, remember there are no liquids, so the dough will be more crumby. When you drop the dough onto your parchment paper, if it's still crumbly, use your warm hands to help press it back together (if your hands are cold, run them under some warm water for a minute!).
Q: Can I substitute margarine for butter in shortbread cookies?
A: Technically? Yes. However I don't recommend this. First, margarine can be a little more difficult to manage, a little stickier. Second, you can't beat the taste of butter. When you only have a few ingredients, you want them to stand out! In a good way!
Q: How long will shortbread cookies keep? Stay fresh?
A: In an airtight container at room temperature, you can keep shortbread cookies for about a week. If you choose to freeze your cookies, I usually say one month (although if I'm being honest I have totally kept frozen desserts much longer)!
More Shortbread recipes