Delicious, buttery Chocolate Chip Toffee Shortbread Cookies recipe. Perfect to bake and share, or freeze for later! Packed with chocolate chips and toffee bits, these melt in your mouth cookies are fantastic.
We have no shortage of shortbread recipes for you to love. Try my classic Vanilla Bean Shortbread Cookies and these crowd pleasing Whipped Shortbread Cookies next!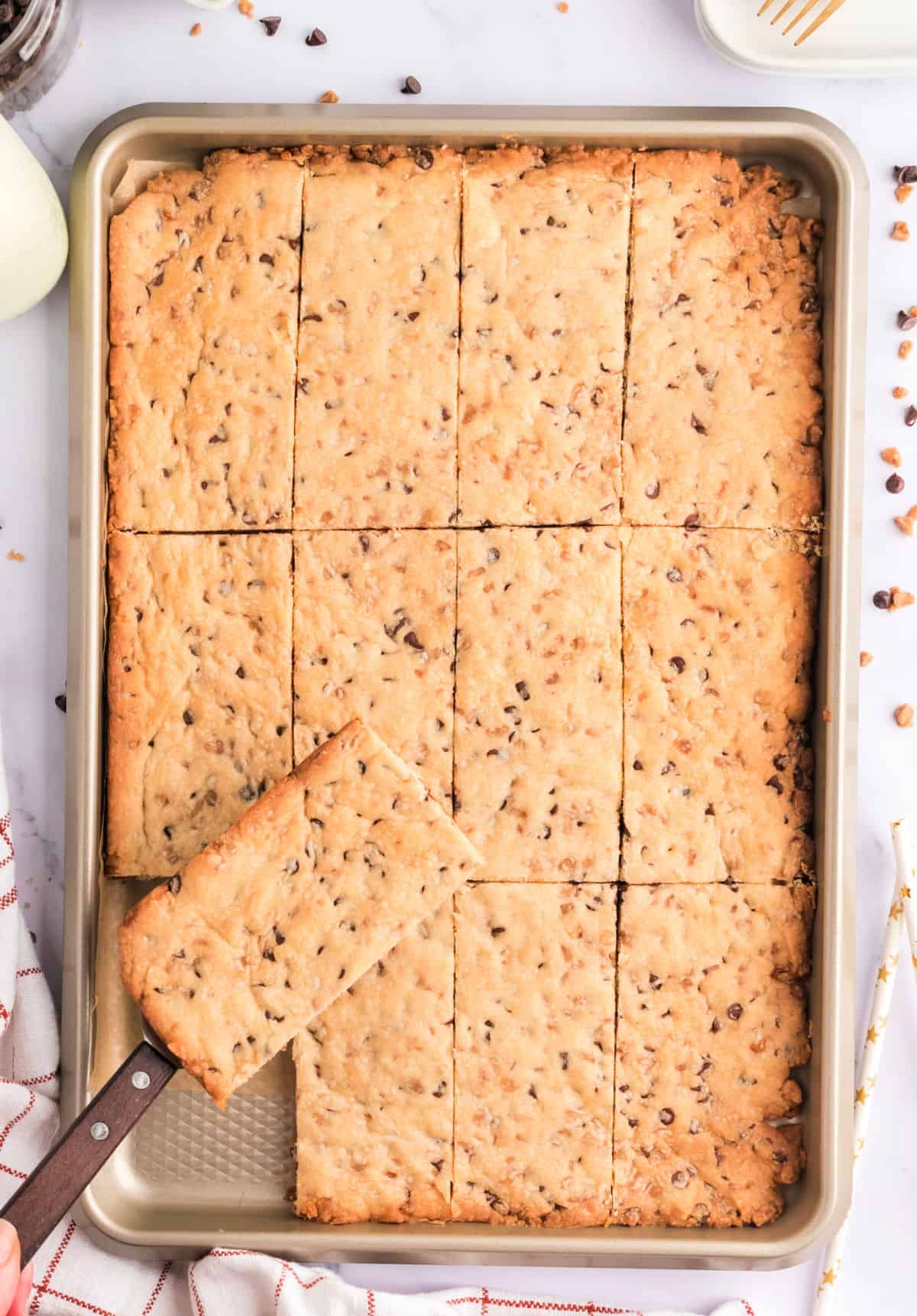 Why This Cookie Recipe Is Best
Shortbread cookies are the perfect "any occasion" cookie.
Need a midmorning snack with your coffee? Have a shortbread cookie.
Serving a fancy tea? Make sure to arrange a few shortbread cookies on the table.
Hosting a dinner party? Pass around a tin of shortbread treats to finish the meal. There is never a wrong time to eat shortbread cookies.
If you love chocolate and toffee together, you're going to adore today's recipe.
Classic sliced shortbread dough.
Filled with sweet chocolate morsels and buttery toffee bits.
Baked to perfection with a crisp consistency that melts in your mouth.
Freezer friendly recipe!
Ingredient Notes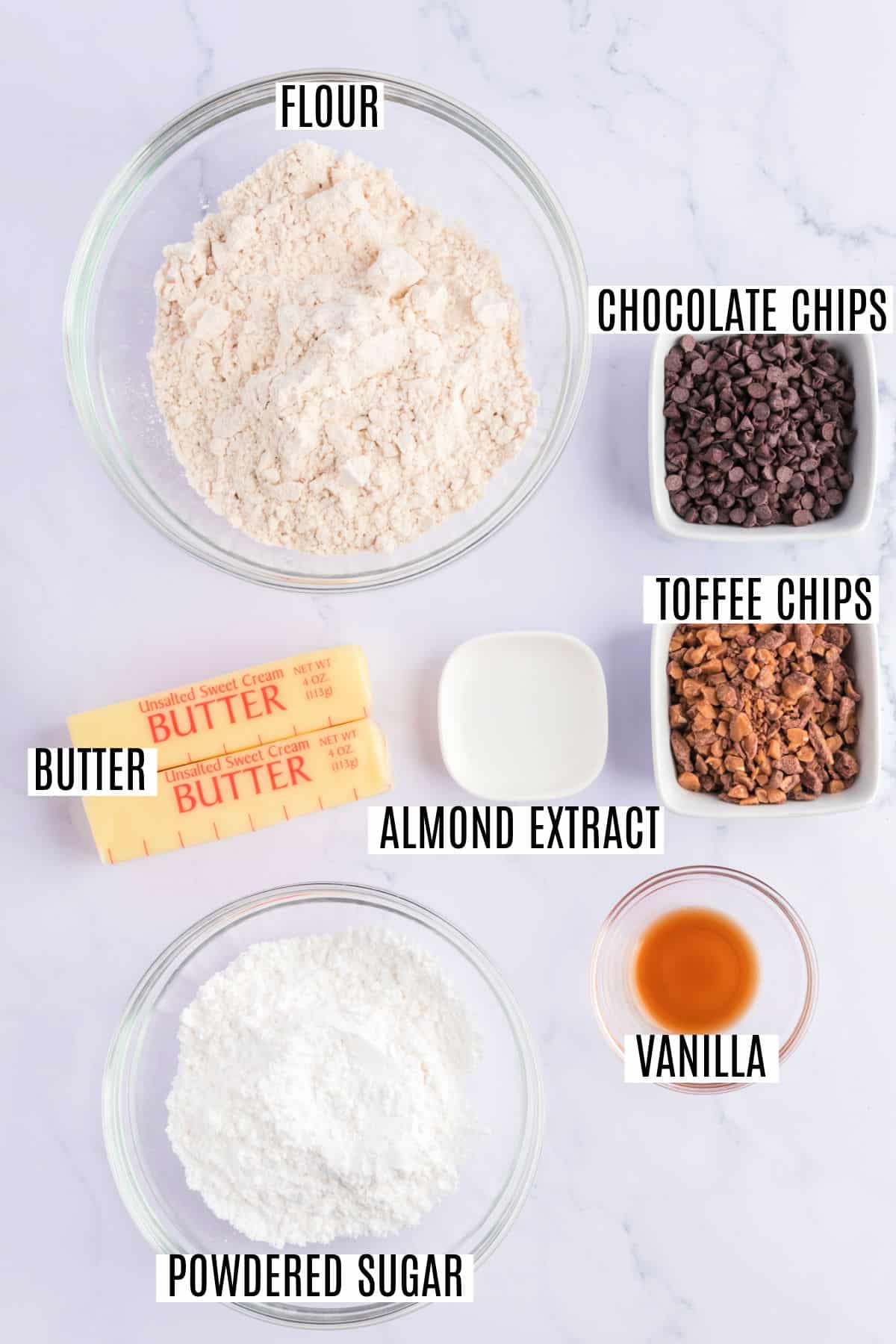 This recipe starts with familiar shortbread ingredients: butter, powdered sugar and flour.
You'll also need a couple of "extras" that make the toffee chocolate chip shortbread cookies so delicious:
Vanilla and almond extract – We use both in this recipe to enhance the chocolate and toffee flavors.
Mini chocolate morsels – Use milk chocolate or semi-sweet, whatever you have on hand.
Toffee baking bits – You can find these in the baking aisle near the chocolate chips.
PRO TIP: Be sure to soften your butter before starting. Forget? No worries, we've got tips and tricks to soften butter quickly.
Easy Assembly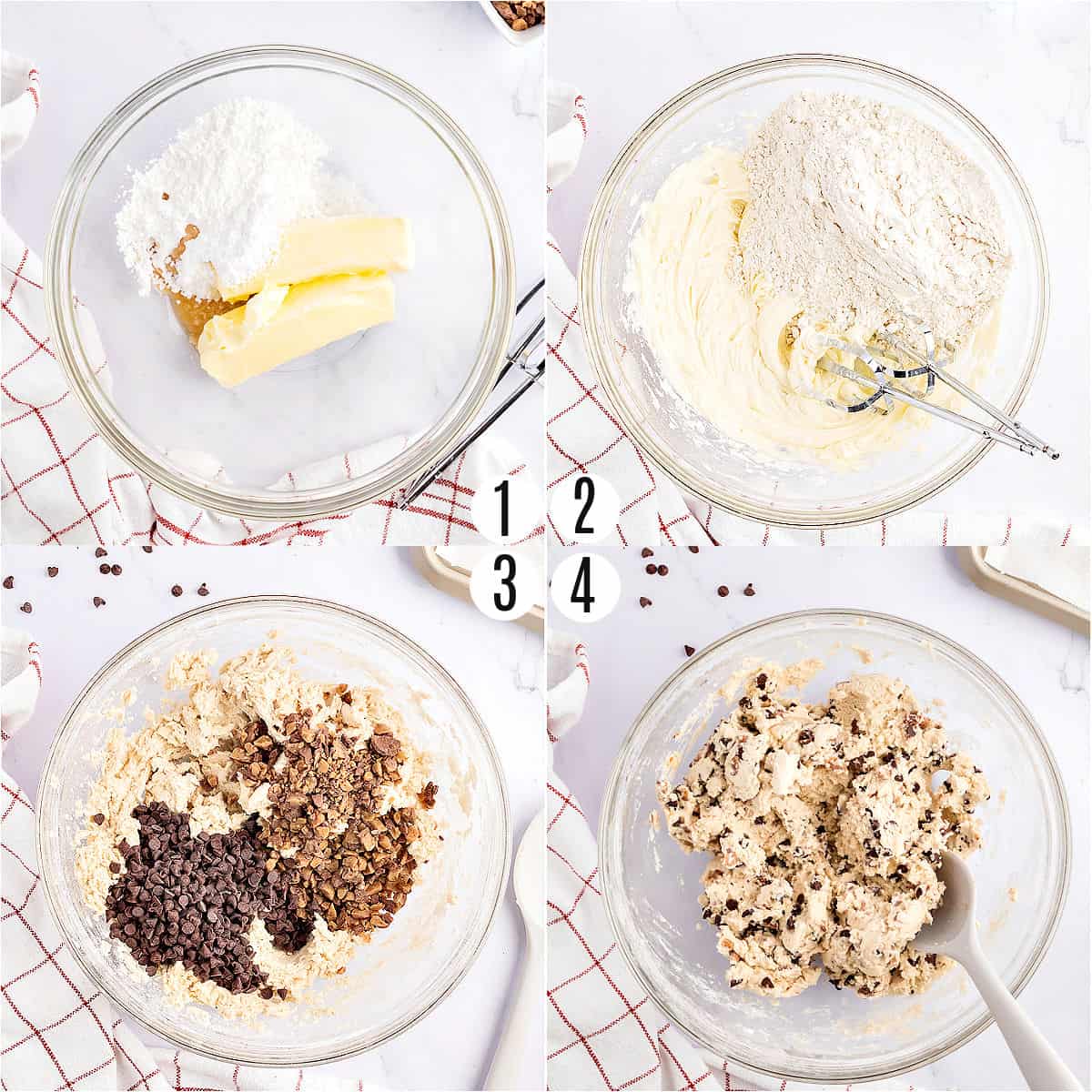 This recipe starts by mixing together a shortbread dough. Fold in the chocolate chips and toffee bits.
The dough will be very crumbly. Use your hands to bring it together into a ball.
Drop the ball of dough onto a baking sheet. Press it into a large rectangle, about a quarter inch thick.
Bake until the edges turn light brown. Immediately remove the shortbread from the oven and slice with a pizza cutter.
Let cool and enjoy!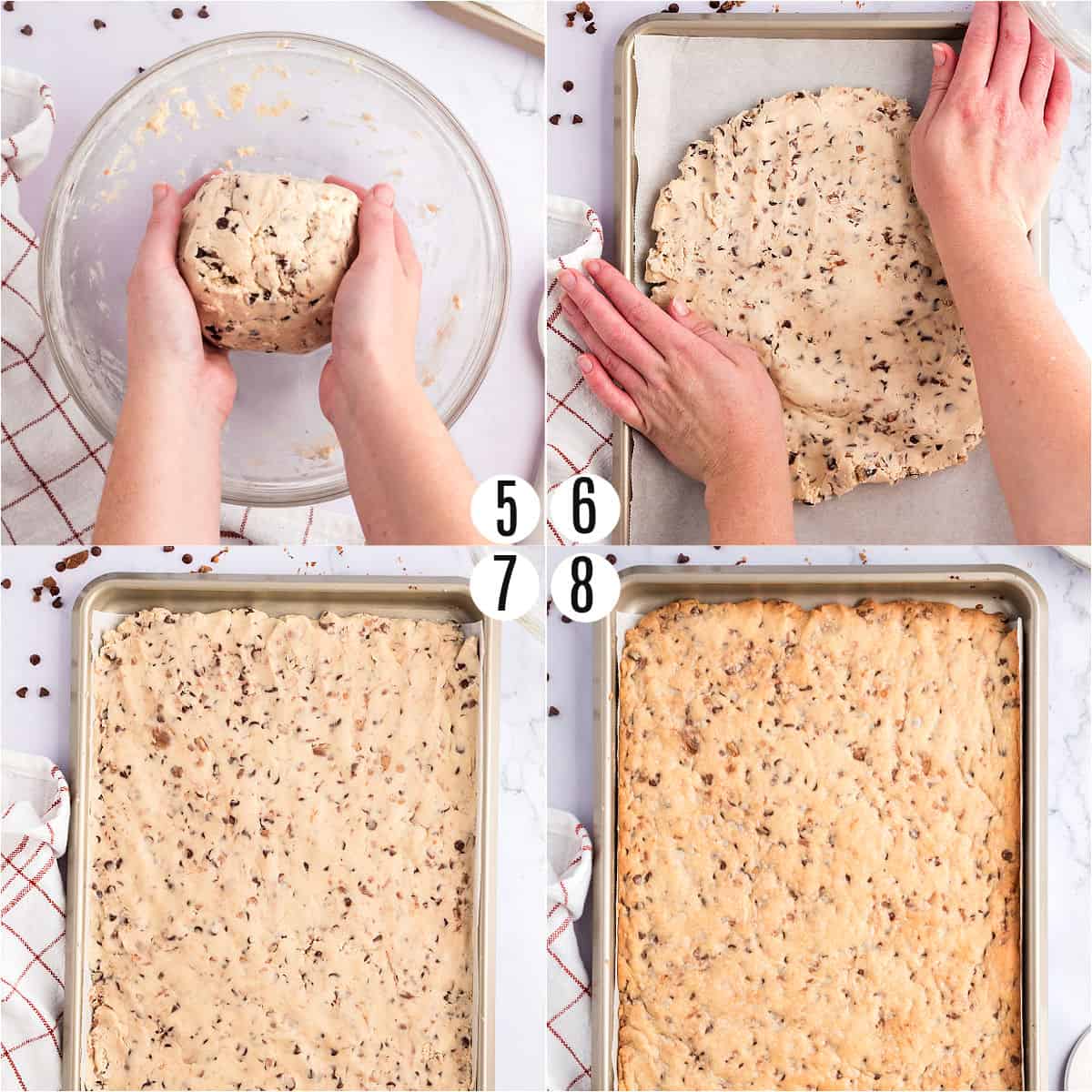 Tips and Tricks
Keep leftover shortbread cookies stored in an airtight container at room temperature.
To freeze, transfer the cookies to freezer bags. Separate layers of cookies with a sheet of wax paper to keep them from sticking together. Store in the freezer and thaw in the refrigerator before eating.
Try this recipe with mini white chocolate chips or a mixture of white and milk chocolate morsels for a delicious twist!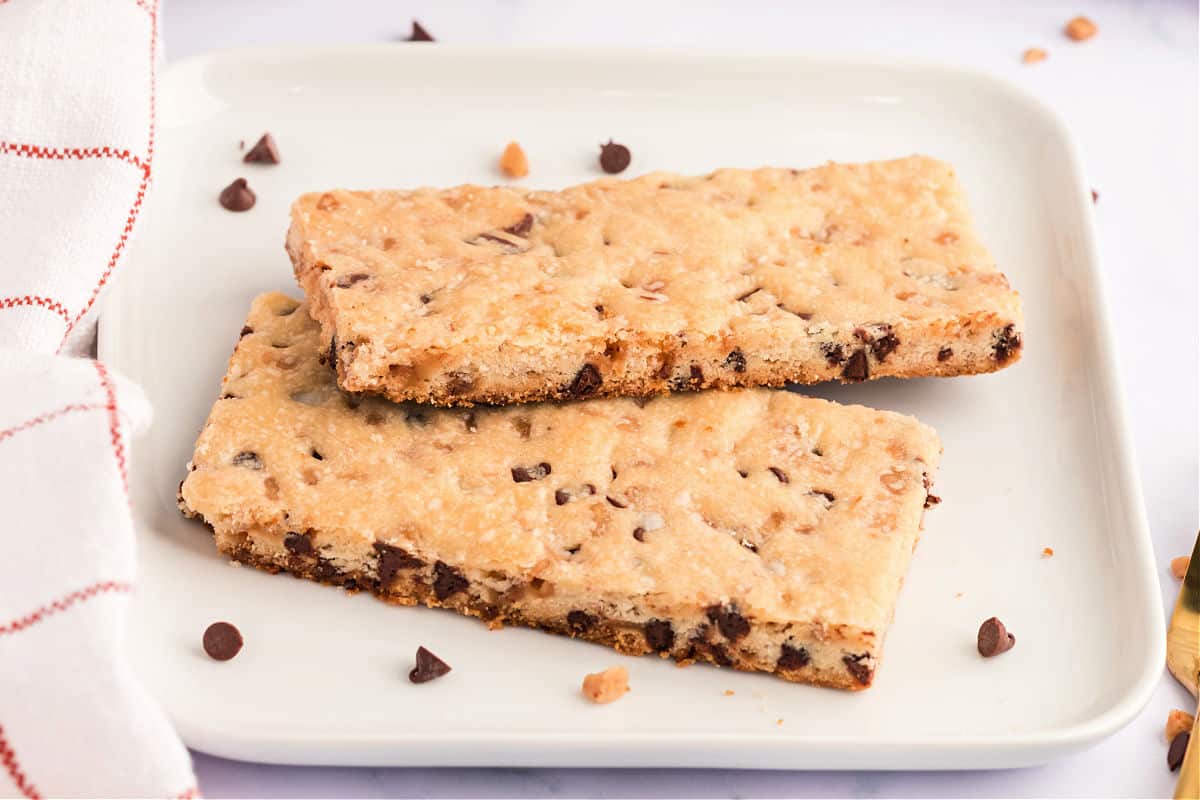 Recipe FAQs
Why do shortbread cookies spread when I bake them? 
Typically if you're finding that your cookies are spreading, I suggest you chill your dough before baking. This allows the fats (butter) to re-solidify making it more difficult to spread in a short baking time.
Why is my shortbread dough crumbly?
This is normal. For the most part. First, double check your ingredients to make sure that you have used the correct amounts. Second, remember there are no liquids, so the dough will be more crumby. When you drop the dough onto your parchment paper, if it's still crumbly, use your warm hands to help press it back together (if your hands are cold, run them under some warm water for a minute!).
Can I substitute margarine for butter in shortbread cookies?
Technically? Yes. However I don't recommend this. First, margarine can be a little more difficult to manage, a little stickier. Second, you can't beat the taste of butter. When you only have a few ingredients, you want them to stand out! In a good way!
How long will shortbread cookies keep? Stay fresh?
In an airtight container at room temperature, you can keep shortbread cookies for about a week. If you choose to freeze your cookies, I usually say one month (although if I'm being honest I have totally kept frozen desserts much longer)!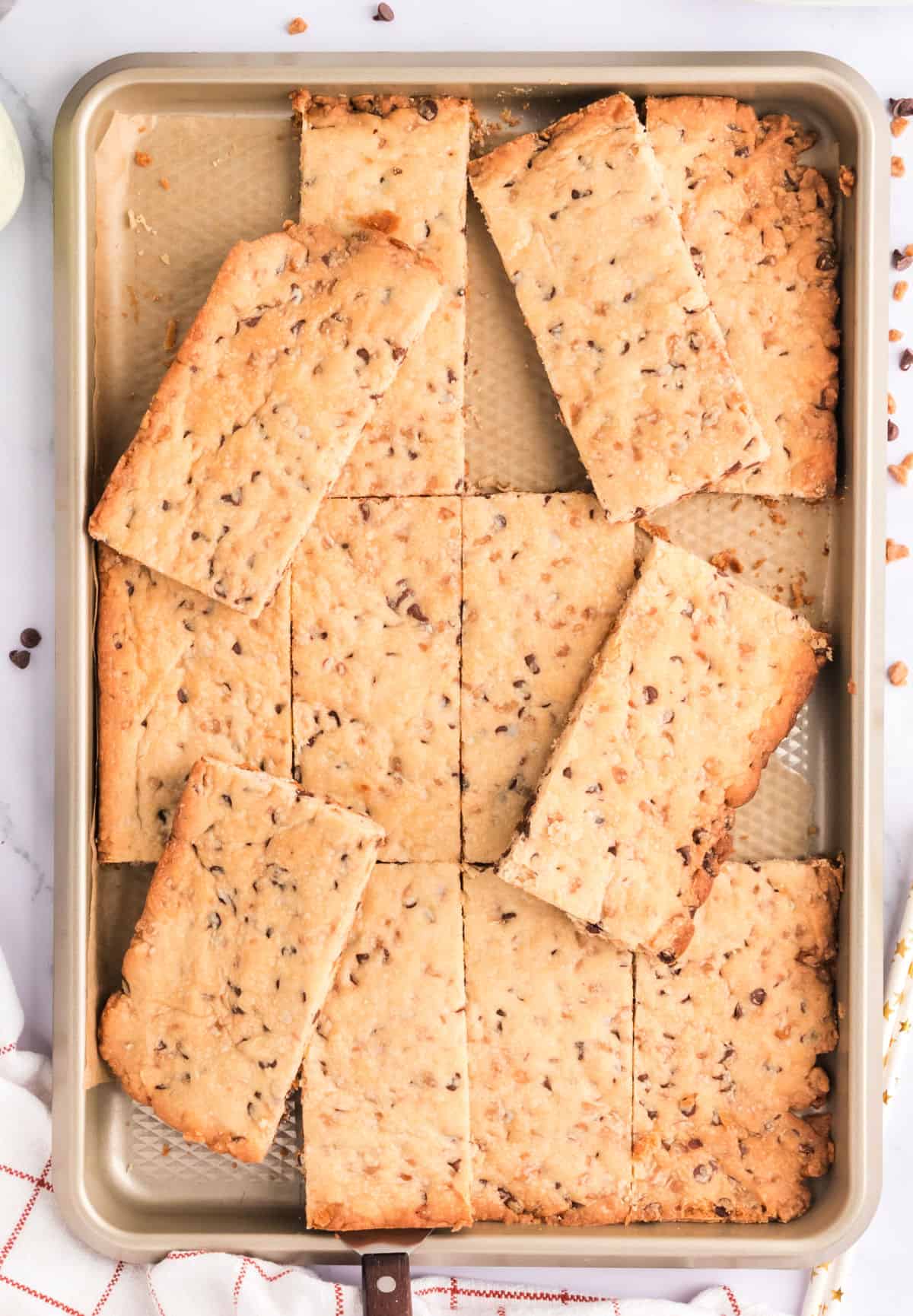 More Shortbread recipes
Homemade Jingles Cookies. Remember these holiday cookies from childhood? My recipe with anise extract is the perfect treat, you've got to try them 🙂
These Almond Bars have a shortbread-like texture with a sweet almond glaze on top!
Love Twix candy bars? My Twix cookies are out of this world, and get devoured whenever I make them! You may want to double the batch! You can even make Twix Cookie Bars if you want to save time.
Chocolate chip toffee shortbread is a decadent, flavorful variation on the classic buttery cookie!