Better than Panera, these Kitchen Sink Cookies are soft and chewy and loaded with chocolate chunks, chocolate chips, pretzel pieces, pecans and caramels. These fun cookies are easy to make in just one bowl, ready in 30 minutes and always a hit!
Stuffing cookies is easy and delicious. Readers love our chocolate chunk cookies. And our cheesecake chocolate chip cookies are one of the best you'll taste. Of course you can't go wrong with an oreo stuffed cookie either!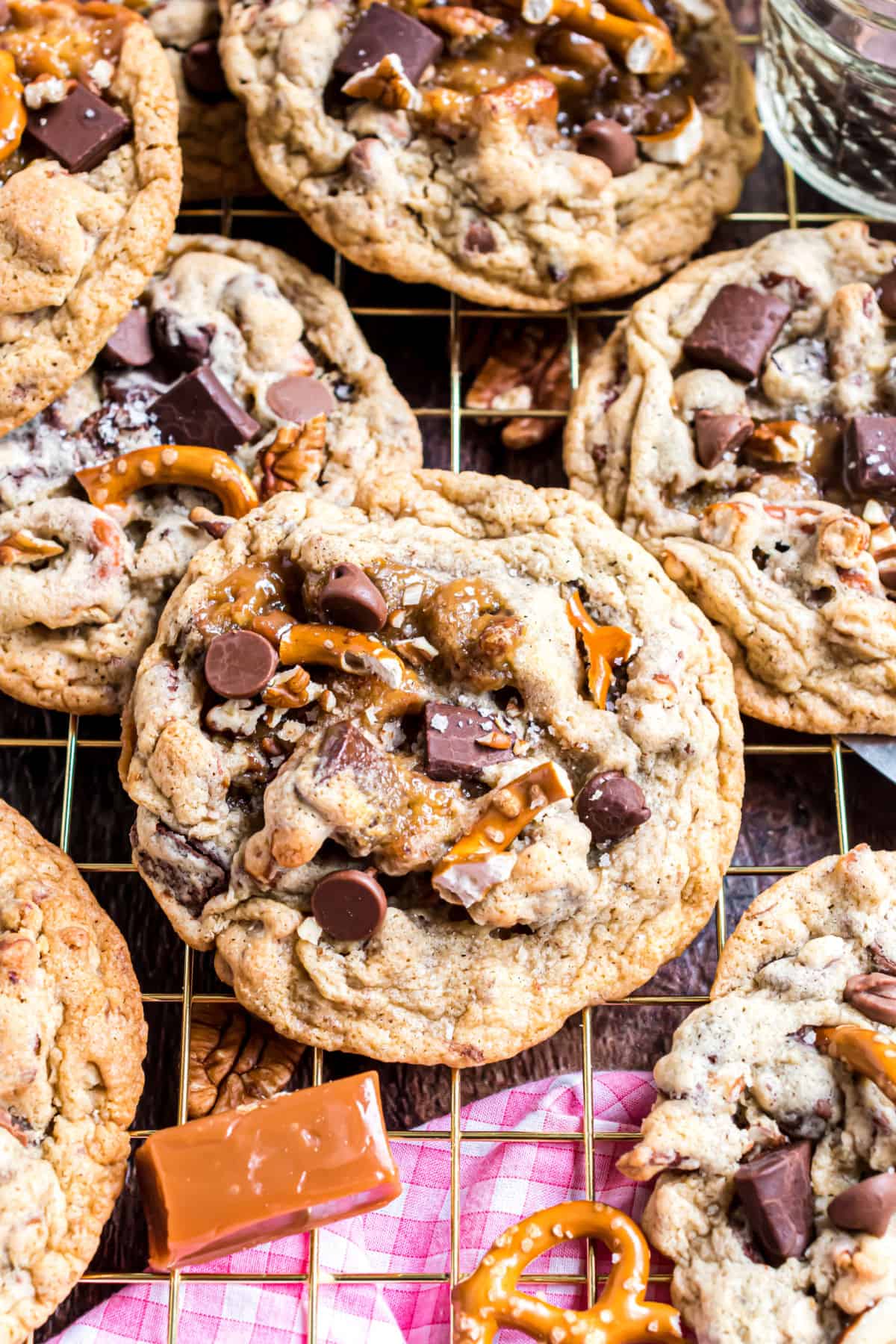 Why These Cookies are Best
Kitchen sink cookies have just about everything (but the kitchen sink) thrown into them! Similar texture to chocolate chip cookies, but with much more added!
We're using semi-sweet chocolate chunks, milk chocolate chips, lightly crushed salty pretzels bits, chopped pecans and tucking a half of a soft caramel candy into the middle of each one.
Kitchen sink cookies are easy to make, even if you're new to baking.
You can switch up the mix-ins to suit your tastes and use what you have on hand. For instance, substitute walnuts for the pecans or use toffee instead of caramels.
These cookies are similar to the ones you've seen at Panera, BUT we're adding nuts to make them even more epic.
Some kitchen sink cookies include potato chips, but these do not. The pretzel bits give the perfect crunch and salty flavor.
Every bite is a flavor explosion of sweet and savory and soft and crunchy. They are irresistible! Love caramel in your cookies? Try our easy caramel stuffed chocolate chip cookies next!
Love copycat recipes? We made our favorite Crumbl Cookie Dough cookies recently and we're obsessed!
Ingredient Notes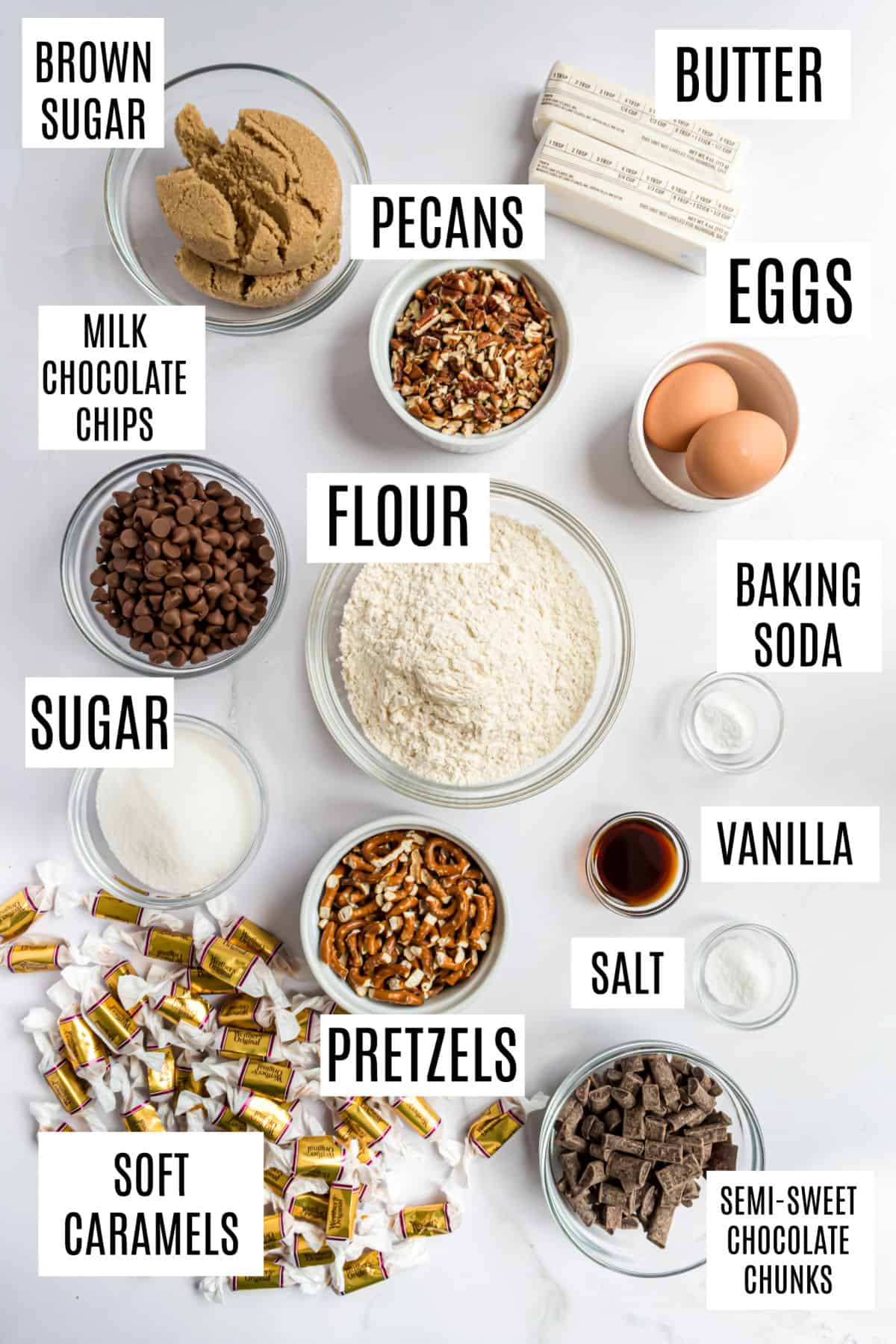 Today's cookie recipe can be made using ingredients you may already have on hand in your pantry. And you can also use simple swaps to suit your preferences.
Chocolate chunks – Semi-sweet chocolate chunks add a fun texture to these cookies. You could also try them with dark chocolate chunks.
Chocolate chips – Milk chocolate chips add some extra sweetness, but semi-sweet chocolate chips would work fine, too.
Pretzels – Just lightly crush the pretzels for this recipe. You still want to have some chunks in the cookies.
Caramels – This recipe was tested with Werther's brand SOFT caramels, which are different from Werther's hard candy. The Kraft caramels that are individually wrapped will work too. You need 1/2 of a caramel for each cookie.
Easy Instructions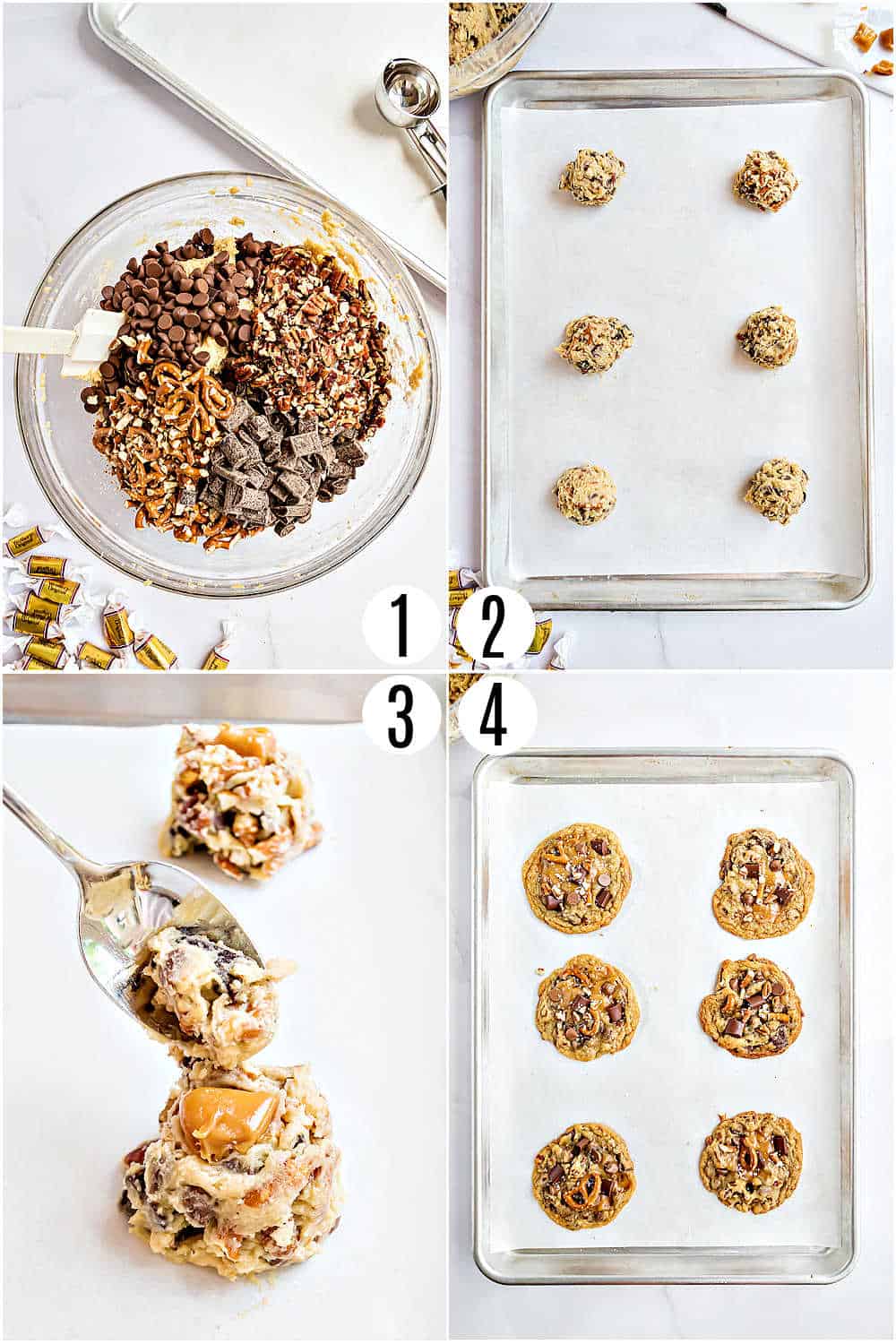 STEP 1. Make the cookie dough. Cream together the softened butter and sugars until light and fluffy. Add the eggs and vanilla extract and combine, then add the dry ingredients.
STEP 2. Add the mix-ins. Mix in a cup each of the chocolate chunks, chocolate chips, pretzels and pecans.
STEP 3. Prep the Cookies. Shape the cookies, topping each with 1/2 of a caramel and a bit more dough to cover it.
STEP 4. Bake the cookies. Bake the cookies, but be sure not to overbake them! As soon as they come out, press some of the remaining chocolate chunks, chocolate chips, pretzel and pecan pieces into the top of each cookie. Let cool and enjoy!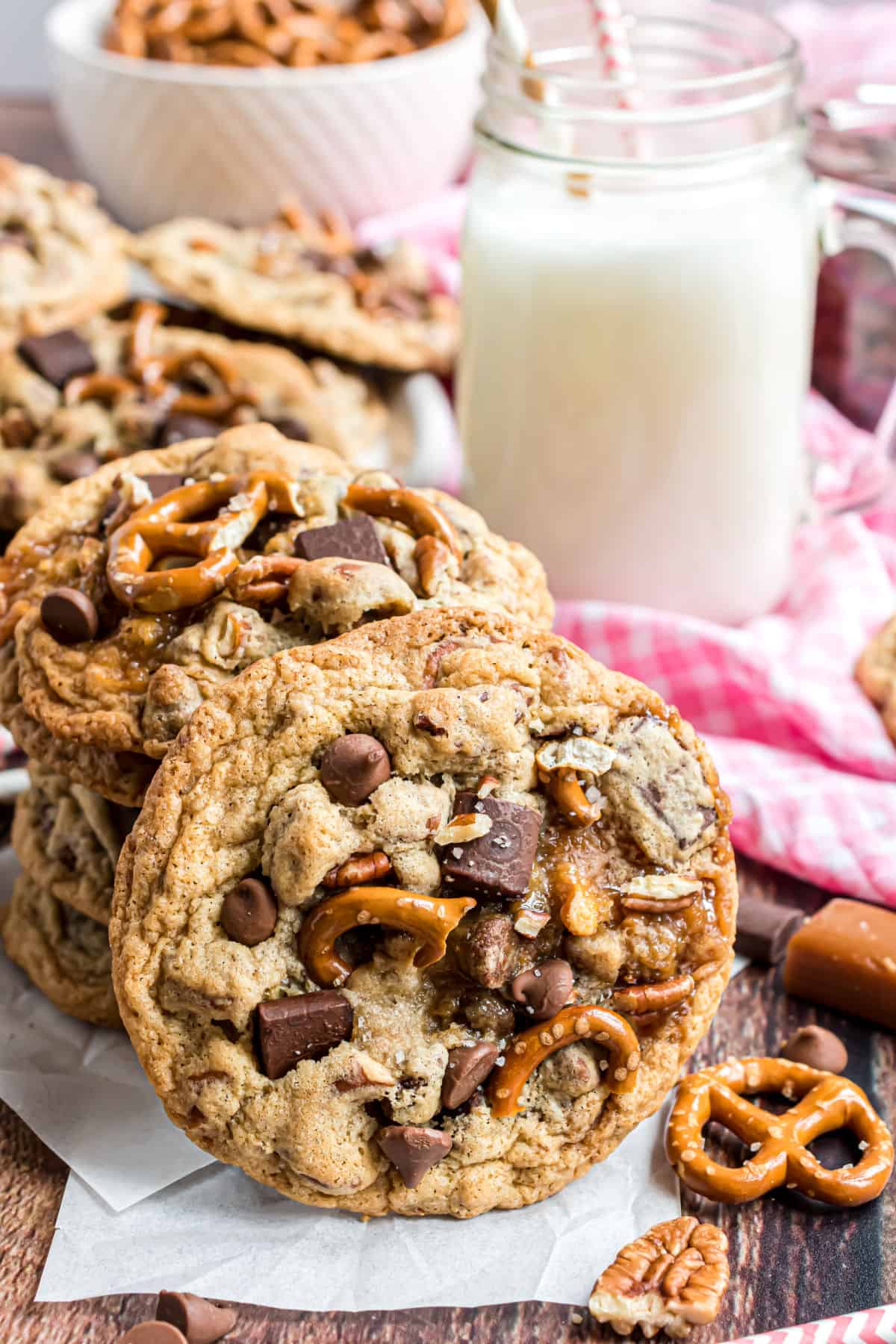 Tips and Tricks
When shaping the cookies, use about 2 tablespoons of dough per cookie and spread them out on your baking sheet with about 2 inches in between cookies. Top each cookie with the 1/2 of a caramel and add about 1 teaspoon of additional dough to cover up the caramel.
You can sprinkle a little bit of flaky sea salt on the top of each cookie if desired. It's a great flavor booster!
Don't overbake the cookies! They are best when they are a little underbaked so they retain their soft, chewy texture.
Do add the extra mix-ins after baking the cookies. Pressing those extra chocolate chunks, chocolate chips, pretzel bits and pecan pieces into the top of the cookies when they come out of the oven makes these look spectacular.
Once cooled, the cookies can be stored in an airtight container for up to 1 week.
Pro tip for a perfectly round cookie: Immediately after taking the cookies out of the oven, use a glass or the ring of a canning lid to "scooch" in the edges and make a rounder cookie.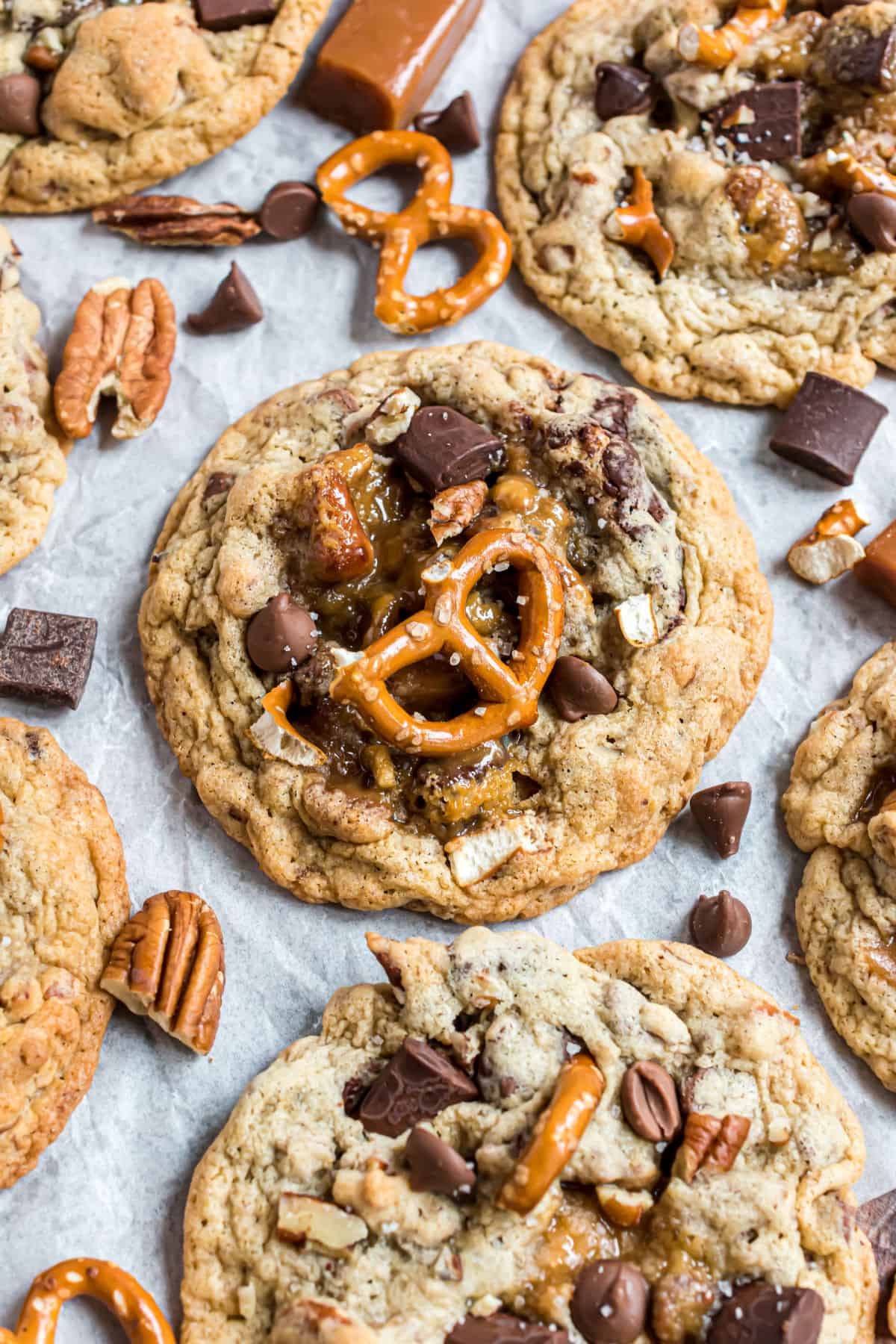 Recipe FAQs
What nuts should I use to make Kitchen Sink Cookies?
Pecans are a great nut to use in kitchen sink cookies, but walnuts will also work.
Can I make kitchen sink cookies without nuts?
Yes! You can simply omit the pecans if you need these cookies to be nut-free.
What kind of caramels should I use for cookies?
Soft caramels are needed for this cookie recipe. Werther's brand soft caramels or the individually wrapped Kraft caramels will work.
Can I use toffee instead of caramel in cookies?
Yes, you can substitute toffee pieces for these cookies in place of the caramel pieces.
Can I freeze kitchen sink cookies?
Yes! Cookie dough may be scooped into balls and frozen, in a single layer, on a pan, then placed in a freezer bag and frozen for up to 2 months. When ready to bake, place frozen dough balls on a baking sheet, and bake 1 minute longer than the original directions.