Peanut Butter Granola Bars
I found a recipe for homemade granola bars in a magazine about 2 years ago. I've been making them ever since. And there are so many lovely combinations you can try! I've done regular chocolate chip and s'mores. Today, I'm sharing another favorite variation.
Peanut Butter Lover's Granola Bars! My daughter celebrated her 14th birthday this week. And she is a true peanut butter lover. So much so that she gets a little teasing for it. She likes peanut butter in and on everything!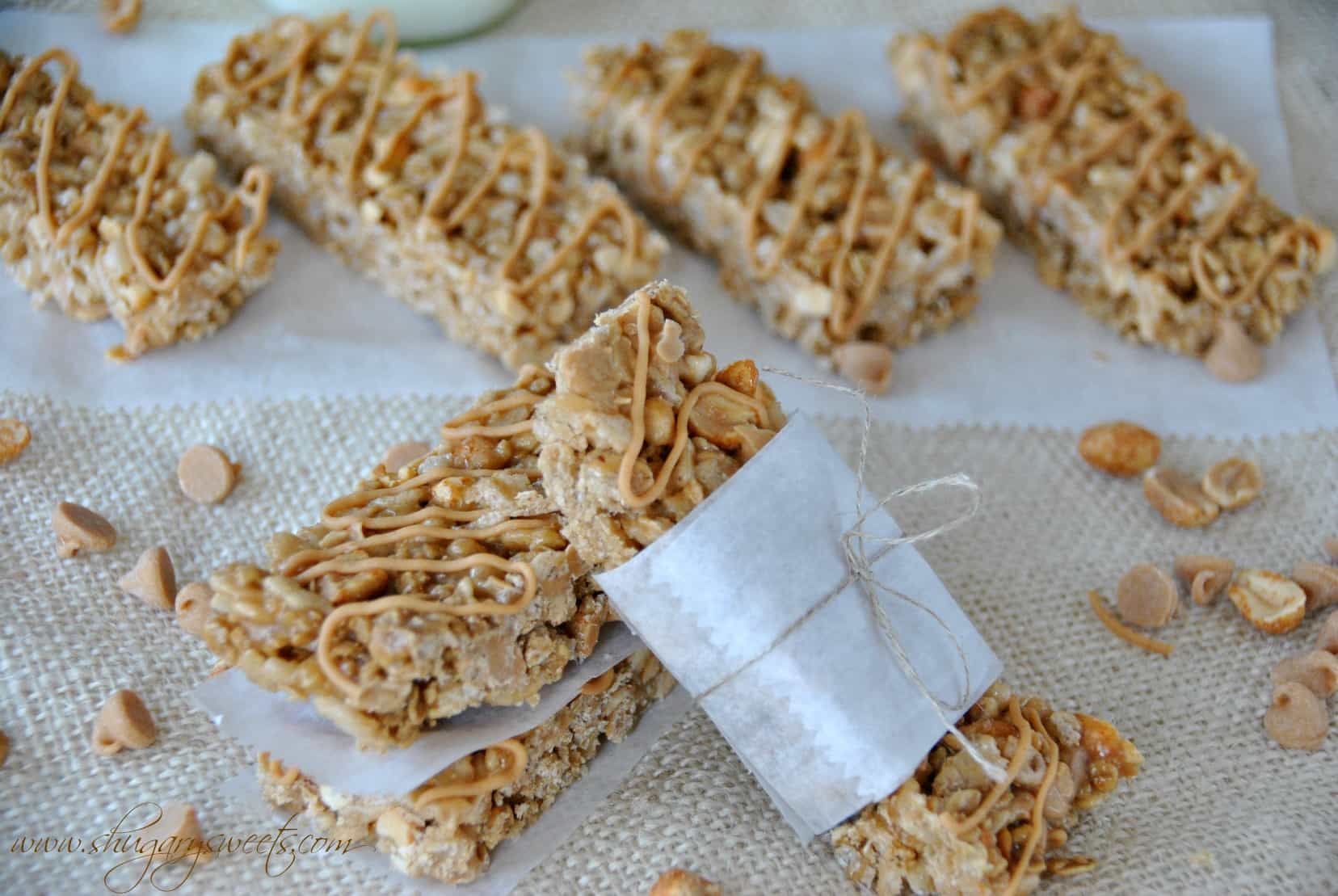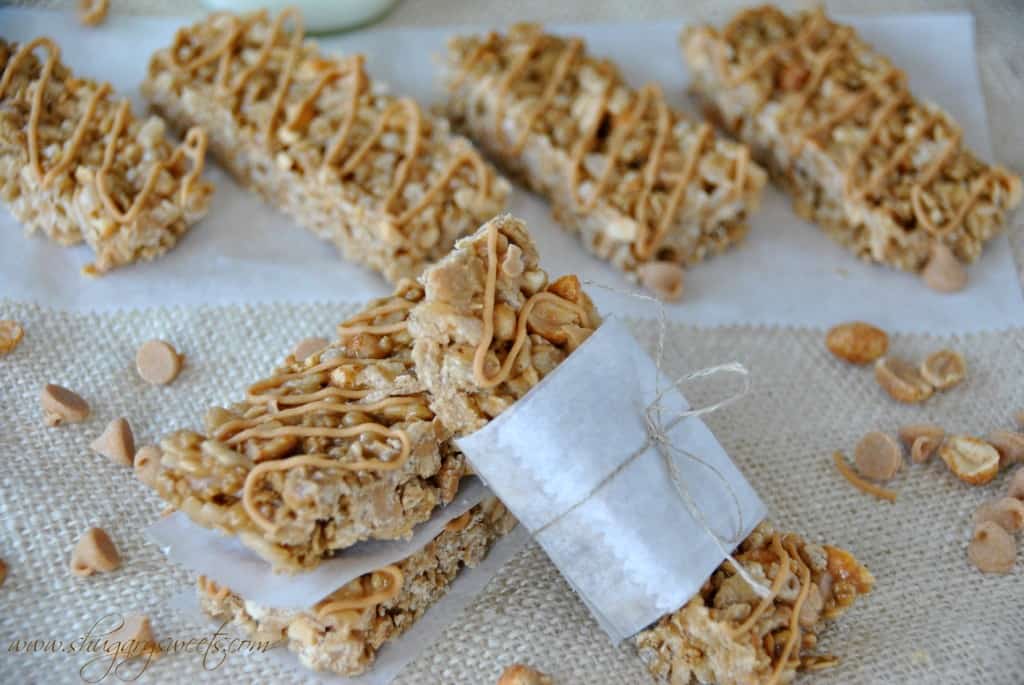 These granola bars are great! After cutting them I wrap them up individually in wax paper and stick them in a sandwich bag. Now we have snacks ready for on-the-go. Which is how we roll around here! 4 kids + tons of activities= on the go
I hope you love these too!
Here are a few of my other favorite snacks for on the go:
Chocolate Chip Granola Bars: move over Quaker! These have some pretzels added, for a little fun salty sweet addition!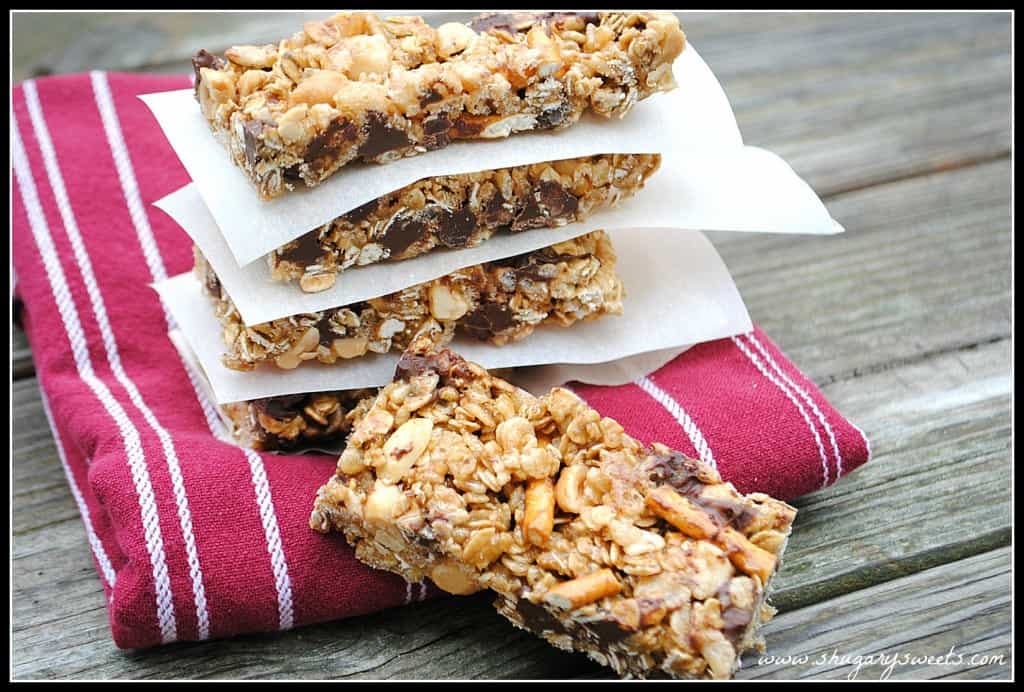 Oatmeal Cream Pies: Just like little debbie, but homemade. Wrap individually so they are ready to go!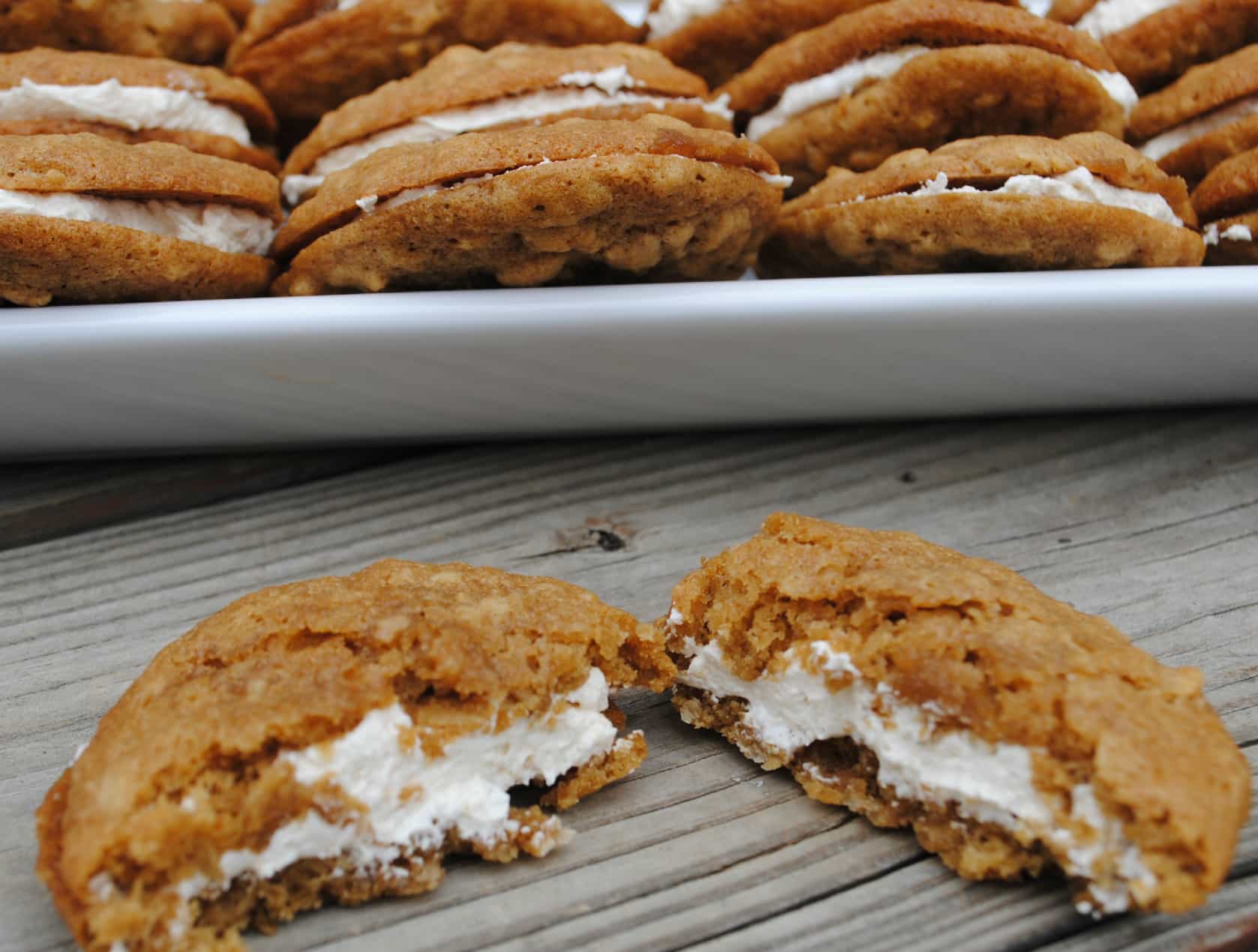 Chocolate Oatmeal Cream Pies: similar to above but chocolate flavored! And perfect for your football fans!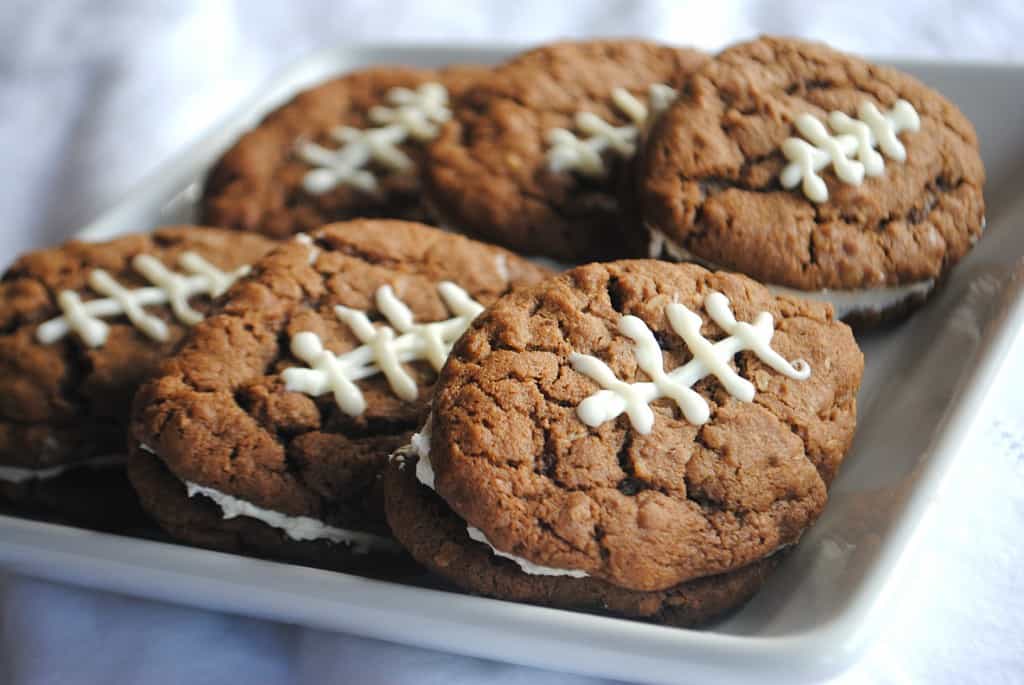 Taco Snack Mix– a tasty mix of all your favorite salty treats. Put in individual bags so they are ready for lunches and snacks!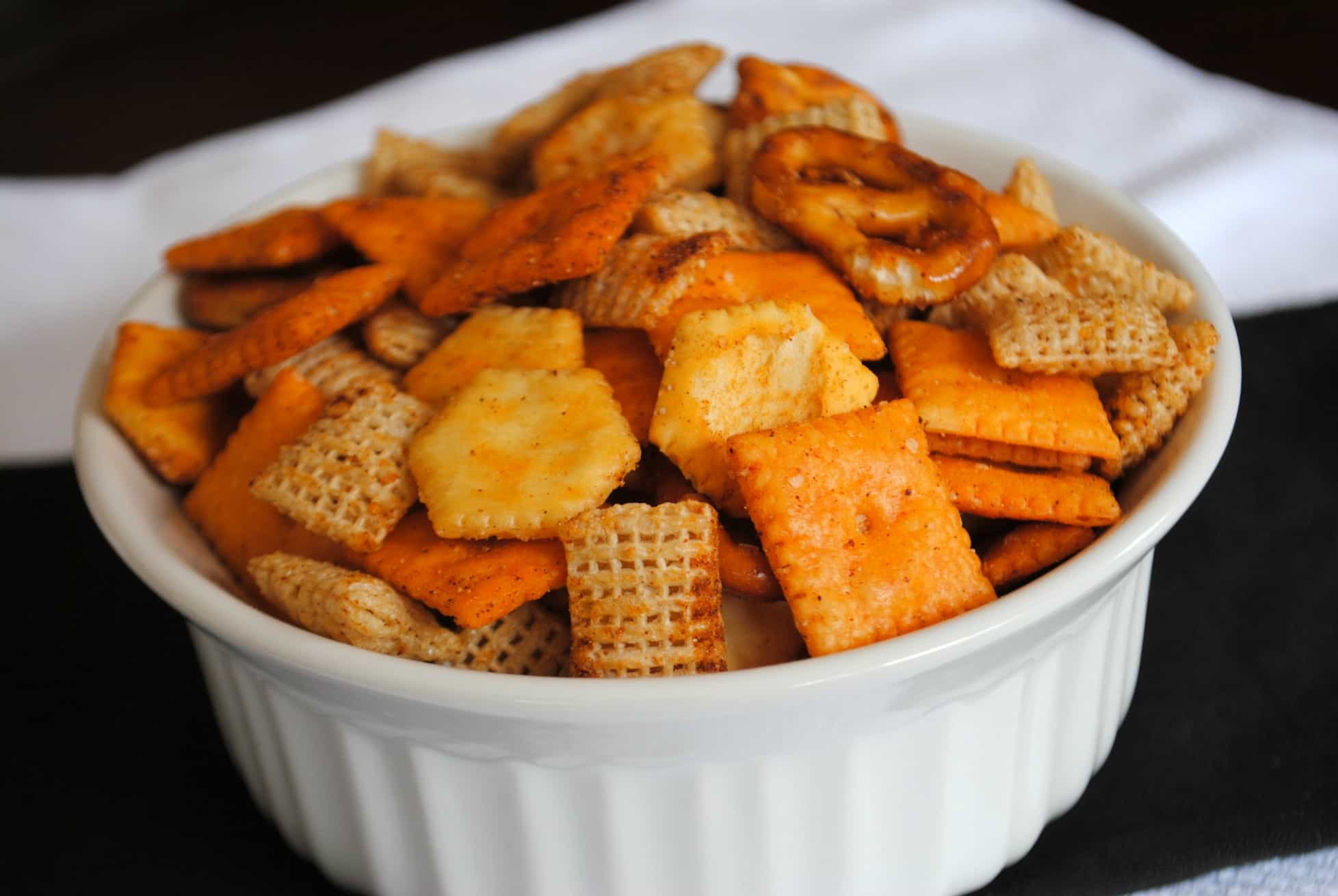 Connect with Shugary Sweets! I know you want to see behind the scenes…check out my instagram!
Facebook | Twitter | Google+ | Pinterest
Yield: 16 bars
Peanut Butter Granola Bars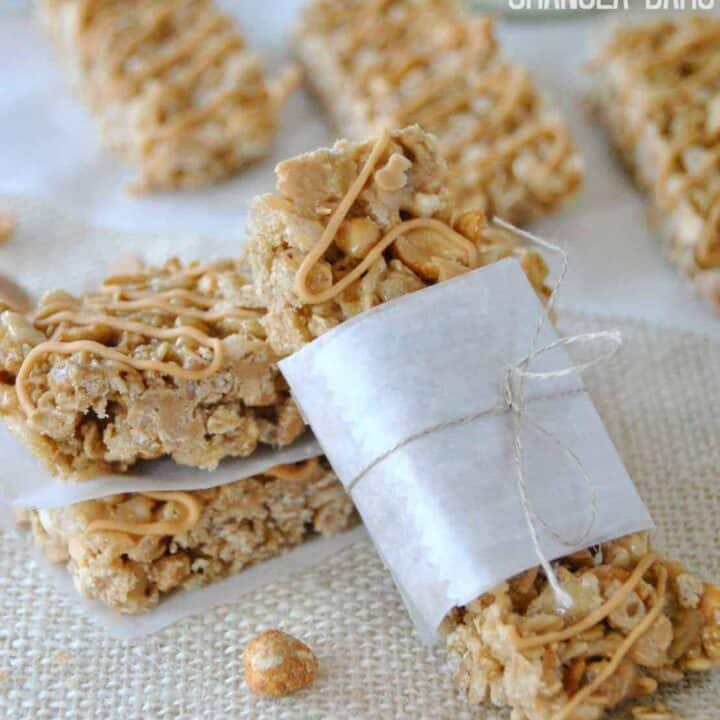 Additional Time
15 minutes
Easy no bake Peanut Butter Granola Bar recipe!
Ingredients
4 Tbsp unsalted butter
1/2 cup brown sugar
1/4 cup honey
1/4 cup creamy peanut butter
2 cup granola (I actually used Cascadian Farm Maple Nut Granola Cereal)
1 cup crispy rice cereal
1/2 cup salted peanuts, chopped
3/4 cup peanut butter morsels (I used Reese's brand), divided
Instructions
In a a large saucepan, heat butter, sugar and honey over medium heat. Bring to a boil, reduce heat to simmer and continue to cook about 2-3 minutes, stirring constantly (until sugar is completely dissolved). Add peanut butter and mix thoroughly.
Remove from heat. Add in granola, cereal and peanuts, folding it onto itself until combined. Fold in 1/2 cup peanut butter morsels. Press mixture into a parchment paper lined 11x7 baking dish. Refrigerate about 15 minutes. Remove and cut into bars (of desired size).
Melt remaining 1/4 cup peanut butter morsels in microwave for 30 seconds. Stir and heat an additional 30 seconds until melted. Pour into a Ziploc bag, snip off corner and drizzle over bars. Allow to set (about 15 minutes). Store bars in airtight containers. ENJOY.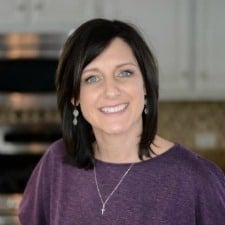 Aimee is a dessert lover (specifically rice krispie treats), workout enthusiast, self-taught foodie, and recipe creator. Her recipes have been featured in over 15 magazines, and her passion is to share her love of cooking with the everyday home cook! Learn more about Aimee.