Easy no-bake Peanut Butter Granola Bars to make snack time more delicious. These homemade granola bars are perfect for peanut butter lovers!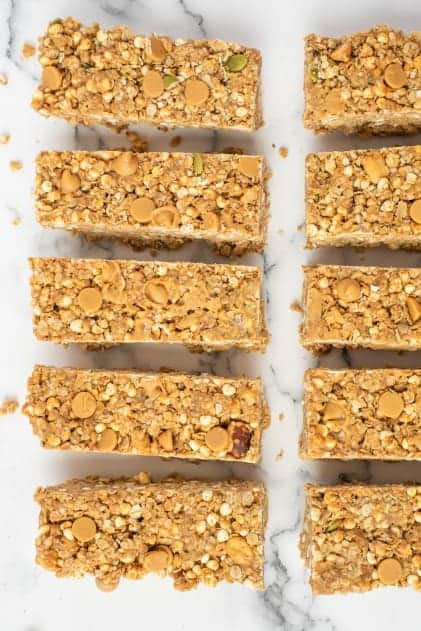 Peanut Butter Granola Bars
When it comes to on-the-go snacking, granola bars are the obvious choice. Tucked into lunch boxes, packed into purses or hiking backpacks, you can never go wrong with a granola bar.
A granola bar can save the day when you're out and about with young kids and blood sugar levels drop.
Easy to transport and kid-friendly, these peanut butter granola bars are some of the best homemade granola bars I've tasted. 
Best of all, they don't require any time at all in the oven! 
This recipe is for a simple no-frills peanut butter granola bar. The peanut-y flavor gets the spotlight and I love them just as is. That said, this recipe is an ideal canvas for adding your own favorite mix-ins.
One favorite variation in my house is to add a handful of chocolate chips to the batter! Dried cranberries, raisins, apples and white chocolate would be other tasty additions. Feel free to get creative with this recipe to create your dream peanut butter granola bar.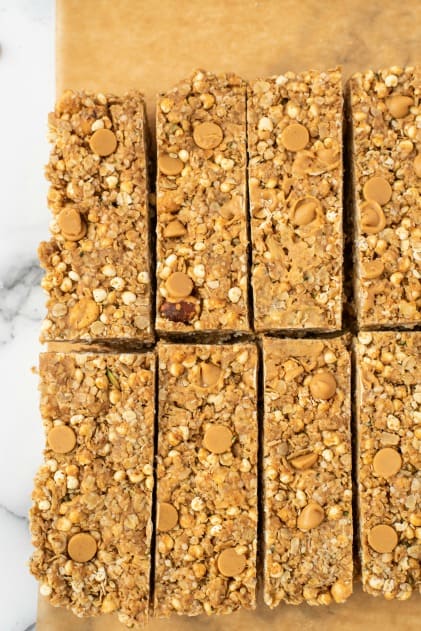 Homemade Granola Bars
We've all had to rely on packages store bought granola bars from time to time. You can't beat the convenience.
But if you've never made homemade granola bars, I encourage you to give them a try! The recipe I'm sharing with you today is easy, quick and most importantly, completely delicious.
It has the added benefit of having no processed sugars, as long as you use unsweetened peanut butter. Instead of sugar or corn syrup that you find in many store bought granola bars, these snacks are sweetened with honey.
If you love peanut butter (or your kids do), you're going to go nuts for this granola bar recipe. If you can excuse my pun.
After you try this recipe for Peanut Butter Granola Bars, you might also want to make these Chocolate Chip Granola Bars and these Peanut Butter Protein Bars.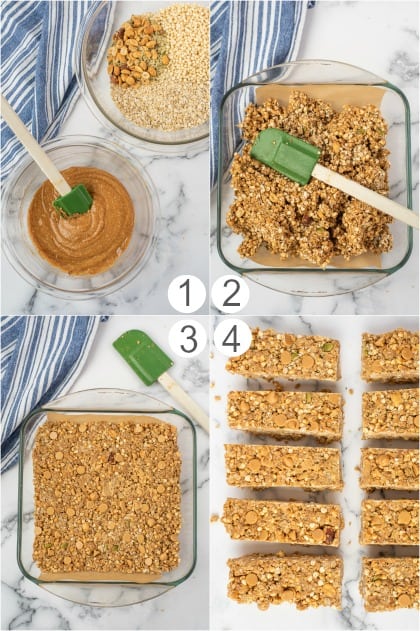 How do you make granola bars?
To make these granola bars, I started by toasting quick cooking oats in the oven for about 3 minutes. This step is 100% optional. Toasting does add a nutty flavor to the oats that I really like but if you're short on time, feel free to skip it.
STEP 1. Combine oats, puffed rice and a blend of nuts and seeds in a bowl.
STEP 2. Microwave peanut butter and honey together in a bowl to soften, then add cinnamon and mix well. Pour this blend over the oat mixture and stir, adding peanut butter chips or other mix-ins if desired.
STEP 3. Press the granola bar mixture into a prepared pan and chill for at least one hour or, preferably, over night.
When the bars are set, slice into bars and serve or store!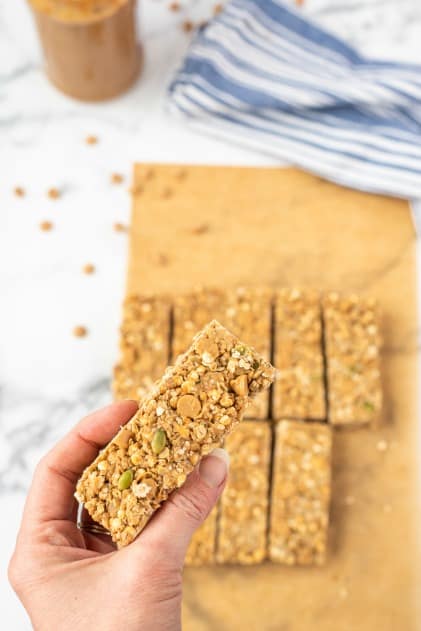 Recipe Notes for Homemade Granola Bars
If you do not have quick cooking oats, you can sub old fashioned rolled oats. Just be sure to not skip the toasting step! Quick cooking oats are more finely processed allowing us to skip the baking step in these bars. Granola bars made with regular rolled oats will also have a bit of a tougher texture.
No puffed rice available? No worries! Rice Krispie cereal tastes great as a substitute for the puffed rice and I've also had success substituting shredded coconut or more oats. Like I said, this recipe is forgiving and adaptable!
The peanut butter chips are optional here as well. If you want to make a version without any added sugars, feel free to omit them.
What kind of nuts can I use in granola bars?
Any combination you like of nuts and seeds will work in this granola bar recipe.
I used a blend of peanuts , pumpkin seeds and hemp seeds when I made them this time.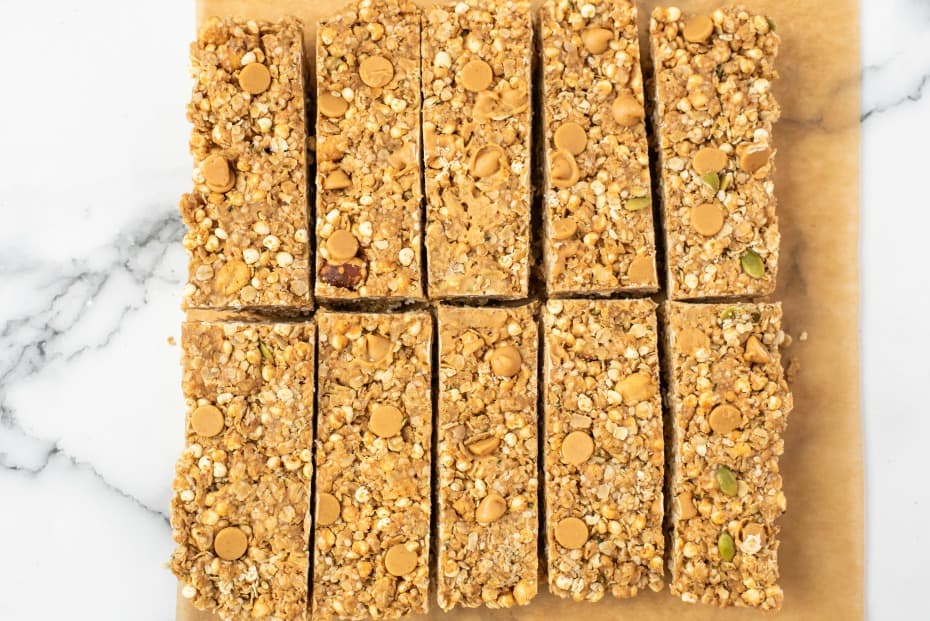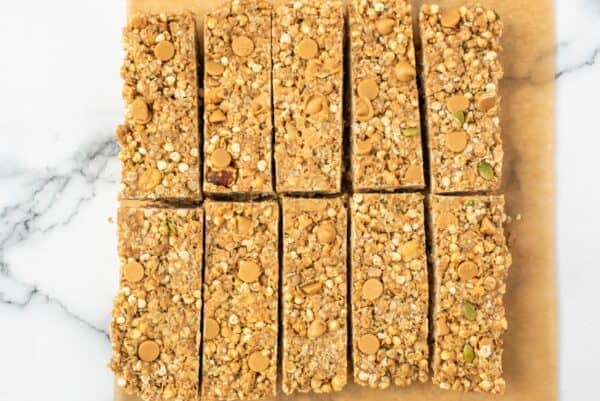 How to Store Granola Bars
You can cut your homemade granola bars into whatever size you like; from monster bars for the constantly hungry folks in your family to bite sized pieces perfect for appeasing toddlers.
If I'm taking these bars to an event where they'll be eaten right away, I cut them into even rectangles and serve them straight out of container.
For those times when I'm making granola bars for a road trip or to pack in a backpack or purse, I like to wrap them up individually in plastic wrap or a Ziploc bag. This makes it extra easy to grab and go!
Store your granola bars sealed in a cool dry place and they'll keep well for about 5 days.
Sweet and nutty homemade peanut butter granola bars are a healthy homemade treat the whole family loves!
More Peanut Butter Treats:
Recipe originally published January 10, 2013. Photos updated 2020.
Making your own granola bars is as easy as mixing ingredients in bowl, pouring them in a pan, and allowing them to chill until set.