Oatmeal Cookie Pancakes
This week for my "Joy the Baker Cookbook Spotlight" I was able to choose my own recipe from the cookbook. From the day I started stalking Joy one thing stood out to me. She loves pancakes. And has many recipes for them on her blog. Let me just say, the girl knows her flapjacks!
I chose to make her Oatmeal Cookie Pancakes. Oh. Em. Geeeeeee. These are seriously the best pancakes I have ever made. They really do taste like an oatmeal cookie! This is now our Saturday morning pancake recipe. Without a doubt.
I was a little nervous about the kids enjoying these since they had oats, and oats = healthy in our house. But,  they didn't even notice the oats. Scarfed those pancakes all up! I did leave out the raisins since I knew that would have caused a battle (harder to hide), but I bet they would be quite tasty in these pancakes! Thanks Joy for a winning recipe!
Yield: 3 dozen
Oatmeal Cookie Pancakes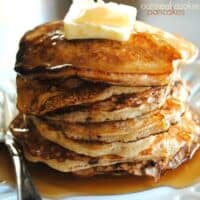 Ingredients
1 1/2 cup flour
3/4 cup quick oatmeal
2 Tbsp brown sugar
2 tsp baking powder
1 tsp baking soda
1 tsp salt
1 tsp cinnamon
pinch nutmeg
2 eggs
2 cup buttermilk
1 Tbsp maple syrup
1/4 cup butter, melted
1/3 cup raisins (optional)
Instructions
In large bowl, mix together flour, oats, brown sugar, baking powder, baking soda, salt and spices.
In small bowl whisk together eggs, buttermilk, syrup and melted butter.
Add milk mixture to the flour and fold together until completely combined. Let sit for several minutes.
Heat large griddle in medium, add 1-2 Tbsp butter. Scoop 1/4 cup of batter onto griddle and heat until top is bubbly, flip and cook other side. Add more butter to griddle after each batch is cooked (very important!!!).
Serve with syrup and enjoy!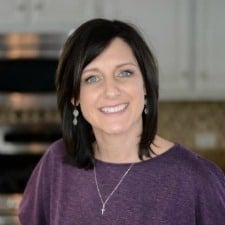 Aimee is a dessert lover (specifically rice krispie treats), workout enthusiast, self-taught foodie, and recipe creator. Her recipes have been featured in over 15 magazines, and her passion is to share her love of cooking with the everyday home cook! Learn more about Aimee.