Love Chocolate Chip Cookies? Love Coffee? You're going to flip for this new creamer recipe!! Chocolate Chip Cookie Coffee Creamer, a great way to start your morning!
Be sure to sign up for my email…new recipes in your inbox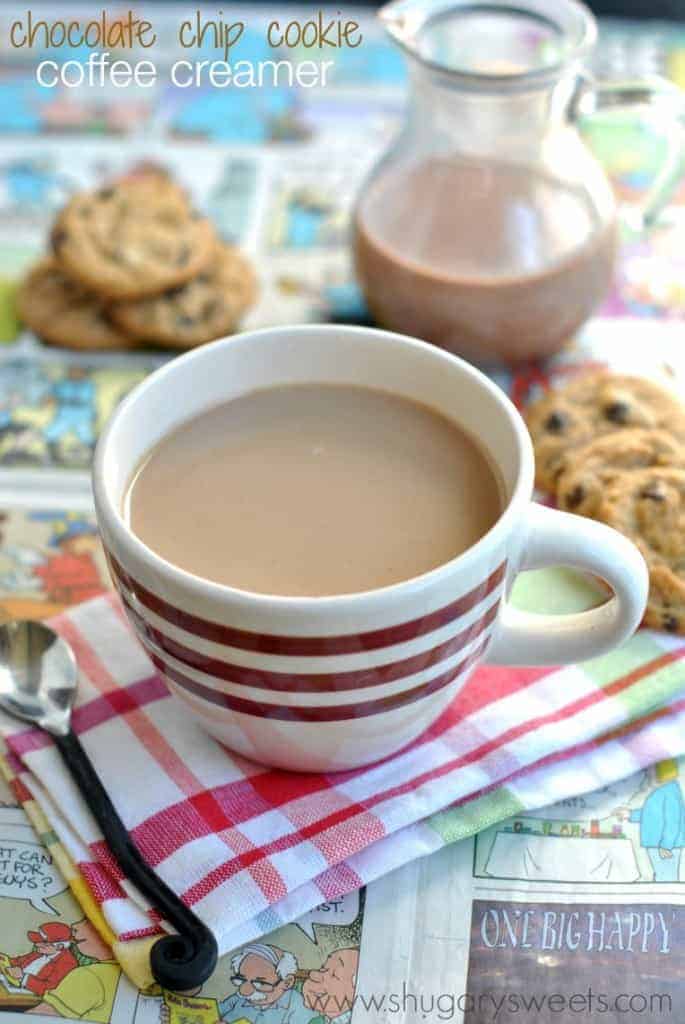 I was recently at the grocery store and saw a Chocolate Chip Cookie Coffee Creamer. My mind went into over drive.
Of course I didn't buy it, so I have no idea if this recipe is close or tastes anything like the store bought version. HOWEVER, if you love the flavor of chocolate chip cookies, and you love coffee creamer…this recipe is for YOU!
You know you're a food blogger when you bake cookies, JUST so you can have a fun blog prop. That's weird right? I mean, nobody is going to complain about fresh baked cookies, and it's a Monday tradition in my house. I try to bake cookies every Monday so we have sweet treats to last the week, for dessert and lunches. Most weeks I'm baking recipes from the blog, or using cookie dough from my freezer. Today's chocolate chip cookie were mini, bite sized Chocolate Chip cookies (minus the chocolate dunked bottoms).
But today isn't about the cookie. It's about the creamer.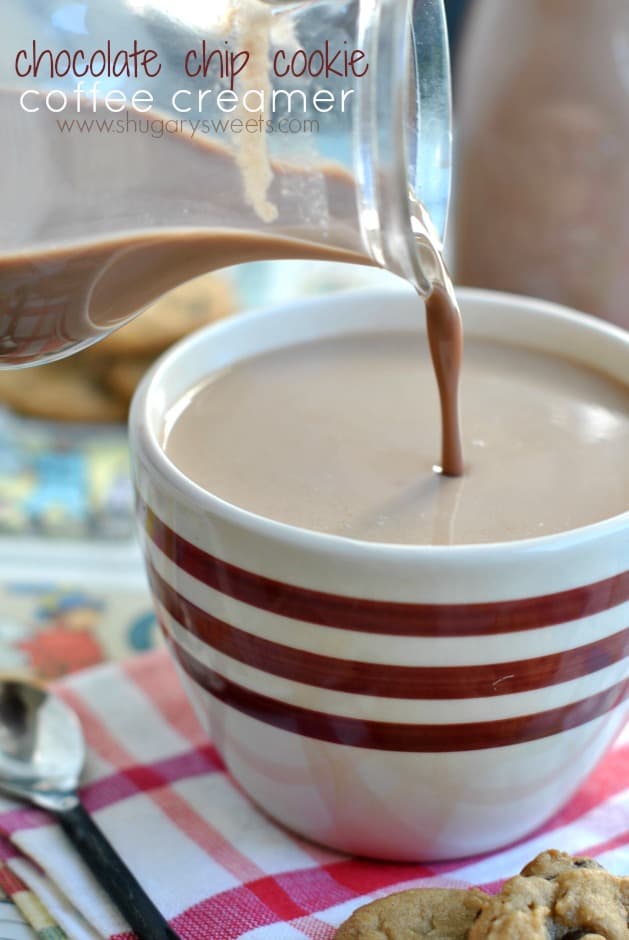 The sweet Chocolate Chip Cookie Coffee Creamer.
Without trying the store bought version, I'm not quite sure what to compare this to. It's filled with brown sugar, vanilla, chocolate. All the key components of a chocolate chip cookie!
Couple things to note when making coffee creamer at home:
If using cocoa powder or spices/seasoning, always use a small saucepan with milk to help combine these ingredients completely. It only takes a few extra minutes, but it makes a world of a difference. You don't really want a chalky cocoa powder taste to your creamer, right?
Store your creamer in a mason jar or covered container. You're going to want to be able to give it a good shake before using. The sweet milk (and the chocolate) tends to settle to the bottom. Shake Shake Shake.
When determining your "use by" date, go by the date of your milk. I can use a batch of this creamer in about a week and a half by myself. But I drink a lot of coffee. If you need to know how long this creamer will last, check your date on your milk. That's the date to determine your expiration on this creamer.
Feel free to use fat free condensed milk and fat free milk to make this creamer a little bit healthier. Or, go full fat and use regular sweetened condensed milk with whole milk (or even heavy cream). YUM.
 So, we got all the details down…who's coming over for some cookies and coffee?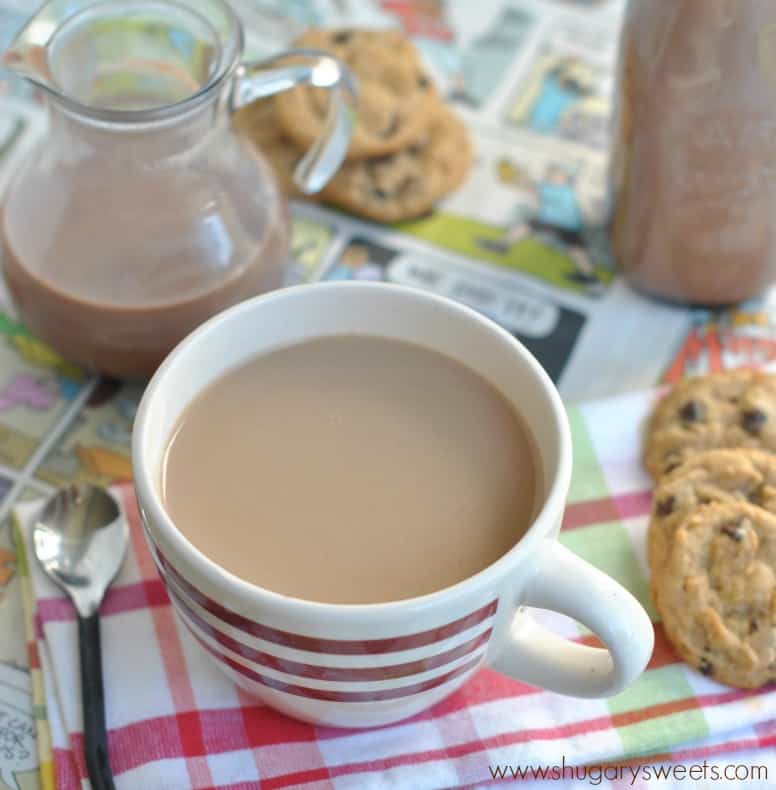 Connect with Shugary Sweets! Be sure to follow me on my social media, so you never miss a post!
Pinterest | instagram | Bloglovin'
Chocolate Chip Cookie Coffee Creamer
Ingredients
1 can (14oz) sweetened condensed milk
1 1/2 cup milk
3 Tbsp unsweetened cocoa powder
3 Tbsp light brown sugar, packed
2 tsp vanilla extract
Instructions
In a small saucepan, whisk together the sweetened condensed milk, milk, cocoa powder, and brown sugar.
Heat over low heat, whisking until all ingredients are well blended.
Remove from heat and add vanilla extract.
Store in refrigerator until chilled.
Notes
Store in refrigerator. You can determine the "use by" date by using the expiration date on your milk.
 If you love coffee. Coffee creamer. Coffee mugs. Coffee quotes. Check out "MY Coffee Addiction" pinterest board!
Follow Shugary Sweets's board My Coffee Addiction on Pinterest.