Love Chocolate Chip Cookies? Love Coffee? You're going to flip for this new creamer recipe! Chocolate Chip Cookie Coffee Creamer is a tasty way to start your morning.
I may or may not be addicted to homemade coffee creamers! It all started with this Pumpkin Coffee Creamer. Our traditional french vanilla coffee creamer soon followed, have you tried it yet?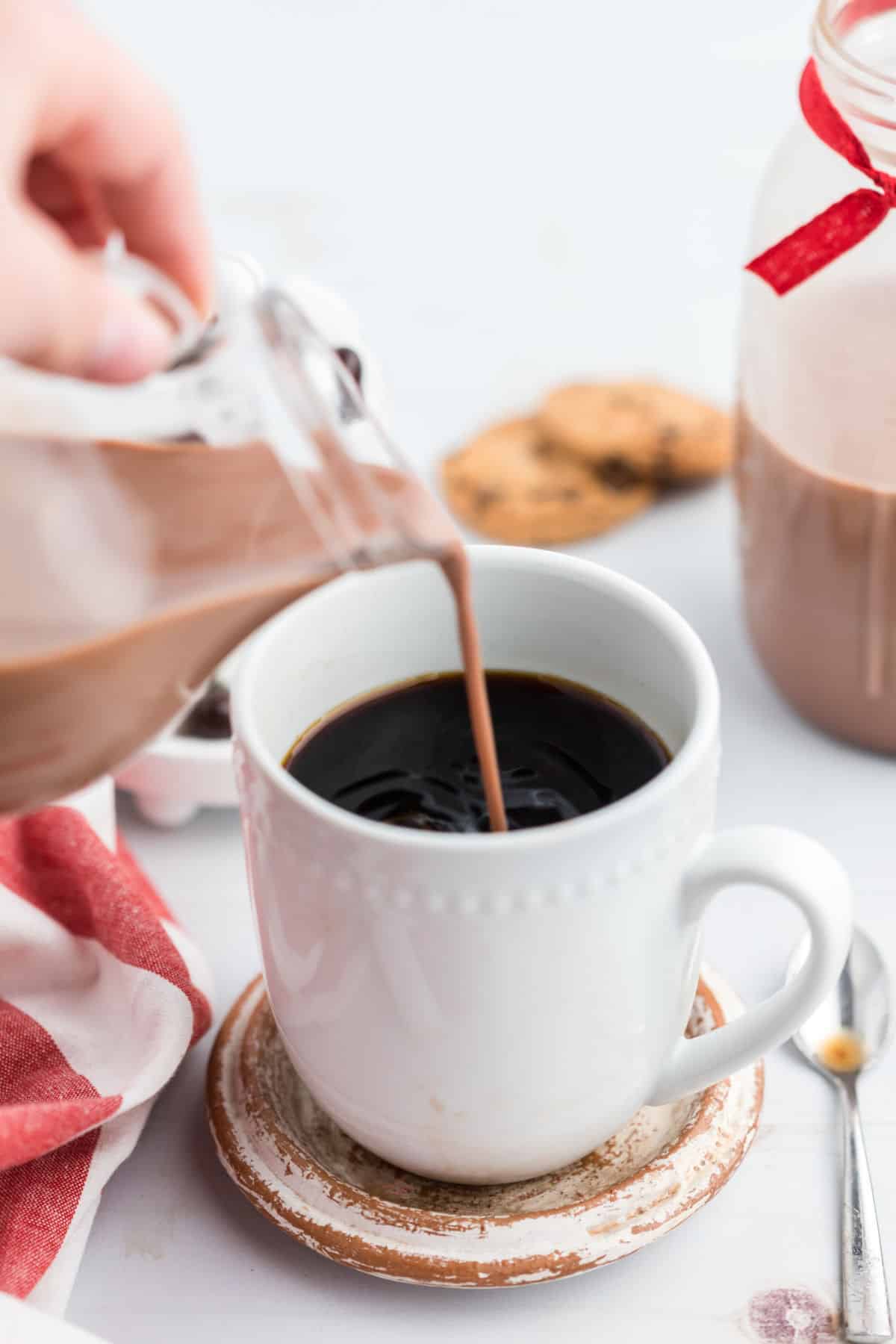 Why this Recipe is Best
Since I found out how to make coffee creamer, I've created dozens of variations.
From Almond Joy Coffee Creamer to simple French Vanilla Coffee Creamer, they've saved me so much money and time!
This Chocolate Chip Cookie Coffee Creamer is no different. I took the brown sugar, vanilla and chocolate flavors I love in the classic chocolate chip cookies and blended them into a rich creamer.
Using a combination of sweetened condensed milk and regular milk gives the creamer a delicious consistency. It's sweet without being cloying.
Perfect for adding to hot or iced coffee!
Ingredient Notes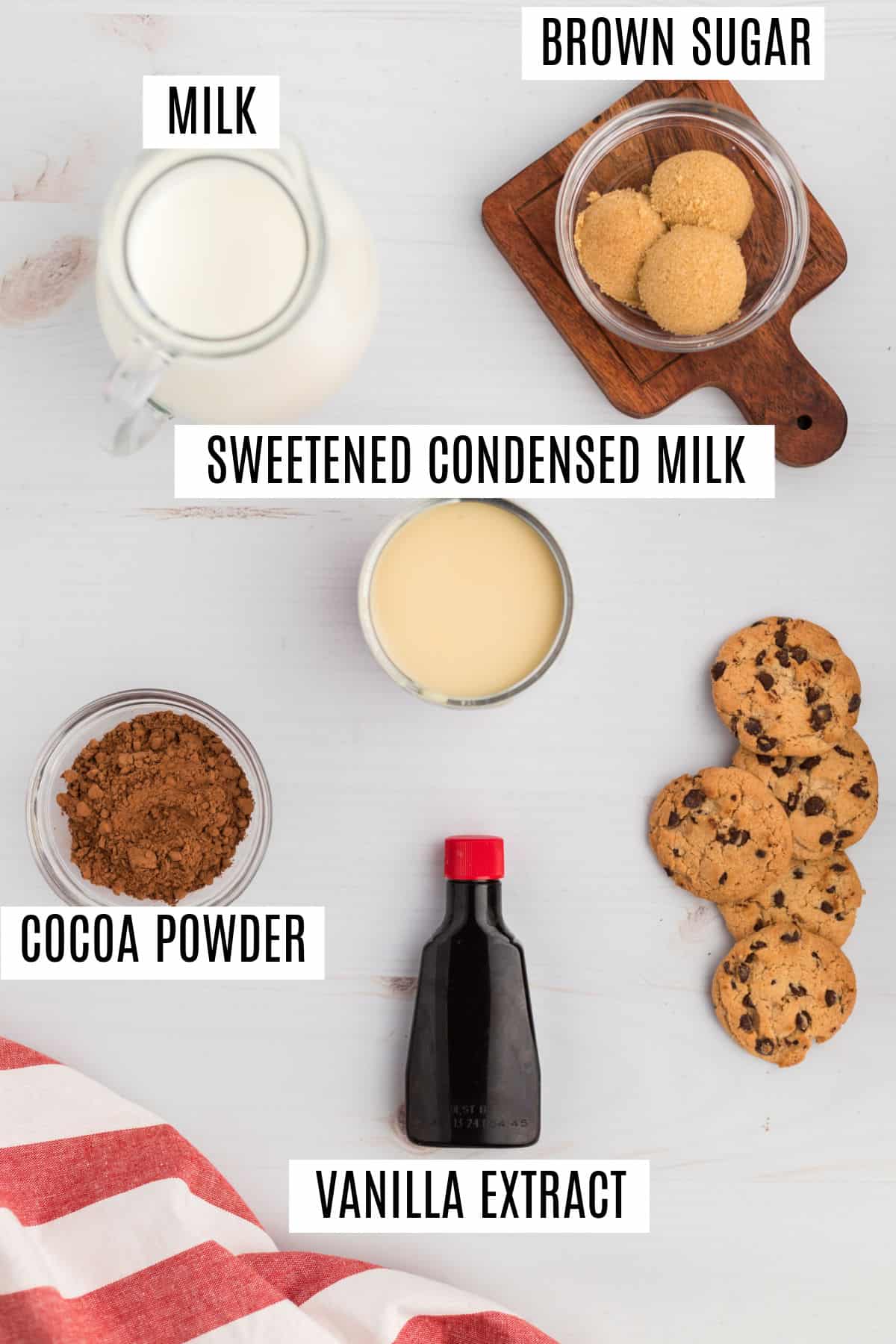 Milk. You can use any kind of milk for today's coffee creamer recipe. I usually opt for skim (or fat free). Whole milk will make it even richer and creamier. Nonfat would work too!
Vanilla extract. Make sure to use a real pure vanilla here. I love adding my homemade Vanilla Extract to creamers.
Brown Sugar. Adds the perfect sweetness and gives it a caramelized flavor like a cookie!
Sweetened condensed milk. Sweet and rich.
Cocoa Powder. Use unsweetened cocoa powder for this recipe. Ghirardelli is my favorite, as it blends well and has a rich flavor.
Tips and Tricks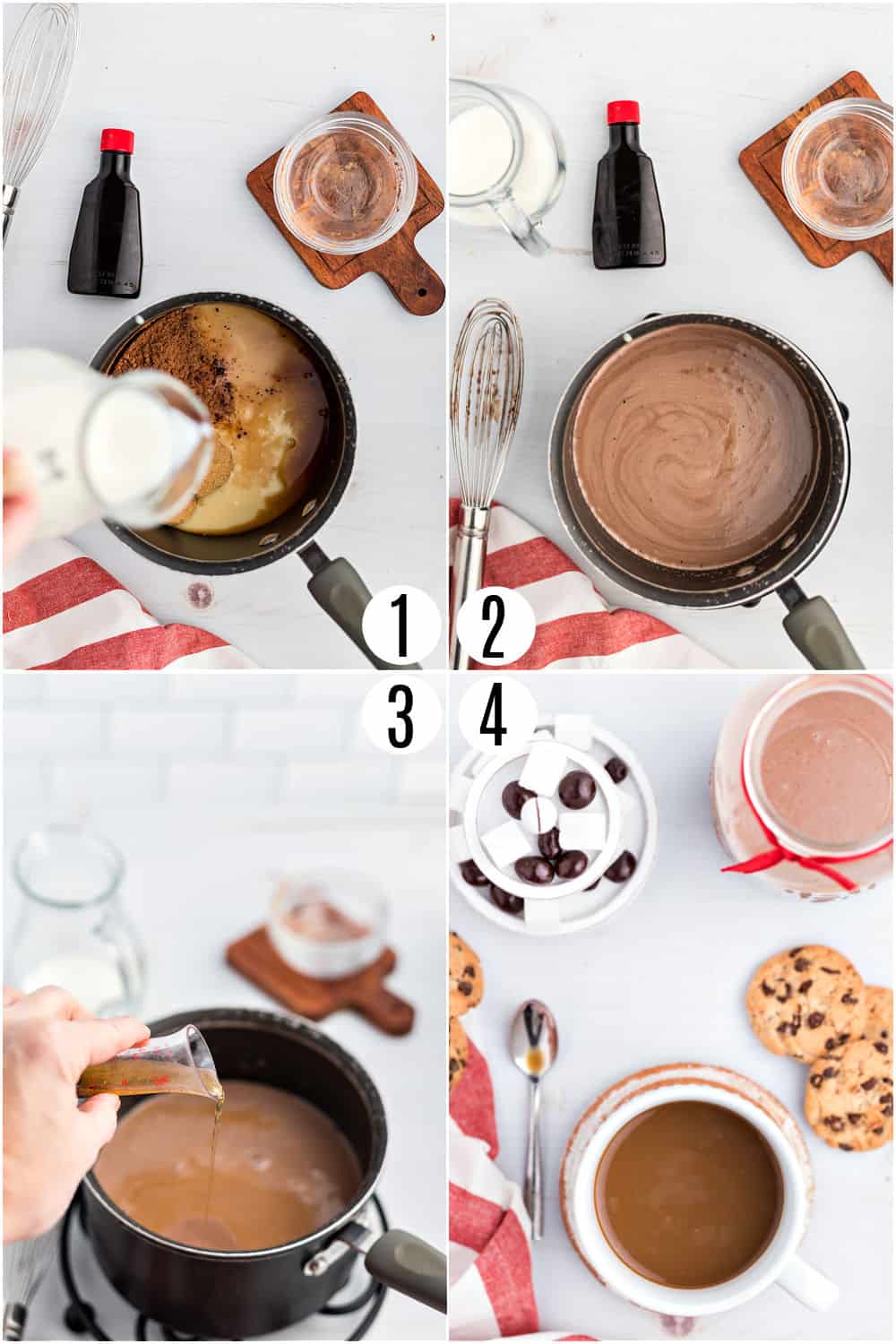 Always use a small saucepan with milk over low heat when you're combining milk with cocoa powder. It only takes a few extra minutes, but it makes a world of a difference. You don't really want a chalky cocoa powder taste to your creamer, right?
Add the vanilla extract to the creamer after removing it from heat. Make sure to whisk in the vanilla until well combined.
Store your creamer in a mason jar or covered container. You're going to want to be able to give it a good shake before using. The sweet milk (and the chocolate) tends to settle to the bottom. Shake Shake Shake.
When determining your "use by" date, go by the date of your milk. I can use a batch of this creamer in about a week and a half by myself. But I drink a lot of coffee. If you need to know how long this creamer will last, check your date on your milk. That's the date to determine your expiration on this creamer.
Feel free to use fat free condensed milk and fat free milk to make this creamer a little bit healthier. Or, go fully indulgent and use regular sweetened condensed milk with whole milk (or even heavy cream). YUM.
Serve over iced coffee for a refreshing treat!
MORE Creamers: Try our refreshing cinnamon coffee creamer or chocolate marshmallow coffee creamer next!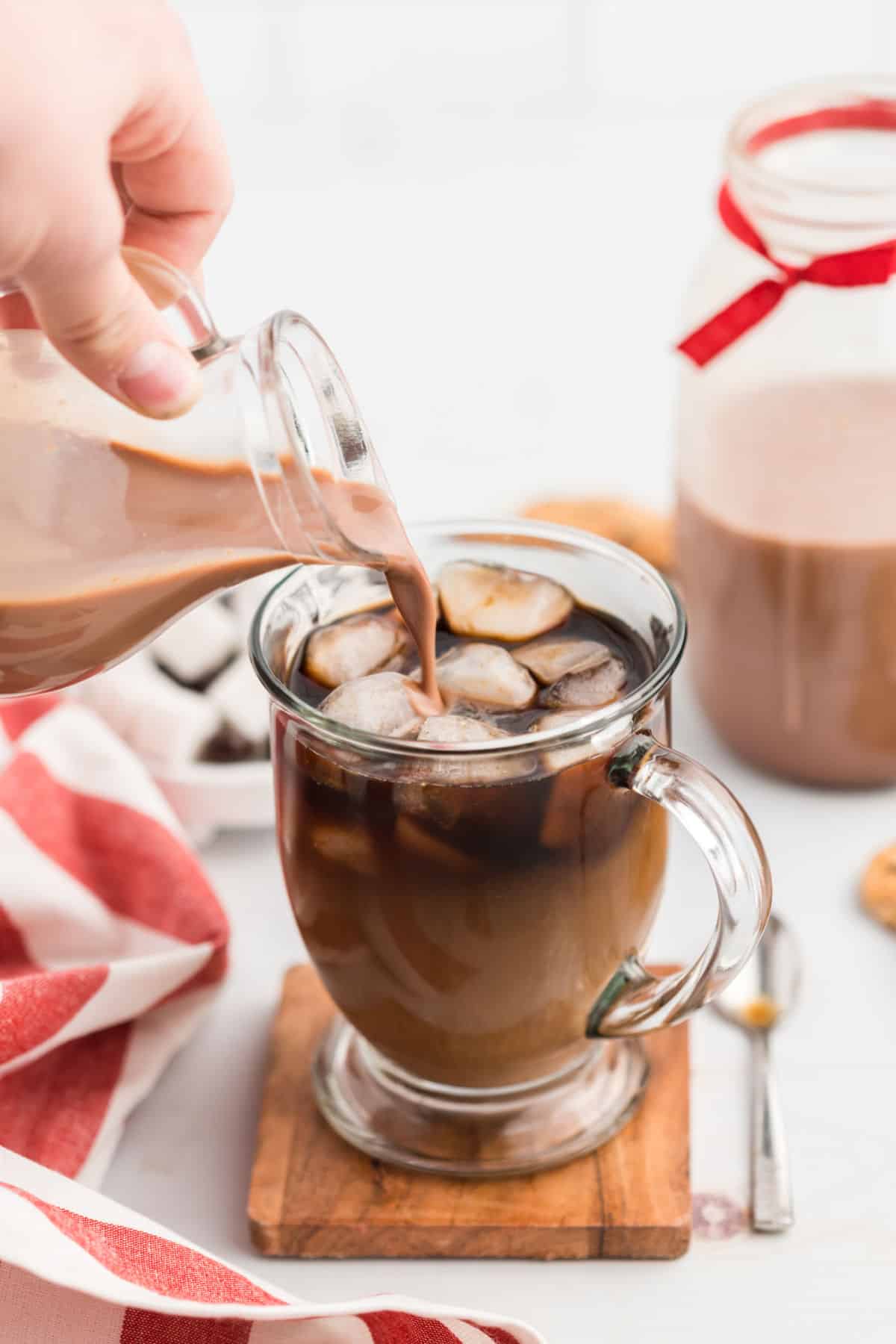 Recipe FAQs
Can I use dark brown sugar instead of light brown?
Yes, you can. Dark brown sugar has a deeper molasses flavor and darker color so it will affect the flavor and color of the creamer accordingly.
Can I heat the milk in the microwave instead?
I don't recommend the microwave for this recipe. Whisking the cocoa powder into the milk while it heats helps it get fully incorporated so it's smooth and not lumpy. It's also more difficult to control the temperature of your milk if you microwave it. Scalding the milk by accident can result in an "off" flavor in your creamer.
What can I use instead of sweetened condensed milk?
I haven't found any substitutes for the sweetened condensed milk that give the creamer the same heavenly taste. Although, I have used fat free versions of condensed milk with great results!
More Easy Recipes
Have your chocolate chip cookies and drink them too! A splash of Chocolate Chip Cookie Coffee Creamer turns your morning caffeine boost into a special treat.