Making coffee creamer at home is simple, and you can create some of your favorite flavors! This Almond Joy creamer comes together in minutes, and tastes amazing!
Be sure to follow me on Bloglovin'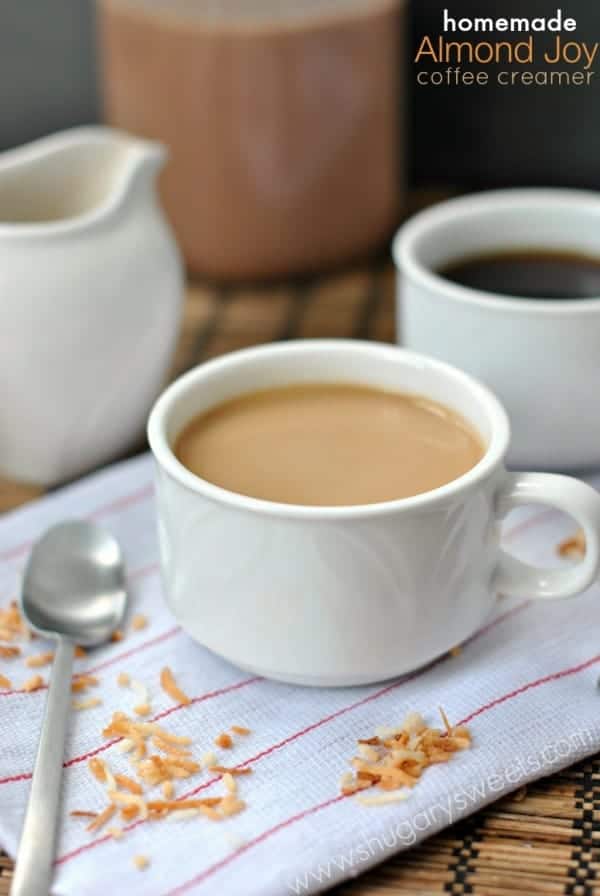 Selling your house is stressful. 
I seem to have forgotten this part of moving. Keeping the house clean is one thing, but having my counters and house bare is another. Not bare of furniture, but of photos, knick knacks, and extras!
You know what else is bare? My kitchen. Prior to putting the house on the market, I kept quite a few small appliances out on my counters. I have a decent sized kitchen so it wasn't necessarily cluttered, but there were a few things out at all times.
coffee pot
Keurig (yes, I keep both out, used daily)
toaster
utensil holder
blender (daily smoothies)
Kitchen Aid mixer (used almost daily, too heavy to put anywhere)
spoon rack
coffee supplies (cup rack, sugar, creamer, tea bowl)
Now, I've trimmed down to the bare essentials. Kitchen Aid mixer (I'm telling you it's too heavy to put anywhere). Keurig. It's a must. I put away my coffee pot. Do you know how many k-cups I consume in one day? It's pretty ridiculous. (thank goodness for Costco K-cups)
Know what else is ridiculous? The amount of coffee creamer I seem to consume in a week.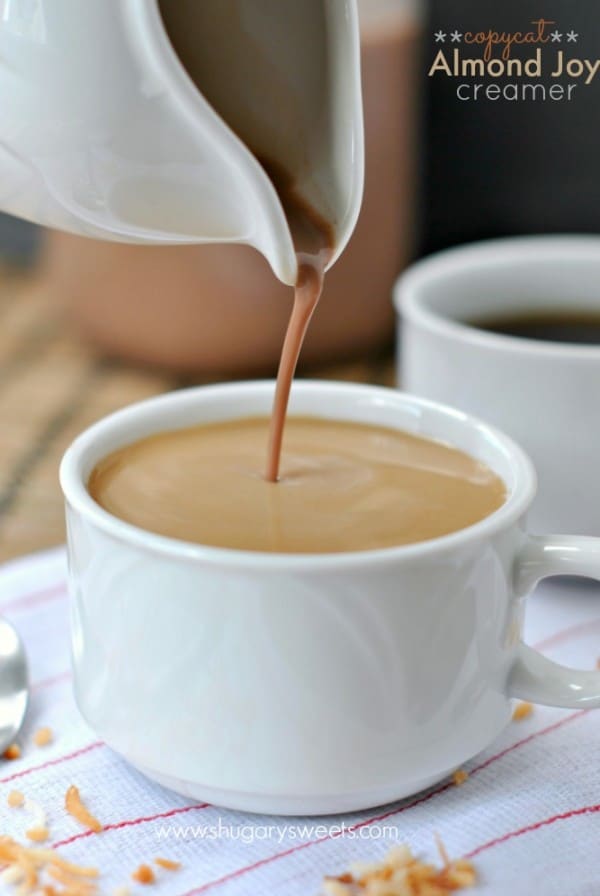 While I've been making my own creamer from time to time, I do still buy the store bought stuff. However, since I've already admitted my numerous amounts of coffee each day, the creamer goes fast! It's a good thing I always have ingredients on hand to make my own!
Almond Joy Coffee Creamer is one of my favorites to buy! So good. Now, we call all make it home!! This easy recipe can also be made using FAT FREE sweetened condensed milk and fat free (skim) milk. Hey, anyway I can shave a few fat grams I'm game! Means one less tire I have to flip!
What's YOUR favorite way to enjoy coffee? Do you have a favorite coffee creamer? Leave me a comment, maybe it will be next on my list to re-create!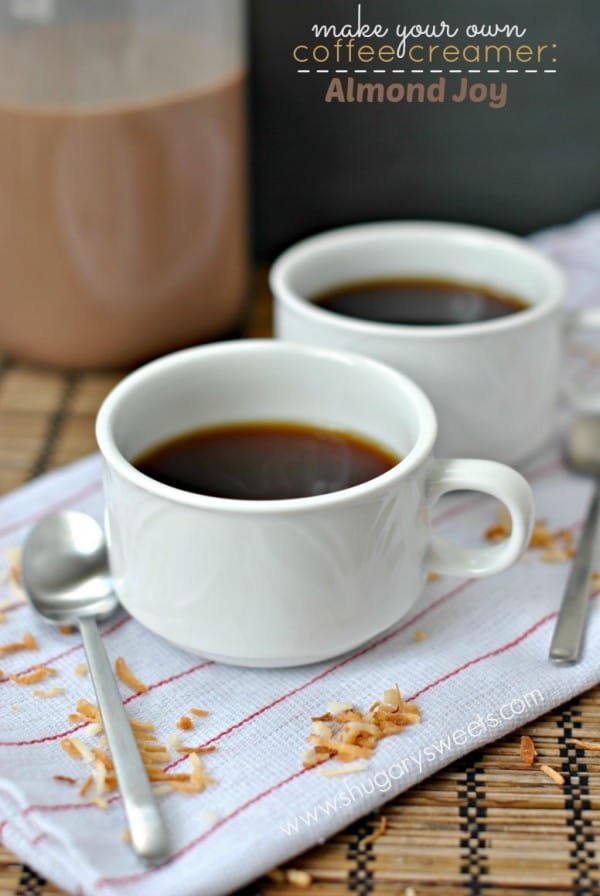 Connect with Shugary Sweets! Be sure to follow me on my social media, so you never miss a post!
Pinterest | instagram | Bloglovin'
Save your favorite recipes to your personal recipe box with the   

  button on all my recipes! Create a Meal Plan with your "favorited" recipes and the ingredients will automatically be added to your own Grocery List!
Yield: 3/4 quart
Almond Joy Coffee Creamer
Ingredients
1 1/2 cup milk (I use fat free)
2 Tbsp unsweetened cocoa powder
1 can (14oz) sweetened condensed milk
1 tsp almond extract
1 tsp coconut flavoring
Instructions
In a small saucepan, whisk together 1/2 cup of the fat free milk and the cocoa powder.
Heat on low, whisking continuously until combined (about 3 minutes).
Whisk in remaining ingredients. Pour into a quart sized mason jar, with lid.
Shake vigorously before serving!
Notes
Store jar of creamer in refrigerator. When determining how long it is good for, I go by the date on my milk carton.
you may substitute fat free sweetened condensed milk too
for an even CREAMIER version, use heavy cream instead of the fat free milk.
I have quite the coffee addiction! If you do too, you may enjoy following this Pinterest board:
Follow Shugary Sweets's board My Coffee Addiction on Pinterest.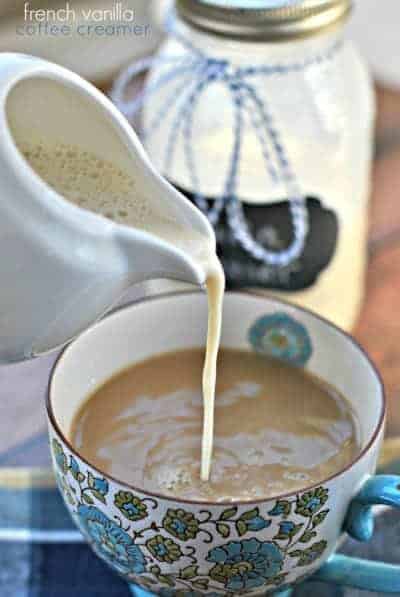 The creamer I make most often: French Vanilla Coffee Creamer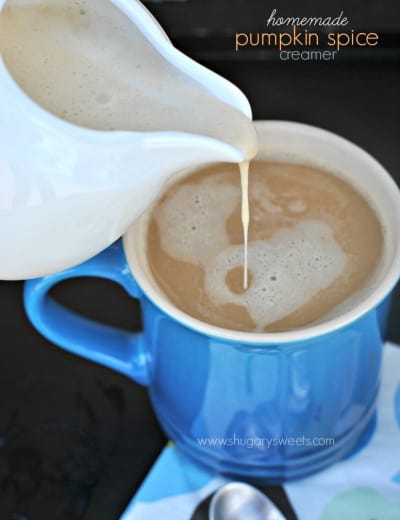 The creamer that started my homemade obsession: Pumpkin Spice Coffee Creamer