Add nutty chocolate and coconut flavor to your morning routine with Almond Joy Coffee Creamer. A splash or two of this homemade creamer turns your daily coffee ritual into a special treat. Sip and savor in hot or iced coffee!
Once you learn how to make homemade coffee creamer, you'll want to try ALL the flavors. How about some Chocolate Marshmallow Coffee Creamer next? Or give our Irish Cream Coffee Creamer a try soon.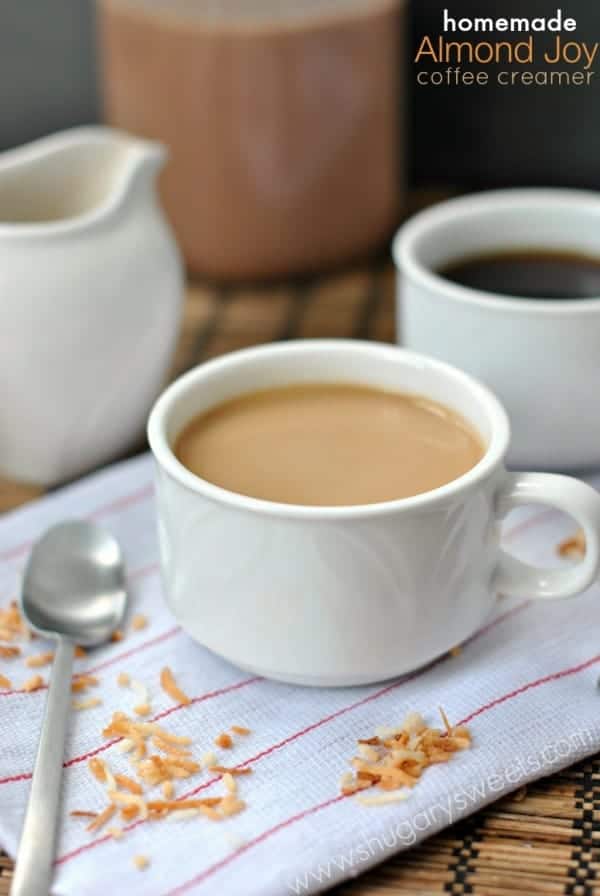 Why this Recipe Works
If you love fancy coffee drinks and almond joy candy bars too, this coffee creamer recipe is going to amaze you.
Made with sweetened condensed milk for extra creaminess.
A hint of cocoa deepens the natural flavor of your coffee.
Adds instant sweetness to hot or iced coffee.
Can be used in regular coffee or espresso.
Delicious blend of coconut, almond and chocolate flavors.
Lightning quick to make!
Sometimes you don't have time to swing by the coffee shop or even make your own Mocha Latte when you're craving something sweet and caffeinated.
Just brew a pot of coffee and add a splash of this coffee creamer to your cup. It's that easy.
PRO TIP: Serve with whipped cream and toasted coconut for a real coffee house treat!
Ingredient Notes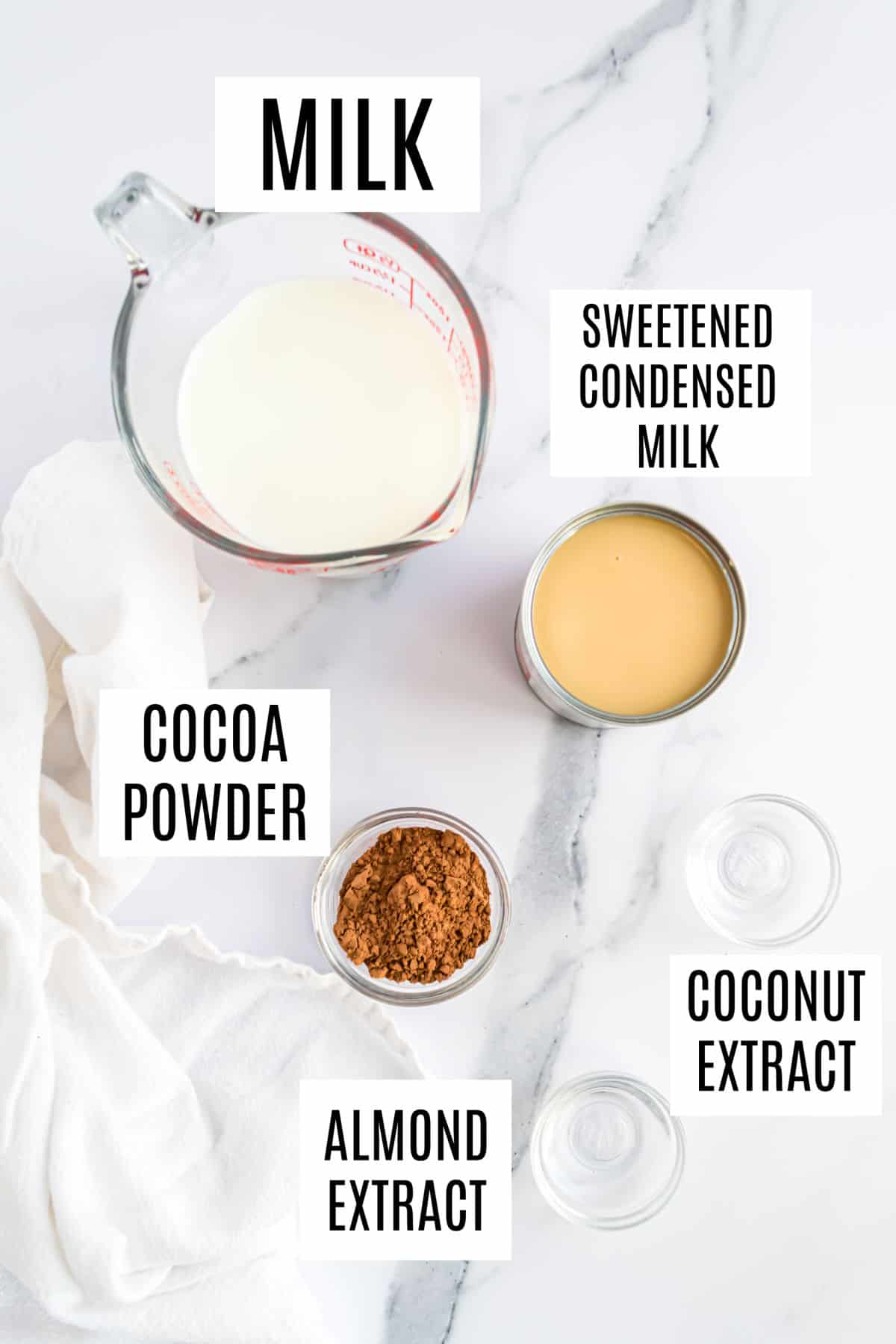 Here's what you need to make this coffee creamer recipe:
Milk. I use fat free but any milk you like will do (skim, whole or even nondairy).
Unsweetened cocoa powder. Use a high quality cocoa for richest taste.
Sweetened condensed milk.
Almond extract.
Coconut extract. You can buy coconut extract online if you prefer. Also great addition to coconut biscotti and coconut cake!
Tips and Tricks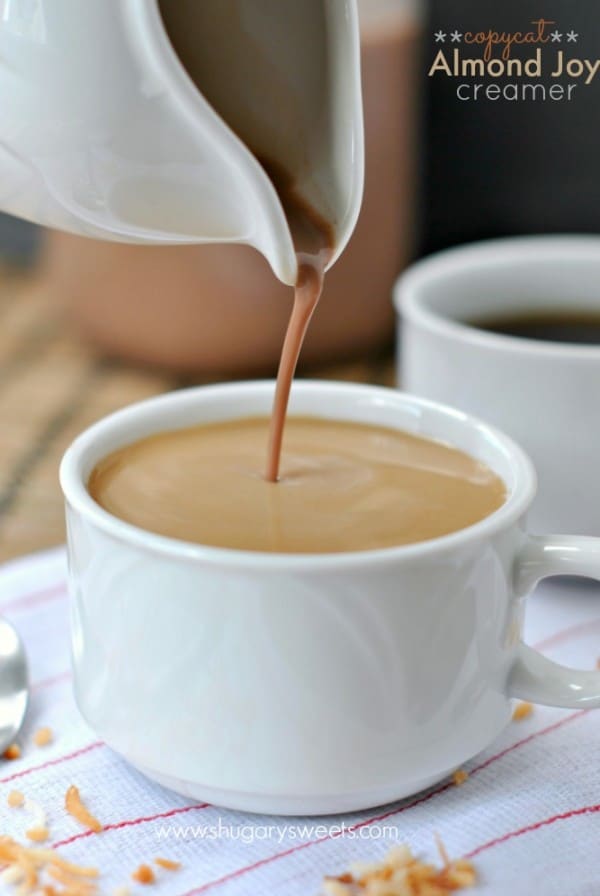 Whisk together half a cup of the milk with the cocoa powder first. This step (while heating on the stove) helps the cocoa fully dissolve into the creamer so you don't wind up with clumps.
Whisk remaining ingredients into the cocoa milk vigorously. Be sure they are fully incorporated.
Store in a mason jar. Don't forget the lid!
Shake before serving. The ingredients may separate the longer the almond joy coffee creamer sits. Give everything a good shake to reincorporate.
Serve warm or cold. You can add this right to your coffee while it's still warm or let it chill up in the refrigerator.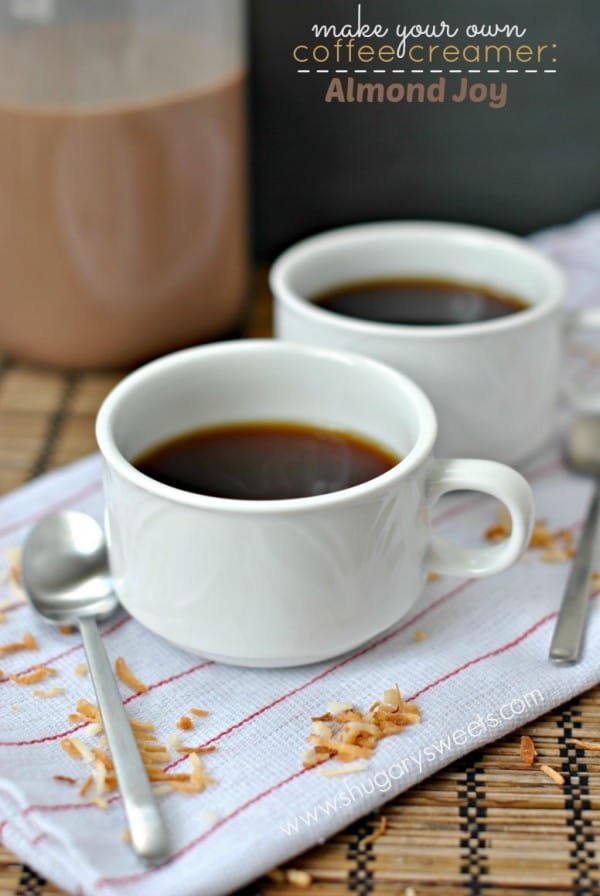 Recipe FAQs
How do you store homemade coffee creamer?
Store this coffee creamer in the refrigerator. Make sure to keep it in a container with a lid, like a mason jar or reusable glass bottle.
How long does homemade coffee creamer keep?
I recommend using your homemade coffee creamer within a week.
My creamer separated in the jar! What do I do?
This happens when the sugar begins to settle and is completely normal. Shake the jar vigorously and everything should combine again.
Can I substitute half and half or heavy cream for the condensed milk?
No, the sweetened condensed milk adds the sugar to this coffee creamer. Without it, all you'll get is the bitter cocoa and extract taste (not exactly appealing).
More Breakfast Recipes
Chocolate meets coconut and almond in this easy Almond Joy Coffee Creamer. Better than store bought and ready in 5 minutes.