These tender-baked cookies are loaded with coconut flavor and will last a long time too! Try adding a sweet coconut biscotti as the perfect complement to your morning coffee or tea.
If you love coconut desserts, be sure to give our reader favorite Coconut Cake a try soon. Or give our easy coconut truffles a try next.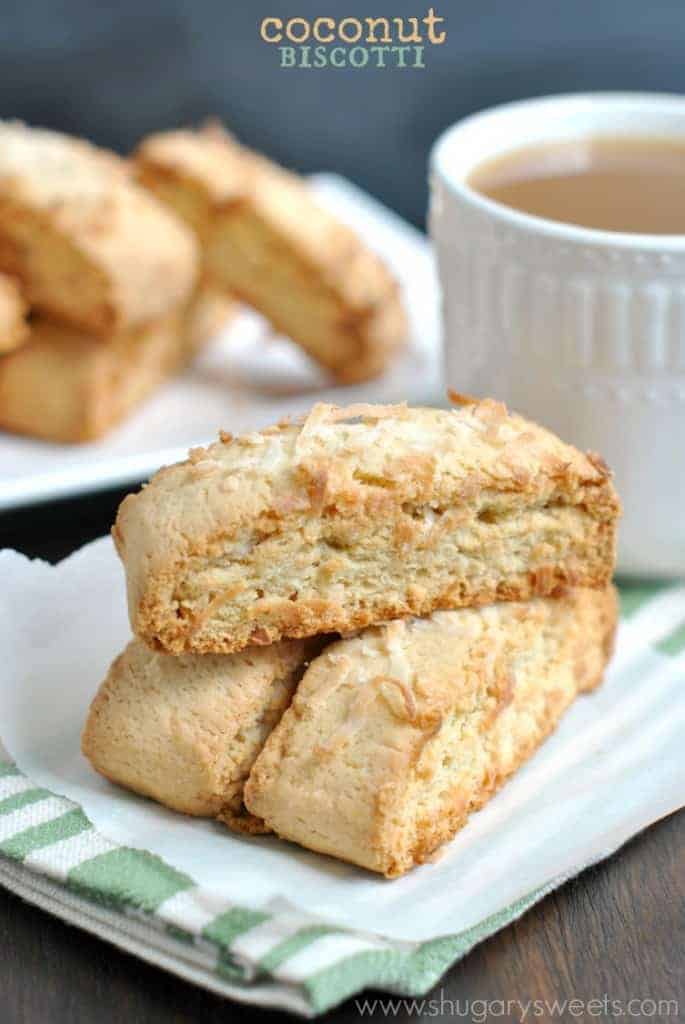 Why You'll Love My Coconut Biscotti
When you've got a coconut craving, these biscotti cookies are not to be missed. You'll love the full-bodied coconut flavor. Here are a few more reasons why they're a great bake!
The recipe is so simple you can't miss! Only 7 ingredients.
The final product is both crisp and tender – a truly satisfying combo!
The way we'll cream the butter and sugar together makes for an exceptionally light crumb.
This Biscotti is twice-baked, which makes it incredibly shelf-stable after baking.
Instead of buying that dried-up biscotti from your local coffee shop, bake up these classic Italian cookies at home and be amazed at just how good fresh biscotti can be.
Love coconut? Be sure to try our favorite macaroons next. We dipped them in chocolate for a little extra sweetness!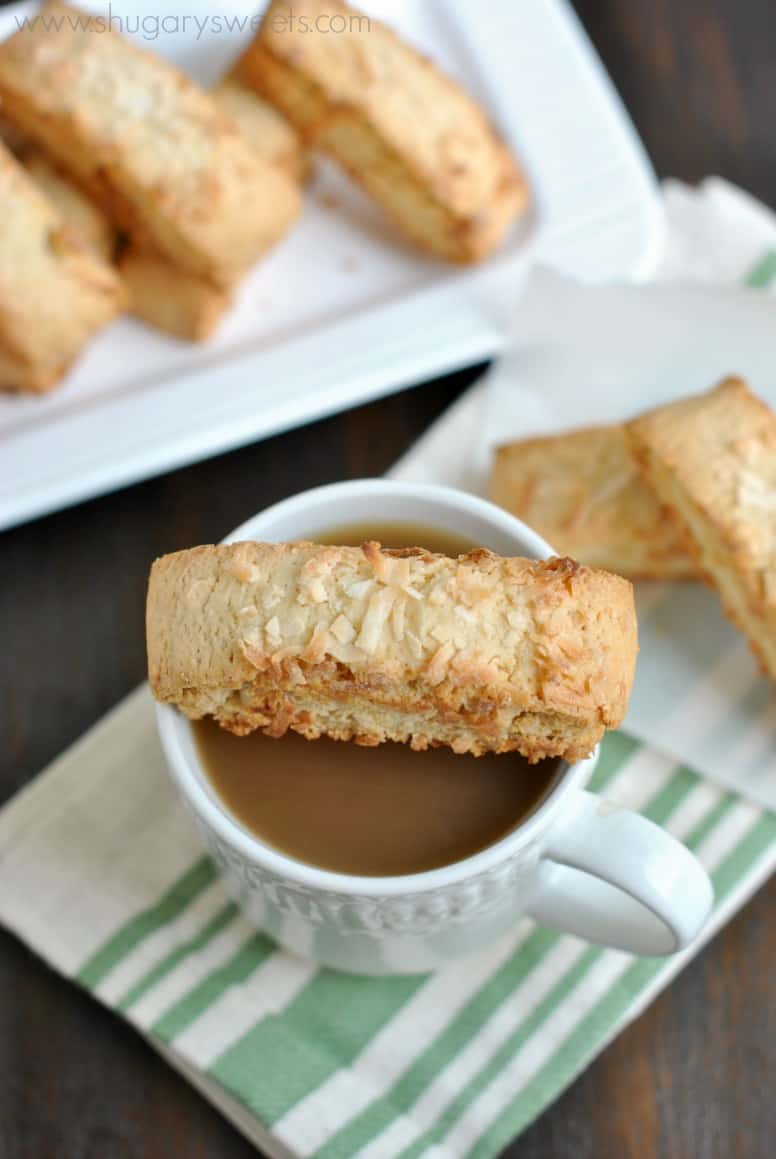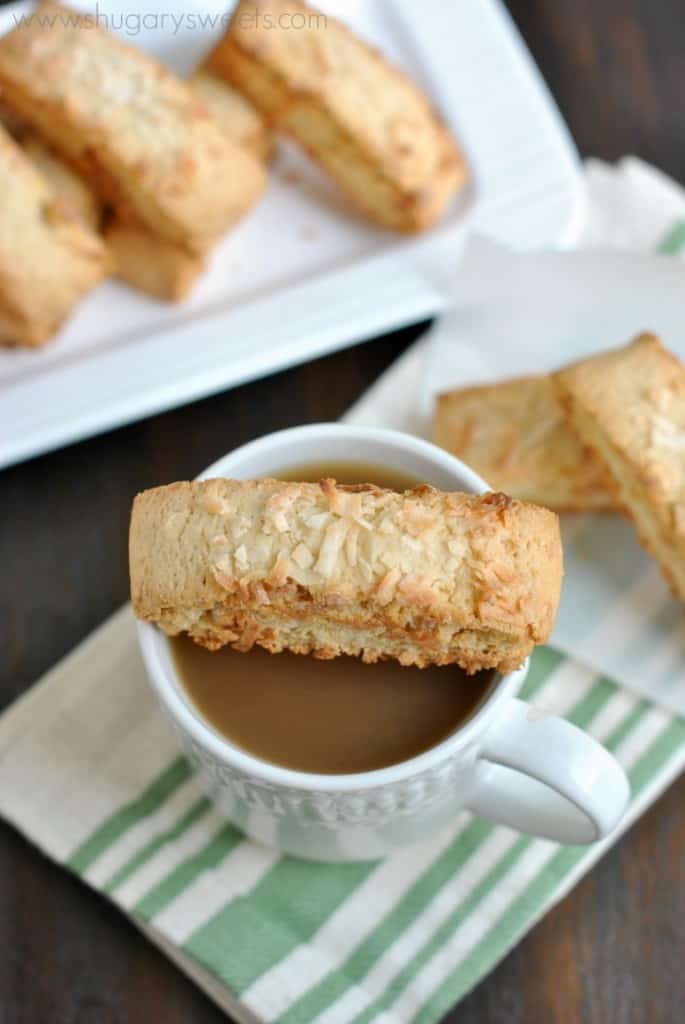 Ingredient Notes
Shredded Sweetened Coconut – Shredded coconut is at the core of this recipe's coconut taste and texture. Just make sure you buy the pre-sweetened kind.
Coconut Flavoring – Don't skip the coconut flavoring. It will ensure your cookies are loaded with an intoxicating coconut aroma. Half the fun of this recipe is the sensory anticipation of that first bite. 
Unsalted Butter – Butter adds richness to the biscotti. Just make sure your butter is "unsalted."
Granulated Sugar – Sugar is the obvious sweetener, but you might not realize that it also plays a critical role in hydrating the biscotti dough. Reach for white sugar or evaporated cane juice for the best results. 
Eggs – Eggs will bind the cookie dough together, adding more rich flavor and a golden color.
All-Purpose Flour – In a pinch, you could probably substitute pastry flour for this recipe. I've found that all-purpose flour produces consistently great results. Use our guide showing how to measure flour properly.
Baking Powder – double-acting baking powder creates a nice double rise in the dough, first when it's added and again when heated. In a pinch, you can substitute ¼ tsp of baking soda plus ½ tsp of vinegar for 1 tsp of baking powder.
Easy Instructions
Mix Wet Ingredients: Cream your butter and sugar together first, then add in the eggs to finish mixing the wet ingredients.
Add Dry Ingredients: Mix in your dry ingredients, followed by the shredded coconut and coconut extract.
Shape It: Shape your dough once you've split it into two. Pat the dough into a rectangular shape until it's an even thickness. Repeat with the other half.
Bake It: Bake the dough rectangles for 25 minutes. Let them cool for 5 minutes.
Slice It: Slice 10-12 biscotti from each rectangle. Place them all cut side up on the sheet tray.
Bake Again: Bake for 8-10 minutes, flip the cookies, and bake for 8-10 minutes more.
Pro Tip: Place your biscotti dough on the parchment-lined sheet tray before you start shaping it, so you won't have to transfer the dough there afterward.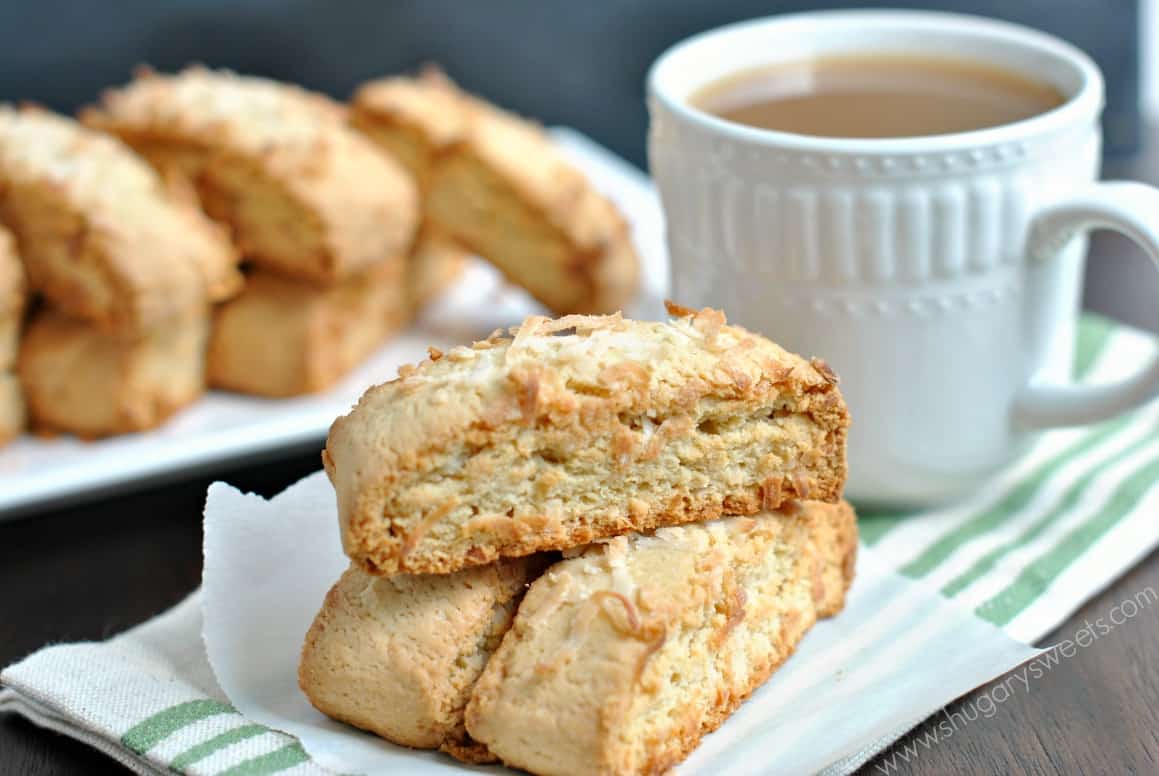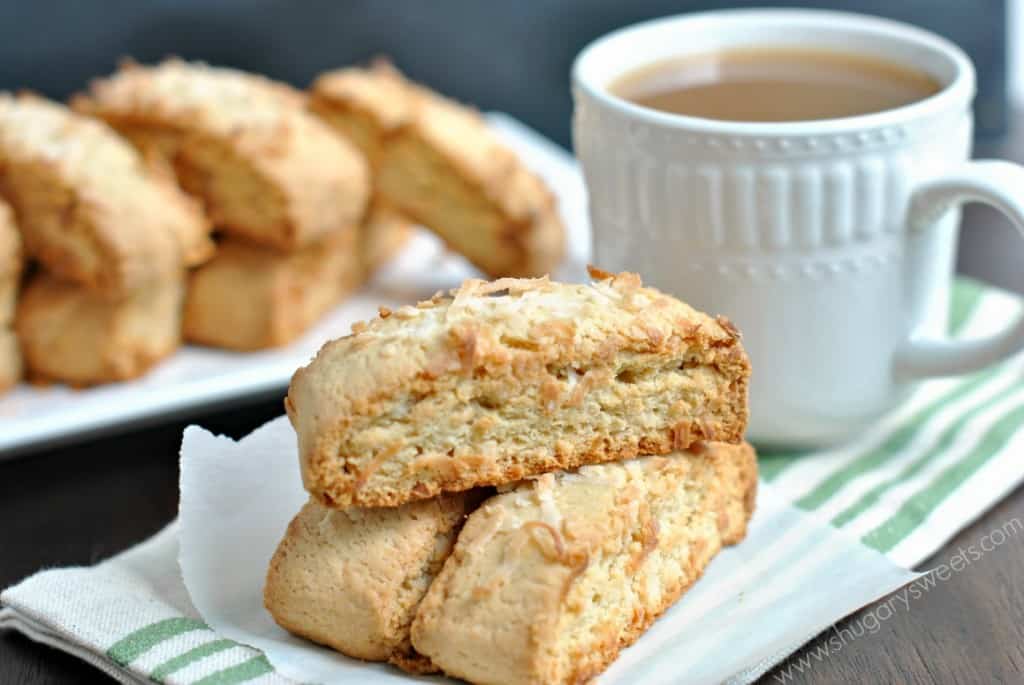 Tips & Tricks
Be sure to use softened butter so it will cream properly with the sugar in the first step. If the butter is too cold and hard, this step will be more difficult than it needs to be.
Wet your hands with a little water to make the dough easier to handle as you shape it.
When cutting your biscotti after the first bake, slice through it gently using a serrated knife for clean-edged cuts.
Don't leave your biscotti out to cool for too long after its first bake. It's much easier to cut when it's still warm, but not hot. This will help to prevent breakage during cutting.
If you have a cooling rack, letting your finished biscotti cool there will allow it to dry out even better.
To make coconut biscotti even more visually appealing, before the first bake, brush the top of the dough rectangles lightly with egg wash. Then sprinkle them with shredded coconut.
Recipe FAQs
Can I use coconut extract instead of coconut flavoring?
Coconut extract can be used instead of coconut flavoring. Substitute at a one-to-one ratio. 
Can I freeze biscotti?
Biscotti can be frozen once it's baked. Wrap it well in plastic, then again in foil. It will last up to 3 months in the freezer. 
Is biscotti supposed to be hard? 
Biscotti should be crisp, but not rock-hard. Hard cookies would likely indicate that they've been overbaked. Biscotti shouldn't be baked any darker than a light golden color at any phase.
Can I use unsweetened coconut if I don't have the sweetened kind?
You can use unsweetened if it's all you have or can find. However, the biscotti will likely turn out drier and won't be as sweet. 
Serving Suggestions
Though it's more commonly served with coffee and espresso in the US, biscotti can also be served with (and dipped in) wine. True story! Try pairing with wines like sherry, tawny port, ice wines, or Vin Santo.
If you'd rather stick with dipping your Coconut Biscotti in warm, caffeinated beverages, I wouldn't blame you. Here are a few sumptuous drink recipes to pair with them: