Sweet Coconut Biscotti is perfect with your breakfast this morning! Dunk it in your morning coffee or tea, and I say you have a well rounded breakfast! Ha!
Be sure to sign up for my email…new recipes in your inbox!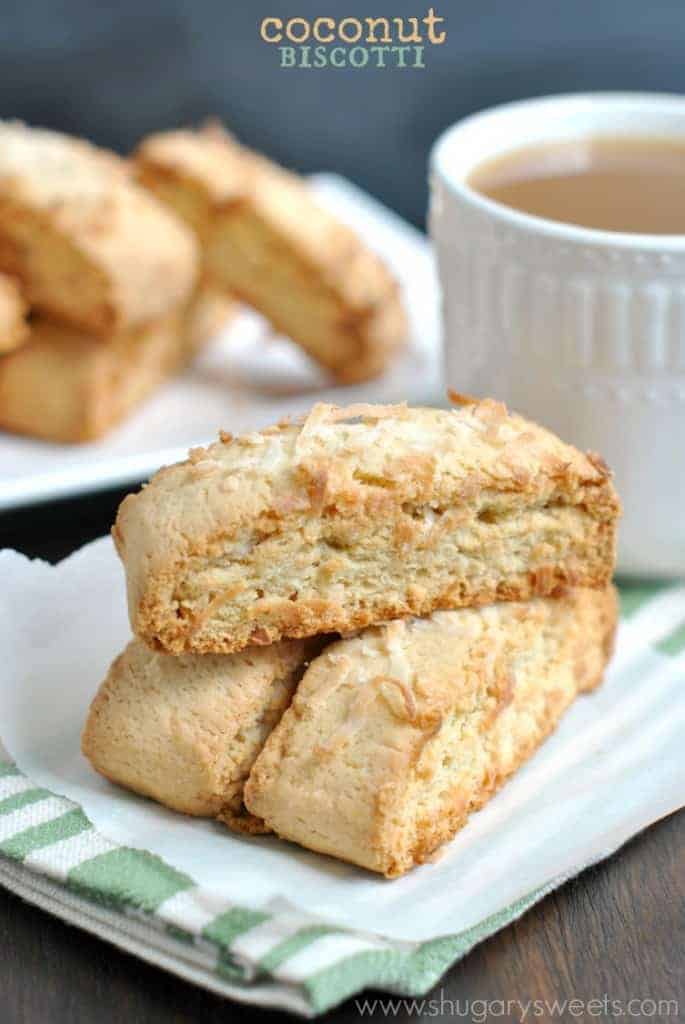 Have you ever been on a food blog and thought, oh man that looks good, I wish I could try it.
Well, today, you have that opportunity. To try some of this sweet, crunchy, Coconut Biscotti. Want to know the details?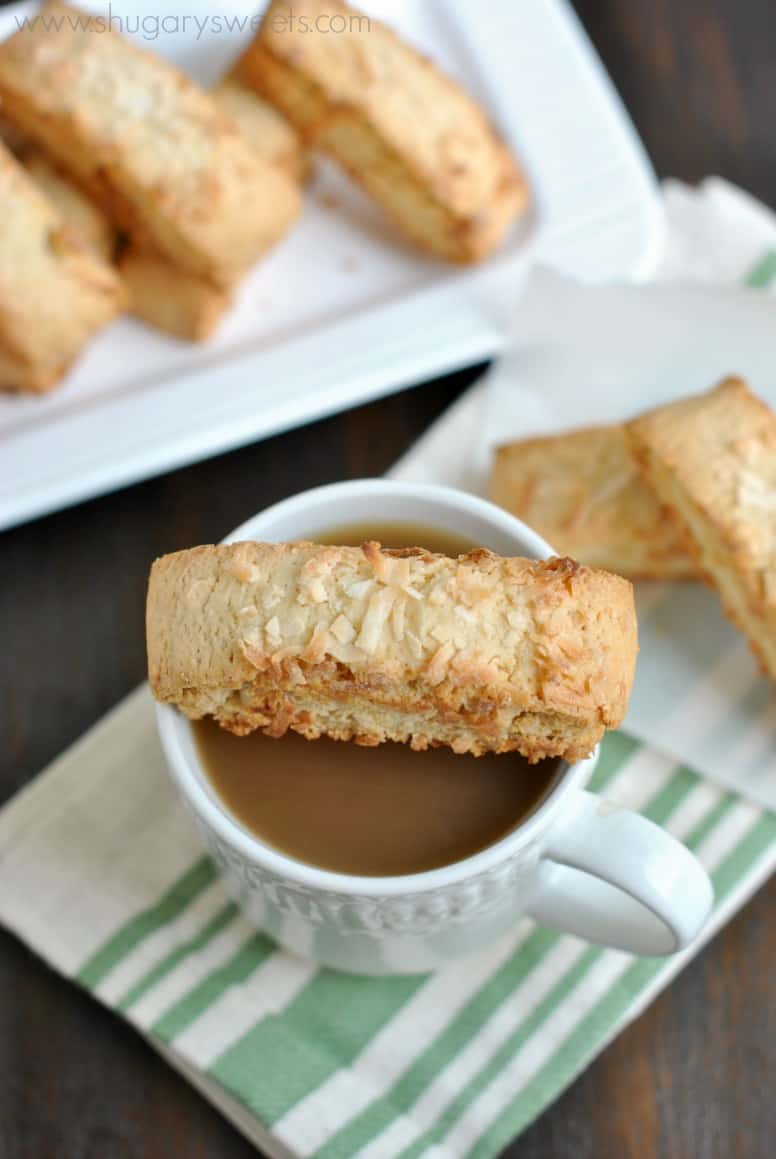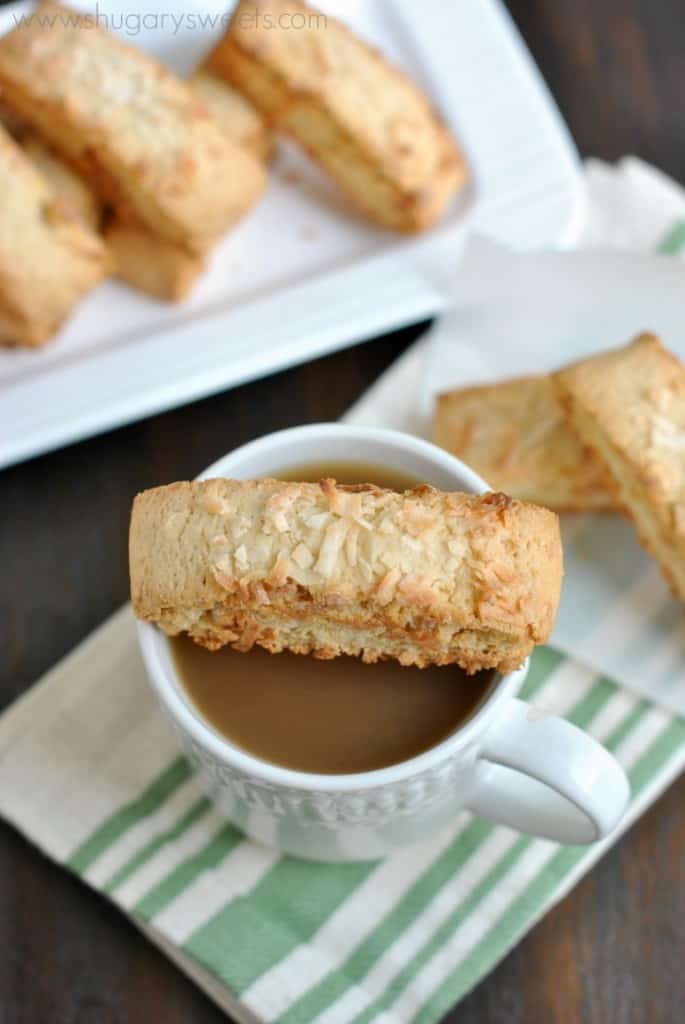 It was before Christmas last year when my food blogger friend, Ashley made a big announcement. Ashley blogs over at Center Cut Cook and is always sharing some of the most delicious looking food!
What was supposed to be the most wonderful news (a much awaited pregnancy with their first child) was also paired with some devastating news. Her husband Ryan was just diagnosed with stage 4 Colon Cancer. I've never met Ashley and Ryan, but through the food blogging world you get to "know" people. We are all on this crazy food roller coaster, all sharing each other's recipes on facebook and pinterest. We are a community of like minded people, ya know? And when one of our peeps is in need, well, that's when the "family" comes together to help.
***SILENT AUCTION CLOSED***
Today, is our day of help for Ashley and Ryan, and their new baby, Miles. Another mutual food friend, Carrie from Bakeaholic Mama is hosting a silent auction to help raise money for the family. This is where YOU can help! Head over to Bakeaholic Mama's website today, and look at all the wonderful items up for auction. Things like….
Cookbooks from your favorite bloggers
Baking baskets with fun tools
Homemade goodies (including this Coconut Biscotti) and other items
Now, as for this biscotti, well, you know how much I love biscotti. I have been wanting to make a coconut version for quite some time! This was absolutely delicious, and perfectly sweet. Dunk it in your favorite coffee for a delicious breakfast. Go the extra step and whip up a batch of Almond Joy coffee creamer for some extra coconut flavor!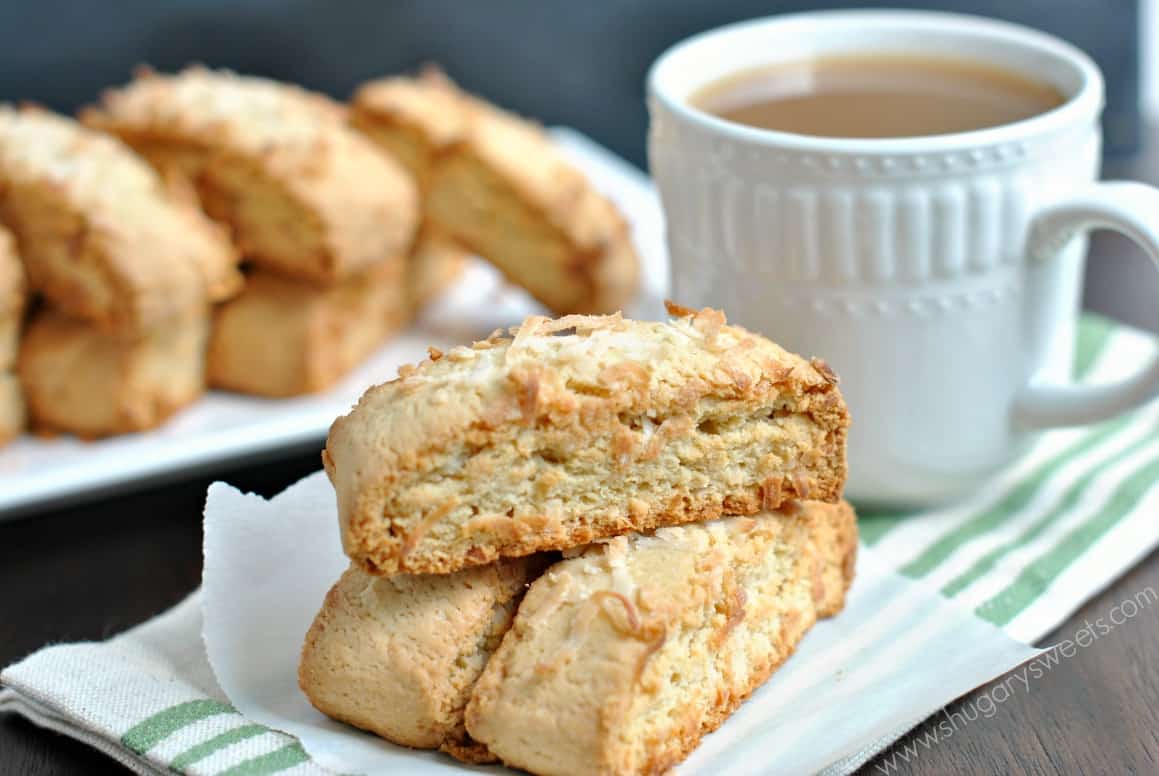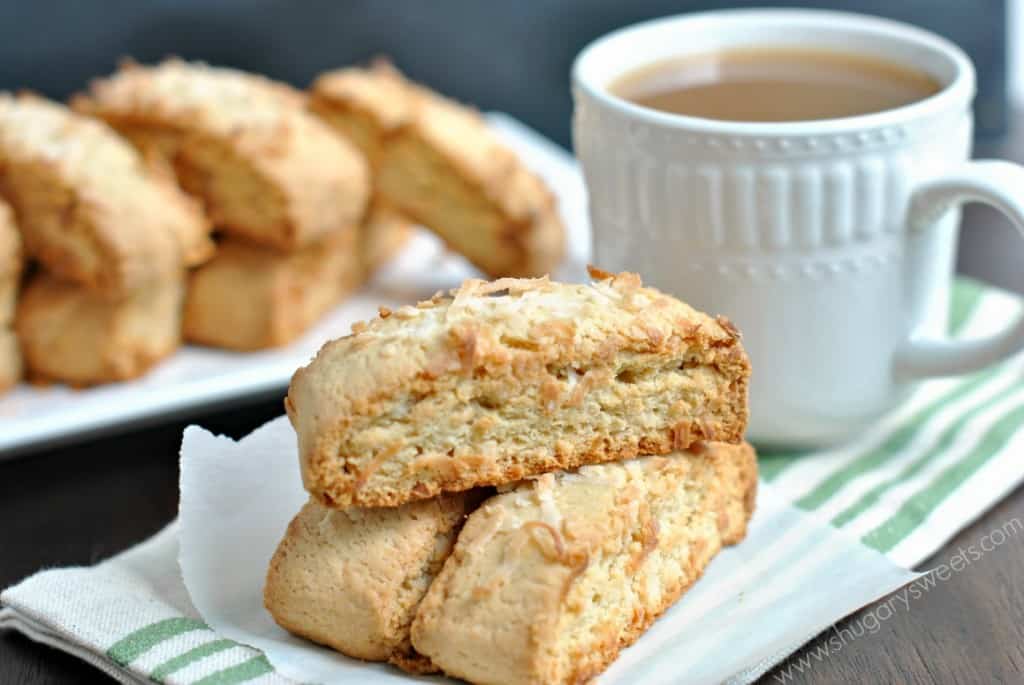 Connect with Shugary Sweets! Be sure to follow me on my social media, so you never miss a post!
Facebook | Twitter | Google+ | Pinterest | instagram | Bloglovin'
Yield: 20-24 small biscotti
Coconut Biscotti
Ingredients
6 Tbsp unsalted butter, softened
3/4 cup granulated sugar
2 large eggs
2 cup all-purpose flour
1 tsp baking powder
1/2 cup shredded coconut, sweetened
1 tsp coconut flavoring
Instructions
In a large mixing bowl, beat butter and sugar until blended. Add eggs, beating until combined. Beat in flour and baking powder. Add coconut and coconut flavoring.
Line a large baking sheet with parchment paper or silpat. Divide dough in half and shape each half into a 10inch by 2 1/2inch rectangle. Use your fingertips to pat evenly. Bake in a 350 degree oven for 25 minutes. Remove from oven and cool 5 minutes.
Slice each rectangle into 10-12 biscotti. Turn biscotti slices onto a side. Return to oven and bake 8-10 minutes. Remove and flip biscotti to other side. Bake for an additional 8-10 minutes. Remove and cool.
Store cooled biscotti in airtight container for up to two weeks.