Turkey Rice Krispie Treats
Easy to assemble Turkey Rice Krispie Treats decorated for Thanksgiving!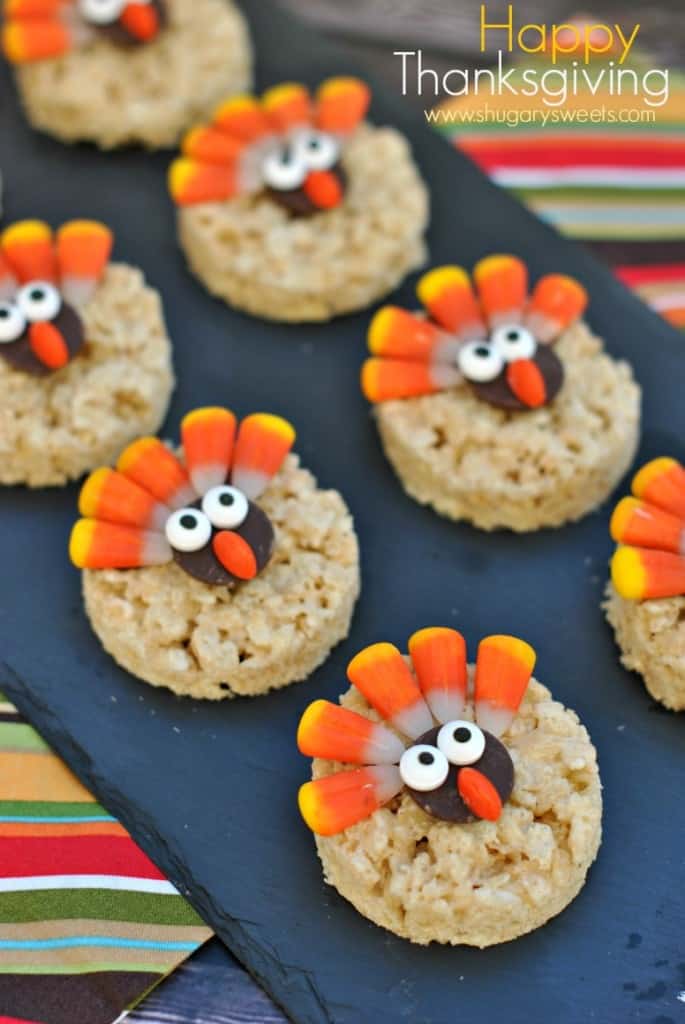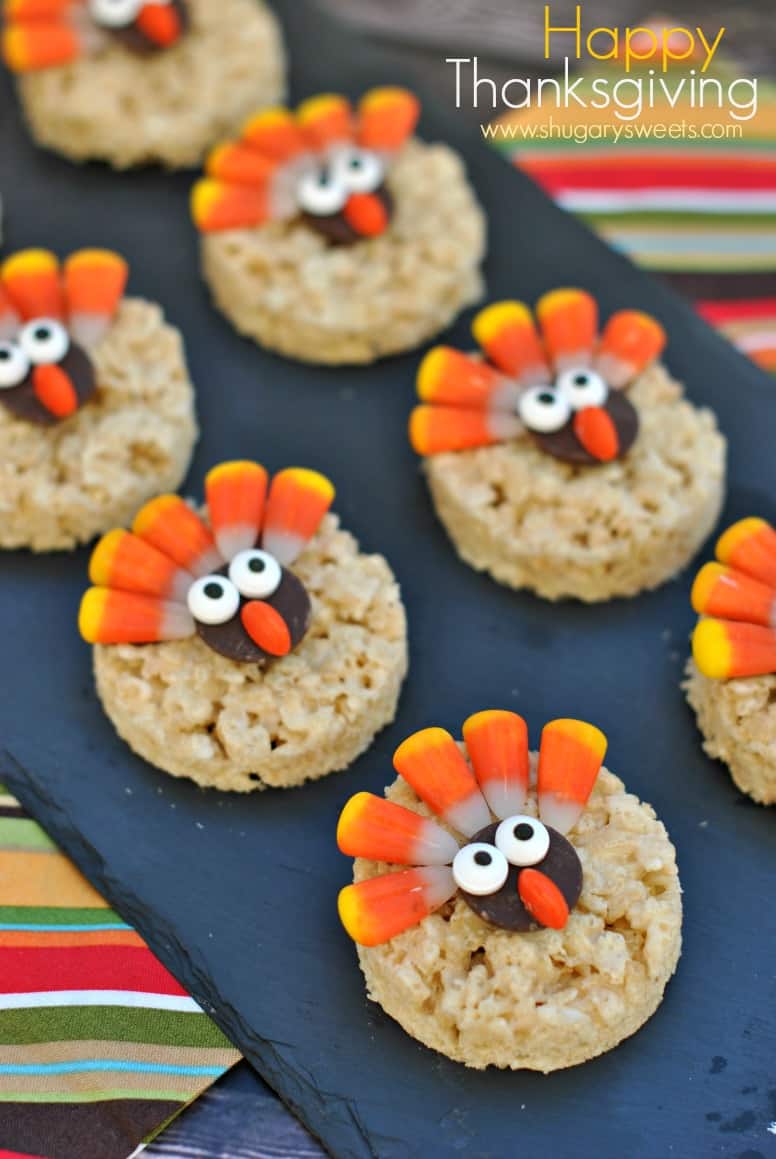 I'm honestly trying to do everything humanly possible to hold off going hog wild Christmas on all of you.
Let me just say. Prepare yourself. I'm about to throw red and green, peppermint and eggnog all over this blog, but before I do that I figure I need to make sure I pay due diligence to Thanksgiving.
And, since I'm not a "crafty" person, these Turkey Rice Krispie Treats were inspired by these, these, and this page.
You can change these up to fit YOUR needs. I just made a basic batch of rice krispie treats and pressed them into a 15×10 inch baking sheet. You can use already prepared ones too, if you want (although I must say homemade are way better tasting than store bought).
I used a 2 1/2inch round cookie cutter to make the circles, after the treats had set up. Feel free to use cocoa krispies to make some brown turkeys. Or use Indian corn to give a little more color to your birds. For the "face" I used a Ghirardelli chocolate melting wafers (have you tried these yet??? OMG). But you can use melted chocolate piped onto the treat or you can use an upside down Hershey Kiss, or even a Reese's PB cup. I would have given my bird a red waddle, but can you believe I had no red candy in the house? Or red candy melts (I happened to use them earlier in the week for a Christmas treat coming soon…true story).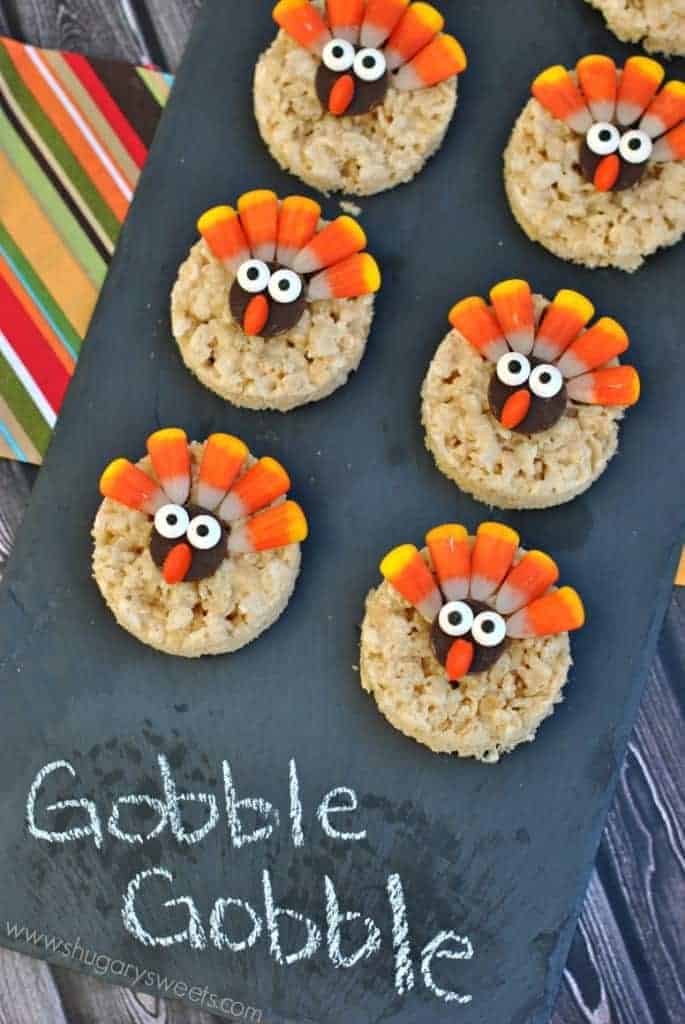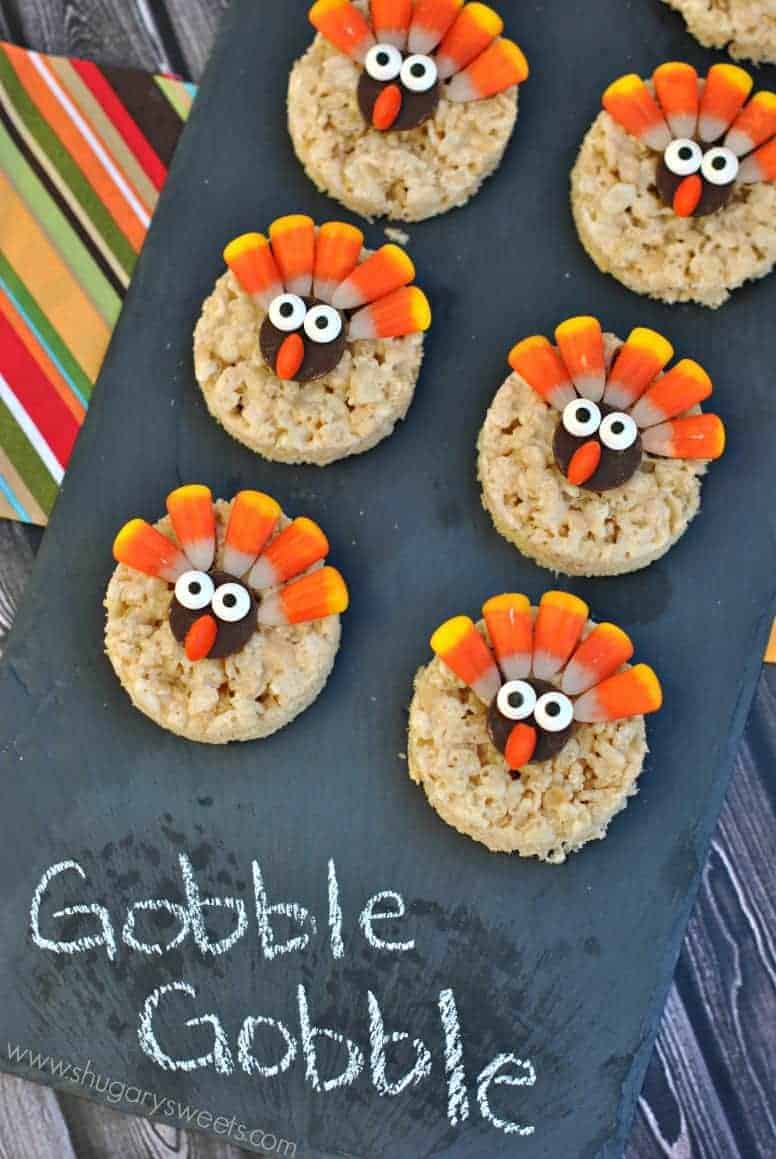 So, instead, my turkeys look like Elmo dressing up as a bird for Halloween. Right? You see it??
Doesn't matter. Cause it's a Rice Krispie Treat people. Only the best dessert on earth (yes, I truly believe that. Deep down I'm a 5yr old). These would be a great Fall treat to bring to school parties. Or Thanksgiving dessert tables!
Stay tuned…I've got some more Thanksgiving food coming this week. After that? Well, no promises, you may see a Santa sighting…
Looking for more Thanksgiving ideas? Check out my new "Let's Give Thanks" Pinterest Board!
Are you ready for Christmas instead? I've got you covered with my "Christmas Holiday Cheer" Pinterest Board!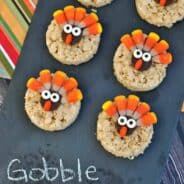 Turkey Rice Krispie Treats
Yield: 12 turkeys
Prep Time: 45 minutes
Cook Time: 5 minutes
Easy to assemble Turkey Rice Krispie Treats decorated for Thanksgiving!
Ingredients:
For the krispie treats:
1/4 cup unsalted butter
10oz bag marshmallows
5 cup Rice Krispies Cereal
For the turkeys:
1/4 cup semi-sweet chocolate morsels, melted
12 chocolate wafers (or Hershey Kisses)
candy corn
candy eyes
orange m&m's
Directions:
In a large saucepan, melt butter over medium heat. Once melted, add marshmallows and stir continuously until melted. Remove from heat and quickly fold in the cereal, until completely coated.
Press lightly into a buttered 13x9 baking sheet. Allow to set, about 30 minutes.
Using a 2 1/2 inch round cookie cutter (or whatever desired size), cut circles into the krispie treat. Eat discards immediately.
Using the melted semi-sweet chocolate, attach about 5 candy corn for feathers, one wafer for the face, two eyes and half of an orange m&m for the beak. Feel free to add a red candy (or pipe on red candy melts) for the waddle.
ENJOY!
MAKING THIS RECIPE? Share it with me on Instagram using the hashtag #ShugarySweets so I can see what you're cooking up in the kitchen!


 While planning your Thanksgiving menu, be sure to check out this great list of 65+ Thanksgiving Side Dishes!!