Spooky Halloween Spider Rice Krispie Treats are the perfect party idea. This recipe is so easy, even the kids can make them!
For more Halloween party fun, be sure to make a batch of 7 layer taco dip (with a spooky web topping) or try your hand at some Rats and Bones!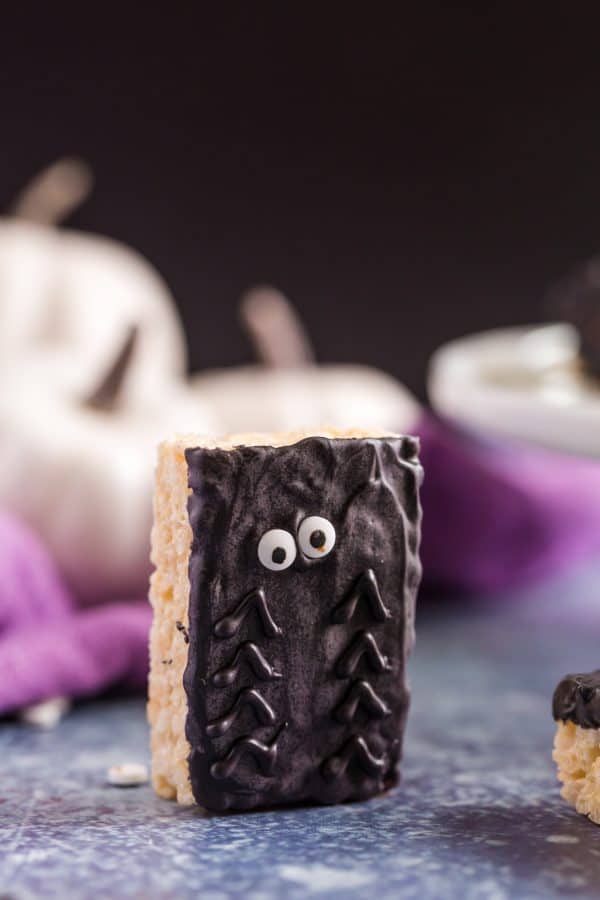 Halloween Dessert Ideas
It's October, which means I can officially start sharing all my favorite Halloween treats.
And it wouldn't be Halloween if I didn't share Rice Krispie treat recipes with you all!
You may remember these fun Frankenstein treats from last year. Today…it's all about the spider.
Plus, these treats are easy enough you can get the kids involved!
Step by Step Instructions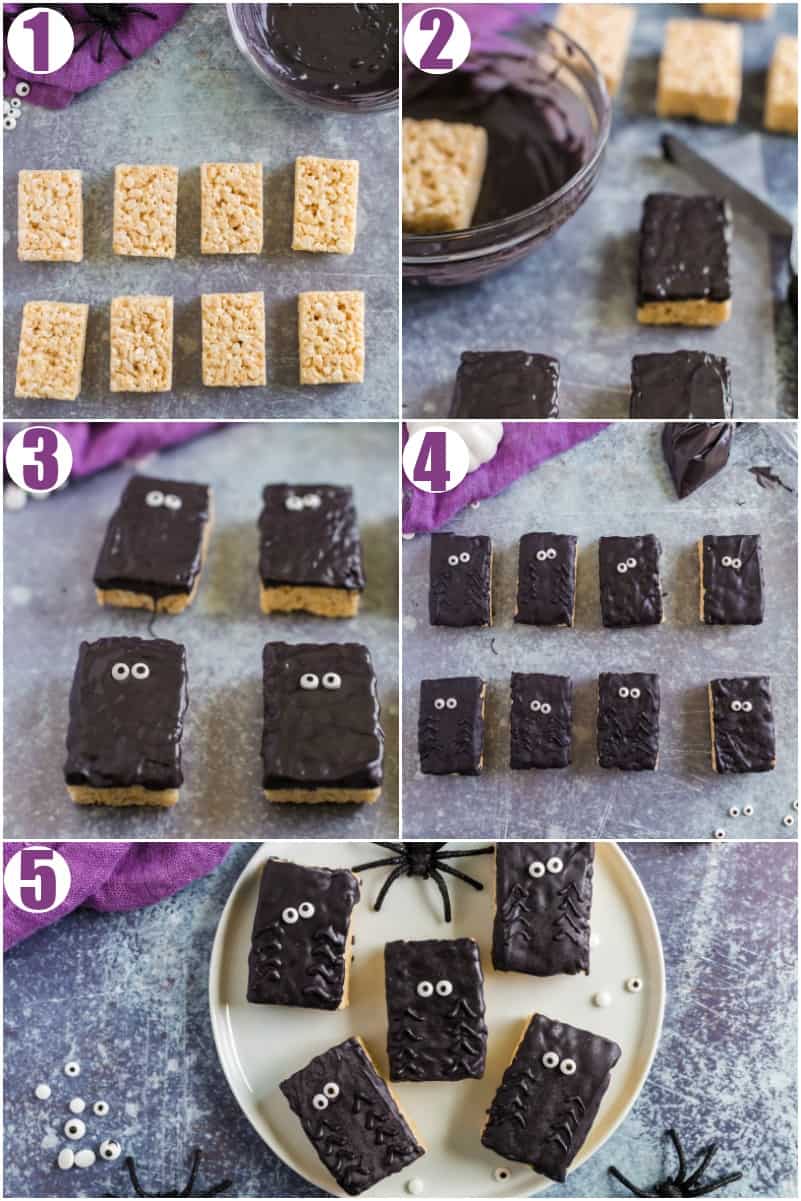 STEP 1: Prepare a batch of Rice Krispie Treats.
Using either my favorite recipe for Rice Krispie Treats or unwrapping individual store bought treats, you decide which route to go.
Make treats in a 9-inch square baking dish. Once set, cut into 8 large rectangles, or 16 small.
STEP 2: Melt Chocolate.
I use Ghirardelli dark chocolate wafers because I love the flavor. Melt in a glass bowl for one minute. Stir until smooth. Add an additional 15-30 seconds if needed.
Dunk the top of each rice krispie treat square into the melted chocolate, spreading smooth with an offset spatula as needed.
STEP 3: EYES.
Immediately place a pair of candy eyes onto each treat while the chocolate is still soft. Allow to set, about 10-15 minutes.
STEP 4: LEGS.
Once chocolate has set onto the rice krispie treats, spoon remaining chocolate from the bowl into a small ziploc bag. Snip off the corner of the bag and pipe 8 legs onto each treat. Allow to set.
STEP 5: ENJOY!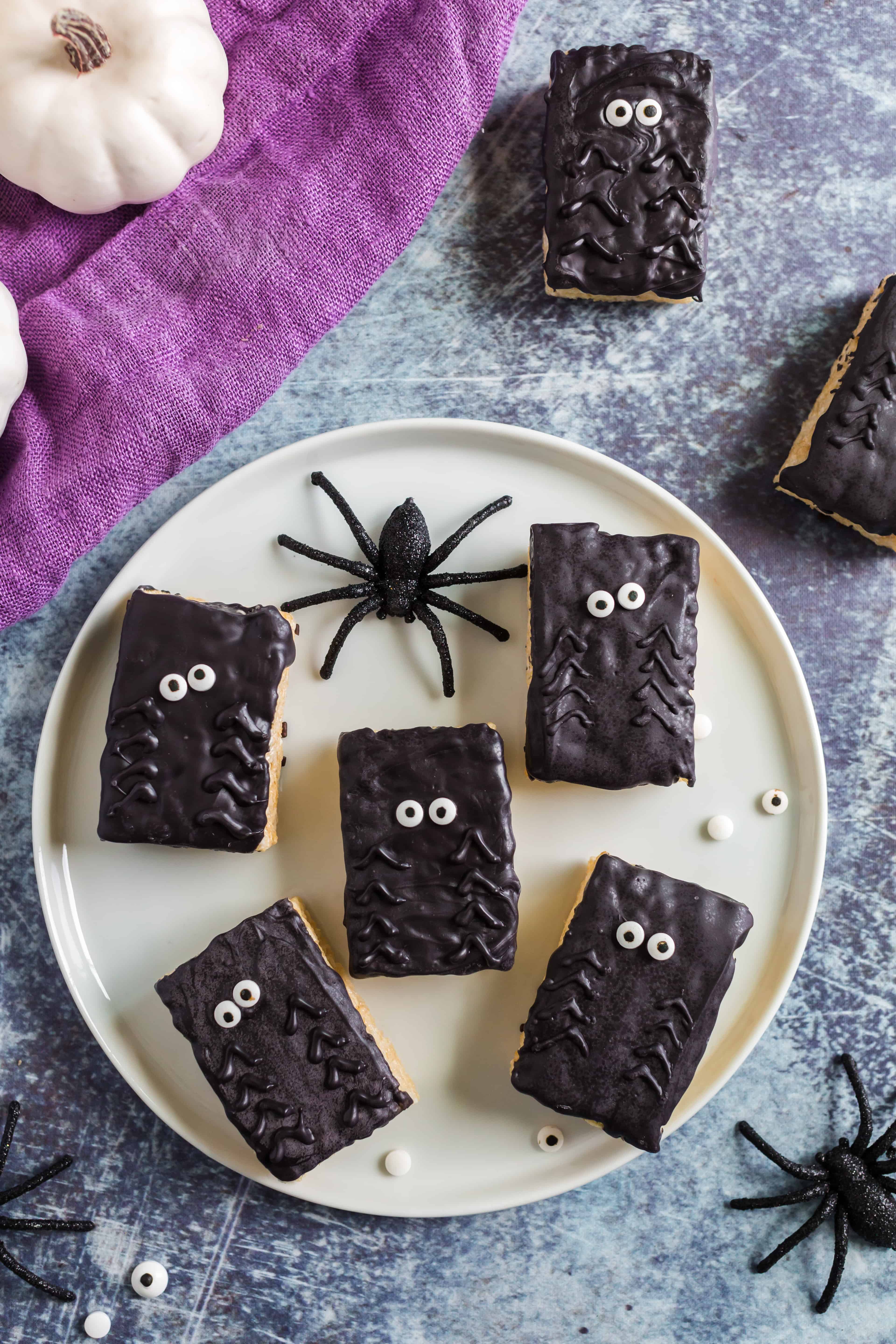 Tips and Tricks
Use my homemade rice krispie treat recipe or but the store bought Rice Krispies Treats for an easy alternative.
Good chocolate matters. I love using Ghirardelli Dark chocolate wafers. They not only melt smooth, but taste amazing too.
Make sure to allow the first layer of chocolate to set before adding the chocolate "legs." Otherwise it will ooze right into the first layer.
Make a batch of these adorable Mummy Rice Krispie Treats by swapping out the dark chocolate for white chocolate!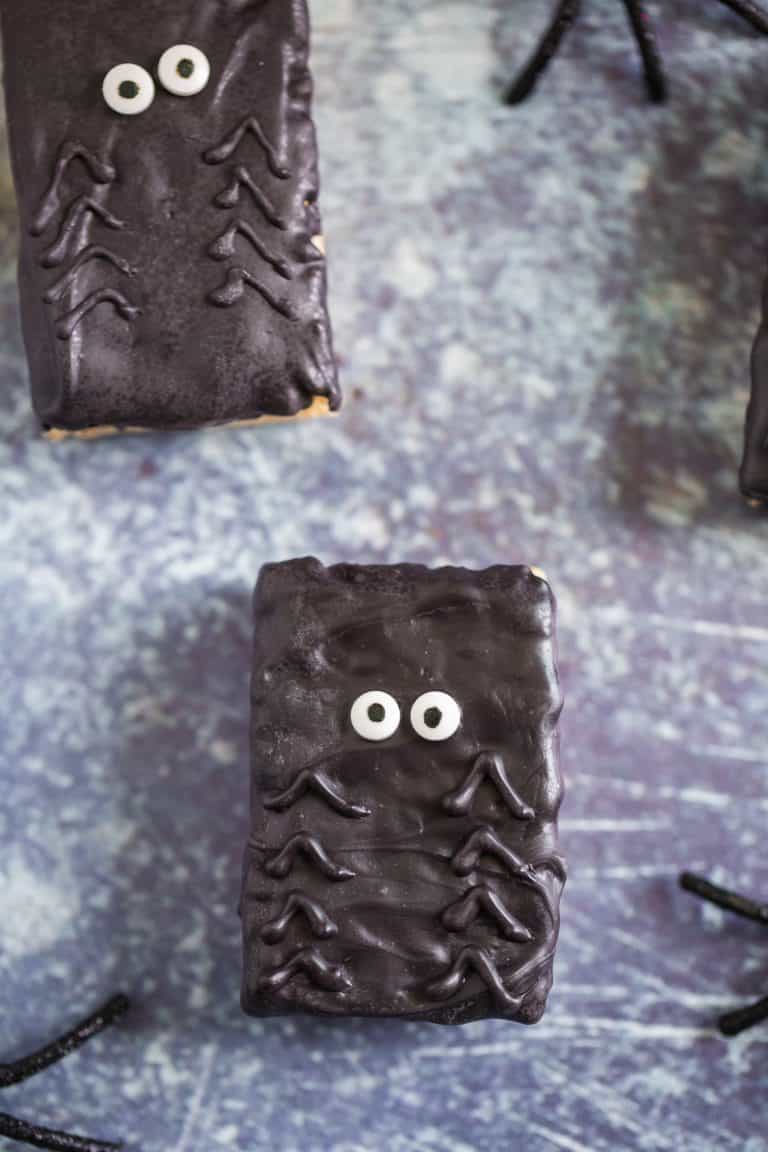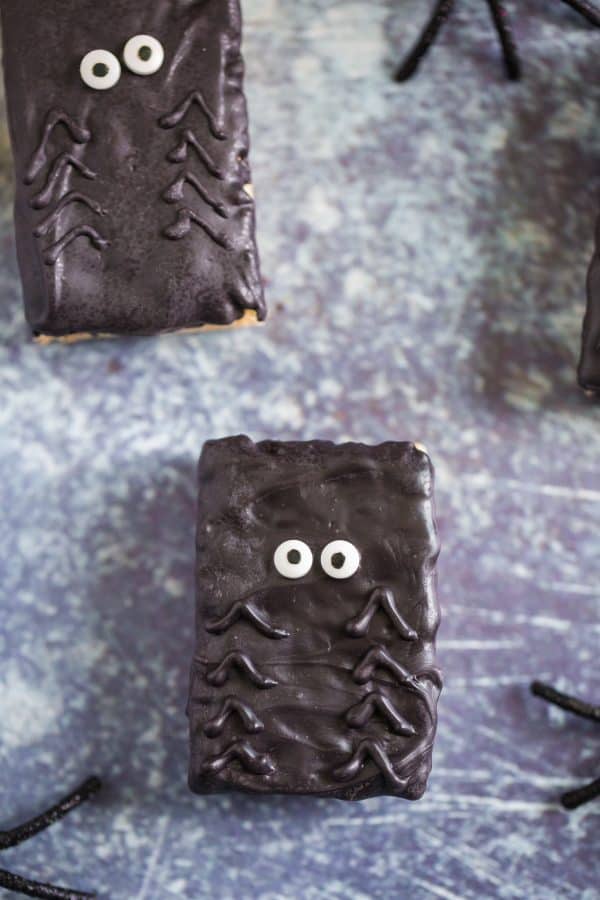 Recipe FAQs
How long do rice krispie treats last?
These treats can be made several days in advance and kept at room temperature. Store in airtight container at room temperature, out of sunlight (so chocolate doesn't melt) for up to 5 days.
Can you freeze rice krispie treats?
I don't recommend this as your treats will change in texture.
Why are my homemade Halloween rice krispie treats hard?
Sounds like you pressed them too firmly into the baking pan. Next time, be gentle and make sure you follow the directions exactly.
Can I refrigerate Halloween spider rice krispie treats?
Do not refrigerate. This will result in some discoloration of the chocolate on the top of the treat!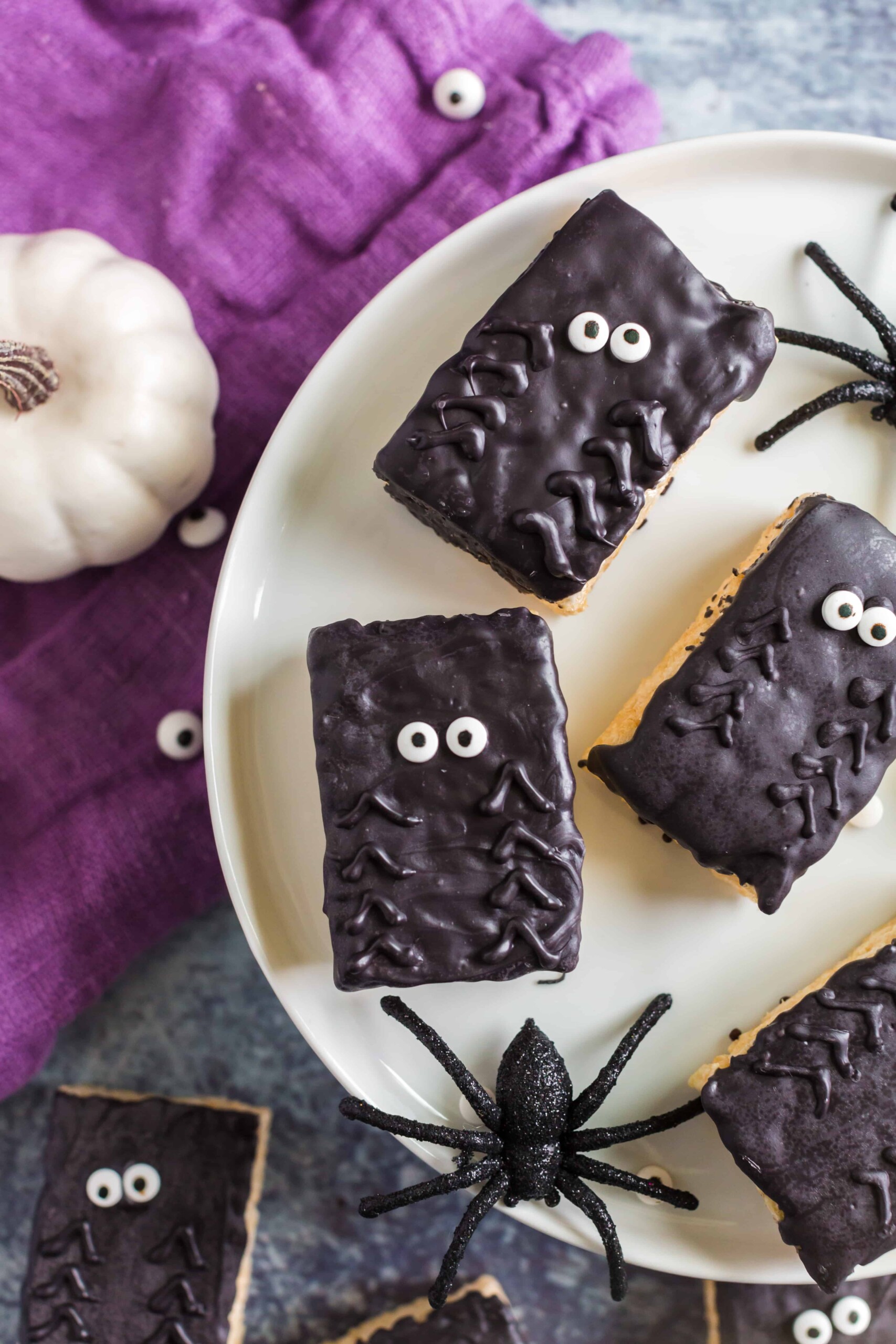 Easy Halloween Dessert idea with Rice Krispie Treats and chocolate. Fun, spooky Spiders!