Who said Meatloaf is boring? Surprise your family with some Bloody Rats Meatloaf this Halloween and nobody will call your meatloaf boring ever again! Don't forget a side of Bones in the form of Parmesan Garlic Breadsticks!
Don't miss my classic meatloaf recipe for a perfect weeknight dinner all year long. I also recently shared an Instant Pot Meatloaf that's easy and ready in minutes!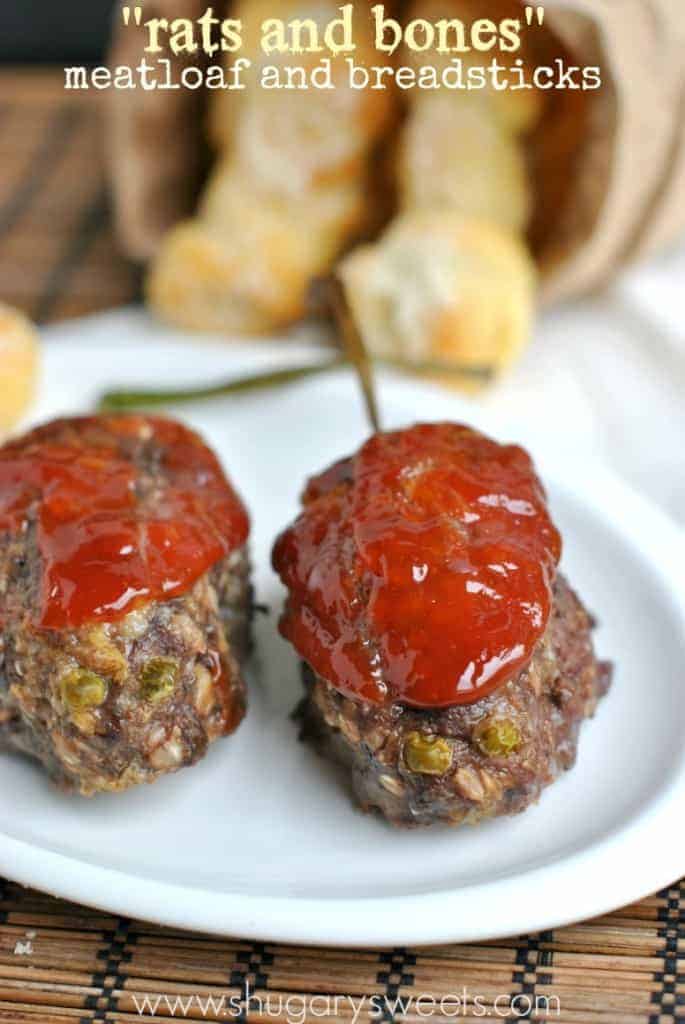 Why this Recipe is Best
It's time to make a delicious Halloween dinner. Or April Fool's day. Or, if you're Survivor fans like my family, a Wednesday night dinner idea.
These delicious mini-meatloaves look like rats on a plate! This is not the recipe to serve your grandma but the kids LOVE it and it's a ton of fun. You could also leave off the rat-like garnishes and make this meatloaf any time of year!
This meatloaf is the perfect blend of savory seasoned meat with a hint of sweetness and tang. I love the cheesy addition of the cheddar baked right into the loaves.
If your idea of meatloaf conjures memories of dry, bland slices from the school cafeteria, rest assured this meatloaf is NOTHING like that. Juicy and flavorful, these mini loaves are topped with a tasty blend of ketchup, mustard and brown sugar for tangy sweetness.
This recipe makes 12 rats (or mini meatloaves). Each one is the perfect portion size for my hungry eaters. But, you can also freeze these after baking if you prefer. Or divide the recipe in half. Or invite over a bunch of rat eating friends. Your call.
But whatever you do, don't forget the bones. The garlic parmesan breadsticks are the perfect complement to this meal. And with a can (or two) or Pillsbury crescent rolls, they whip up in a jiffy!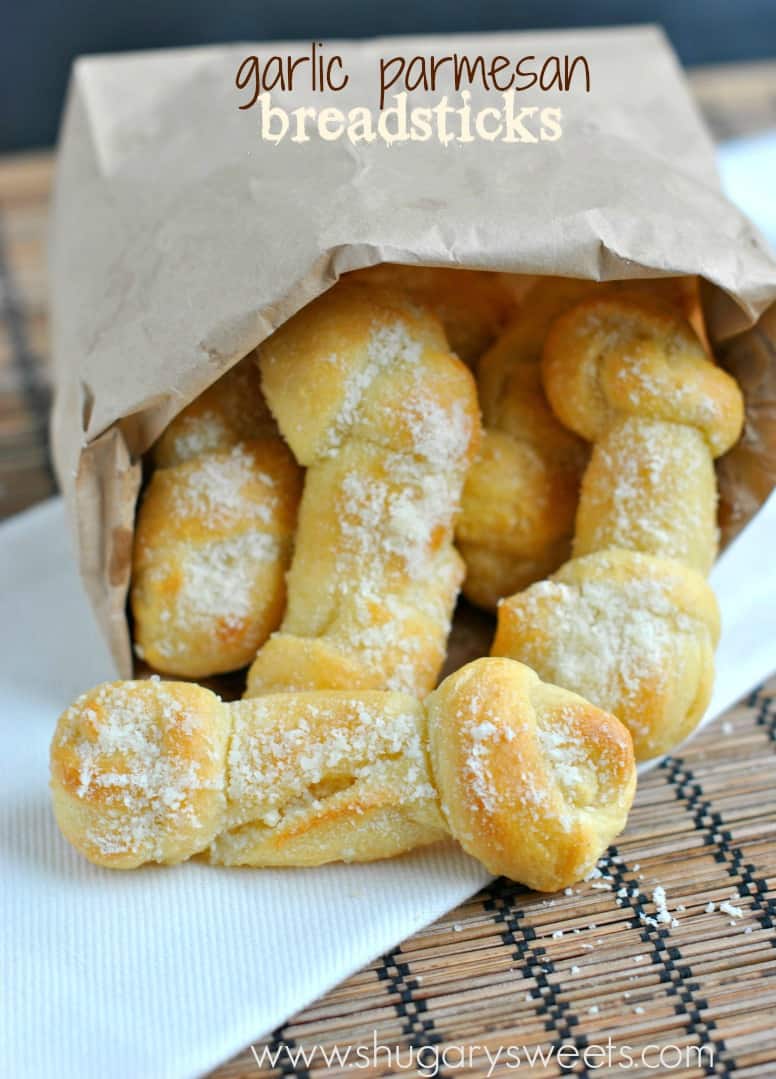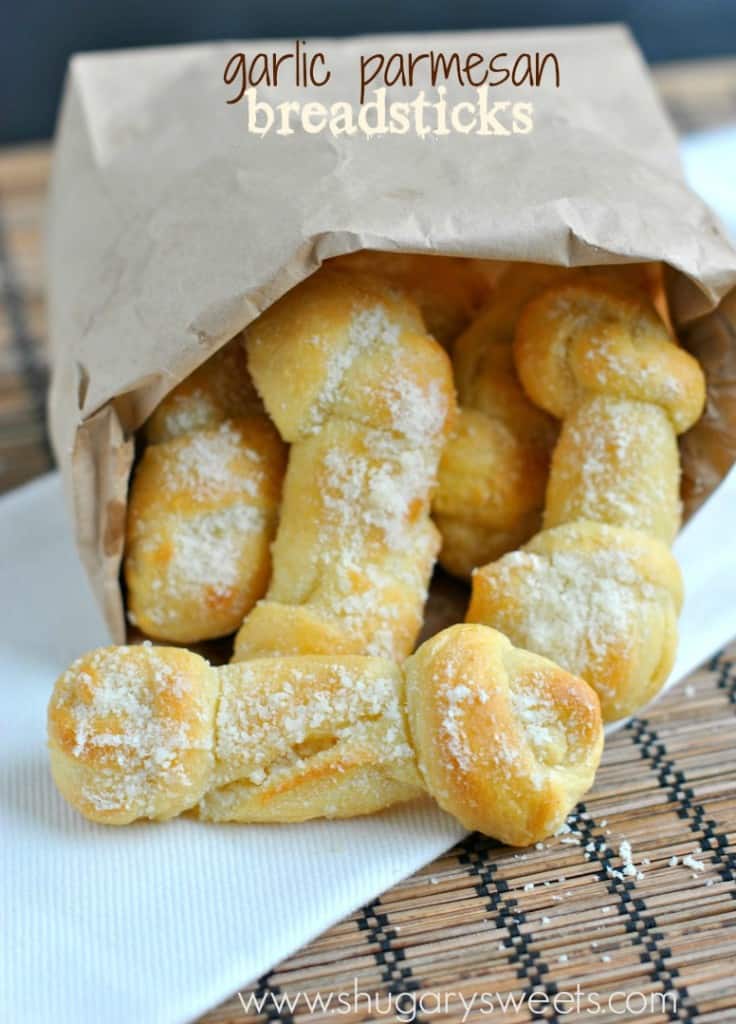 Ingredient Notes
The core element of this recipe–the meatloaf–can be made with or without the "ratty" garnishes.
These key ingredients make the meatloaves so good:
Ground beef – Grab a few pounds of ground beef when it's on sale to stash in the fridge and freezer. This recipe stretches the ground beef nicely giving you the ultimate bang for your buck!
Cheddar cheese – Use sharp, mild or extra sharp depending on your taste preferences!
Seasonings – A little onion and garlic powder go a long way! You can adjust the herbs and spices in this recipe to suit your needs.
Today we're talking about how to turn ordinary meatloaf into something fun! To turn this into Bloody Rats Meatloaf, here's what you'll need:
Peas or green olives – I use these to give "eyes" to my little rats!
Green onions – Slice them thinly to add tails.
Crescent roll – A package of crescent roll dough along with some garlic, butter and cheese makes perfect "bones" to round out the meal.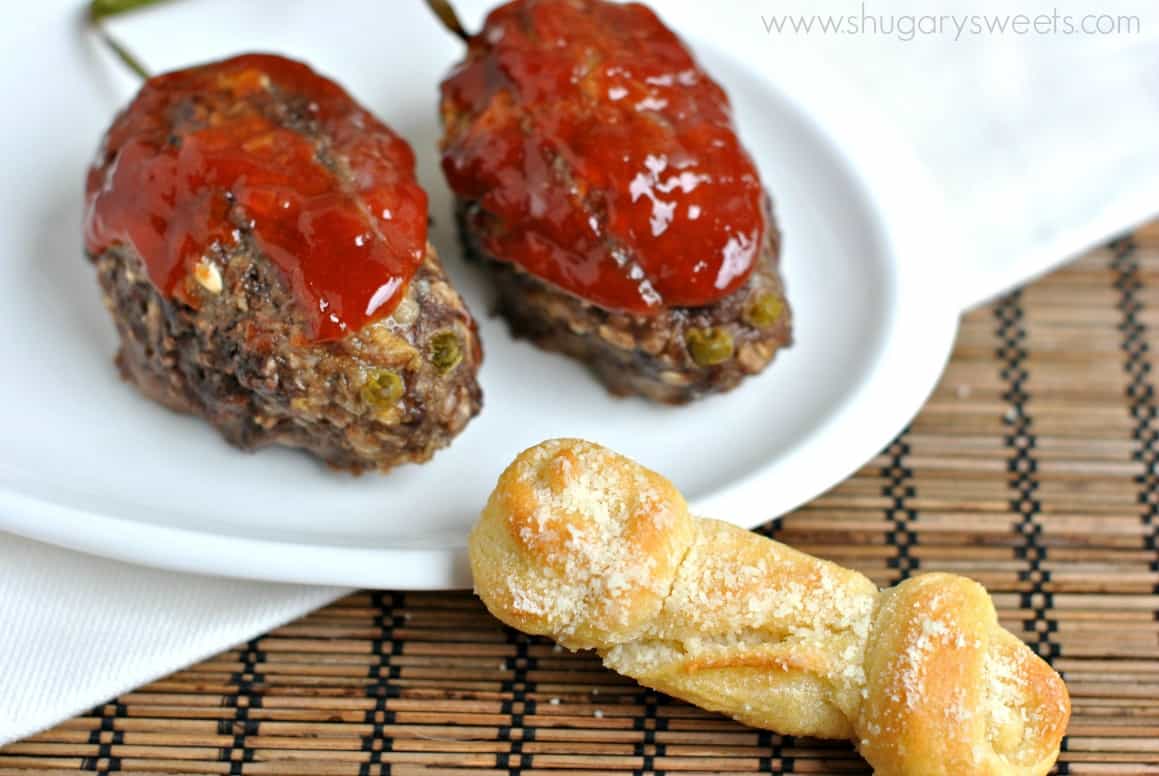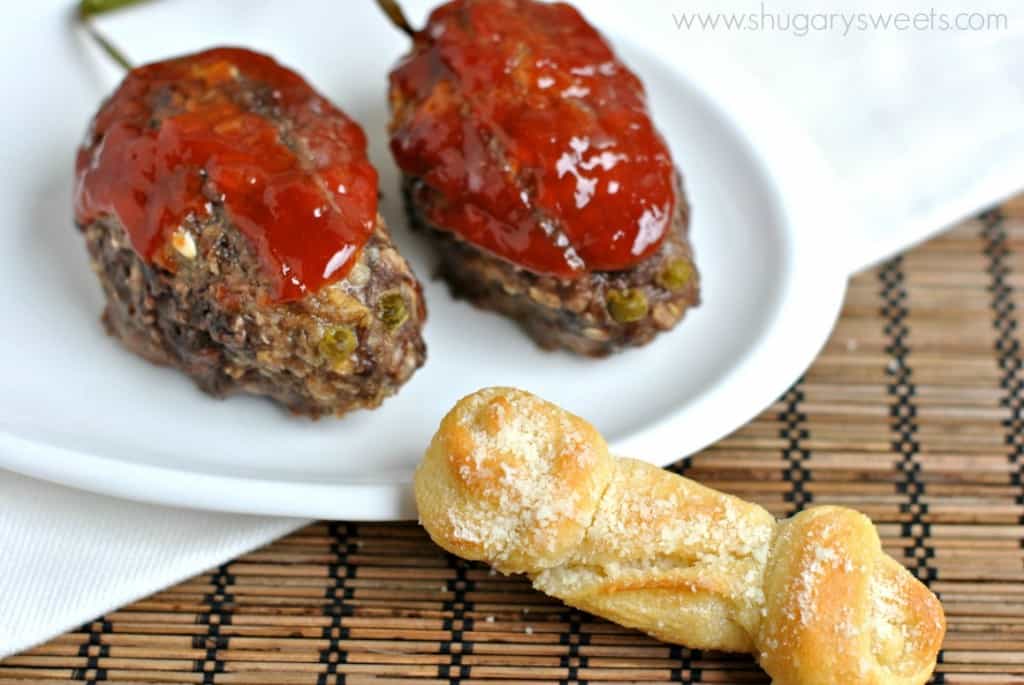 Step by Step Instructions
STEP 1. Prepare the meatloaf
Combine the beef with oats, cheese, milk, eggs and seasonings. Mix with your hands to combine completely.
Shape the mixture into 12 equal sized ovals and place on a prepared rimmed baking sheet.
STEP 2. Toppings
To make rats, press the peas or green olives in to the front of each loaf to make eyes and add the green onion to the back as a tail.
Whisk together ketchup, mustard and brown sugar, then spoon the topping over each meatloaf.
STEP 3. Bake
Bake the meatloaves for 40 – 45 minutes.
STEP 4. Make the breadsticks ("bones")
While the meatloaves are baking, unwrap the crescent rolls from the package. Roll each triangle into a rope shape, tying knots on the end to form bones.
Place on a baking sheet and bake for 11 – 13 minutes. Meanwhile, combine melted butter with garlic and salt.
Remove the bread sticks from the oven and brush each one with the butter mixture. Sprinkle a handful of Parmesan over all the bread sticks while they're still warm.
STEP 5. Serve
To serve, place 1 or 2 meatloaves on a plate along with 1 or 2 bones (depending on how hungry you are!).
Tips & Tricks
If you're not going with a spooky Halloween theme, just bake the crescent rolls according to package directions, jazzing them up with the garlic butter and parmesan cheese! You can also just swap them out for my favorite dinner roll recipe.
The mini meatloaves store well in the freezer! If you have more than you can eat at once, feel free to toss the rest in the freezer after baking. I love freezing meatloaf in mini loaf form so you can just remove as many as you want without having to reheat an entire pan.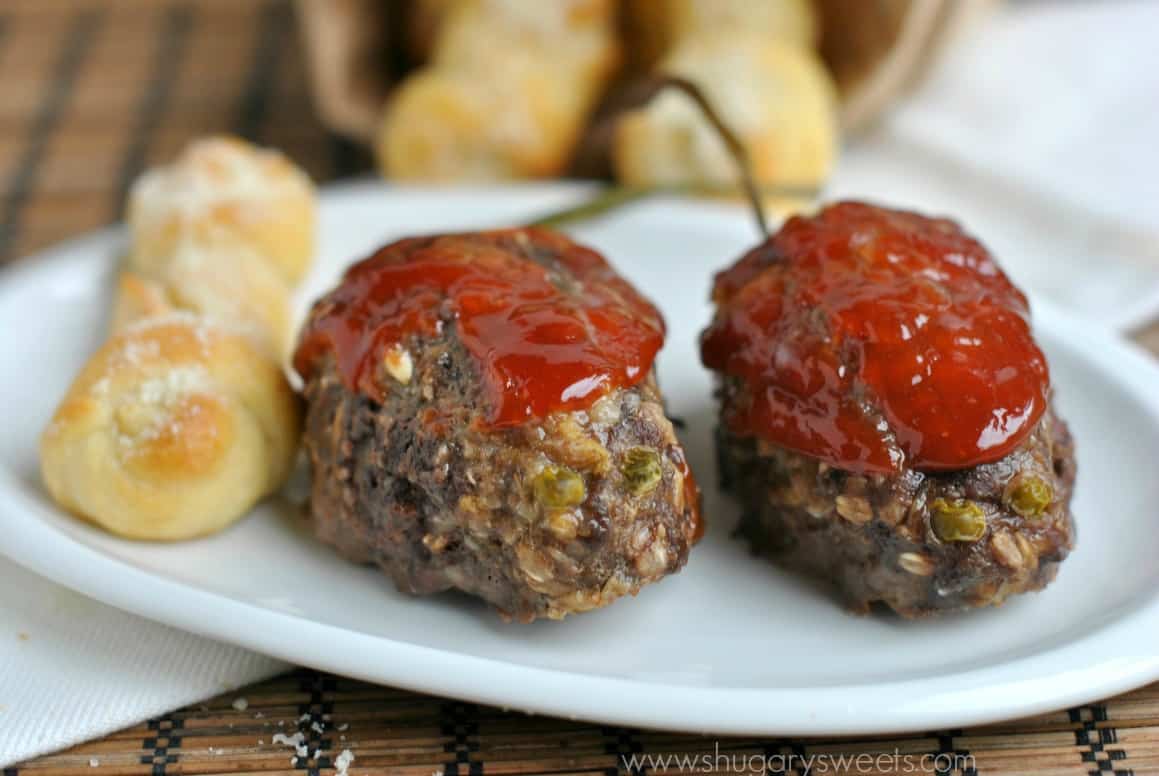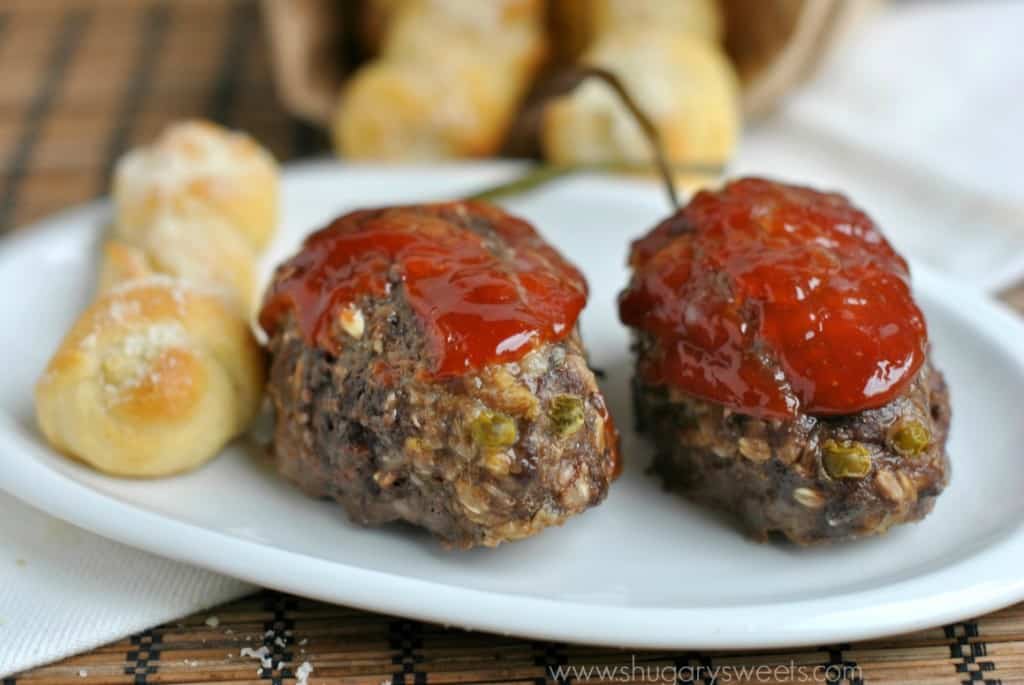 Recipe FAQs
Can meatloaf be made with ground turkey?
Definitely! I prefer the flavor of the ground beef for more of a classic meatloaf taste but ground turkey would be good too.
How do you store leftover meatloaf?
Leftovers can be stored in an airtight container in the fridge for about 3 days. Or freeze them in freezer safe bags for up to 2 months! I'd reheat them in the oven for best texture. They also make great sandwiches.
Are these only for Halloween?
Nope! The rat theme is a fun surprise for April Fool's day or anytime you want to have a little fun with your family. You can also leave off the rat eyes and tail and make these as regular, delicious little meatloaves!
Favorite Halloween Recipes
Say goodbye to the boring meatloaf of yesteryear. Get creative in the kitchen with Bloody Rats and Bones Meatloaf!