My love for the farmer's market inspired this delicious Watermelon Peach Salsa. Pair it with some fresh Pure Leaf Iced Tea, and summer will never end. I hope.
**today's post is sponsored by Pure Leaf Iced Tea, all opinions are 100% my own**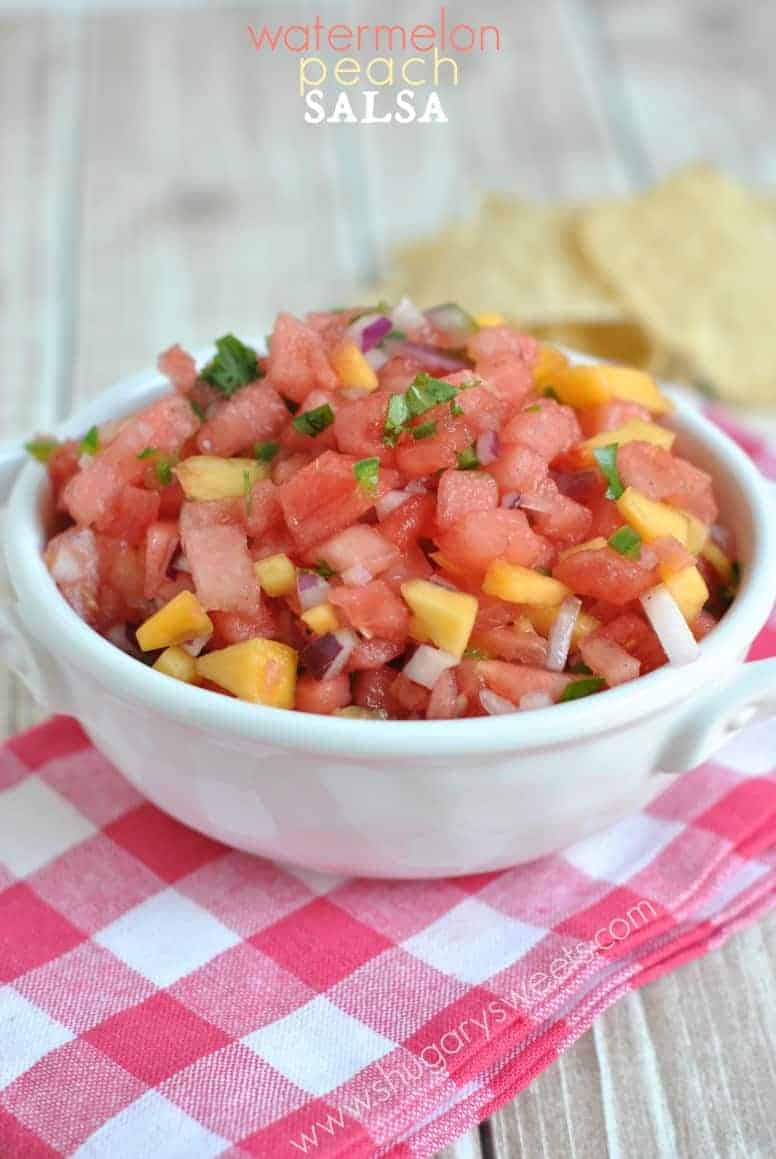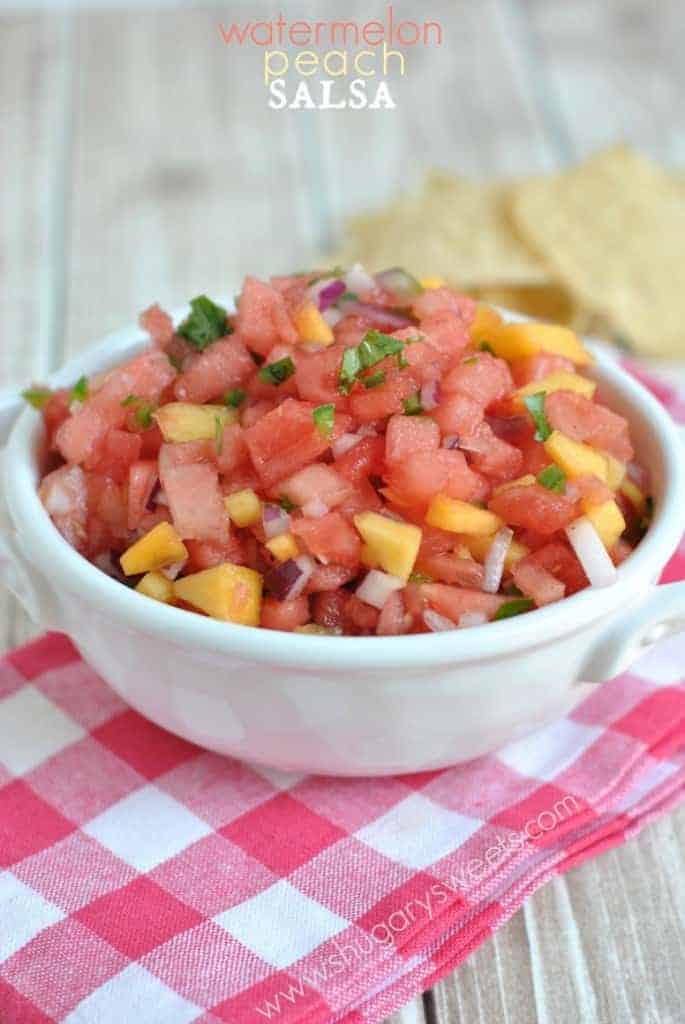 I have recently become obsessed with the local farmer's market. The smells. The people watching. The "local" feel of supporting each other. The fresh fruits and vegetables.
And the homemade hot empanadas. Oh the empanadas. I wake up on Saturday mornings thinking about them. Craving them.
But I digress.
The farmer's market fruits and veggies inspired today's recipe. Well actually my friend Kim inspired this recipe. A few weeks ago she brought over a watermelon mango salsa. I was skeptical about the watermelon, but after one bite I knew I had to make this.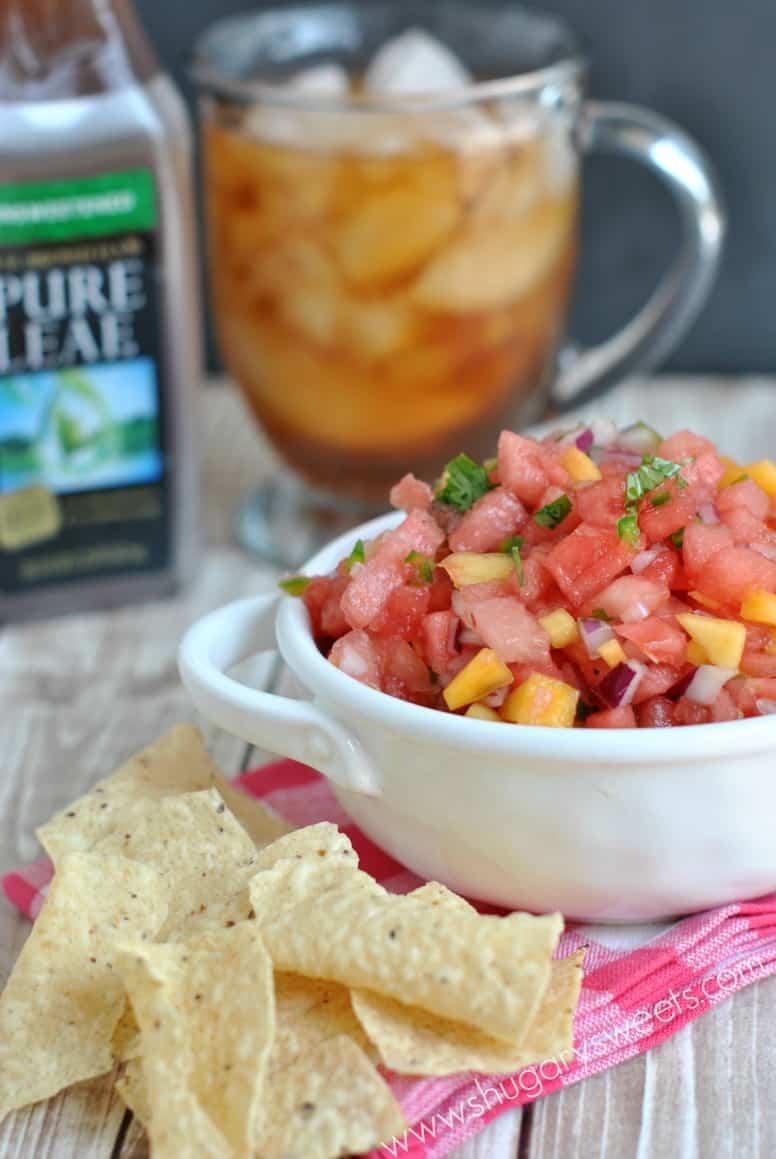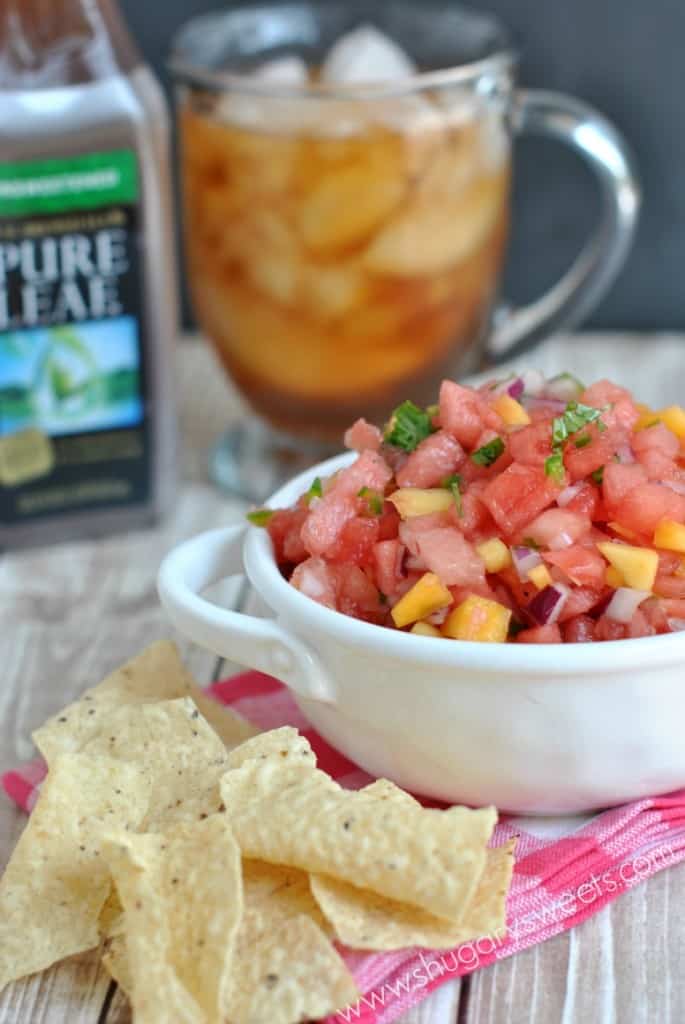 Using my strawberry salsa recipe as a base. I got to work.
And by work, I mean, went to the farmer's market. I intended to create a watermelon mango salsa, but after walking around, I realized how insanely popular the peaches were. And after purchasing a big bag full, and tasting how sweet and juicy they are, I knew I would use peaches in my salsa.
I am so happy with how this recipe turned out. The fresh jalapenos and red onion give this salsa enough "kick" while the fruits give the heat some balance with sweetness.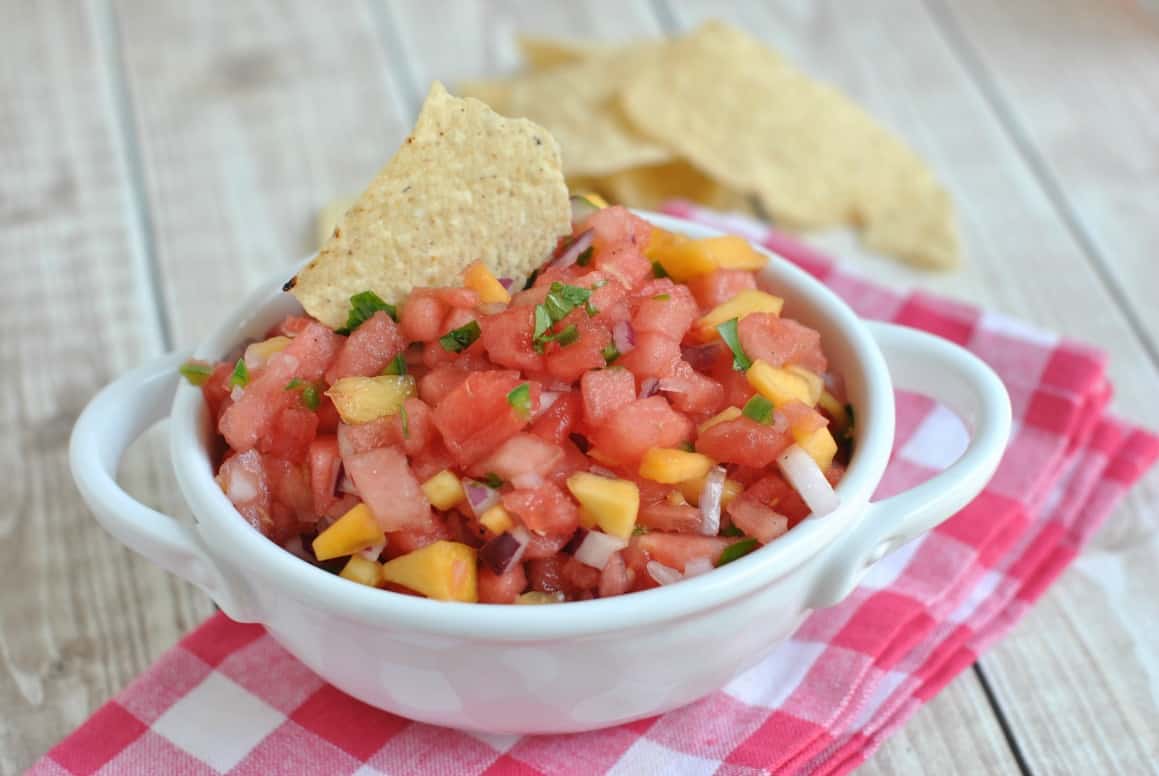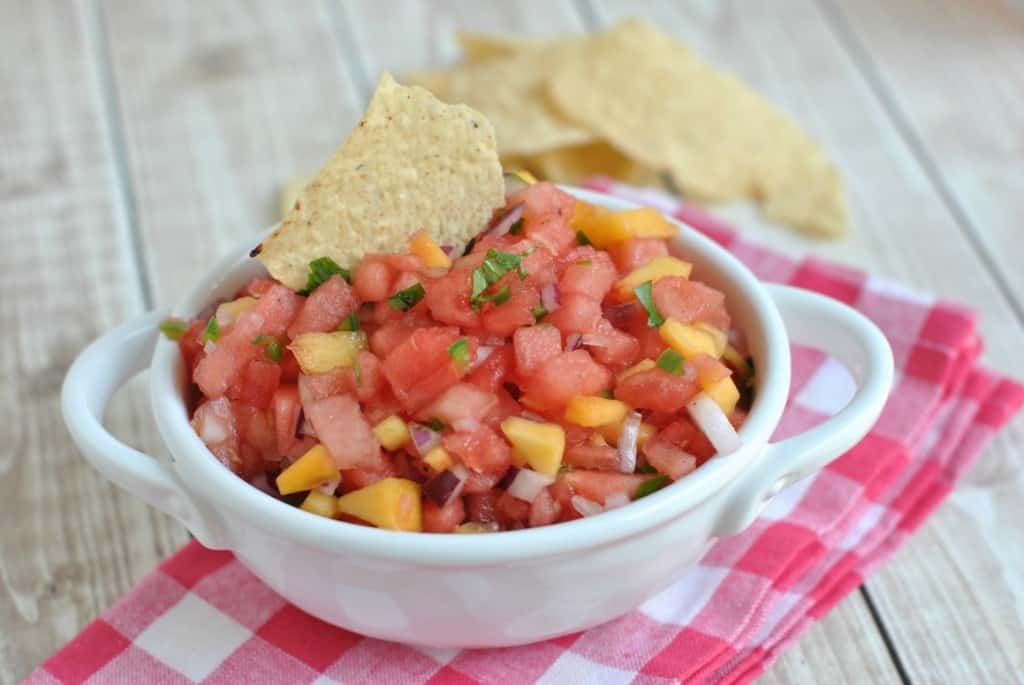 And of course, pairing this salsa with my favorite beverage (no, not coffee)…Pure Leaf Iced Tea made a delicious snack. I love the fresh brewed (never bitter) taste of the Unsweetened Iced Tea. Fortunately for me, my Costco sells this by the case! You may remember last month I made some Sweet Tea Slushies with Pure Leaf Sweet Tea. So refreshing!
Connect with Shugary Sweets! Be sure to follow me on my social media, so you never miss a post!
Facebook | Twitter | Pinterest | instagram
Yield: 4 cups
Watermelon Peach Salsa
Ingredients
2 cup diced watermelon (no seeds)
1 small red onion, diced
2 peaches, peeled and diced
2 jalapenos, seeded and diced
3/4 tsp kosher salt
pinch of black pepper
2 Tbsp fresh cilantro, snipped
Instructions
In a large bowl, combine all the ingredients.
Refrigerate for an hour to let the flavors mingle. Serve with chips and enjoy!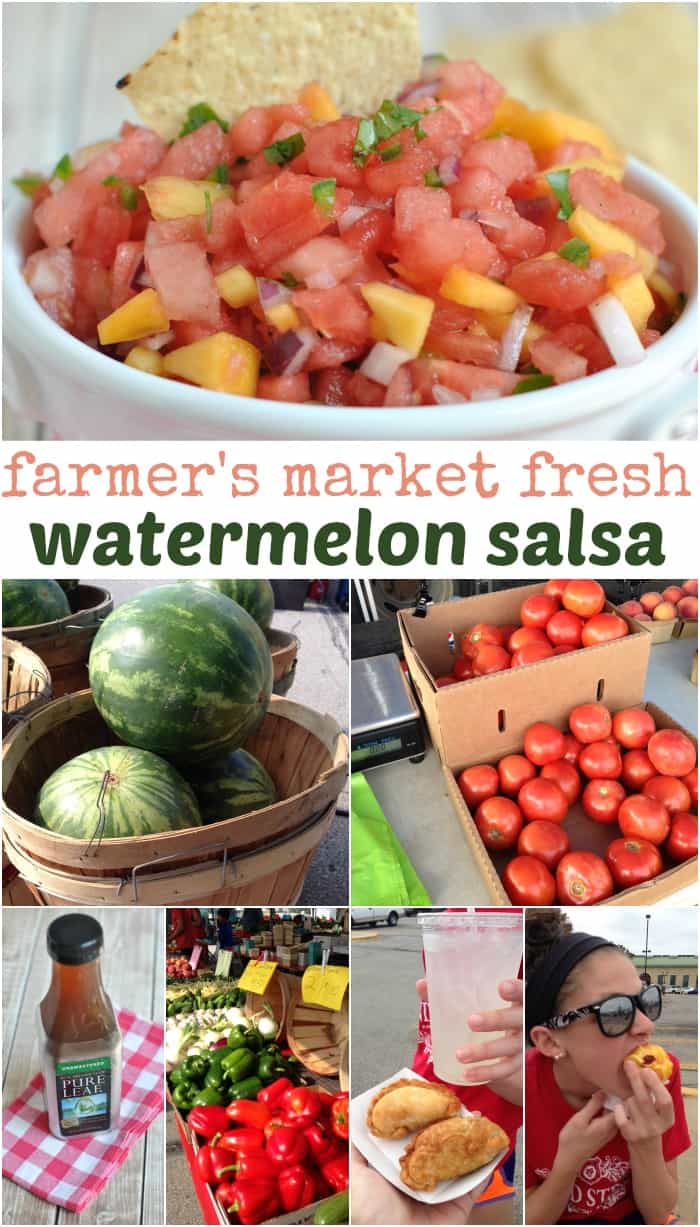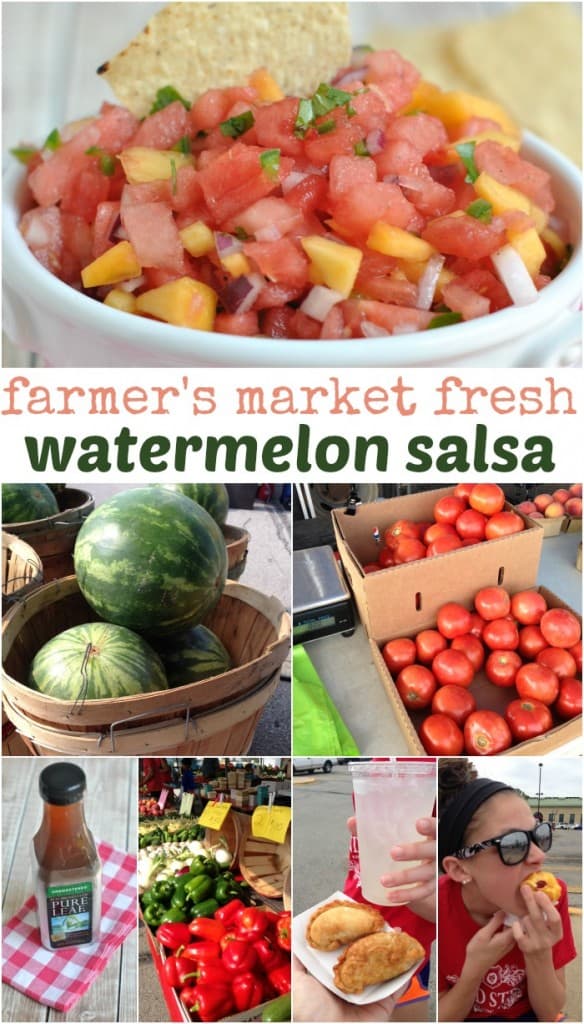 **Today's recipe is sponsored by Pure Leaf Iced Tea. While I was compensated for recipe development, all opinions about the product are 100% my own!**