Sweet and spicy Watermelon Salsa. You'll love the sweet watermelon and peaches paired with the spicy onion and jalapeño!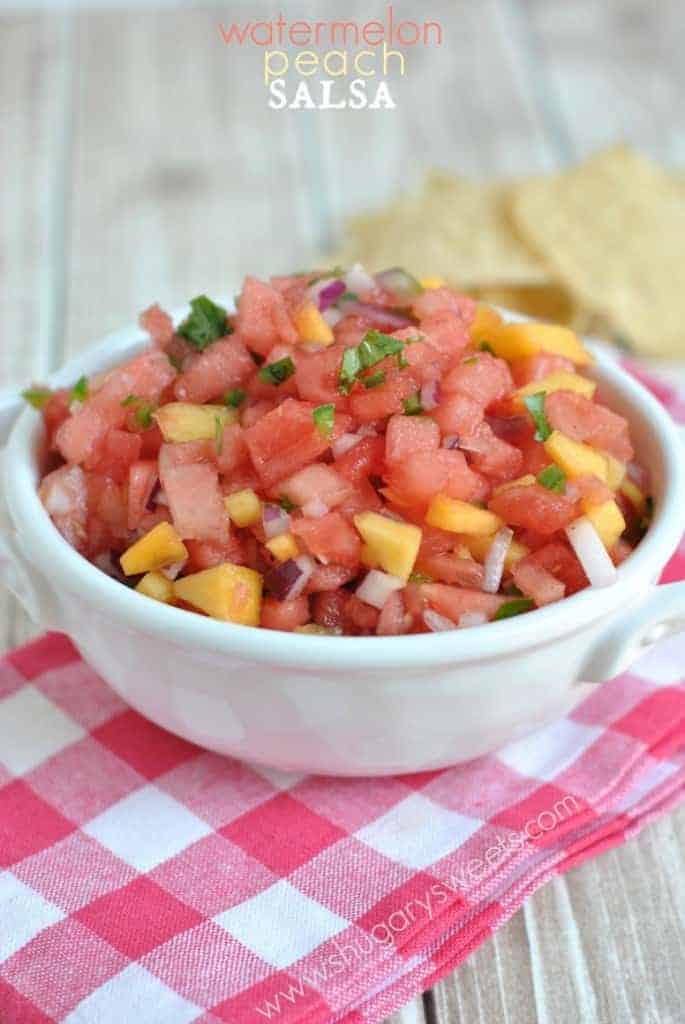 Why this Salsa is Best
To make this salsa, start with a seedless watermelon. The extra juicy kind, please!
If you're not sure how to pick a juicy watermelon, start by picking it up to judge the weight. A good watermelon is heavy for its size because it's full of juice.
Cut the watermelon into quarters, then slice off the rind. Use a sharp knife to chop the melon into bite sized pieces. (Use our guide on how to cut a watermelon for best tips and tricks).
Next, prepare the peaches. Use a paring knife or a vegetable peeler to peel the skin off the peaches before you slice them. If the skin is difficult to peel off, try soaking the peach in hot water for a few seconds to loosen it.
Dice and add to the a bow with watermelon, red onion and jalapeño. Sprinkle in some fresh cilantro, salt and pepper and let it chill in the fridge of about an hour before serving.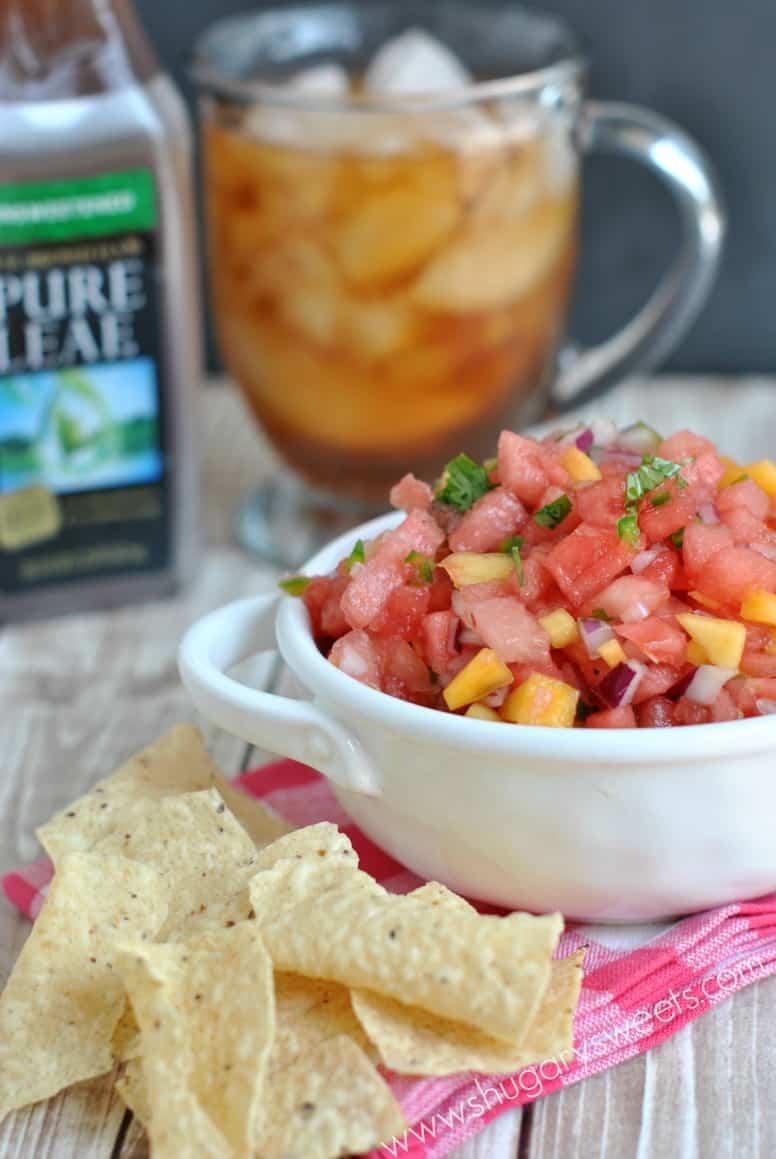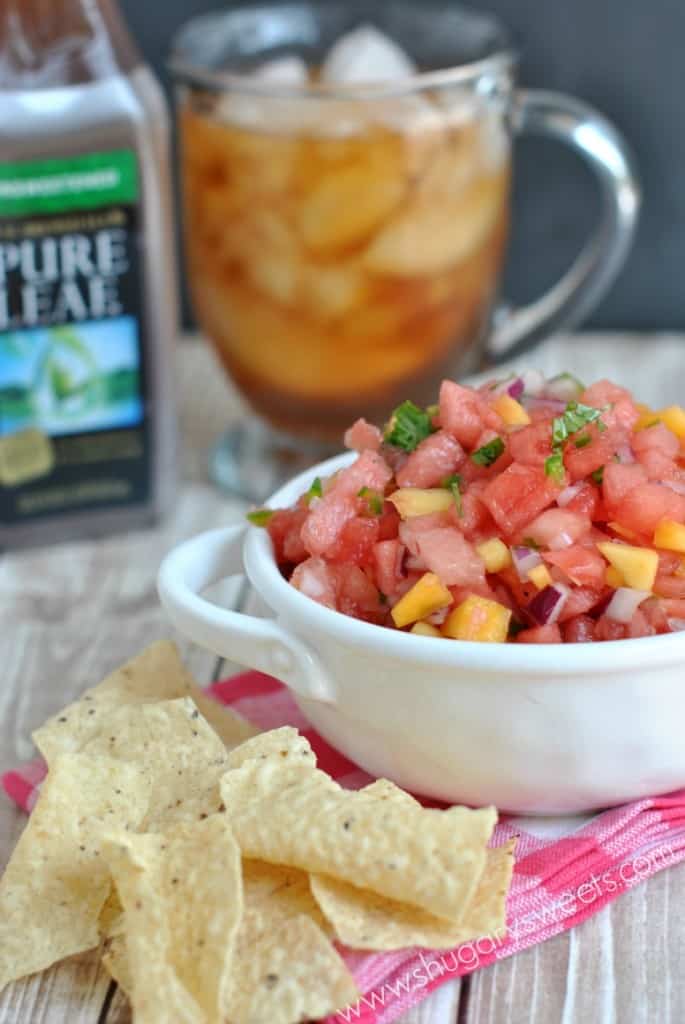 Serving Suggestions
All these summer flavors in the salsa make me want to bring it out to the patio with a bag of blue corn chips and a Cherry Margarita while I pretend to be on vacation. I happily munched on this salsa with chips all afternoon–don't worry, I saved SOME to share with my family.
Put this Watermelon Salsa on the table alongside a bowl of crunchy tortilla chips and watch how quickly it disappears! It's a perfect dip for sharing at a party or serving during cocktail hour.
This sweet and spicy salsa would also be delicious as a topping for Fish Tacos or as an addition to a salad. Next time I make it, I might try mixing it in a salad with spinach and feta cheese for lunch. It would be tasty in a wrap with some chicken or turkey, too!
How to store
Watermelon Salsa tastes best if eaten withing a couple of days. Allowing it to chill in the fridge for at least an hour before you serve it helps the flavors meld and mingle! Keep any leftovers in a covered bowl or tupperware.
This salsa tastes so good that I doubt you'll end up with any leftovers at all! Everyone who tastes this agrees it's difficult to stop eating once you've had that first bite.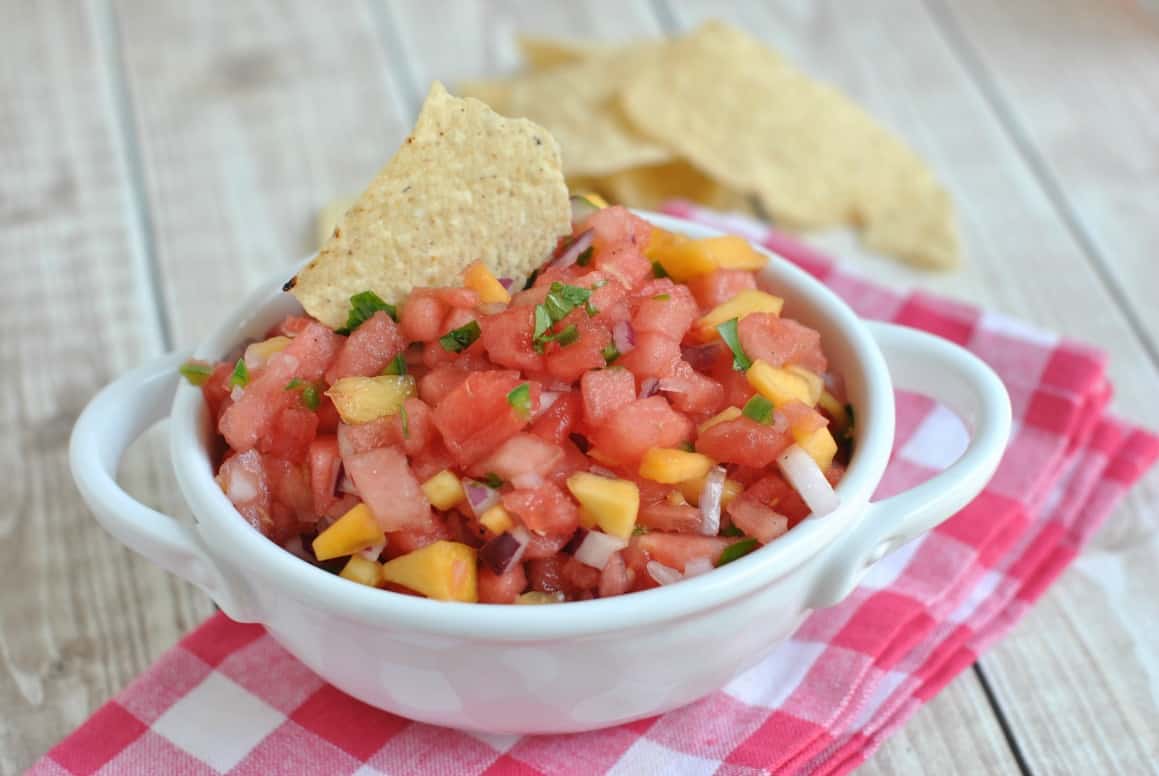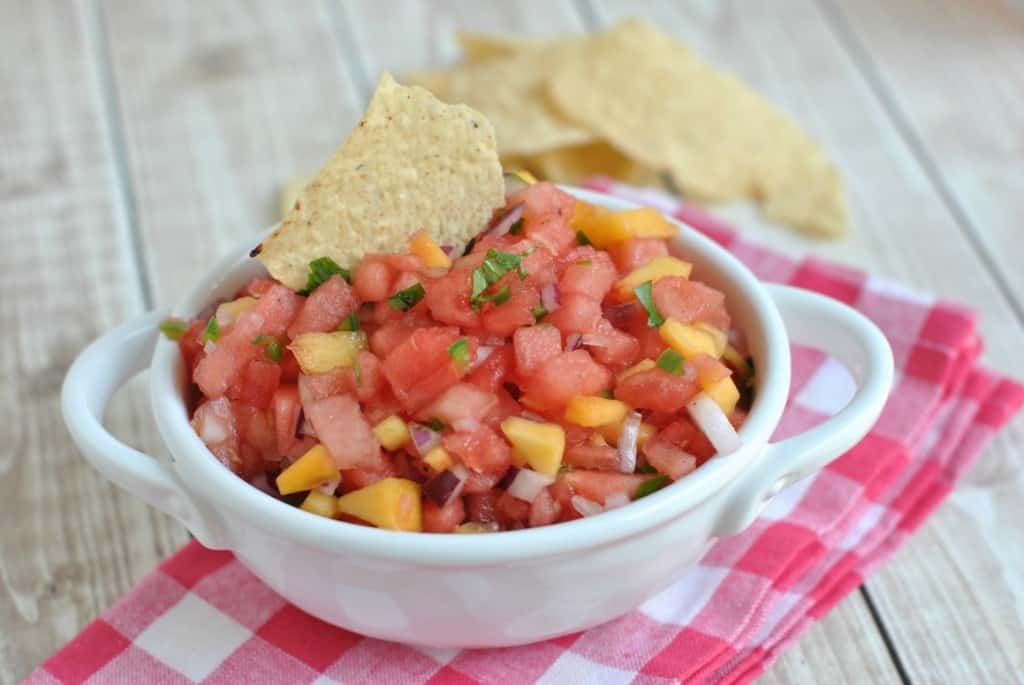 Substitutions
Nectarines would make a delicious substitute for the peach here. Or try it with mango like I originally did.
White onion can be substituted for the red here, but it will definitely lose a little of the sharp bite that I love paired with the fruit.
If you're not a fan of cilantro, feel free to leave it out of the recipe or swap it for chopped parsley. You can also change up the flavors by swapping serrano or habanero pappers for the jalapeño.
Want more heat? Leave some of the seeds in the jalapeño before you chop it. Be careful–a few seeds go a LONG way.
Watermelon Recipes
Looking for more fruity summery recipes to put your watermelon to good use? After you make Watermelon Salsa, try a Watermelon Slush to cool you down or make a Watermelon Salad to go with your dinner.
More Potluck Recipes
Sweet and fruity with just the right amount of bite, this Watermelon Peach Salsa is a party dip, appetizer or snack that's guaranteed to impress.