A quick, refreshing slush made using frozen watermelon, lime juice, and water! This Watermelon Slushie is perfect for summer sipping or for bringing summer vibes to your home any time of year.
Love easy and refreshing drinks? Try our Pineapple Sangria for an adult cocktail worth making! Or give this classic Strawberry Moscow Mule recipe a try this summer.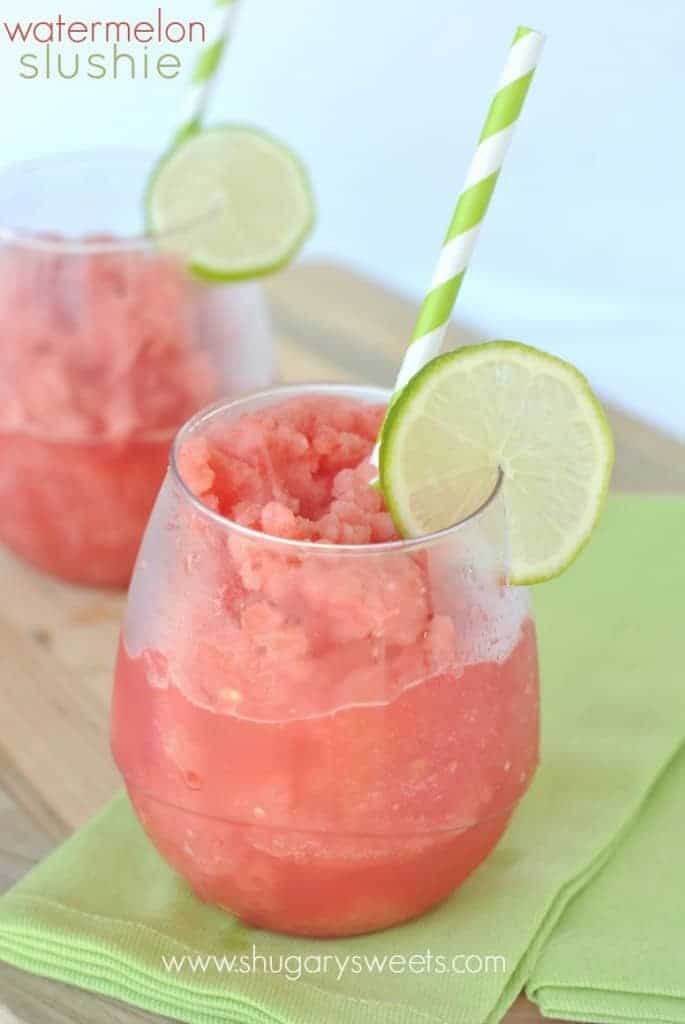 Why this Recipe Works
Watermelon is a summer must-have for my family. We enjoy more than our share of very fresh and ripe watermelons all season for snacking all season long.
Did you know you can freeze watermelon too? I love buying a few extra watermelon when they're in season to stash in the freezer so we can keep summertime going with Watermelon Slushies even as the weather starts to cool off and the kids go back to school.
This slush recipe takes just a minute to blend together and it's as refreshing as it gets!
No added sugar!
Hint of Lime.
Enjoy it as is or blend it with a little vodka to turn this slushie into an adult beverage.
Ingredient Notes
Watermelon cubes, frozen – We lay our watermelon on a metal cookie sheet after cutting it into cubes (without the rind). Stick the tray in the freezer for an hour or so, then remove the frozen cubes and put them in a large ziploc freezer bag to maintain freshness. Use our guide on how to cut a watermelon!
Lime juice – The juice of freshly squeezed limes tastes so much better than the bottled stuff here. I use a hand squeezer or juicer to get every last drop of the tart zesty juice from the limes.
Tips and Tricks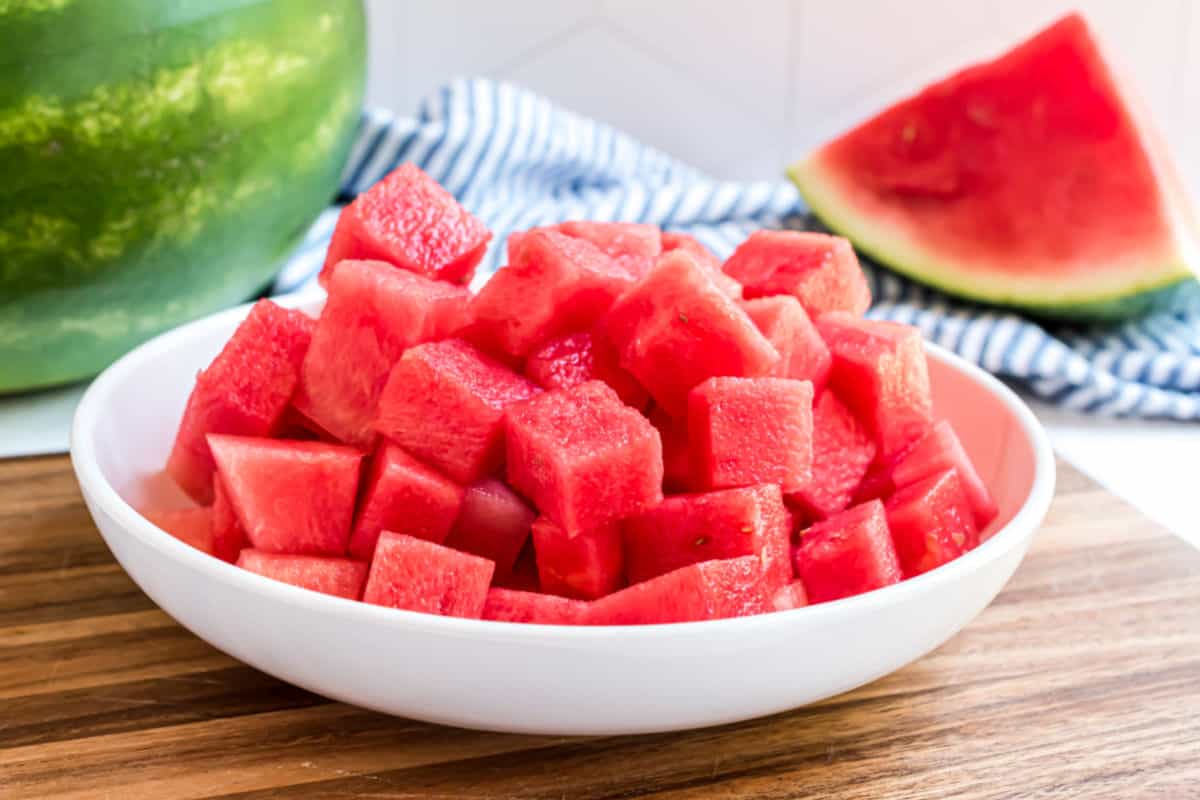 You need about 4 cups of frozen watermelon chunks to make 2 slushies. Add them to a blender with the fresh squeezed lime juice and blend with about a half cup of water.
For a thinner slushie add more water until you reach the desired consistency. Or swap out all or some of water with vodka for an adult version to sip at your stay-home happy hour!
Have more watermelon chunks than you need for this recipe? These cubes are great for putting into your water or lemonade, instead of using ice cubes too. They add a hint of fruity flavor without watering down your drink or making it too sweet.
Or just save that extra watermelon for your next batch of slushies. I guarantee you you'll want to make this recipe more than once!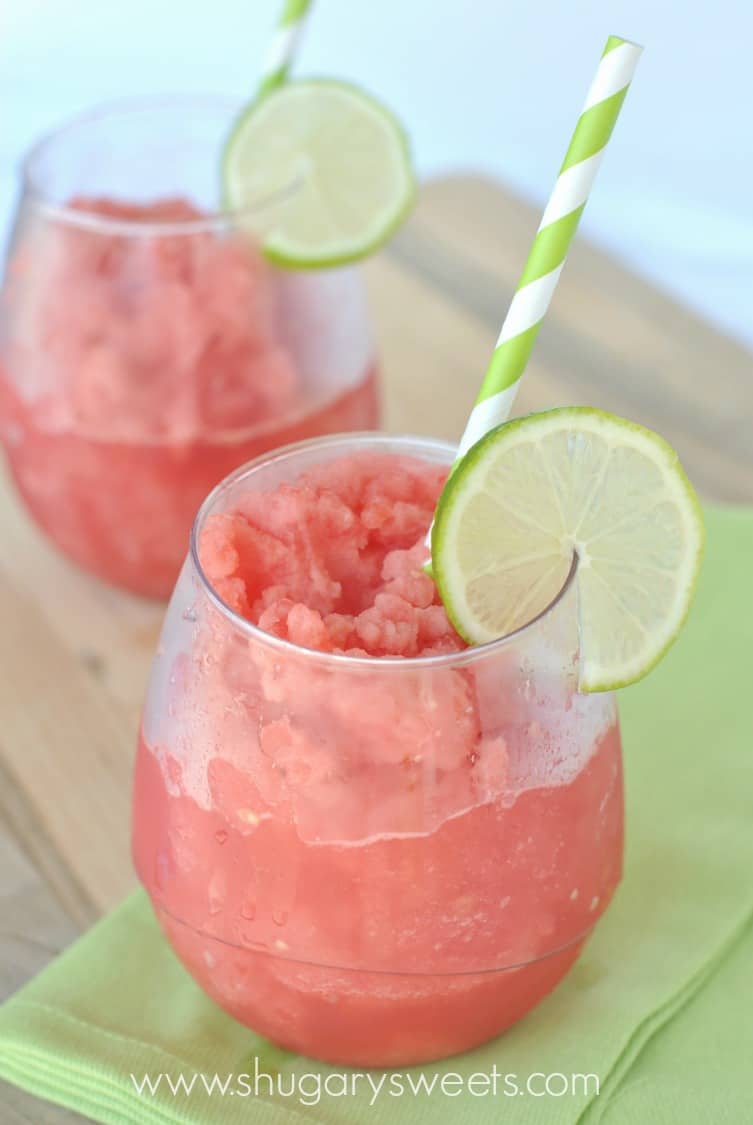 Recipe FAQs
Can this recipe be doubled?
Yes, if your blender is large enough! I would just make two batches separately to avoid overloading a standard size blender. It only takes a minute to make each one, so you'll have a nice big pitcher of slushies to share in no time!
Can watermelon slushies be made ahead of time?
The water and fruit will separate the longer they sit, so I recommend enjoying your watermelon slush right away after blending.
Can I use store bought frozen watermelon instead?
Yes!
Will fresh watermelon work in this recipe?
No, you would need to add ice to make it frozen which would water down the slushie and mute the flavor.
How long does frozen watermelon keep?
Frozen watermelon cubes will stay good for about 6 months in the freezer if kept sealed in freezer safe bags.
More Summer Treats