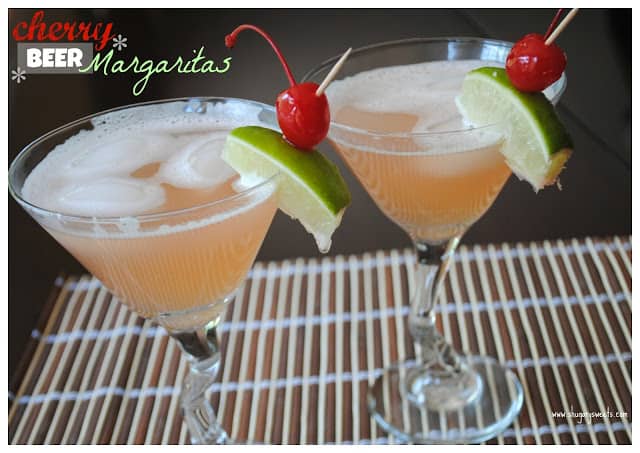 I really enjoy the taste of the citrus with the beer. Probably why I enjoy a Corona with lime. And that's where the flavor came from. Marry the corona and lime, with the lemonade beer/cherry rum recipe…and this is what I will be enjoying at 5:00pm on a summer evening. 
Yes, I know I used martini glasses, but my margarita glasses were dusty and I was lazy.
These glasses were too small.
 And if you're wondering how it went, I drank the little one, hubby started the big one. Then I took his and finished it and refilled. And repeat. Yes he enjoyed them, but I didn't feel like sharing much. Sorry babe. Don't worry, I've stocked up on supplies so we will have them again VERY VERY SOON!
Want more recipes?
Visit my Pinterest Boards:
 Drinks (for your next drink inspiration)
Cinco de Mayo (for the perfect food complement to this drink)
**Please drink responsibly. Shugary Sweets is not responsible for your alcohol consumption. This drink is highly addictive!
Cherry Beer Margaritas
Ingredients
1 bottle Corona (12oz)
1 can Cherry 7up (12oz)
1 can frozen limeade concentrate (12oz)
12 oz tequila
lime and cherries for garnish
Instructions
In a large pitcher, mix beer, 7up, limeade and tequila until completely combined. Serve over ice with a lime wedge and cherry. Enjoy!