What's better than Cherry Margaritas? Cherry Margaritas with Beer! You'll want to sip this refreshing cocktail all year long.
Love cherry margaritas? I put a fun twist on the drink by making a Cherry Margarita Pound Cake. So tasty, and delicious!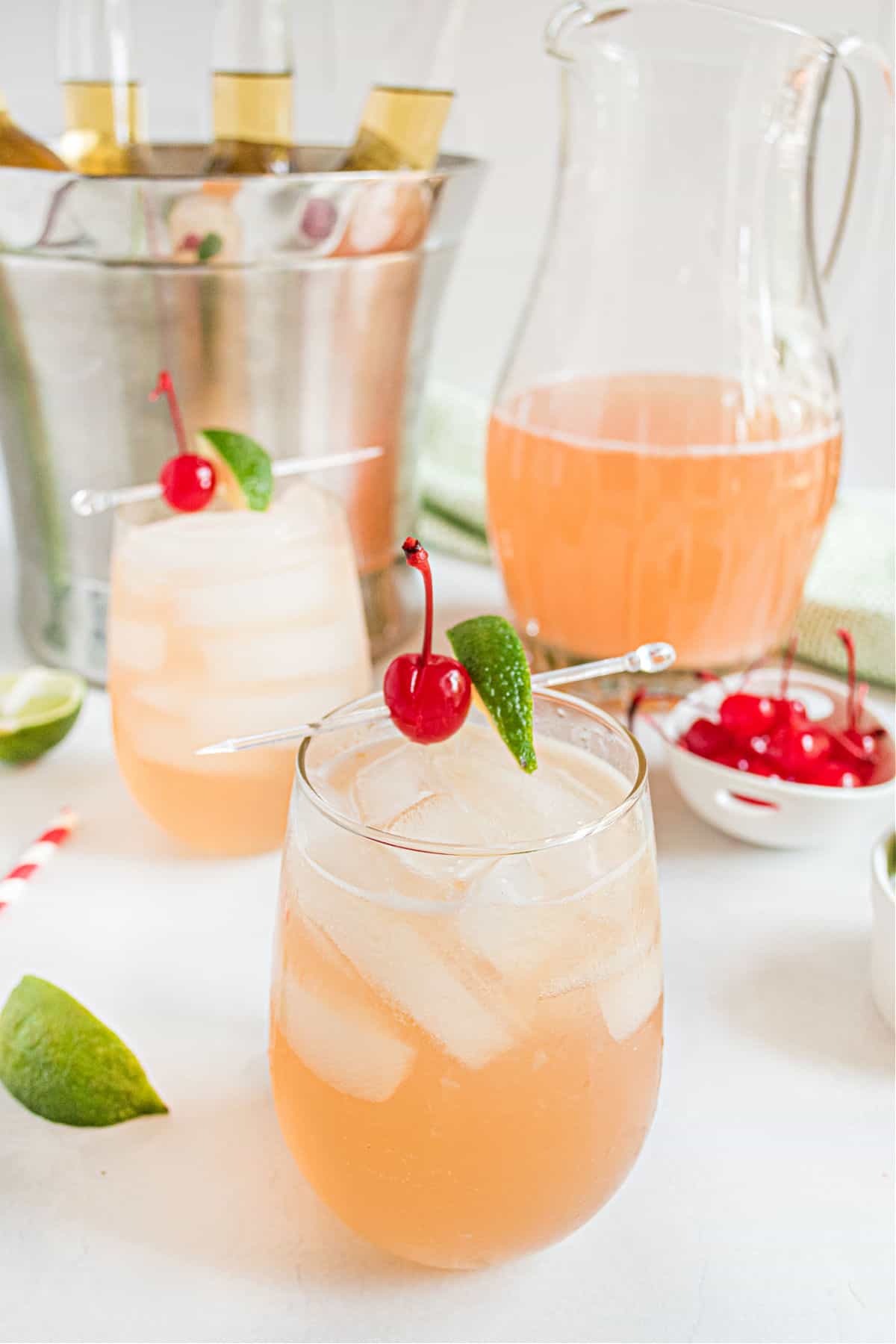 Beer Margaritas
I love a good summer drink! There's nothing better than sitting out on the deck on a warm night sipping something cold, preferably with a splash of citrus.
Last summer I was addicted to Lemonade Beer with Cherry Rum. This new cherry drink is very similar–it's Cherry Margaritas with Beer!
I really enjoy the taste of the citrus with the beer. Give me a Corona with lime and I'm a happy girl.
That's where the inspiration for this easy cocktail recipe came from. Marry the corona and lime combo with last year's cherry rum Beer Lemonade recipe and you get these delicious Cherry Beer Margaritas.
When 5:00 pm rolls around you know what I'll be drinking this summer!
Need an alcohol free citrus drink? This Strawberry Mocktail is the perfect, refreshing answer!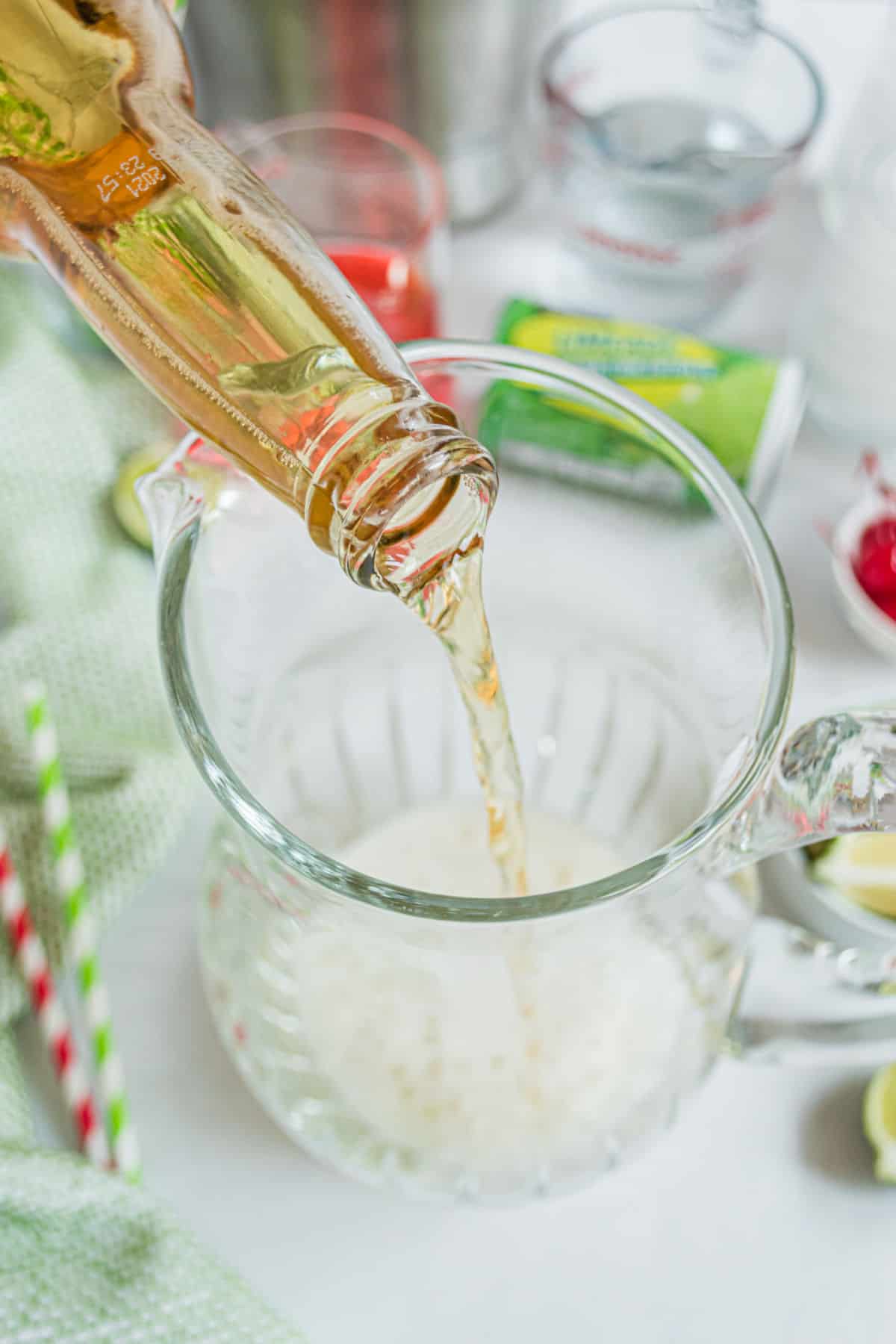 How to make Cherry Margaritas with Beer
Sweet, simple and refreshing is my motto when it comes to adult beverages! For these cherry margaritas you only need FOUR ingredients:
Corona – always in stock in our fridge during the summer months!
Tequila – I used a mid shelf variety that's our go-to for mixed drinks
Cherry 7-Up -See below for substitution ideas
Limeade concentrate – the frozen kind , don't dilute!
I mix up the drinks in a large pitcher.
Start with the limeade concentrate, then add the tequila, cherry 7-up and corona beer.
Stir everything together then pour into glasses and enjoy.
I recommend that you garnish every glass with some maraschino cherries and lime wedges! Serve them in martini glasses with the lime and cherry speared on toothpicks for a fun and festive twist.
Even my friends who aren't big fans of drinking Corona on its own quite enjoyed this twist on a cherry margarita. It's just sweet enough without being syrupy and the bubbly soda brings all the different flavors together perfectly.
PRO TIP: Add some of the maraschino cherry juice for even more cherry flavor!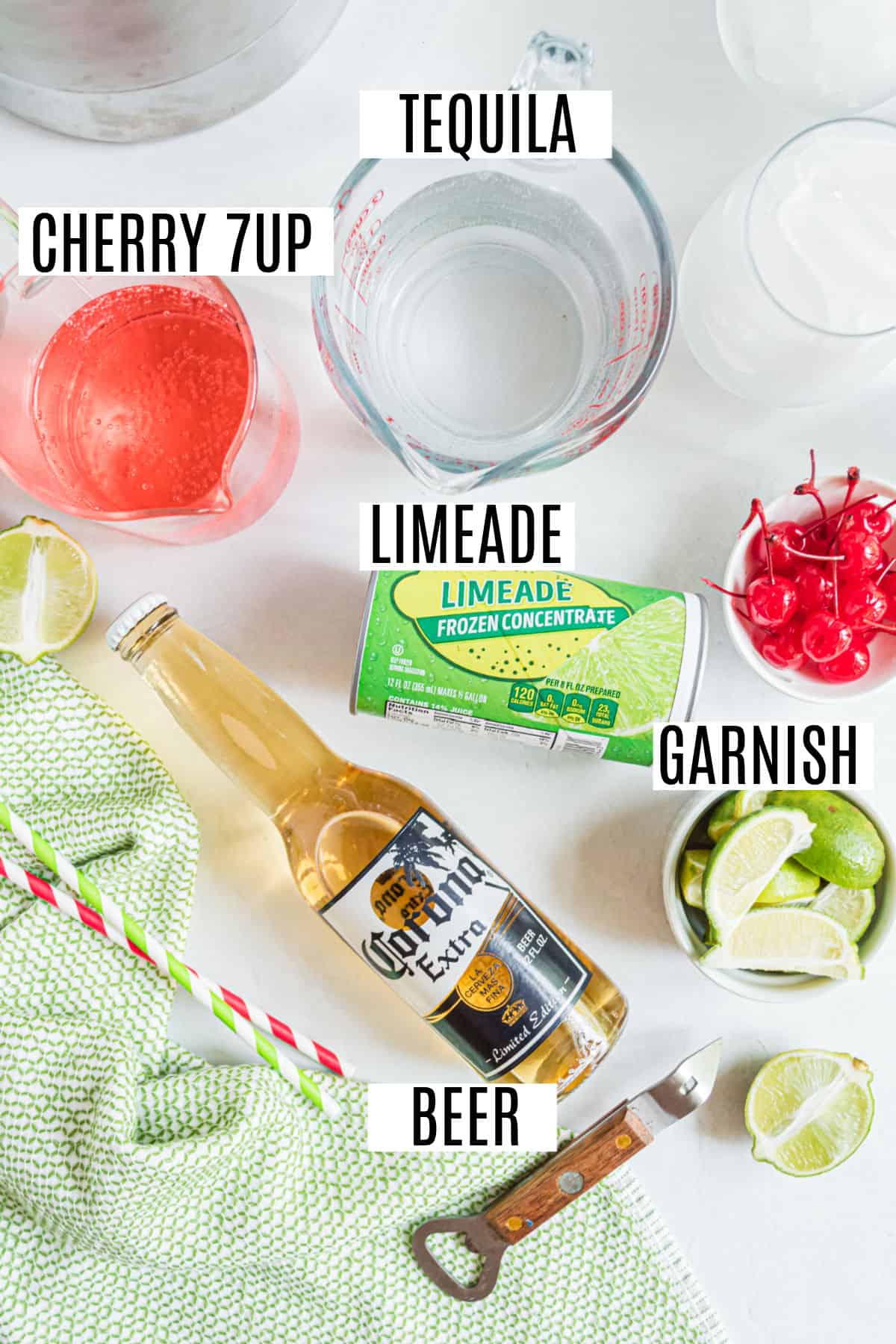 Substitution Ideas
This recipe idea was inspired by some of the substitutions I used with my shanty recipe–namely, substituting limeade for lemonade. It works both ways. Lemonade concentrate would be delicious here, too.
7-Up Substitutions:
Not into cherry flavor in your margaritas? Use regular 7-up instead and garnish with extra lime wedges.
Other clear lemon lime sodas would work well here too, like Sprite or Sierra Mist. I've used Cherry Sprite when the store has been out of 7-Up with great success! They also make a tropical mix flavored Sprite that I'd love to try in my Beer Margaritas next.
Tequila substitutions:
Swap out tequila for vodka.
Lighten up this drink by removing the tequila and swapping it for more 7UP
Corona substitutions:
The Corona is my favorite beer variety to use in beer margaritas! It's so crisp and light while complimenting the zesty lime flavor. You could also substitute Dos Equis or another Mexican lager like Modelo or Dos Equis.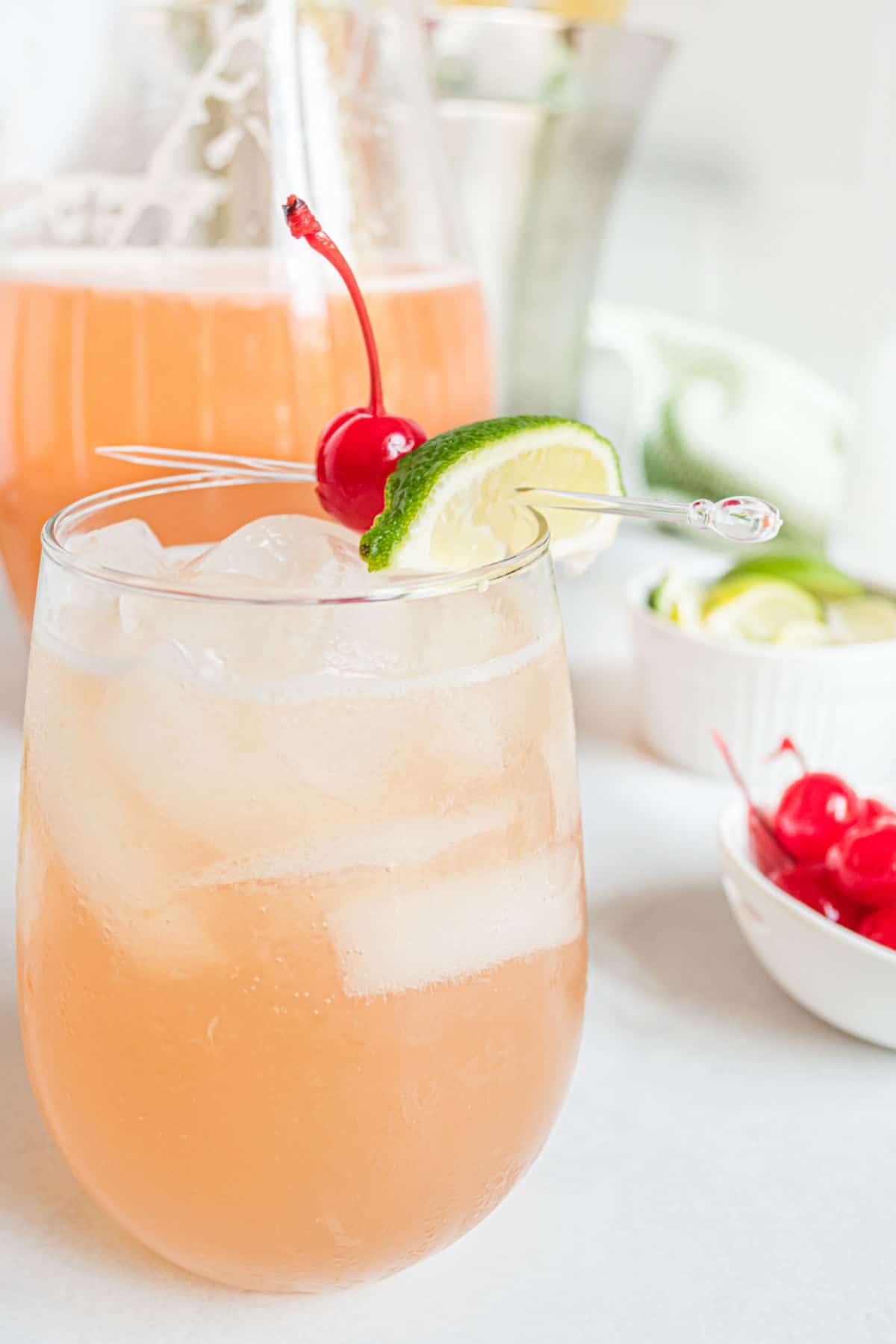 Can this be made ahead of time?
Pitcher cocktails with soda or beer don't lend themselves well to sitting around in the fridge while you get ready for the party. Who wants to drink a flat soda let alone a flat beer margarita? No bueno.
To keep these bubbly and fresh, mix the drinks together just before serving. It only takes 30 seconds to open the bottles, pour everything in and combine. Tasty, refreshing and oh-so-easy.
More Tips for Serving
Feel free to double the recipe if you're serving a crowd. This recipe fills 6 – 8 martini glasses (depending on how generously you pour).
With both tequila and beer, this is definitely on the stronger side. So, I like to serve it in smaller martini glasses or high ball glasses. The limeade and 7-up help make the Cherry Margaritas endlessly sippable!
To keep cold: Use very cold ingredients when you mix the drink and serve it right away. You could also drop some frozen cherries in the bottom of each glass to keep your margarita cold without diluting the taste.
Nonalcoholic option: Dilute limeade concentrate with a can or two of cherry 7-up for a mocktail the kids can enjoy, too. Don't forget to garnish with extra cherries!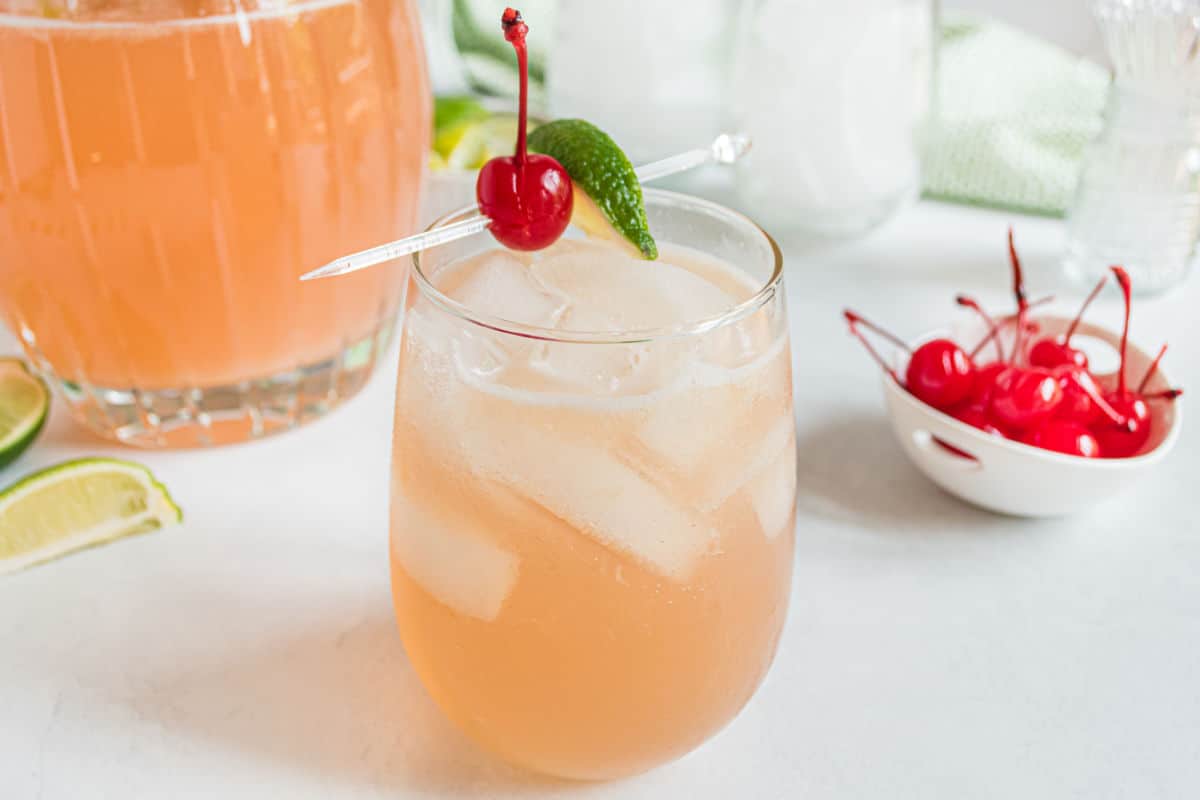 Whether you make them for a special occasion blow out or to unwind with a friend on the porch, Cherry Margaritas with Beer taste like summer in a class!