Strawberry Moscow Mule is the perfect, slightly spicy, summertime cocktail. You'll love how easy this recipe is to make, but don't forget to serve your moscow mule in a copper mug!
Love fun cocktails? Be sure to try our easy champagne cocktails. Or give our cherry beer margaritas a try next!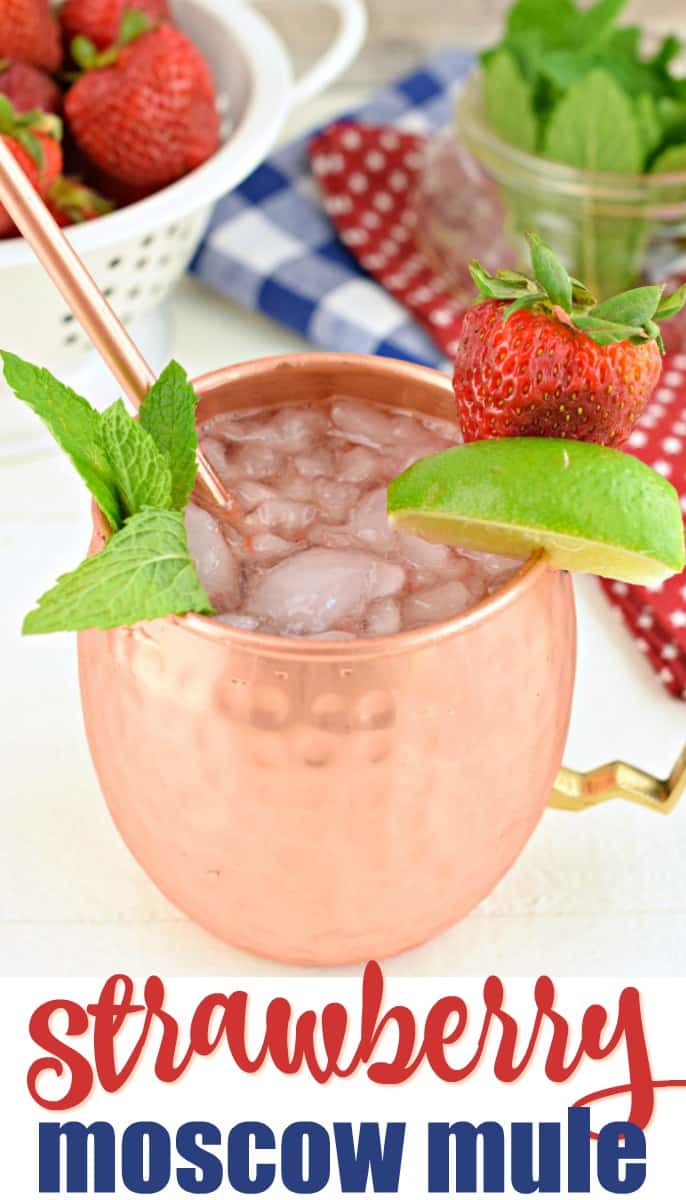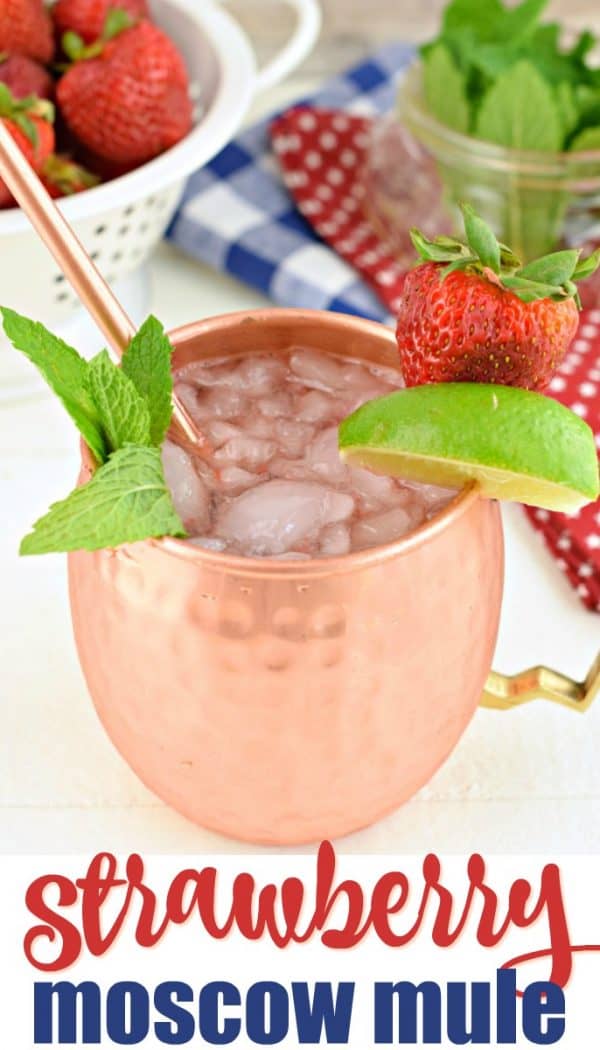 Why this Recipe is Best
Several weeks back I had the opportunity to head to California with some friends, thanks to this blog of mine!
Amongst the food, beaches, and beautiful sunshine were these delicious Moscow Mules.
Strawberry Moscow Mule to be clear.
Being in strawberry country the berries were beautiful and bright, unlike what we tend to get in our local grocery store.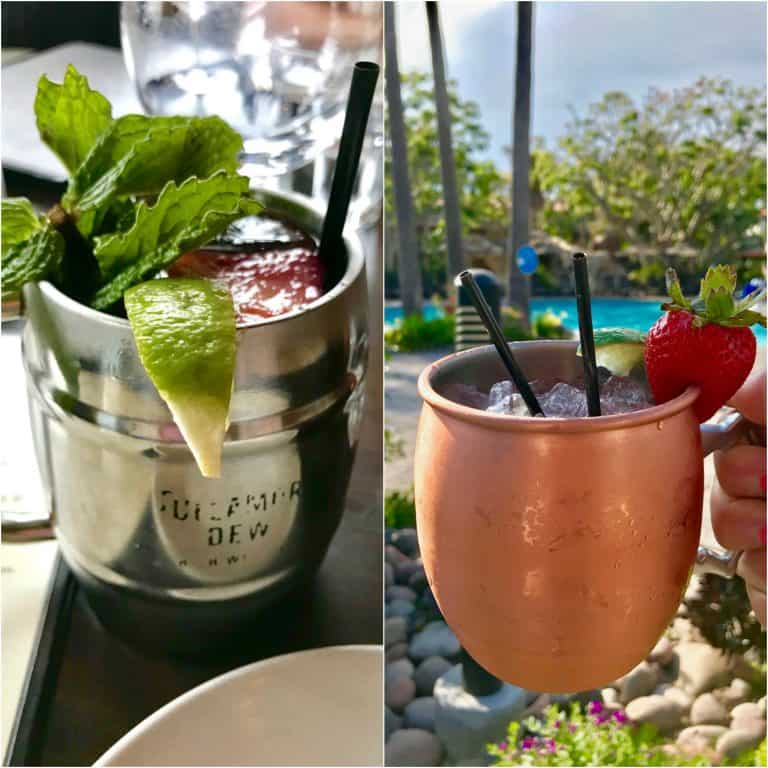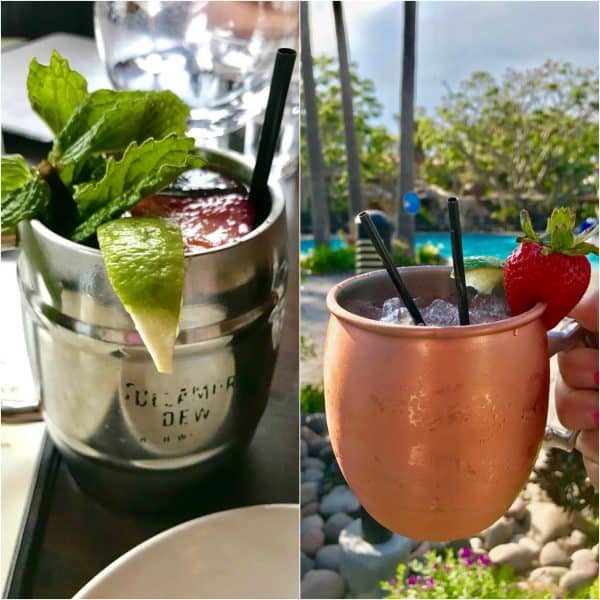 Back in Ohio I used to have a huge strawberry patch (I sure hope the new owners love it as much as we did), and home grown berries are a great way to mimic those bright fresh berries from California.
But enough about the strawberries. Let's talk Moscow Mules.
What is a Moscow Mule?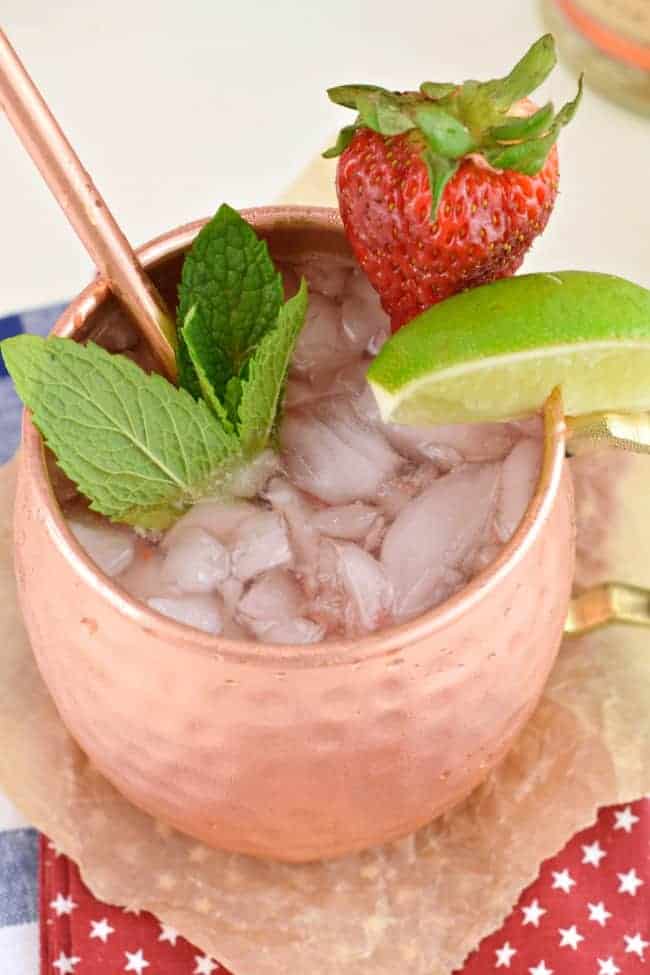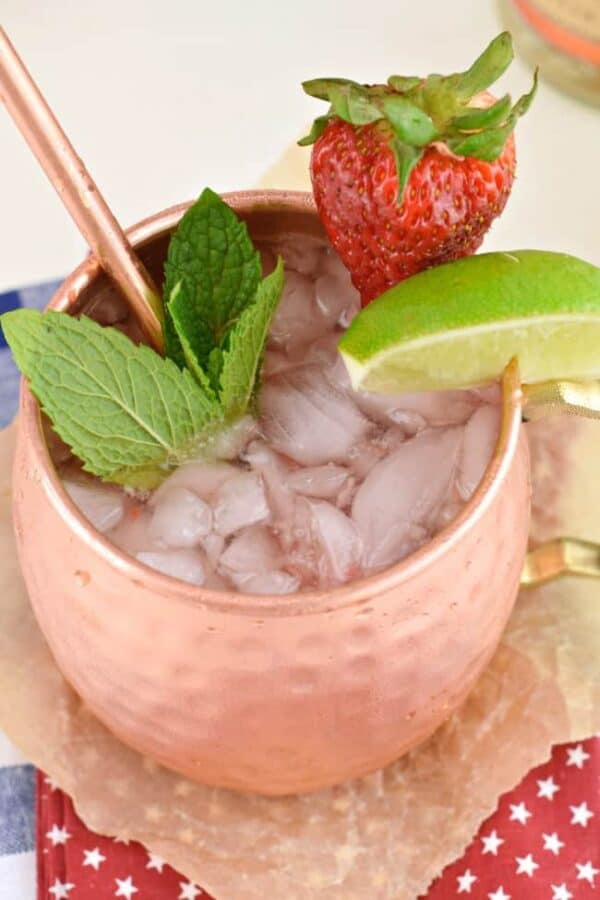 A moscow mule is an alcoholic drink that's made up of basically 3 ingredients:
Vodka
Lime Juice
Ginger Beer
What you may see often is these delicious drinks served up in copper mugs.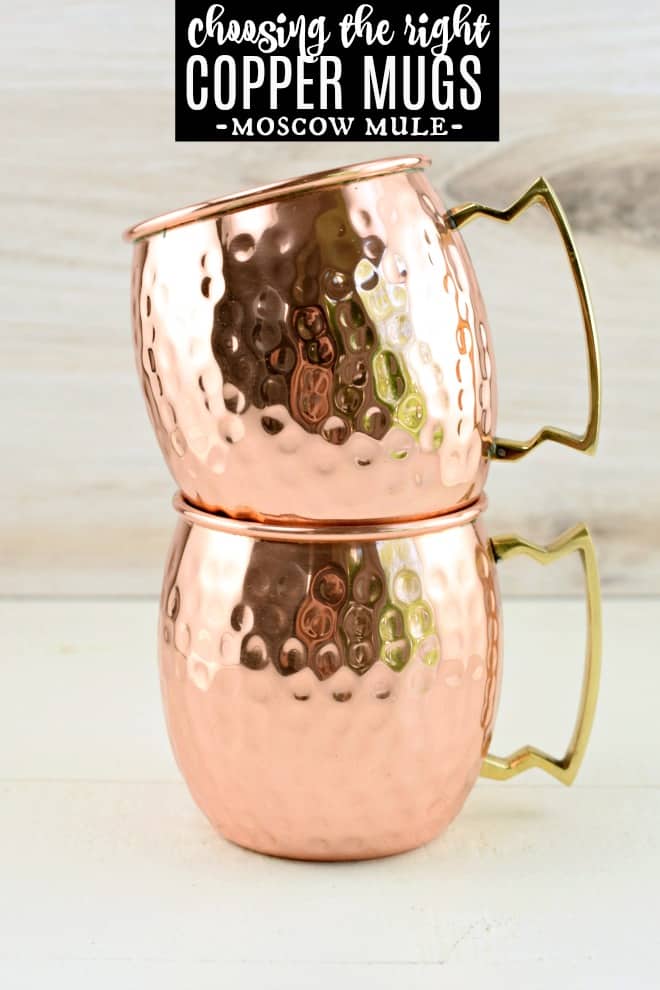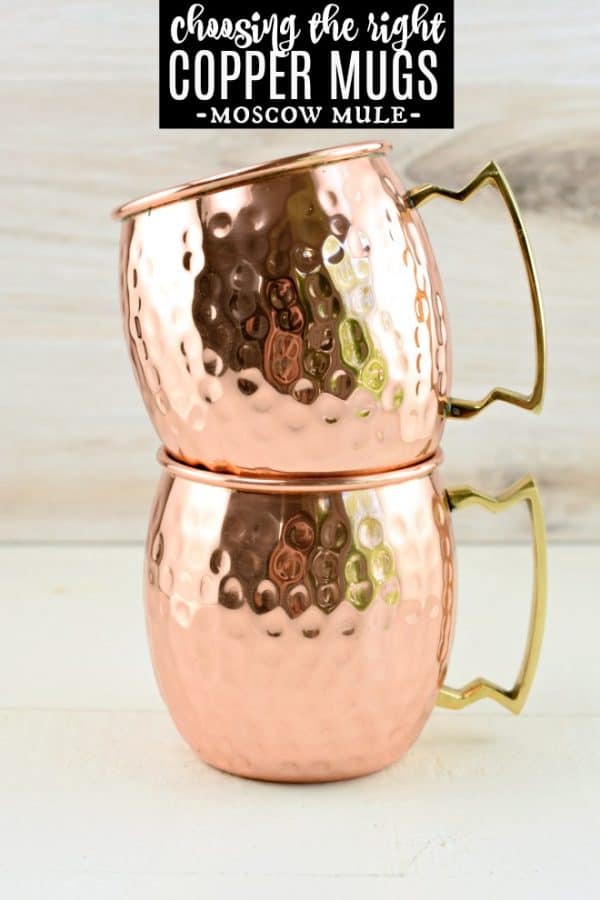 Why are Moscow Mules served in Copper Mugs?
It's said that copper mugs take on the icy temperature of the drink inside.
When you fill up your mug with ice for these Strawberry Moscow Mules, you'll notice immediately that the copper mugs feel chilled.
There's been a little controversy through the years about the safety of copper mugs. Apparently mixing lime juice with the copper mug can be a dangerous concoction…but it's also been said you would need to drink one every day for 25 years to see any side effects.
While I love the idea of drinking one every day….let's be clear. I don't. Haha.
You can find stainless steel lined copper mugs if you feel like you aren't comfortable with the copper.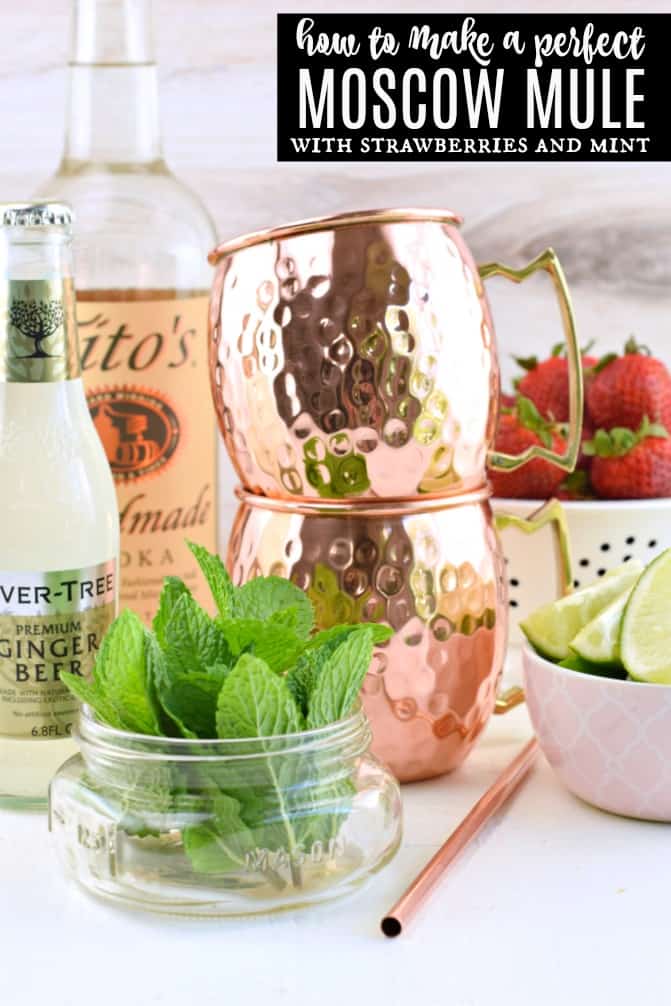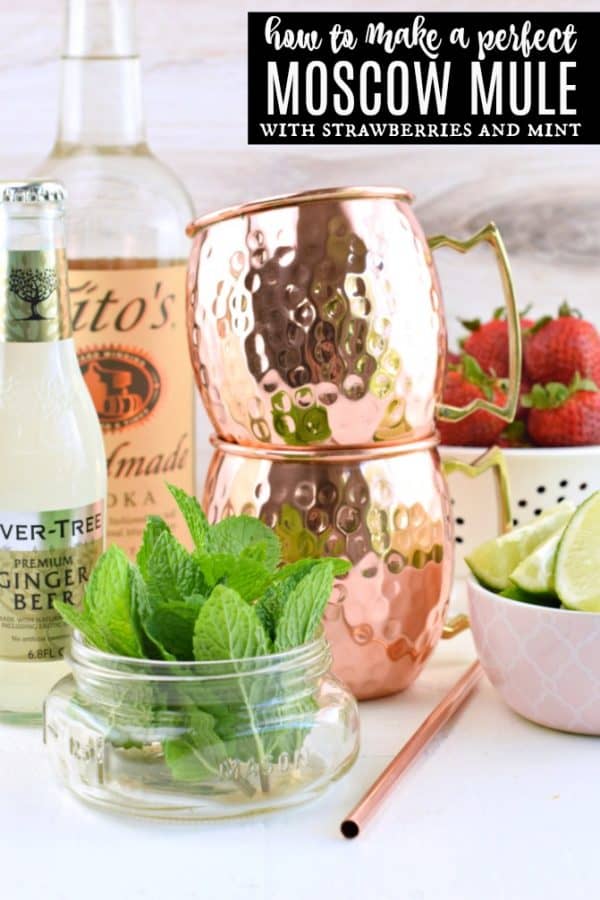 How to make a Strawberry Moscow Mule
I will give you the details for making ONE serving. Clearly if you want to make more than one drink, you can easily double or triple, the amounts!
STEP 1: In the bottom of your clean moscow mule copper mugs, use a muddler (like you would for a mojito) and mash up 2-3 fresh strawberries with a few mint leaves.
PRO TIP: If you like this extra sweet you can make a simple syrup with 1:1 ratio of boiling water and sugar. Add strawberries to syrup.
STEP 2: Next, fill your mug with crushed ice cubes.
STEP 3: Add 2 oz of Vodka and the juice from 1 fresh lime.
STEP 4: Top with about 4 oz of Ginger beer.
STEP 5: Garnish! Serve with a strawberry, lime wedge, and sprig of mint.
See? Easy.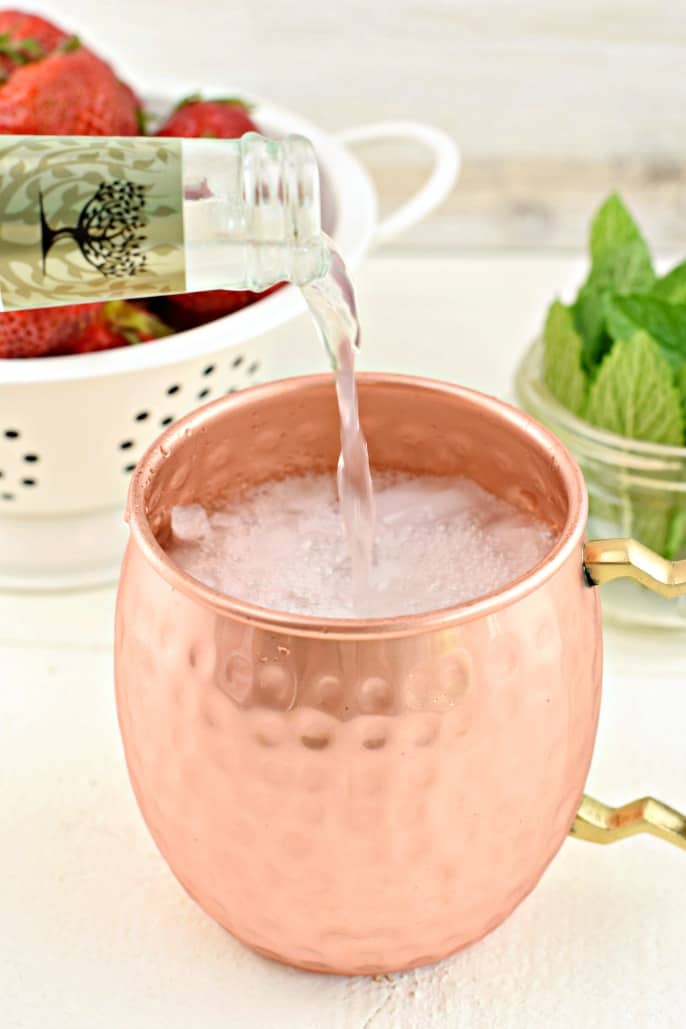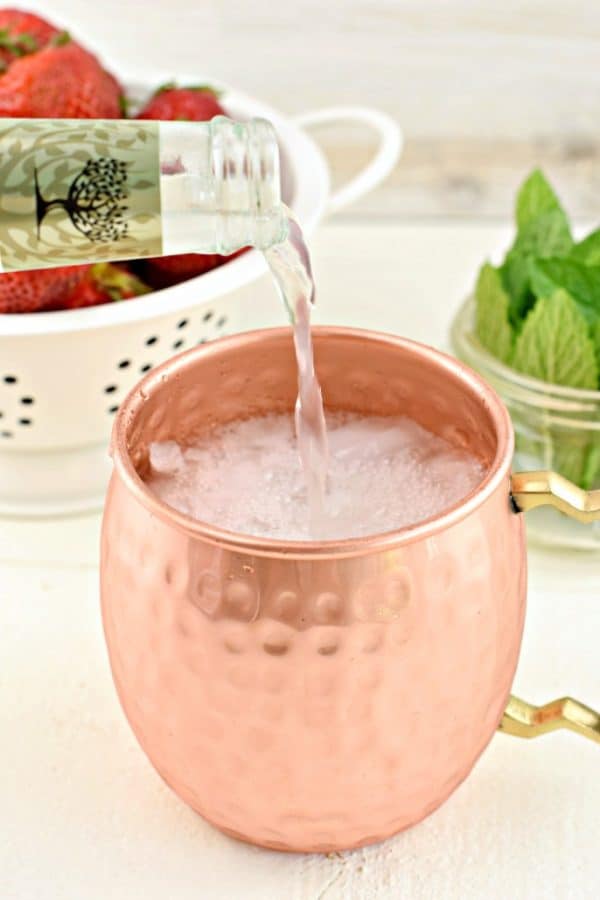 Best Vodka
Personally, I'm a Tito's girl.
Choose what you love. Just remember, you want something that's tasty, without any aftertaste (which I feel the cheap vodka's have).
Best Ginger Beer
I buy Fever Tree Ginger Beer for all my moscow mule cocktail recipes.
I love the flavor. I've also used Q Ginger Beer, which is delicious too.
You'll just have to do some taste testing to find which one has the right flavor for YOUR palate.
One thing is for sure, you'll love the fizzy bubbles from the Ginger Beer!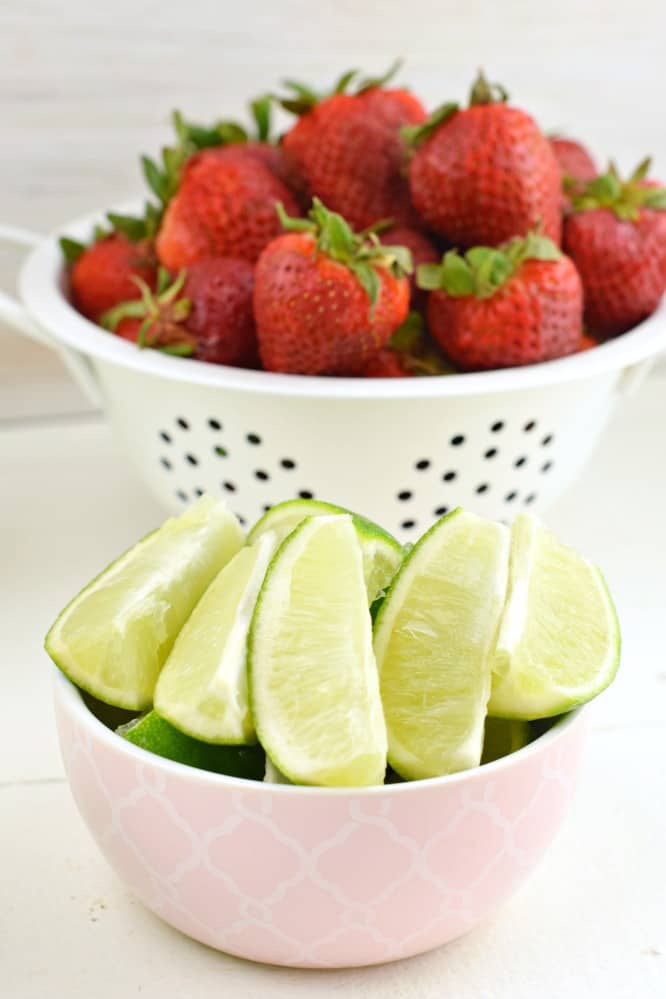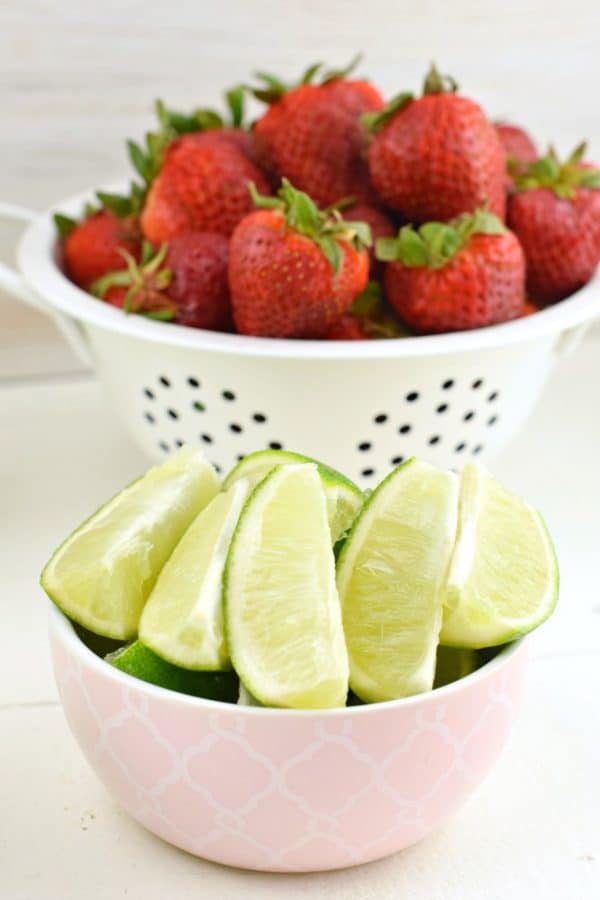 Can you make a Virgin Moscow Mule
I suppose the answer is yes?
You basically would just mix some ginger ale with lime juice, add the strawberry and mint and enjoy.
It definitely wouldn't have the same GINGER flavor, as ginger beer is much stronger than ginger ale.
Shopping List

More Cocktail Recipes
Strawberry Moscow Mule Recipe featuring vodka, lime juice, ginger beer, and fresh strawberries. Garnished with mint and a lime wedge!