Creamy, BBC Drink – Banana Baileys Coconut Cocktail recipe is perfect any time of year! So refreshing, and the perfect indulgent drink!
Top this tasty drink off with some homemade toasted coconut for the perfect finish!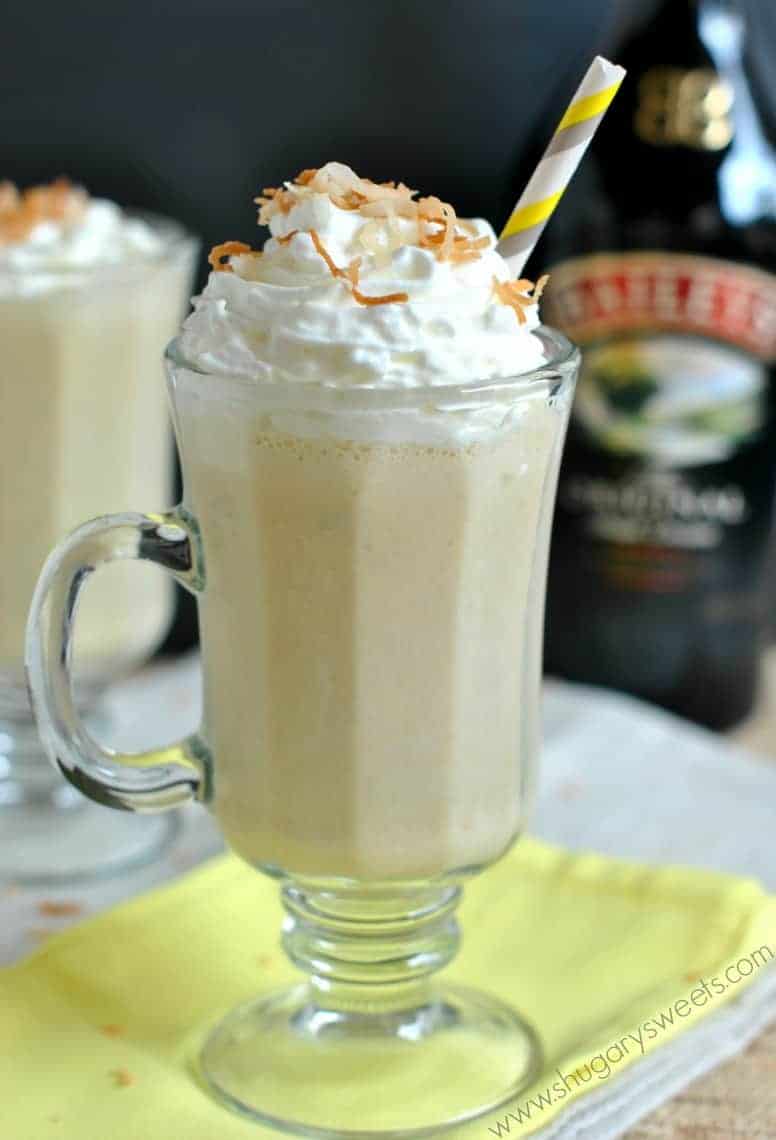 What is a BBC
Have you ever heard of a BBC? No, not the news. The drink?
Apparently the BBC Drink a popular drink in the Caribbean. And our friends who recently went on a cruise made this cocktail for us. And now I'm sharing it with you.
A BBC Drink is a Banana, Baileys Irish Cream and Coconut drink.
I think I might finally be panicking that the end of summer is upon us. Could be why I shared Pink Lemonade Cupcakes earlier this week, and now a super fun cocktail today!
But, let's be clear, this Bailey's Drink recipe is NOT only for summer.
Yes, I imagine sipping this frosty drink on the beach is paradise. But, imagine this.
Hot fire. Snuggled up in a blanket. Great book. Frosty drink. Yes?
You decide when the perfect time is for this BBC Drink, and while you're deciding, I'm just going to enjoy this delicious beverage tonight!
Ingredient Notes
Just three basic ingredients for today's BBC drink.
Bananas – the riper they are, the sweeter they are! In a pinch, you can ripen bananas in the oven! So easy and ready in minutes.
Bailey's Irish Cream – classic! You can use Kahlua for a fun coffee twist!
Cream of Coconut– not to be confused with coconut milk. I find the cream of coconut in the grocery store near the juices and drinks.
Don't forget to top it with some whipped cream and toasted coconut!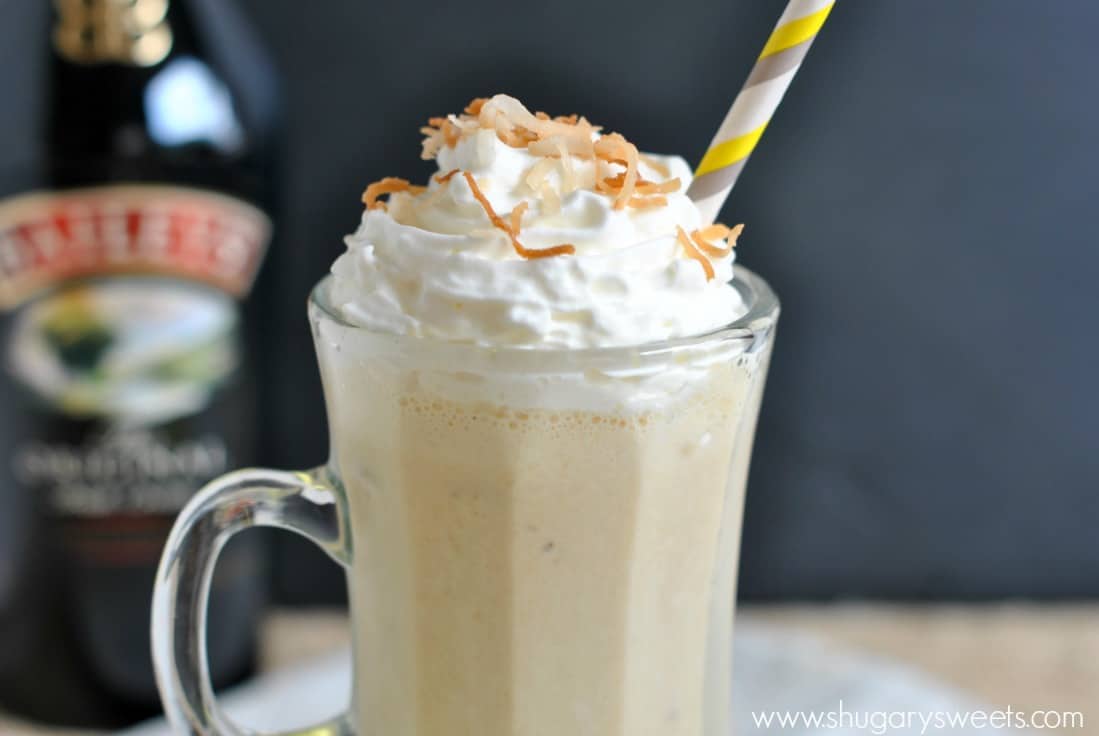 Easy Instructions
BBC Drinks are super easy to make. The hardest part is toasting some coconut to top the drink with – and that part is technically optional.
If you can push "start" on a blender, you can make a BBC cocktail!
This BBC Drink recipe uses cream of coconut for the "C" part of BBC. You can usually find cream of coconut near the drinks. Not to be confused with coconut milk.
Cream of coconut is much thicker and will help make this drink super creamy and delicious.
To make the BBC cocktail, add the banana, Baileys, and cream of coconut to a blender along with plenty of ice to make it thick and cold. Blend until it is nice and smooth.
Each "recipe" makes two servings. One for me, and one for me. Ha!
Obviously you can adjust the ingredients to serve as many (or as little) as you need. And of course, feel free to make your BBC Drink stronger by adding in more Baileys.
Please drink responsibly though, k?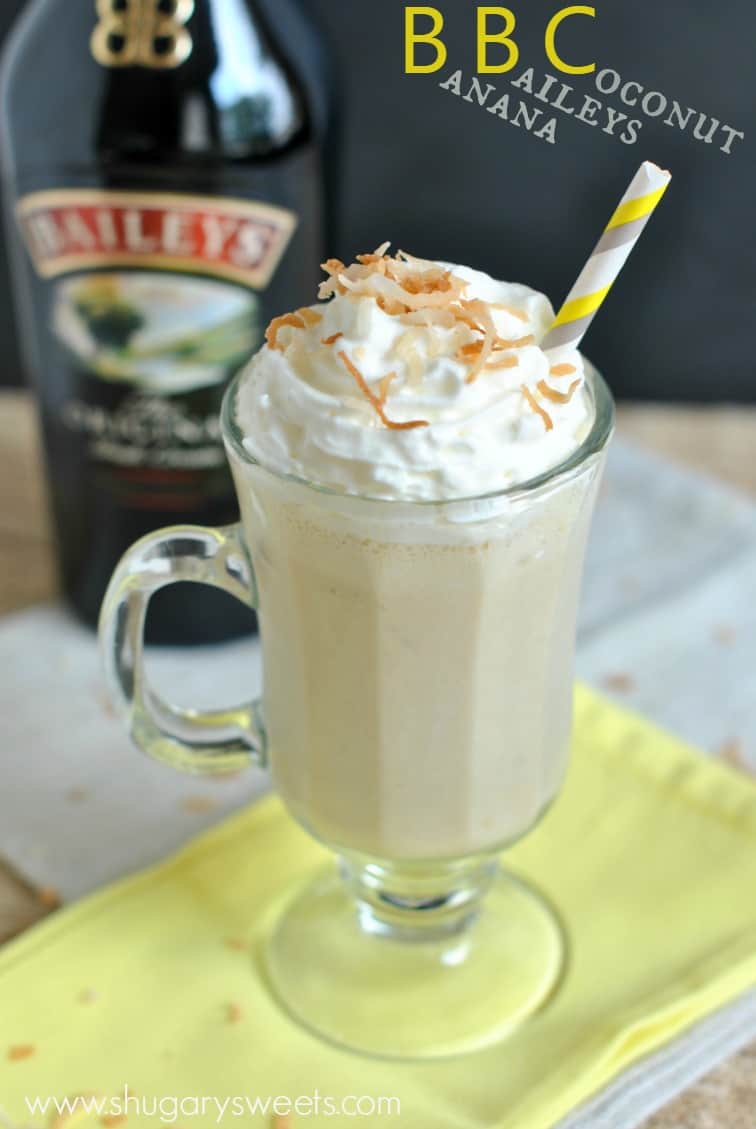 Bailey's Drinks
Looking for other ways to use up that bottle of Baileys?
In addition to this frosty BBC Drink, there are lots of fun drinks made with Baileys that you can whip up throughout the year.
Try my recipe for The Perfect Tan – ice cream, Baileys and chocolate syrup. What could be better?
Whether you shake up one of these drinks or pull out your blender for a BBC Drink, your friends will love these drinks made with Baileys.
More Drink Recipes