You'll want to make extra turkey this year just so you have an excuse to make this easy Turkey Tetrazzini. Full of creamy sauce and topped with butter crackers, this casserole is a comfort food classic.
Similar to our favorite Chicken Tetrazzini recipe, you could interchange with chicken or turkey. If you love pasta, this Million Dollar Casserole is a family favorite (and reader favorite too)!
Best way to use leftover turkey
I love everything about Thanksgiving dinner from the turkey to the mashed potatoes to the pumpkin pie. Know what I love most of all, though?
Leftovers.
Know matter how much turkey we eat on the big day, we always have plenty leftover. That's on purpose, at least partially.
If I'm going to go through the effort of cooking a whole turkey, you can bet I'm going to make enough to feed us for the next week!
The recipe I'm sharing today is one of my all time favorite uses for leftover turkey!
If you're sick of the usual turkey sandwiches, salads and soups, may I suggest this Turkey Tetrazzini?
Your shredded bird gets baked in a casserole with mushrooms, peas and a thick cream sauce. A generous amount of parmesan cheese and a sprinkling of butter crackers make tetrazzini irresistible!
Ingredient Notes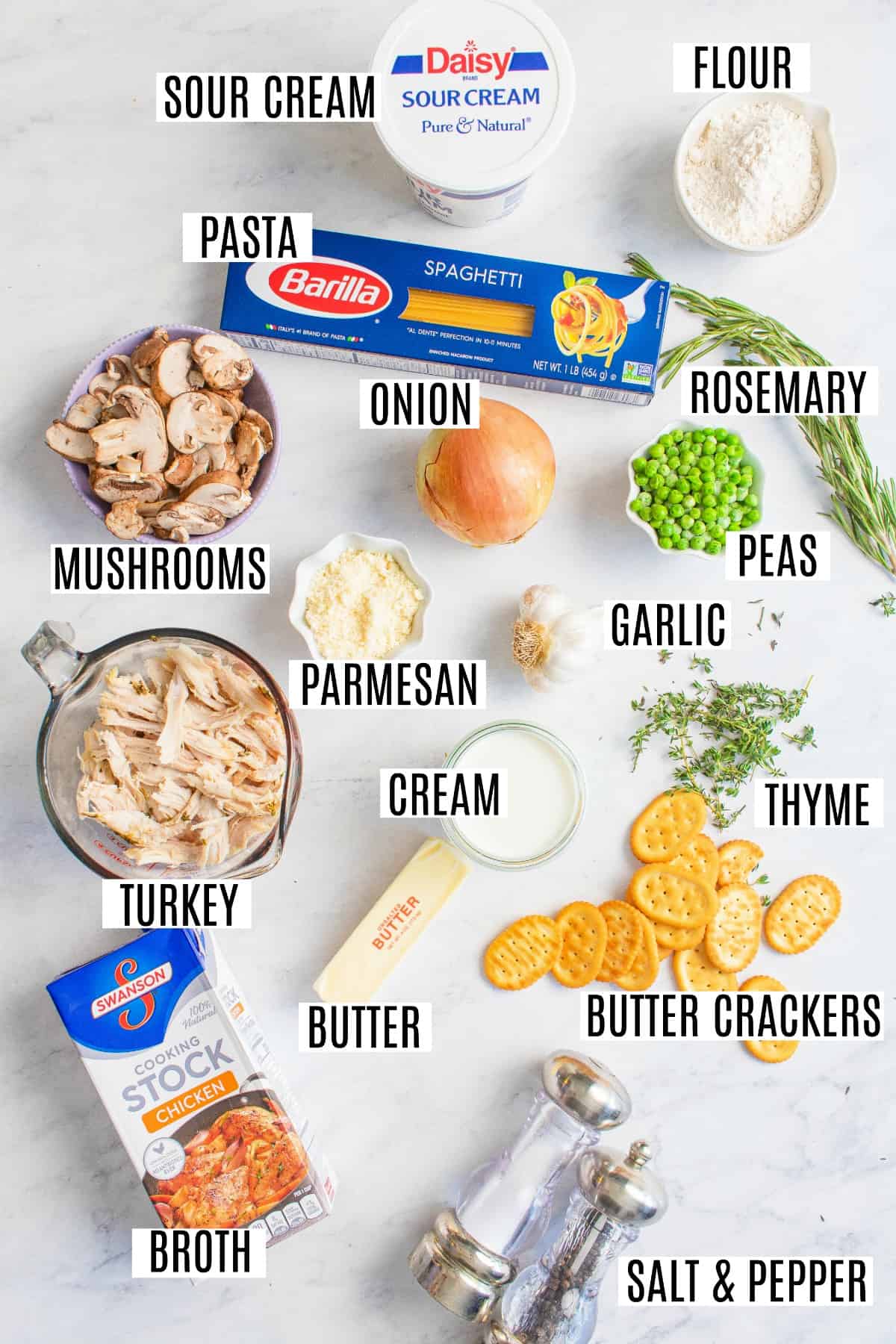 Turkey- fully cooked and shredded (or cubed/diced). Swap it out for some shredded chicken if desired.
Pasta- I use spaghetti noodles in my tetrazzini recipe. Linguine or fettucini noodles would be an easy substitute! If you like egg noodles, you could go ahead and use them here too.
Sauce- The dish gets its creamy texture from a combination of butter, sour cream and half and half. Greek yogurt can substitute for the sour cream, if you prefer. Make sure it's plain and unsweetened!
Vegetables- I use onions, peas and mushrooms in this classic recipe, but you can swap that out for broccoli or any vegetable you choose.
Butter crackers like Club crackers or Ritz add the finishing touch. I love the combo of tender turkey, creamy sauce and the salty crunch from the cracker crumbs.
Don't have any turkey leftover? Make turkey quickly using my Instant Pot Turkey Breast recipe!
Step by Step Instructions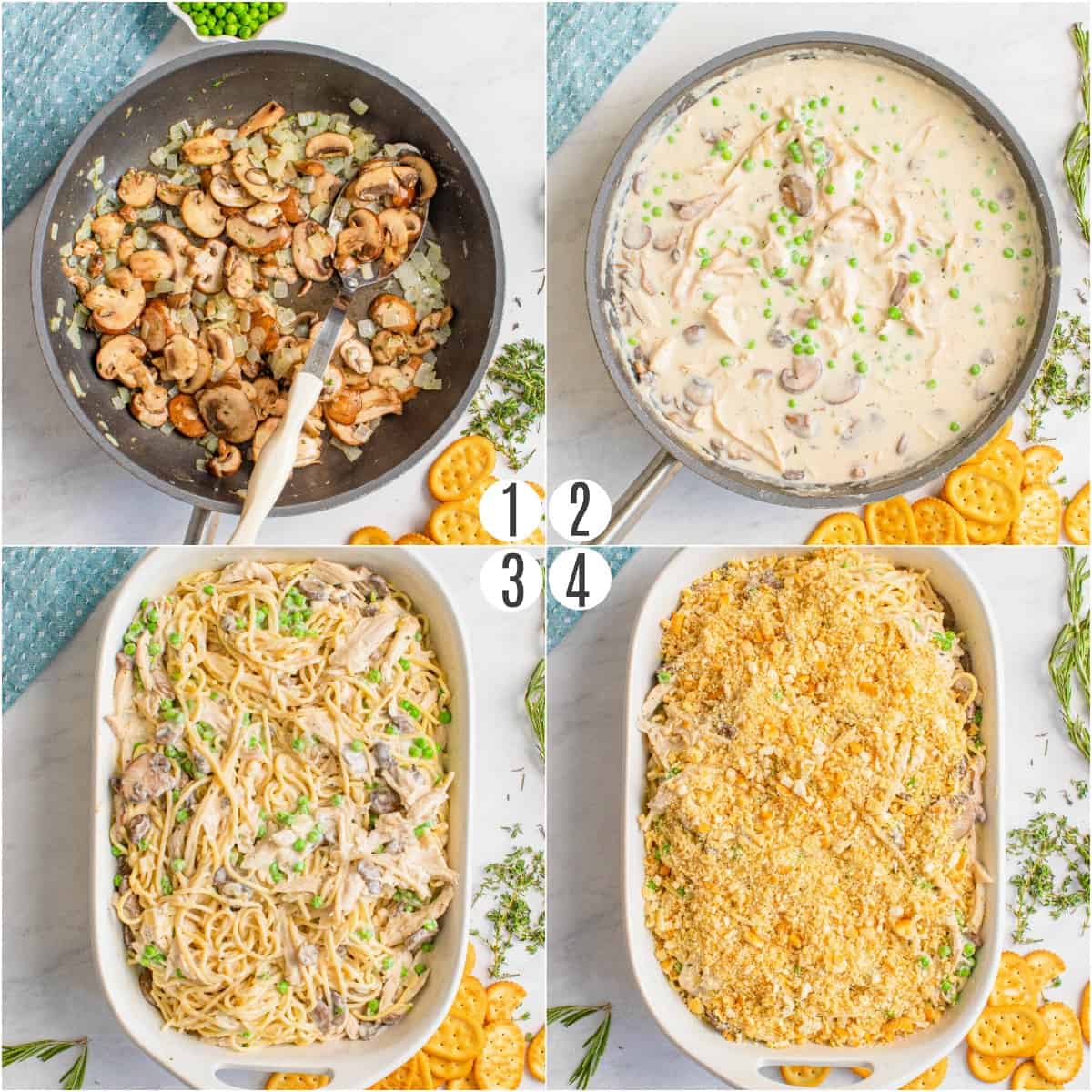 Cook the noodles.
Cook the spaghetti according to the directions on the back of the box, drain and set aside. While the noodles are cooking, preheat the oven to 350°F and grease your baking dish with butter or cooking spray.
Cook mushrooms and onions.
Add butter to a large skillet and melt on medium heat. Add in the onions and cook until translucent, then add the garlic and cook until fragrant (about 30 seconds). Add in the mushrooms and herbs, cooking until the mushrooms are soft.
Make the sauce.
Add the flour to the skillet with the mushrooms and onions and stir together to coat everything with the flour. Cook for 2 minutes, stirring occasionally to toast the flour.
Slowly add in the chicken stock, stirring constantly to prevent lumps. Add in the half & half slowly and whisk everything together. Bring to a simmer and let cook for 3 minutes or so, just until everything is thickened.
Stir in the sour cream then add parmesan, turkey, peas and the seasonings. Stir to combine fully.
Assemble and bake.
Put the cooked spaghetti noodles into the skillet and coat with the sauce. This can be tricky with the noodles sticking together! Use a pair of tongs and do your best to coat all the noodles.
Pour everything into the baking dish. Melt the remaining butter and combine it with the crushed crackers and rest of the parmesan cheese. Pour this mixture over the casserole coating the top as evenly as possible.
Bake for 25-30 minutes until hot and bubbly with a golden brown crust. Let your Turkey Tetrazzini cool slightly before serving warm.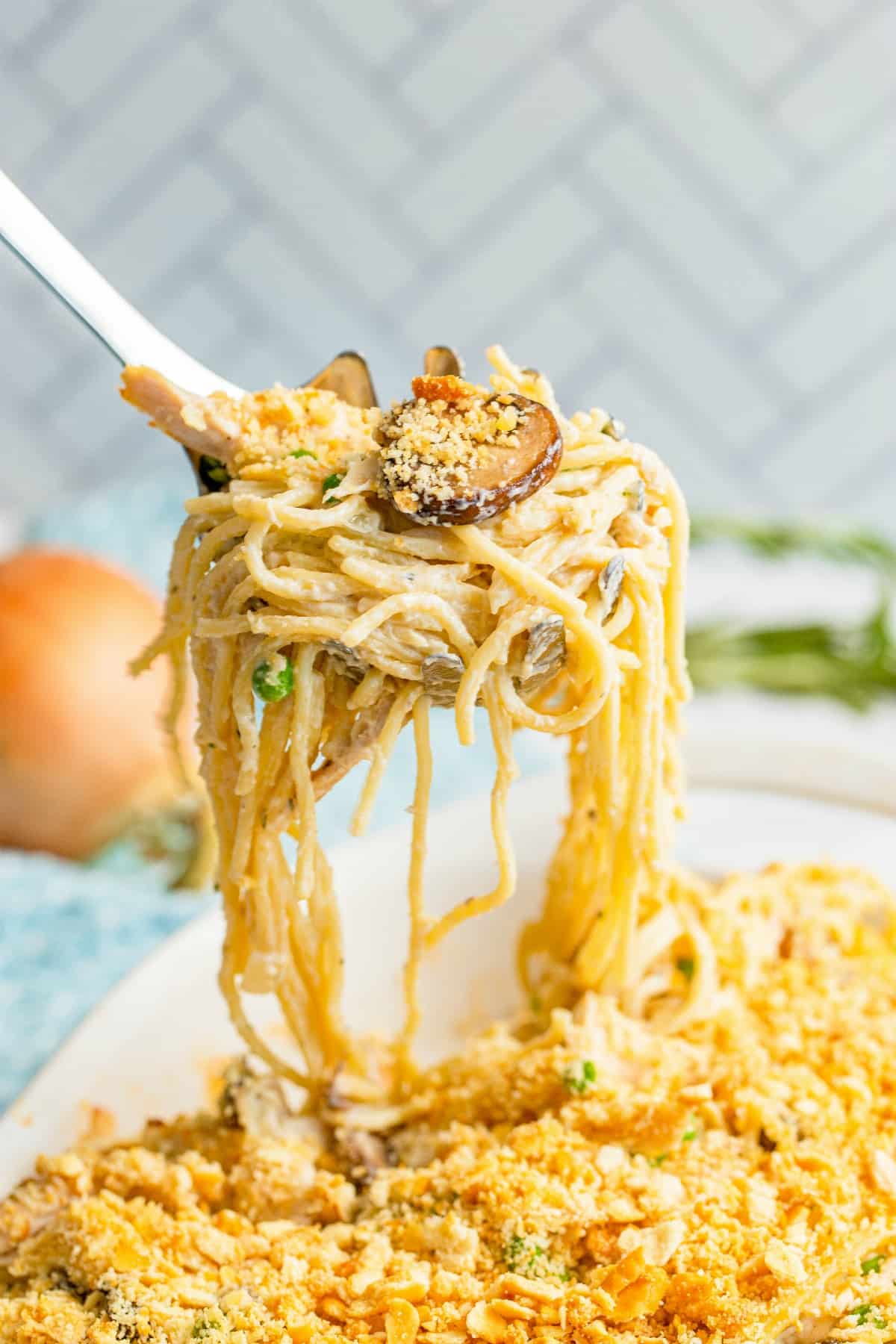 Tips and Tricks
Make ahead meal: Tetrazzini is perfect for meal prepping! Follow all the steps up to baking, then cover and store in the fridge until dinnertime. You'll need to add a few minutes to the baking time if cooking this straight out of the fridge.
How to store: Cover leftovers tightly with foil or cling wrap and keep in the fridge for up to 3 days. Warm leftovers in the oven until heated through before serving.
Can you freeze this? Yes! Assemble it in a foil casserole dish and do not bake. Cover tightly and store in the freezer for up to 2 months. When you're ready to cook the casserole, let it thaw in the fridge overnight then bake according to the recipe directions.
What to serve with Tetrazzini
Turkey Tetrazzini is a complete one dish meal that also pairs well with just about any side dish. Serve with a basket of homemade Dinner Rolls and a mixed green salad for a hearty dinner.
Frozen Cranberry Salad is another great accompaniment to anything turkey, including this casserole! A bowl of homemade cranberry sauce is also delicious!
Don't forget the Pumpkin Oatmeal Cookies for dessert.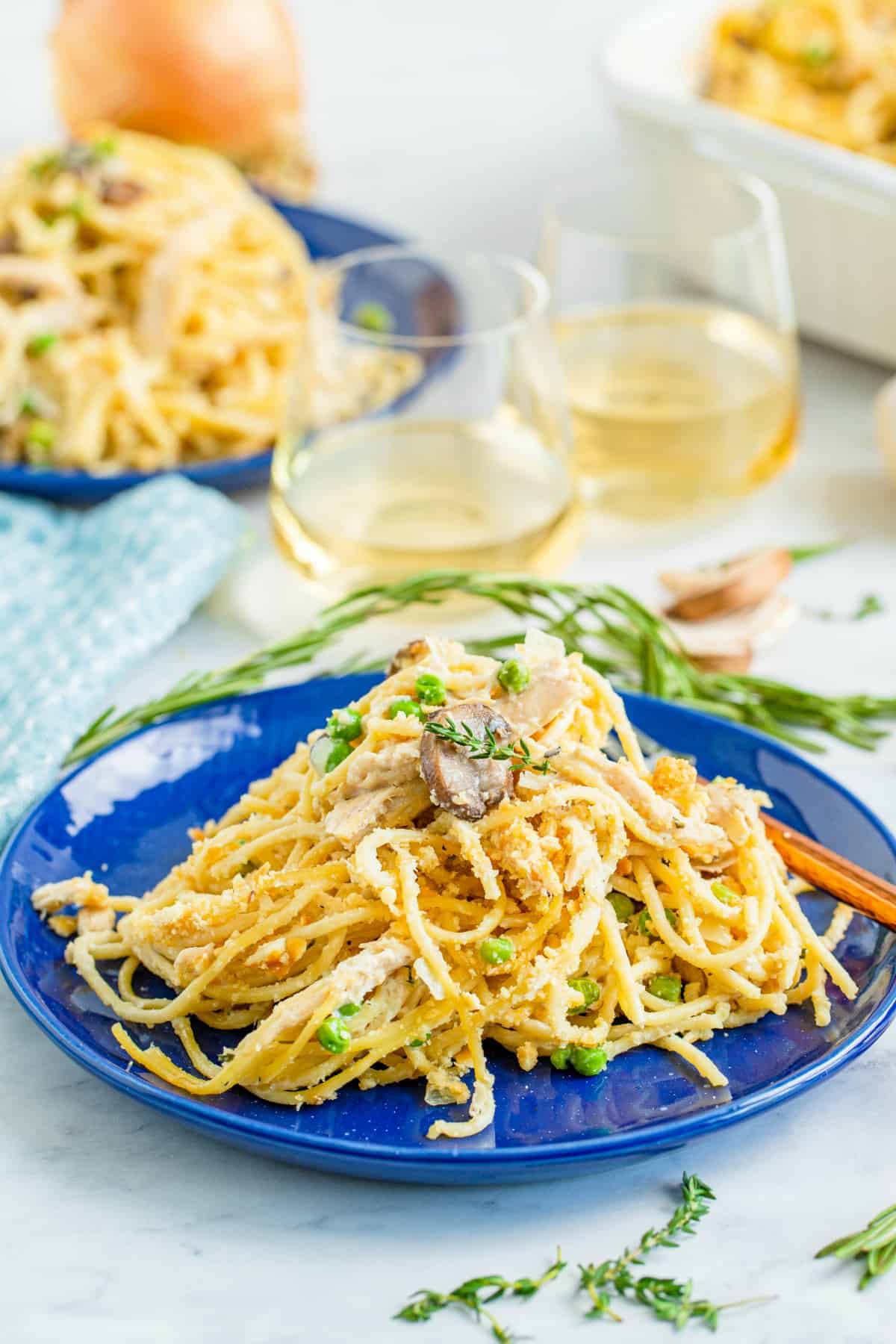 Recipe FAQs
Can I used chicken instead of turkey in tetrazzini?
Yes! Swap out the shredded turkey for cooked chicken instead. Use a rotisserie chicken for convenience.
Can turkey tetrazzini be made ahead of time?
You can assemble the tetrazzini the day before, cover and refrigerate. When ready to bake, keep covered. You may need to add some baking time since it was cold.
Can I add mozzarella to my tetrazzini?
Absolutely. Add a layer of shredded mozzarella cheese under the cracker crumbs (or skip the crumbs completely).
More Easy Dinner Recipes
The convenience of leftovers meets the great taste of a casserole made from scratch with love in this Turkey Tetrazzini recipe.