Taco night just got even easier! This one-pan Beef Taco Skillet is full of flavorful ground beef, Mexican cheese and colorful peppers. Garnish with your favorite taco toppings and dinner's ready–no tortillas necessary.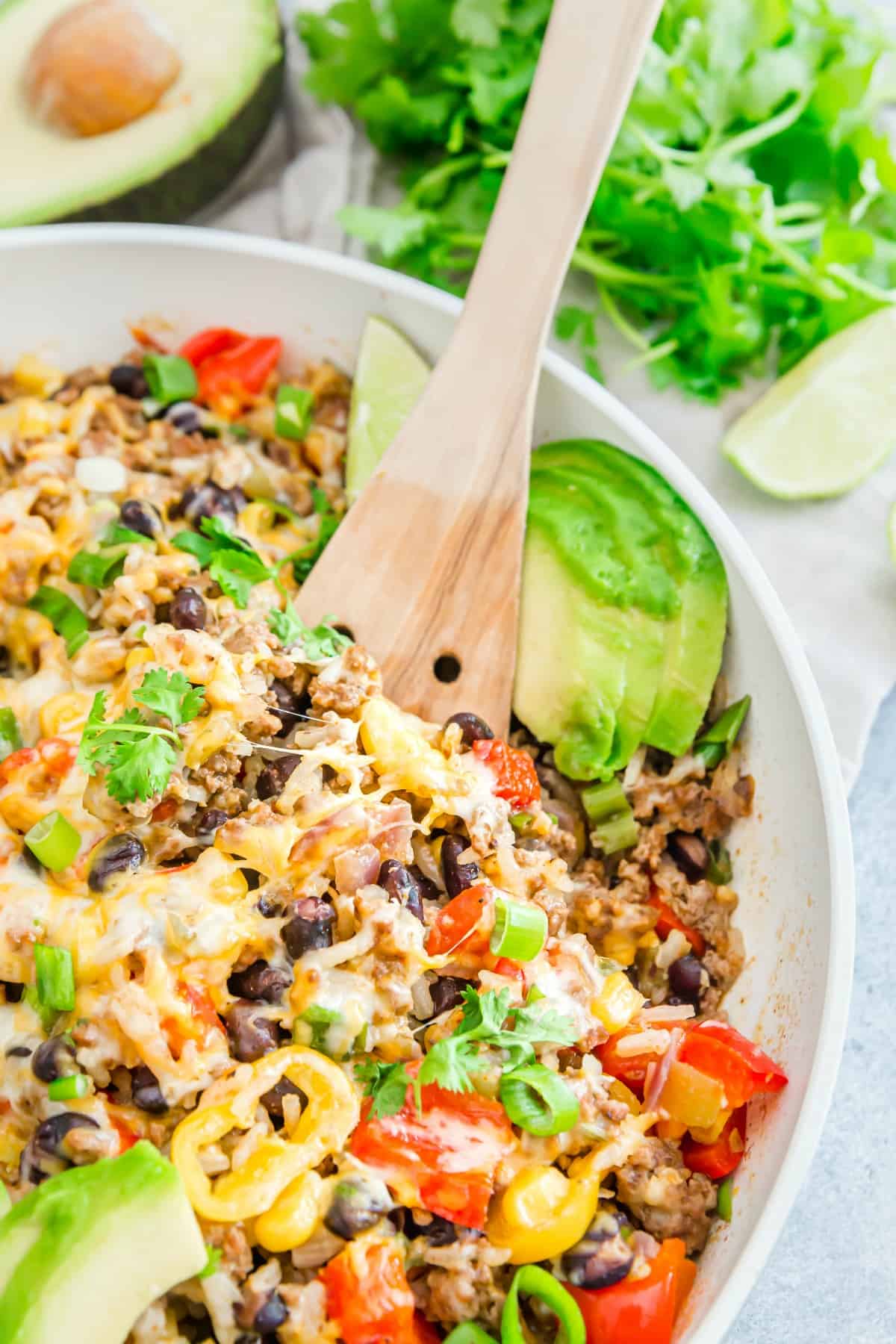 Show me a person who doesn't love tacos and I will show you a sad, sad soul.
Kidding, kind of. But what's more fun and satisfying than eating a taco? I love everything about them, from trying different combos of meat, rice, beans and cheese, to the cilantro and avocado slices I put on top.
Baked Tacos are always popular at my house and summer time isn't complete until we're enjoying some Fish Tacos with Avocado Sauce on the deck.
The best part of tacos, though? It's when you over fill your tacos just enough that you wind up with some leftover filling on your plate. Then you can eat the renegade beef and cheese with a fork or scoop it up with chips and extra Guacamole.
With this Beef Taco Skillet recipe you can skip the tortillas altogether and get right to digging in. It has all my favorite taco ingredients, seasoned to perfection then served in a big bowl.
It's a lower carb and wheat free version since you're not using tortillas, but the main reason you're going to love making Beef Taco Skillet is that it comes together in just one pan, rice and all.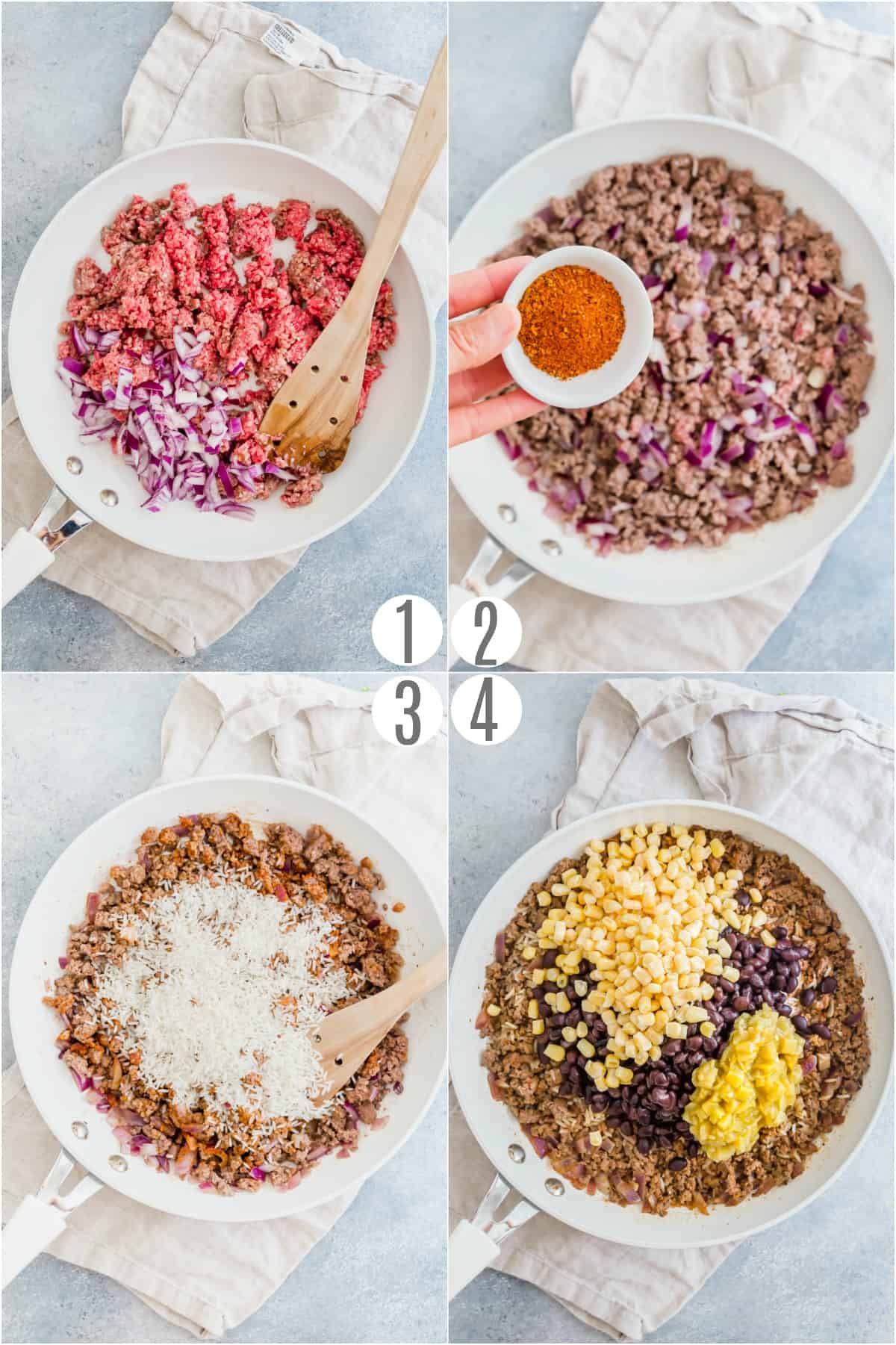 Beef Taco Skillet Recipe
Great for busy weeknights and family dinners, this taco skillet is so easy to make. Instead of having to make all the taco fillings separately, you cook everything together on the stove.
STEP 1. Brown beef and onions
Brown ground beef in a skillet with avocado oil and red onions. Add taco seasoning and stir to combine.
STEP 2. Add rice
Add UNCOOKED white rice and beef broth to the skillet with the beef. Simmer covered for about 10 minutes, until the rice is fully cooked and all the broth has been absorbed.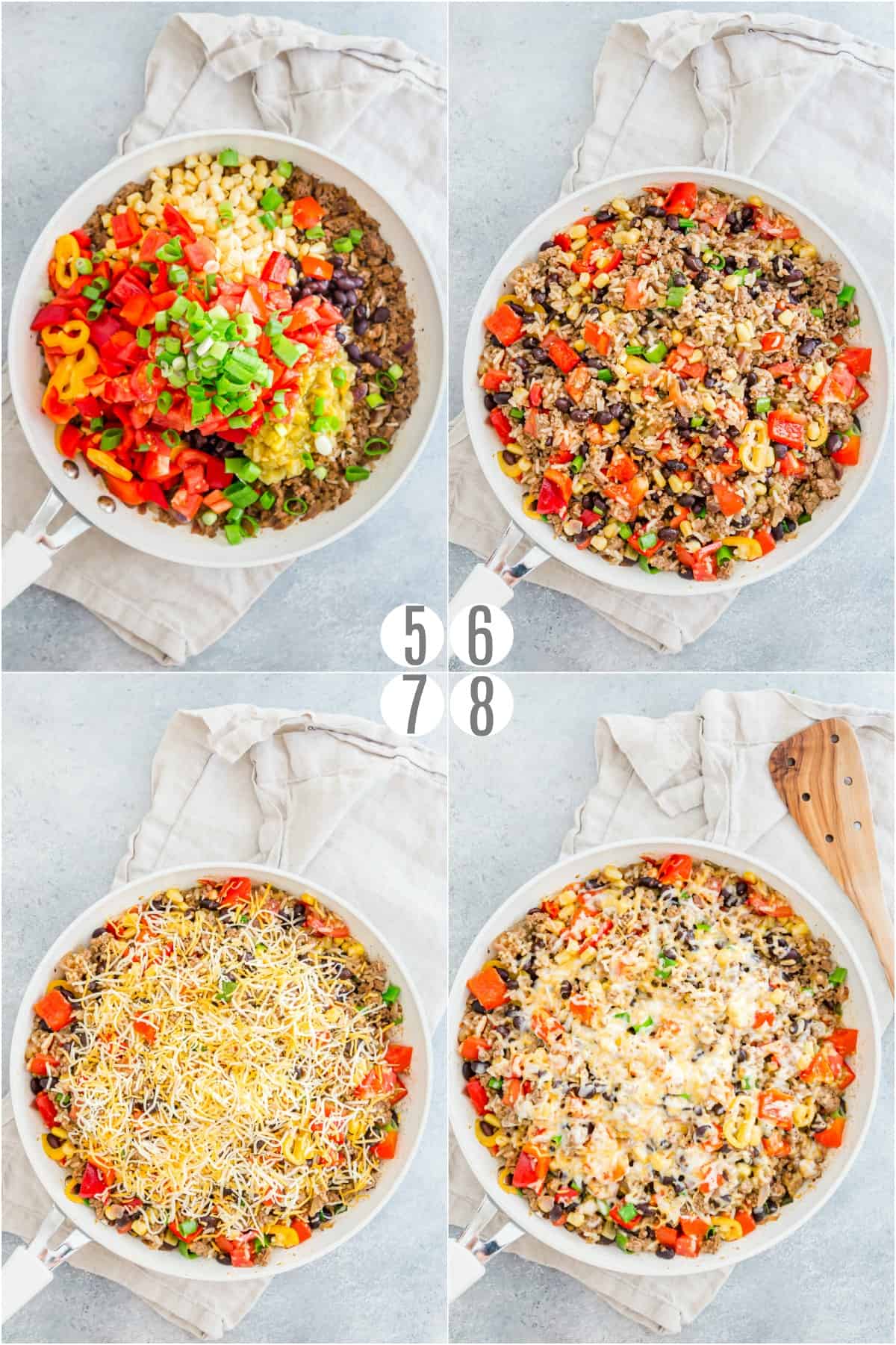 STEP 3. Add beans, veggies and cheese
Add black beans, green chilies, corn, peppers, tomatoes, and green onion. Stir together, return heat to medium-high and cook for another 5 minutes.
At this stage, you can taste the beef skillet and add as much salt and pepper as it needs. Sprinkle cheese over everything and cover the skillet for about 5 minutes, or until the cheese melts.
Serve in bowls garnished with avocado slices, chopped cilantro and lime wedges. Don't forget a bag of crunchy tortilla strips on the side for scoopin'.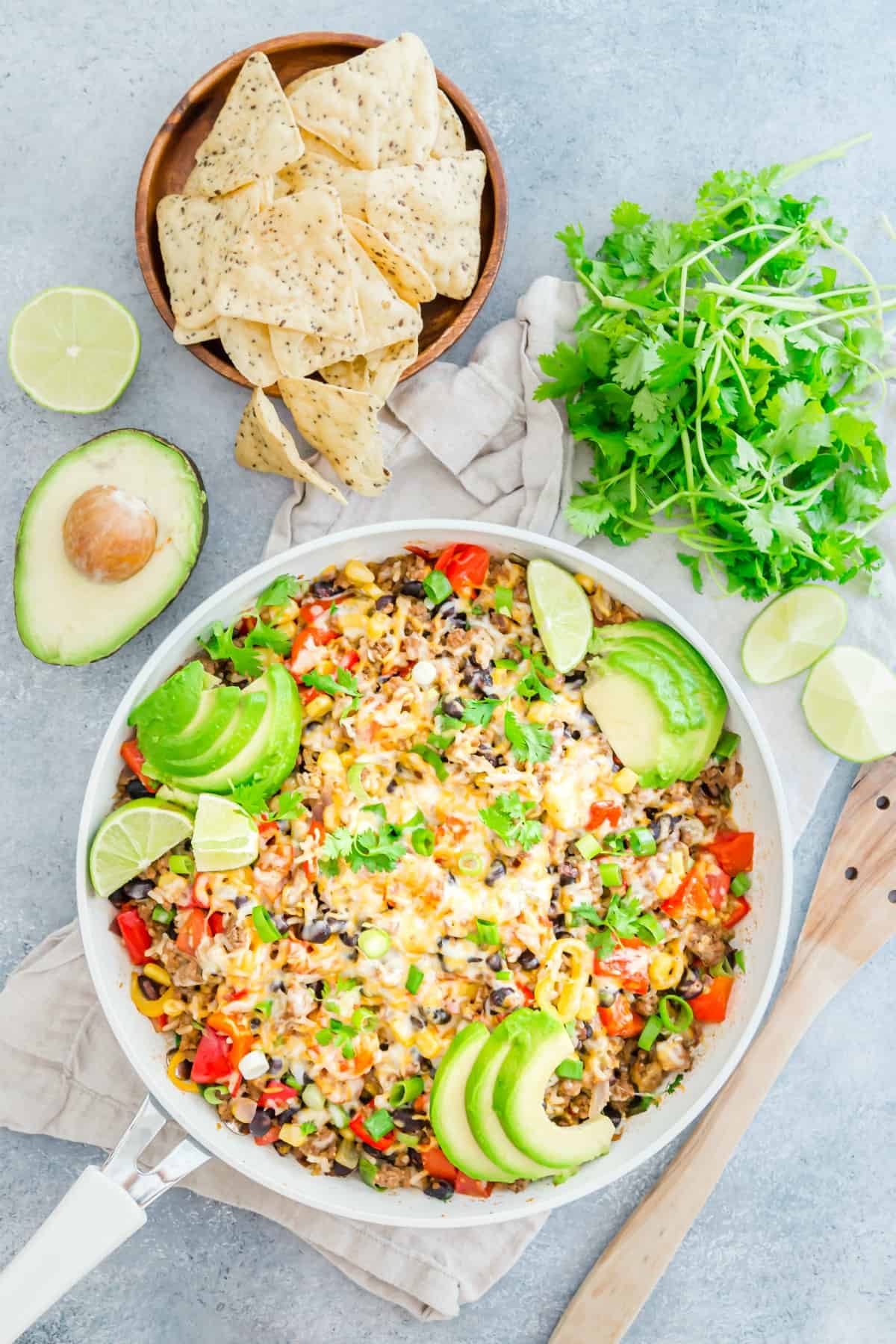 How to Serve Taco Skillet
My family loves this with crunchy tortilla chips on the side. You can scoop up the contents of your taco bowl with the chips or sprinkle the chips on top!
Along with the cilantro and avocado, here are a few more tasty sides and toppings for your Beef Taco Skillet dinner:
Sour cream
Salsa – Pico de gallo is especially delicious on this!
Shredded lettuce
Diced fresh tomato
Corn or flour tortillas
The garnishes are delicious but the beef skillet has all the flavor you need cooked right in. The peppers, tomatoes and canned green chiles make the beef just the right amount of tangy and spicy!
This recipe is easy to turn into a burrito, if that's more your style! Just wrap up the contents of your skillet in a giant tortilla. You could totally freeze the burritos too for easy an easy make-ahead meal.
However you serve this dinner, it's a guaranteed hit with the whole family.
Don't forget to finish with a cinnamon sugar dessert. A batch of churros, sopapilla cheesecake, churro toffee, or no bake churro bars would be perfect!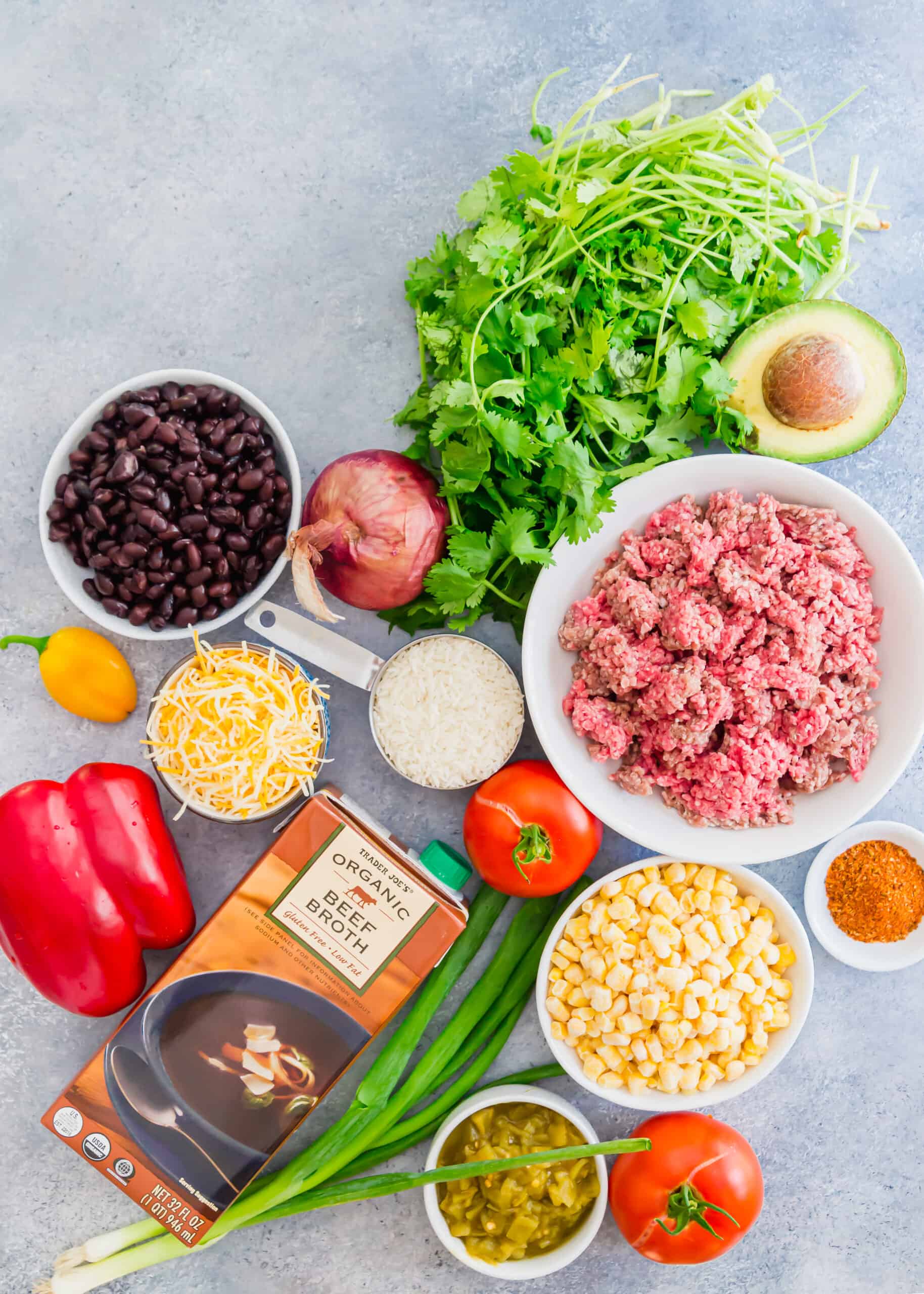 Substitutions
Beef Taco Skillet is a highly adaptable dinner. There are countless ways to substitute ingredients based on your family's preferences or what you have in the fridge.
For the ground beef: Substitute ground turkey or your favorite vegetarian "beef" crumbles for a lighter take on taco skillet.
For the black beans: Pinto beans or red beans would also work here.
For the beef broth: Try chicken broth or vegetable broth instead. You could substitute water if necessary, but the broth adds more flavor.
For the rice: Substitute cauliflower rice to keep this low carb and increase your veggie intake.
For the tomatoes: Try substituting the fresh tomatoes with a can of Rotel for a spicier kick!
For the avocado oil: Any mild tasting vegetable oil is a good substitute. I often make this with canola oil or vegetable if I run out of avocado oil.
One pan meals like this are a staple around here and when they're as satisfying and versatile as this taco skillet you never get tired of them. You could follow the same recipe substituting different meats, vegetables and toppings dozens of times and never have the same exact dinner twice.
And if you hadn't noticed? This is one economical dinner. Money saving, easy, nutritious and delicious? Sign me up.