The childhood meal you remember is so much better made from scratch! Seasoned ground beef with cheese and macaroni comes together in a cinch when you make Hamburger Helper in the Instant Pot.
Kid friendly dinners are the true heroes. For instance, this easy Instant Pot Spaghetti and Meatballs gets two thumbs up from everyone. Or, try this reader favorite Instant Pot Chicken Alfredo recipe!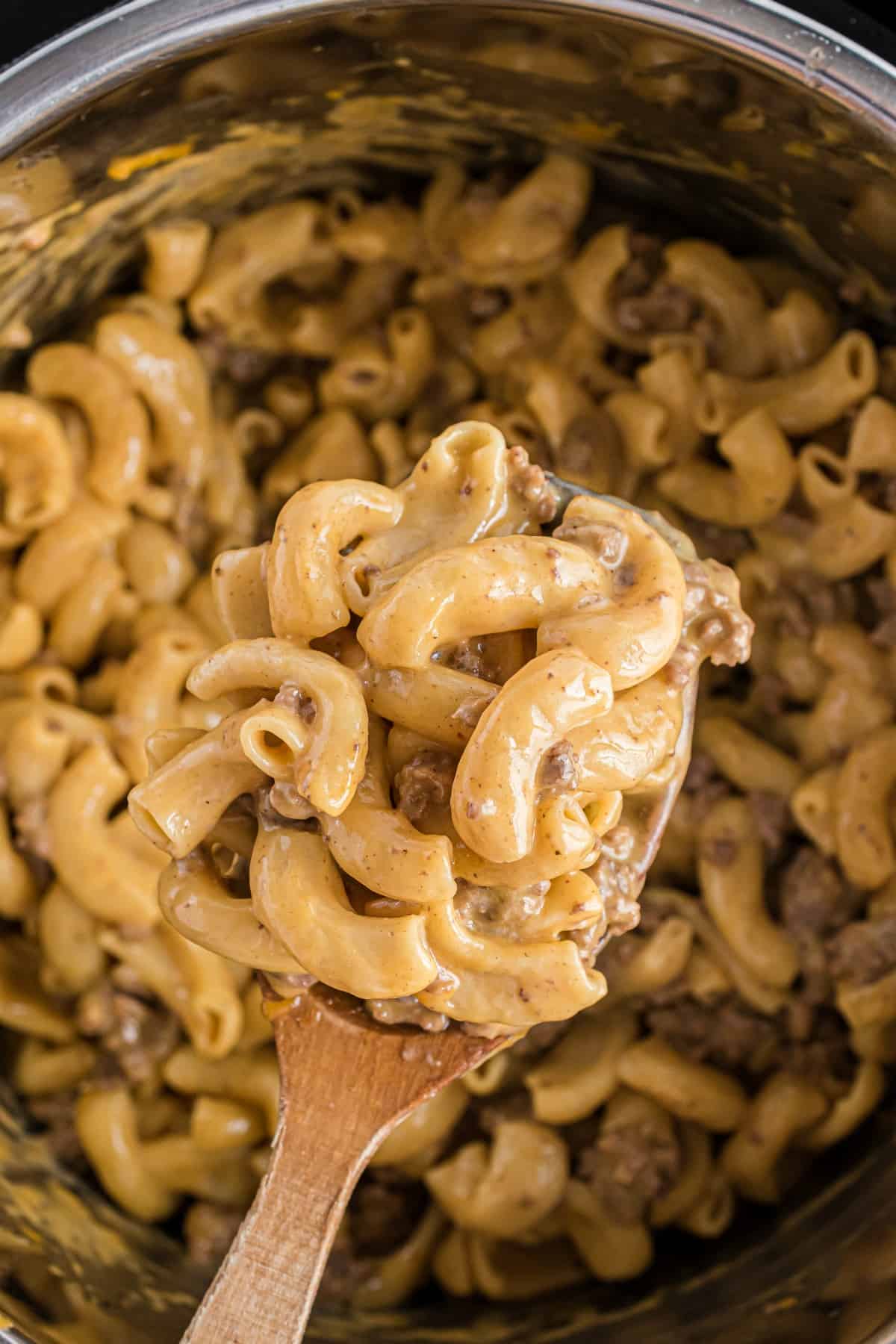 Why this Instant Pot Hamburger Helper is Best
Hamburger Helper used to be THE quick go-to meal for busy moms back in the day. A box of that stuff plus a pound of ground beef and you'd have a kid friendly meal on the table in no time.
As a kid I loved the taste of Hamburger Helper but as an adult I don't love all the sodium and preservatives in the boxed stuff (at least not to eat on a regular basis).
Using my Instant Pot Mac and Cheese recipe as the base, this dinner came together in minutes!
It's like classic Hamburger Helper with ten times more flavor and the perfect creamy texture.
I use REAL heavy cream and freshly shredded cheese in this dish along with classic Hamburger Helping ingredients like macaroni, ground beef and garlic powder.
Even with using fresh ingredients, this recipe is so inexpensive to make! If you keep ground beef and pasta on hand, you're never more than a couple steps away from a delicious dinner.
Me being me, I naturally had to make it in the Instant Pot to make it even easier for a weeknight. Best of all, my family ate up every bite and clean up was a breeze.
No Instant Pot? No problem. You can make it on the stove top too! Either way, this recipe comes together in record time!
Ingredient Notes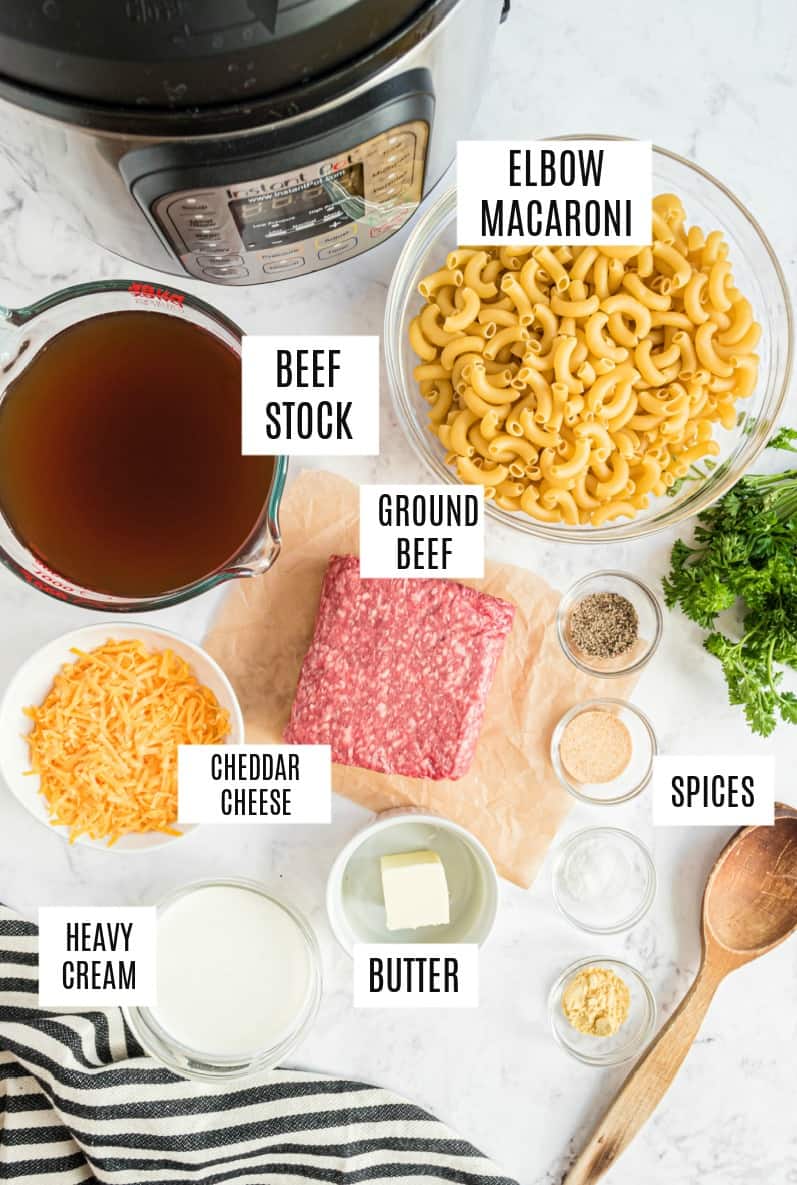 Ground beef – Swap the meat with ground turkey or ground chicken for a lighter meal.
Cheese – Use a block of good cheese and shred it yourself with a box grater. It will melt better and taste better than packaged shredded cheese.
Macaroni – Elbow macaroni gives this a familiar Hamburger Helper look, but any pasta shape works!
Beef broth – Not needed if you make the stove top version!
Step by Step Instructions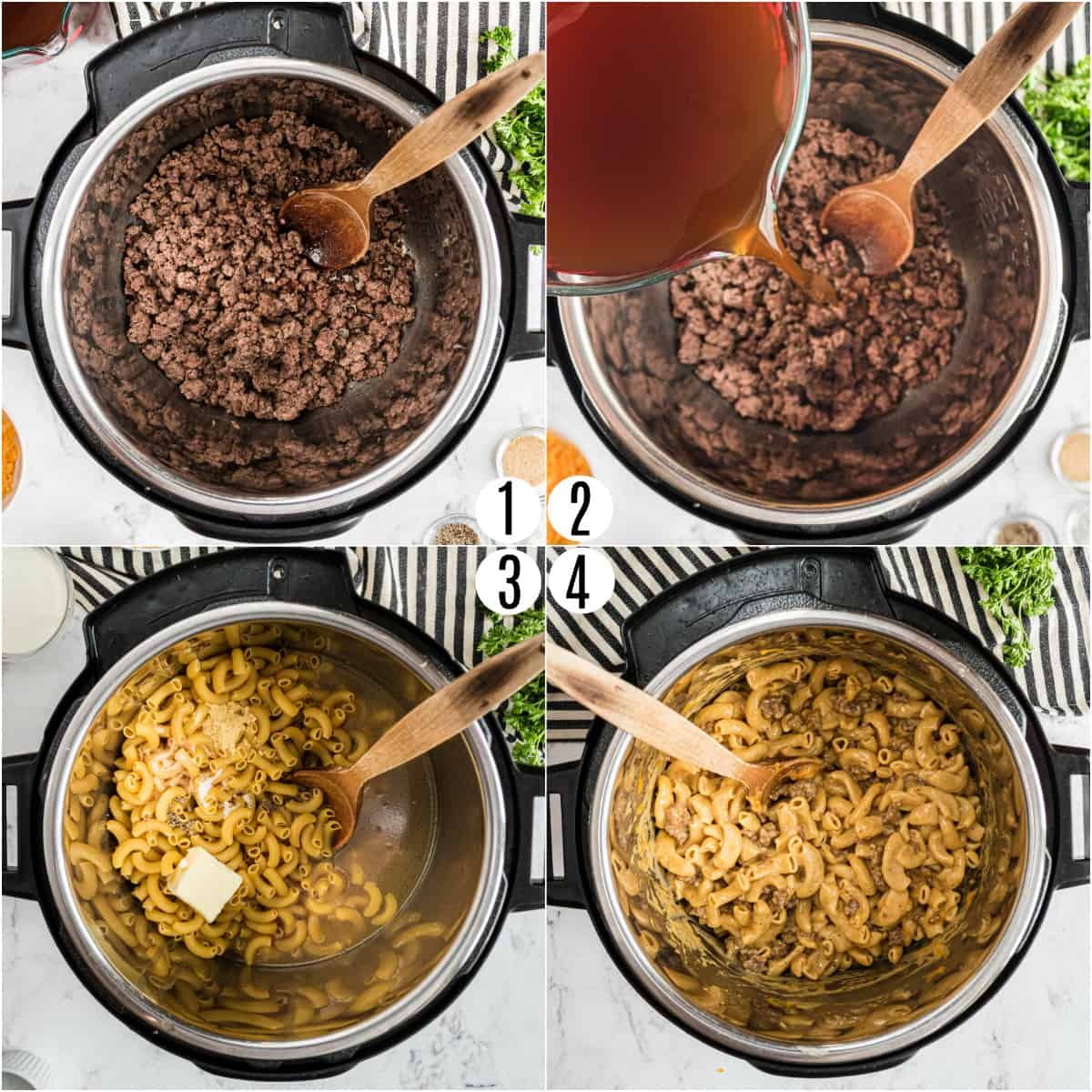 STEP 1. Saute the beef
Select the saute setting on your Instant Pot and cook the ground beef until no pink remains. Turn off the pot and drain any excess grease.
STEP 2. Deglaze
Add the broth the the pot and use a wooden spoon to scrape off any pieces of meat stuck to the bottom or sides. This is important and helps prevent a burn notice!
STEP 3. Add macaroni
Add the uncooked noodles to the broth in the pot along with the butter, garlic powder, mustard powder and other seasonings.
STEP 4. Pressure cook
Place the lid on the pot and set the valve to seal. Cook on manual or select High Pressure for a cook time of 5 minutes.
Turn the valve to vent once the cook time ends and do a quick release of the pressure.
STEP 5. Serve
Use a spatula or wooden spoon to give the pasta and meet a stir, then mix in the heavy cream and cheese. Stir until the cheese is melted and serve warm!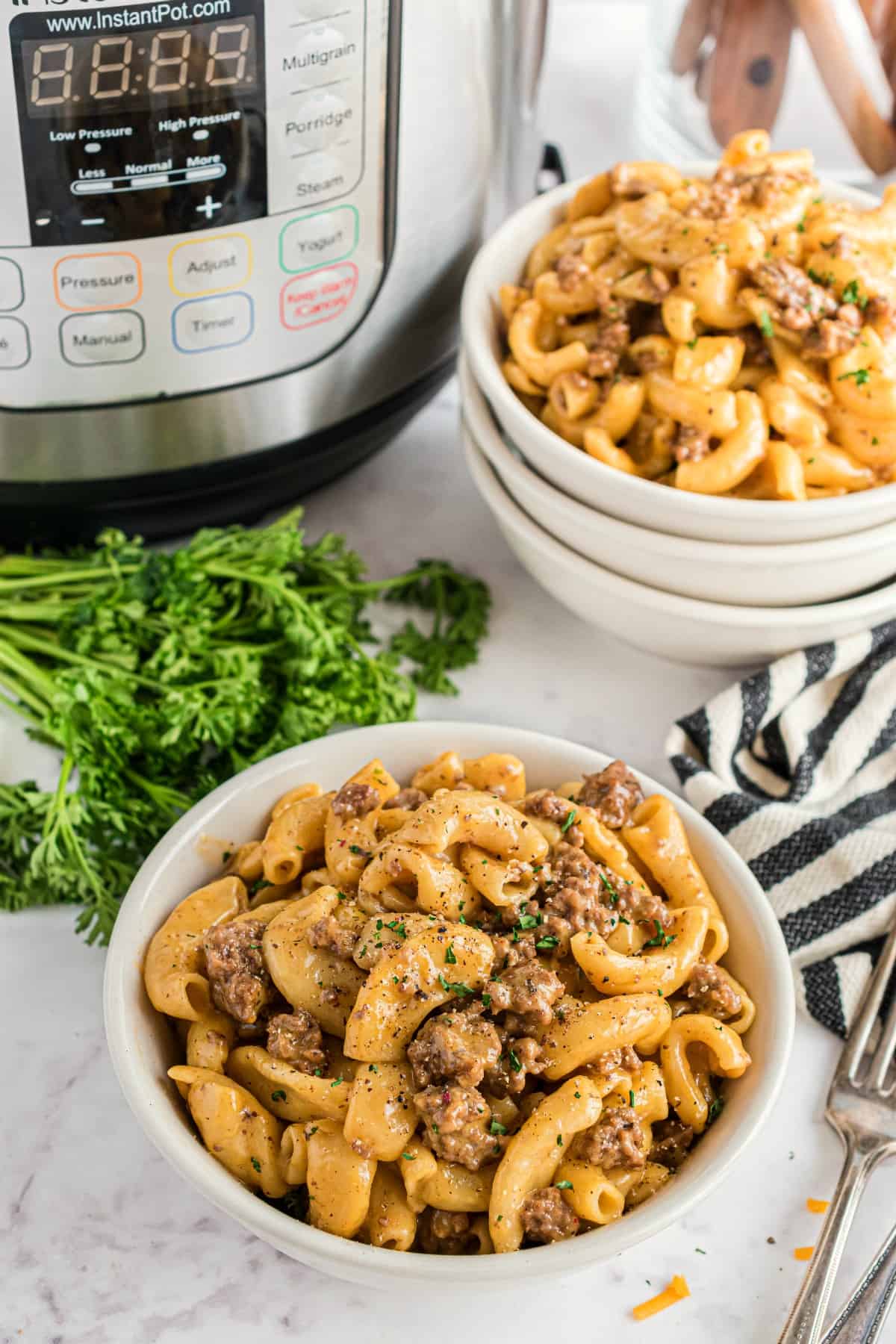 Recipe FAQs
What size Instant Pot do you need to make this hamburger helper recipe?
This recipe was tested in a 6 quart Instant Pot.
Can hamburger helper be made on the stove top?
YES! To make hamburger helper on the stove, cook the pasta according to package directions. While it's cooking, brown the beef in a large pot. Drain the grease, add the seasonings, then the cooked pasta along with the cream and cheese. No broth needed!
How do you store leftover Hamburger Helper?
Keep leftovers in an airtight container in the fridge and enjoy within 2 days.
What to serve with Hamburger helper?
Today's dinner recipe is *almost* a complete meal. In our house we like to serve this with a fresh Italian dinner salad.
To add more vegetables to your meal, whip up some Roasted Zucchini or make some Sheet Pan Vegetables!
If your family loves carbs like mine does, add some garlic bread or dinner rolls on the side, so soak up all that cheesy goodness left in the bowl!
More Easy Dinner Recipes
Instant Pot Hamburger Helper is the answer to that 5 P.M. question, "What's for dinner?" Made with easy to find ingredients, this kid approved meal satisfies everyone in the family, without breaking the bank.