Cheesy and beefy macaroni in a tangy tomato sauce is a nourishing dinner that every kid loves! Whether you call it American Goulash, Chili Mac or just Beefy Macaroni, you need this Instant Pot Goulash on your dinner menu this week.
Comfort food meets kid friendly is what we love around here. This Hamburger helper recipe made in the Instant Pot is cheesy and ready in mintues!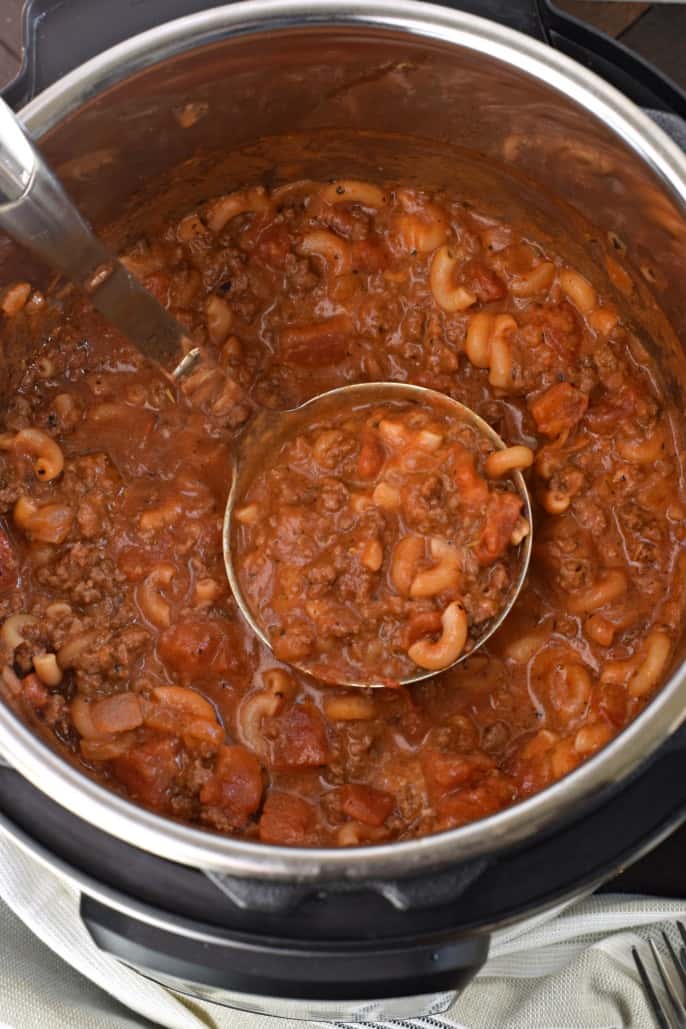 American Goulash
Goulash is a hearty noodle dish with origins in Hungary–but you may have been making goulash for years without even knowing it! Any meal that involves noodles (usually elbow macaroni) with a cheesy tomato sauce and some kind of ground meat counts as a goulash.
This means that Hamburger Helper your mom relied on? Goulash. (I've heard of folks calling it "American Goulash" and "American Chop Suey" pretty regularly, in fact.)
That cheater Chili mac you make by pouring a can of chili over macaroni noodles? Goulash.
I love the taste of homemade versions of Goulash so much better than boxed Hamburger Helper or chili mac that comes from a can.
That's why I was delighted to discover how easy and tasty it was to make goulash in the instant pot!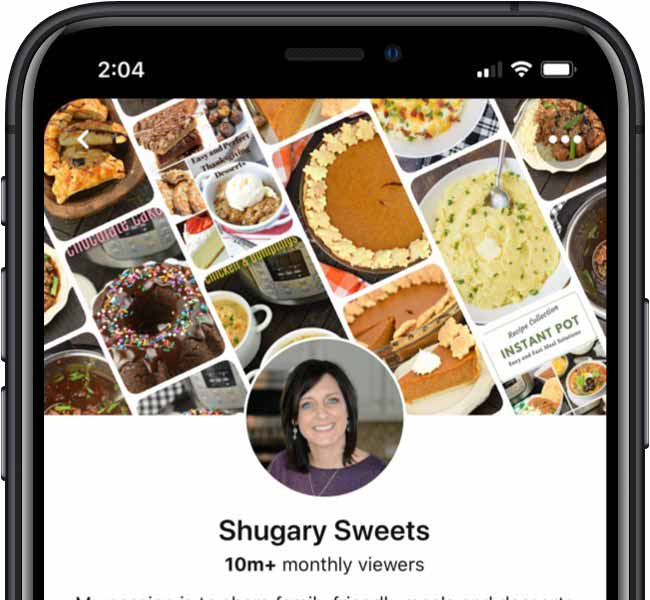 Instant Pot Goulash
The recipe I'm sharing here today is even faster than typical goulash recipes, which are already quick and easy to start with.
This whole meal can be made in just 10 minutes! (plus the time the pot takes to come to pressure of course)
How many homemade meals take less time to make than ordering takeout AND promise great taste that the kids will enjoy as much as the adults? Not too many.
Give this recipe a try and see for yourself!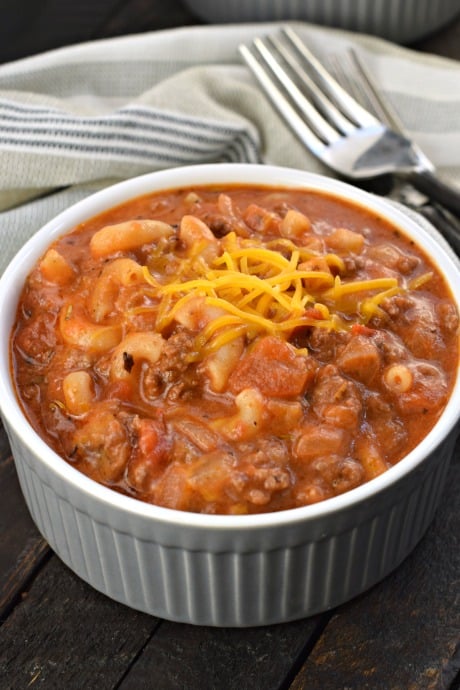 Instant Pot Chili Mac
Instant Pot Goulash is a lot like Chili Mac only it uses seasonings that more closely resemble an Italian dish than the southwestern spices I tend to put in my chili.
The savory thick tomato sauce with juicy ground beef though reminds me so much of my very favorite chilis. This is a great way to mix things up if you have Instant Pot Chili Mac in your rotation already.
If you've been reading here for any length of time, you'll know that recipes with simple and easy-to-find ingredients are a must for me!
When it comes to our family meals, I'm very rarely in the mood to cook a recipe with a length ingredients list–or to have to run to the grocery store to pick up something unusual.
This Instant Pot Goulash is cheesy, beefy and completely delicious–all with ingredients you probably have in your kitchen already!
All you need to make American Goulash in the Instant Pot are these ingredients:
Ground Beef
Beef Broth
Elbow Macaroni
Italian seasonings
Diced tomatoes
Tomato sauce
Garlic
Onion
Worcestershire sauce
Cheddar Cheese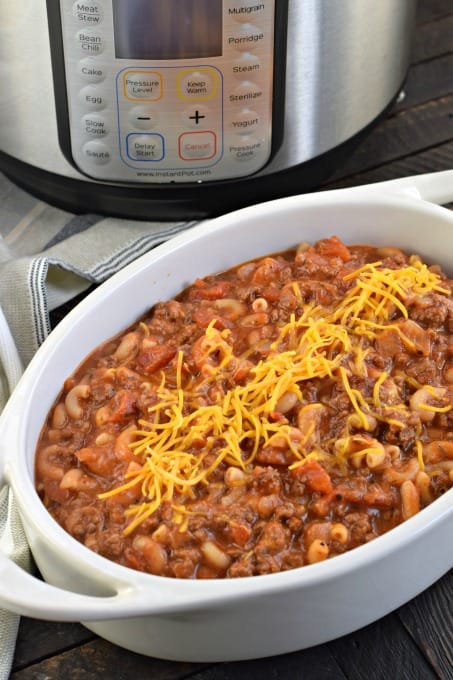 Step by Step Instructions
STEP 1. Saute the beef
Turn the Instant Pot on "SAUTE." Add in the olive oil, chopped onion, and garlic. Cook for about 3 minutes, until onions are translucent. Add in ground beef and cook until crumbled and brown, with no pink remaining. Drain out any excess grease.
PRO TIP: the leaner the beef, the less grease. I use 93/7 and don't even need to drain the pot after browning.
STEP 2. Deglaze and season
Add in the beef broth, scraping the bottom of the pot with a wooden spoon until no bits remain (this is called deglazing). Then add in the water, tomato sauce, diced tomatoes, worcestershire sauce, Italian seasoning, salt, pepper, and pasta noodles. Stir until combined.
STEP 3. Pressure Cook
Lock the lid in place and and set the pressure valve to "SEALING." Select "HIGH PRESSURE" for a cook time of 2 minutes. When cook time ends, do a CONTROLLED quick pressure release (more on this below!).
How to do a controlled quick pressure release
When your beef is done, turn the pressure valve to "VENTING." Wait 5 seconds. Then turn it back to "SEALING." Wait another 5 seconds.
Do this a few times, alternating between the valve settings to minimize spray coming from your pasta when you open the lid.
STEP 4. Add the cheese
Remove the lid from the pressure cooker and stir. Add in the shredded cheese, mix to combine and ladle into bowls to serve.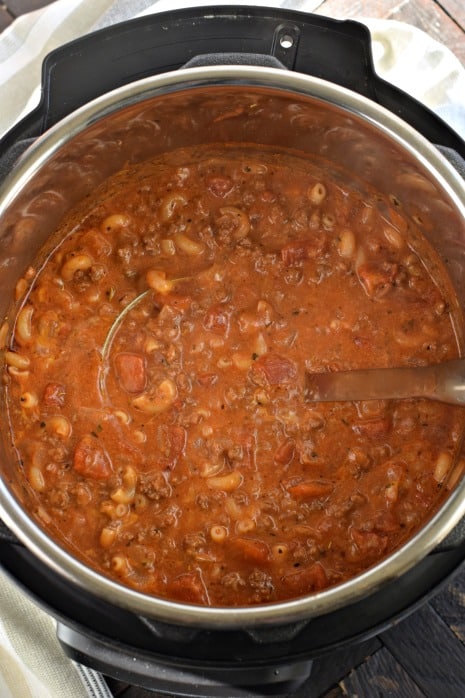 Tips and Tricks
A few ideas for making an American Goulash that's above and beyond your average Instant Pot Chili Mac:
Experiment with different varieties of canned tomatoes! Italian seasoned tomatoes with garlic and herbs are delicious here. Fire roasted tomatoes would add another layer of deep roasted flavor to this Instant Pot Goulash, too.
Use lean ground beef to make draining the grease easier. When making this in the Instant Pot, I usually look for ground beef with a ratio of 93/7 percent fat.
Want to change things up? Try using different shaped bite sized pasta noodles for something fun. Small shells, penne and bow-tie pasta are all good choices for this recipe!
For those who can't get enough cheese: Serve Instant Pot Chili Mac with extra bowls of shredded cheese on the side for sprinkling on top.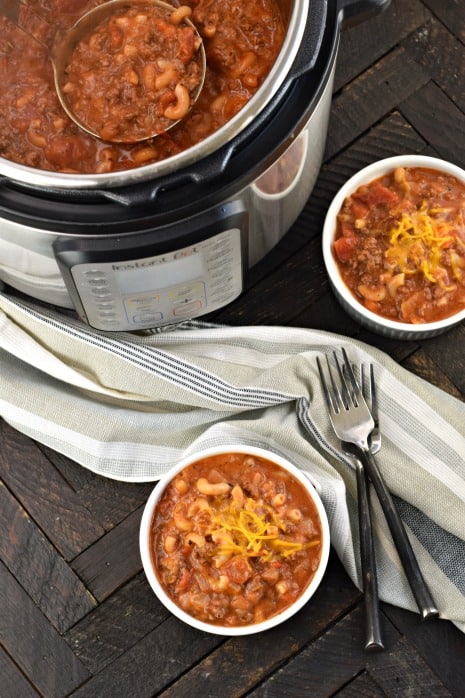 Instant Pot Goulash is a one pot 10 minute meal that doesn't skimp on flavor. Cooking from scratch was never so easy or so delicious with this crowd pleasing beefy macaroni!