Fork tender, this Instant Pot Balsamic Beef is going to be your new favorite weeknight recipe! Tender roasted beef in a juicy glaze. Add in some vegetables for a complete meal.
Shredded chicken is a delicious alternative for dinner! Or be sure to try my Instant Pot Pulled Pork recipe.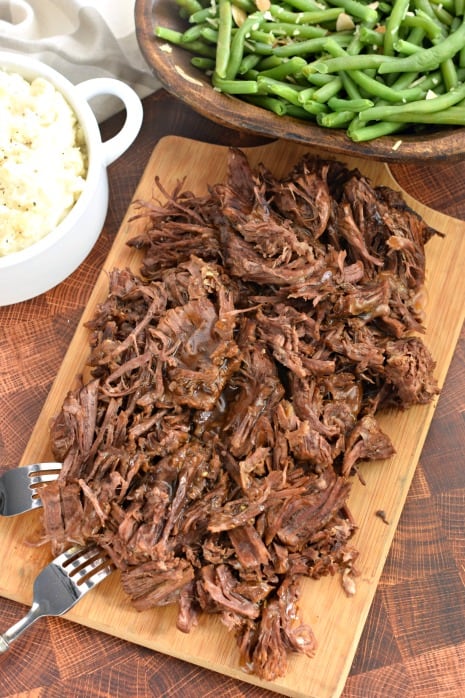 Balsamic Beef Recipe
Trying to find the perfect family dinner can be challenging sometimes.
We have a regular rotation of Spaghetti (with or without meatballs), Meatloaf, and Chicken Alfredo.
But what my family REALLY loves is meat. This balsamic beef is one of our absolute favorite dinners!
Instead of slow cooking the meat all day in the crockpot, I decided to give it a try in the Instant Pot.
After all, we already love classic pot roast and mississippi pot roast in the Instant Pot, so why wouldn't this be amazing too?
Well, friends. It IS amazing. The beef is fork tender and bursting with flavor. That's what I love about the pressure cooker. Even though you're cooking food quickly, the pressure cooker has a way of making those flavors meld together!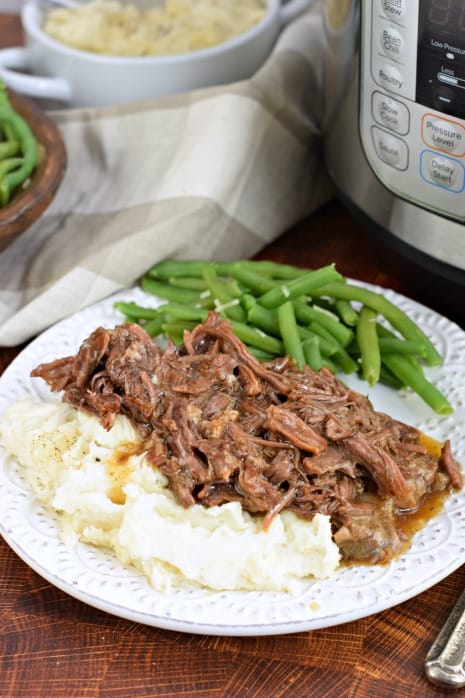 Ingredient Notes
Chuck Roast. Much like a traditional pot roast recipe, you'll want to choose a well marbled chuck roast. The chuck roast comes from the shoulder of the cow.
Find a chuck roast with many thin strands of white (connective tissue). These will melt away while your roast cooks, creating a tender cut of meat.
I use a 3-4 lb roast for a single recipe. Cut it into large chunks so that it will fit well in the bottom of the Instant Pot.
Seasonings and Liquids. In order for the pressure cooker to work properly, you need to make sure there is enough liquid.
I used a combination of beef broth, soy sauce, and balsamic vinegar.
In addition to salt, pepper, Italian seasoning, garlic, and brown sugar, this was the perfect combination of flavors to create a delicious shredded beef.
Instant Pot. It goes without saying that in order to make this recipe you'll need a pressure cooker. I have a 6qt Duo that I love and use for all my recipe development.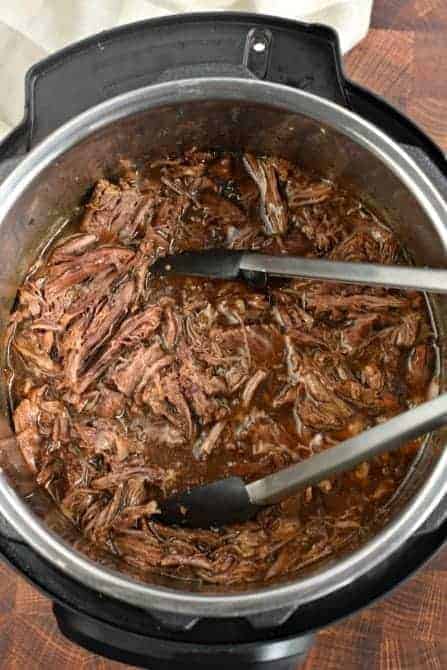 Step by Step Instructions
STEP 1. Season and Sear the meat.
In a small bowl, combine the salt, pepper, and Italian seasoning.
Cut chuck roast into 4 chunks. Rub with olive oil and press seasoning blend all over the meat.
Set pressure cooker to "SAUTE" and add beef and garlic to the pot. Brown the meat, turning every couple of minutes to brown all sides.
Remove the meat from the pot and deglaze.
Deglazing the Instant Pot is an important step to prevent the BURN notice from appearing.
To deglaze, add beef broth to the bottom of the pot. Using a wooden spoon, scrape the bottom until all the bits of browned meat are removed.
STEP 2. Pressure Cook.
To the beef broth, add brown sugar, soy sauce, and balsamic vinegar. Whisk together and add the meat back to the Instant Pot.
Lock the lid in place and make sure the valve on top is set to "SEALING."
Select HIGH PRESSURE for a cook time of 75 minutes.
When the cook time is done, allow to naturally release pressure for 10 minutes, then turn the valve on top to "VENTING" to do a quick release of pressure.
Remove the lid and place the beef on a cutting board to shred.
STEP 3. Thicken the sauce.
If you want a thicker "gravy" style sauce, remove all but 1 1/4 cup of liquid from the bottom of the instant pot.
In a small bowl whisk together 1/4 cup cold water with 2 Tbsp cornstarch.
Turn the Instant Pot on "saute" and add the cornstarch slurry to the pot. Whisk until bubbly and thickened.
Shred the beef and serve the sauce over the top or on the side!
Serving Suggestions
Whether you choose to make a thick gravy with the liquid or not, this shredded beef is delicious when paired with mashed potatoes!
If you're serving this to a big crowd and want more side dishes, you can whip up this sweet potato casserole or mac and cheese for a complete meal.
Don't forget the vegetables! This Roasted Broccoli and Zucchini is delicious!
Balsamic Beef is also delicious when paired with Broccoli Salad or Potato Salad for a potluck!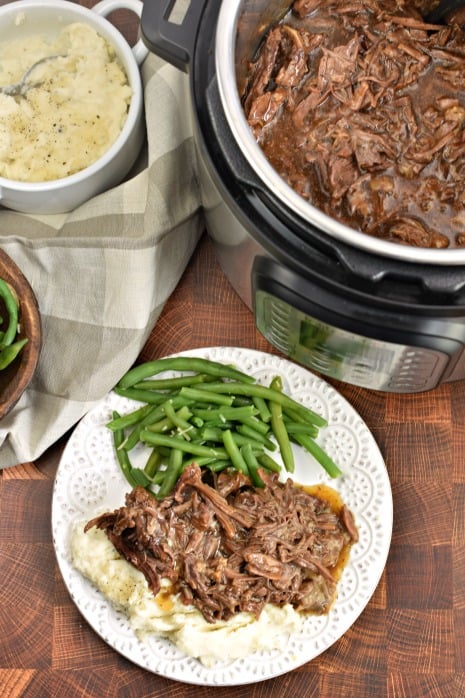 Recipe FAQs
Can you freeze Balsamic Beef?
To freeze, add cooled beef (with juices) to a ziploc freezer bag (or freezer safe container). Freeze for up to 60 days. Thaw in refrigerator overnight. Heat up on stove top until hot. Serve with baked mashed potatoes and enjoy!
Can this Balsamic Beef be made in the crockpot?
Yes! Add everything to slow cooker and heat on low for 6-8 hours. Shred and enjoy.
What cut of beef is best for shredding?
I always choose a chuck roast or sometimes it's referred to as a pot roast.
Instant Pot Shredded Balsamic Beef is an easy weeknight dinner packed with flavor!