Now you can make those tender beef pitas from your favorite Mediterranean restaurant at home! Instant Pot Gyros are flavored with herbs and drizzled with creamy yogurt sauce that everyone finds irresistible.
Love Gyros? We make these Beef Pitas often, and today we've got a tasty Instant Pot version! Serve up this Greek dinner with a plate of fresh veggies and hummus too!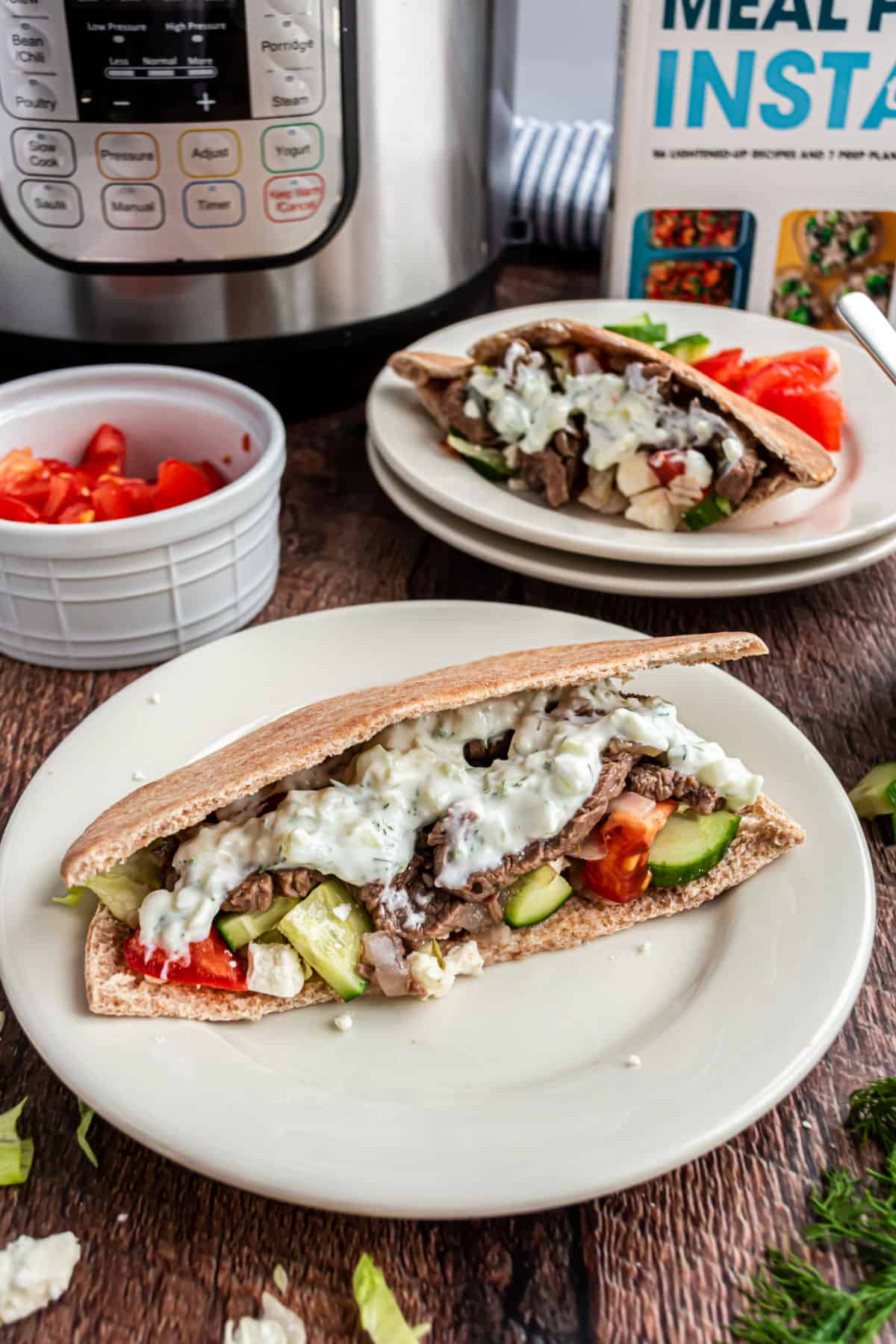 What are Gyros
Simply put, Gyros are pita sandwiches stuffed with a savory marinated meat. Traditional in Greek and other Mediterranean cuisine, the lamb meat is typically cooked rotisserie style, then sliced thinly before serving.
This quick and easy Beef Gyros recipe uses flank steak, pressure cooked in minutes using the Instant Pot! Served with chopped fresh tomatoes, cucumbers and feta cheese, this is a fresh and flavorful meal perfect for shaking up your weeknight dinner routine.
Don't forget to make a batch of my creamy homemade Tzatziki Sauce to drizzle on top of your stuffed gyros!
Today's delicious recipe comes from the cookbook, Meal Prep in an Instant, by Becca Ludlum. The recipes are amazing, easy to follow, and delcious. This Spaghetti Squash Lasagna Boat is one of our favorites too!
Ingredient Notes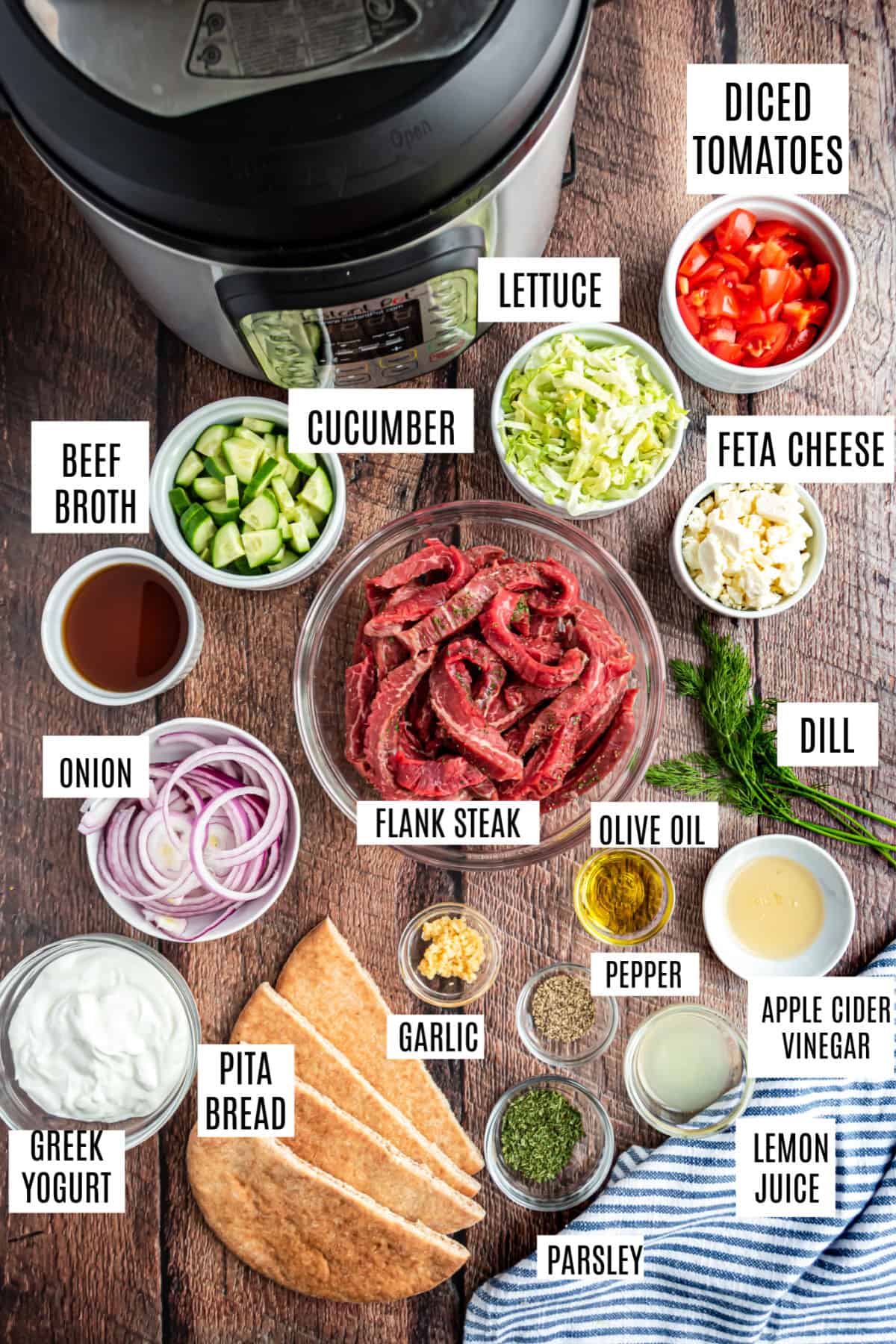 Flank steak – Skirt steak could also be used in this recipe.
Beef broth – Use low sodium broth to control the saltiness of the meat.
Feta cheese – Goat cheese also tastes good on gyros, or feel free to leave off the cheese if you're not a fan.
Pita bread – Whole wheat or white pita pockets taste delicious with the gyro meat.
Tzatziki Sauce – Made from tangy Greek yogurt, this homemade sauce is best!
East Instant Pot Instructions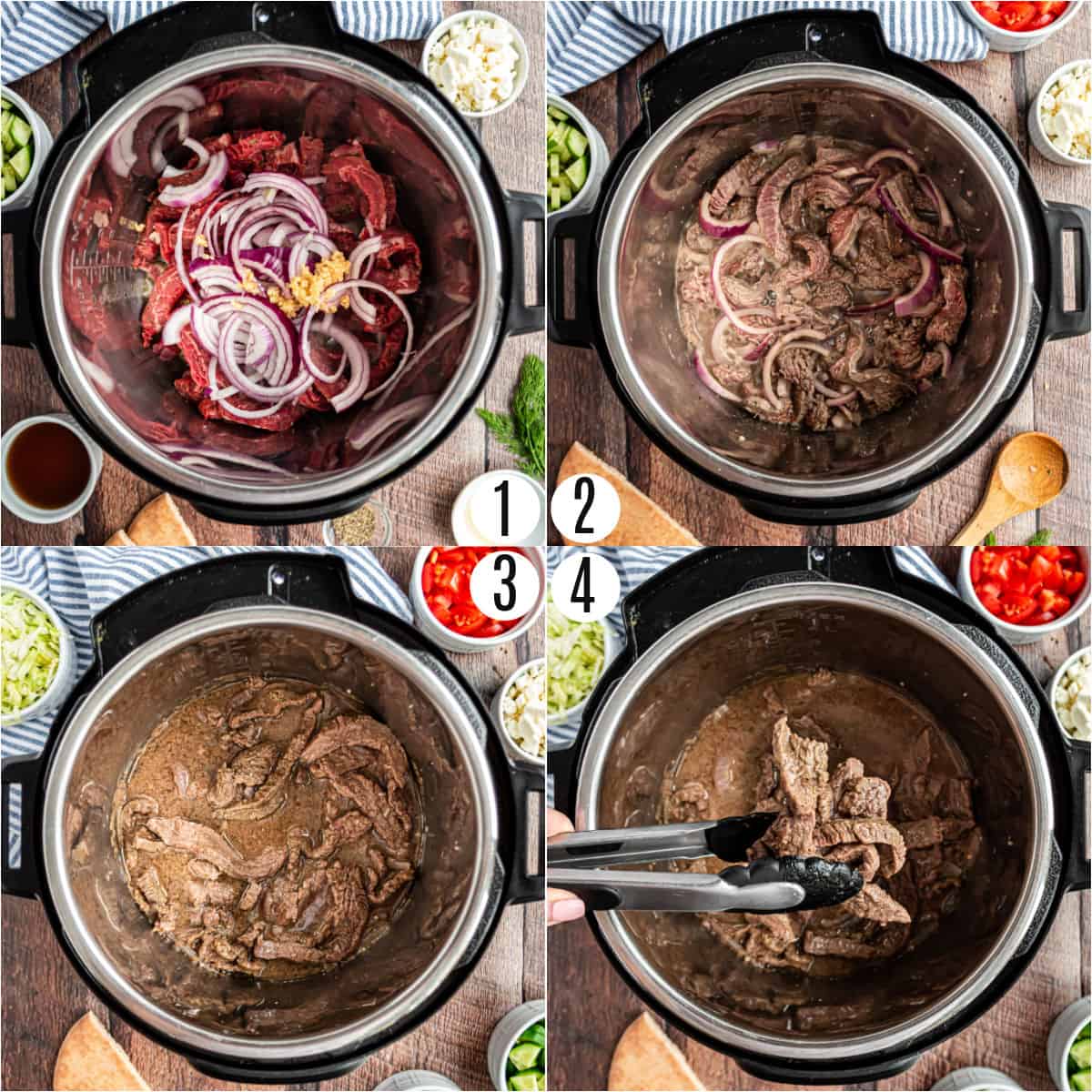 STEP 1. Season and sear the steaks
Season the steaks with parsley and black pepper, then cut into thin strips. Saute in the Instant Pot with onions and garlic until the meat starts to brown ( 1 – 2 minutes).
STEP 2. Pressure cook
Add the broth, vinegar and lemon juice to the pot and scrape off any browned bits from the bottom of your Instant Pot. Secure the lid and valve, and cook on HIGH PRESSURE for 7 minutes.
Let the pressure release naturally for 10 minutes, then do a quick release for the remaining pressure.
STEP 3. Serve
Slice pita pockets in half and add shredded lettuce, tomato, chopped cucumber and feta cheese. Place the gryro strips in the pitas then top with a spoonful of Tzatziki sauce just before serving.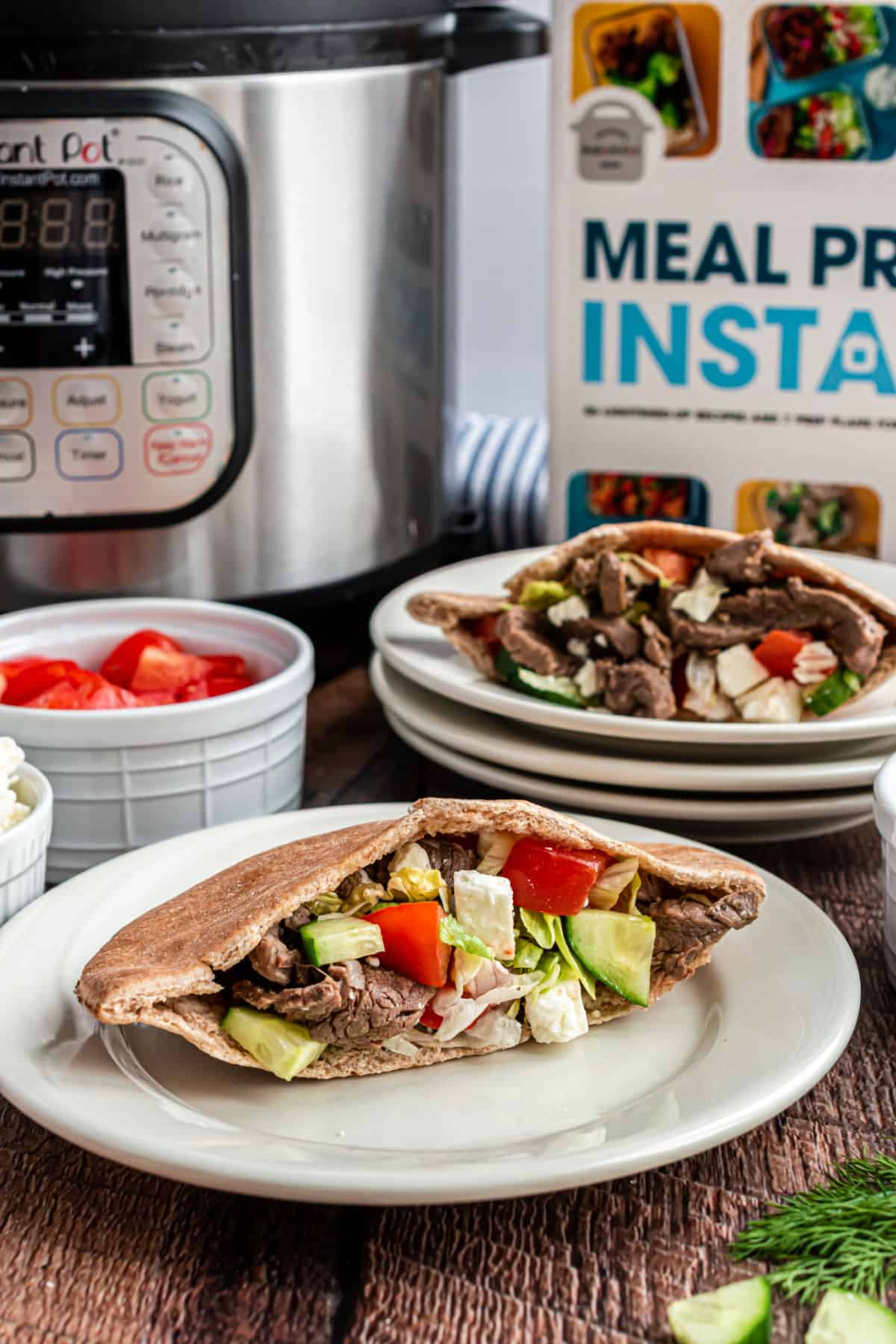 Tips & Tricks
Make the sauce ahead of time – For best flavor, the Tzatziki sauce should be chilled for at least 4 hours before serving. If you don't have time to wait, don't worry. The sauce tastes great without the chilling time too!
Chop your vegetables small – The tomatoes and cucumber should be in bite sized pieces. If they're too big, it gets difficult to get a bite that has ALL the flavors!
Gyro salad – Instead of pitas, try serving the gyro strips on a bed of lettuce. Toss with cucumber, tomato, feta and fresh diced red onion then drizzle with sauce and garnish with pita chips!
Recipe FAQs
How do you store leftover Gyros?
You should store the meat and sauce in separate airtight containers in the fridge. Leftovers will keep for up to 3 days.
Can you freeze Gyro meat?
Yes, you can freeze Gyro meat! Transfer to a freezer safe container and keep frozen for up to 6 months.
What size Instant Pot do I need for this recipe?
You'll need a 6 quart Instant Pot to make this.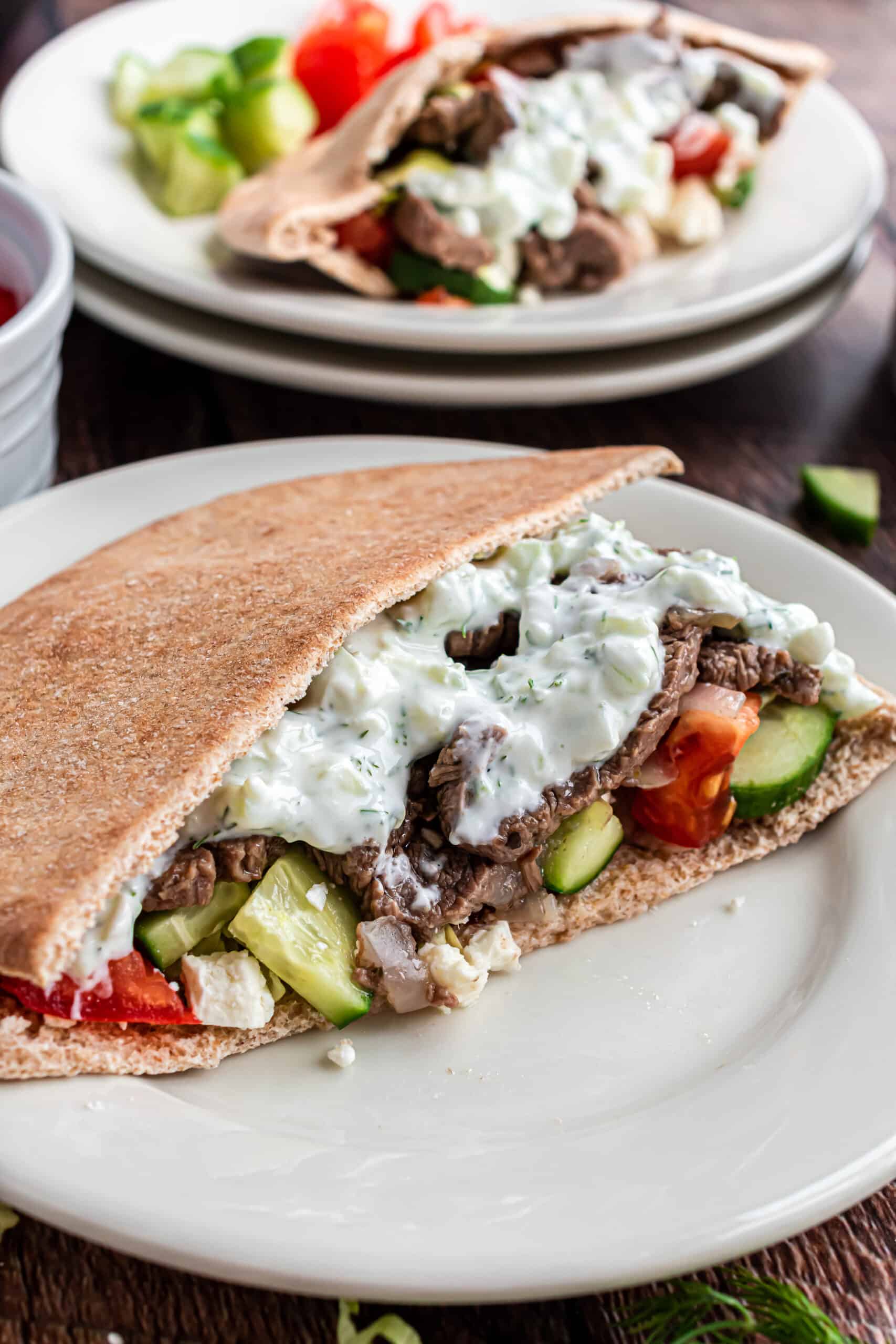 Serving Suggestions
Wondering what to serve with Gyros? Sweet Potato Fries or Baked French Fries taste great alongside these. If you want even more freshness, I also love Cucumber Dill Salad or Cucumber Tomato Salad on the side.
Don't forget to put any extra Tzatziki Sauce on the table when you serve your Gyros! It's so good, you might find yourself wanting more than just a spoonful.
Full of authentic Greek flavor Instant Pot Gyros are a quick and easy meal that's world's better than takeout!