Looking for a snack idea, a shareable appetizer or a fun side dish? These Baked French Fries are calling your name. Served with a creamy bleu cheese dressing, these fries are perfectly seasoned and crispy without the mess of deep frying.
You can never have too many potato side dish recipes. Try these Sweet Potato Fries next!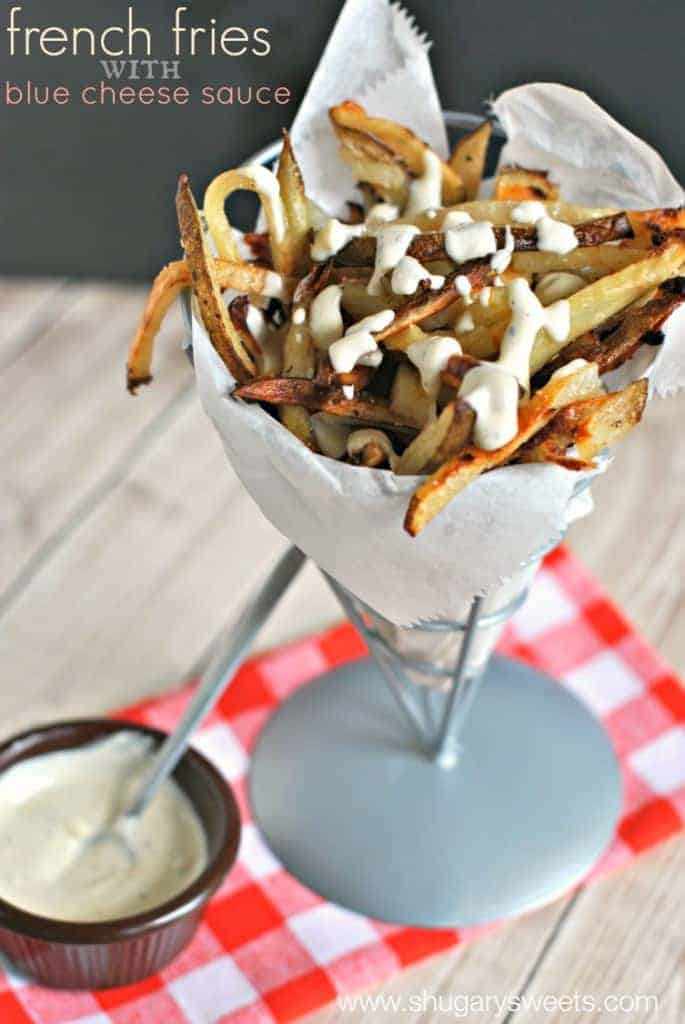 Why this Recipe Works
Baked, instead of fried, for a healthier french fry. You'll also save your kitchen from the mess of splattering oil!
Seasoned before AND after baking gives french fries even more flavor.
Bleu cheese dressing is tangy, creamy and perfect for dipping or drizzling over baked French fries.
Ingredient Notes
Potatoes. Russet potatoes, also called "baking potatoes" are best for baked french fries recipes.
Cinnamon and nutmeg. Don't be alarmed by these "sweet" spices! They don't make the baked french fries taste overly sweet. They simply enhance the natural sweetness of the potato and add a lovely contrast to the saltiness.
Easy Oven Instructions
How to make oven baked french fries:
STEP 1. Cut washed and scrubbed potatoes into 1/4 inch slices lengthwise.
STEP 2. Mix together one teaspoon each of sugar, salt and cinnamon with 1/4 teaspoon of nutmeg. Set this mixture aside.
STEP 3. Toss the potato slices with olive oil and the remaining spices. Transfer them to a baking sheet in a single layer.
STEP 4. Bake for 45 minutes, turning with a spatula at regular intervals. Serve hot, sprinkled with the reserved spice blend!
For the bleu cheese dressing:
Stir together all the ingredients in a sauce pan. Bring to a simmer and heat until smooth and warm.
Drizzle the dressing over baked fries just before serving. Or, if you prefer, serve it in a separate bowl for dipping!
Tips and Tricks
Not a fan of blue cheese? Baked French Fries are also delicious served up with a side of homemade ranch dressing, Tzatziki sauce or chimichurri sauce!
For perfectly golden, crispy fries turn the potatoes every 15 minutes as they bake!
Keep dressing warm until ready to serve. If it cools down while the potatoes are baking, reheat it in the microwave.
Recipe FAQs
How can I make this recipe in the air fryer?
If your air fryer has a "bake" setting, you can make these fries the same way you would in the oven. Depending on the size of your air fryer, you may need to make the recipe in two batches to avoid overcrowding.
Can I use vegetable oil instead of olive oil?
Yes, canola or vegetable oil will work fine. Olive oil adds a bit of a stronger flavor and fragrance but the fries are delicious no matter what!
Do I need to peel the potatoes first?
That's entirely up to you! I don't bother peeling them because I actually like the taste of a bit of potato skin in my baked fries! If you prefer, you can use a potato peeler to remove the skin prior to slicing.
How do you reheat leftover baked french fries?
These are best served soon after baking. If you end up with leftovers, you can store them in an airtight container in the refrigerator and reheat in the oven until hot and crispy.
Who can resist a basket of fries? Baked French Fries have all the incredible taste of restaurant fries without the grease!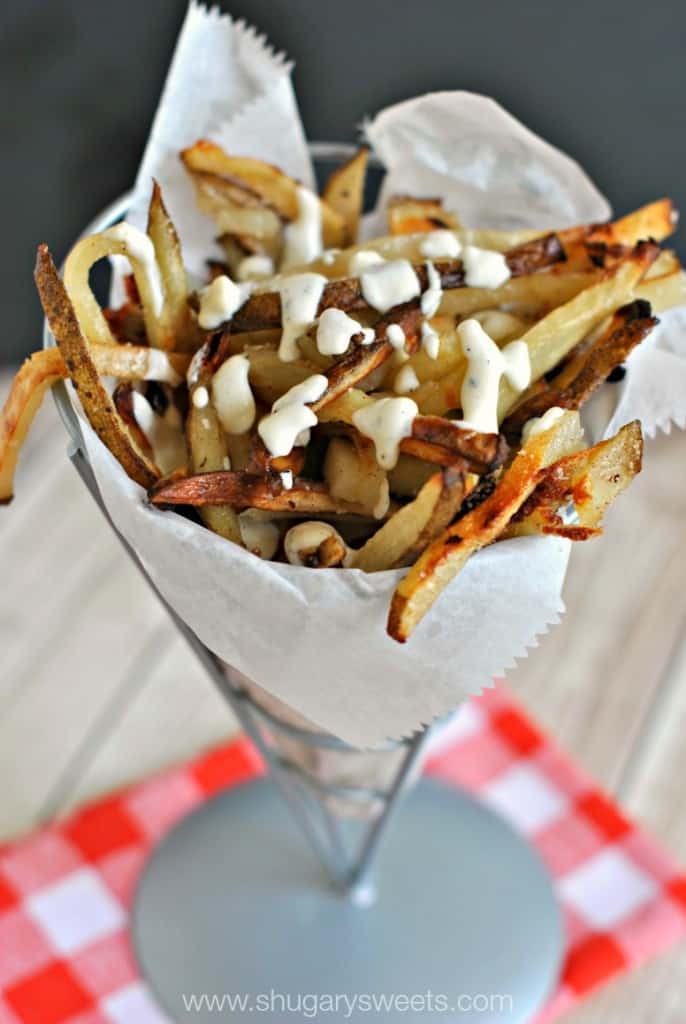 More Potato Recipes