Looking for a snack idea or the perfect side dish to dinner? These Baked French Fries with Blue Cheese Dipping Sauce are delicious!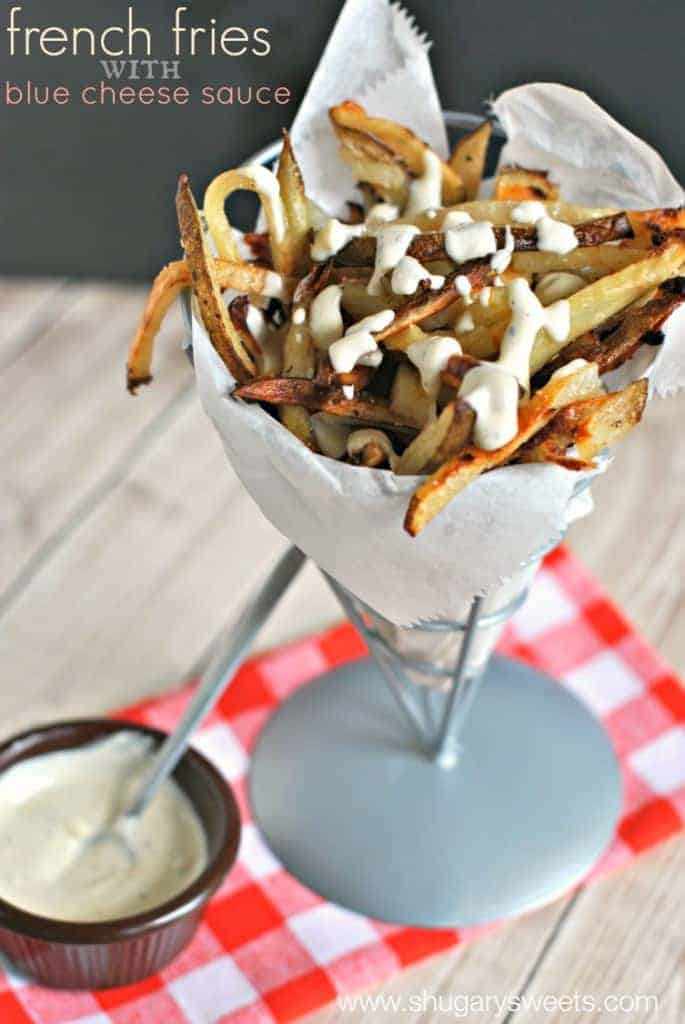 Stop what you're doing. Right now. Did you stop??
Good, I have your attention?
MAKE THIS RECIPE.
Phew. I had to get that off my chest. Can you tell I'm a little excited about today's recipe? Here's the deal. A few months ago (okay, last fall) we met some friends at an outdoor music festival (great indie bands). We enjoyed music for hours together.
But, more to the point, we enjoyed food. Delicious, FOOD TRUCK, food. You know, the kind of grub that comes off a truck and you think "OMG this is the best pork sandwich I've ever eaten" food.
Yeah that.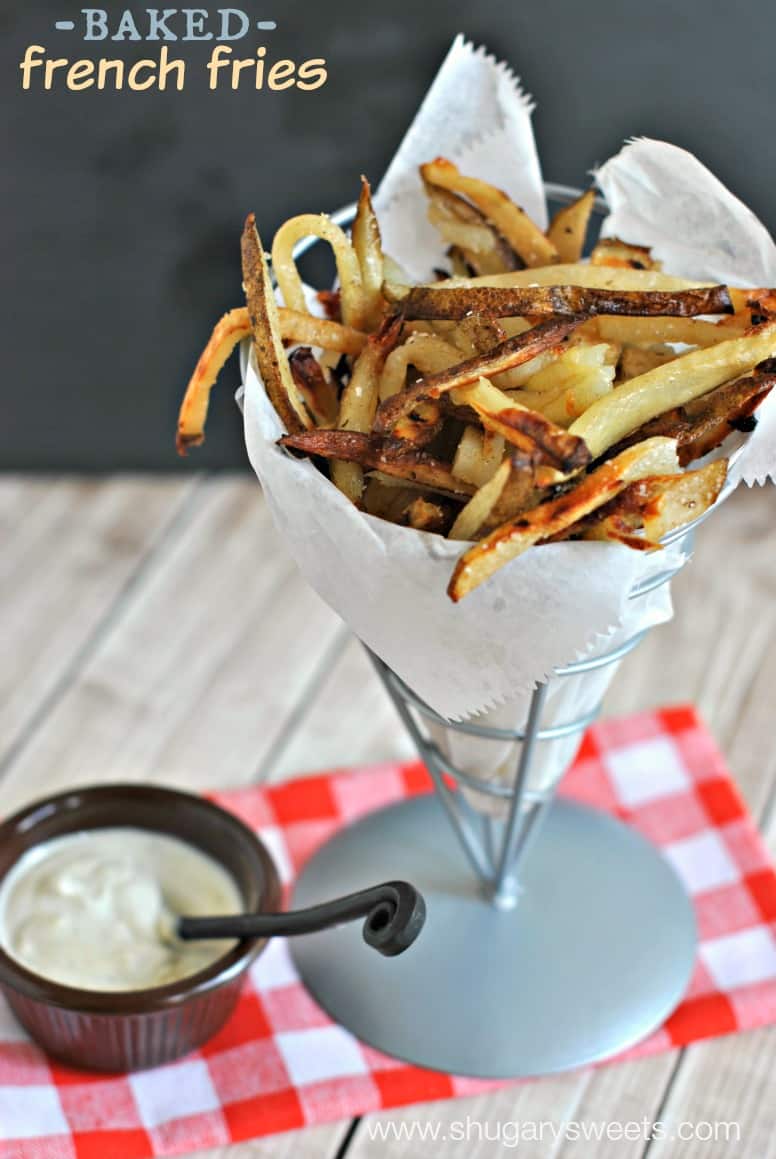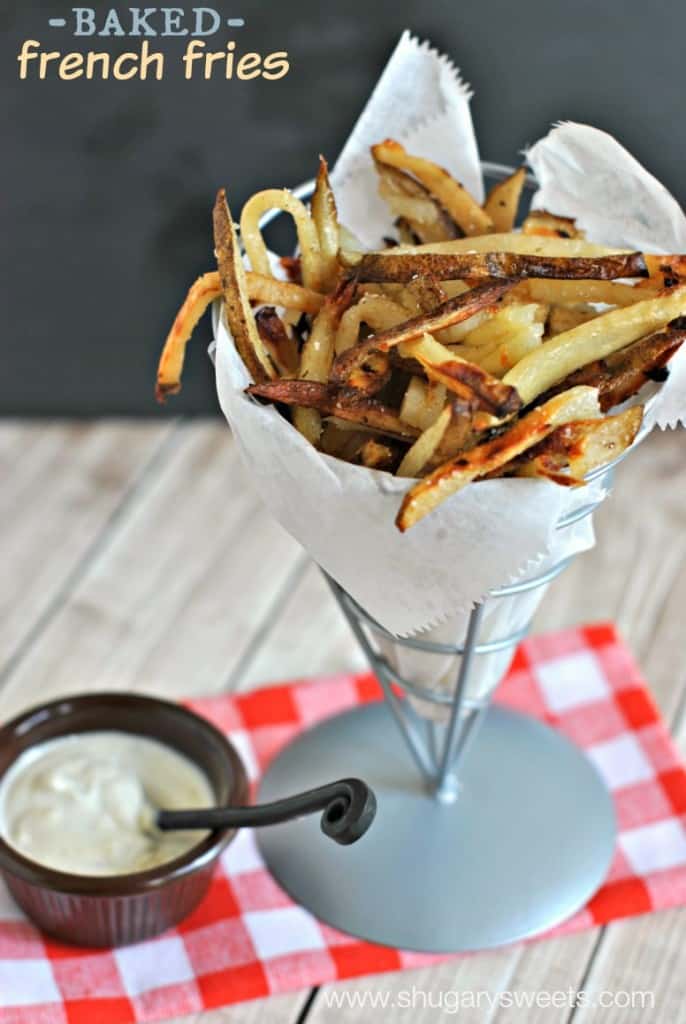 And one of the things we ate (and ate again) were some homemade potato chips with a hot blue cheese sauce. I ate two huge plates of this it was so good. The chips had a sweet hint of cinnamon and sugar, and the blue cheese sauce was warm served over the top!
I then came home and tried to recreate this dish. Except I knew I wanted to do it with baked french fries. You know, to keep it healthier! ha!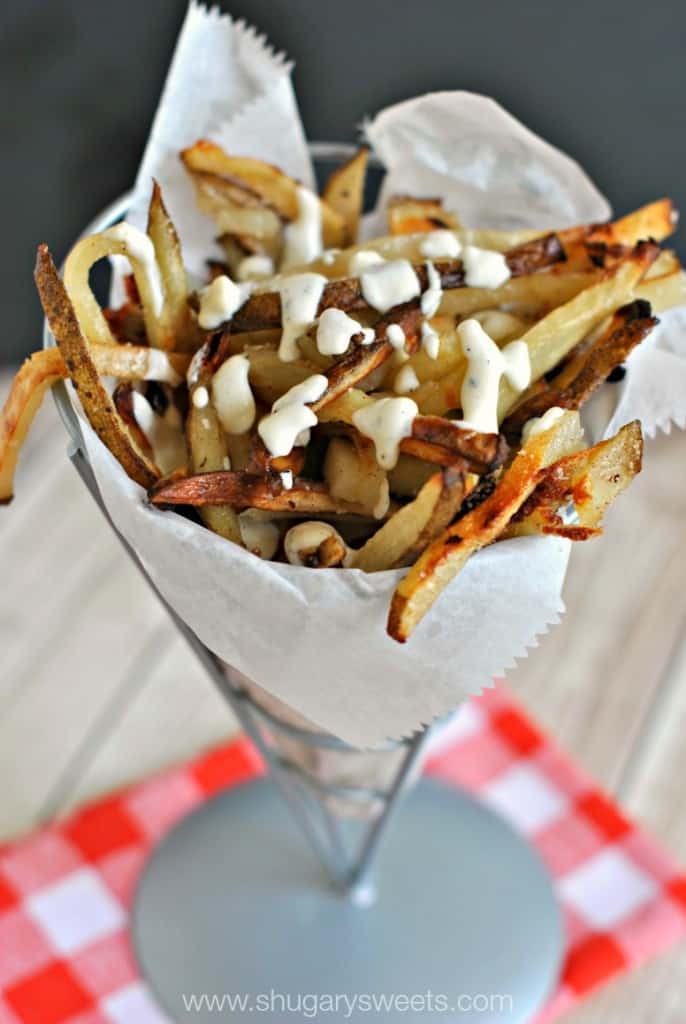 These were crispy, and amazing, and Healthy (ish). And then, came the blue cheese dipping sauce. DO NOT SKIP THIS. I'll be honest with you guys. I'm not a huge fan of blue cheese dressing. There are times when it's important (like with buffalo chicken dishes), but it's not something I crave.
This sauce though? Yeah, just looking at these photos makes me want it again.
So there you go…make this now. For game day. For dinner. For dessert. And let me know what you think!
These are also delicious served up with a side of homemade ranch dressing, Tzatziki sauce or chimichurri sauce!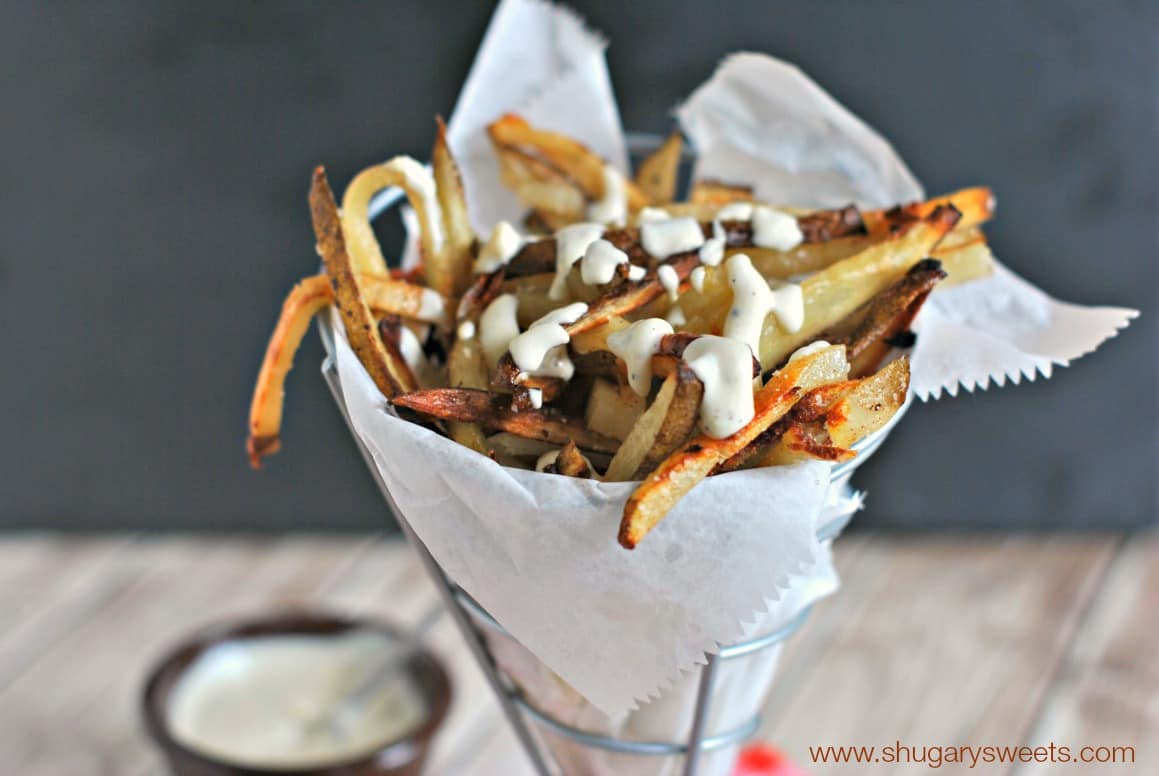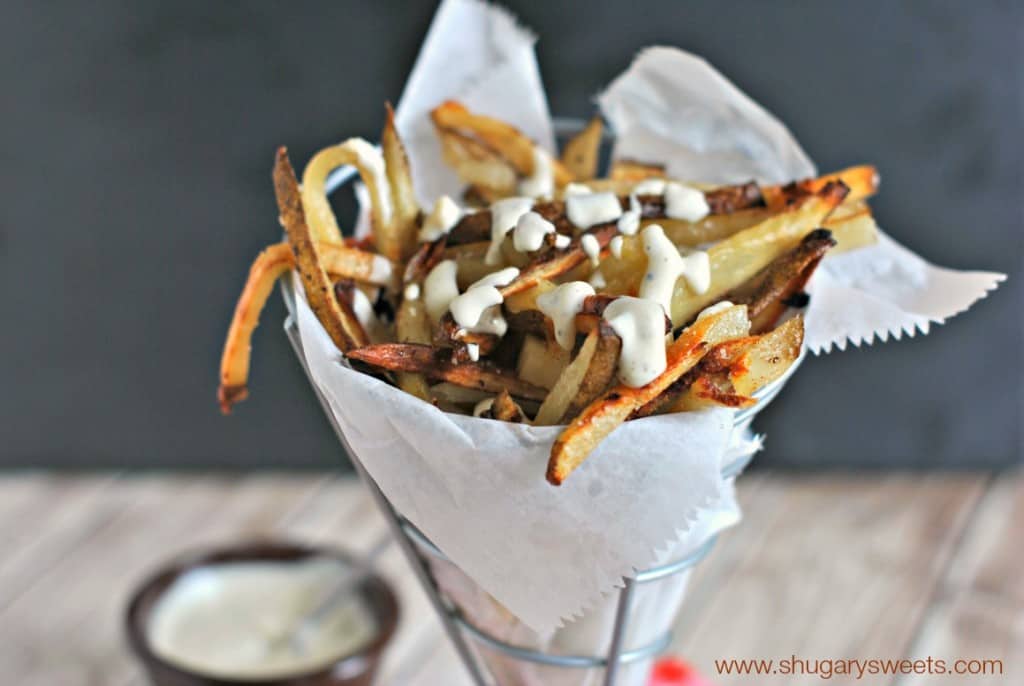 More Potato Recipes
Yield: serves 4-6
Baked French Fries with Blue Cheese Sauce
Delicious baked french fries with a homemade blue cheese dipping sauce!
Ingredients
For the potatoes:
3-4 russet potatoes
2 Tbsp olive oil
2 1/2 tsp kosher salt, divided
2 1/2 tsp granulated sugar
1/2 tsp cinnamon, divided
For the dressing:
1/2 cup mayonnaise
1/2 cup sour cream
1/2 tsp black pepper
1/2 tsp kosher salt
1/4 cup milk (I use fat free)
1/2 cup crumbled blue cheese
Instructions
Preheat oven to 450 degree F. Scrub the potatoes clean and dry completely. Cut potatoes lengthwise into thin strips (about 1/4 inch thick).
In a small bowl, combine 1 tsp kosher salt, 1 tsp cinnamon and 1/4 tsp nutmeg. Set aside.
In a large bowl, combine cut potatoes with olive oil and remaining 1 1/2 tsp kosher salt, 1 1/2 tsp sugar and 1/4 tsp nutmeg. Mix gently.
Pour potatoes onto a large baking sheet (in a single layer as much as possible). Bake for 45 minutes, using a spatula, turn the potatoes over on the baking sheet every 15 minutes.
While the potatoes are cooking, prepare the dressing. Combine all the dressing ingredients into a small saucepan. Simmer over low heat until smooth and warm. Keep warm until ready to serve. This may also be heated in the microwave.
Remove potatoes from oven and immediately sprinkle with cinnamon mixture. Serve with blue cheese dressing.
Nutrition Information:
Yield:
6
Serving Size:
1
Amount Per Serving:
Calories:

367
Total Fat:

26g
Saturated Fat:

7g
Trans Fat:

0g
Unsaturated Fat:

17g
Cholesterol:

28mg
Sodium:

1436mg
Carbohydrates:

29g
Fiber:

3g
Sugar:

4g
Protein:

6g