Chimichurri is an uncooked sauce originating from Argentina and pairs perfectly with grilled meats. Use this colorful blend of fresh herbs and spices as a topping or marinade to add fresh vibrant flavor to your meal!
Use this chimichurri with out favorite empanadas. Or drizzle it over pork tenderloin or oven baked pork chops.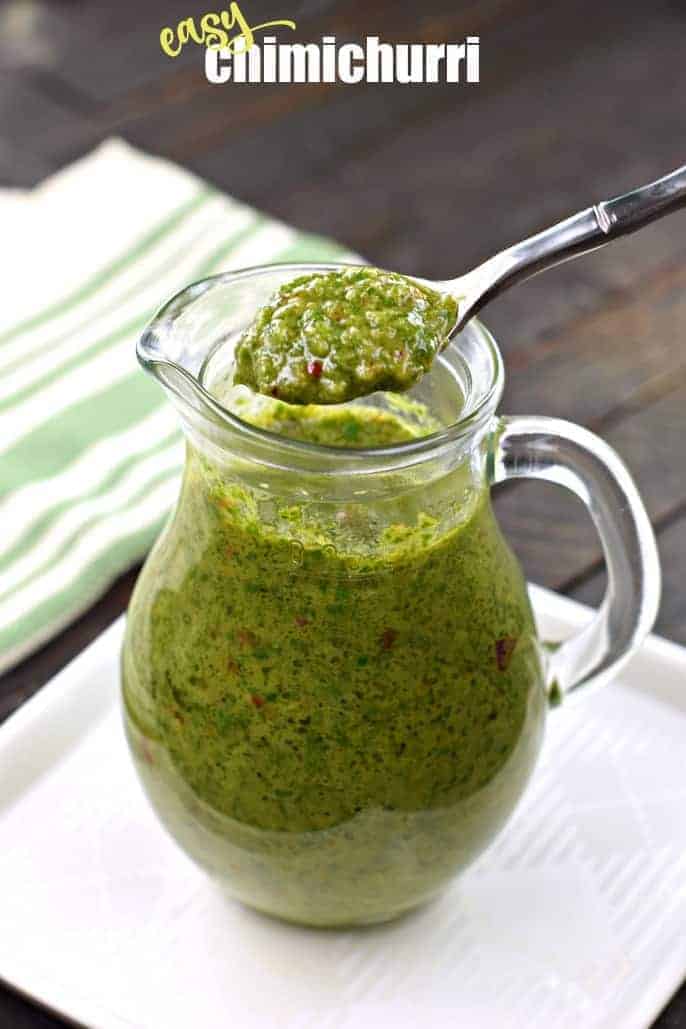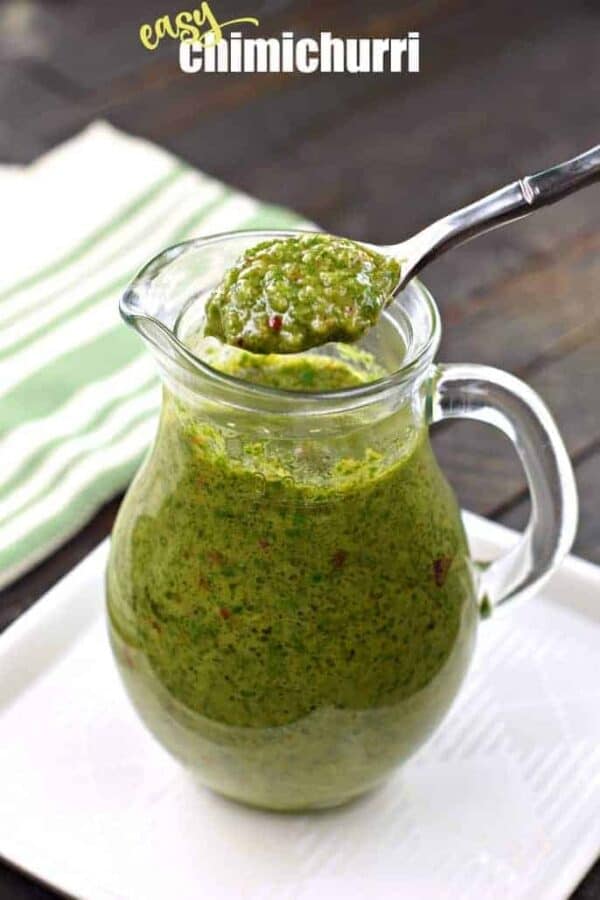 What is Chimichurri Sauce
Chimichurri is a zesty sauce made from fresh herbs, with the addition of garlic, olive oil, and red wine vinegar. It's used in Argentinian and other Latin American cuisines as a topping or marinade, especially for grilled meats.
See that bright green color of the sauce? That's courtesy of an abundance of fresh parsley and cilantro, both of which are key flavors in nearly all chimichurri sauces I've tasted.
In learning more about how to make Chimichurri Sauce and what ingredients are used, I've learned that not everyone agrees on the use of cilantro. Plenty of versions omit it entirely!
Since I am the furthest thing from a traditionalist when it comes to cooking and baking, I'm making my own Chimichurri Sauce the way I like it–WITH plenty of cilantro!
I love the flavor it gives this fresh sauce, especially with Spinach Ricotta Empanadas. Now you know what's for dinner tonight!

Ingredient Notes
Parsley and Cilantro – Rinse, dry and remove the leaves from the stems first. If you're not a fan of cilantro, you can replace it with more parsley.
Lemon juice – Lime juice makes a delicious zesty substitute too!
Red pepper flakes – I start with 1/8 of red pepper flakes then add more as desired for additional heat. If you want a mild sauce, go ahead and omit these.
Garlic – Use fresh peeled garlic cloves for best flavor.
How to Serve Chimichurri Sauce
Chimuchurri sauce has a uniquely zesty taste that's not overly spicy or creamy instead it's the perfect balance of spice, acidity and rich garlic flavor paired with the light and fresh herb aroma. For that reason, it's delicious served with just about any grilled or roasted meat!
In Argentina, this sauce is a must when serving grilled steak. It's the perfect topping for Carne Asada and all array of chicken and fish dishes.
Try using it as a marinade for grilled or roasted salmon or even as a dipping sauce for vegetable kebabs!
For this meal, I made some homemade empanadas to go with my fresh chimichurri sauce. Just make sure to make enough– It's so delicious you'll find yourself wanting to pour it over everything!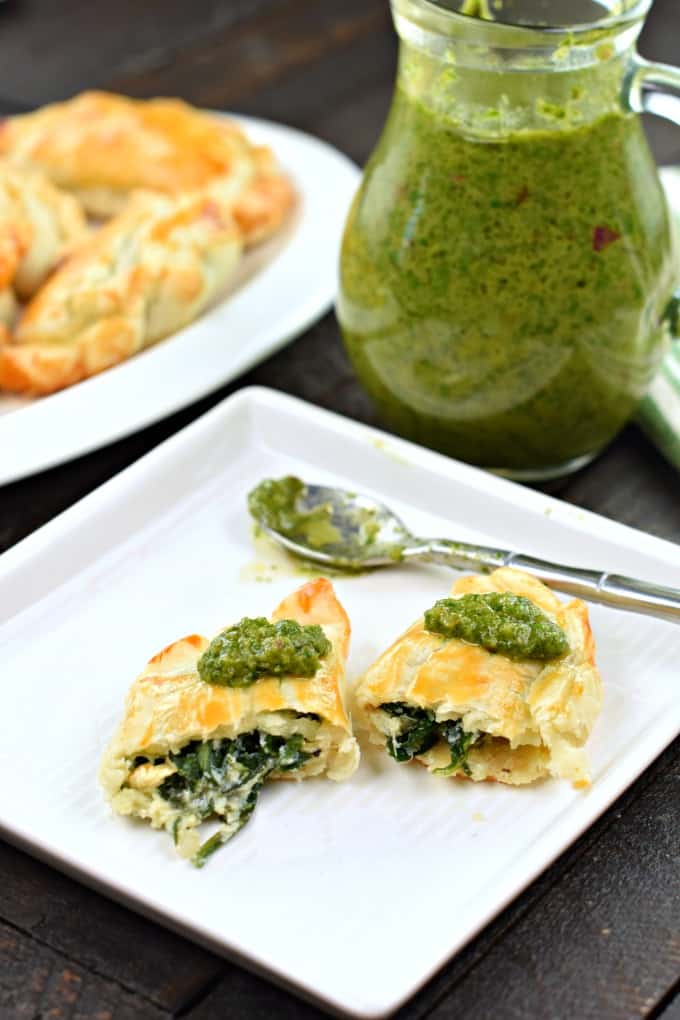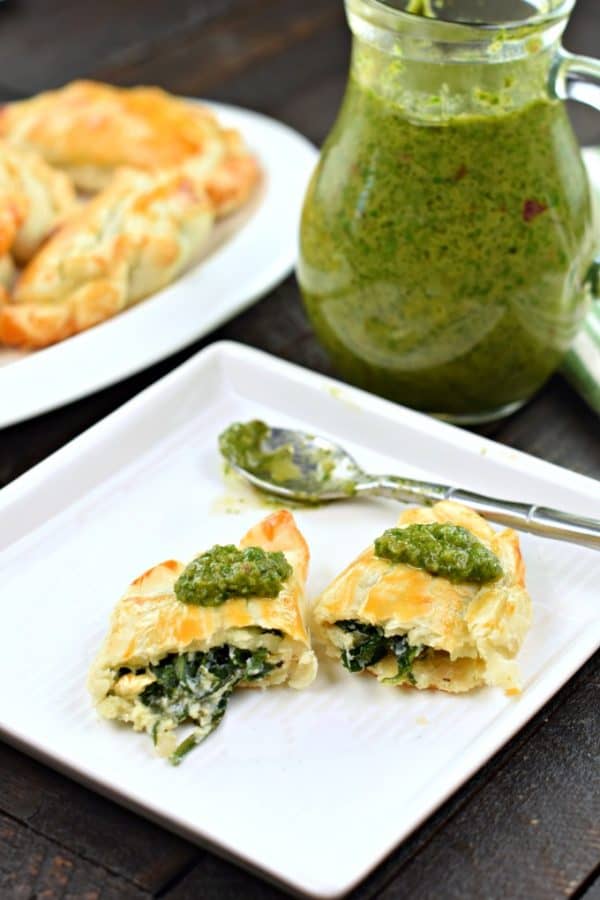 Recipe FAQs
Should the herbs be packed tightly when measuring?
No need to completely stuff the herbs into the measuring cup but they should be fairly full. You can always add more herbs to taste if you like!
How long does homemade chimichurri sauce keep?
This sauce tastes best if used right away. Over time, the flavor of the herbs will diminish and the color will alter. If storing, keep the sauce chilled in the fridge and use within 1 -2 days.
Thankfully it's so quick and easy to make chimichurri, you can whip it up at a moment's notice!
Can this be made without cilantro?
Of course. Plenty of people prefer their chimichurri made with only parsley instead of cilantro. Feel free to use an additional 1 1/2 cups of parsley in place of the cilantro listed in the recipe.
Is chimichurri spicy?
That all depends on how you make it. I include just a hint of heat from red pepper flakes in my sauce. This gives it a slight kick that balances out the coolness of the herbs. You can always add more red pepper flakes to taste if you prefer a spicier sauce!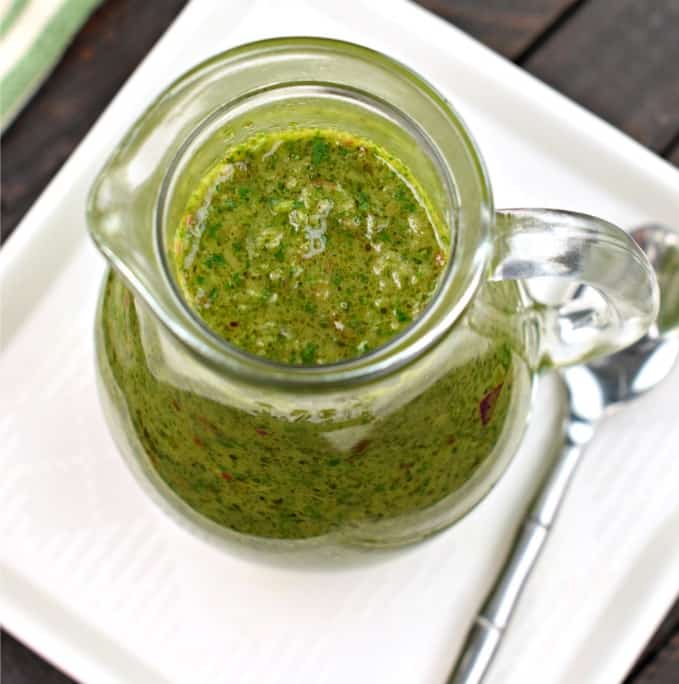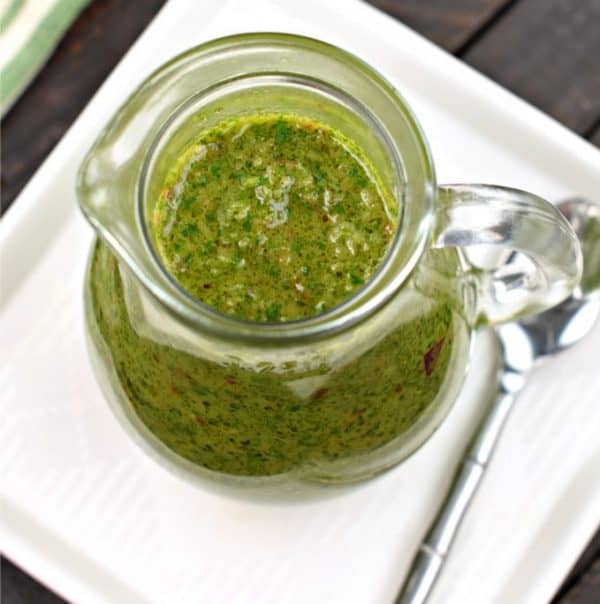 More recipes you may enjoy that include fresh herbs:
This quick and easy Basil Pesto is so delicious, you'll need to make a second batch! Perfect for adding to pasta, fish, baked tomatoes and sandwiches, the fresh basil ups the flavor of your favorite foods!
Brenda makes this zesty Fresh Herb Marinade for chicken and fish. Flavored with fresh basil, cilantro, and parsley, it gives a great kick to your meats!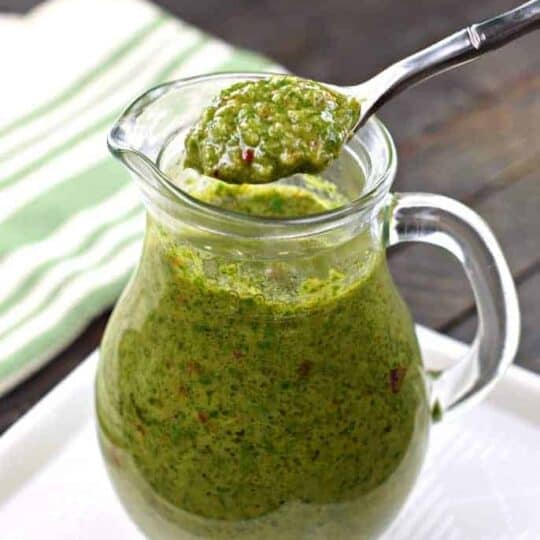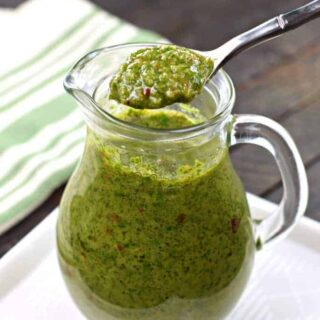 Chimichurri
Chimichurri is an uncooked sauce originating from Argentina and pairs perfectly with grilled meats. It's a colorful blend of fresh herbs and spices and can be used as a topping or a marinade.
Ingredients
1 ½

cups

fresh parsley

1 ½

cups

fresh cilantro

3

Tablespoons

fresh oregano

¼

cup

red onion

diced

3

cloves

garlic

1

teaspoon

cumin

1

lemon

juiced

2

Tablespoons

red wine vinegar

⅛

teaspoon

crushed red pepper flakes

½

teaspoon

kosher salt

⅛

teaspoon

black pepper

½

cup

olive oil
Instructions
In a food processor, pulse parsley, cilantro, oregano, and red onion until fine. Add in remaining ingredients and pulse several times until everything is well blended, and consistency is even.

Refrigerate until ready to use. Store for 3 days in airtight container in refrigerator. ENJOY.
Notes
Serve with Spinach and Cheese Empanadas!
Try using it as a marinade for grilled or roasted salmon or even as a dipping sauce for vegetable kebabs!
Nutrition
Serving:
0.25
cup
,
Calories:
177
kcal
,
Carbohydrates:
4
g
,
Protein:
1
g
,
Fat:
18
g
,
Saturated Fat:
3
g
,
Polyunsaturated Fat:
15
g
,
Sodium:
117
mg
,
Fiber:
1
g
,
Sugar:
1
g
An easy fresh sauce that packs in worlds of flavor, Chimichurri also adds a colorful splash to any meal. You only need a minute of prep time to elevate your meats, fishes and vegetables to new heights!