Next time you crave guacamole add some sweet diced mangoes to the mix! Mango Guacamole was a big hit at our home!
I seriously need to learn some Mango cutting skills.
We love the fruit in our house, but no matter the you tube video I watch, I can't seem to cut a mango and get the maximum amount of fruit. If anyone has some tips and tricks feel free to leave me a comment below. I need help.
Since I failed at cutting my own mangoes at home, I turned to Costco to help a girl out.
And, because it's Costco, I have to buy several pounds of sliced and peeled mangoes. Which we normally can devour in one sitting, because there is no work in prepping them.
However, for some reason, I was moving things around in the fridge and found a package of mangoes all ready to be used. I also happened to have a few avocados ripe and ready for eating. My mind immediately went to guacamole.
A bowl of guacamole in our house is probably like a bowl of chocolate in others. It will be eaten in MINUTES. The sweet mangoes combined with the avocado, salt and lime is such a great combo.
With Cinco de Mayo coming up soon, I think you need to put this recipe aside just for the occasion.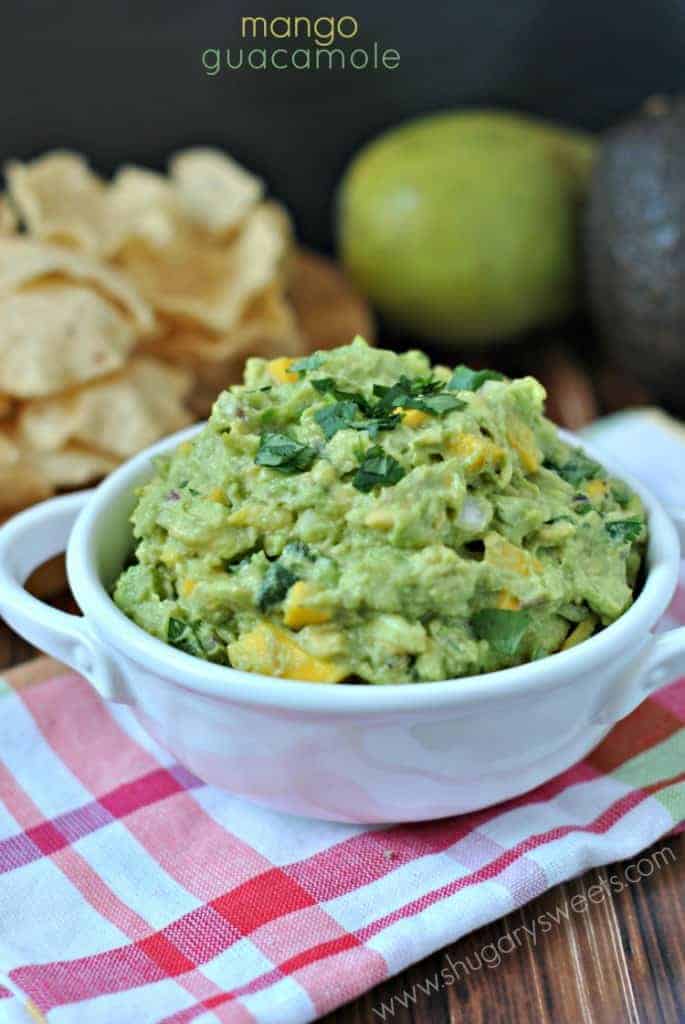 Connect with Shugary Sweets!
Be sure to follow me on my social media, so you never miss a post!
Facebook | Twitter | Pinterest | instagram