Crispy tortilla shells piled high with smoky chicken, lettuce, salsa and guacamole will have everyone at the table asking for seconds! Make these Easy Sheet Pan Chicken Tostadas for a restaurant quality Mexican meal without ever leaving the house.
For more tex mex dinners, give this Chicken Enchilada recipe a try! Or for an easy dinner, the family will love this Beef Taco Skillet.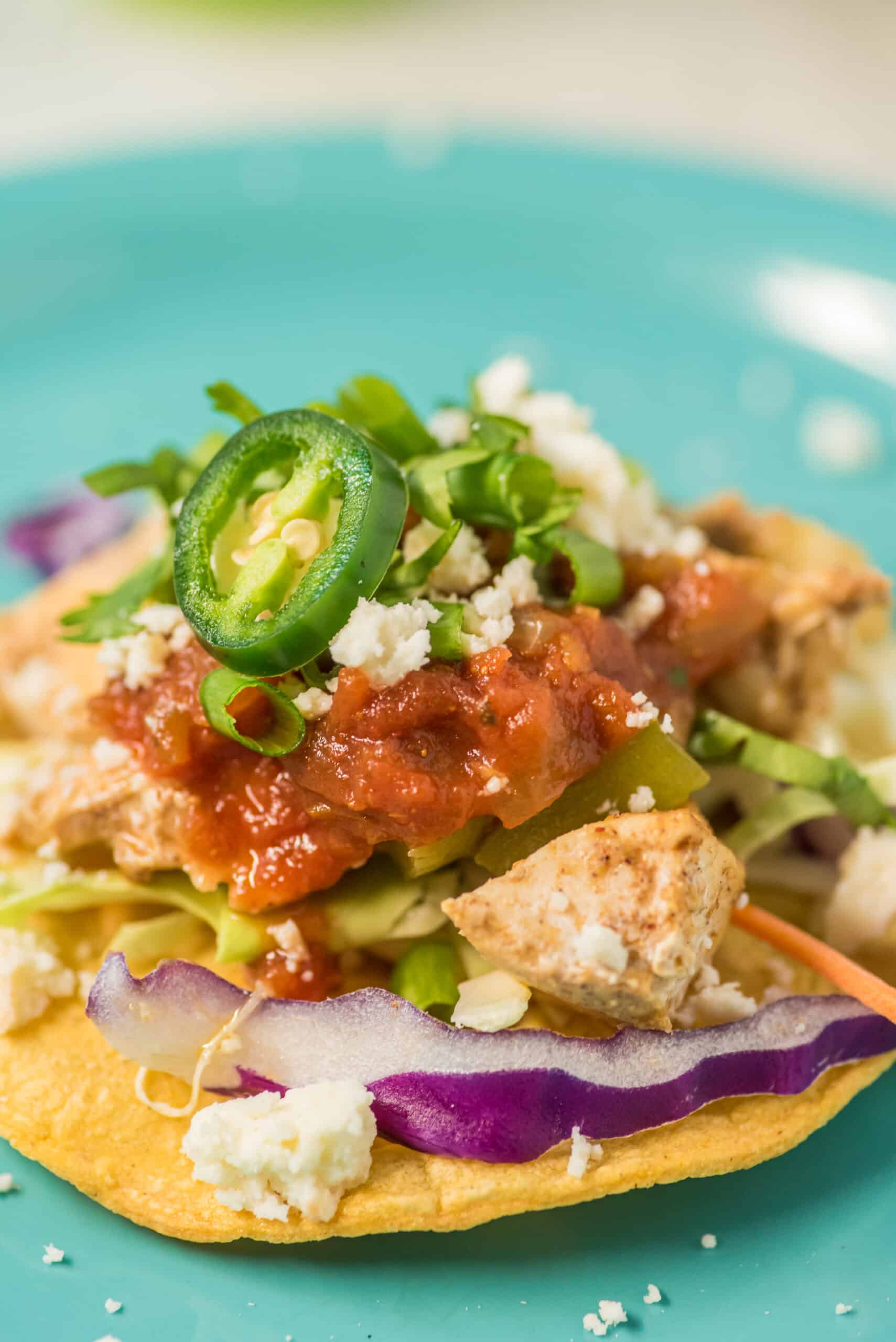 We love Mexican food around here and I doubt we'll ever get tired of it. From family taco nights to snacking on tortilla chips and salsa, it seems like we're always eating some kind of Mexican inspired dish!
Today's recipe goes beyond the everyday territory of tacos and burritos for a meal that's a veritable explosion of Mexican flavors, in the best possible way: Chicken Tostadas!
When we go out to eat at our favorite Mexican restaurant, at least one of us winds up ordering tostadas. Any food that involves stacking tons of my favorite Mexican food toppings on top of a crunchy tortilla is going to win my heart!
Favorites: Jamaican Jerk Tostadas | Crockpot Enchiladas
Sheet Pan Dinners
A few years ago, I started making our own chicken tostadas at home. I'd seen recipes that involved cooking shredded chicken in one pot, beans and other toppings in another, and toasting tortillas in the oven on a separate pan.
That sounded like an unnecessary amount of steps and dishes to me so after some searching, I came up with this method for making Sheet Pan Chicken Tostadas.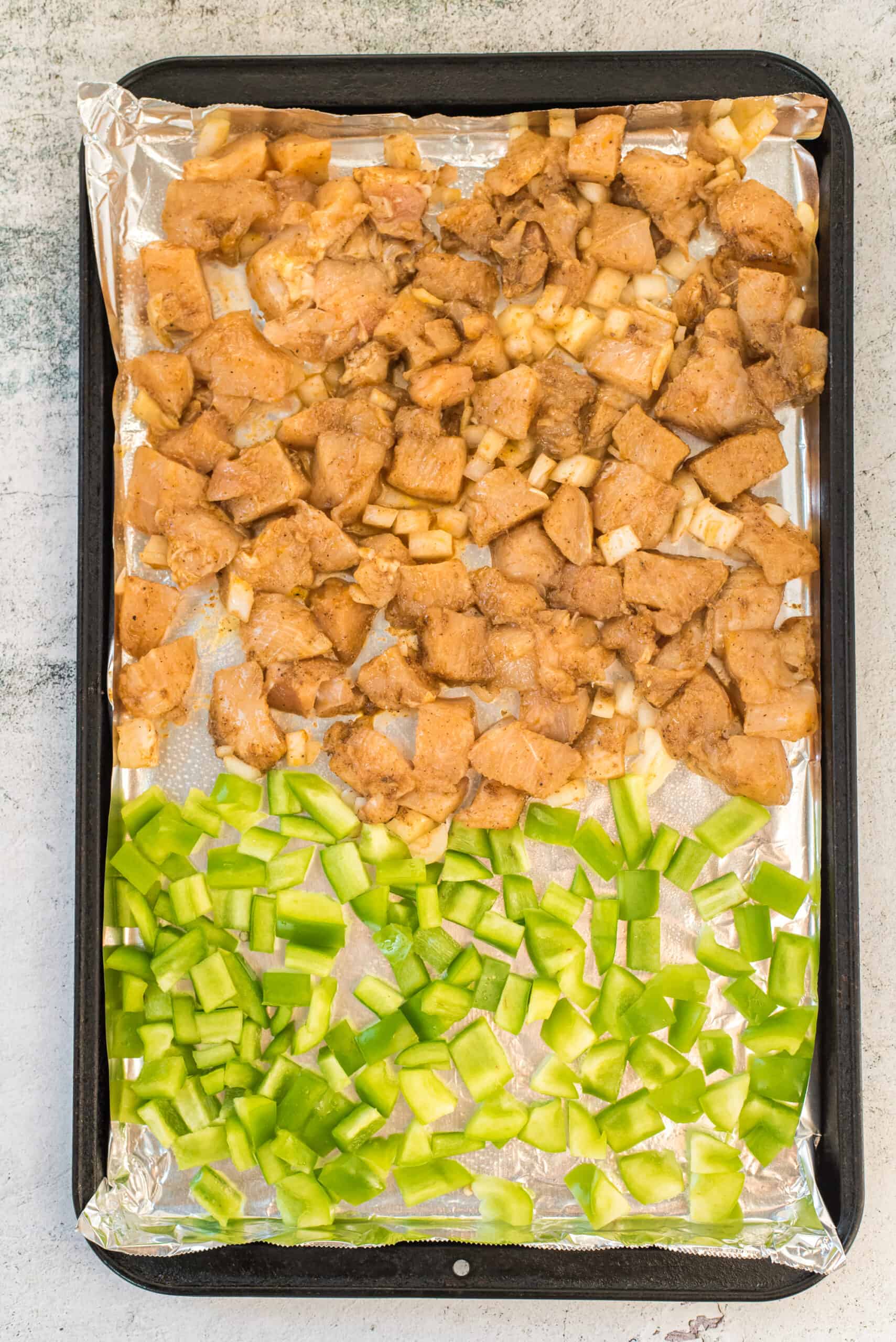 This chicken tostada recipe involves crisping the tortillas directly on the oven rack while you bake the chicken and peppers. It saves time, space and energy leaving you free to come up with all the delicious toppings, salsas and garnishes you're going to stack on your tostadas!
Best of all, Sheet Pan Chicken Tostadas can be made with an endless amount of variations and combinations of ingredients.
With this recipe as your guide, you can have tostadas every week (or more) and never have exactly the same combo of toppings twice.
This recipe is perfect for turning any weeknight dinner into a fiesta but it's also festive enough for any special occasion!
Baked Chicken
Tostadas starts with fresh corn tortillas! Then we make the chicken, bake the tortillas and pile with toppings.
To make the chicken for these easy sheet pan tostadas, I use:
boneless, skinless chicken breasts
2 Tbsp olive oil
chipotle adobo sauce
chili powder
cumin
garlic powder
diced onion
diced green bell pepper
After dicing the chicken, toss it in a bowl with the olive oil, chipotle adobo sauce, diced onion and spices, then stir to coat completely.
Next, spread the chicken on one half of the cookie sheet and the diced peppers on the other. Line the corn tortillas directly on the oven rack either below or next to the sheet pan of chicken.
Bake in the oven at 400 F for 15 minutes. Check the tortillas at the 10 minute mark to ensure they don't burn! The tortillas are done when they're crisp like a hard taco shell.
Use tongs to remove the tortillas from the oven, then remove the chicken pan. It's time to assemble the tostadas!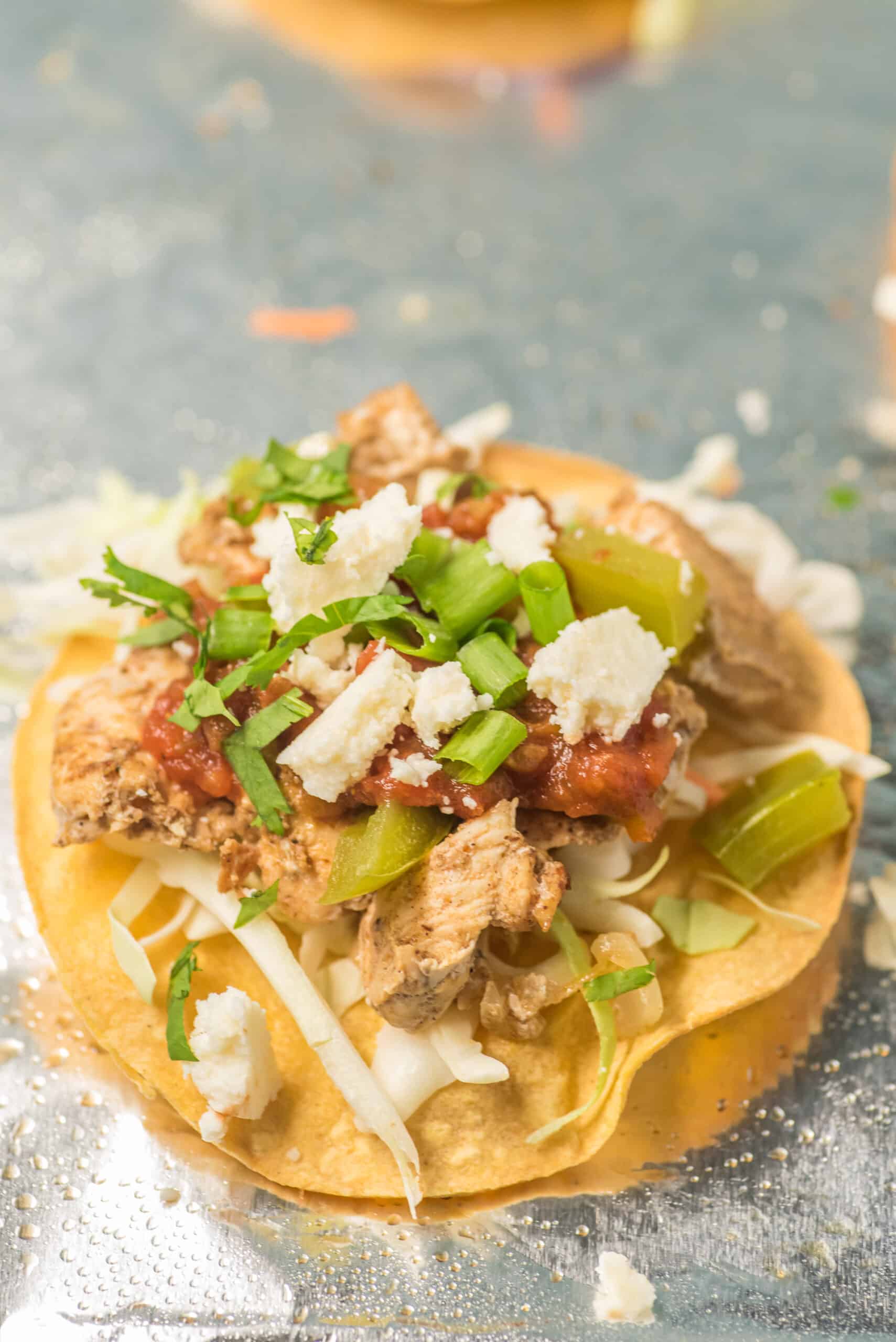 Topping Suggestions
To serve, top each tostada with shredded lettuce, chicken, roasted peppers, pico de gallo, cheese, and any other toppings you desire.
When it comes to topping your chicken tostada, start by thinking about your favorite taco toppings and additions. Here are a few (okay, more than just a few), I recommend on these tostadas:
shredded lettuce
green onion, chopped
cilantro, snipped
cotija cheese
avocado
sour cream
sliced jalapenos
These are typically what I use when I make our tostadas, but by all means feel free to get creative! Guacamole, diced tomatoes, shredded cheddar cheese and any salsas your family loves would be delicious here, too.
Recipe Tips
Make sure to place the tortillas either under the sheet pan of chicken or next to it so the heat from the chicken doesn't steam the tortillas, making them soggy.
Chipotle adobo sauce is a spicy, smoky sauce found in the cans of chipotle peppers. If you love extra heat, go ahead and chop up a few of the peppers themselves to add to the chicken! Otherwise, stick with this sauce–a little goes a long way.
The spicy chipotle flavored chicken in this recipe is also tasty in tacos and salads! Any leftover chicken can be stored in the fridge and be ready for a quick and easy lunch the next day.
Add some homemade taco seasoning to the chicken before baking instead of using chipotle in adobo sauce.
Have a lot of different tastes and preferences in your family? Make a tostada bar so everyone can have tostadas just the way they like.
Line a counter or table with bowls of topping and let everyone add their favorites to their tortillas and chicken.