Jamaican Jerk Pulled Pork Tostadas are not only delicious, but easy to make when you use your CrockPot! Piled on baked tortillas or served in bowls, you'll love this flavorful spin on pulled pork.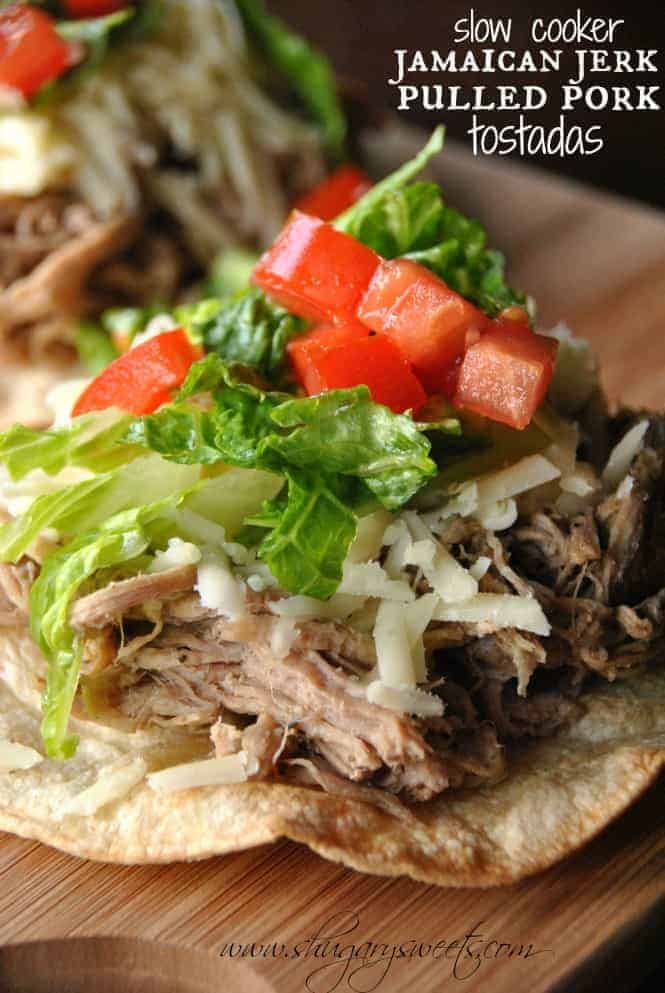 Have you tried Jerk Pulled Pork yet? The recipe I'm sharing today cooks in the CrockPot with a jerk seasoning that can only be described as "perfection.
Pulled pork in the slow cooker is nothing revolutionary. If you own a Crock Pot and have spent some time online scouring for recipes, chances are more than stellar that you've come across plenty of pulled pork recipes by now.
Cooking meat over the course of several hours recreates the classic pit-cooked BBQ method for making pulled pork so well. Few of us have an entire barbecue pit in our backyards for making pork, so the Crock Pot is the ideal preparation method for home cooks.
What is Jamaican Jerk?
In Jamaica, jerk cooking involves rubbing meats with a spicy seasoning blend known as "jerk seasoning." This hot and sweet spice mix usually includes cinnamon or nutmeg (often both) along with cayenne pepper, garlic powder, allspice and tons of herbs.
Its flavor is like no other I've tried. The perfect balance of herby and spicy with a sweet fragrance and no hint of sharpness that other spice blends sometimes have. I'm obsessed with the flavor it gives meat, especially, pulled pork.
These days, you can find ready made jerk seasoning at most grocery stores. I picked up a fresh jar to use with some pork I had in my fridge. The plan? Slow Cooker Jamaican Pulled Pork!
Jerk Pulled Pork
Jerk Chicken might be the most popular meat seasoned with jerk spice mix, but that's going to change for you when you taste this pulled pork.
Slow cooking pork all day in the CrockPot makes it so juicy and tender, you barely have to touch it with the fork for it to fall into perfect shreds. Along with the jerk seasoning, I also use freshly squeezed orange juice and beef broth to imbibe the meat with even more moisture and flavor.
You cook everything in the slow cooker for about 8 hours, then shred and serve as desired. With such little "hands on" time required, this crockpot dinner is always a great option! Full of warm spices and juicy pork flavor, it's a meal you'll want to make again and again.
If you think CrockPot dinners all taste the same, you haven't tried Jerk Pulled Pork yet!
Pulled Pork Tostadas
The last time I made Jerk Pulled Pork this way, I was craving something crunchy to eat it with. Tostadas were the answer!
To keep things easier (and a little healthier), I baked corn tortillas in the oven until crispy. You could also pan fry them on the stove with a small amount of vegetable oil. Place fried tostadas on paper towels to drain off the excess grease.
To assemble the tostadas: Scoop a ladle full of the jerk pulled pork onto each tortilla. Sprinkle with shredded cheddar cheese, then add lettuce, diced tomato or your other favorite tostada toppings.
We use light cheddar cheese here, but regular cheddar, Monterrey Jack or a Mexican shredded cheese blend is a delicious too.
Other Serving Ideas
I can't get enough of this pulled pork, in tostada form or otherwise. This meat is also amazing served as . . .
Tacos – Fill flour or corn tortillas with pork and taco toppings like lettuce, cheese, and guacamole.
Burritos – Stuff large flour tortillas with the pork, along with rice and beans, if desired.
Bowls – Serve the pork over rice or all on its own in a bowl topped with lettuce, tomato and diced red onion.
Sandwiches – Toasted Kaiser rolls, hamburger buns or your other favorite sandwich bread make delicious vehicles for pulled pork too.
Salads – Add cold or hot to mixed greens with your favorite dressing.
Storing
Any leftover pork can be stored in an airtight container in the fridge for several days. Reheat before serving, draining off any excess grease that's collected in the container.
More Pulled Pork Recipes
I might be a little obsessed with pulled pork recipes. After you try this one, go back and give my Root Beer Pulled Pork a whirl too!
The Instant Pot is another favorite kitchen tool for creating scrumptious pulled pork with little effort. Instant Pot Hawaiian Pulled Pork is a favorite of my family's especially in the summertime. You'll also like this basic Instant Pot Pulled Pork for using in pulled pork sandwiches.
All it takes is a little jerk seasoning and a few hours in the crockpot to turn ordinary pork into an extraordinary meal. Whether you enjoy Jamican Jerk Pulled Pork piled onto toastadas, stuffed into tacos or scooped up in bowls, you'll want to make it again and again!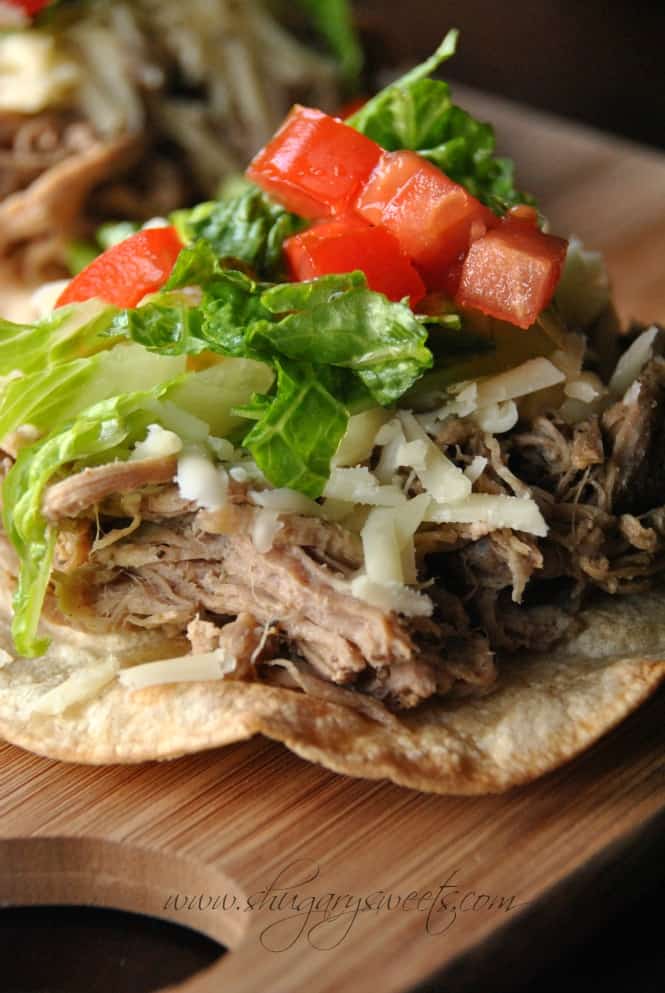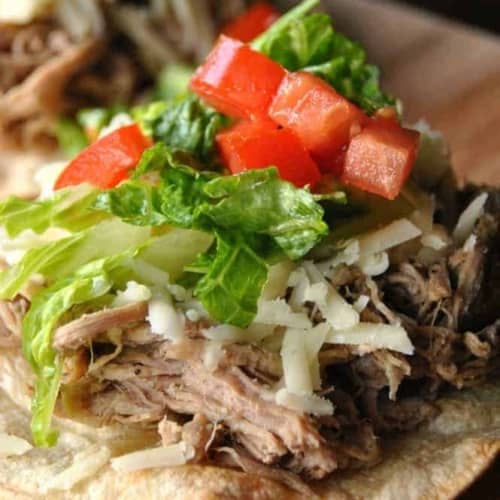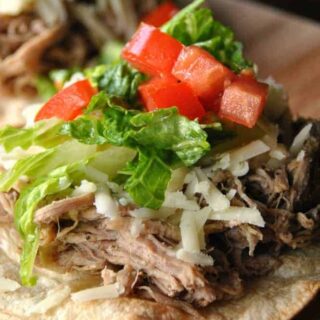 Jamaican Jerk Pulled Pork Tostadas
Jamaican Jerk Pulled Pork Tostadas are not only delicious, but easy to make thanks to your CrockPot! I also baked my corn tortillas to make this dish a little on the healthier side. Top your tostadas with Sharp LIGHT Cheddar Cabot Cheese for a creamy cheese topping that is half the fat!
Ingredients
2

pork tenderloins

about 2.5 pounds total

1

orange

juiced

2

cups

beef broth

3

Tablespoons

Jamaican Jerk seasoning

10

corn tortillas

8

ounce

shredded cheese

we used Cabot Sharp Light Cheddar

lettuce, tomato, guacamole, sour cream, etc for topping
Instructions
In a large slow cooker combine broth with orange juice and jerk seasoning. Add pork. Cover and cook on low for 6-10 hours (we usually do 8 hours). When ready, shred pork with two forks on a cutting board and return to juices.

In a 425 degree oven, bake corn tortillas on a baking sheet for about 10 minutes, until crispy. Remove.

To assemble, top tostada with pork (allow some of juice to strain off), shredded cheese and desired toppings. Eat immediately!
Notes
Store leftover pork in airtight container in refrigerator for up to 4 days. Reheat before serving.
Nutrition
Calories:
196
kcal
,
Carbohydrates:
15
g
,
Protein:
12
g
,
Fat:
10
g
,
Saturated Fat:
5
g
,
Polyunsaturated Fat:
4
g
,
Cholesterol:
36
mg
,
Sodium:
421
mg
,
Fiber:
2
g
,
Sugar:
3
g