Flaky pie crust filled with fresh spinach, garlic, and ricotta cheese. These Spinach and Cheese Empanadas are an easy dinner or appetizer recipe, and best served with fresh Chimichurri sauce!
Save some pie crust to make our favorite apple empanadas for dessert. Or whip up a batch of baked cinnamon sugar tortilla chips to treat yourself.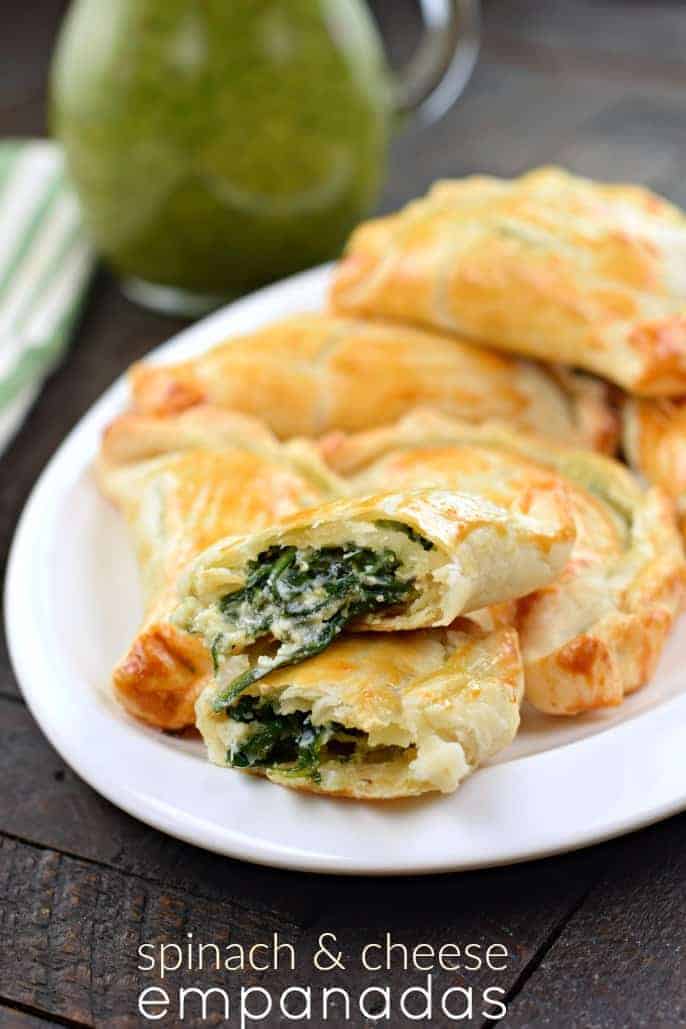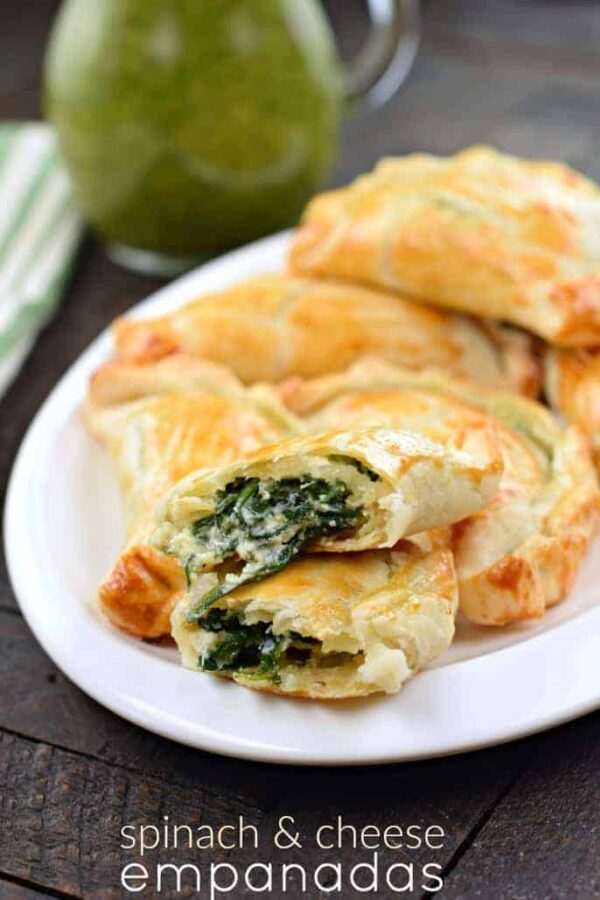 What is an Empanada
Every culture has their own version: a flaky handheld pastry wrapped around meat, vegetables or cheese then baked or fried to toasty perfection.
Empanadas come to us courtesy of Spain but they've been popular for generations across Latin America and the Philippines too. Different regions have their own favorite versions of this classic stuffed hand pie, ranging from savory to sweet.
Today's take on empanadas is a satisfying baked version filled with fresh spinach and cheese! Made with refrigerated pie crust, this empanada recipe is easy enough for a weeknight but impressive enough to serve at a special occasion!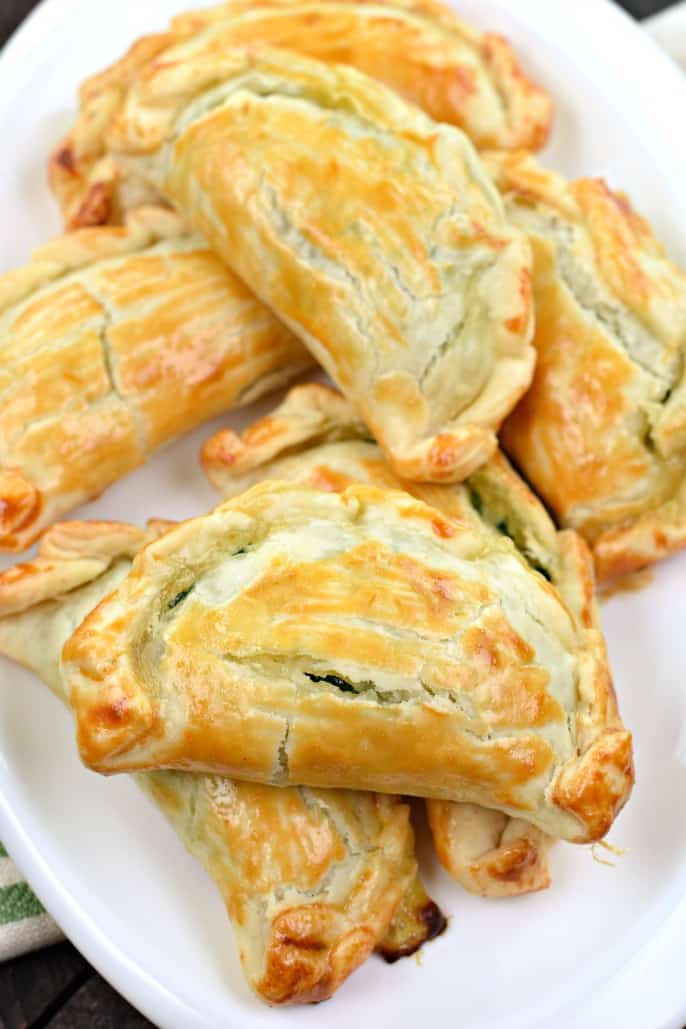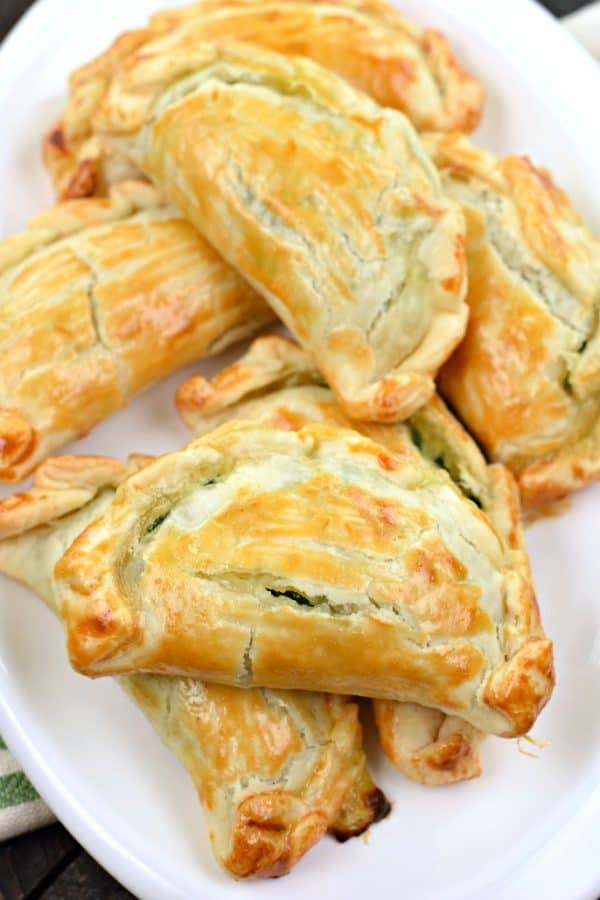 Ingredient Notes
Refrigerated Pie Crust – Don't scoff! Ready made crust delivers amazing buttery flaky results without any fuss. If you have an amazing homemade pie crust you love, feel free to use it here instead.
Fresh Spinach – Frozen spinach works as a substitute if you drain and cook out excess liquid.
Ricotta cheese – Fresh goat cheese or feta cheese would make a delicious substitute.
Parmesan – Grated fresh (not from a shaker!).
Easy Instructions
Unroll your pie crust and use a biscuit cutter to cut it into 12 circles. You may need to reroll the crust several times to get enough circles.
Saute butter, onion and spinach for a few minutes to cook down the leafy greens. Combine the two cheeses, seasonings and butter in a separate bowl, then add in the spinach mixture.
Fill the prepared pie crust circles with about a tablespoon of filling. Fold, pinch the seams to seal and brush the empanadas with beaten egg yolk (optional but adds great color to the baked crust).
Bake for 18 – 22 minutes and serve hot!
Serving Suggestions
Wondering how to turn your empanadas into a complete meal?
Make a batch of fresh Chimichurri sauce to spoon on top of the baked empanadas. The zesty flavor and vibrant green color are the ideal match for the spinach and cheese.
I love serving savory empanadas for dinner alongside a helping of Cilantro Lime Rice or Saffron infused rice. Don't forget the Sopapilla Cheesecake for dessert!

Recipe FAQs
Can I use frozen spinach instead of fresh?
Sure can! I'd thaw and drain it first then make sure to cook off excess liquid before adding it to the filling.
Are these vegetarian friendly?
Indeed they are. While they're not vegan due to the cheese, butter and egg, vegetarians can happily enjoy meatless Spinach Cheese Empanadas with the rest of the family.
Can you freeze empanadas?
Yes, you can freeze these either before baking or after! No need to thaw them before baking. Just add a couple minutes more time in the oven.
Reheat baked frozen empanadas in the toaster oven, conventional oven or microwave.
Why are my empanadas breaking?
The culprit is probably overfilling. When it comes to stuffing empanada dough, less is more. I use a tablespoon to measure the filling in each empanada.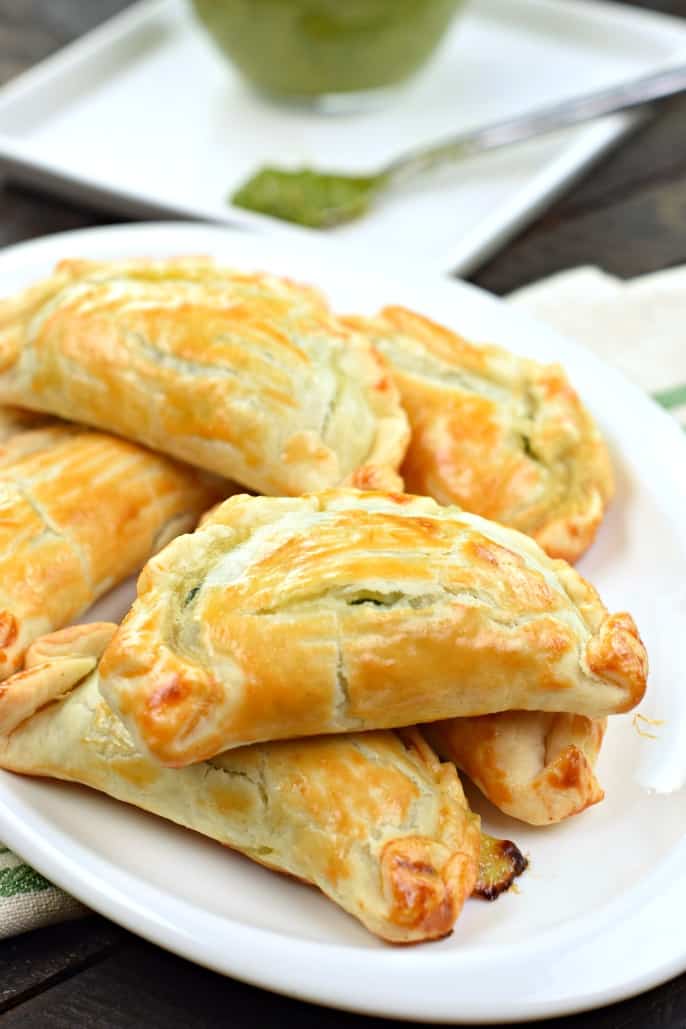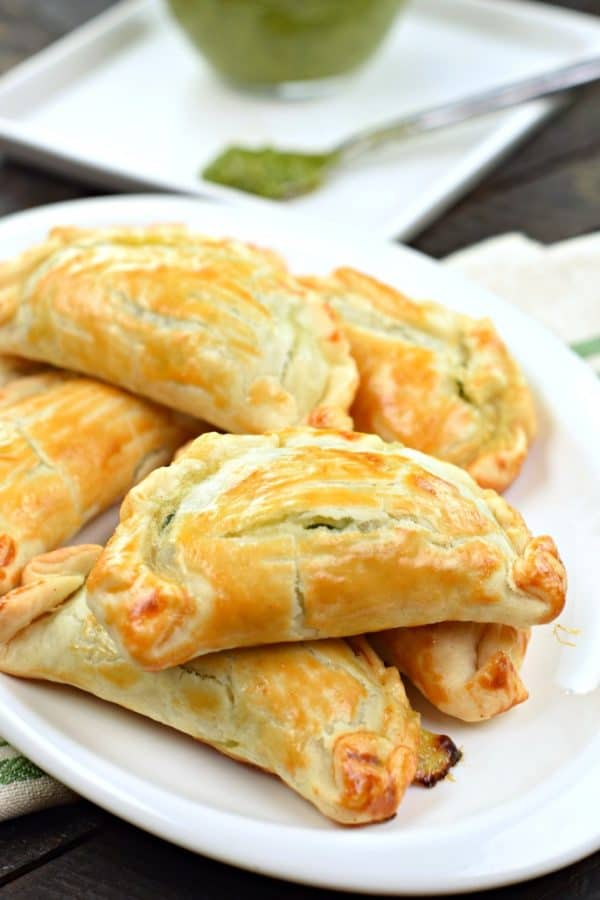 More Empanada Recipes
Baked empanadas are so much easier to make than you'd expect! With healthy spinach and creamy ricotta, this empanada recipe is guaranteed to impress.