Homemade Ranch Dressing – Made with Greek yogurt and herbs, this veggie dip recipe knocks the store bought stuff out of the water!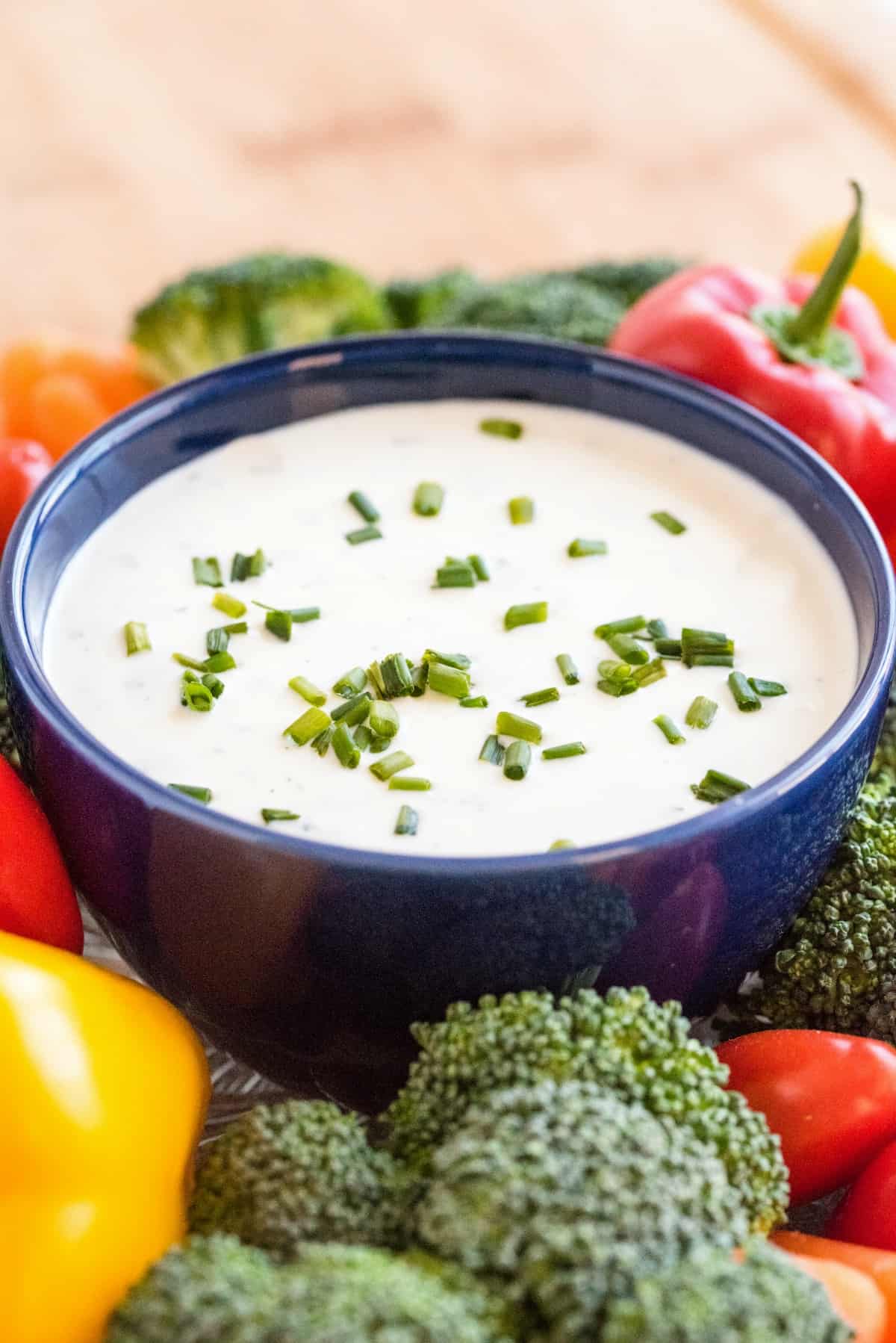 There's no doubt about it: people love Ranch Dressing.
No veggie tray is complete without a bowl of some kind of creamy, tangy dip at the center and ranch dressing has yet to steer me wrong!
For many years, I used bottled ranch dressing for salads and dips. Sometimes, I'd put in the effort of making the dressing using the powdered mixes.
I liked ranch dressing just fine, but I was never one of those people who wanted to dump it on everything from Instant Pot Hamburgers to pizza! (We all know those people right?)
Then, I tried homemade Ranch dressing from scratch. It's a game changer! I could have easily just skipped dinner and eaten a bowl of this ranch dip with some carrot sticks.
This veggie dip recipe makes a ranch dressing that's full of herb flavor! I also love that it's creamy but doesn't leave an unpleasant coating of oil on the tongue.
The Greek yogurt and mayo together are perfection.
The recipe I'm sharing today is by far the best ranch dressing dip I've ever eaten. I know you're going to love it, whether you're a ranch dressing nut or you usually pass it up for other dips and dressings. Believe me, you've never had Ranch dip this good!
Oh, and it's easy to make, too. Once you try this homemade ranch dressing recipe, you'll never reach for a bottle of the store bought kind again.
Ingredients
Here's what you need to make homemade Ranch dressing:
Mayonnaise
Greek yogurt
Whole milk– or use a buttermilk substitute for a creamy buttermilk ranch recipe
Dried chives
Onion powder
Garlic powder
Dried parsley
Black pepper
Salt
Fresh diced chives – These are an optional garnish but I love the pop of color they add to the white dressing.
How to Make Homemade Ranch Dressing
To make the dressing, whisk all the ingredients together in a large bowl until well combined. Then, let the dressing chill in the fridge (covered) for at least an hour to let the flavors meld.
Serve with your choice of sliced or cut fresh veggies! If you have kids who are reluctant to eat their vegetables, serving them with ranch dressing instantly makes them more appealing.
Any leftovers should be stored in an airtight container in the fridge.
Optional seasoning tip: I love adding a little creole seasoning or celery salt to this veggie dip recipe for even more flavor!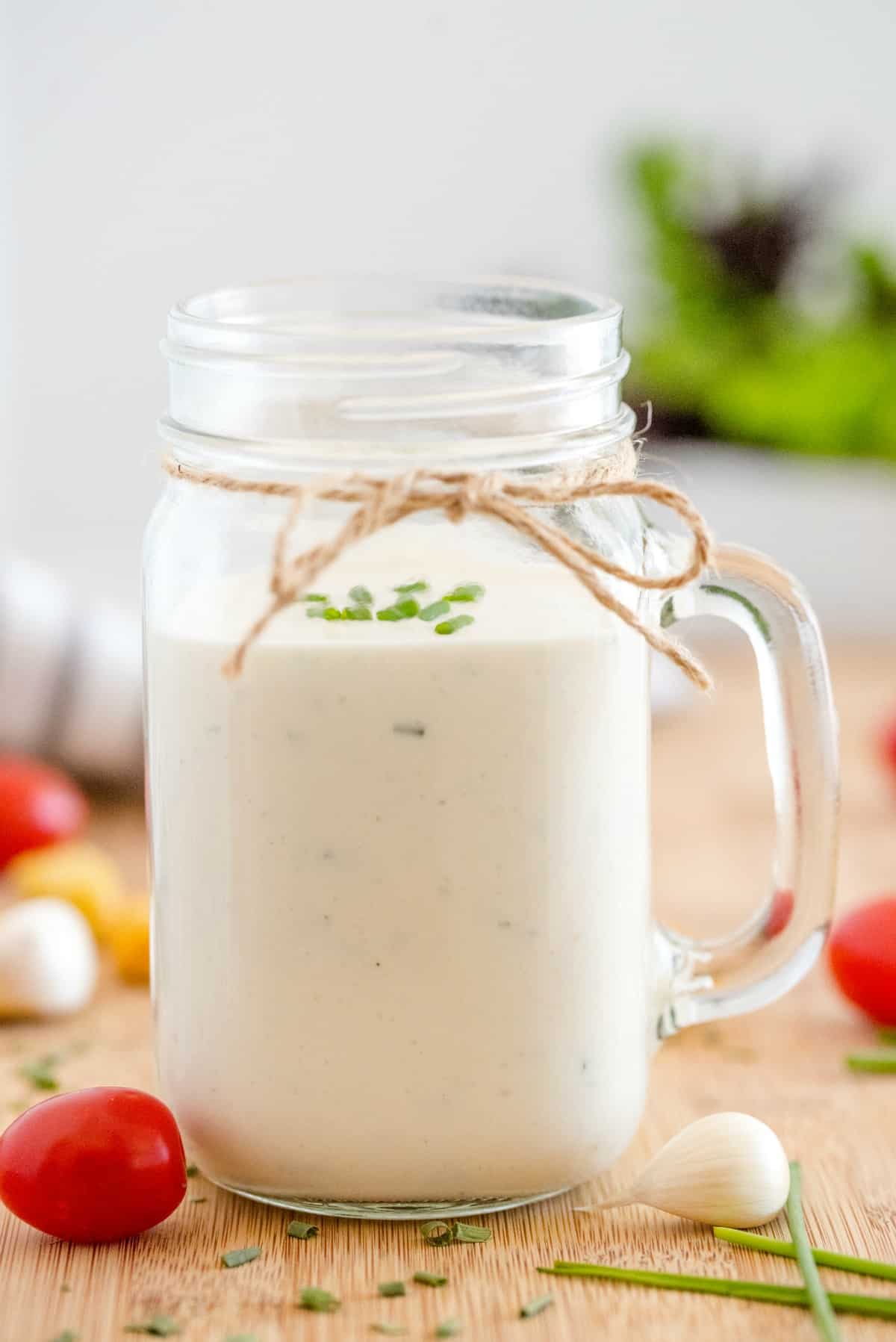 FAQ's
How long can Ranch be kept after making?
You can keep homemade Ranch dressing for up to 1 week in the refrigerator as long as it is in an airtight container.
Can I substitute regular yogurt for Greek yogurt?
Yes, but it might not be as thick and creamy. Also be sure you're using a plain, unsweetened variety of yogurt. The Greek yogurt is so good here, so I strongly recommend trying the recipe as written first!
Can I choose low fat ingredients to make a low fat Ranch dip?
Yes, but using low fat ingredients will alter the taste to be less rich. Go ahead and opt for full fat mayo and milk! You want your veggie dip rich and creamy.
Can I use fresh herbs in place of dried?
Yes, but your measurements will change. You will need to triple your measurement when converting from dried to fresh.
Can I use this recipe for salad dressing?
Yes, I recommend adding an additional ¼ cup of whole milk to slightly thin the dip if you're using it as a salad dressing. It's delicious this way, too!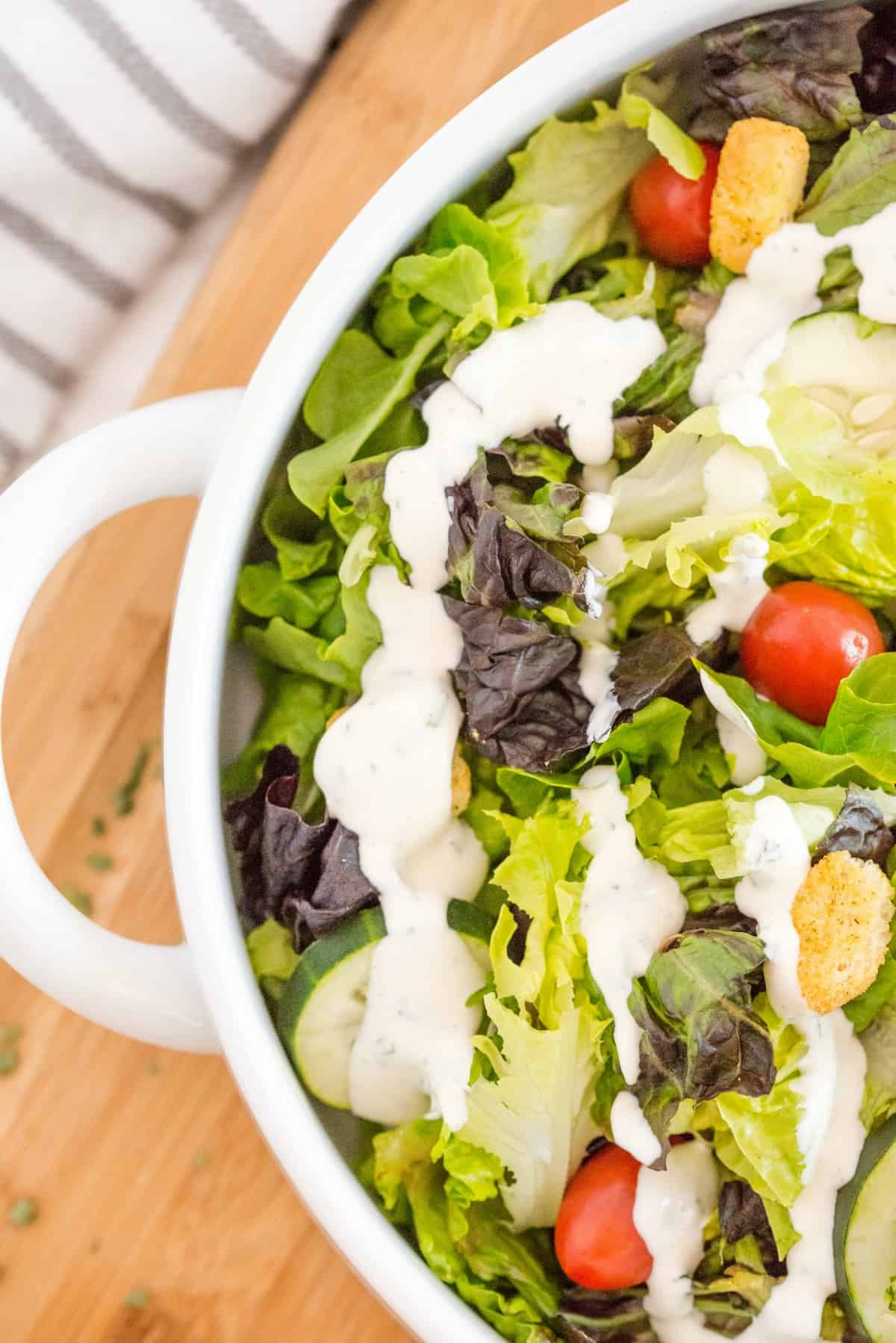 Serving Suggestions
Ranch and raw veggies are a match made in snacking heaven! Here are just a few ideas of what to serve with your homemade ranch dressing.
Carrot sticks or baby carrots
Celery sticks
Bell pepper slices
Broccoli and cauliflower florets
Cucumbers
Potato chips
French fries – Don't knock it until you've tried it!
Chicken wings – While I'm personally a fan of bleu cheese dressing with my Buffalo chicken sliders, plenty of members of my family opt for homemade ranch as their dipping sauce of choice.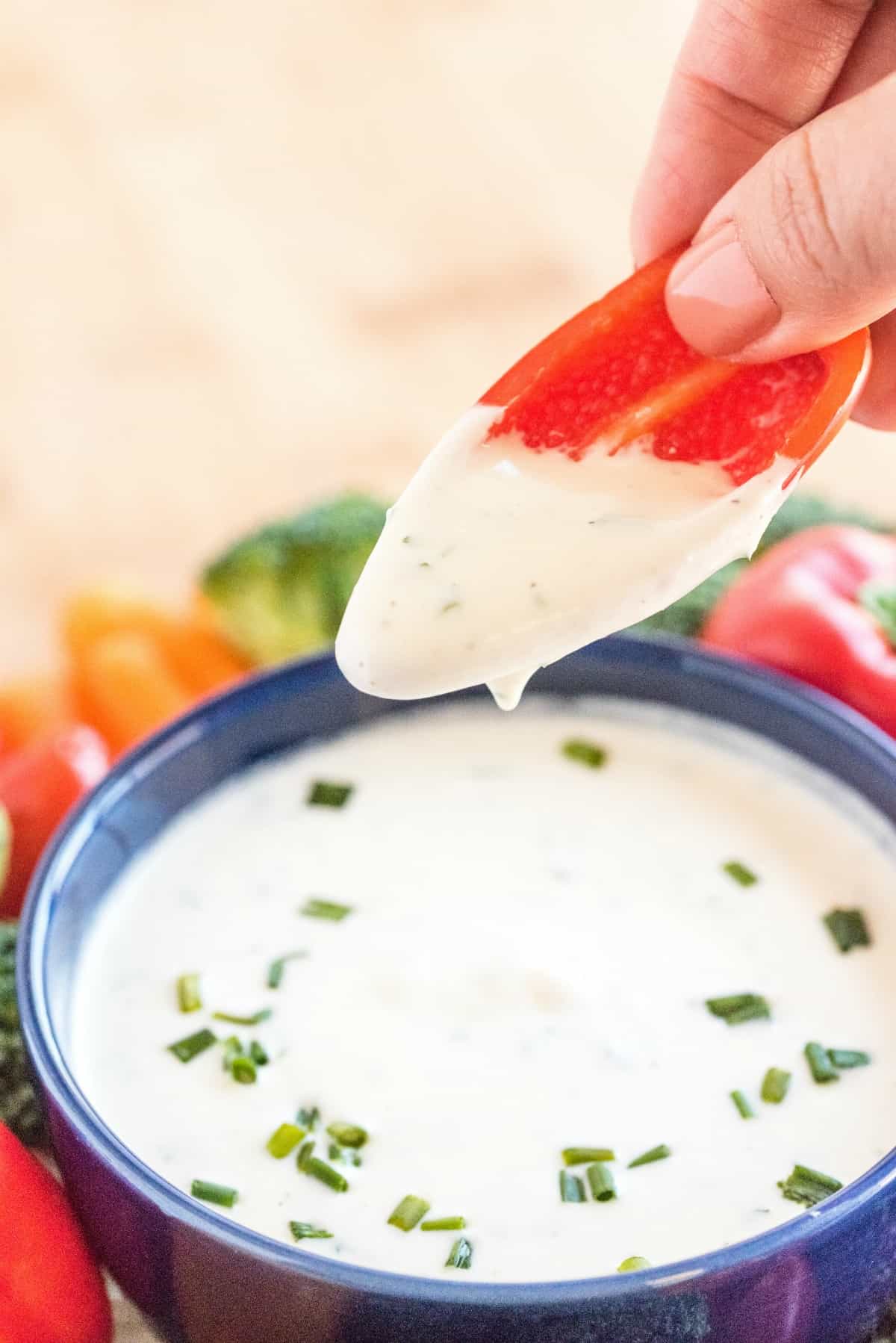 Serve as a dip
Put a bowl full of creamy homemade dip at the center of the snack table and it'll disappear faster than you can say "ranch." This veggie dip is a must have for parties and it's also great for keeping the kids' hunger at bay between meal times.
A container of homemade ranch dressing makes a great addition to a lunch box with a ziploc bag full of celery sticks and carrots for dipping. No one will complain about having to eat their veggies when ranch dip is involved!
Say goodbye to store bought dip and make this delicious and easy homemade Ranch dressing!