Quick and delicious Chicken Pasta Spinach Salad with Teriyaki Dressing. This Mandarin Pasta Spinach Salad is ridiculously good, and the teriyaki vinaigrette is addictive!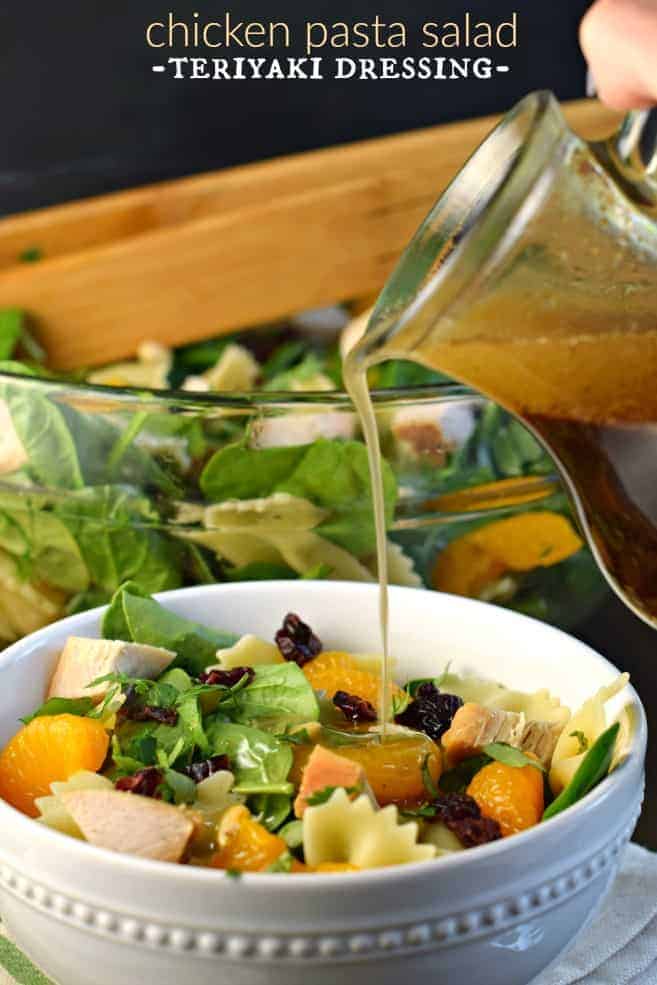 There are many people who feel that a salad can be lunch but not dinner. Maybe it's not filling enough?
Today's Chicken Pasta Salad recipe is not only delicious, but it's hearty enough for a meal.
Personally, I could eat a salad every day.
Especially one as flavorful as this, and topped with the most delicious teriyaki vinaigrette dressing! Sweet and tangy, you'll love it too!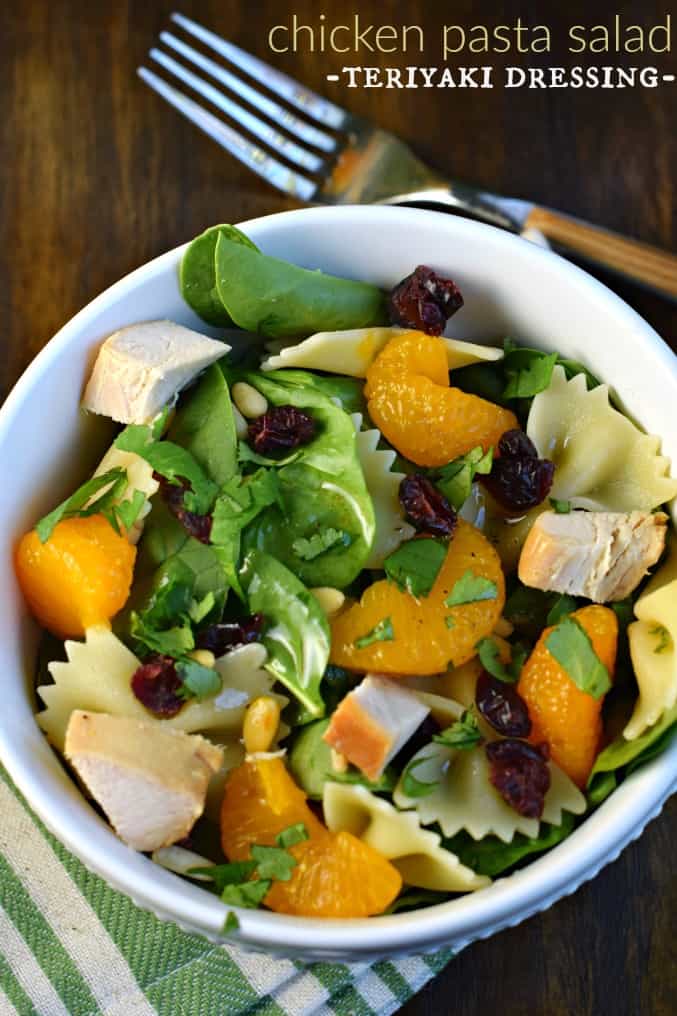 How to make Chicken Pasta Spinach Salad
Noodles. Start by cooking your pasta according to the package directions.
I used bowtie noodles as I think they make a great addition to salad, but elbow macaroni or penne would work wonderful too!
Chicken. While your pasta is cooking, prepare the chicken. If you want a more flavorful chicken, you can marinate it overnight.
Most days I am lucky enough to pull the chicken out of the freezer in the morning for dinner, let alone take it out the day before. 
Marinade. For the chicken, cut chicken breasts into bite sized pieces. If you do this while it's raw, it makes the cook time much faster! Place in a ziploc bag with 1/4 cup teriyaki sauce. Shake bag.
If you prepare ahead of time, marinate the chicken for one hour-24 hours. If you're flying by the seat of your pants, shake bag and cook it immediately, haha!
Cook. Heat skillet and cook chicken cubes about 5-7 minutes, until no longer pink inside. Remove from heat and set aside.
Dressing. Prepare the dressing by combining teriyaki sauce, rice wine vinegar, garlic powder, minced onion, salt, pepper, granulated sugar, and olive oil in a mason jar.
Cover and shake to combine. Refrigerate until ready to serve salad (up to 48 hours ahead of time).
To assemble salad. In a large salad bowl, toss together the cooked pasta, spinach, craisins, pine nuts, mandarin oranges, cilantro, and cooked chicken.
When serving, drizzle dressing over salad and toss to serve. Or, serve dressing on the side. ENJOY.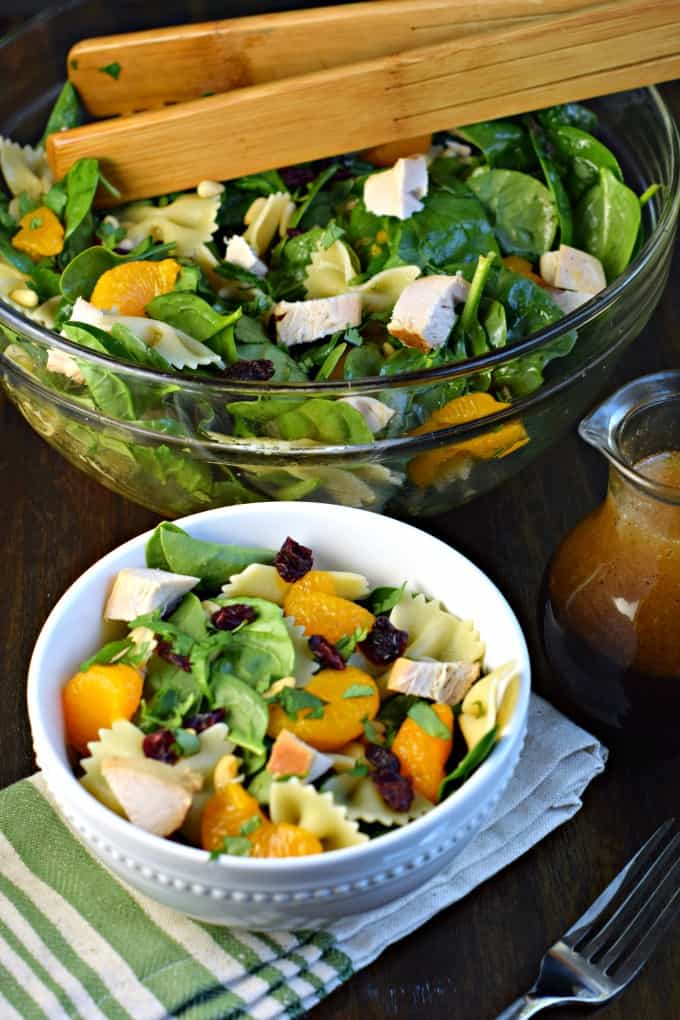 More Salads
Serving up a salad as a meal or a side dish is a great way to throw some vegetables in your diet. Add a protein like chicken or leftover turkey and you've got a hearty meal!
Kick up the pasta salad a notch by serving this Shrimp Pasta Salad. It's got a homemade Italian Dressing on it too!
This Strawberry Pecan Salad is loaded with fresh berries and candied Fisher's Pecan Halves. It's also topped with a sweet, homemade lemon poppy seed dressing.
Salad can be dinner with this delicious Southwest Chicken Salad. The creamy Avocado dressing is the perfect topping too!
Need an impressive looking salad for a picnic this weekend? Try making a Layered Chicken Taco Salad. Kid and adult friendly!!
Cozy up to this Harvest Salad recipe with it's delicious Lemon Poppy Seed dressing. You'll love the flavors of apples, pears, cashews, and swiss cheese in this hearty salad recipe!
This tasty, Copycat Chick-fil-A Chicken Salad sandwich is made with breaded chicken, pickle relish, celery, eggs, and mayo. What's not to love about this iconic salad?
Ready in under 30 minutes, this delicious Instant Pot Chicken Alfredo recipe has become part of our monthly meal rotation! I've even got the "skinny" on how to lighten it up!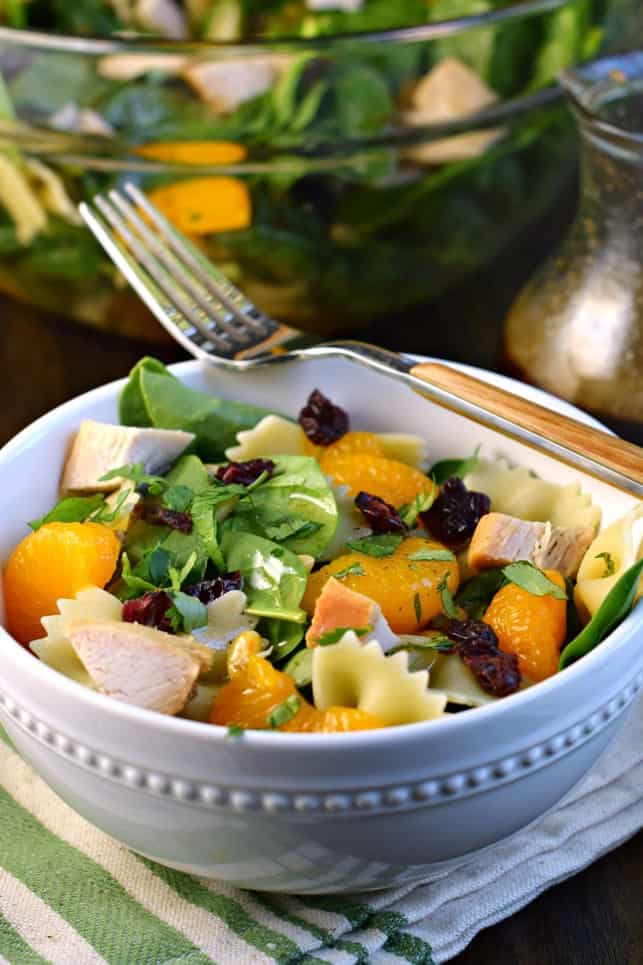 What you'll need
Grill pan or skillet, for cooking chicken
Large Pot for cooking pasta
1 lb chicken breasts (or use already cooked chicken, like Rotisserie chicken)
1/2 lb pasta noodles (I choose bowtie noodles)
Spinach
Craisins
Cashews or Pine Nuts
Mandarin Oranges (I prefer using canned in this recipe)
Cilantro
Teriyaki Sauce
Rice Wine Vinegar (or apple cider vinegar)
garlic powder
Minced Onion
Salt and Pepper
Sugar
Olive Oil