A quick and delicious Chicken Pasta Salad with spinach and teriyaki dressing. This Mandarin Pasta Spinach Salad is packed with fresh flavor and so easy to make!
Need a few new salad recipes to add to your table? Everyone raves over our Broccoli Salad and this Spinach and Bacon Salad recipe too.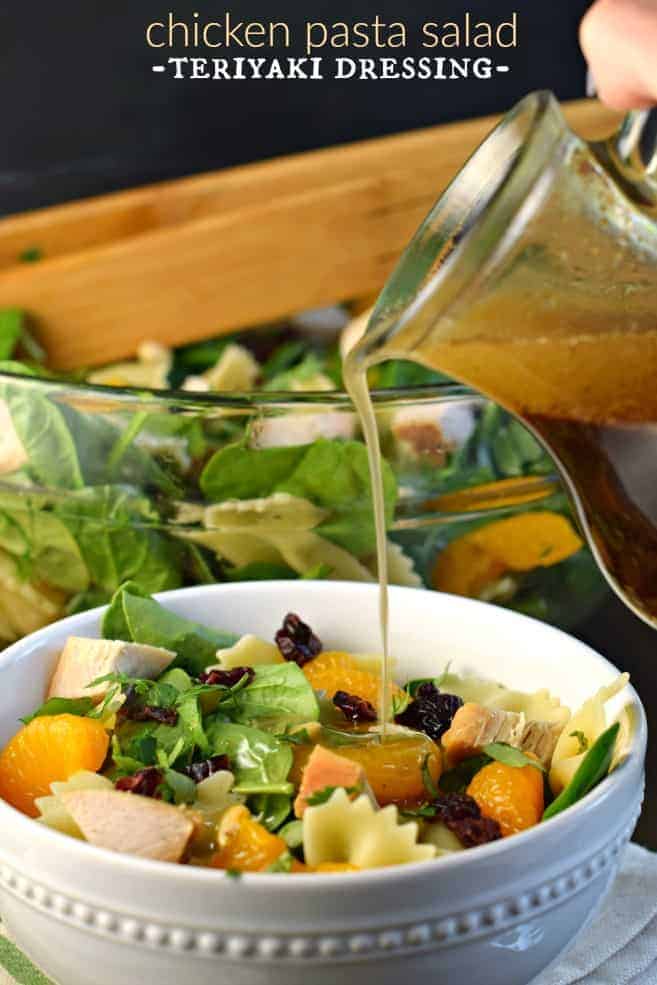 Why This Salad Recipe is Best
You've probably tasted chicken pasta salad before. But this is not your ordinary chicken or pasta salad recipe!
This salad has the perfect combo of crisp and crunchy textures.
Savory chicken meets juicy mandarin oranges.
Sweet tangy teriyaki dressing ties it all together.
A colorful and easy salad for lunch, dinner or your next potluck.
A word of warning: the homemade teriyaki dressing is addictive. You'll want to eat it on anything and everything!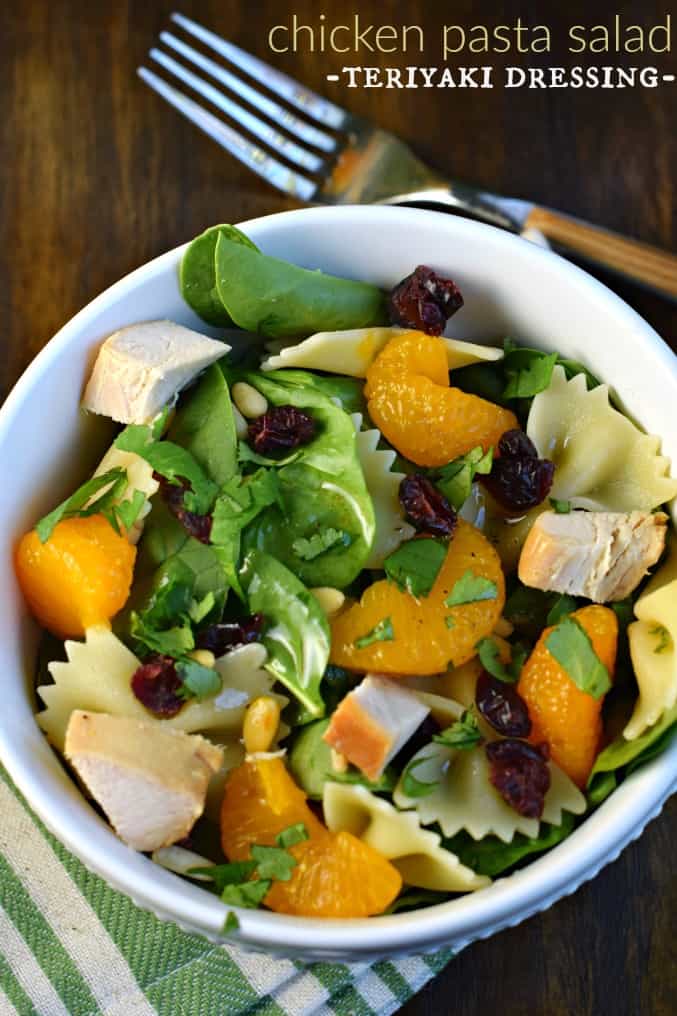 How to make Chicken Pasta Spinach Salad
Noodles. Start by cooking your pasta according to the package directions.
I used bowtie noodles as I think they make a great addition to salad, but elbow macaroni or penne would work wonderful too!
Chicken. While your pasta is cooking, prepare the chicken. If you want a more flavorful chicken, you can marinate it overnight.
Most days I am lucky enough to pull the chicken out of the freezer in the morning for dinner, let alone take it out the day before.
Marinade. For the chicken, cut chicken breasts into bite sized pieces. If you do this while it's raw, it makes the cook time much faster! Place in a ziploc bag with 1/4 cup teriyaki sauce. Shake bag.
If you prepare ahead of time, marinate the chicken for one hour-24 hours. If you're flying by the seat of your pants, shake bag and cook it immediately, haha!
Cook. Heat skillet and cook chicken cubes about 5-7 minutes, until no longer pink inside. Remove from heat and set aside.
Dressing. Prepare the dressing by combining teriyaki sauce, rice wine vinegar, garlic powder, minced onion, salt, pepper, granulated sugar, and olive oil in a mason jar.
Cover and shake to combine. Refrigerate until ready to serve salad (up to 48 hours ahead of time).
To assemble salad. In a large salad bowl, toss together the cooked pasta, spinach, craisins, pine nuts, mandarin oranges, cilantro, and cooked chicken.
When serving, drizzle dressing over salad and toss to serve. Or, serve dressing on the side. ENJOY.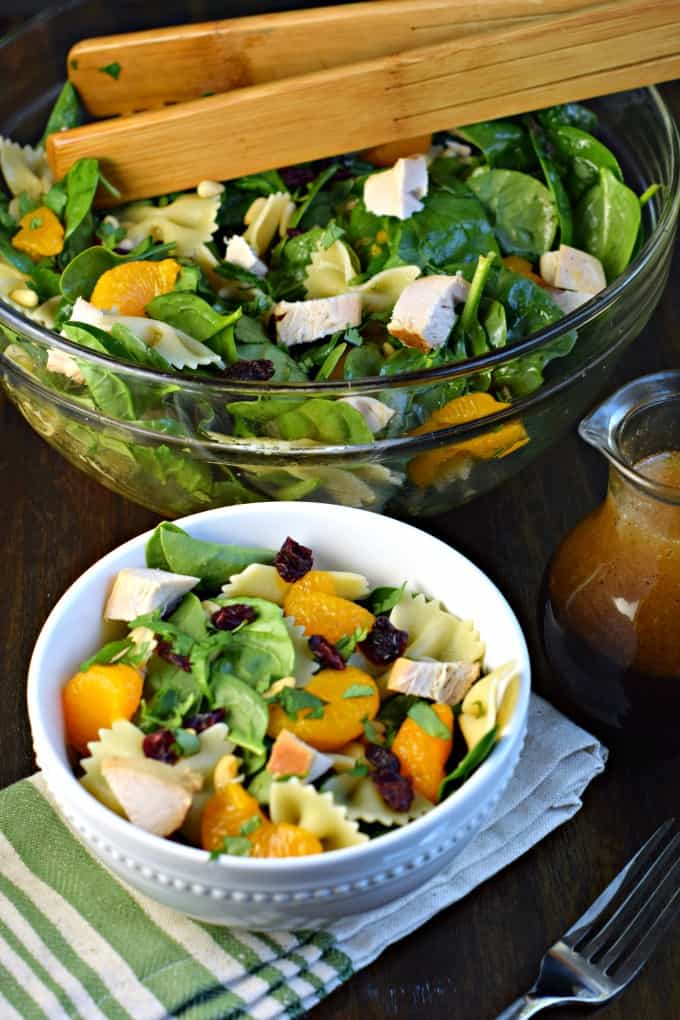 Tips and Tricks
Short on time? Pick up a rotisserie chicken from the grocery store. Just slice the meat into pieces and you can add it right to the recipe.
Any kind of small pasta shape works in this salad. It doesn't have to be bowtie!
Once assembled, this salad tastes best served right away. Store any leftovers in an airtight container in the refrigerator and enjoy within one day.
Recipe FAQs
Can I make this salad without spinach?
You can substitute any other leafy salad greens you like for the spinach such as romaine lettuce or spring mix.
Can I make the chicken ahead of time?
Yes, you can cook the chicken up to 24 hours in advance and keep refrigerated until you're ready to assemble the chicken pasta salad.
I think the salad tastes better when the chicken is warm. The warm chicken and chilled vegetables are a great contrast. But it tastes good with cold chicken too!
Can I make salad dressing ahead of time?
You can make the teriyaki dressing up to several days ahead of time. Keep it sealed and refrigerated until it's time to add it to the chicken pasta salad.
Why did my dressing separate?
All dressings made with oil and vinegar will separate as they set. Since oil and water (vinegar) don't mix, the oil will rise to the top.
This is completely normal and expected. Just give the dressing a vigorous shake to reincorporate the oil before drizzling over your salad.
Can I substitute fresh oranges instead of canned?
We don't recommend using fresh oranges in this recipe. The mandarin oranges in a can are juicier and have all the bitter parts of the orange removed for a sweet, perfect taste.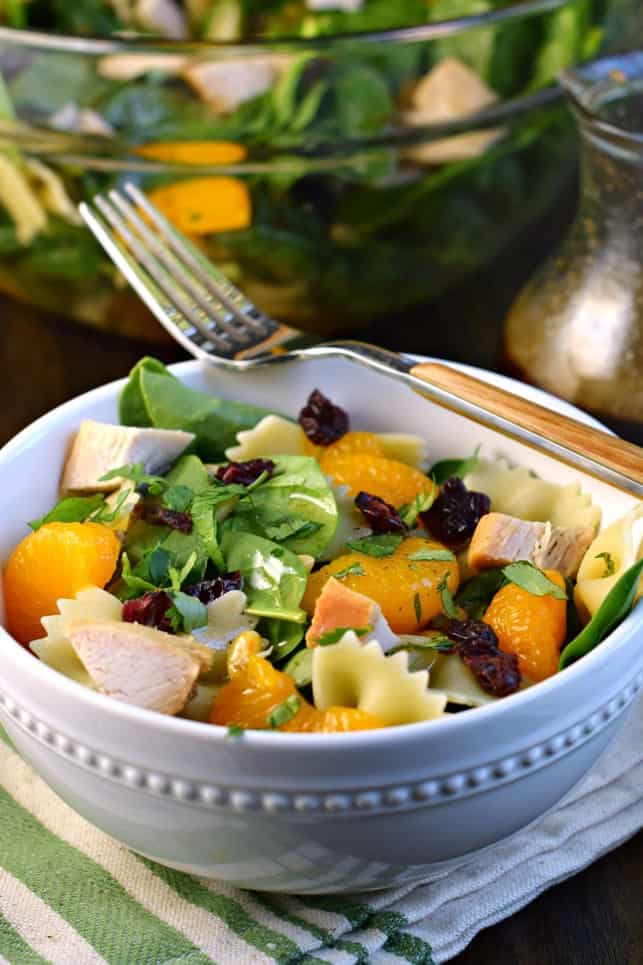 More Salads
Serving up a salad as a meal or a side dish is a great way to throw some vegetables in your diet. Add a protein like chicken or leftover turkey and you've got a hearty meal!
The best Chicken Pasta Salad has mandarin oranges, a homemade Teriyaki dressing and plenty of fresh spinach!