Kick up the pasta salad a notch by serving this Shrimp Pasta Salad. Gussied up with a homemade Italian dressing, you'll love this pasta salad as a side dish or light meal.
Love easy potluck salad recipes? Try our classic potato salad for a tasty side dish. Or give this delicious broccoli salad recipe a try. Of course you can never go wrong with a traditional coleslaw.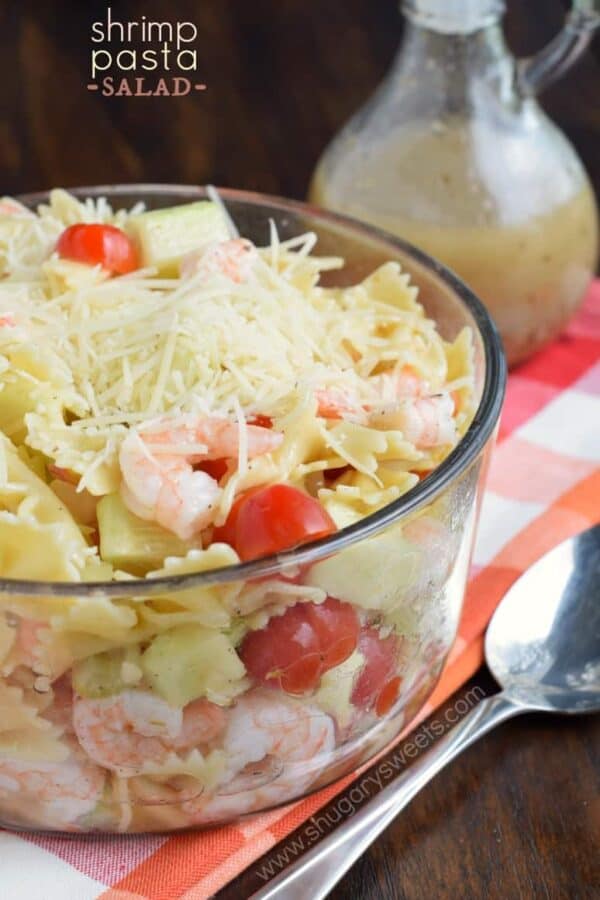 Why this Recipe is Best
Did you know how easy it is to make pasta salad? And did you know they taste even better if made ahead of time. I'm kicking myself for not doing this every summer.
Well, now I've got a delicious, easy pasta salad for any pool day, potluck or summer lunch! The homemade Italian dressing sends this one over the top.
Most pasta salad recipes contain cheese, but I wanted to make a salad with a little more protein if we'd be eating it for lunch.
Shrimp is the perfect protein to toss in with the noodles, cheese and veggies. Since it's already in bite sized pieces, there's no chopping or slicing required. My kids happen to love shrimp, too, so it's one of those meals we can all agree on!
More Shrimp Recipes: Pepper Jelly Shrimp | Bang Bang Shrimp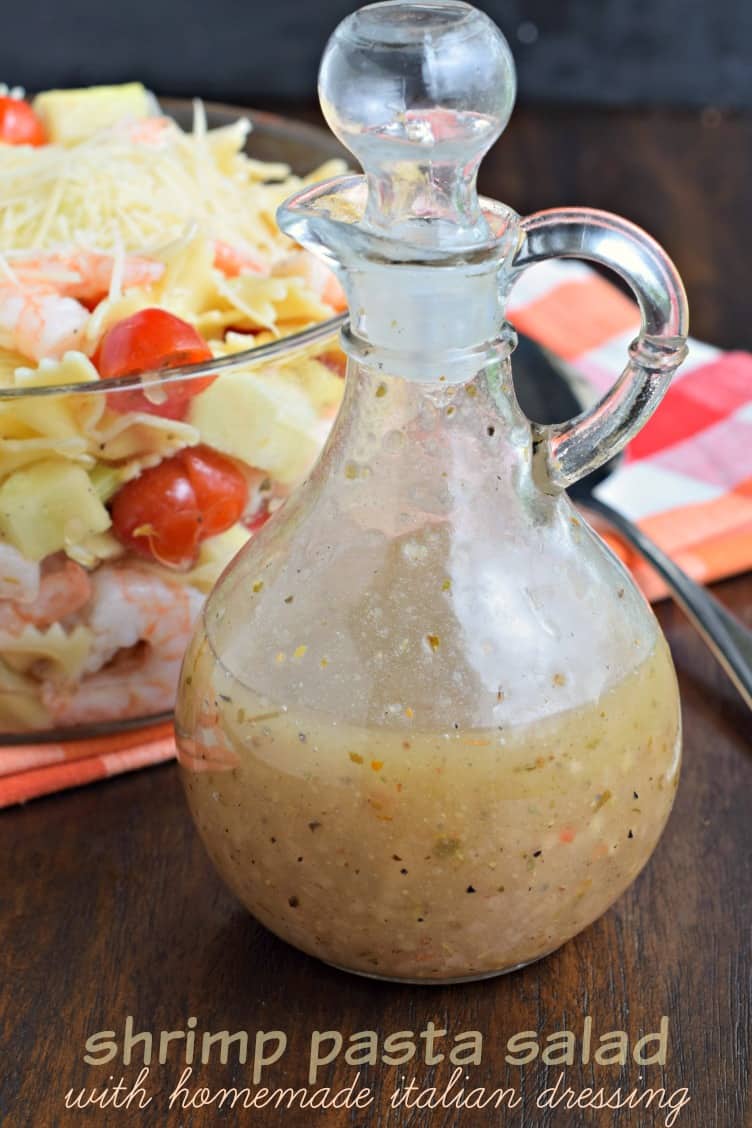 Substitutes for shrimp
If you're not a fan of shrimp, you can easily leave it out or substitute another diced or chopped meat. A few ideas:
Salmon filets
Chicken breast
Ham
Turkey
Salami
Pepperoni
Making this as a side dish? Leave out the shrimp–no need to substitute.
What kind of pasta to use in pasta salad
Any pasta shape will work here, as long as it's on the smaller side. I almost always make this with bow tie pasta. Penne, elbow macaroni, small shells and rotini varieties would be delicious too.
Vegetables for Pasta Salad
The other beauty of this recipe is that you can use about about any combo of veggies you have in stock! Here are a few of my favorite vegetables to use in this Shrimp Pasta Salad:
Cucumber
Red onion
Cherry tomatoes
Bell peppers
Carrots Celery
Broccoli
Spinach
Your favorite vegetables are even better when they're tossed with this flavorful dressing, cooked shrimp and Parmesan!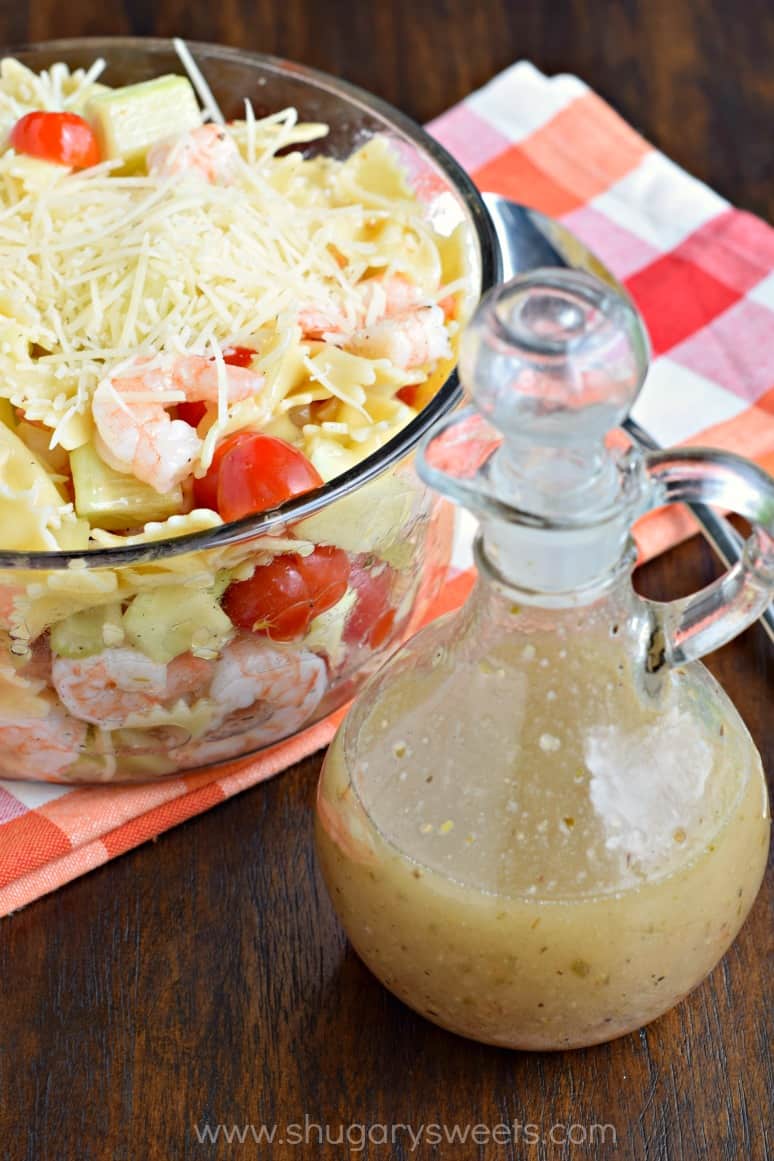 Dressing for Pasta Salad
If you have the time, I highly recommended whipping up a bottle of my zesty Homemade Italian Salad Dressing. It brings the rest of the colorful salad ingredients together beautifully. You can make a bunch of it at once and keep the rest in the fridge for later.
Homemade dressing love aside, store bought dressing is also just fine here, especially if you have a preferred brand you're nuts about. As long as YOU love it, that's what counts.
How to store
Like I mentioned before, this is a fantastic make ahead meal choice. After sitting in the fridge for a few hours, the flavor is even better!
You can make this pasta salad up to 3 days in advance. Just be sure to store it in the fridge until you're ready to serve!
Tips and tricks
Cook the pasta al dente. The noodles will soften very slightly as they marinate in the dressing, so I cook them for about a minute less than I normally would to keep the pasta salad from getting mushy.
While you can buy pre-cooked shrimp from the grocery store, I find the flavor is best if you cook it yourself. Use a simple stovetop or boiling method and cool the shrimp before you add it to this recipe.
Be sure the shrimp tails and veins are removed before cooking and adding them to the pasta salad.
I recommend the Italian dressing here. However, a Greek dressing or Vinaigrette would also be a tasty choice.
More Potluck Recipes
Say goodbye to PB&J, Shrimp Pasta Salad is the easy, nutritious and delicious choice for your family's summer picnics!