This delicious Spinach and Bacon Salad is a breeze to prepare! The sweet dressing with the salty bacon keeps you wanting more. Served for lunch or as a light dinner, it's the best way to get your daily greens.
We eat a lot of salads around here, but they're never boring. This Watermelon Salad is a summertime staple and I never show up to a picnic without a bowl of The Best Potato Salad.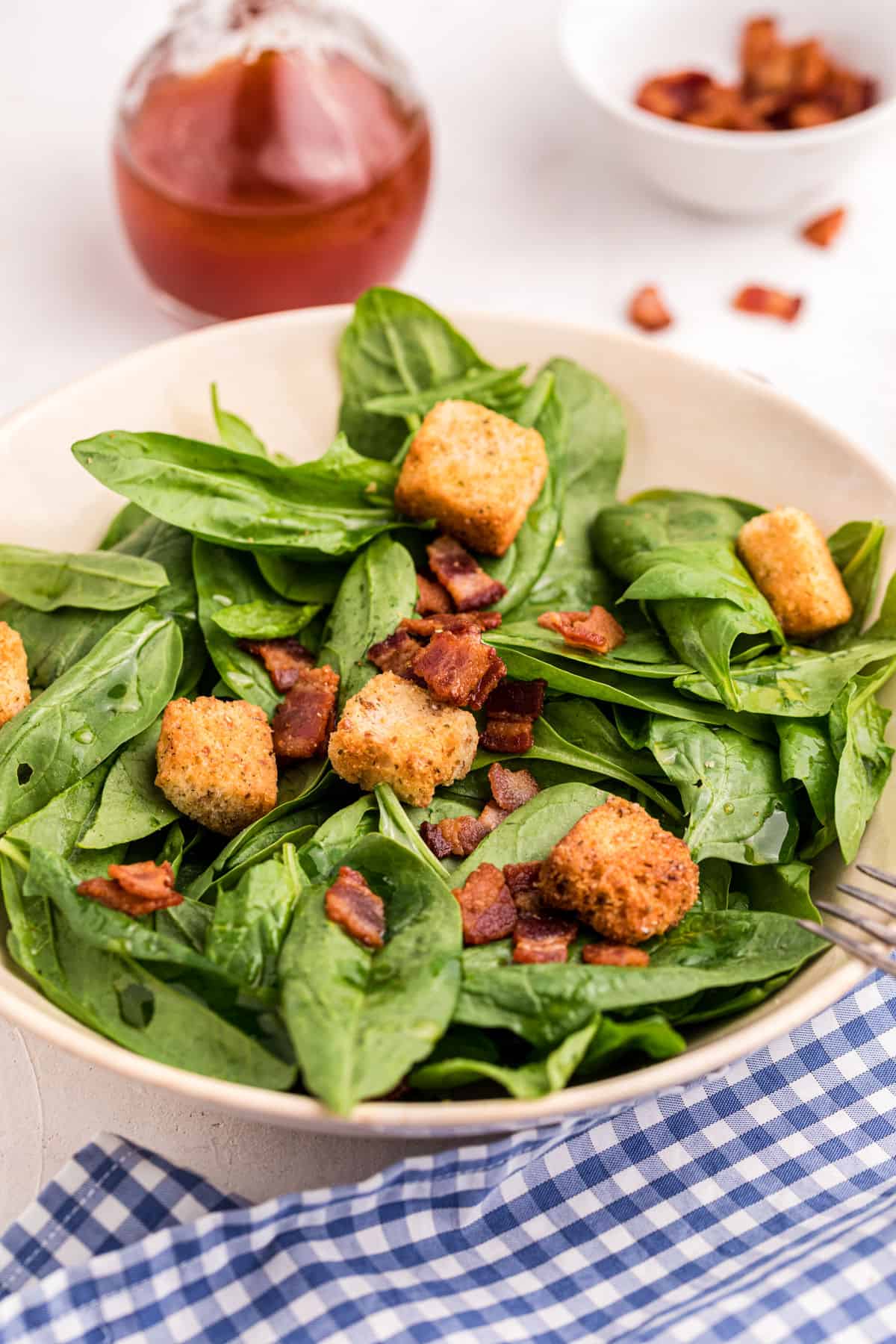 Why this Recipe is Best
While I love salads that have all the colors of the rainbow, sometimes you just don't have time to chop a ton of veggies.
This Spinach and Bacon Salad recipe comes together in no time. Even with homemade dressing and freshly cooked bacon, it's ready to eat in just 10 minutes!
We kept the ingredients for this salad simple: just fresh spinach, bacon and croutons. It's the dressing that really makes this salad stand out. Tangy and sweet, it's the perfect compliment to salty bacon.
Since it's made with pantry staples, chances are you won't need to make a special grocery trip for this recipe either!
Ingredient Notes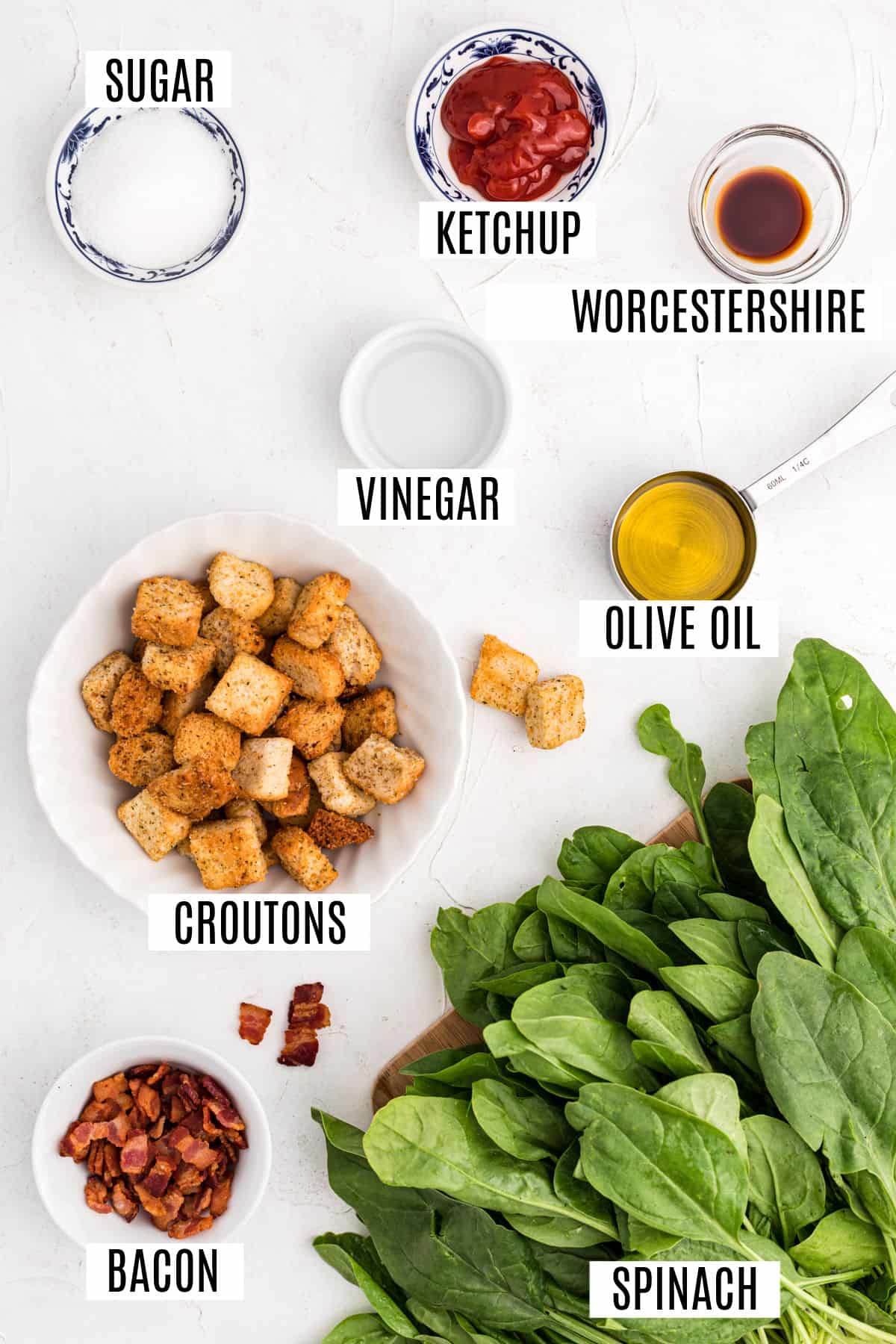 Bacon. Either fresh cooked crumbled bacon or leftover cooked bacon can be used.
Croutons. Any croutons you enjoy, plain or seasoned, taste great in this salad.
Ketchup. Sound weird? Just try it! The ketchup adds the hint of sweetness to the dressing that ties all the flavors together.
Serving Suggestions
Spinach and Bacon Salad is wonderful enjoyed as a meal on its own, especially for a summer lunch or light dinner.
Smaller portions can be served as a side dish to a heartier main dish, too. Serve it as a starter or side to Caprese Chicken Skillet or this Instant Pot Balsamic Beef.
This salad is also perfect stuffed into a wrap! Leave off the croutons and roll the salad in an herb garlic tortilla for an on-the-go lunch.
Of course it's also delicious with meatloaf or stuffed peppers!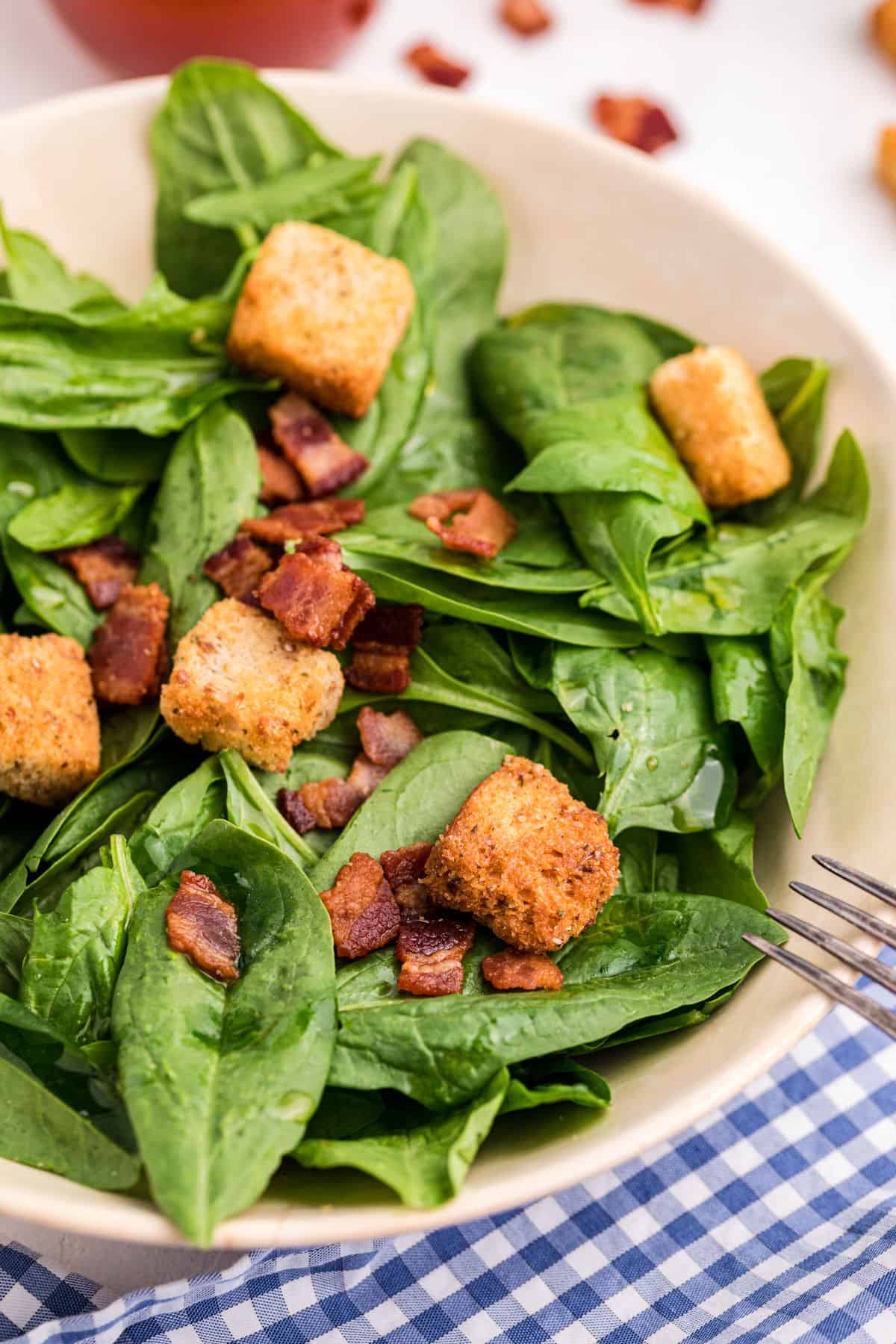 Recipe FAQs
Can I make this recipe with turkey bacon?
Yes, this salad would be delicious with turkey bacon instead of pork. My vegetarian family members enjoy this with meatless "bacon" substitutes too!
What can I substitute for the spinach?
Spring mix salad greens or your other favorite dark, leafy salad greens make fine substitutes. If you like raw kale, that's a great alternative to the spinach too. (Make sure to remove the tough bitter stems.)
How far in advance can I prepare the dressing?
You can make the dressing up to a couple of weeks ahead of time! It's highly acidic so it'll stay good for quite a while in the fridge.
I don't have time to wait for the dressing to chill. Can I just use it right away?
Yes, you can! The extra time to let the dressing flavors mingle is optional.
Want other great dinner and salad ideas? This Mandarin Salad is one of our family's favorites! Filled with romaine, sugar coated pecans and mandarin oranges.
This Spicy Grilled Fish and Citrus Slaw is a meal on it's own. And it's so pretty and colorful too!
These Turkey Meatballs are paired with a Bruschetta Sauce. No pasta required which keeps them on the healthy list! Can be your dinner or appetizer!
Spinach and Bacon Salad is full of fresh greens and salty bacon. A crunch of croutons and the best ever homemade dressing will get everyone begging for seconds!