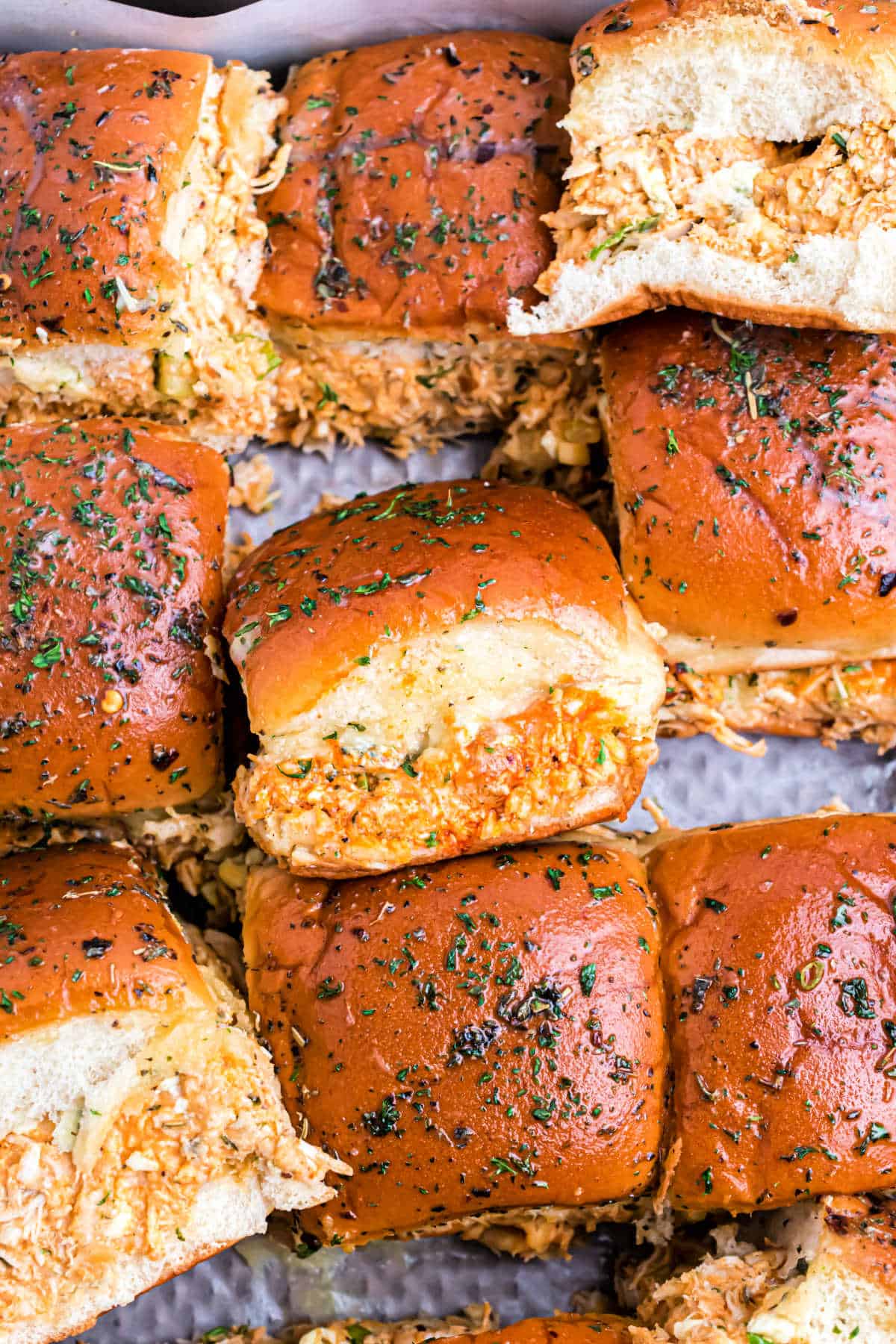 Why This Recipe Works
These buffalo chicken sliders are a spin on classic buffalo wings!
My husband and I love the taste of buffalo wing sauce, so I've been finding ways to put the flavor of buffalo wings into even more recipes.
So far I've made these buffalo chicken sliders, buffalo chicken tacos, buffalo chicken pasta, and buffalo chicken dip. Did I mention we like buffalo wing sauce?!
These buffalo chicken sliders are perfect for game day, tailgating, and even a quick weeknight dinner.
Top them with a batch of our homemade blue cheese dressing, if you like!
Just 15 minutes to prep these sliders! And you can prep them ahead if you want to have them ready to go for a party or game day.
You can make them more or less spicy to suit your tastes.
All the delicious taste of buffalo wings wrapped up in a sandwich! Bonus: They are much less messy to eat than wings!
Ingredient Notes
Sliders – The buns that had the best taste test reviews and were used for the photos are Aunt Millie's Hawaiian Dinner Rolls. They tend to be larger and firm enough to support the filling. You can also use regular Hawaiian rolls, and the recipe card includes adjustments.
Chicken – Using a store-bought rotisserie chicken makes this recipe quick and easy. You can also use a whole chicken or cook your own chicken and shred it to use for this recipe. See details in the recipe notes in the recipe card below.
Mozzarella Cheese – This makes these sliders extra melty. For best flavor, grate the mozzarella yourself.
Celery and Green Onions – These add a nice crunch to the sliders, similar to eating celery sticks alongside wings, but you can skip it if you prefer.
Blue Cheese – These are a classic with wings, but you can skip it if you don't care for the flavor.
Easy Instructions
STEP 1. Prep the rolls. Cut the rolls in half horizontally, cutting evenly and keeping the rolls connected. Place the bottom half in a 9×13 pan lined with parchment paper or sprayed with non-stick cooking spray.
STEP 2. Make the filling. Mix softened cream cheese, green onions, celery, parsley, garlic powder, seasoned salt, pepper and hot sauce together until well combined. Fold in the shredded chicken and mozzarella cheese.
STEP 3. Assemble the sliders. Spread the creamy chicken mixture over the base layer of the rolls. Sprinkle with blue cheese then top with the top layer of the sliders.
STEP 4. Brush with butter and bake. Combine the melted butter and Italian seasoning and brush on top of the sliders. Bake at 375 for 10-12 minutes, until browned and heated through. Let sit for a couple of minutes, then slice and serve.
Tips and Tricks
Make sure to use dinner rolls or buns that come all stuck together. We assemble and bake them all together and wait to cut them when ready to serve.
The dinner rolls we used are on the bigger side and stand up nicely to the creamy filling. If you are using smaller Hawaiian style type slider rolls, use just 4 ounces of cream cheese, ¼ -⅓ cup of wing sauce, and 2-3 cups of shredded chicken. No need to adjust the other ingredient amounts.
Adjust the heat. You can use a little more hot sauce for more heat or less if you want to cut down on the spicy factor. Frank's Wing sauce is not too spicy (and note that it's the WING sauce, not the HOT sauce) and is a good place to start.
Grate your own cheese. I like to buy cheese in blocks and grate it myself to add to recipes. It melts more quickly and tastes fresher this way! I use this rotary grater from Amazon that makes a big difference in how much cheese you get.
Recipe FAQs
Can I make these sliders in advance?
Yes, you can make the filling a day ahead of time. Place in an airtight container in the refrigerator. Fill the sliders and bake the next day.
You can also make the sandwiches (except for brushing the butter on them) a day ahead and cover the baking dish with plastic. Brush with seasoned butter and bake the next day.
Can I freeze these slider sandwiches?
Yup! You can freeze these sandwiches in individual portions. Then you can reheat in the microwave for a quick lunch or snack.
How do I store leftover buffalo chicken sliders?
Leftover sliders will keep in an airtight container in the fridge for up to 4 or 5 days.
How do I reheat leftover sliders?
You can reheat individual sliders in the microwave until hot. You can also reheat 4 at a time in an Air Fryer at 370 degrees Fahrenheit for 5 minutes to get a crispy bun. Or bring them to room temperature and bake in a pan covered with foil at 350 degrees for 5-7 minutes.
More Chicken Recipes