Slow Cooker Pineapple Chicken Curry is an easy Thai dish loaded with flavor. This curry recipe is packed with coconut milk, red curry paste, and ginger to give and aroma and flavor that's better than a restaurant!
Love easy dinner recipes? Try our Butter Chicken, made in the Instant Pot! Or give our Chicken Taco Soup recipe a try next, can be made in slow cooker or stove top!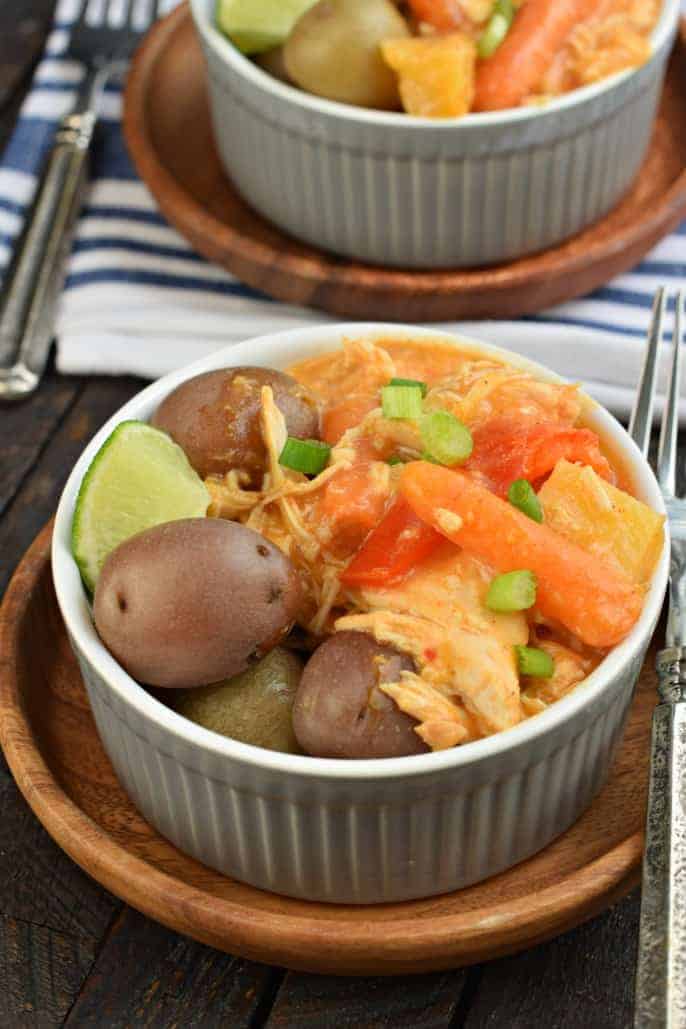 Why this Recipe Works
I've recently become obsessed, again, with Thai food. Recently had some Thai Basil Chicken that was out of this world.
But, there's something irresistible about the lure of curry. The creamy coconut milk sauce and the hearty chicken and vegetables, it's just delicious.
If you haven't yet tried your hand at making chicken curry at home, I urge you to try this recipe first.
It's easy.
It's delicious.
It's made in the slow cooker.
Want to hear more about this easy Slow Cooker Pineapple Chicken Curry recipe? I've got plenty to say.
Or you can scroll down to the end of the post and print the recipe for yourself!
Get ready to enjoy an easy family dinner recipe!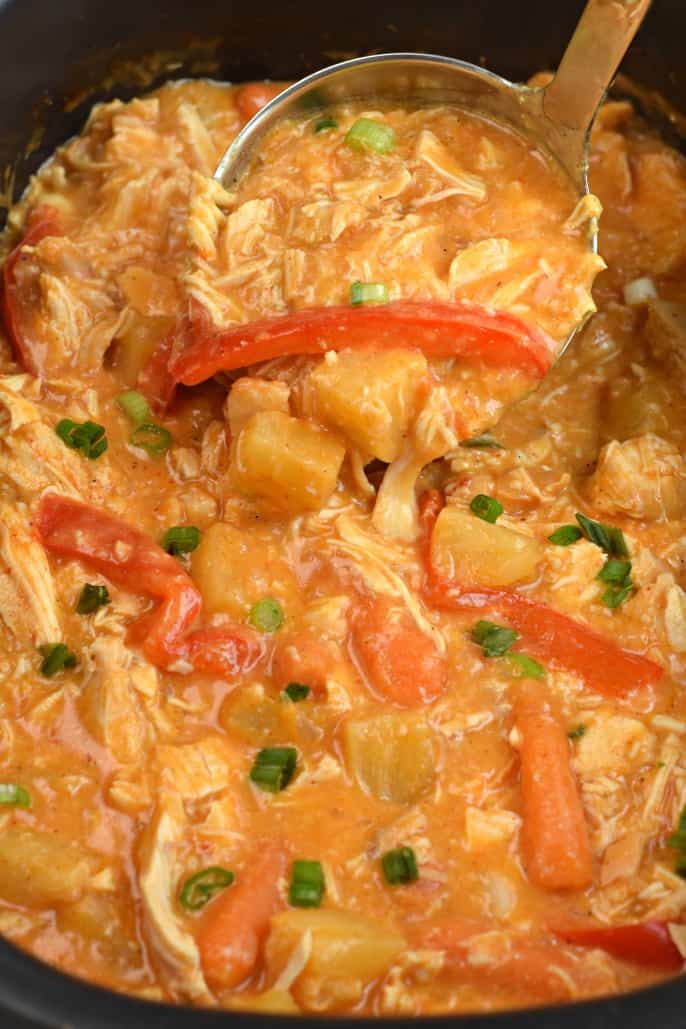 How to make Pineapple Chicken Curry
Chicken. Start by placing your chicken in the bottom of your large slow cooker. You can use boneless skinless chicken breasts or boneless skinless chicken thighs in today's recipe.
I personally love using chicken thighs in crockpot recipes because I think they turn out juicier. Chicken breast tend to dry out when over cooked, which can happen in a crock pot at times.
Seasoning. Top the chicken with one can of pineapple chunks (or crushed pineapple), DRAINED. Add diced onion, red pepper slices, and baby carrots to the slow cooker.
In a small bowl, whisk the coconut milk and cornstarch together until smooth. Add in granulated sugar, garlic (minced), ginger, salt, pepper, lime juice, and red curry paste. Pour over the chicken and vegetables.
Cook. Cook on low for 6-8 hours, or high for 4 hours. When ready to serve, top with sliced green onions and serve with rice or potatoes. ENJOY.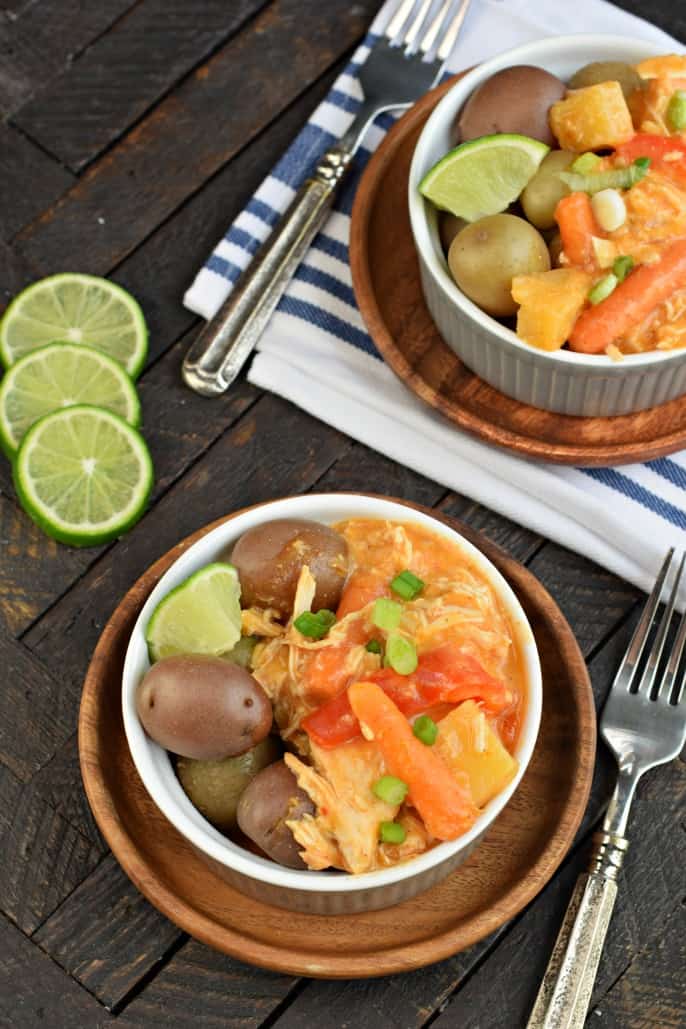 Tips and Tricks
Use fresh or canned pineapple. Either one will work just fine with today's recipe.
Change up the vegetables. Swap out the red pepper for green pepper, and toss some small red potatoes in the crockpot with the chicken. 
Serve in a hollowed out pineapple (like I did with this pineapple salsa recipe). Looks beautiful with a bed of rice too!
Add a sliced green onion or some snipped fresh basil to garnish.
What kind of Coconut Milk should I use?
I get asked this often. Whether I'm making Massaman Curry or today's Chicken Curry recipe, I always choose a can of unsweetened Coconut Milk from the Thai (Asian) section of the grocery store.
Typically I use Thai Kitchen brand (can be bought on Amazon too), but really any brand seems to work the same. I like the unsweetened milk so that I can control the sweetness of this dish.
If you don't want to use coconut milk, you can substitute Almond Milk instead. It will have a little nuttier flavor, and you may need to increase the cornstarch slightly as I find coconut milk to be a little thicker!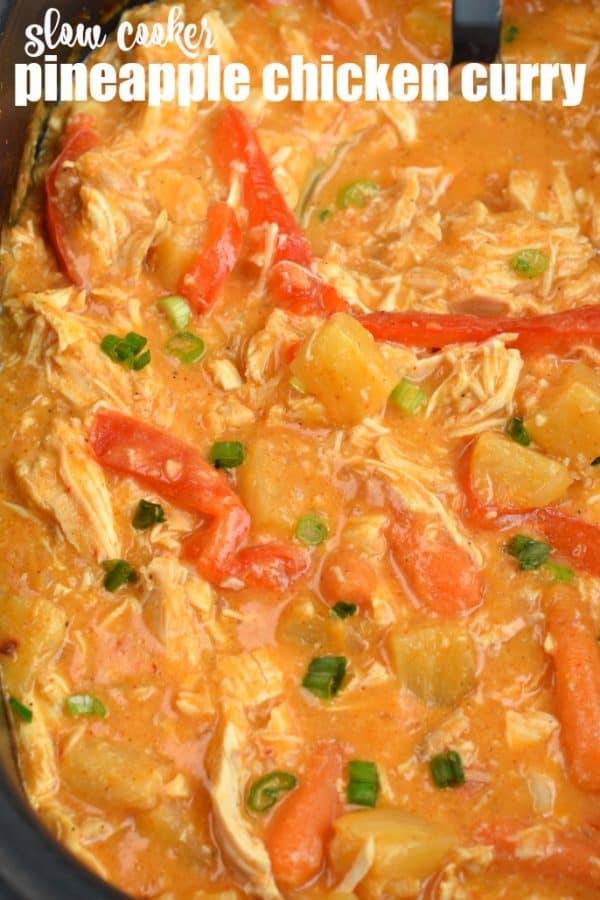 Can I freeze Pineapple Chicken
Yes. Absolutely.
Place all the ingredients into a large, freeze safe ziploc bag. Then double bag it (just in case). Freeze for up to 6 months. When ready to enjoy, thaw overnight in the refrigerator, then dump the contents of bag into slow cooker in the morning and cook for 6-8 hours.
Or, if you're like me, and you wake up and realize your forgot to thaw your bag, just snip the bag and peel it off the frozen contents. Dump that frozen block into the crockpot and cook accordingly. ENJOY.
What to serve with Pineapple Chicken Curry
Either a scoop of Jasmine rice, or some boiled small red potatoes are my favorite sides for curry.
In a pinch, I've even made some baked potatoes, cut them open, and poured the curry over the top. I love curry with potatoes personally.
You could also choose a healthier side for curry, like cauliflower rice or cauliflower mash! Or whip up a green salad as a side and opt for no extra starchy side dish!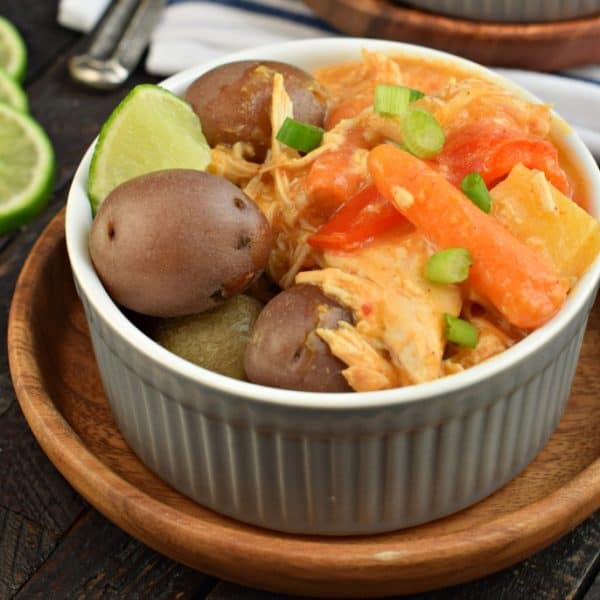 Slow Cooker Pineapple Chicken Curry recipe is a great takeout fakeout meal idea. Loaded with flavor and easy to make!