Creamy Tuscan Garlic Chicken has a cheesy garlic sauce with cherry tomatoes and fresh spinach! Serve over pasta for a restaurant quality meal in under 30 minutes!
Why This Recipe is Best
This chicken dinner is deliciously creamy and so impressive, but actually really easy to make!
We've got chicken breasts that are pounded thin, seared until cooked, and then a creamy sauce with garlic and Parmesan cheese to serve it with. Plus, there's some spinach and tomatoes for pops of freshness and color!
The chicken and the sauce all cook in a single pan, which means clean up is easier, too!
Pick your favorite noodles because you're definitely gonna want to serve this chicken and tons of the scrumptious sauce over some pasta.
The entire dinner comes together in just 25 minutes! Perfect for any night of the week!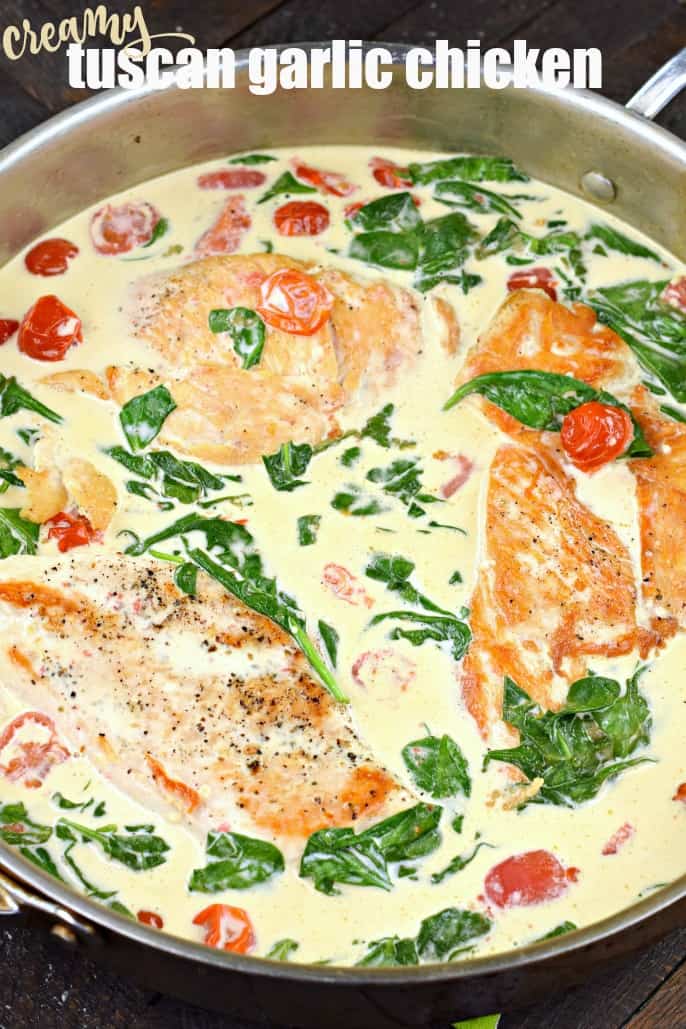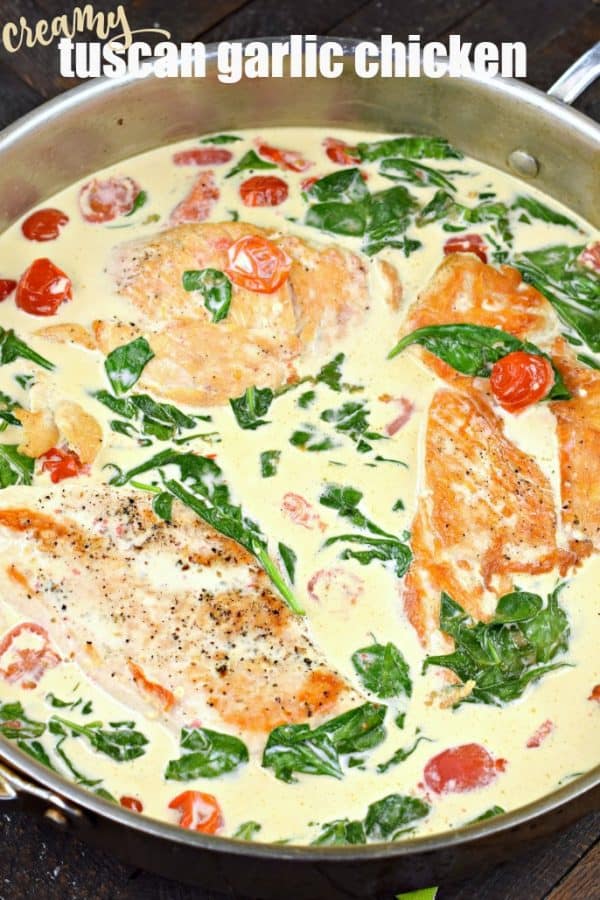 Ingredient Notes
Chicken Breasts – You'll need boneless, skinless chicken breasts for this recipe. We're pounding them out into thinner pieces so that they cook more evenly – and more quickly – in the skillet.
Heavy Whipping Cream – Also labeled as heavy cream, this helps form the base of our sauce. You'll want the full fat kind.
Parmesan Cheese – We're using a full cup of grated Parmesan cheese to help flavor and thicken the sauce. Go for the real deal, not the kind in a shake can.
Spinach – Regular spinach or baby spinach can be used here, but it should be FRESH spinach, not frozen. It'll wilt down slightly in the sauce.
Cherry Tomatoes – These are easy to find year-round, but you could substitute another type of fresh tomato, chopped, for this recipe. You need 1 1/2 cups total.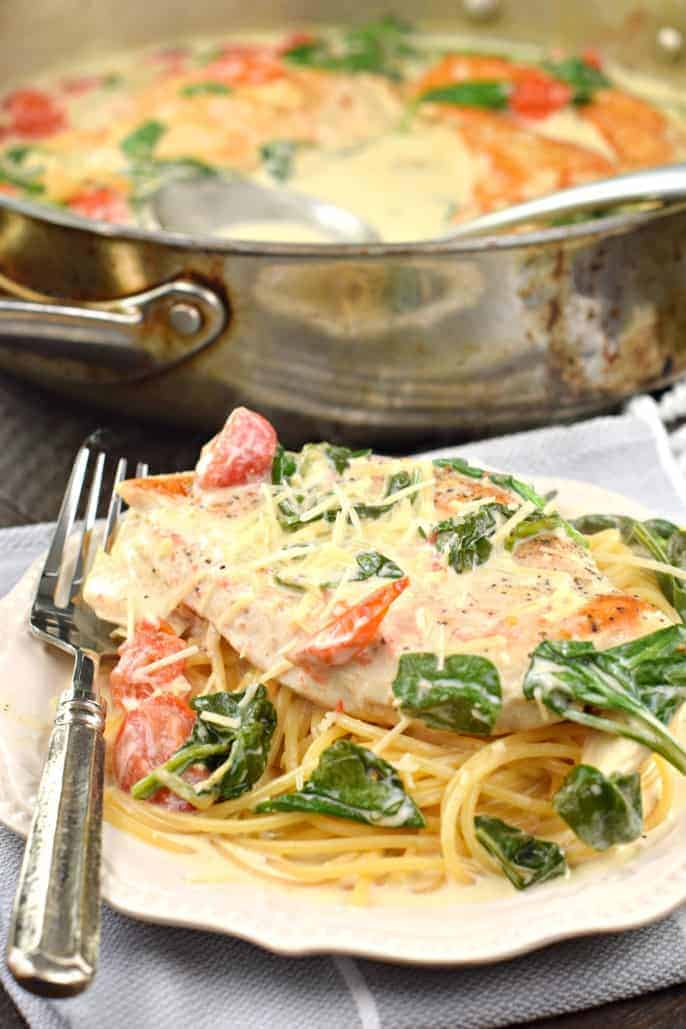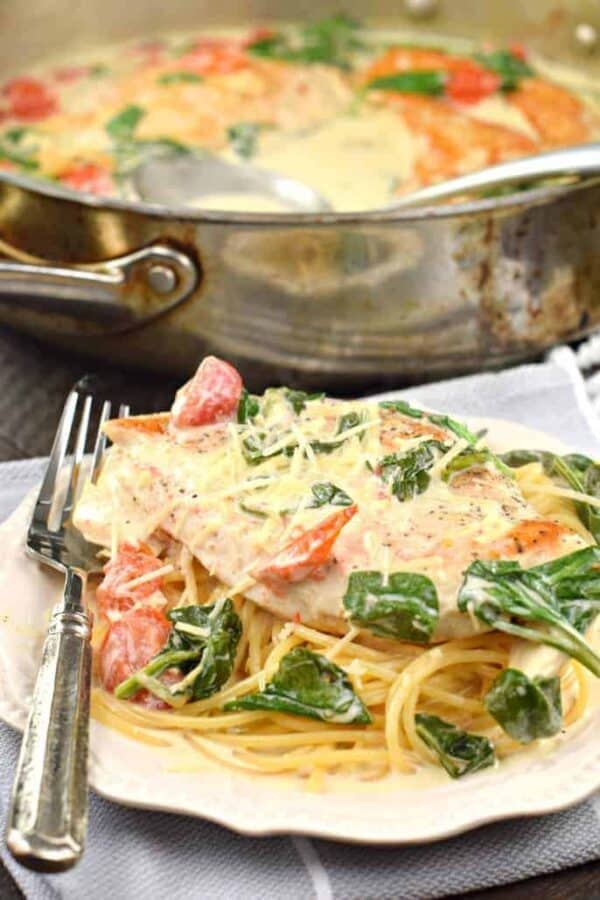 Easy Instructions
First decide if you'll be enjoying this dish with noodles. (Highly recommended!) If so, get the water boiling for the noodles and have all your ingredients out and ready for the chicken dish. It cooks up quickly!
Next, pound out the boneless, skinless, chicken breasts until about 1/4-inch thick to ensure even, quick cooking.
Make sure when you cook your chicken in the skillet, you season it with salt and pepper. This gives your chicken a base of flavor!
Once you've cooked your chicken, remove it from the pan while you make the cream sauce. It won't take long for your sauce to thicken over medium high heat. Once it's bubbly and thick, add the spinach and tomatoes until wilted then add your chicken back to the skillet.
Serve the chicken and sauce over the hot, cooked noodles and enjoy!
Tips and Tricks
Pound out the chicken breasts. I buy big bulky organic chicken breasts, and in order to have them cook evenly in the skillet, and in little time, I put them in a ziploc bag and pound them with a meat tenderizer. My goal is to get them about 1/4-inch thick.
Remove the chicken to make the sauce. The chicken will be cooked through after being seared in the pan. Remove it to a plate and keep warm while you make the sauce. The chicken gets added back to the pan at the end.
Thicken the sauce. Allow the sauce to get nice and thick and bubbly in the pan before you add the vegetables and return the chicken to the pan. It just takes a few minutes but makes the sauce that much more rich and luxurious!
Recipe FAQs
How do I pound out the chicken breasts?
Place the chicken breasts into a ziploc bag. Use a meat tenderizer to pound the chicken in the bag until it's about 1/4 inch thick all over. It helps to pound from the center of each breast to the outside to create a uniform thickness.
What can I serve this with besides pasta?
You could opt for a gluten-free pasta if you need this recipe to be gluten-free. Or you could serve this chicken and sauce with polenta or mashed potatoes or even rice. You'll want something to help soak up that yummy sauce!
How do I store leftovers?
Leftovers of this Tuscan Garlic Chicken, once cooled, can be stored in a covered container in the refrigerator for 3-4 days. Reheat in a skillet over medium low heat until it's nice and hot.

Creamy Tuscan Garlic Blackened Salmon Pasta has a cheesy garlic sauce with cherry tomatoes and fresh spinach! Serve over pasta for a restaurant quality meal in under 30 minutes!
This Sausage Egg Roll Skillet recipe is ready in about 20 minutes. It's low carb and an easy weeknight meal idea!
Cajun Sausage Pasta is a delicious, colorful, spicy, and easy to make dinner recipe, you'll want to put this dish on your menu!
You'll love this delicious Gnocchi Alfredo with Portobello Mushrooms for your next weeknight meal! Ready in 30 minutes, it's perfect for your busy nights, yet impressive enough to serve guests for dinner!