Creamy and flavorful Massaman Curry is just as good as any restaurant dish. With the right blend of spice and sweetness, this Thai curry recipe is bound to become your family's new favorite dinner!
Whip up a batch of dinner rolls to sop up the extra curry sauce! And pair this dinner with a homemade green salad.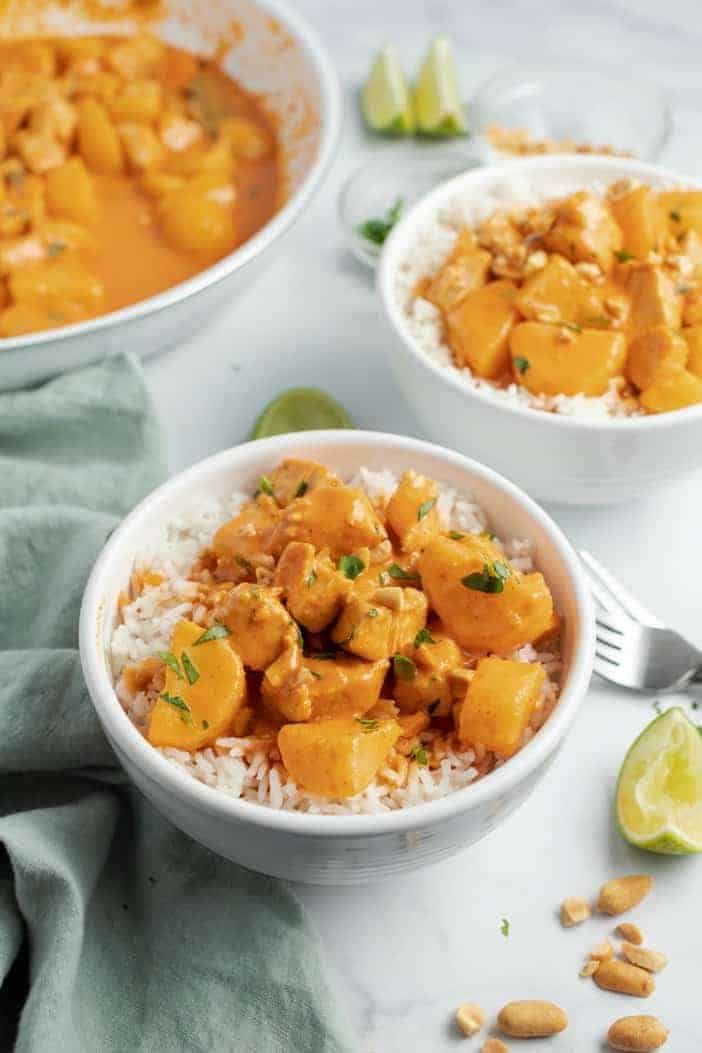 Why this Curry recipe is Best
Have you ever had Massaman Curry?
There are a ton of versions of Thai Curry out there. I love the spiciness of green curry, but when I need a milder curry that's still full of good Thai flavors, I make a Massaman Curry.
It's an easy meal that's just out of the ordinary enough to be exciting on any given weeknight.
Massaman is a variety of creamy curry sauce reminiscent of a light gravy in texture. It's a bit sweeter than other types of curry and includes cinnamon, sugar and lime juice along with red curry paste.
I make this with just chicken and potatoes rather than other kinds of vegetables to be sure it's extra kid-friendly!
My kids and I love the warming blend of coconut milk, red curry paste and spices served on a bed of Jasmine rice.
I could eat this Thai Curry every night of the week and not get tired of it!
Favorite Vegetarian Curry: Chickpea Curry
Step by Step Instructions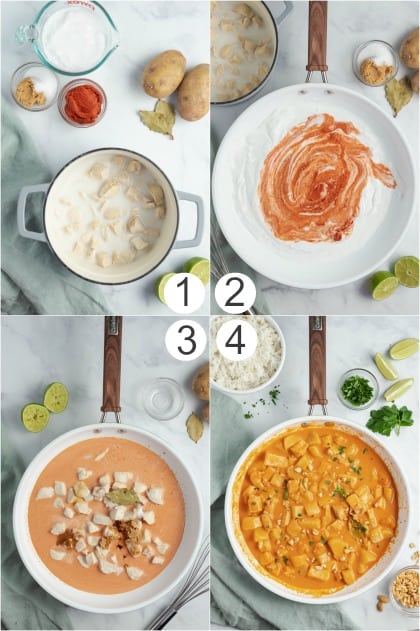 Prep Potatoes. Peel and boil the potatoes until tender. Drain and set aside. 
Cook Chicken. Pour coconut milk into measuring cup. There should be about one cup worth of watery milk, and about 2 cups worth of cream. Pour the watery milk into a small saucepan and add your bite size chicken to the pan. Set the creamy part of the coconut milk aside. Simmer the chicken in the coconut water until meat is fully cooked (about 10-15 minutes). 
Make Curry. In large skillet, pour remaining 2 cups of cream and red curry paste. Whisk until combined and cook on medium heat. Pour chicken and cream into skillet. Add bay leaves, cinnamon, worcestershire sauce, sugar, brown sugar, lime juice and garlic powder. Simmer and adjust taste as necessary by adding more curry if you want more spice, or more brown sugar if you want more sweetness. Cook for about 10 minutes.
Serve. Add in potatoes and peanuts and simmer an additional 5 minutes. Serve over Jasmine rice. Enjoy!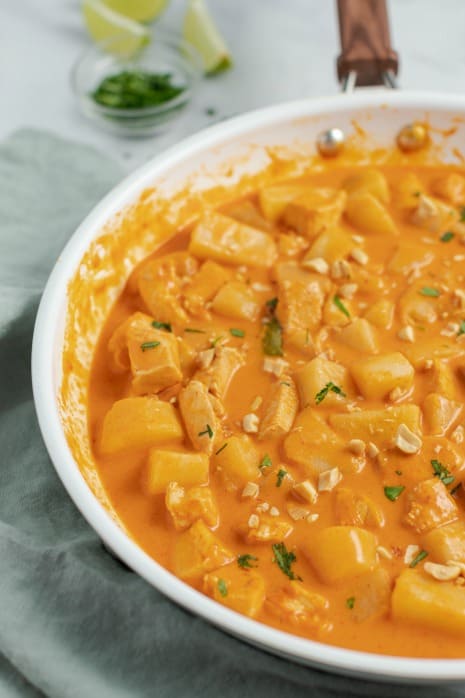 Tips and Tricks
If your coconut milk doesn't separate, just put 1 cup of the cream in the pan with the chicken. It will still work fine!
Store this curry covered in the fridge for up to three days. It also freezes well! (Store the rice separately.)
Some more traditional versions of this curry call for fish sauce. In this recipe I'm sharing with you today, I used Worcestershire sauce to deliver the salty savory flavor which is easier to find at most supermarkets.
Speed up the cooking process and use homemade shredded chicken that has been already prepared!
While you could certainly use your own red curry paste if you like, I used the kind that comes in a jar. You can find it in the International Foods section of most grocery stores (or usually wherever you find the soy sauce!).
Full fat coconut milk makes for the creamiest sauce and I greatly prefer it here. It will still work with "light" coconut milk but the sauce will be much thinner and have a bit less of that rich coconut flavor I love.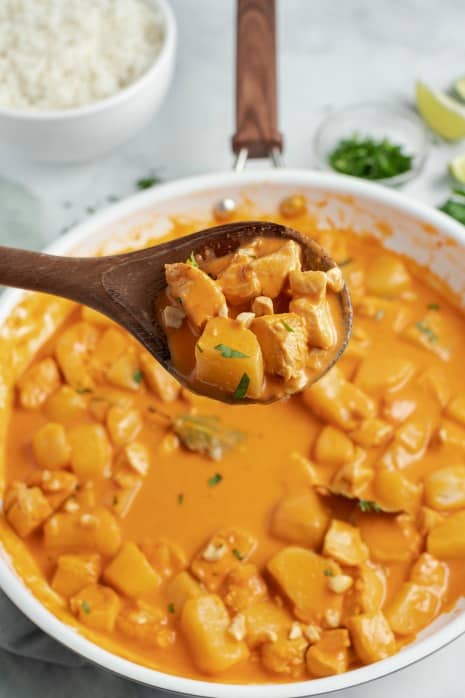 Recipe FAQs
What kind of curry is Massaman?
Most food experts consider Massaman Curry a blend of Thai and Indian curries. With a red curry paste (typically Thai) ad warming spices (typically Indian), this delicious meal offers the best of both!
Is Massaman Curry sweet?
Massaman curry has a slightly sweet flavor, thanks to the coconut milk and warm spice blend. Paired with peanuts, chicken, and potatoes it's the ultimate blend of flavor.
How do you serve massaman curry?
Typically the curry is cooked with potatoes and served over Jasmine rice. However, sometimes you can cook the potatoes separately (or make mashed potatoes) and serve your massaman curry without the rice.
Sweet and spicy Massaman Curry is bursting with flavor and texture. A simple dinner the whole family will love.