Massaman Curry
These pictures don't do this dish justice. The depth of flavor is incredible. I had never enjoyed Thai food until several months ago a friend took me out to lunch. Wait, I take it back. I love Pad Thai from Noodles and Company. Does that count? Anyways. She chose a Thai restaurant,  Banana Leaf in Mason, Ohio. Yum. She chose the dishes we were going to eat, one of which was a "Masamun" Curry with Jasmine Rice.
I knew after eating almost the entire serving (and we were "sharing"), that I had to eventually recreate this dish. After going on the internet and scouring different Masamun Curry recipes (which there are many, and many different spellings of Masamun too), I came up with my own recipe. From gathering bits and pieces of recipes, and putting in ingredients that I could find at the store, I give you……MASSAMAN CURRY.
I hope you enjoy this as much as I did. I didn't make ours very spicy because I didn't want to offend the children, but taste it as you are simmering and add more spice if you feel you want more of a kick! Enjoy.
Ingredients
1 lb boneless, skinless chicken breasts (cut into bite size pieces)
2- 13.5oz cans coconut milk
3 baking potatoes (medium)
3 Tbsp red curry paste
3 bay leaves
pinch of cinnamon
1 tsp worcestershire sauce
1 Tbsp sugar
2 Tbsp brown sugar
2 Tbsp lime juice
1/4 tsp garlic powder
1/4 cup unsalted peanuts
3 cups Jasmine Rice (cooked)
Instructions
Peel and boil potatoes nearly done. Cut into bit size pieces. Set aside.
Pour coconut milk into measuring cup. There should be about one cup worth of watery milk, and about 2 cups worth of cream. Pour the watery milk into a small saucepan and add your bite size chicken to the pan. Simmer until meat is fully cooked (about 10-15 minutes). If your coconut milk doesn't separate, just put 1 cup of the cream in the pan with the chicken. It will still work fine.
In large skillet, pour remaining 2 cups of cream and red curry paste. Whisk until combined and cook on medium heat. When it reaches a boil, turn heat down to low to simmer. Pour chicken and cream into skillet. Add bay leaves, cinnamon, worcestershire sauce, sugar, brown sugar, lime juice and garlic powder. Simmer and adjust taste as necessary by adding more curry if you want more spice, or more brown sugar if you want more sweetness. Cook for about 10 minutes.
Add in potatoes and peanuts and simmer an additional 5 minutes. Serve over Jasmine rice. Enjoy!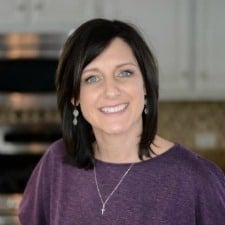 Aimee is a dessert lover (specifically rice krispie treats), workout enthusiast, self-taught foodie, and recipe creator. Her recipes have been featured in over 15 magazines, and her passion is to share her love of cooking with the everyday home cook! Learn more about Aimee.