From start to finish, this easy Instant Pot Bourbon Chicken Recipe is ready in under 30 minutes! Packed with flavor, it's faster than going to the mall to pick up a plate of this dish!
We love Instant Pot recipes! Whether your making a batch of hard boiled eggs (the BEST), or whipping up a quick and heart bowl of Instant Pot Taco soup, there's something for everyone.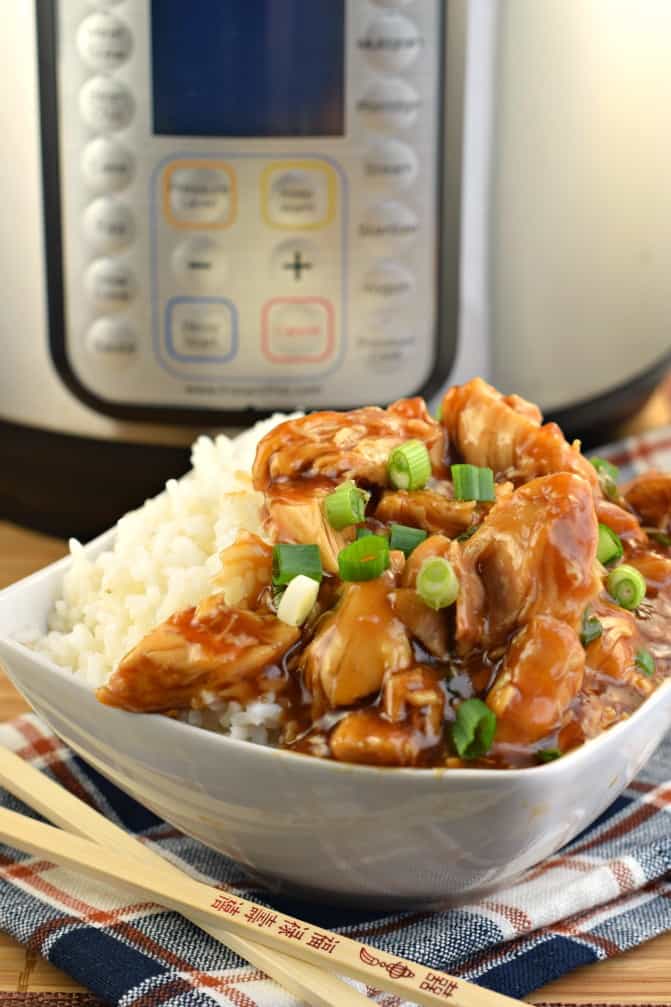 Why this Dinner is Best
This is a low effort, maximum satisfaction kind of meal. And the flavor is so good that I cast no judgement to anybody who chooses to lick their plate.
Our family loves going to the mall, but mostly to get some of our favorite bourbon chicken. Today, I'll show you how to save money and make it at home!
There is almost no prep. Even if you're a beginner, you can get this meal going in under 5 minutes. Let your Instant Pot do the rest. You'll have 6 heaping servings ready in less than half an hour. Especially on a busy weeknight, it doesn't get much better than that.
Choose broth, bourbon or apple juice – any of these will work. I love using chicken broth and have written the recipe that way. With that said, I'd recommend experimenting as many people have already done (repeatedly). There are some great suggestions in the comment section below which you can use for inspiration.
Incredible flavor. I can't overstate the how much you'll get with this recipe – umami, sweet and savory. It's amazing considering how little effort is required.
The chicken comes out exceptionally tender, and it will make your kitchen smell amazing from the moment you release pressure on the Instant Pot. 
Be sure to try our easy Instant Pot Chicken tacos next. Perfect for your next fiesta!
Ingredient Notes
Chicken – Boneless, skinless chicken thighs will give you the most flavor and affordability with the least prep. You could use chicken breasts if you prefer.
Apple Juice
Chicken Broth
Soy Sauce – Both regular and low-sodium varieties work in this recipe. Choose whichever kind you like.
Brown Sugar – Reach for light brown sugar to keep the flavor of this sauce balanced and mellow. Dark brown sugar will make the taste of the sauce too molasses-forward.
Ketchup
Honey
Red Pepper Flakes
Garlic – Fresh garlic cloves will offer the best and strongest flavor. Pre-minced, jarred garlic is fine in a pinch, but you won't get the same rich flavor.
Ginger – Skip the ginger in a tube, and go for freshly grated ginger whenever possible. There's a noticeable difference in flavor between the two.
Cornstarch
Water
Green Onions – Green onions are an optional garnish. Incorporating them will add color, texture, and flavor to the dish.
Easy Instructions
Prep the Instant Pot. In your Instant Pot, quickly whisk together all ingredients except the chicken, water, cornstarch, and green onions. Once they're well combined, stir your chicken into the sauce so it's thoroughly coated.
Pressure cook on high. Secure the lid, seal the valve and start cooking – 12 minutes on High for fresh chicken.
Prepare the slurry. While the dish cooks, mix cornstarch and cold water in a small bowl until it combines and thickens. Set it aside.
Thicken the sauce. Once the cook cycle is complete and pressure is released, set your Instant Pot to the "saute" setting. Remove the chicken and cut it into bite-sized pieces. Then slowly whisk your cornstarch slurry into the sauce. This should take about 2 minutes. Turn off the pot once this step is complete.
Serve it up. Return the diced chicken to the pot and coat it with sauce. Garnish with green onions and you're ready to eat!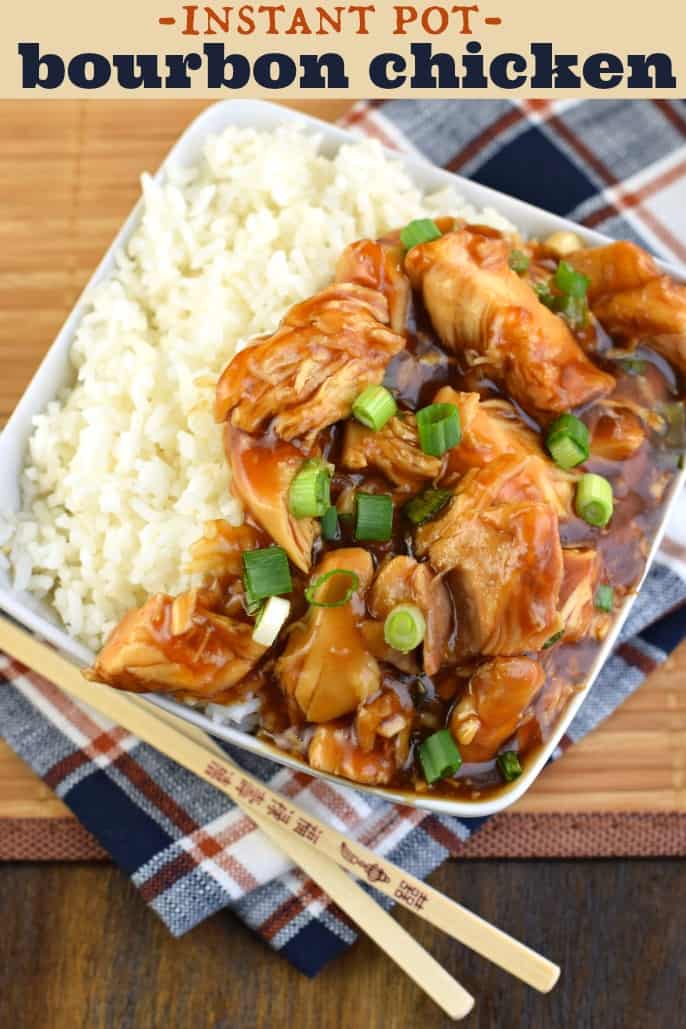 Tips and Tricks
This is an excellent recipe to keep on hand when you're in a pinch and forgot to prep for dinner. Since you can make this recipe with frozen chicken, virtually no foresight or planning is necessary.
A convenient alternative to fresh grated garlic and ginger is the frozen variations of these ingredients. Freezing preserves the ingredients' peak flavor, so you'll get the best taste possible without all the prep.
You could use teriyaki sauce if you don't have soy sauce. Teriyaki includes the same ingredients as soy sauce, plus some sugar. This swap could lead to a slightly sweeter sauce, but you can tweak the brown sugar to your liking. Coconut aminos is another great alternative.
No Instant Pot? No problem. Try our slow cooker bourbon chicken recipe instead!
Serving Suggestions
The easiest side dish for Instant Pot Bourbon Chicken is rice. You can cook it on the stovetop, use frozen rice, or rice that you steam in the microwave for convenience. I also love following this Cilantro Lime Rice recipe but swapping the lime for melted butter and the cilantro for a few cloves of sautéd garlic.
You can't get more "comfort food" than serving this Bourbon Chicken with Baked Mashed Potatoes. Whether you serve it on the side or smother the potatoes in the chicken and bourbon sauce, every bite will be as mouth-watering as the last.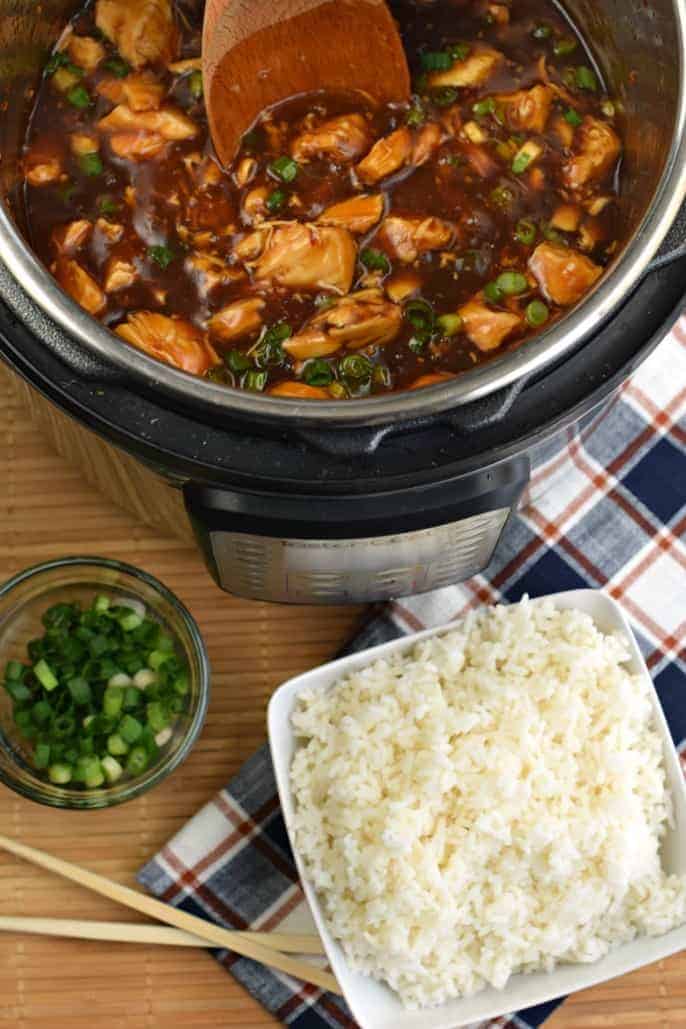 Recipe FAQs
What's the best way to store leftover Bourbon Chicken?
Transfer any leftovers to an airtight container or resealable freezer bag. You can store the leftovers in the fridge for 2-3 days.
What's the best way to reheat leftover Instant Pot Bourbon Chicken?
Microwaving the leftovers is fair game when you simply can't wait for a bite. However, the best way to reheat the chicken and sauce is to transfer it to a pot and heat it on the stovetop.
How is this bourbon chicken if there's no alcohol included?
The combination of soy sauce, brown sugar, apple juice, and ketchup creates the syrupy, caramelized, barbeque-esque bourbon flavor. This recipe's seasonings further emphasize the sweet, umami flavor without needing any bourbon. Bourbon chicken was named for Bourbon street…not the actual alcohol.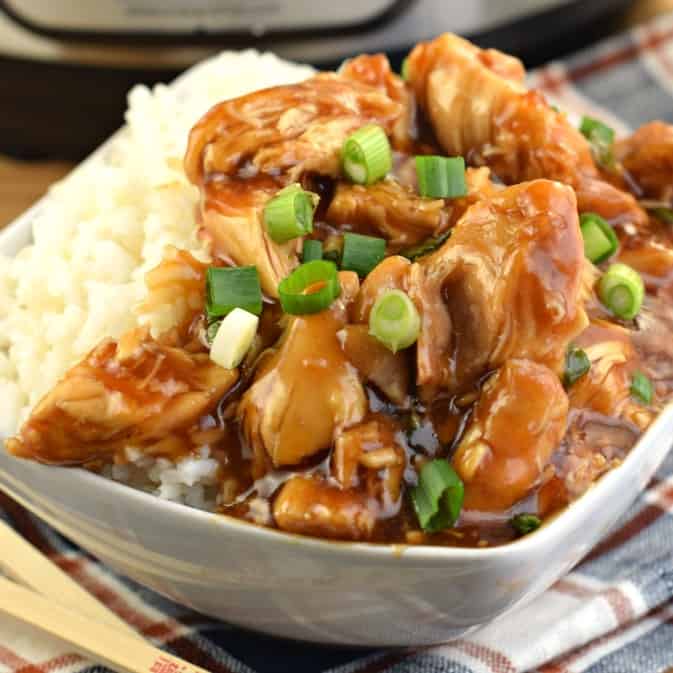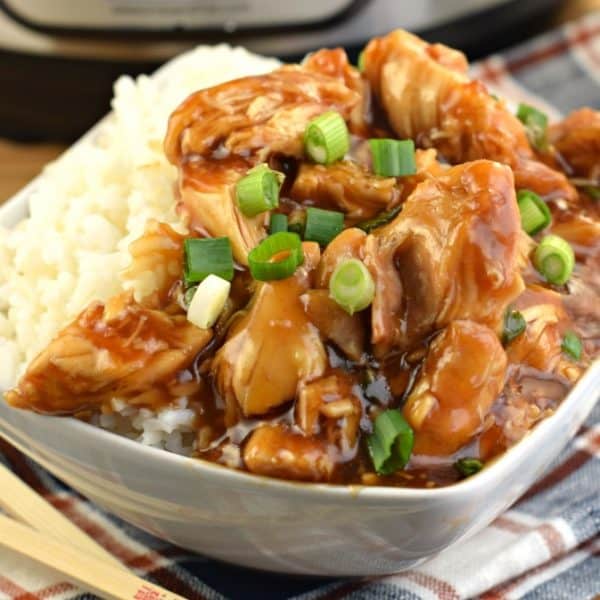 More Chicken Dinner Recipes