Wondering what to make with jackfruit? These BBQ Jackfruit Sliders will prove why this uniquely textured vegetarian ingredient is so popular. The perfect choice for meatless Mondays and beyond!
I'm always looking for meatless meal ideas that will make everyone in the family happy. These Zucchini Meatballs get rave reviews from both vegetarians and non-vegetarians alike!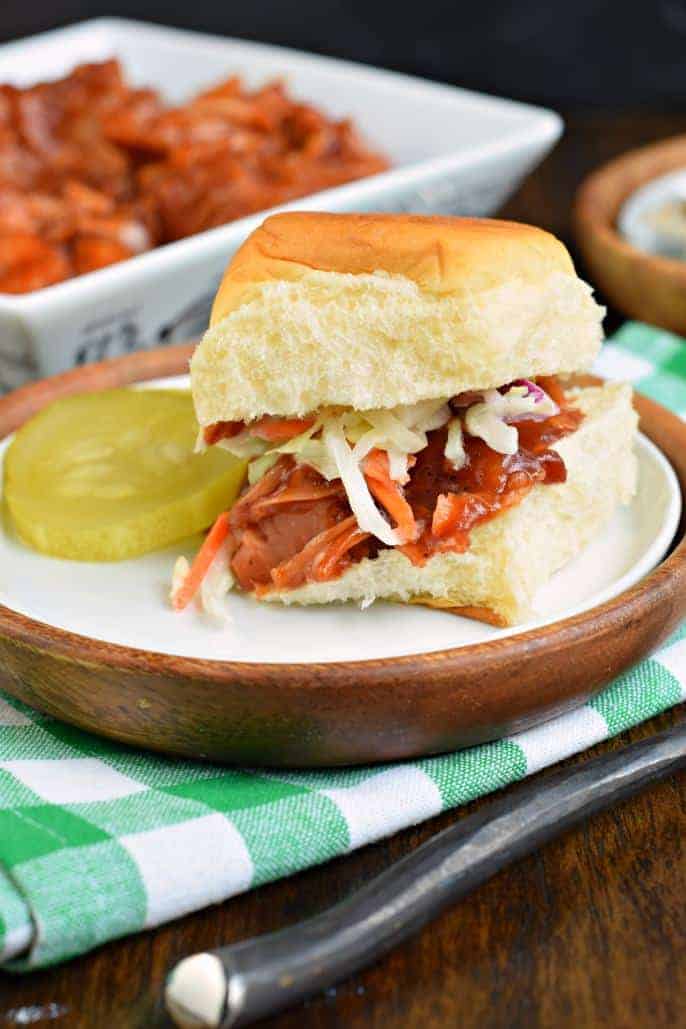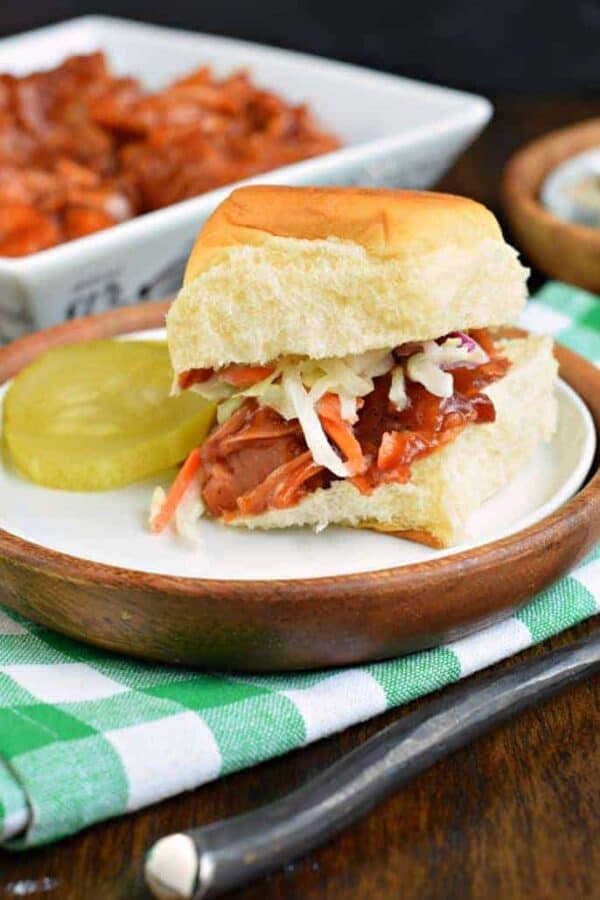 What is Jackfruit
Jackfruit is a large round tree fruit native to southern and southwest Asia. It's typically picked underripe when the flesh inside is mild flavored with a stringy, meaty texture.
Its the texture of Jackfruit flesh, along with its mild versatile flavor that makes it so popular as a meat alternative in vegan and vegetarian cooking.
Slow cooked with barbecue sauce, it's nearly indistinguishable in appearance from pulled pork or shredded chicken! I piled it onto slider buns with cheese and coleslaw to make some truly delicious BBQ jackfruit sliders.
Because the natural flavor of jackfruit is so mild, it's super versatile. It'll absorb the flavors of whatever sauce or seasonings you cook it with!
Did I mention it's pretty good for you too? Jackfruit is low in fat, high in potassium, vitamin C and antioxidants.
It's the perfect way to change up your usual dinner time routine, whether you're vegetarian, veggie-curious or just looking for something new!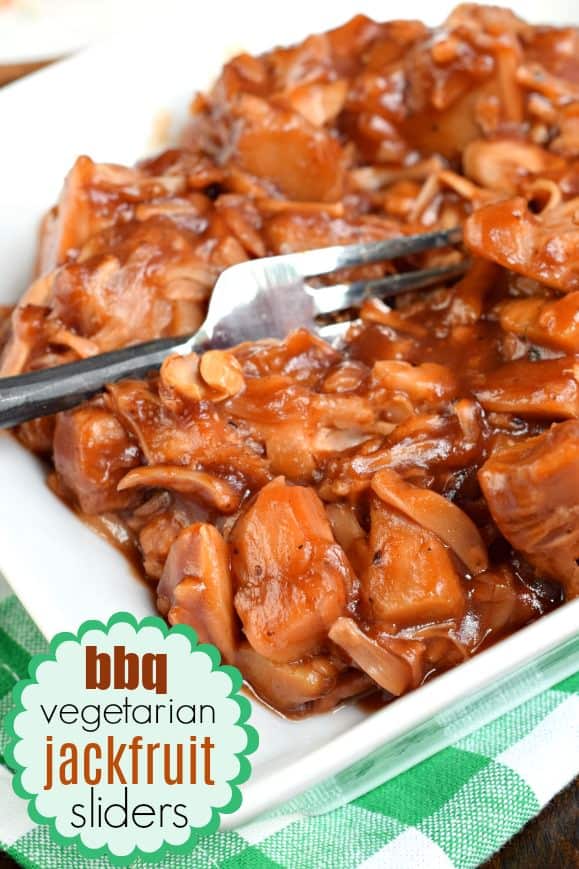 Recipe Notes
Slow cooker recipe – I cooked the jack fruit in the bottom of a slow cooker for 5 hours with sauce. The long cooking time gives the jackfruit the opportunity to become super tender and absorb the flavors of the sauce.
Barbecue sauce – The sauce is where most of the flavor in these jackfruit sliders comes from so use one you love! It can be store bought or homemade.
Serving – Sweet Hawaiian rolls were our choice for making BBQ jackfruit sliders! We added a big scoop of coleslaw to make the barbecue theme complete.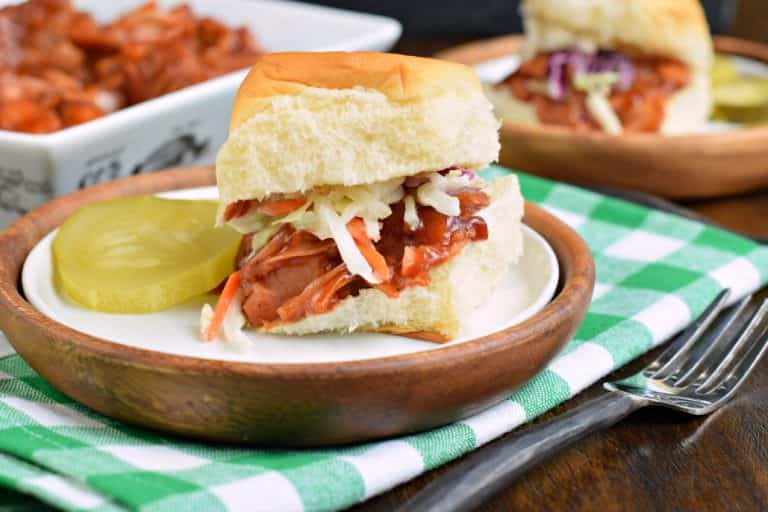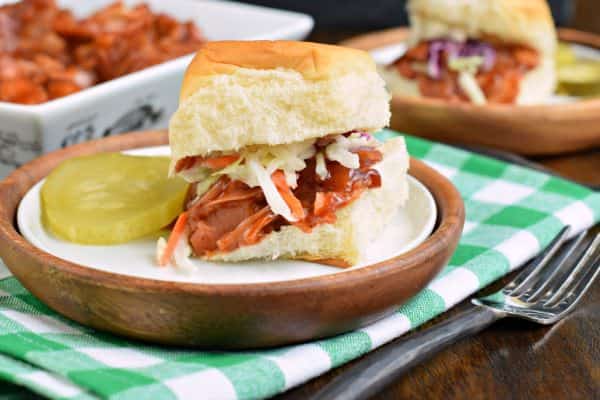 Tips and Tricks
I have yet to use a fresh jackfruit, so I have bought the canned stuff from Amazon here. My grocery store carries the pouches of jackfruit in our refrigerated vegan section, and I'm anxious to test those out!
I used the jackfruit in water, but it's also sold in brine. I can't attest to how that tastes…so if you're just starting out, I can tell you the jackfruit in water worked for us!
Drain the jackfruit, it was cut already in large chunks/slices. Lay it in the bottom of my slow cooker and seasoned them with salt, pepper, and garlic. I added my favorite bbq sauce (about 1 1/2 cups) and cooked it on low for 5 hours.
SHRED. We found that the smaller the pieces, the better the flavor. Take two forks and break it up into small shreds.
Serve just as you would pulled pork or pulled chicken. Leftovers would be great on a quesadilla with cheese!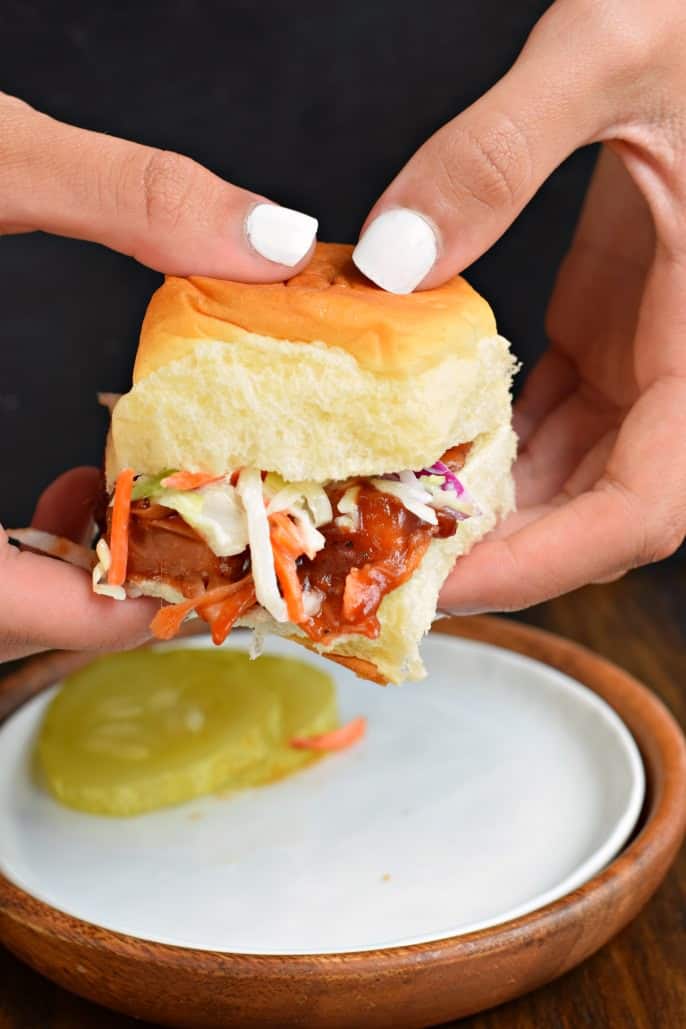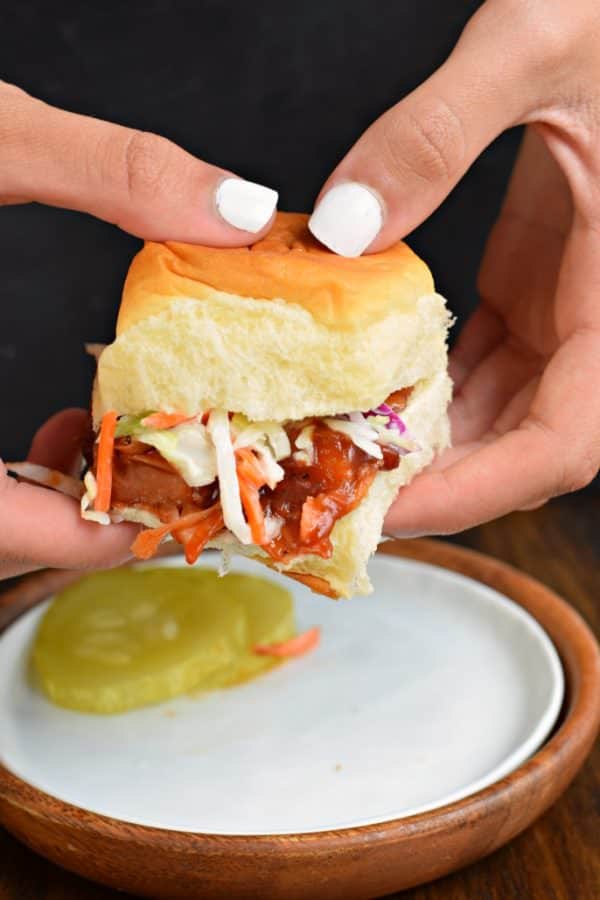 Recipe FAQs
How do you store leftover cooked jackfruit?
Store leftover BBQ jackfruit in an airtight container in the refrigerator. Reheat and enjoy within 3 -4 days.
Do you need to drain canned jackfruit before cooking?
Yes, you should drain the water (or brine) from the jackfruit before adding it to the slow cooker in this recipe.
Is BBQ jackfruit vegan?
Jackfruit flesh comes from a tree fruit making it suitable for vegans and anyone following a plant based diet. Some brands of barbecue sauce contain honey, so check ingredients labels if you're cooking these BBQ jackfruit sliders for someone who eats completely vegan.
More Meatless Meals
BBQ Jackfruit Sliders are an easy meatless meal made in the slow cooker! Vegetarians and carnivores alike rave over this flavorful plant based dish.