Finally, a vegetarian dish that's as filling as it is delicious. This Sweet Potato Skillet is full of colorful veggies and packed with a punchy Tex-Mex flavor. It'll have everyone begging for seconds (and possibly thirds!) Ready in 30 minutes!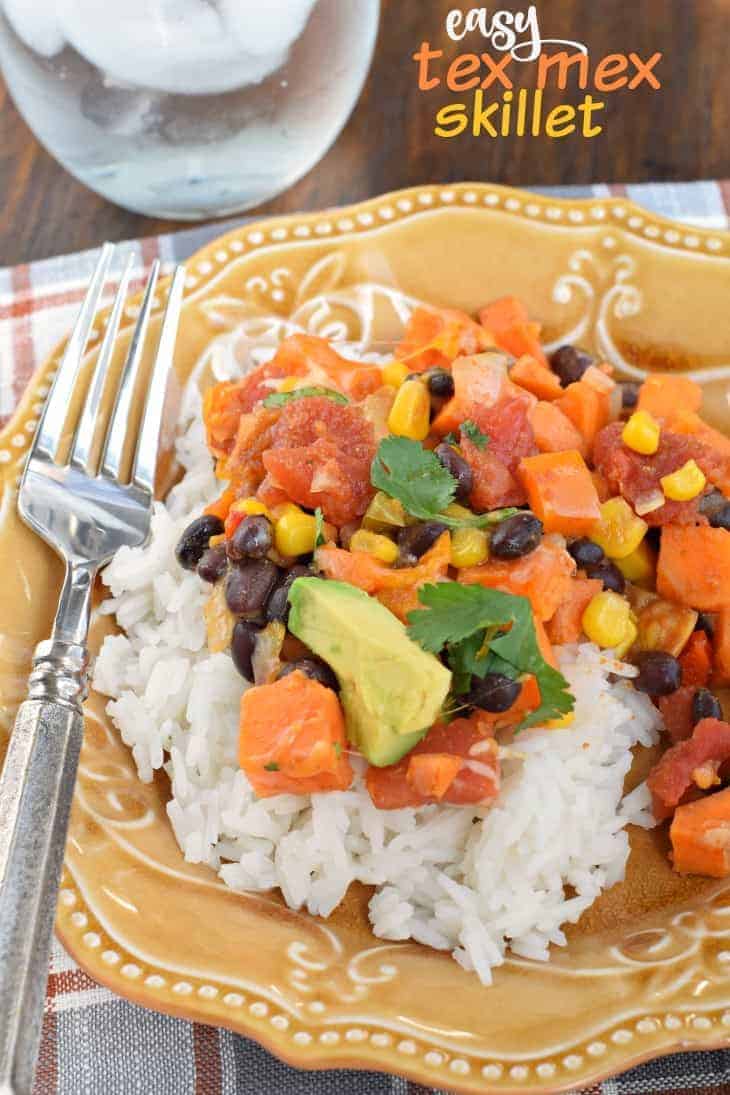 Why You'll Love This Sweet Potato Tex-Mex Skillet
This Tex-Mex Skillet is simple, quick to put together, and mouth-wateringly tasty. The recipe is vegetarian as-is, but it's easy to make vegan or bulk up with your favorite protein.
A hearty and filling vegetarian dish that'll leave you feeling full and satisfied.
It's an easily customizable recipe, so you can use whatever fresh, canned, or frozen veggies you have on hand.
The whole meal comes together in one skillet, which means less cleanup and more time spent around the table with family.
Ingredient Notes
Coconut Oil – Use whatever cooking oil you prefer, as long as it has a high smoke point. Coconut, avocado, and sunflower oils are all great options.
Sweet Potatoes – It's up to you to keep the skin on or peel it off. The skin adds fiber and nutrients to the dish, but some people don't like the tough texture.
Onion
Garlic – Pressed fresh garlic has the best flavor, but if you want to utilize pre-minced garlic, it's a great convenient alternative.
Bell Peppers – If you like spicy food, you can easily swap out some of the sweet peppers for hot ones.
Black Beans – Canned black beans are fantastic for their convenience. But if you prefer the cost-effective alternative of buying dry beans in bulk, give yourself extra time and cook them from scratch.
Corn – Frozen or canned corn will make this skillet even more straightforward.
Canned Diced Tomatoes
Seasoning – Salt, Cumin, and Taco Seasoning
Avocado
Lime
Cheddar Cheese – If you want to make a vegan meal, skip the cheese.
Cilantro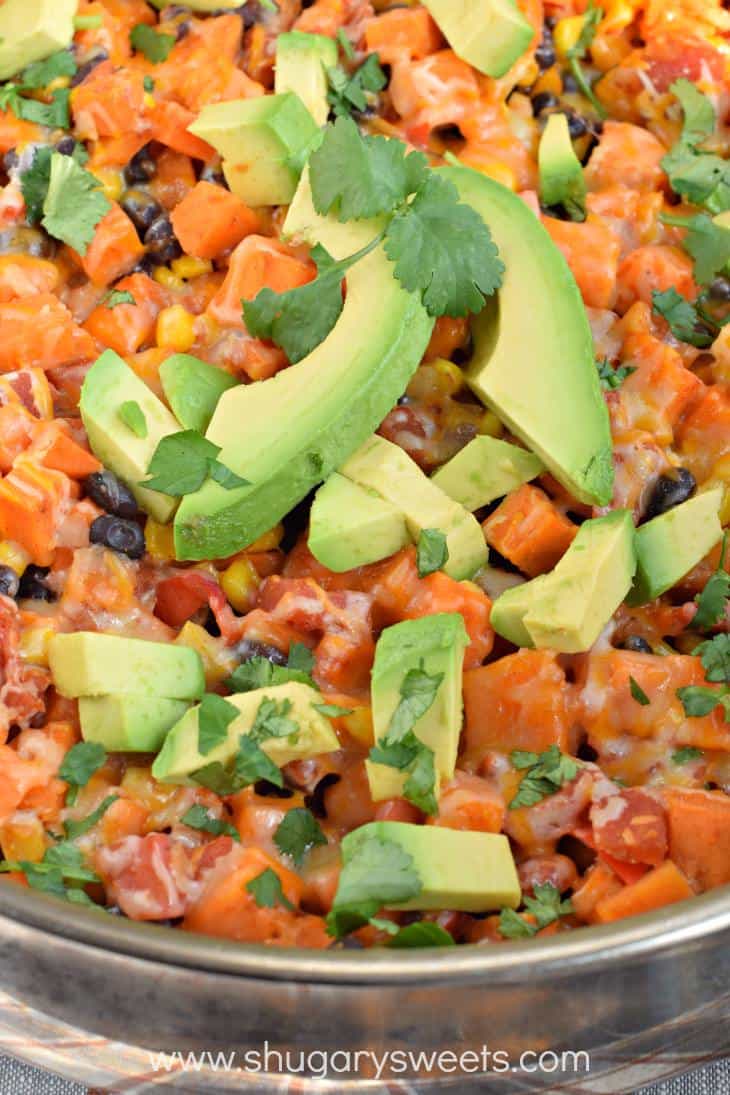 Easy Instructions
Start with Long Cooking Veggies – To a large skillet, add your oil until it's heated. Then, saute the diced sweet potato, onion, and garlic. Cook these ingredients for about 5 minutes until the onions become translucent and fragrant.
Add Peppers – Next, toss the peppers into the mix, and cook for an additional 2-3 minutes.
Incorporate Beans, Corn, Tomatoes, Seasoning, & Lime Juice – Add all ingredients except those reserved for garnish to the skillet. Mix until everything is thoroughly combined. Bring the liquid to a boil, then reduce the heat and cook covered for 15 minutes.
Garnish & Serve – Top this Tex-Mex Skillet with cheese, avocado, and cilantro. If you have leftover limes, squeeze a bit of the juice over the top. Delicious!
Tips and Tricks
Roll the lime between the palm of your hand and your countertop to soften the flesh and make it even easier to squeeze out every last drop of juice.
Remember to stir the contents of the skillet periodically throughout the cooking process. This way, you'll prevent any veggies from sticking to the pan.
Serve as is, over rice or with a side of warm tortillas. Add fried eggs on top to create a breakfast skillet. 
If you aren't vegetarian, consider adding bacon to the mix. Omit the cooking oil, and start the recipe by cooking bacon in the skillet. Set the strips aside, and proceed as usual, using the bacon grease to cook and add flavor to the veggies. At the end, crumble the bacon into bits on top of the skillet.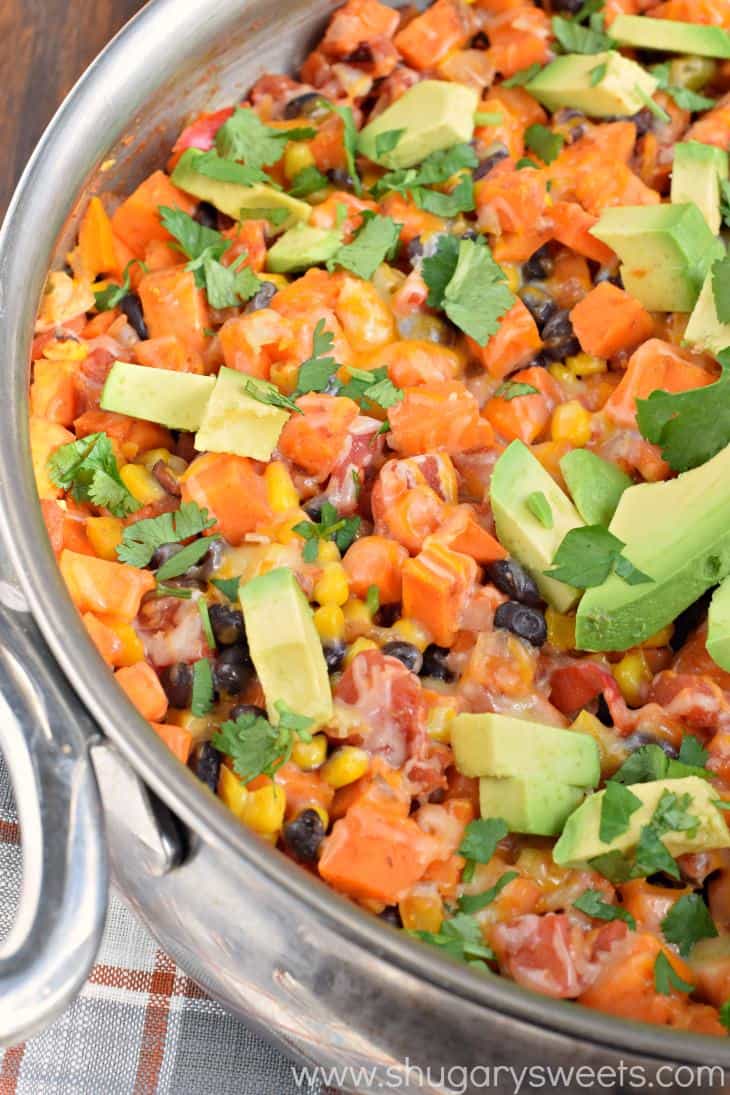 Serving Suggestions
Let this Sweet Potato Tex-Mex Skillet be the foundation of an exciting dish––pile it high with delicious toppings galore!
Salsa is an obvious pairing for this recipe, but you can get creative here. Try Mango Salsa, Chunky Avocado Salsa, or Easy Blender Tomatillo Salsa Verde to kick this Tex-Mex Skillet up a notch.
If you like bright and fresh-tasting foods, you could top the skillet with Easy Pico de Gallo or Fresh Pineapple Salsa.
Pair any of these salsas with my homemade Perfect Guacamole or Mango Guacamole to lean into the Tex-Mex flavor
Once the skillet is heaped with veggies and toppings, you can serve it all over rice. Or, put some chips and warm tortillas on the table for everyone to scoop the deliciousness right from the skillet.
Recipe FAQs
How should I store leftovers?
Place any leftovers into an airtight container and keep them in the fridge for 1-2 days. 
What's the best way to reheat this recipe?
To reheat, you can use the microwave or toaster oven. I like to put some of the mixture into a cake pan, top with cheese, and pop it in the toaster oven for 5-10 minutes until it's hot and melty. Then scoop it up with tortilla chips. So good!
Can I make this recipe with meat?
This Sweet Potato Tex-Mex Skillet is great with either bacon or ground beef added into the mix. You'll cook the protein first, then remove it from the pan and set aside. Follow the recipe instructions from there, and mix the meat back into the dish at the end to heat through.
Need more dinner inspiration?