You'll love this garden fresh Cucumber Dill Salad! Serve it up with your next summer meal for a crisp, savory, flavorful bite!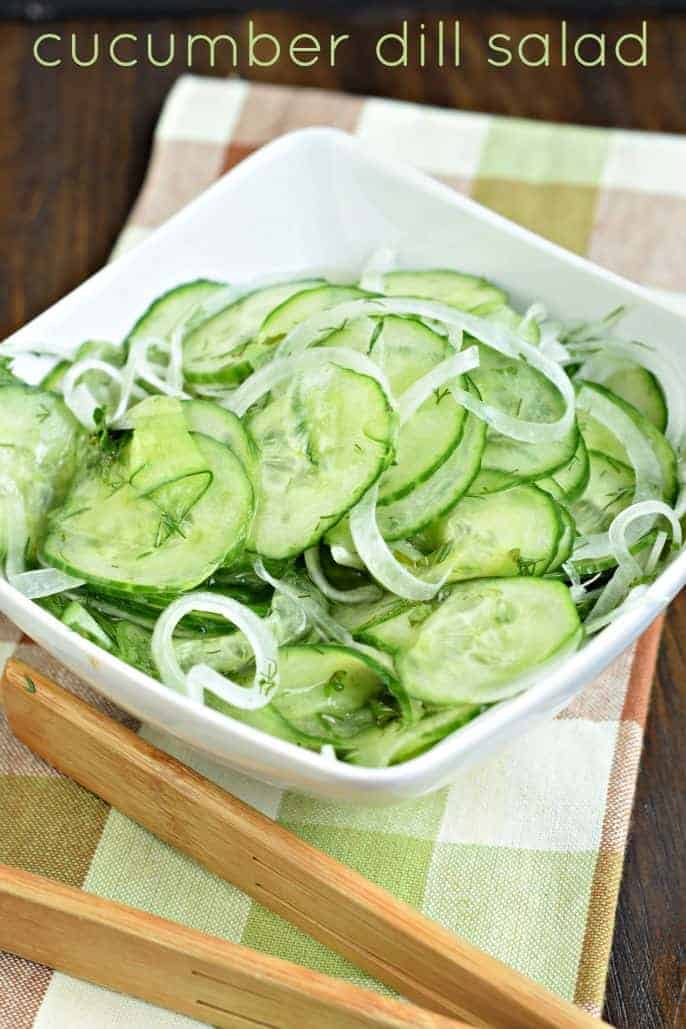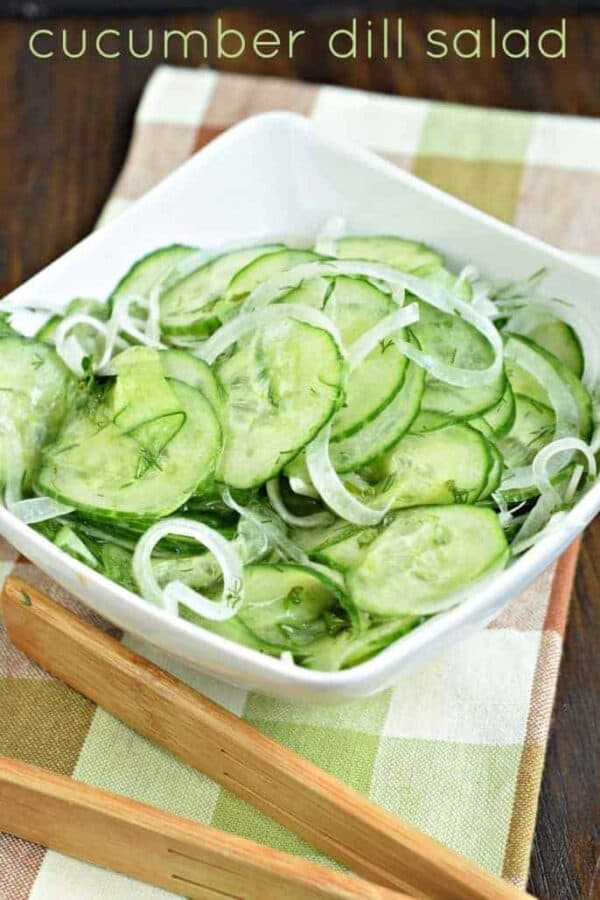 Remember when I shared this Authentic Swedish Meatball recipe? Served along side those delicious meatballs was a dish of Cucumber Dill Salad.
This is the perfect salad to bring to a potluck or serve as a side dish to any summer meal! And, if you have a garden, it's a great use of those fresh cucumbers and herbs you may have growing!
Better than Grandma's Cucumber Salad
Growing up, we always had a cucumber salad with onions and sour cream (or sometimes it had Ranch Dressing mixed in) that my grandma made. It was good…but the heaviness of the cream masked the freshness of the cucumbers.
While on my recent travels to Sweden, they served us a side of this Cucumber Dill Salad that was out of this world!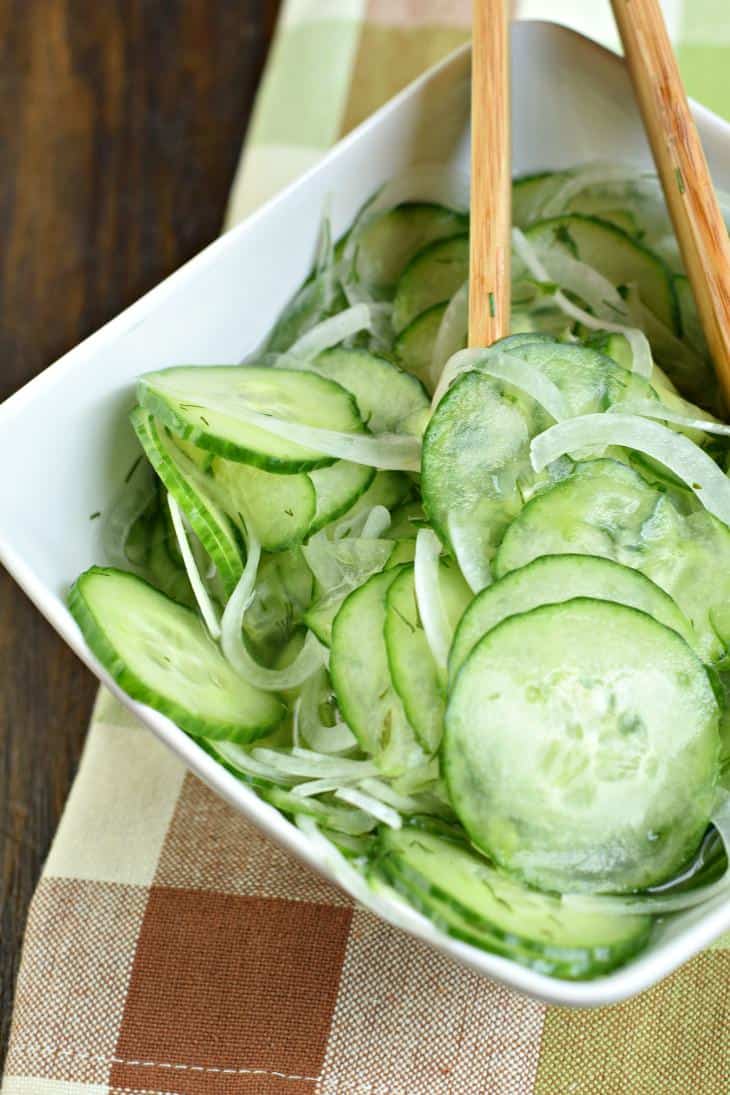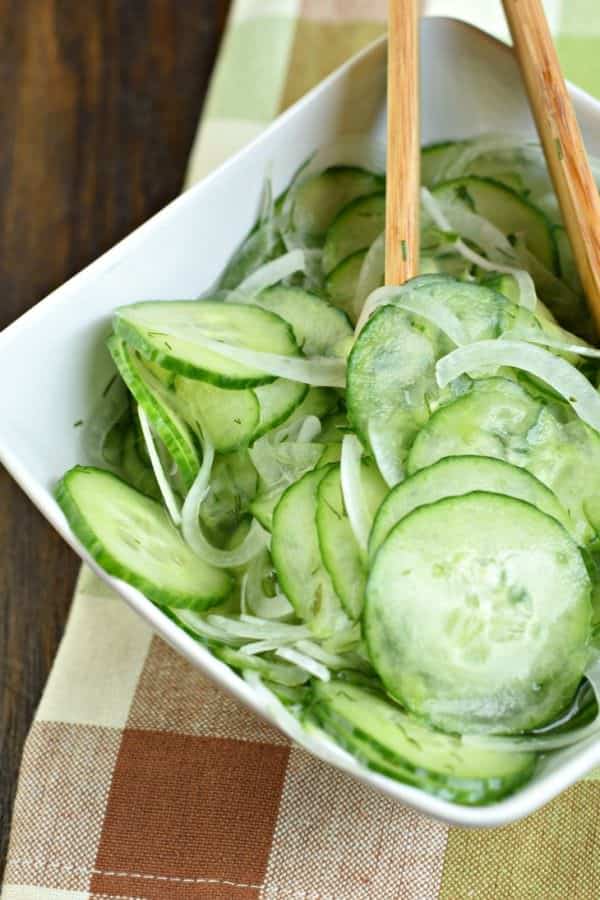 And I think one of the tricks I loved was how thin they sliced the cucumbers and onion.
I used my mandolin, but a food processor with the slicing blade would work, or some very good knife skills! You could even SPIRALIZE your cucumbers for this salad! However, it's NOT mandatory.
You can still LOVE this salad with normally sliced cucumbers, I promise!
I sliced my veggies early in the day, and put the ingredients for the dressing in a small glass in the refrigerator.
Then, when it was time for dinner, I drizzled the dressing all over the salad. This allowed the cucumbers and onion to keep their crispness, and the dressing flavors still mingled with each other in the glass in the fridge. It was a win-win.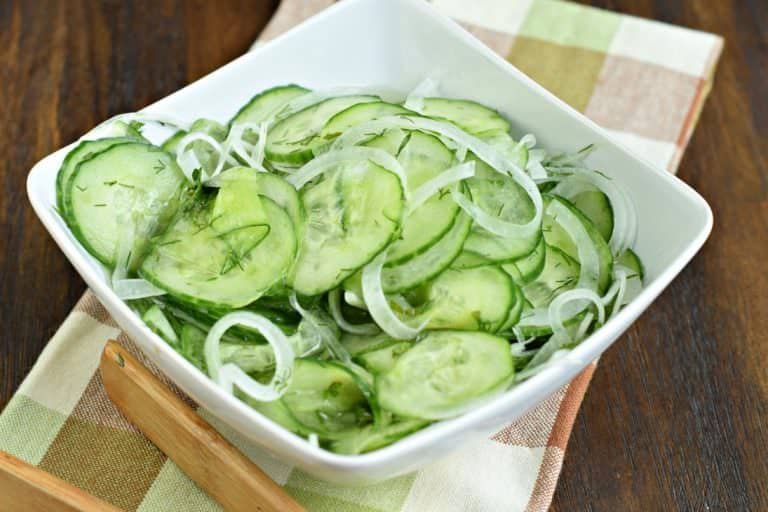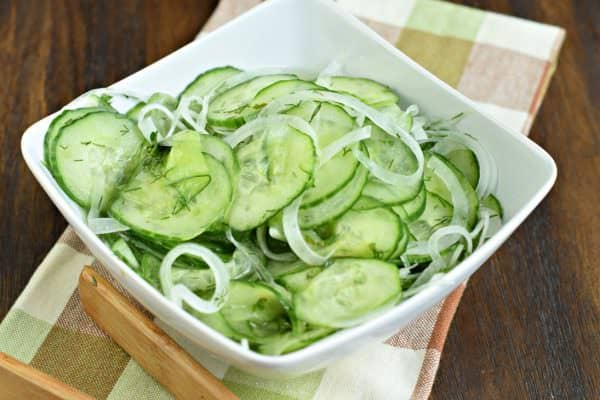 Ingredient Notes
Cucumbers – Sliced thin or spiralized!
White onion – For a stronger bite, red onion could be substituted too.
Apple cider vinegar – I prefer this to other vinegars for the rich flavor and hint of fruity tang.
Dill – Use FRESH dill chopped finely
Parsley – Fresh and chopped to add the extra touch of freshness!
Tips & Tricks
Slicing cucumbers: If using a knife to cut your cukes, make sure it is nice and sharp for best results. I like this salad best when the cucumbers are so thin they are almost translucent. This is also a great time to put the slice blade on your mandolin to good use.
Make ahead: If you're making the salad in advance, store the dressing separately from the veggies and herbs. Then, when you're ready to serve drizzle the vinegar dressing over the salad and toss!
Recipe FAQs
Can you make this without the sugar?
The dressing needs some sweetness to balance out the sour vinegar so I wouldn't recommend leaving the sugar out.
What do you serve with Cucumber Dill Salad?
This is a great side dish for just about any meal! I made this one to go alongside Swedish Meatballs.
How do you store cucumber salad?
Once the dressing has been added, I recommend eating the salad immediately for best flavor. If you won't be eating it all at once, add the dressing to just the portions you're serving.
Then, store the undressed salad in an airtight container in the fridge and the dressing separately in a glass jar.
Easy and delicious, this Cucumber Dill Salad is my new favorite way to eat cucumbers! Toss this together whenever you need a fresh, healthy side for your summer meal.