Delicious Swedish Meatballs made in the Instant Pot will have you counting down the seconds until dinnertime! Served over egg noodles or mashed potatoes, everyone loves Swedish Meatballs.
Love easy Instant Pot recipes? Our Instant Pot Salisbury Steak is a reader favorite. Flavorful and easy.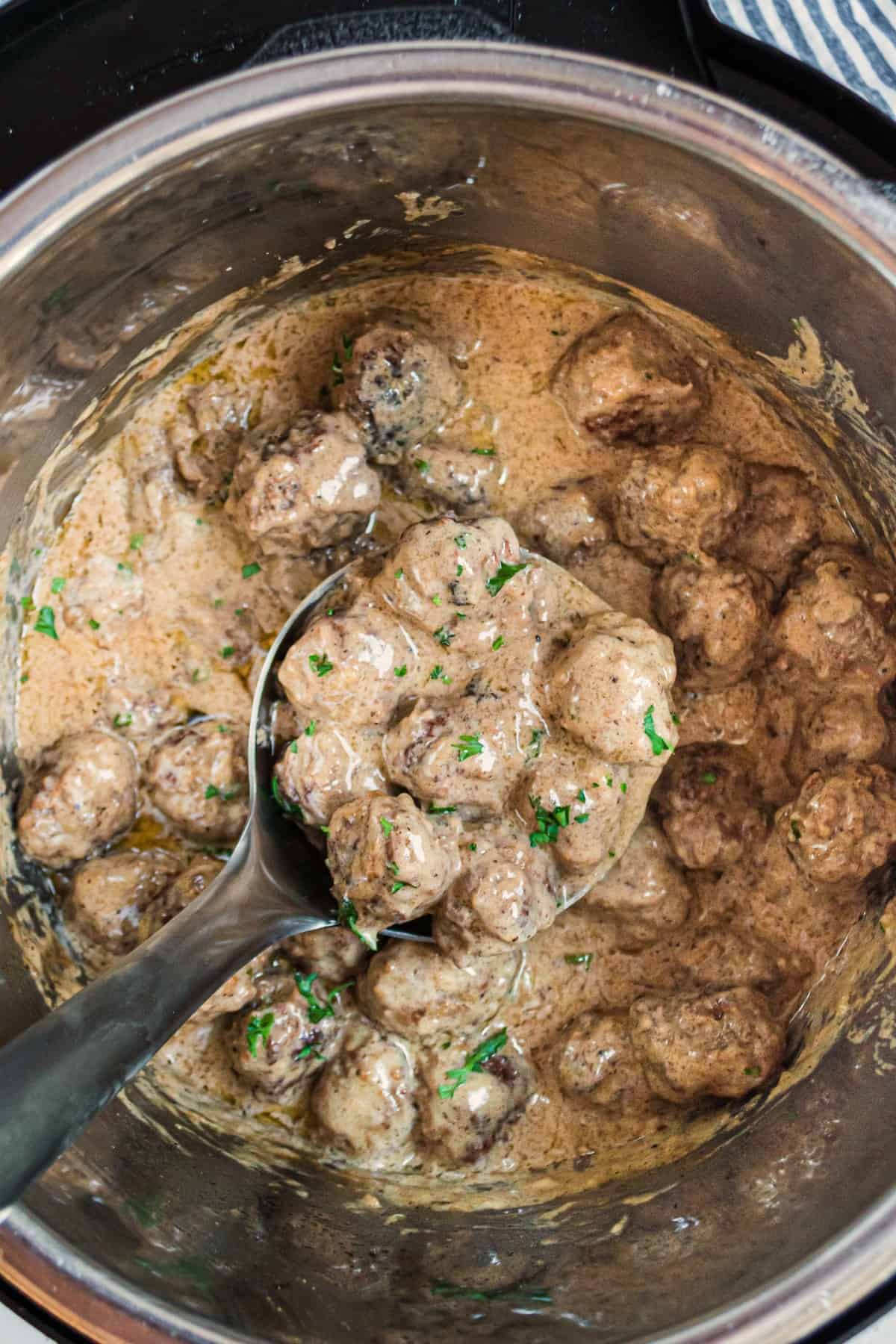 What are Swedish Meatballs?
If you've never had Swedish Meatballs before, let me clarify one thing right away: these are NOT just Italian meatballs served with a different sauce.
Aside from the fact that they are both made from ground beef or pork and held together with eggs, they're pretty diffferent from one another as far as flavor is concerned.
Traditional Swedish Meatballs are flavored with all-spice which gives them a distinct aroma and sweet-and-spicy flavor.
And then, there's the sauce.
The creamy, savory sauce made with beef broth, heavy cream and butter with a sprinkle of parsley for freshness. In Sweden, I ate these served with a side of pureed potatoes and cucumber salad, along with lingonberry preserves.
When I make them at home I often swap the mashed potatoes for egg noodles. They're a hit with the family however I serve them!
Since my love affair with Instant Pot cooking has grown, and in the height of summer, I had a serious craving for Swedish Meatballs. But I also had zero desire to stand over a hot skillet to make them.
Enter: the Instant Pot! I tested a few different ways of making these meatballs in the pressure cooker and the recipe I'm sharing with you today is the result, baked off my original recipe!
Tender, flavorful meatballs in a creamy sauce, all without turning on the stove!
Ingredient Notes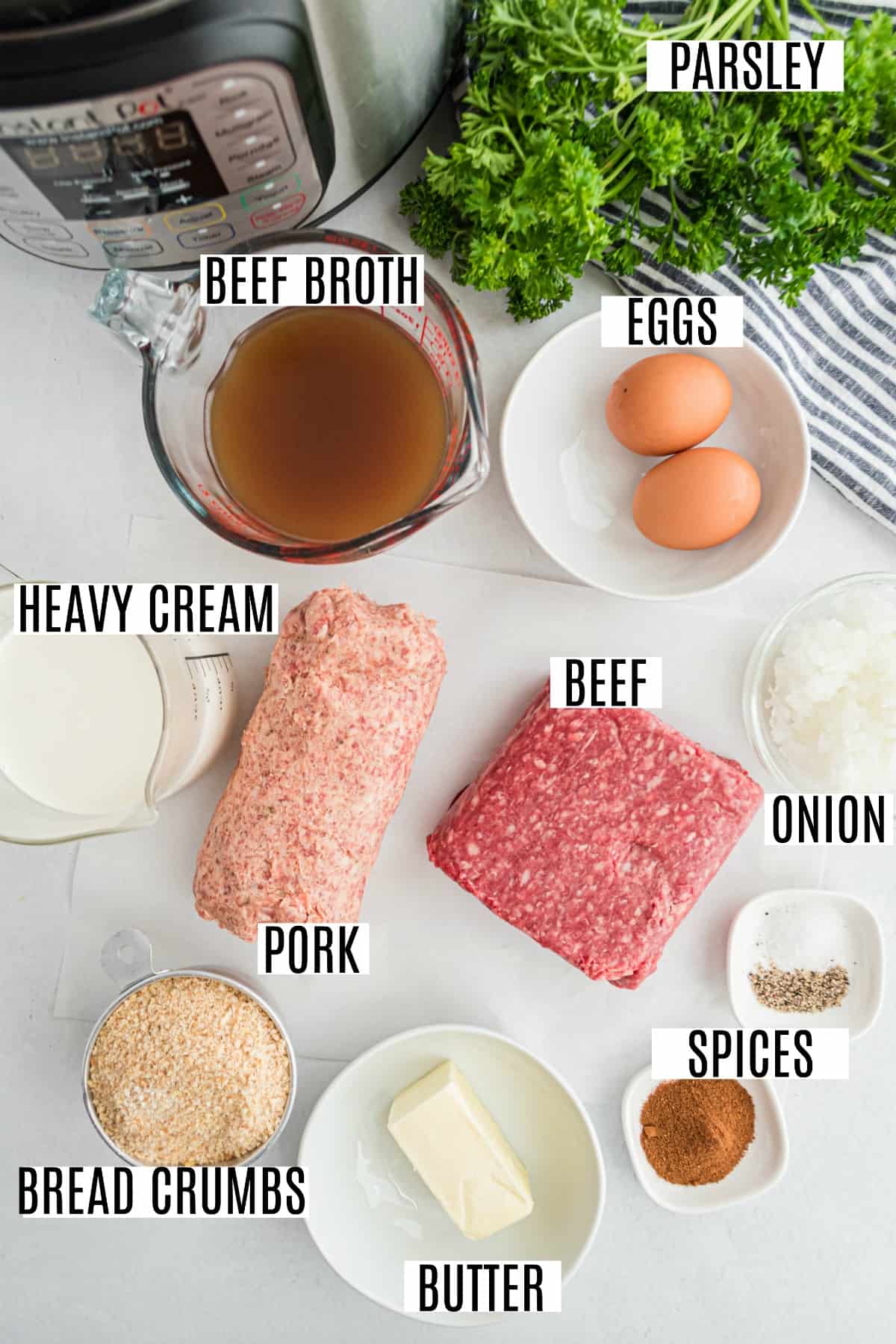 Meat. For authentic swedish meatballs, you need reindeer, haha. But today, we're using a combination of ground beef and ground pork!
Breadcrumbs– plain is best, homemade works great too. Avoid Italian and panko crumbs
Allspice– it's the combination of warm flavors that make up this unique spice blend, and give your meatballs that authentic taste.
Onion– you'll want to MINCE the onion by rubbing it on a zester or grater for best results. No big chunks here!
Step by Step Instructions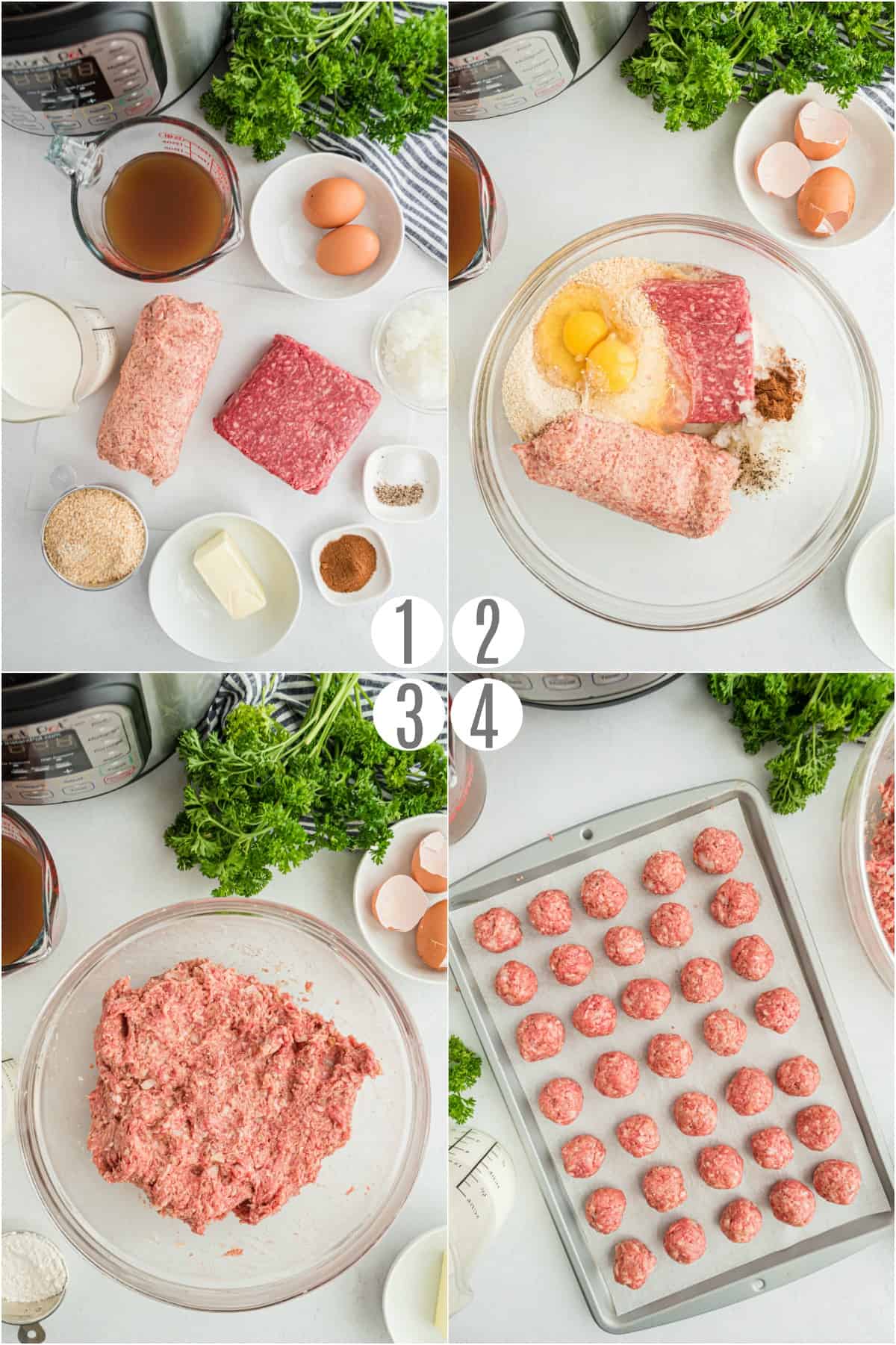 STEP 1. Form the meatballs
For homemade meatballs, combine ground beef, ground pork, minced onion, breadcrumbs, seasonings, eggs, and heavy cream in a large bowl. Using your hands, combine ingredients completely until thoroughly mixed.
Roll mixture into 1-inch sized meatballs, packing tightly. You'll have about 75 meatballs.
STEP 2. Cook meatballs
First, partially cook the meatballs in batches. Melt butter on the bottom of your instant pot using the saute function. Add one layer of meatballs, cooking about 3 minutes on each side.
Remove cooked meatballs and repeat with another layer of meatballs.
When all the meatballs are partially cooked, drain the excess grease and add the beef broth to the pot to deglaze the pan. Use a wooden spoon to make sure you scrape off any pieces of meat or spice stuck to the pan. Turn off the pot.
Return the meatballs to the pot. Sprinkle in some of the allspice and salt, then cook covered on high pressure for 5 minutes. Allow the pot to naturally release for 10 minutes.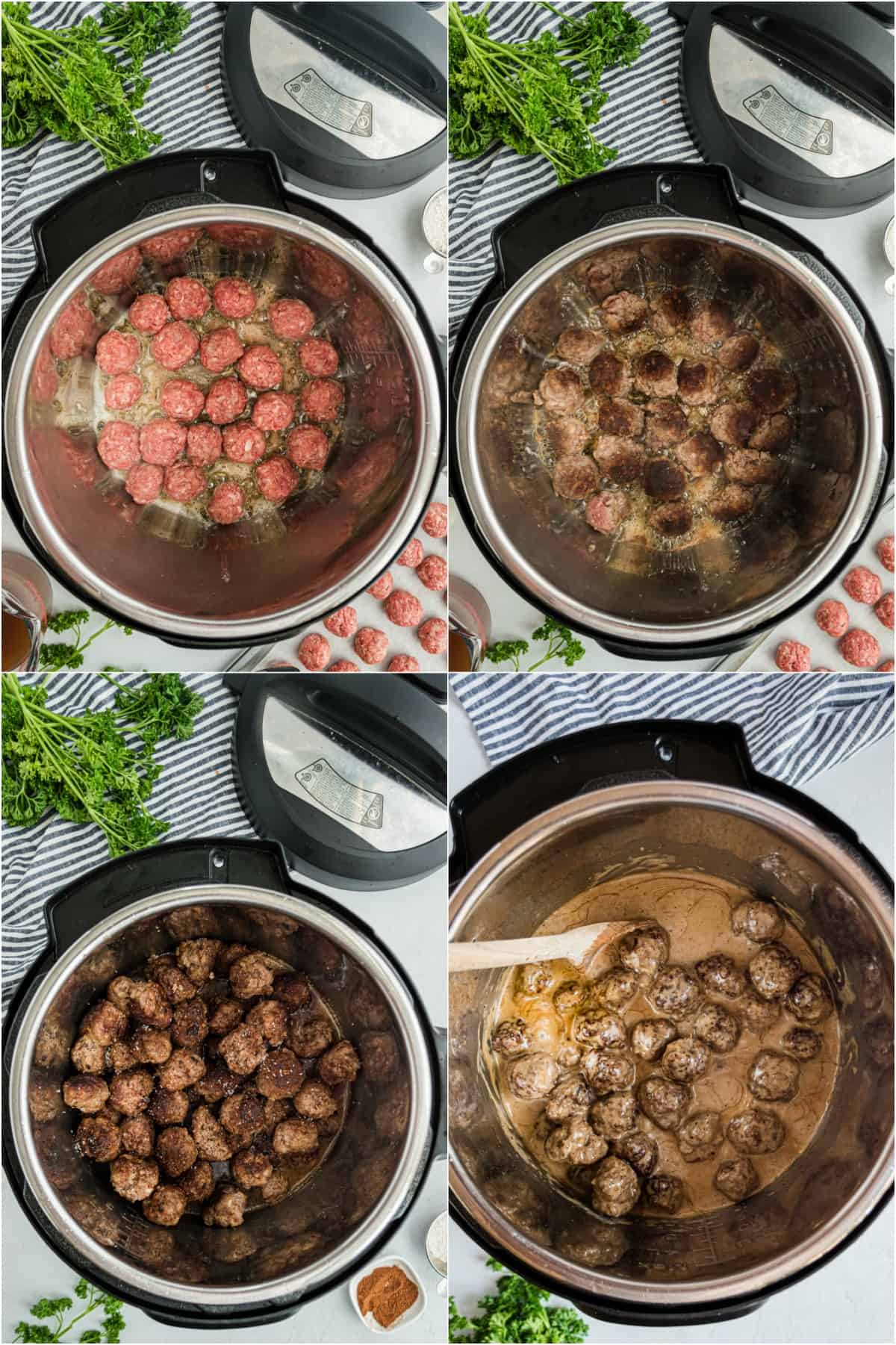 STEP 3. Make the sauce
While the meatballs are cooking, whisk flour and water together to form a smooth paste.
After releasing any remaining pressure, add the flour mixture to the pot over the meatballs, along with the whipping cream and remaining ingredients.
SAUTE until thick and bubbly.
Serve hot and enjoy!
How to Serve
My two favorite ways to enjoy Swedish meatballs are over egg noodles or with mashed potatoes. The creamy sauce mixes with the starch makes for a satisfying comfort food experience!
To complete the meal, I find Swedish Meatballs need a little freshness. A cucumber salad and some sweetness from a lingonberry sauce are my picks!
You could also serve this with broccoli, red cabbage, green beans or any favorite vegetable.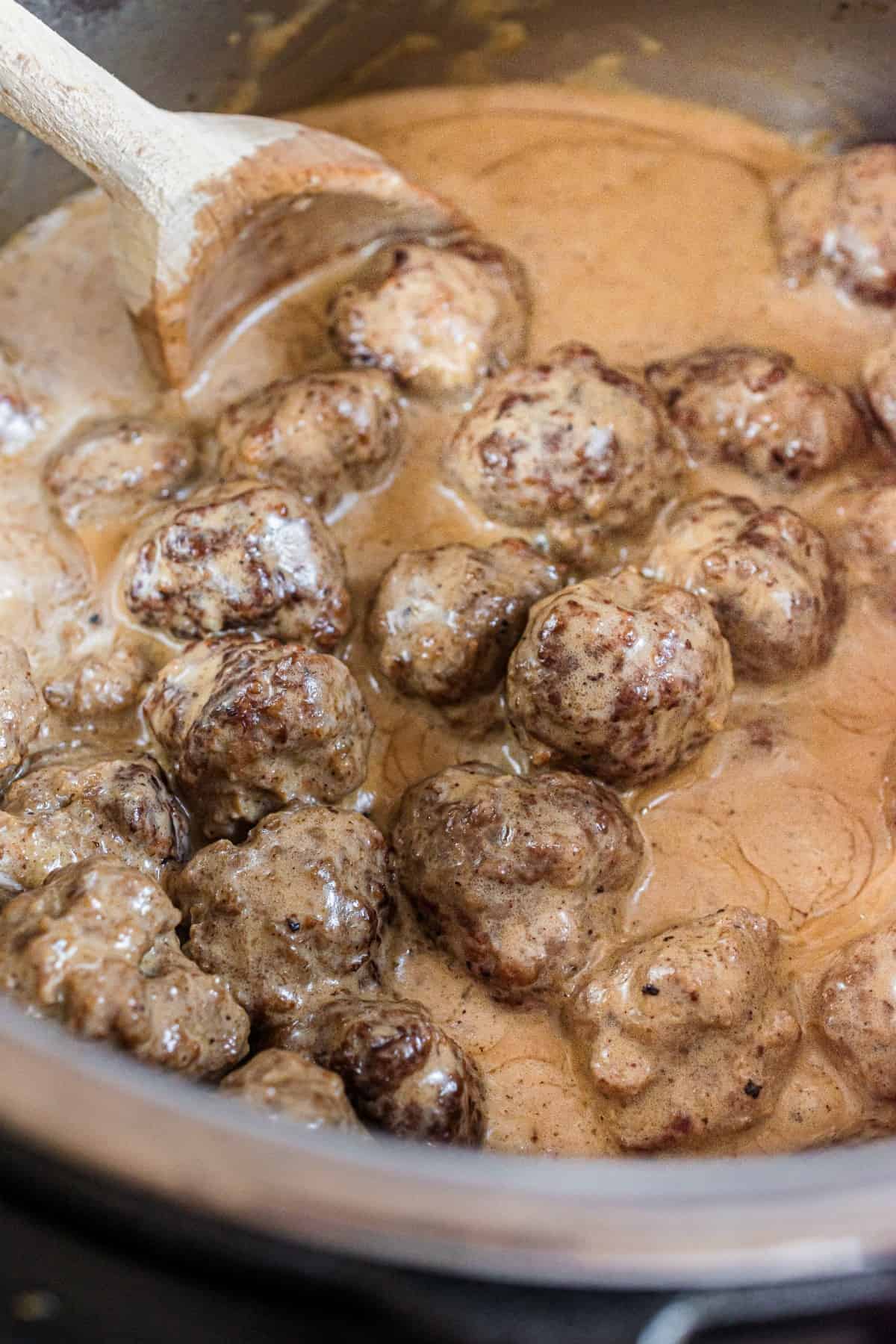 Can the meatballs be made ahead of time?
YES! The most time consuming part of this recipe is mixing and forming the homemade meatballs. There are two ways I use to make dinner time quicker when making Swedish meatballs:
The first method is to make the homemade meatballs in advance .
Whenever you have a spare few minutes, you can assemble the meatballs and set them aside until you're ready to make dinner. Place on a baking sheet and cover tightly, then store in the fridge for up to a day. You can also make the meatballs further in advance and freeze them!
The second way to make this recipe quicker and easier? Use frozen meatballs!
Tips for Frozen Meatballs
Sometimes you just don't have time to make your own meatballs. That doesn't mean you can't still enjoy tasty homemade Swedish Meatballs.
If using frozen meatballs, skip the first saute step in the recipe. Just add the frozen meatballs right to the pot with the beef broth and seasoning–no need to thaw. The cook time will be the same.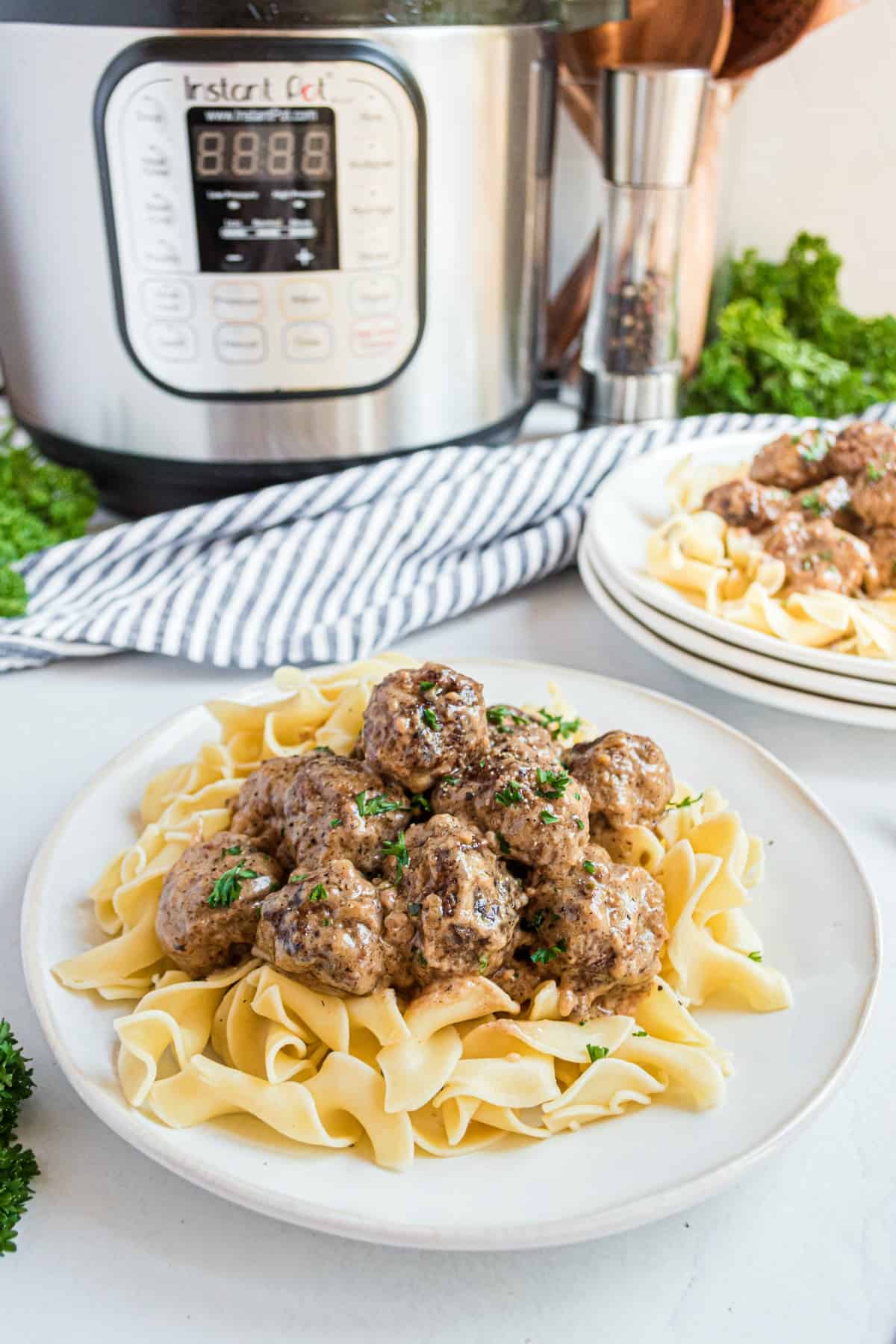 Can you freeze Swedish Meatballs
As I mentioned above, you can definitely make the meatballs in advance, then transfer the raw meatballs to the freezer until ready to use. To do this, I recommend, freezing them on a baking sheet first until solid, then transferring to a freezer bag or container.
I know some of you will also be wondering if you can freeze the finished meal. This makes a LOT of meatballs, so if you have a smaller family, chances are you'll have leftovers. I don't recommend freezing the meatballs and sauce together.
You CAN however store leftovers in the fridge. Keep the Swedish Meatballs and sauce in an airtight container for up to 3 days.
Recipe FAQs
What makes meatballs Swedish?
Swedish meatballs are cooked in a roux-based cream gravy with a hint of allspice. Italian meatballs are cooked in a red sauce.
Can I use frozen meatballs for Swedish Meatballs?
Most store bought meatballs are flavored for Italian dishes. However, you can make the swedish meatballs above and freeze the meatballs until ready to use.
What kind of meat is used in Swedish Meatballs?
For best flavor I recommend a combination of beef and pork.
Why did I get a burn notice?
Most likely, there was a little bit of food stuck to the bottom of the Instant Pot. Make sure to deglaze the pot with the broth and wooden spoon COMPLETELY before pressure cooking.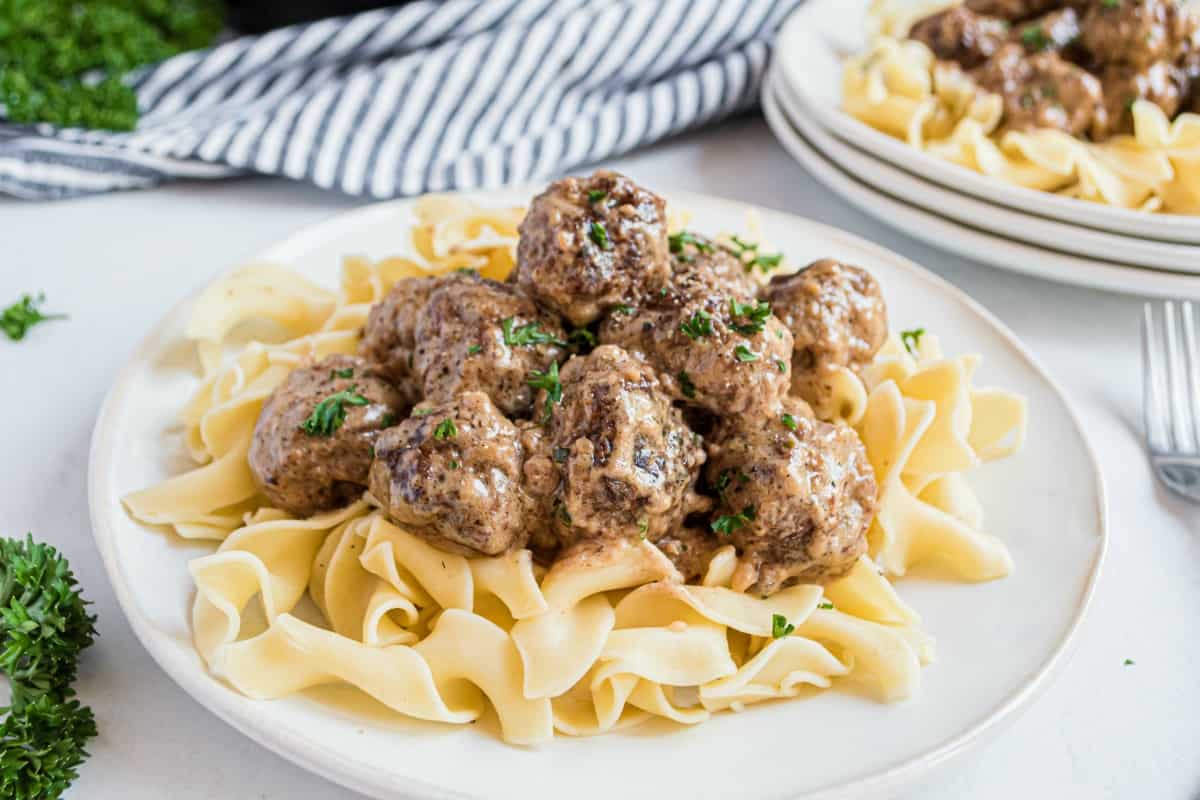 Traditional Swedish Meatballs with creamy sauce are the answer to the question, "What's for dinner?" Made in the Instant Pot, this recipe will become a staple in your kitchen!