This hearty baked spaghetti casserole is loaded with flavor. Million Dollar Spaghetti is a cheesy, meaty weeknight dinner recipe!
If you love a good Italian meal, be sure to also try our shortcut Ravioli Lasagna recipe. And end the meal with our favorite Olive Garden Breadsticks!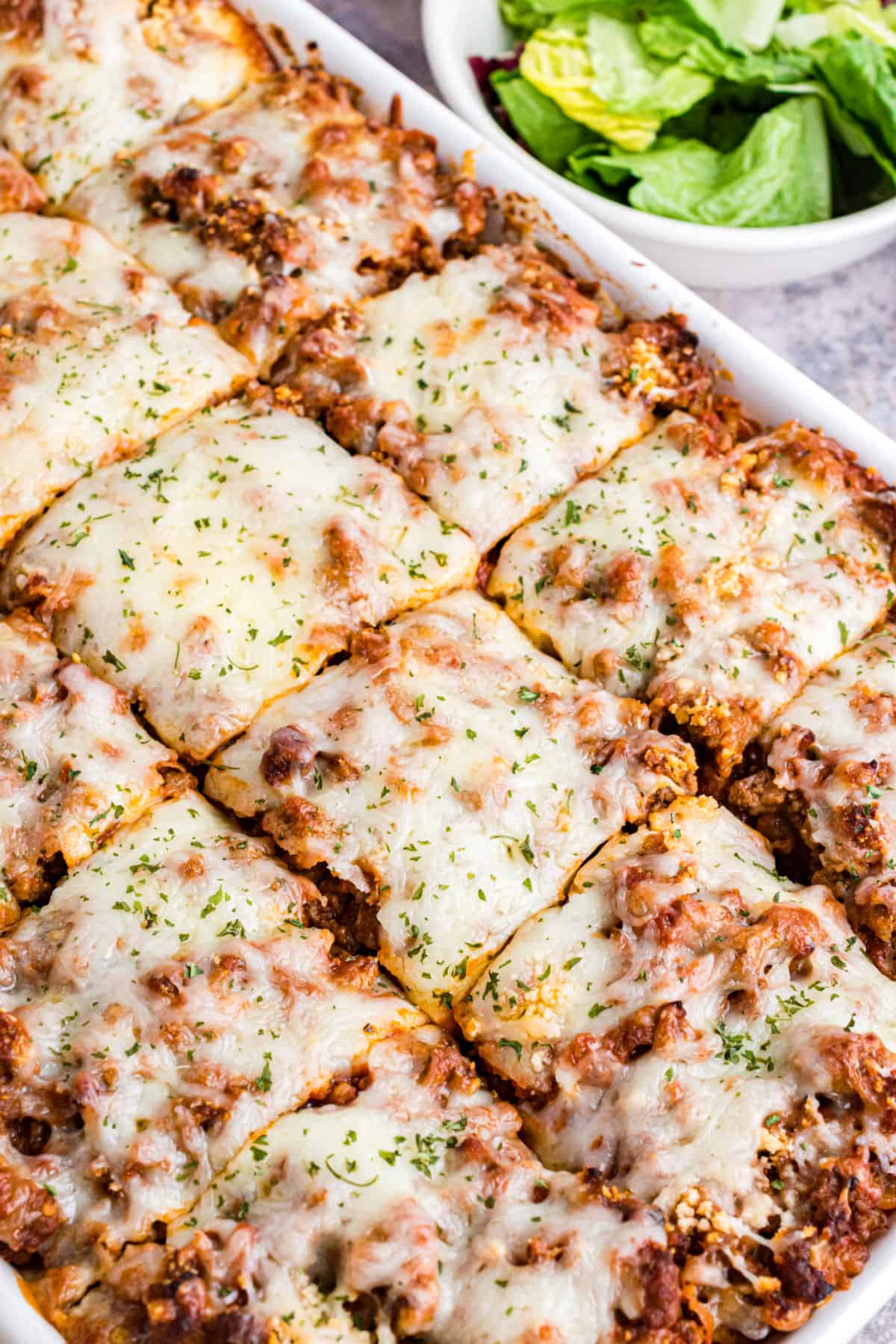 Why this Recipe is Best
This million dollar spaghetti casserole gets it's name from the richness and depth of flavor, not for how much it costs to make! If anything it can win you award, it's beloved by everyone I've ever made it for!
Growing up in the midwest, casseroles are a part of our way of life.
From hashbrown casserole to green bean casserole, and all the JELL-O dump salads in between, this spaghetti casserole recipe is by far one of my favorites.
The hearty meat sauce combined with the rich and creamy filling is like a spaghetti version of Baked Ziti.
Large 13×9 baking dish
Can be frozen
Hearty meat sauce
Prepare ahead of time
You'll love this easy weeknight dinner!
Ingredient Notes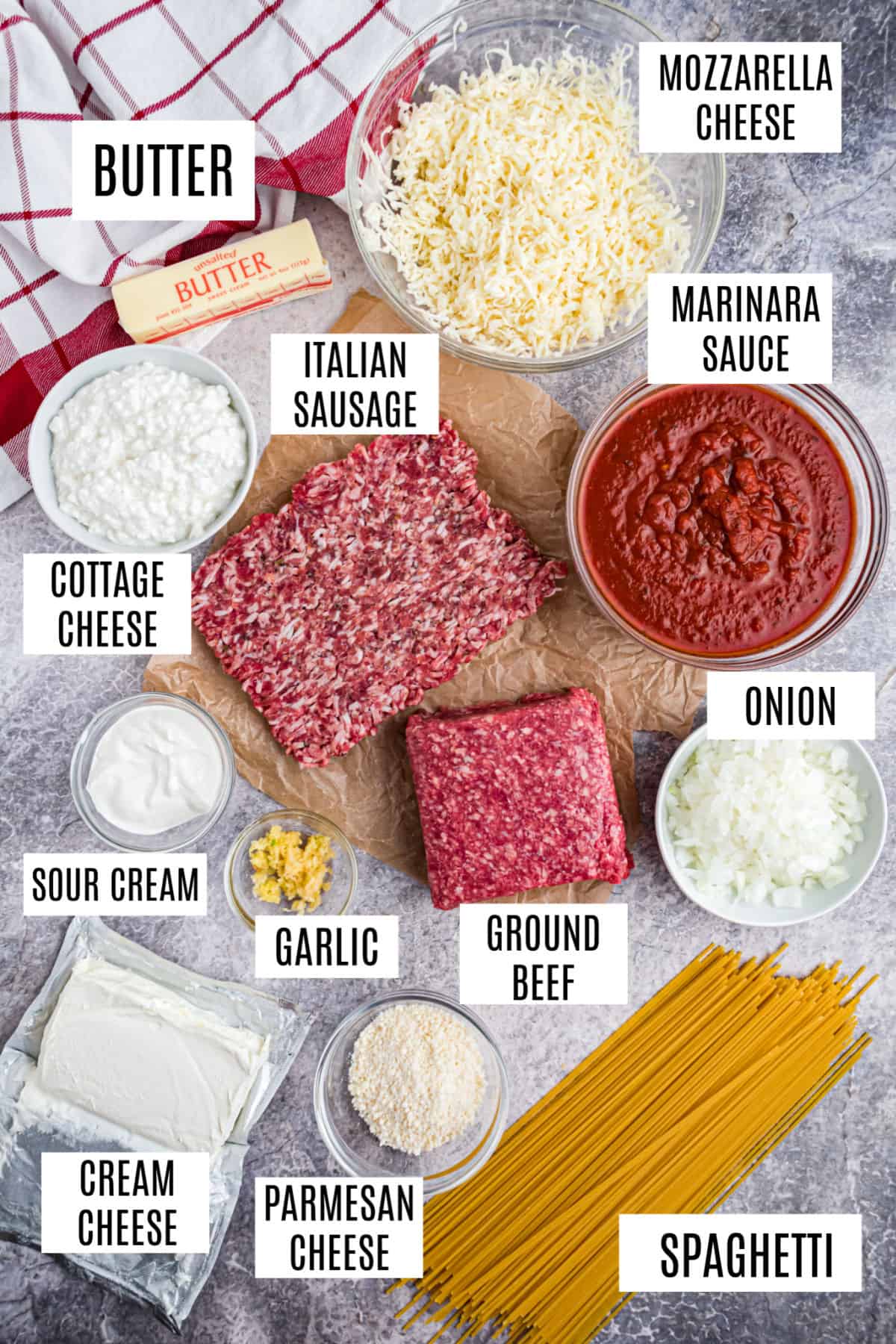 Meat sauce. For extra flavor, I use a combination of ground beef and Italian sausage, along with garlic, onion, and my favorite marinara sauce.
If you prefer meatless, load up your sauce with green peppers, mushrooms, zucchini, spinach, and/or eggplant! Simmer the vegetables of your choice with your marinara sauce to cook them down and soften the texture.
Pasta. Classic spaghetti noodles is what I choose, but you can opt for the thin spaghetti (like in this Chicken Tetrazzini recipe), or any other style you love…rotini, bowtie, etc.
Cheese. The center layer of cheese is what makes this casserole magical. You'll need cottage cheese, cream cheese, mozzarella cheese, and parmesan cheese! This is similar to how I make my lasagna.
Add sour cream and butter and you've got one heck of a spaghetti casserole!
Easy Instructions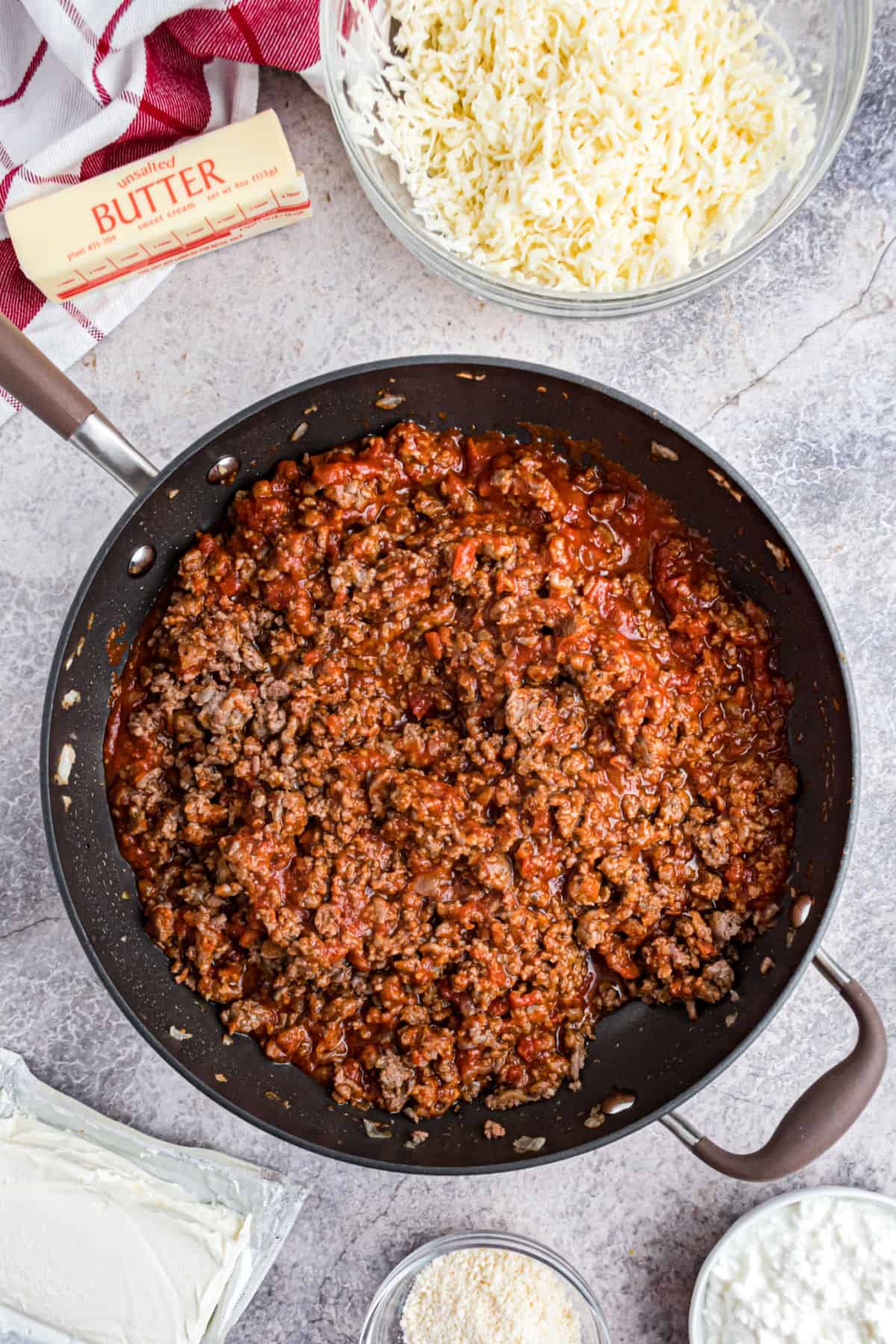 I love that this dinner can be made ahead of time. Whether you prep the ingredients in the morning, early afternoon, or even the night before.
Cook Noodles. Whichever noodle option you choose, cook them up and add some of the sauce to the noodles. Set aside.
Meat Sauce. Brown the meat and add pasta sauce. Set aside.
Make Cheese mixture. Combine the cottage cheese with cream cheese, sour cream, and half of the mozzarella. Set aside.
Assemble the casserole.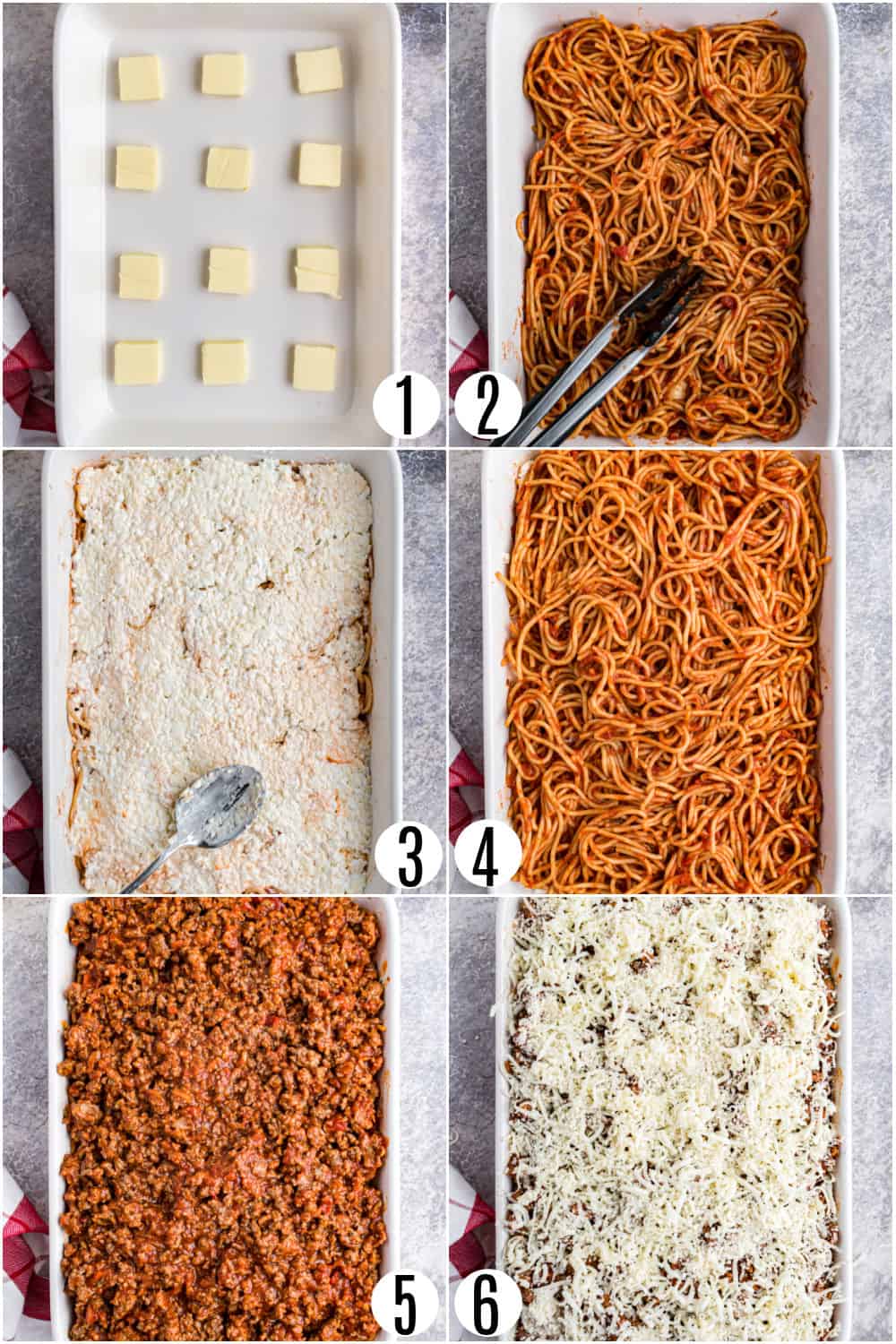 Butter Cubes.
Pasta with Sauce.
ALL the Cheese filling.
Other Half of Pasta Sauce
Meat Sauce
Mozzarella Cheese.
Bake uncovered.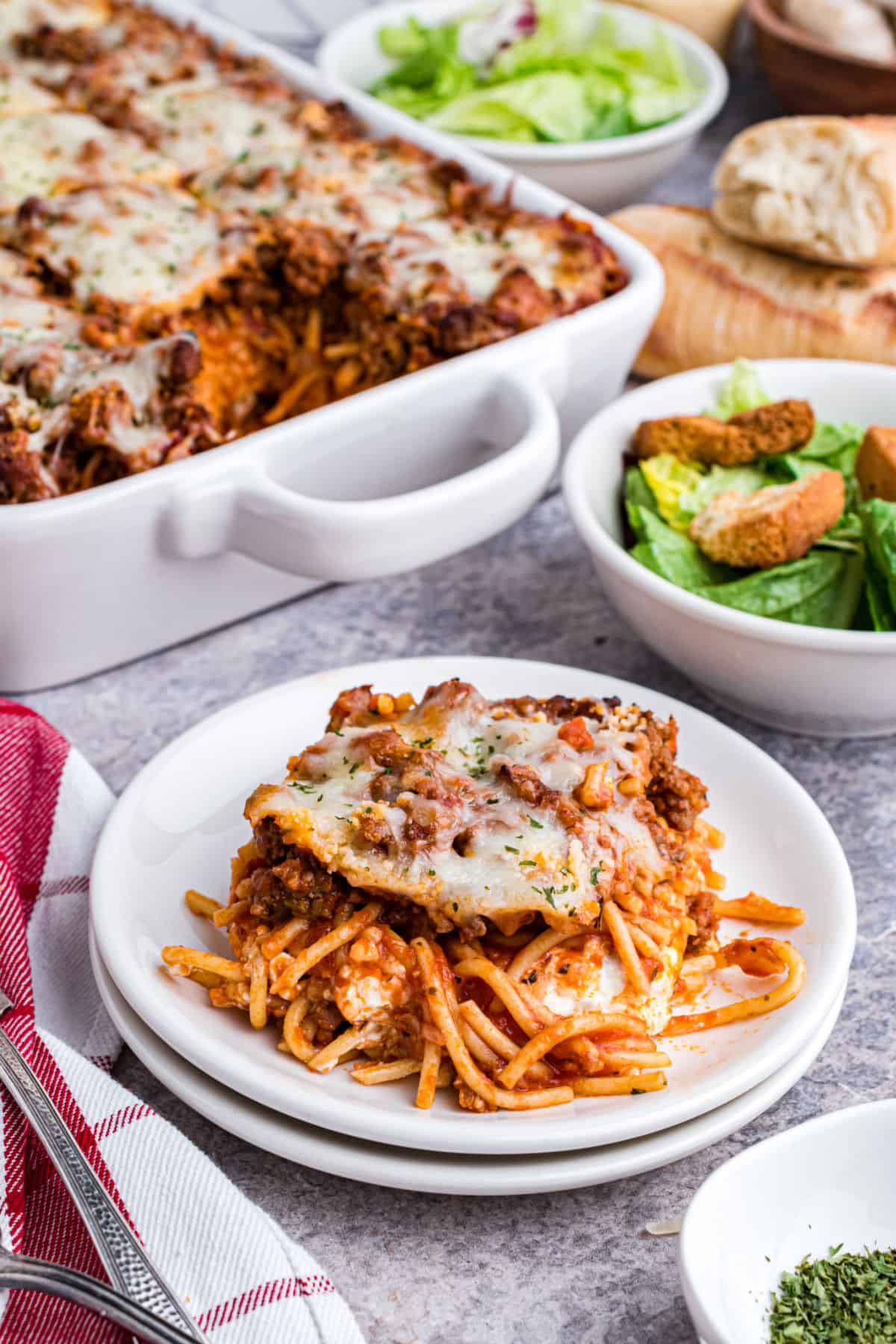 Tips and Tricks
Assemble baked spaghetti up to 24 hours in advance if desired. Keep covered in refrigerator and add an extra 15 minutes to baked time if chilled.
Freeze casserole by covering with foil and freezing for up to 30 days. Thaw in refrigerator for 24 hours before baking. I don't recommend baking from frozen as it will dry out.
This is a huge dish of food. If you don't have a deep 13×9, use two square pans instead. Perfect if you want to freeze a batch for later!
Want to share with a neighbor? Bake it in a disposable foil pan so you don't have to worry about getting a dish back.
Swap out the cottage cheese for ricotta for a more classic flavor!
Serve with an Italian Salad and Cheesy Garlic Bread.
Don't forget dessert! Finish off your meal with some ricotta cookies or easy cannoli.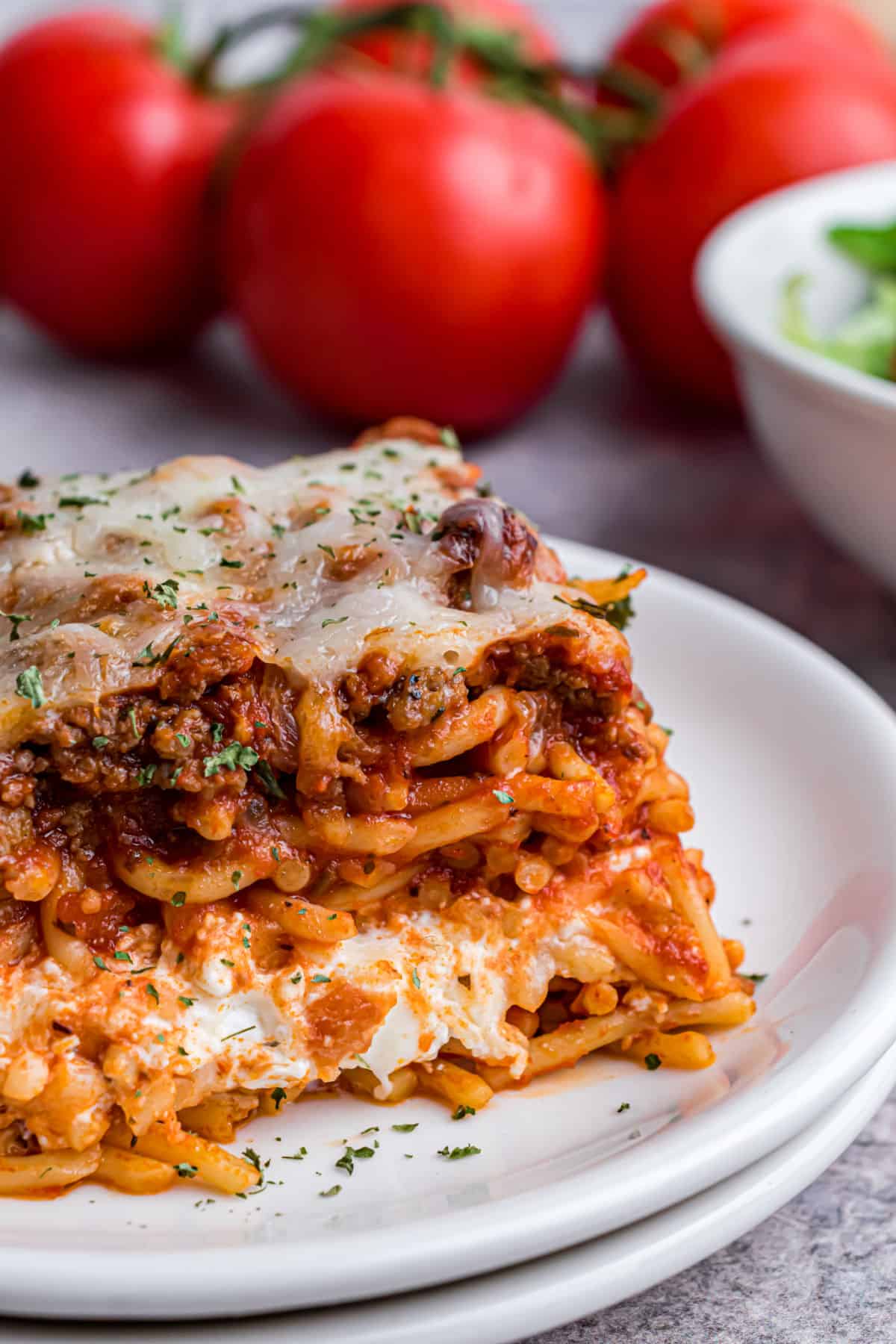 More Easy weeknight dinners
Hearty Million Dollar Baked Spaghetti is the perfect casserole for weeknight dinner. You'll love the cheesy filling!