This hearty baked spaghetti casserole is loaded with flavor. Million Dollar Spaghetti is a cheesy, meaty weeknight dinner recipe!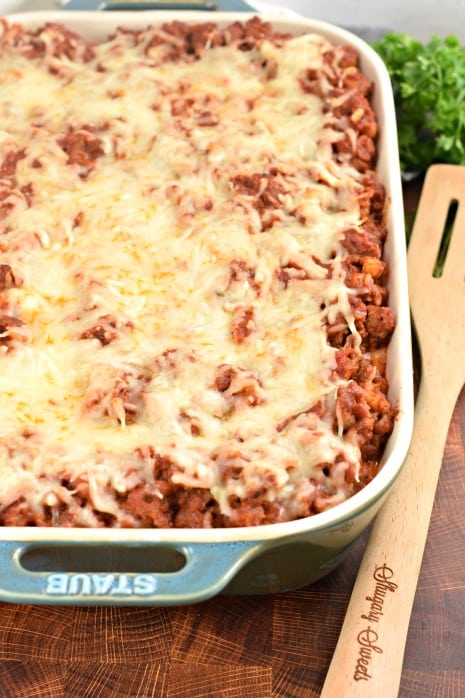 Growing up in the midwest, casseroles are a part of our way of life. Add in the fact that I am Lutheran, and you'll find casseroles at every funeral and holiday at church.
From hashbrown casserole to green bean casserole, and all the JELL-O dump salads in between, this spaghetti casserole recipe is by far one of my favorites.
The hearty meat sauce combined with the rich and creamy filling is like a spaghetti version of Baked Ziti.
You'll love this easy weeknight dinner! I love that it makes a big 13×9 dish. Now that my kids are leaving the nest, I love that I can divide it in half in two square pans and freeze on for later!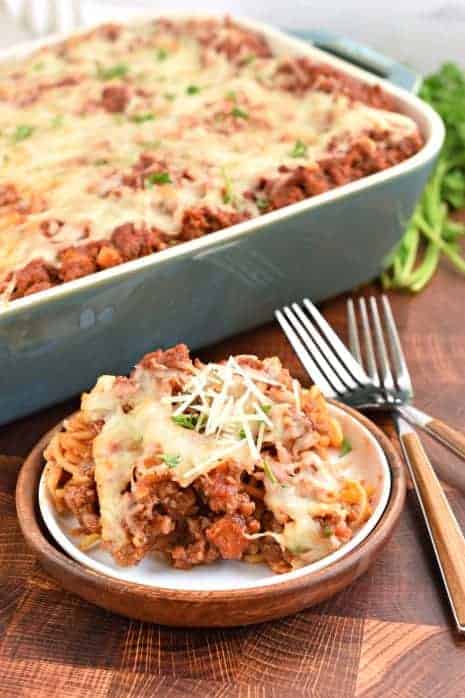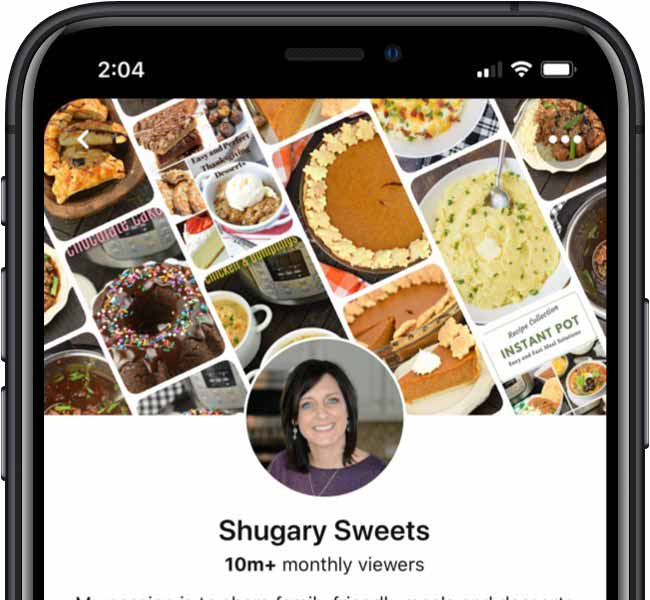 What you'll need for Million Dollar Spaghetti
Meat sauce. For extra flavor, I use a combination of ground beef and Italian sausage, along with garlic, onion, and my favorite marinara sauce.
If you prefer meatless, load up your sauce with green peppers, mushrooms, zucchini, spinach, and/or eggplant! Simmer the vegetables of your choice with your marinara sauce to cook them down and soften the texture.
Pasta. Classic spaghetti noodles is what I choose, but you can opt for the thin spaghetti (like in this Chicken Tetrazzini recipe), or any other style you love…rotini, bowtie, etc.
Cheese. The center layer of cheese is what makes this casserole magical. You'll need cottage cheese, cream cheese, mozzarella cheese, and parmesan cheese!
Add sour cream and butter and you've got one heck of a spaghetti casserole!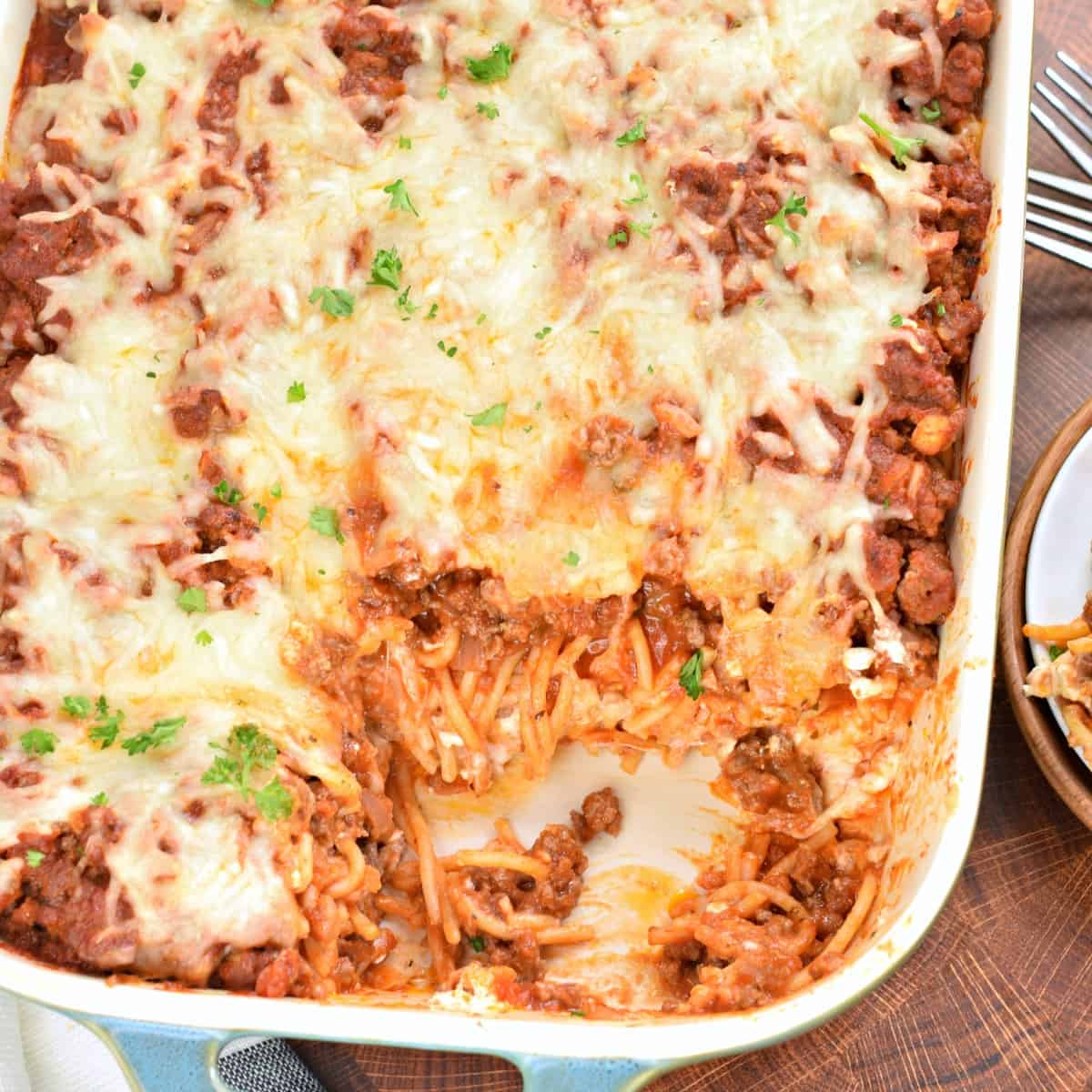 How to Make Baked Spaghetti Casserole
Scroll to the end of the blog post for complete recipe details, including measurements and print options!
STEP 1. Cook the noodles according to package directions.
Add 1 jar of the sauce to the cooked noodles. Set aside.
STEP 2. In a large skillet, brown ground beef and Italian sausage with onion and garlic. Drain grease and add the second jar of marinara sauce to the cooked meat. Set aside.
STEP 3. In a bowl, combine cottage cheese with cream cheese, sour cream, and half of mozzarella cheese. Set aside.
How to Layer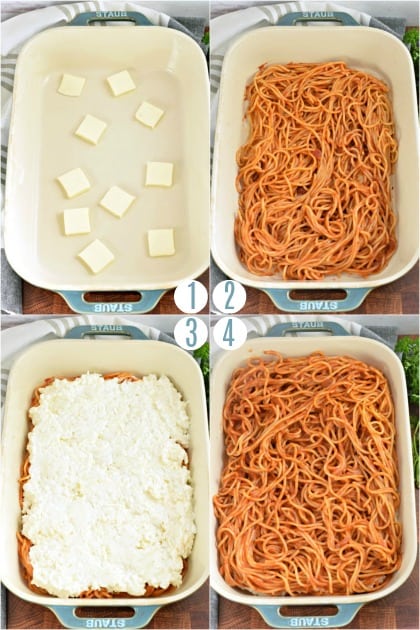 Add butter cubes to the bottom of a 13×9 deep dish casserole.
Spread half of the spaghetti (with sauce) in the bottom of the dish.
Top with ALL of the cheese mixture.
Follow up with the remaining half of the pasta (with sauce).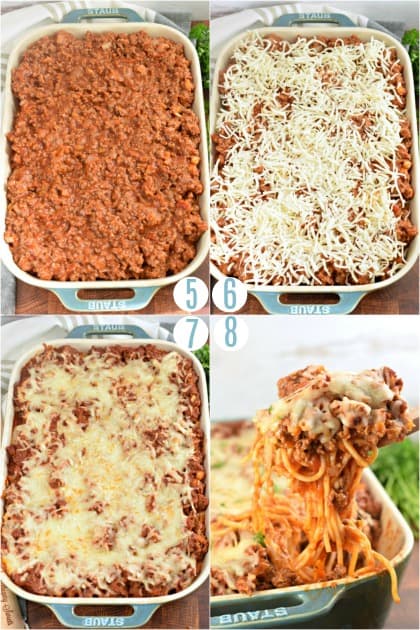 5. Add all the meat sauce to the top of the million dollar casserole.
6. Sprinkle the remaining mozzarella cheese on top, with the grated parmesan.
7. Bake casserole UNCOVERED in a 350 degree oven for 30-35 minutes.
8. Serve and enjoy! Add fresh parsley if desired!
Tips and Tricks
Assemble baked spaghetti up to 24 hours in advance if desired. Keep covered in refrigerator and add an extra 15 minutes to baked time if chilled.
Freeze casserole by covering with foil and freezing for up to 30 days. Thaw in refrigerator for 24 hours before baking. I don't recommend baking from frozen as it will dry out.
Swap out the cottage cheese for ricotta for a more classic flavor!
Serve with an Italian Salad and Cheesy Garlic Bread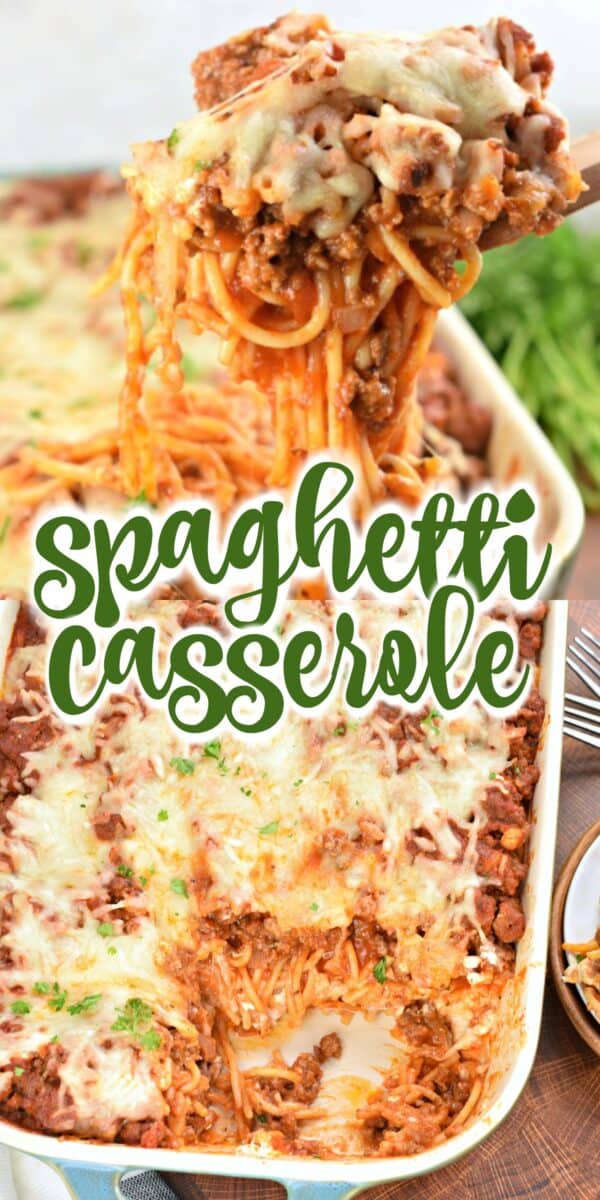 Hearty Million Dollar Baked Spaghetti is the perfect casserole for weeknight dinner. You'll love the cheesy filling!