A pan of buttery Cheesy Garlic Bread makes any Italian meal complete. Turn a plain loaf of bread into the best ever garlic bread in minutes with this recipe.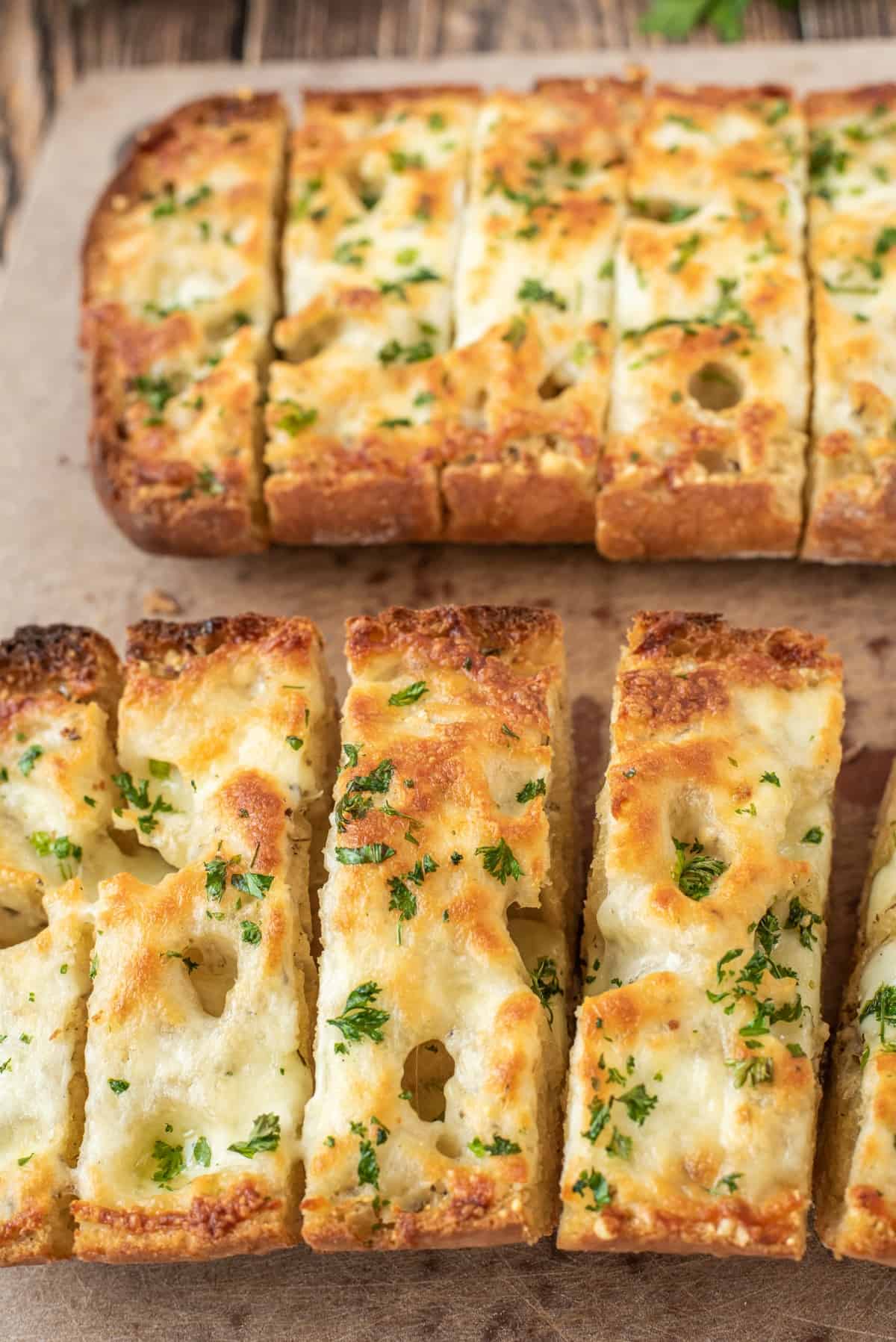 What's the only thing better than a fresh loaf of crusty bread? A sizzling hot loaf of garlic bread covered in gooey melted cheese.
Garlic Bread is one of my favorite things about having an Italian dinner. If I order pizza or go out for Italian, I'm all about getting a big basket of some kind of garlic bread to complete the meal.
Garlic knots, dinner rolls, puff pastry bread sticks . . . I love it all. Olive Garden breadsticks? Yes please!
The ultimate in garlic bread indulgence, though, is a fresh loaf of Italian bread covered in butter and bubbling with melted cheese.
I've been making my own garlic bread at home for a while and I'm so excited to share my method for you. This version topped with two kinds of cheese is my family's idea of the best garlic bread!
All the garlic please!
It only takes a few minutes to transform a plain loaf of bread into cheesy garlicky buttery perfection.
Sprinkled with herbs, mozzarella and Parmesan cheese, this mouthwatering Garlic Bread will be your family's new favorite cheesy bread.
We love garlic bread as an appetizer or side dish. It's also a great party food! And it smells amazing while it's cooking, too.
With 5 cloves of garlic, all the garlic lovers in your house will become obsessed with this bread. It's so good that it's hard to stop at just one piece!
From start to finish, this garlic bread recipe only takes 15 minutes!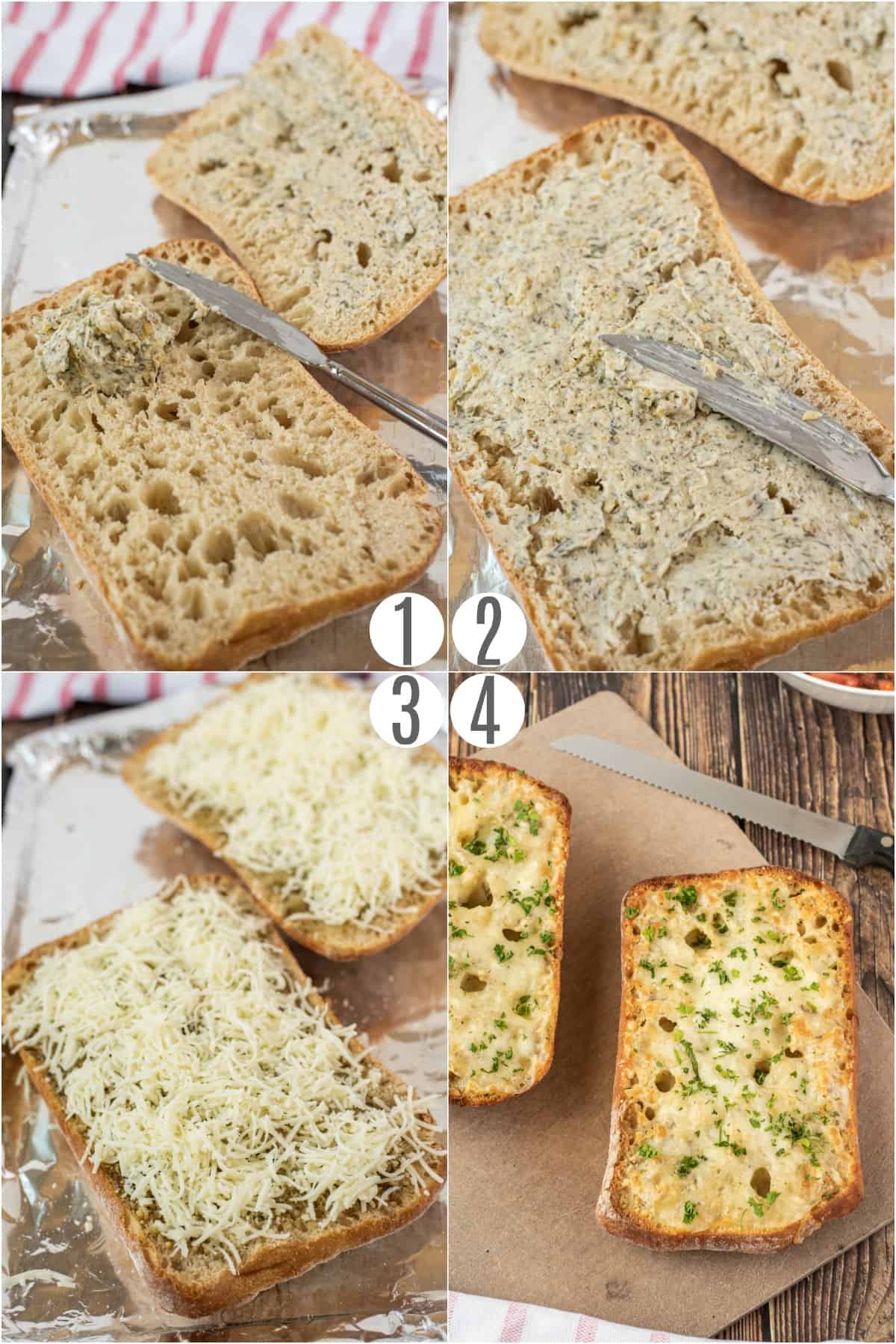 Ingredients
While you can certainly make your own homemade bread to use as the base for your garlic bread, I typically use a ready made loaf from the bakery for convenience sake.
Just slice, spread with butter and garlic, bake and go!
You want to use a rustic style loaf with a crusty exterior here.
Baguettes and regular Italian loves (pane) work perfectly. I also love this bread made with a loaf of Ciabatta. Find them in the bakery section of your grocery store or swing by a local bakery for a couple of loaves.
(Note: While I love my Homemade White Bread recipe it's not crusty enough to work well for garlic bread. Same goes for whole grain breads. Save those for your other bread needs and opt for a rustic white loaf here.)
Here's what you need for this Cheesy Garlic Bread recipe:
1 loaf of Italian bread (or baguette)
Unsalted butter (softened)
Minced garlic
Parmesan cheese
Mozzarella cheese
Parsley (for garnish)
Salt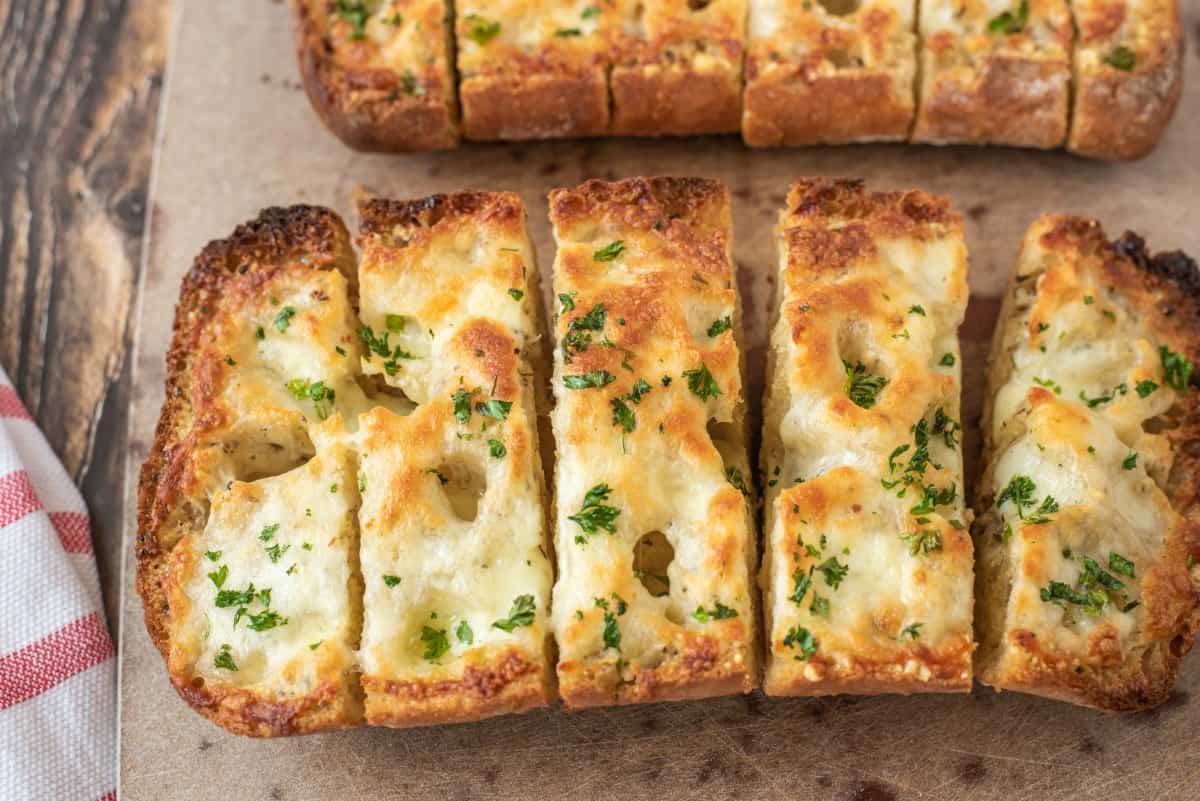 How to Make Garlic Bread
STEP 1. Mix together the softened butter, garlic, seasoning, and salt.
STEP 2. Cut the loaf lengthwise and lay open faced on baking sheet. Spread the garlic butter mixture over cut side of bread.
STEP 3. Bake in a 375 degree oven until edges just start to brown, about 7 to 9 minutes.
STEP 4. Remove from oven and sprinkle Parmesan and mozzarella cheese over the buttered side of bread.Return to oven and bake until cheese starts to brown, about 4 to 5 minutes.
STEP 5. Remove from oven, garnish with fresh parsley and slice. Serve warm.
Serve this bread alongside Instant Pot Spaghetti or Italian Beef with a side salad and you have one delicious dinner.
Tips & Tricks
A common pitfall is getting the cheese melted and garlic fragrant without burning the cheese. By baking the bread with the garlic butter first THEN adding the cheese right at the end, the cheese gets beautifully melted and bubbly without burning.
Make sure to mince the garlic for this recipe. If the pieces are too large they won't seep into the pores of the bread and you might end up biting into an unpleasantly big chunk of garlic.
Spread the butter and garlic mixture as evenly as you can over the sliced bread so ever bite of the bread gets the fragrant garlic taste.
Garlic bread is a great way to use up day old bread. You don't want to use a loaf that's completely stale here but if your bread is slightly past its prime toasting it with cheese, butter and garlic is a great way to disguise that fact.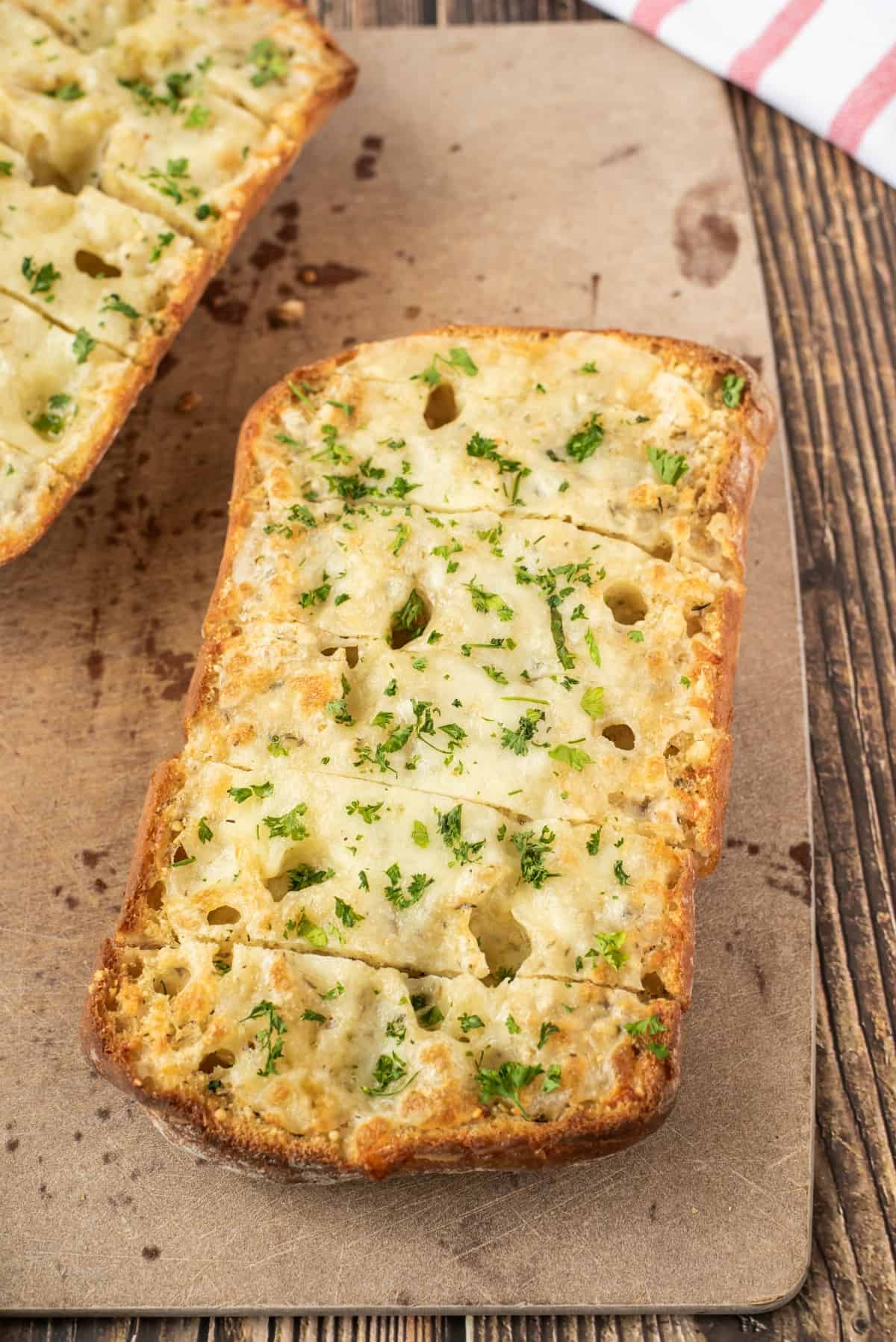 Leftovers
Garlic bread is best served hot and bubbly, fresh from the oven. It's so easy and fast to make that you don't need to worry about prepping it ahead of time.And the bread is so irresistibly good that you're not likely to end up with leftovers anyway!
In the event you do end up with leftovers, wrap them tightly in foil and reheat in the oven until warm.
Make a loaf of this herbed buttery cheesy garlic bread tonight and let me know how you like it!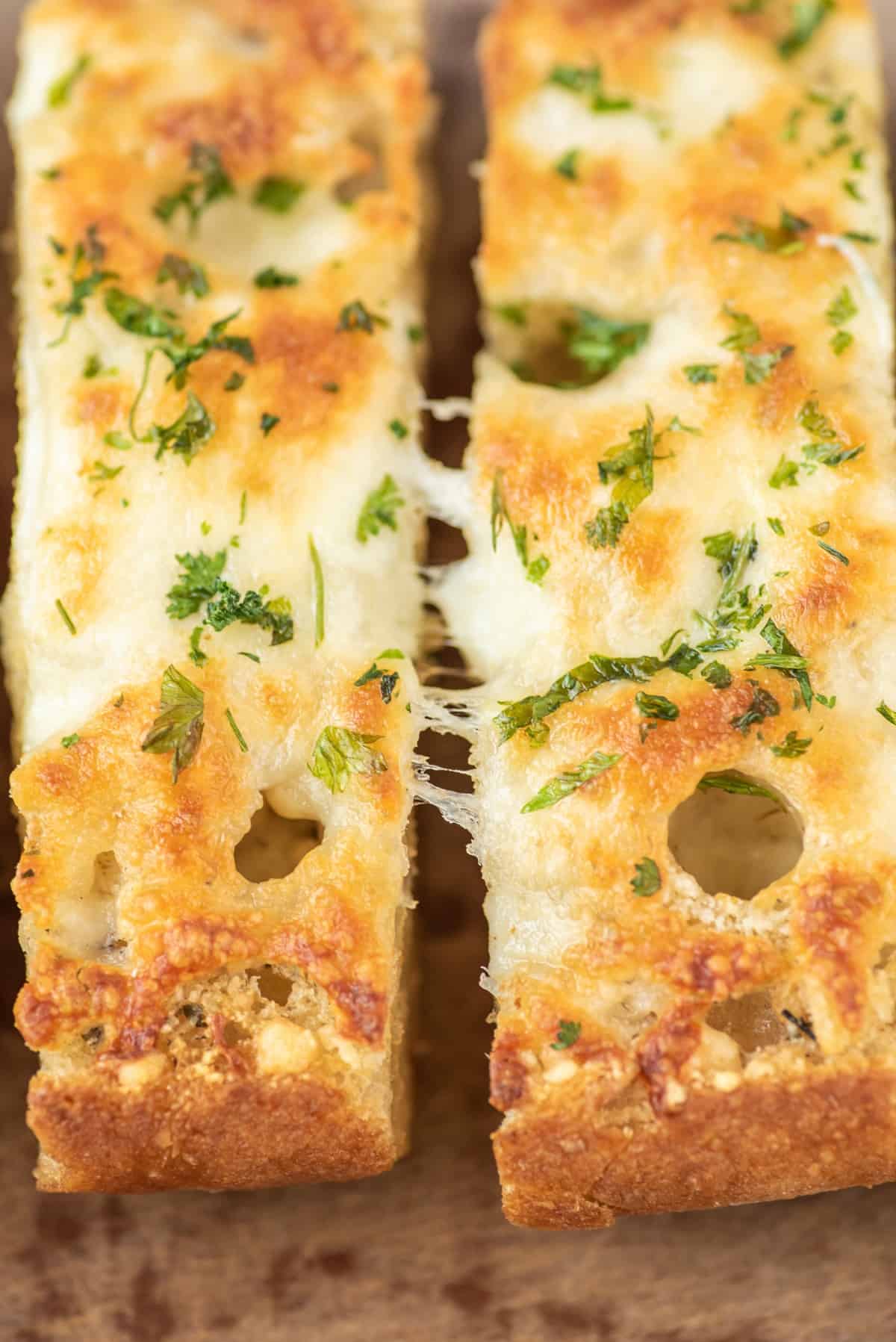 What to serve with garlic bread