A comfort food that comes together quickly? This hearty Instant Pot Lasagna Soup recipe is packed with all the classic flavors without the work!
If you love our Instant Pot dinners, you'll have to try our easy Pasta e Fagioli in the Instant Pot next. Readers LOVE our easy Instant Pot Broccoli Soup too.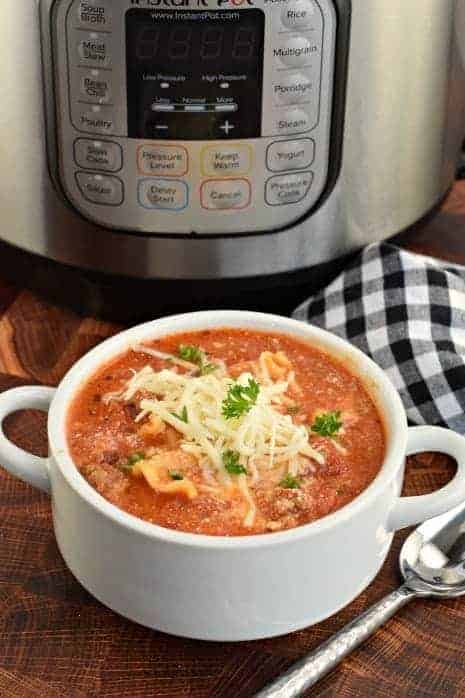 Why this Recipe is Best
Before all my Italian friends jump out of the wood work and berate me, I'm just a mom trying to survive the dinner hour over here. I am in no way saying this is authentic Italian food…but it's about as close as I'll get these days.
If you're like me, and love to make shortcuts of your favorite comfort foods, take a seat so I can take you on a journey.
Clearly, I love Classic Lasagna <— you can take a peek at my family's favorite recipe!
But over the years I've taken the flavors of lasagna and broken it down into easier meals. From this easy, cheesy Ravioli Lasagna to Lasagna in the Instant Pot.
I'm all about making the dinner hour a success without the stress.
Today's Instant Pot Lasagna Soup fits that scenario.
Easy to Make
One Pot to Clean
Kids and Adults LOVE this soup!
No Instant Pot? No problem. Try our stovetop lasagna soup recipe instead!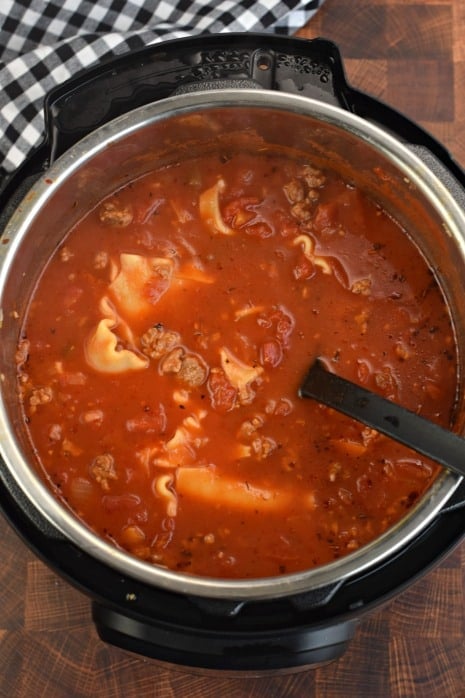 Ingredient Notes
Meat. I use a pound of ground Italian Sausage for this soup (I like the mild flavored sausage, but feel free to use the hot if you like).
The sausage gives the soup a boost of flavor! You could swap it out for ground beef or turkey if you prefer (or use half sausage and half beef).
Noodles. While you can certainly use campanelle noodles (they look like tiny lasagna noodles), I have a hard time finding them in the grocery store near me.
Instead, I use 9 full size lasagna noodles (do NOT use the no boil kind) and break them into four pieces. You could also skip the lasagna noodles and use bowtie pasta, rotini, or elbow noodles if you prefer.
Tomatoes. You will need 2 cans of diced tomatoes WITH THE JUICES.
You will also need 2 cans of tomato sauce (or 1 large can of crushed tomatoes). I take stock of my pantry and use whatever I have on hand!
For a little heat, you can use "fire-roasted" diced tomatoes!
Vegetables. Whether you choose to keep your lasagna soup meaty or want to swap out the meat for extra vegetables, it never hurts to add in the veggies!
We use garlic, onion, and green pepper on a regular basis for today's soup. However, you can certainly add shredded carrots and zucchini, fresh spinach, mushrooms, and more!
Seasonings. To keep with the spirit of "easy", I love the convenience of Italian Seasoning blends. However, if you like your soup to have MORE of one spice, feel free to mix it up and taste test as you go!
Cheese. Oh the glorious cheese. I mean, that's why we all love Italian food right? From the mozzarella to the parmesan, it's why Baked Ziti and Spaghetti with Meatballs are a favorite in my house (or maybe it's the noodles….).
Instant Pot Lasagna Soup is cooked WITHOUT cheese. However, once it's done you'll have a choice to make. Stir in the ricotta, mozzarella, and parmesan cheese, or add it individually to each bowl.
That is YOUR decision to make!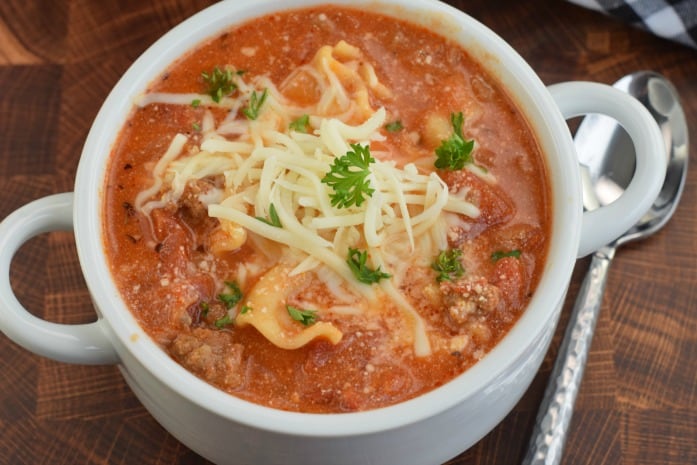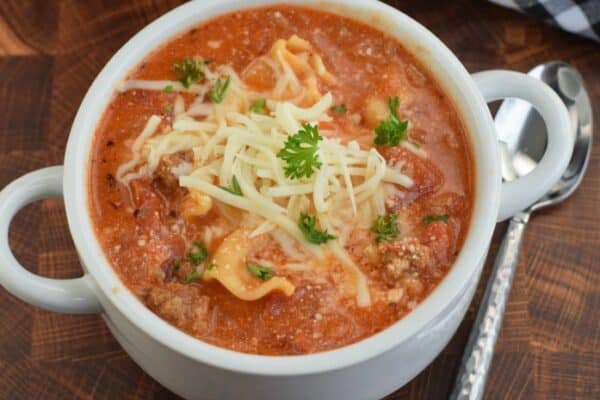 Step by Step Instructions
Now that you've got all your ingredients…let's get to making some soup! (Be sure to scroll all the way down to our printable recipe card for measurements and directions)
STEP 1. Cook the meat.
Turn the pressure cooker on "SAUTE" and add the Italian sausage, garlic, onion, and green pepper to the pot. Using a wooden spoon, break it up and cook until the meat is done (several minutes until no pink appears).
Turn IP off, then using a slotted spoon, remove all the meat and vegetables to a paper towel lined plate, then drain the grease.
Add ONE CUP of water to the hot Instant Pot and deglaze the pan. This means, scrape the bottom of the pan using the wooden spoon to remove any bits of meat that are stuck.
STEP 2. Pressure cook.
Add the remaining water, diced tomatoes, tomato sauce, brown sugar, Italian seasoning, broken uncooked noodles, and the cooked meat/vegetables.
Give a quick stir.
Lock the lid in place and make sure the valve on top is set to "SEALING."
Select HIGH PRESSURE for a cook time of 2 minutes. Once the cook time ends, allow to naturally release pressure for 5 minutes, then do a quick release of pressure until the valve drops.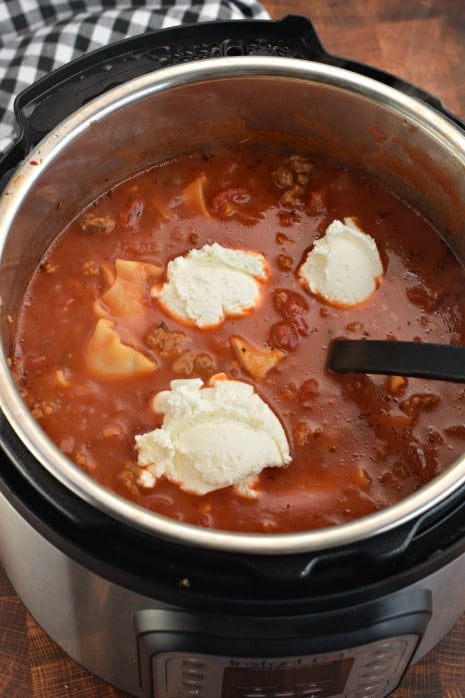 STEP 3. Cheese!
Open the lid and stir. If adding the cheese to the soup, dollop the ricotta into the hot soup, give a stir until blended.
Ladle the soup into bowls and serve with mozzarella cheese and parmesan cheese. ENJOY!
Help! I don't have an Instant Pot
Well, if you're not going to be using an Instant Pot, you can certainly make it on the stove top using this Lasagna Soup Recipe!
You could also make Lasagna Soup in the crockpot! Here's how:
Cook meat in skillet until browned.
Add meat, onion, garlic, green pepper, tomato sauce, diced tomatoes, brown sugar, and Italian Seasoning to crockpot (DO NOT ADD WATER).
Cook on low for 6-8 hours.
Prior to serving, cook noodles on stove top according to package. Add hot, cooked noodles to soup.
Serve with cheese and enjoy!
Serving Suggestions
While lasagna soup is hearty and filling on it's own, we do sometimes pair it with breadsticks and salad (just like Olive Garden), or some homemade dinner rolls!
And while we're talking about lasagna…you totally need to end your meal with a Peanut Butter Lasagna layered dessert! It's amazing.
Or go ahead, stick with the Italian theme and enjoy some sweet Cannoli Dip!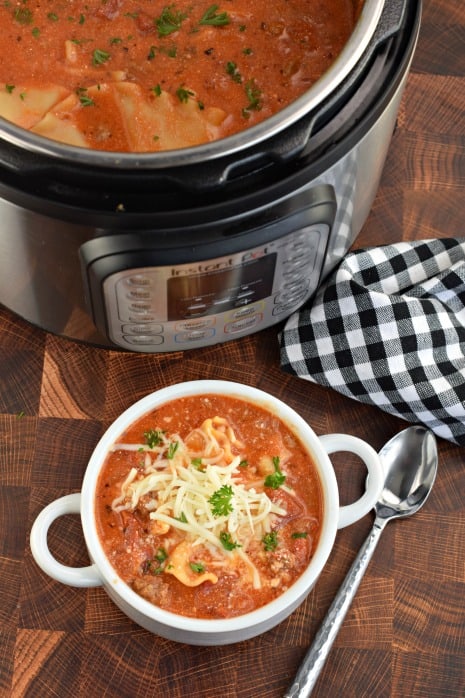 Tips and Tricks
Read the instructions below ENTIRELY before starting!
Time does NOT include the amount of time it takes to come to pressure, or release pressure.
For extra flavor, add a parmesan rind to the soup before pressurizing. SO GOOD. Remove before eating.
More Soup Recipes
A comfort food that comes together quickly? This hearty Instant Pot Lasagna Soup recipe is packed with all the classic flavors without the work!