Spinach Alfredo Pasta bake is the one pot dinner your whole family will love! Keep it vegetarian or add the meat of your choice to this easy satisfying meal.
Love one pot dinners? This Chili Mac is a staple in our house, and can be in yours too! So easy and so good. Served with cheesy garlic bread, everyone leaves the table happy (and full)!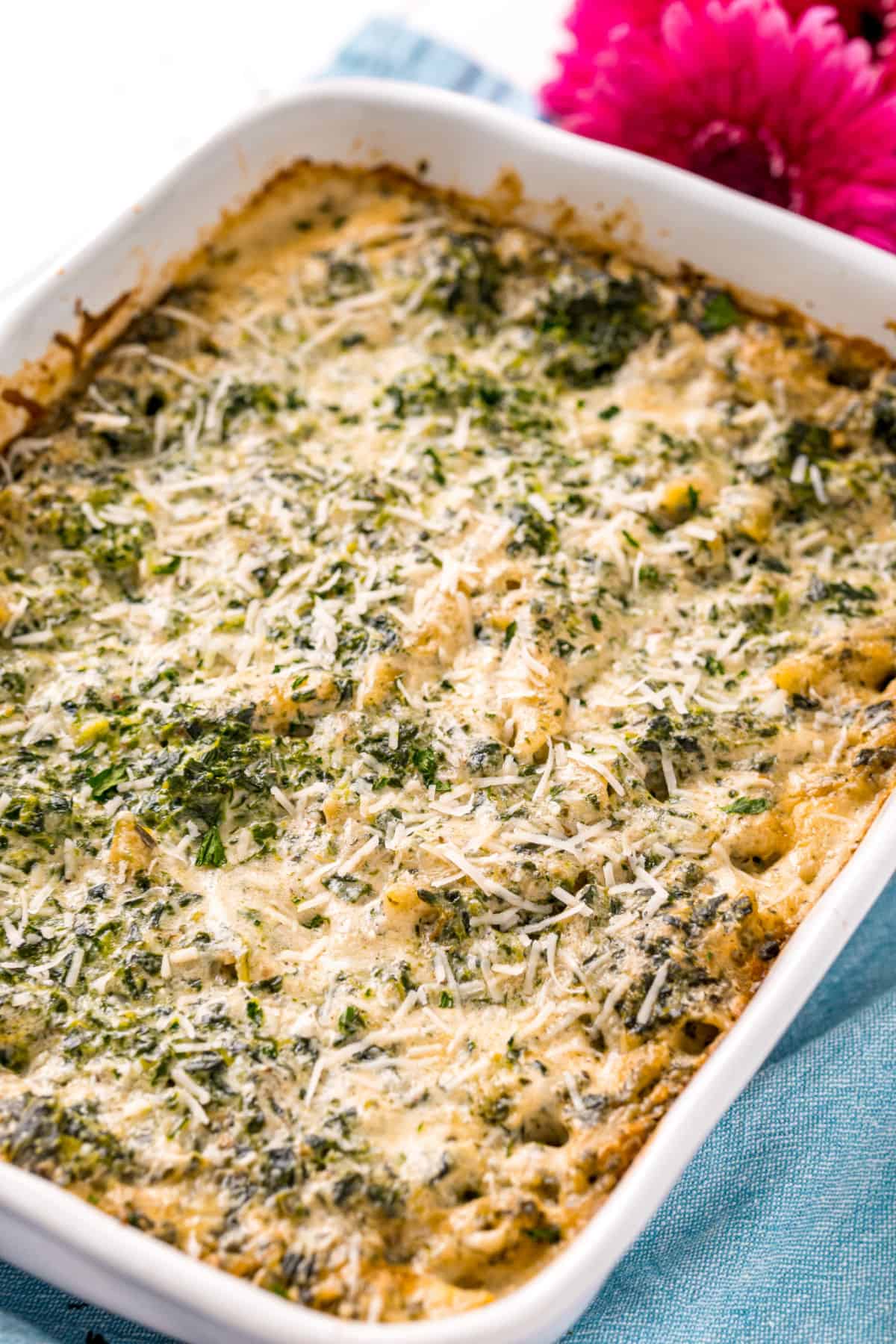 One Pot Dinner Recipe
When I say this Spinach Alfredo pasta is a one pot dinner, I mean it. You literally toss everything in a pan and bake it.
With 5 minutes or prep time, you can make the ultimate in creamy pasta dinners.
This recipe is basically a Fettucine Alfredo meets Hot Spinach Dip.
With Alfredo sauce, mozzarella and Parmesan, it's incredibly creamy, cheesy and delicious.
If you're trying to get more green veggies into your family's meals, Spinach Alfredo Pasta is a great way to go. While the greens aren't "disguised" per say, no one will complain when they're mixed in with all that gooey cheesy goodness!
I sometimes add all kinds of extra veggies to this. You can mix in just about anything–a perfect way to use up about-to-expire produce!
Occasionally, I'll toss in some sausage or chicken too. It's delicious both with and without meat!
Ingredient Notes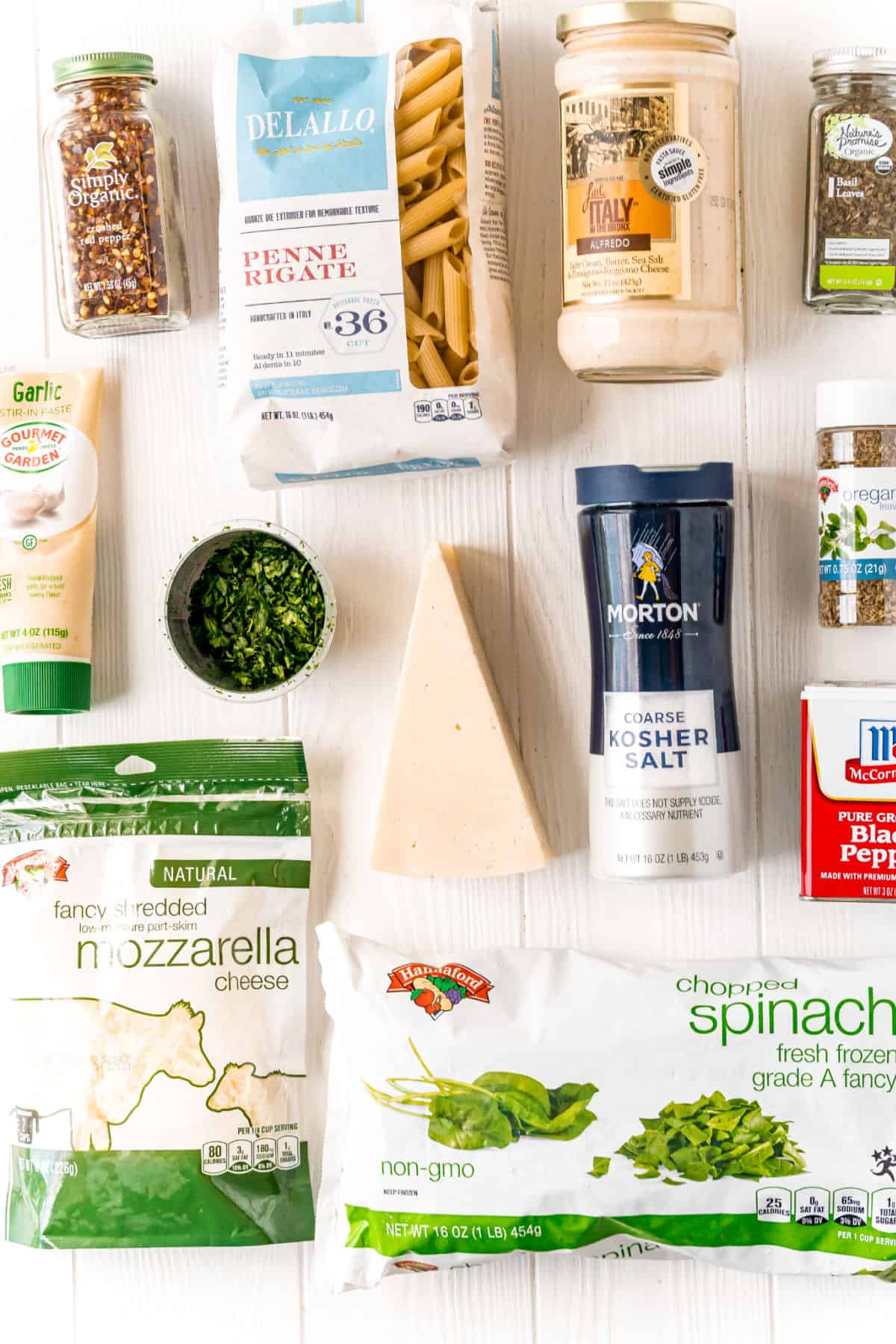 Some pasta bakes are technically "one pot" but require all kinds of chopping, slicing and dicing before you assemble everything in the pan.
Not so with Spinach Alfredo!
For this recipe, I opted to use frozen spinach and ready made alfredo sauce. I even used garlic paste from a jar so I'd never have to touch a cutting board.
A couple different kinds of cheese, some dried herbs , UNCOOKED penne noodles and a 9 x 13 baking dish and you're ready to make the best-ever one pot dinner.
How to assemble the pasta bake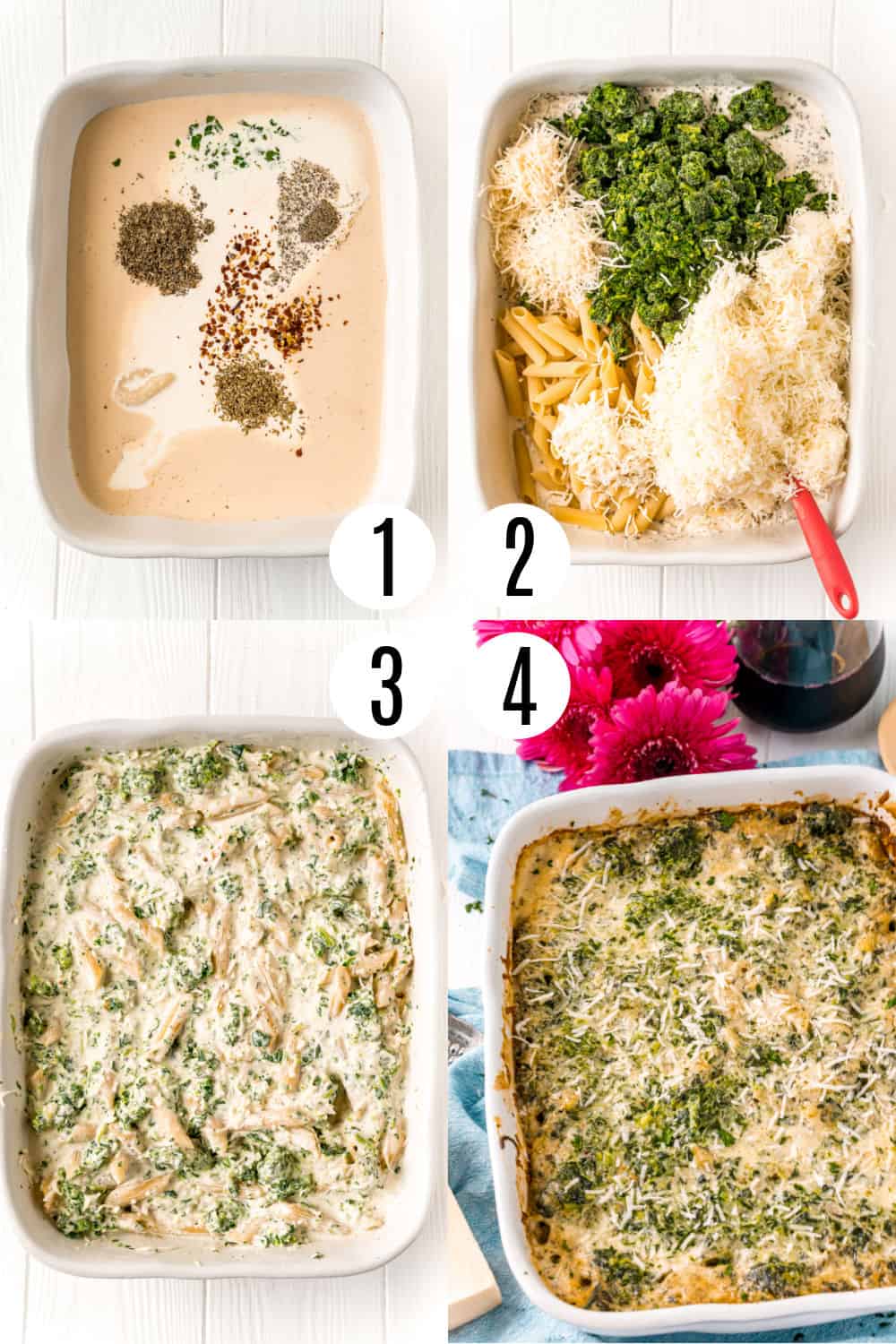 STEP 1. Pour the alfredo sauce in the baking pan along with heavy whipping cream, garlic paste and a few herbs and spices. Stir.
STEP 2. Add uncooked pasta, frozen spinach and cheeses. Stir again.
STEP 3. Cover with foil and bake!
That's it! Other than removing the foil 15 minutes into the cooking time, this dinner is hands off. The cheese gets bubbly on top and the pasta gets cooked to al dente perfection.
Substitutions and Variations
You'll love this dish so much you'll want to make it again and again. These substitutions and variations let you mix it up based on whatever it is you're craving (or whatever you have in the fridge).
Garlic paste: Sub 2 tablespoons of minced garlic or 1/2 teaspoon of garlic powder if you prefer.
Seasonings: Instead of the oregano and basil in the recipe, you could substitute 1 1/2 teaspoons of Italian seasoning.
Pasta: I used penne in this recipe. Rigatoni or ziti pasta noodles would work well too.
Extra veggies: Add a cup of chopped vegetables along with the pasta if you like. Broccoli, tomatoes, olives, zucchini or just about any other veggie you like will be delicious here.
Meat: Cooked summer sausage is great in this pasta bake, like we do with our Sausage alfredo. Add a rotisserie chicken that's been cut up to the pasta for a delicious twist.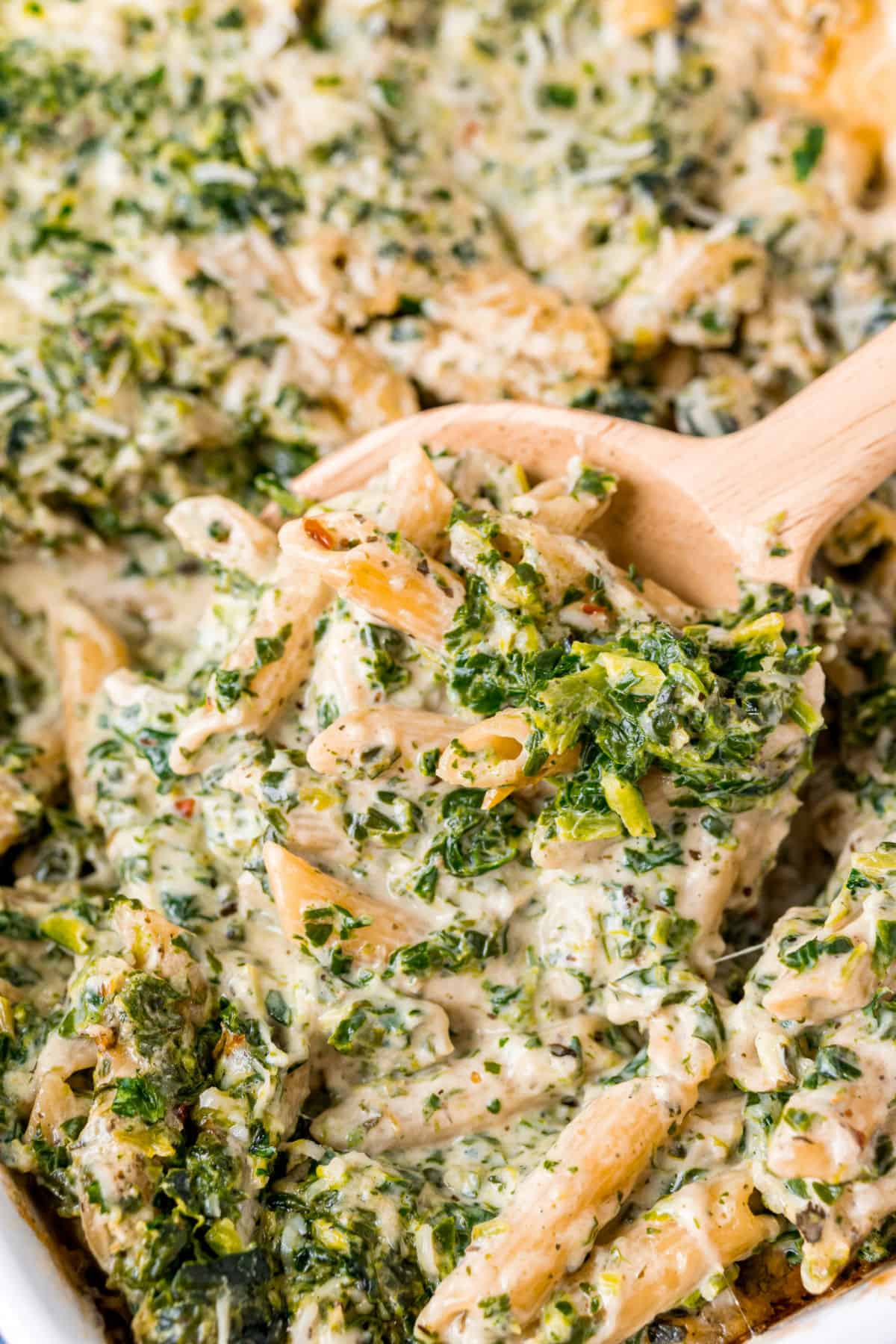 Recipe FAQs
Can spinach alfredo pasta be made ahead of time?
This pasta dish is best when assembled and baked immediately.
How do you store leftover pasta?
Keep the leftovers in an airtight container for up to three days.
Can I use fresh spinach instead of frozen spinach?
I don't recommend that because this recipe uses the liquid from the frozen spinach to help cook the pasta in the oven.
Tips and Tricks
Do NOT thaw and drain the frozen spinach! You need the water from the spinach in the pan to properly cook the pasta.
Need this dinner even faster? If you precook the pasta to al dente before adding it to the pan, you only need to bake it uncovered for 20 – 25 minutes. If you choose to do so, reduce the cream in the recipe by 1 1/2 cups.
This recipe uses frozen chopped spinach as opposed to the frozen block kind of spinach. If you use a block, you'll need to break it up before adding to the pan.
Serve this hearty pasta dinner with homemade garlic bread and fresh green salad recipe!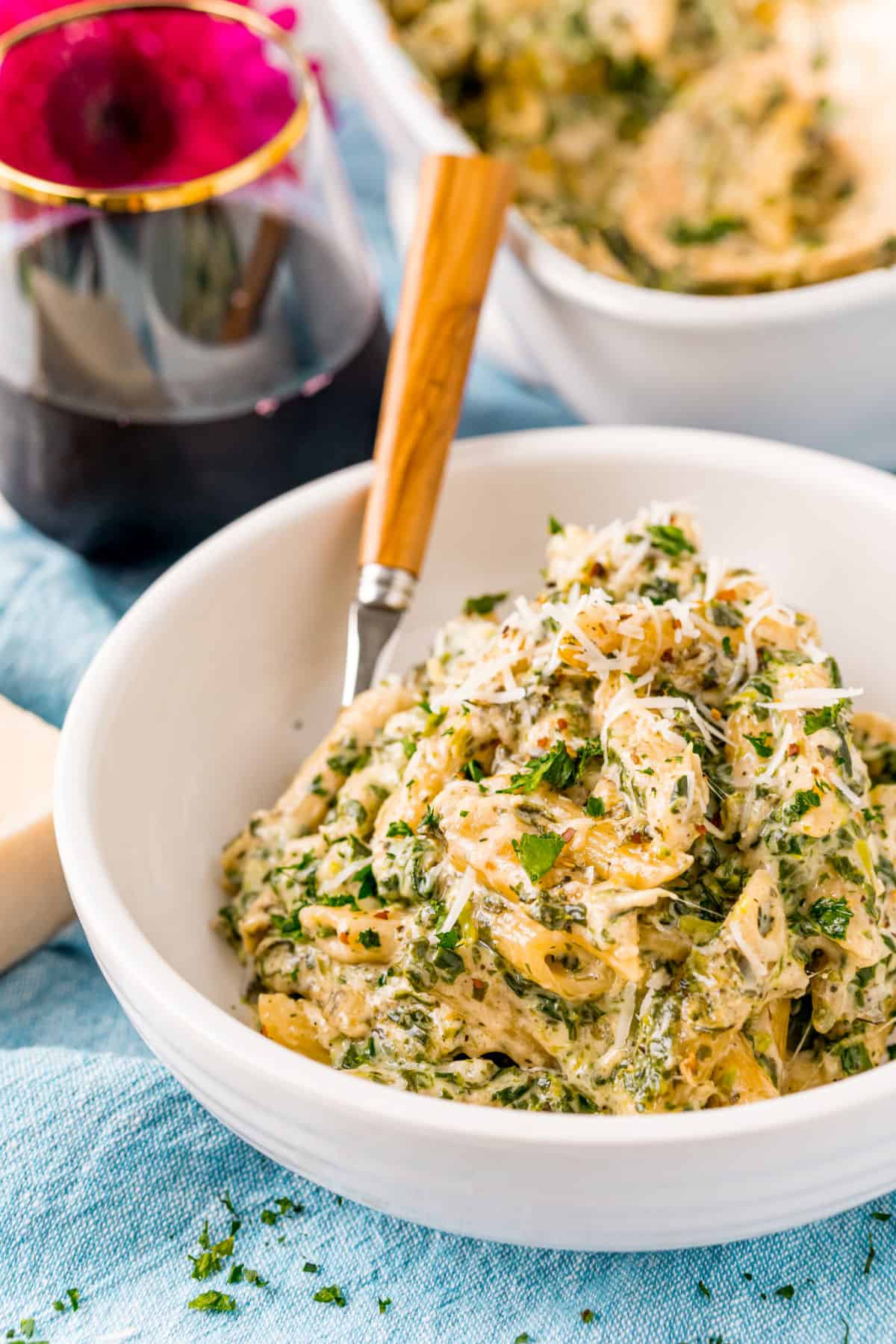 Spinach Alfredo Pasta Bake is the ultimate in easy cooking! Skip the pizza delivery and make a delicious and nourishing homemade dinner–all in one pan.