Need comfort on a cold day? Try my savory Instant Pot Salisbury Steak, topped with mushroom gravy and it's easy to make too. It's just like mom used to make, with much less effort and only a single dish to clean when you're done.
Love using your Instant Pot for dinner? Try our easy Instant Pot Chicken Tacos for the perfect weeknight meal. Or give our reader favorite Instant Pot Mac and Cheese recipe a try next.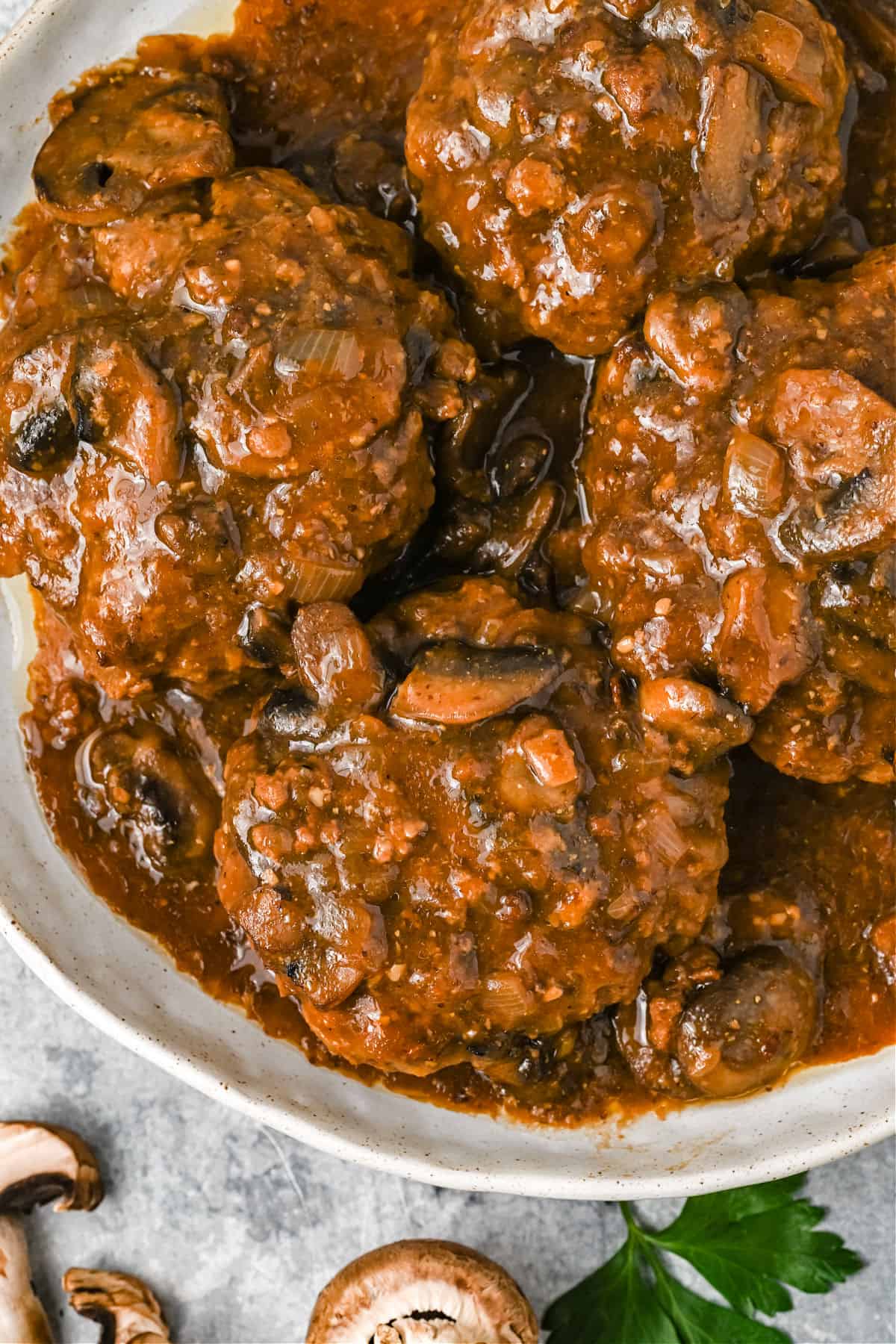 Why You'll Love It
Salisbury steak is a true American classic, but it's only in the last few years that making this recipe has become so simple. There aren't many dinners you can create from scratch with less effort. Here's why I love this recipe,
The combination of natural fats and carbs will give anyone a mood boost. It's guaranteed to be a family-pleaser on a cold or grey day.
The end result is juicy and tender. Using an Instant Pot means that cooking goes incredibly fast and eliminates any chance the meat will dry out.
Mushrooms and Worchestershire create a rich umami flavor to elevate the salty and sweet notes of your plate. It will also help the best flavors linger.
The whole thing is done in an Instant Pot, so it comes together quickly, and you'll only have one piece of cookware to clean at the end.
Ingredient Notes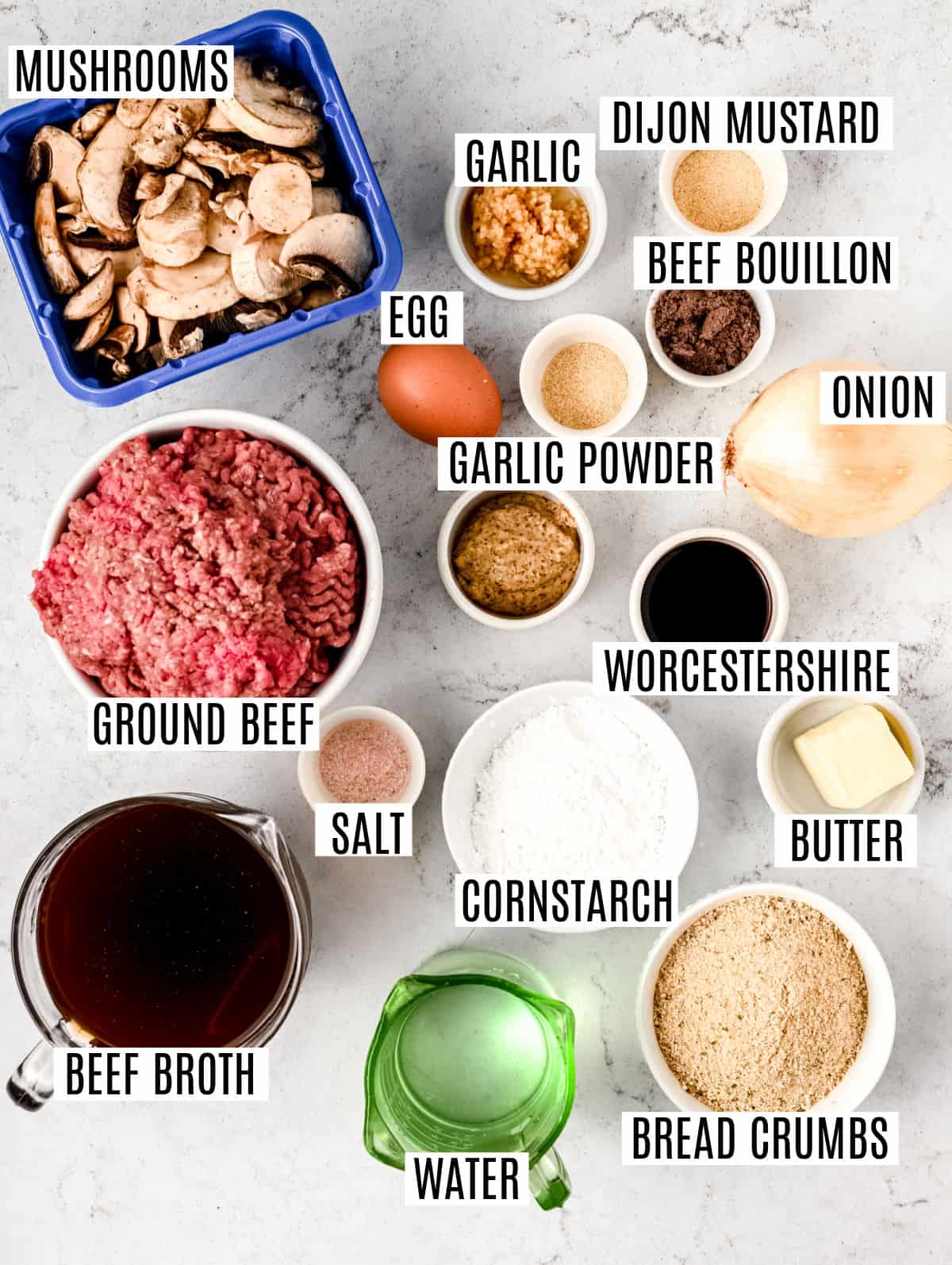 For The Salisbury Steaks
Ground Beef – Reach for "lean" ground beef, with 5-10% fat content. We'll reuse the drippings, and add butter to the gravy, so a higher % would be overkill here.
Bread Crumbs – Bread crumbs add carb content that makes this recipe so comforting. Look for "panko" bread crumbs, which are made without any crust and have the best texture for this recipe. Regular bread crumbs can substitute in a pinch.
Salt – Use a fine, quick-dissolving Kosher salt. Avoid iodine-enriched salt for this recipe since it can be over salty and carry an aftertaste.
Egg – This is our binding agent. Having the correct ratio of eggs to breadcrumbs will ensure your steaks are juicy without falling apart.
Worcestershire – Don't skip it! Worcestershire packs sour, sweet, salty, and umami flavors into the steak. It is critical.
Onion – Carmelized onions are another primary flavor. As you cook the onions, the natural sugars brown, creating a sweet and nutty flavor.
Garlic Powder – Fresh garlic can work here. Still, the powdered version is quick and easy to measure and carries the milder garlic flavor we're going for. 
For The Gravy
Mushrooms – Any of the common cap-style mushrooms like Baby Bellas will do. It is possible to make the gravy without mushrooms, but you'll lose a lot of flavor.
Beef Broth – Broth is the base of our gravy. Chicken, mushroom, or veggie broth are all acceptable substitutes, but beef broth is truly the best flavor match for a beef-centric dish.
Corn Starch – Without corn starch, it would be difficult to achieve a thick consistency gravy that brings the dish together. Potato starch can fill in if needed, but the results may not be to the same level.
Butter – Take care to use "unsalted" butter to get the most control of how salty this dish becomes.
Beef Bullion – Adds tremendous beef flavor to the gravy, beyond what you could accomplish with only beef broth.
Dijon Mustard – It works as an emulsifier that keeps the fat drippings from separating from the gravy. The flavor also pairs really well with beef. 
Onion – Onion adds a natural sweetness to the gravy.
Easy Instructions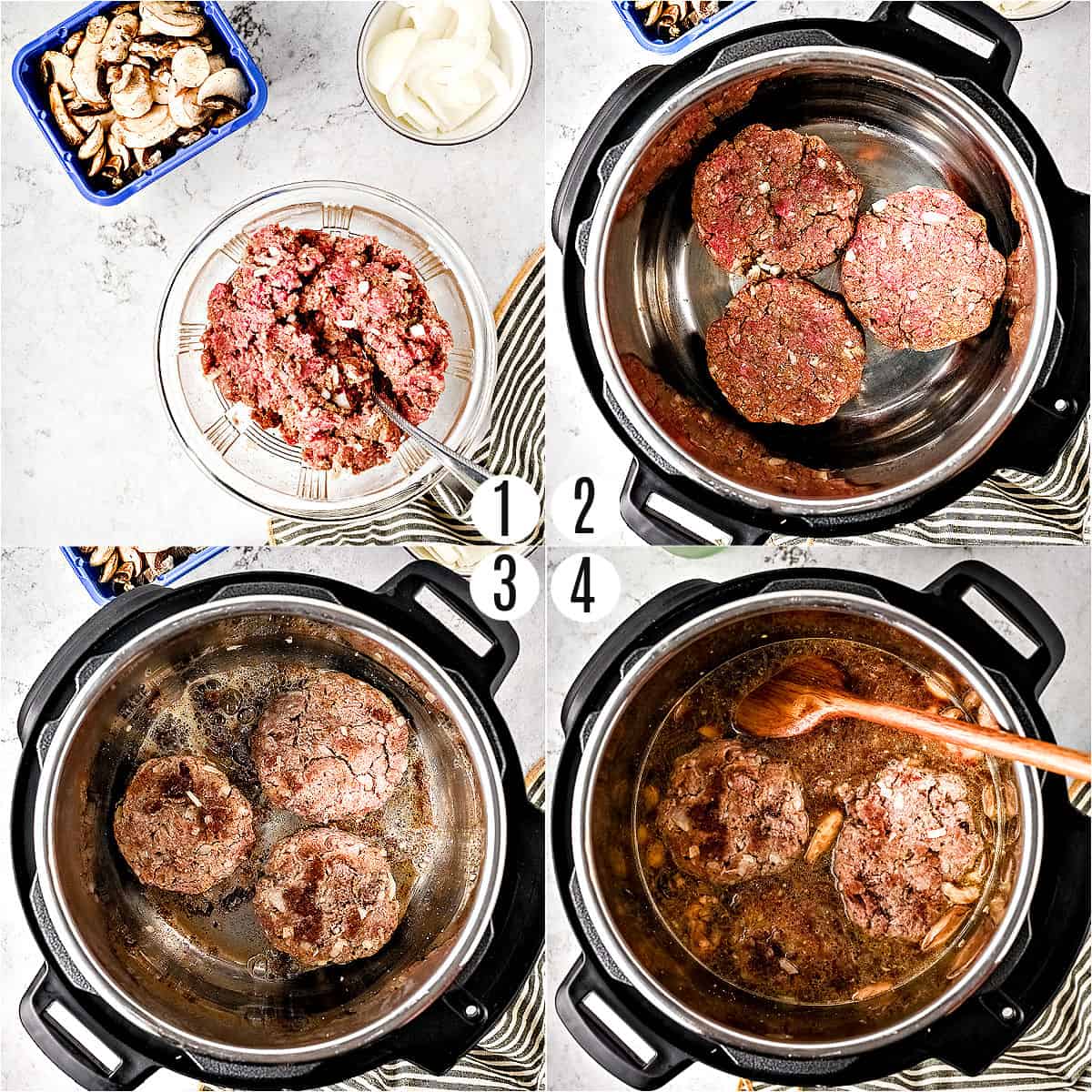 You'll need an Instant Pot with a "saute" function to complete this recipe as I've written it. Some of the older versions don't incorporate the saute setting, but any of the newer Lux Series Instant Pots should have it. I use a 6-quart Lux Instant Pot in my kitchen.
Prep The Patties – Combine all of the Steak ingredients, mixing them thoroughly using a wooden spoon. Then form the resulting mixture into 4-5 oval-shaped patties using your hands. Try to create them at an identical size, so they cook similarly, with each one about ½" thick. 
Sear The Patties – Activate your Instant Pot's "saute" setting, and allow it to come to temperature before inserting the patties. Brown them on each side for 3-4 minutes, then rest on a plate. This searing process will create a wonderful flavor and nearly crisp texture on the outside of your steaks.
Prep The Gravy – Keeping your Instant Pot on the "saute" setting, add the mushrooms, onion, and garlic. I love this part of the process because it's incredibly aromatic and serves to tenderize the solid ingredients to the desired texture. Adding broth and water, deglaze the bottom of the pan. Scrape all those delicious bits of meat and veggie that are stuck there. This helps prevent the "burn notice" too.
Turn off "saute," and add Worcestershire, mustard, and bouillon. 
Pressure Cook It! – Add the plated patties back to the pot full of gravy. Seal the lid and cook on high pressure for 2 minutes. Allow the pressure to release naturally for 10 minutes before venting any remaining steam. 
Finish & Serve – Plate the Steak patties first. Then combine the corn starch and remaining water to finish the gravy. With the pot set on "saute," whisk the liquid together until it thickens. Spoon the finished gravy over your steaks and serve while it's still hot.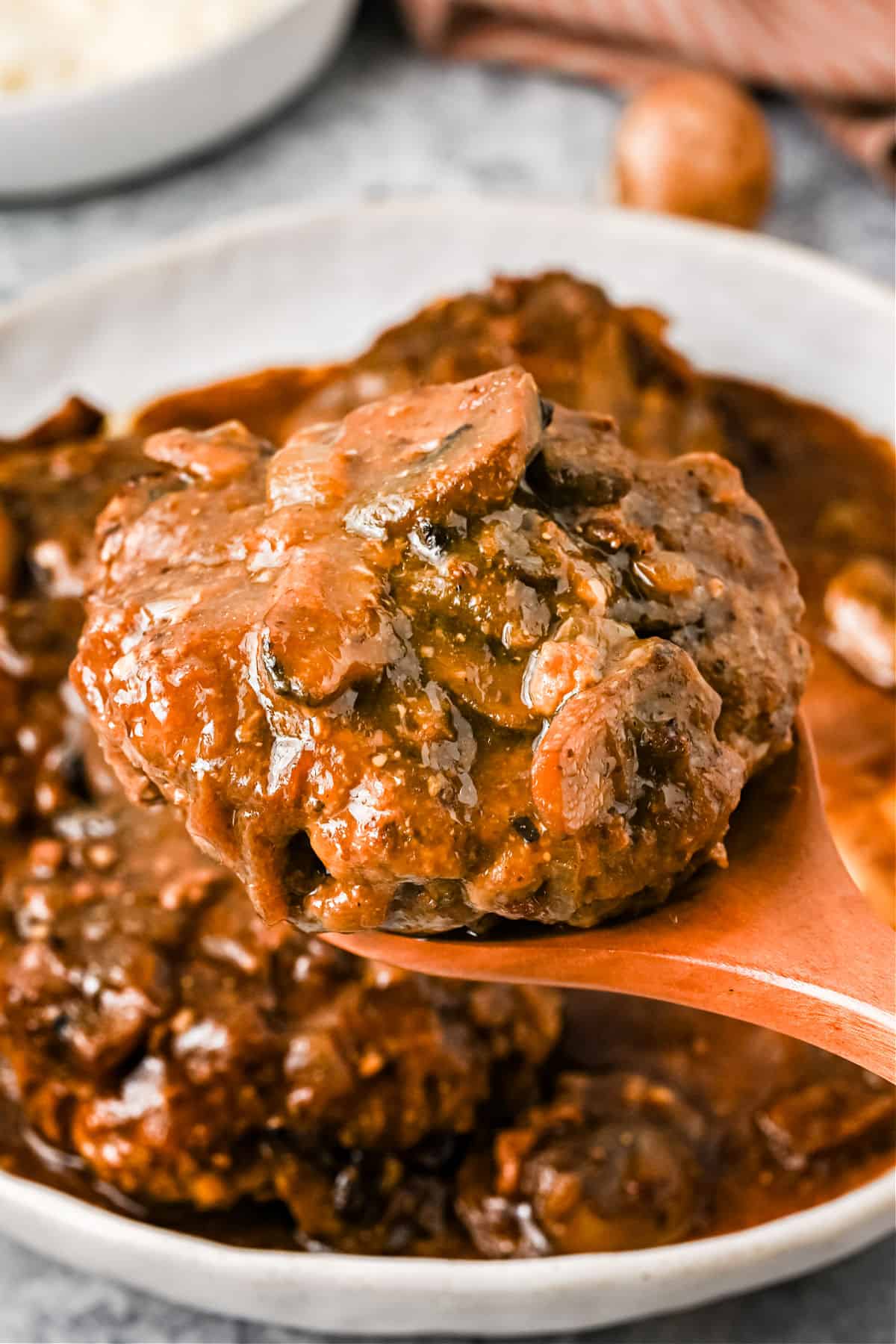 Tips and Tricks
Closely follow my ratio for egg and bread crumbs to meat. This ratio is critical for adequately binding the steak patties, so they don't crumble or fall apart.
If your meat is difficult to mix with a wooden spoon, try using a potato masher to smash and break it up first. Or use your hands.
Trying to avoid red meat? In that case, it is possible to substitute the beef ingredients with ground turkey and chicken stock for a similar result.
Serve with mashed potatoes, rice-a-roni, or dinner rolls on the side. The gravy does wonders when paired with these sides.
This recipe makes for excellent leftovers, so have an airtight container on standby after the meal. You can store this dish in the refrigerator for up to 3 days. 
Recipe FAQs
What is the difference between hamburger steak and Salisbury steak? 
Salisbury steak is actually derived from your classic hamburger steak. The main difference is that hamburger typically contains only salt and pepper. In contrast, Salisbury steak has more flavorful fillers like breadcrumbs, sauces, onions, and an egg.
What if I don't have beef broth?
Beef broth is the best match to the intended flavor profile of Salisbury steak, but any other broth like Veggie, Chicken, or Mushroom will work in a pinch. You can also substitute or supplement with red wine or unsweetened grape juice.
Are mushrooms really necessary?
While the umami flavor from mushrooms is a key component of Salisbury steak, it is possible to go without. Worcestershire should grant a lot of umami even without them. While I haven't tried this personally, zucchini offers a similar soft texture when cooked and is likely to match the flavor of this dish. Let me know if you try it!
Can I double the recipe?
You sure can. Keep the cook time the same, it will just take longer to come to pressure.