Spicy Grilled Fish tastes even better when you pair it with fresh citrus slaw! Served on its own or on a tortilla, you'll love this easy healthy meal.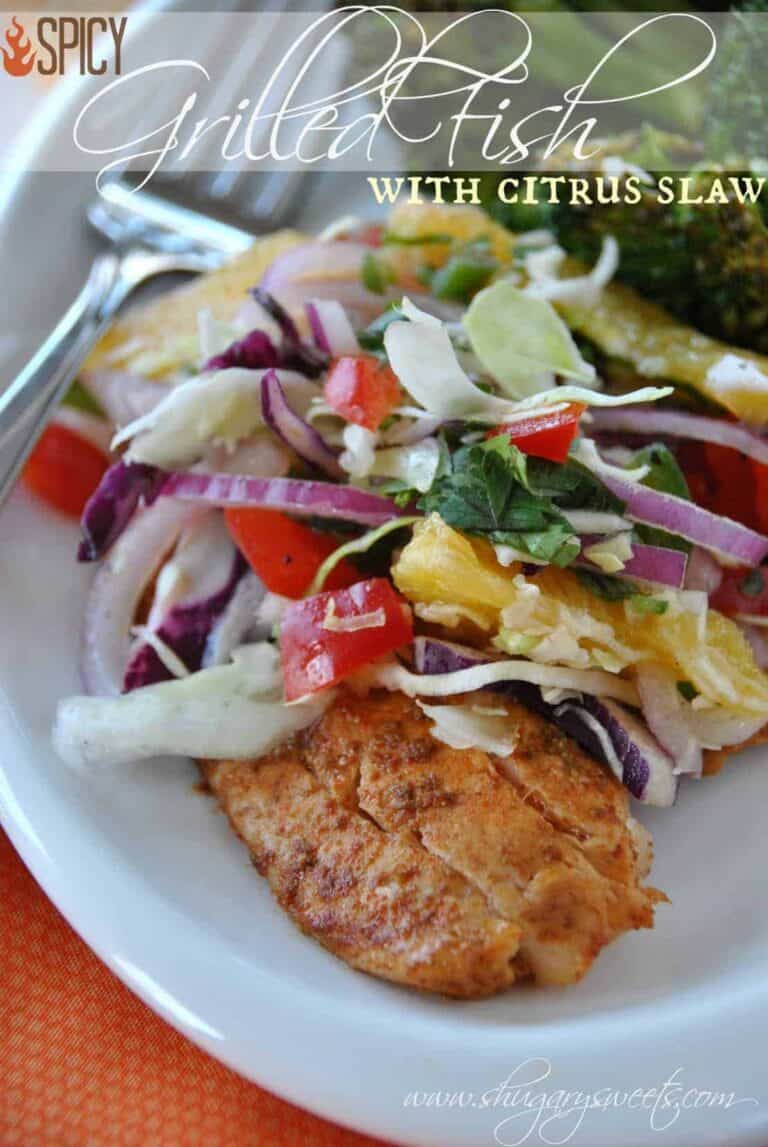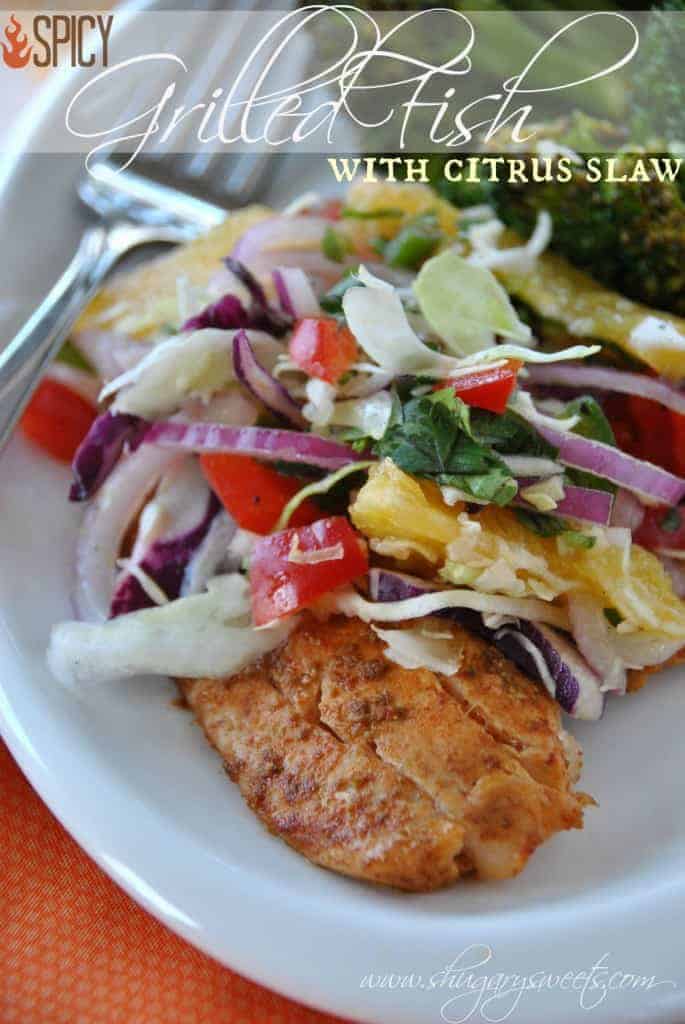 Fish seems to be one of those divisive foods. Some can't get enough of it, others won't touch it with a 6 foot pole. If you're in the latter category, I have a fish recipe that just might change your mind!
Grilled Fish
Cooked correctly, fish is one of my favorite proteins. It's healthy, easy to prepare, and I love how well it absorbs the flavors of all kinds of marinades and seasonings.
There's no better way to enjoy fish than when it's grilled! Use an outdoor grill or a grill pan on the stove, brush the fish with a spicy citrus marinade and cook it to flaky perfection. With grilling you can control the heat and the cook time more easily, resulting in perfect flaky fish every time.
We love our grilled fish best paired with this easy citrus slaw. The coolness from the citrus salad combined with the spicy fish is a perfect match.
Serve the fish on a plate and top it with a generous amount of the salad for a light meal. You can also put this fish and slaw on a tortilla, I know my kids love to eat everything on a tortilla!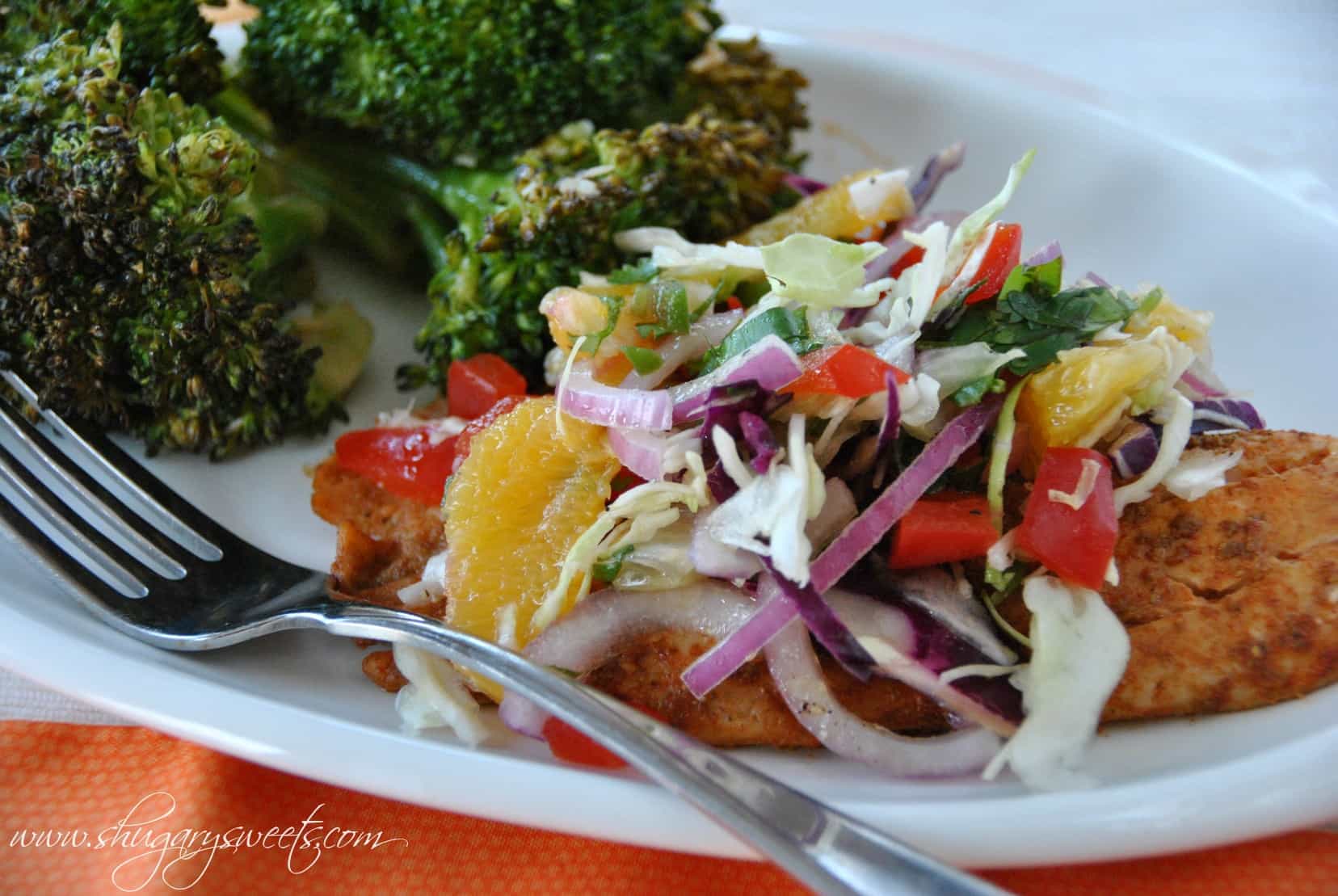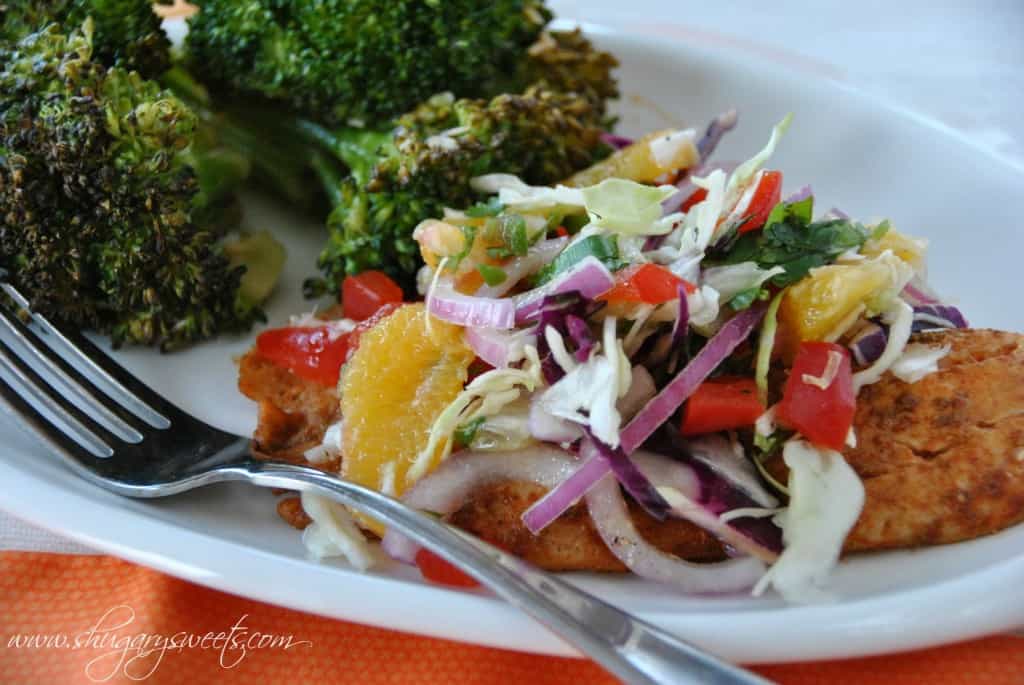 What Fish to Use
Tilapia is my preferred fish to use in this recipe because my kids love it! I choose 4 oz tilapia fillets–they're the ideal size for grilling.
You can try other types of fish like salmon or tuna too, just adjust your cooking times based on the thickness of the fillets.
Citrus Salad
The ingredients list for the citrus slaw I make with our grilled fish looks lengthy, but it's super easy to assemble and really MAKES the meal. Don't skip it!
With crunchy cabbage, red onion, peppers, basil and cilantro the slaw is a total explosion of flavor! Jalapenos make it spicy and the fresh orange juice ties everything together.
And, can I just say one more thing about the citrus salad? If you have some of this leftover, please save it. It's delicious on a sandwich. Or a burger. Or just with a fork!
Step by Step
STEP 1. Assemble the slaw
Toss all the citrus slaw ingredients together in a large salad bowl. Refrigerate until you're ready to serve.
STEP 2. Season the fish
Mix chili powder, garlic salt, salt, cumin and cayenne in a small bowl. Add lime juice and mix thoroughly. Brush the seasoning on both sides of the fish filets.
STEP 3. Grill
Grill the seasoned fish fillets for 5 minutes on each side, or until the fish is flaky at the touch of a fork. Be careful not to overcook.
Serve immediately on a plate with a heaping portion of citrus slaw on top of each filet!
Serving Ideas
See that broccoli in the background? I know your wondering how to make that too, right? It's actually adapted from my Roasted Broccoli recipe. I just only used broccoli and I kept the parmesan cheese off. Roasted veggies made the meal complete.
This spicy grilled fish is awesome in tacos, in rice bowls or tossed into a dinner salad, too! If making tacos, be sure to warm the tortillas first for best taste.
Store leftover grilled fish in the refrigerator and enjoy within a day. Leftovers taste good cold in a salad or wrap for lunch.
Speaking of fish tacos, after you make this grilled fish, you need to try Fish Tacos with Avocado Sauce. Not only is the fish tasty, but I dream about this avocado sauce. It's borderline life changing.