Turkey Noodle Soup- perfect for leftover turkey!
Comfort food for the holidays! Use your leftover turkey for this Noodle Soup recipe or you can also substitute shredded chicken!
This post is sponsored by Dorot and Pop & Cook. All opinions expressed are 100% my own!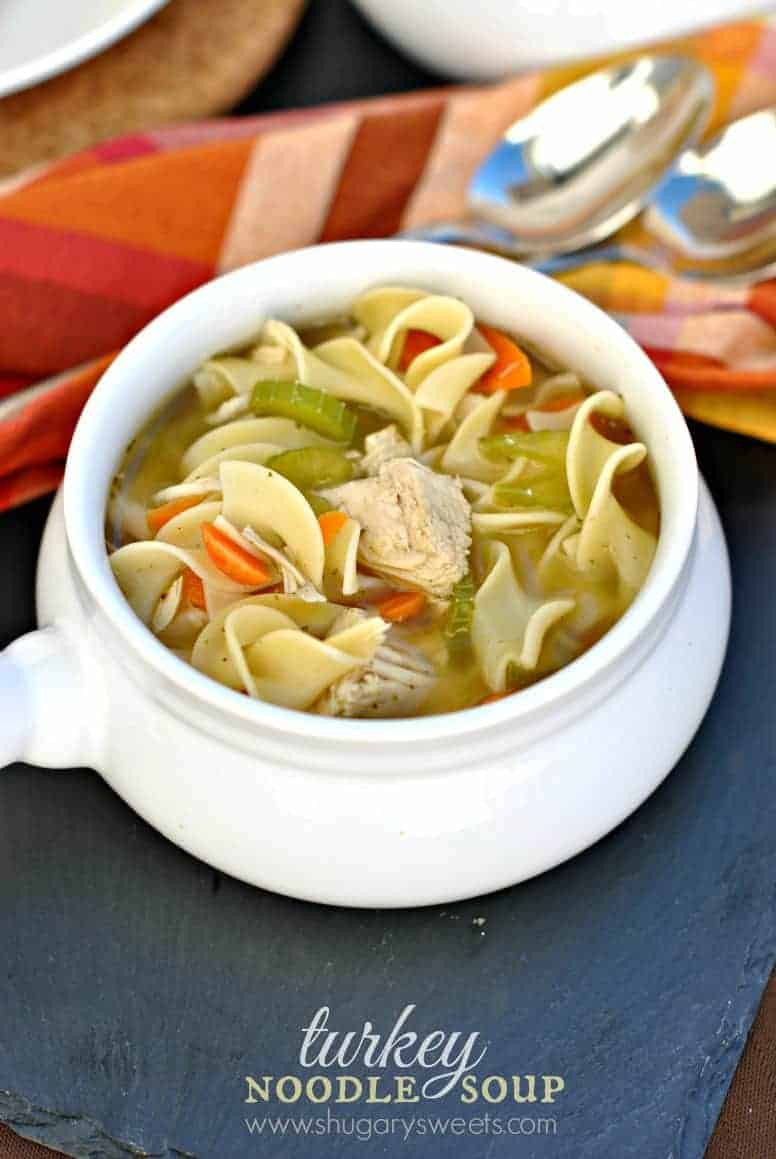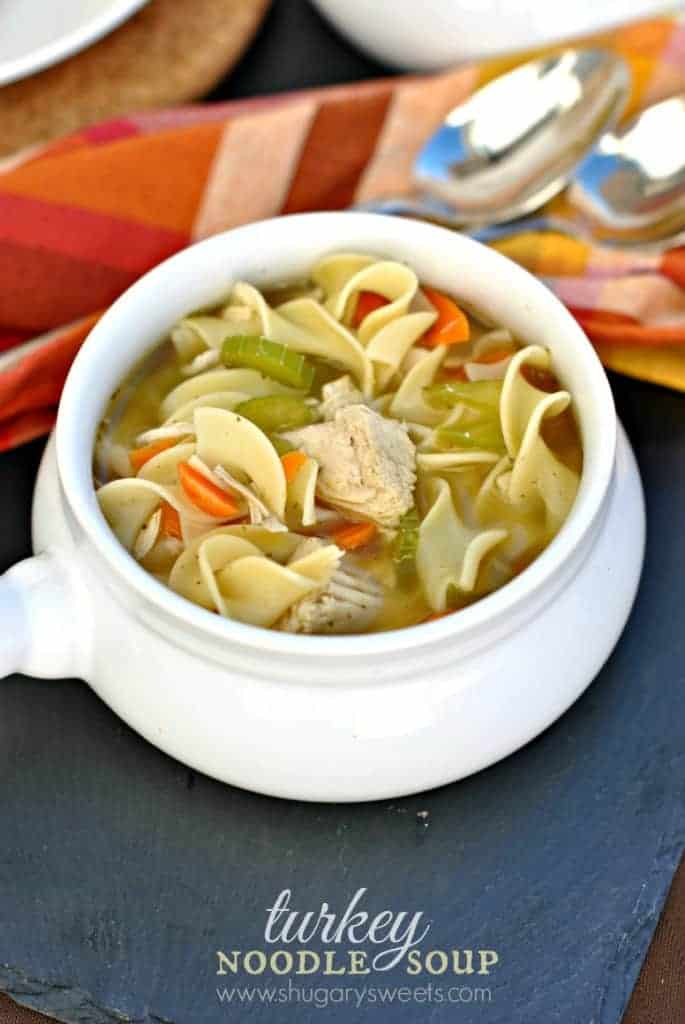 I'm a little disappointed that I can only find good turkeys in the store around Thanksgiving. I mean, where are the turkeys the rest of the year?
Off on some farm getting fat I'm sure…
So, this time of year, we eat a lot of turkey. Today's recipe is the perfect solution if you find yourself with some leftovers this Thanksgiving. It's such an easy recipe to toss together, and it feeds a crowd! A hungry, football watching, crowd.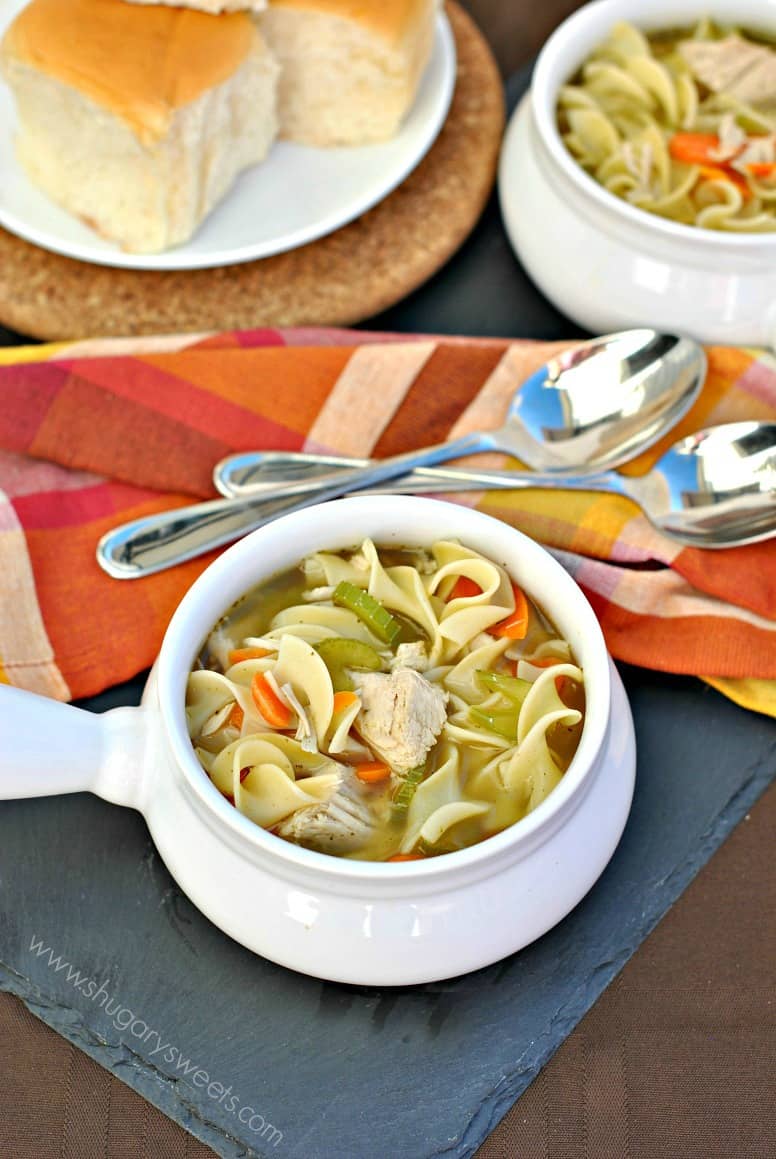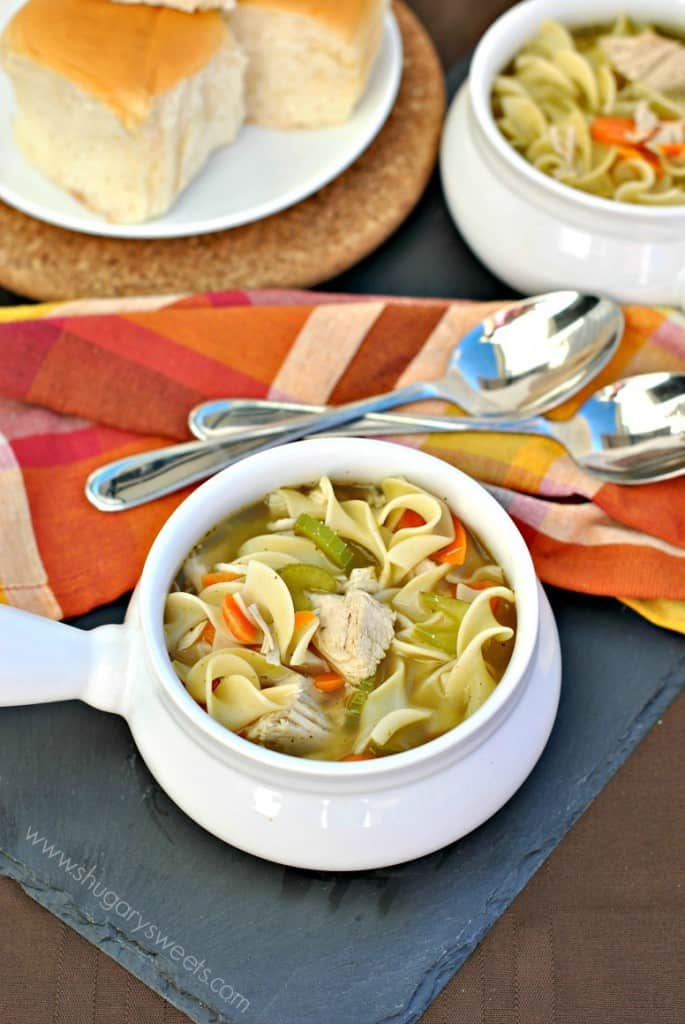 I love to cook up a few extra turkeys, shred the meat, and keep it in freezer bags until I'm ready to use. You can also substitute chicken if you want, for a delicious homemade Chicken Noodle soup.
While turkey is readily available, I have a hard time finding fresh herbs this time of year. I grow my own in my garden, but by this season, they are wilted and unavailable.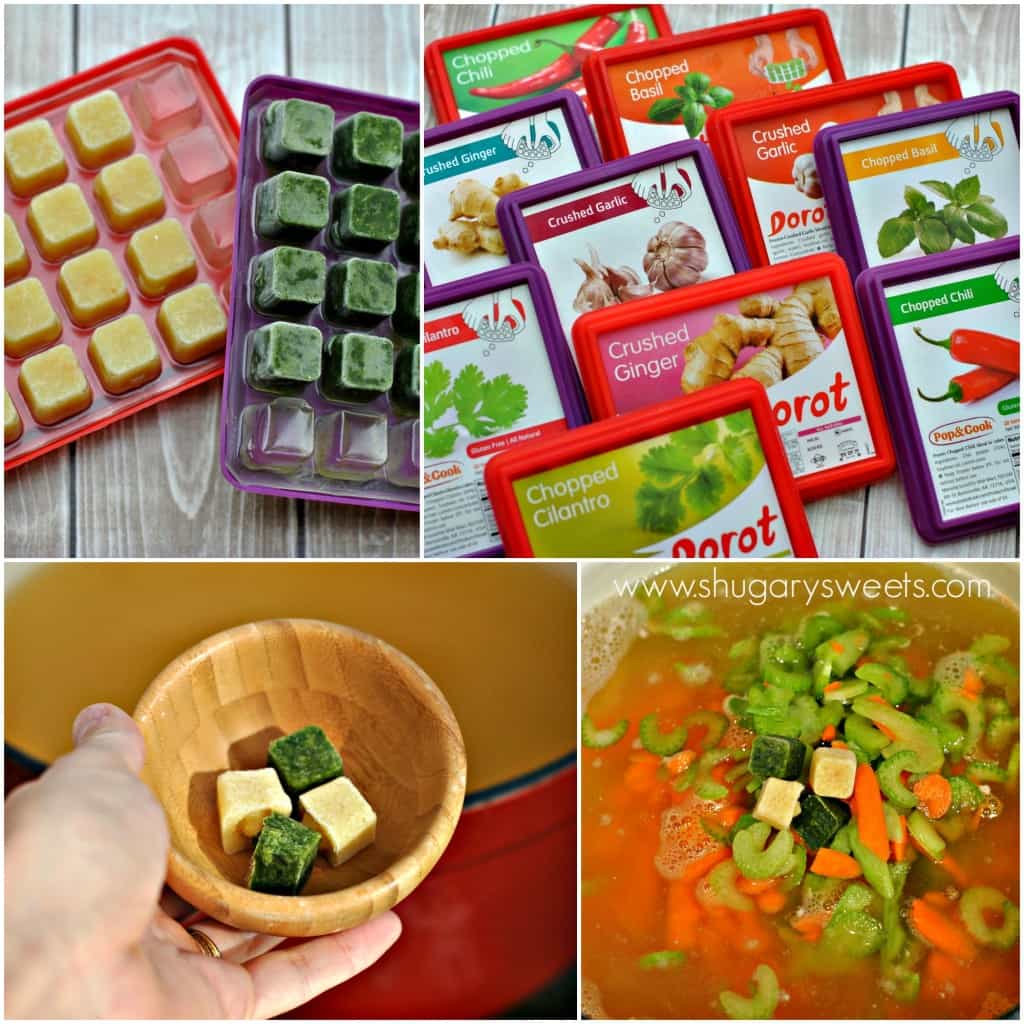 Have you seen the frozen herbs in your grocery store yet? They come in mini trays (like an ice cube tray) perfectly measured and ready when you are! At Walmart, you can find them under the name of Pop & Cook, and elsewhere they go by the name Dorot. The Pop & Cook are in the purple packages, the Dorot are in the red packages…keep your eye out for these in your grocers' freezer section!
I'm so excited to keep these in my freezer to have when I'm ready to cook! They come in delicious varieties like crushed garlic, chopped chili, crushed ginger, chopped cilantro, and chopped basil. To use in today's soup recipe, I just popped them straight from the freezer to the soup! Easy, no chopping, no running to the store for fresh herbs. Keep them in YOUR freezer!
Connect with Dorot and Pop & Cook on Facebook.
Yield: serves 8
Turkey Noodle Soup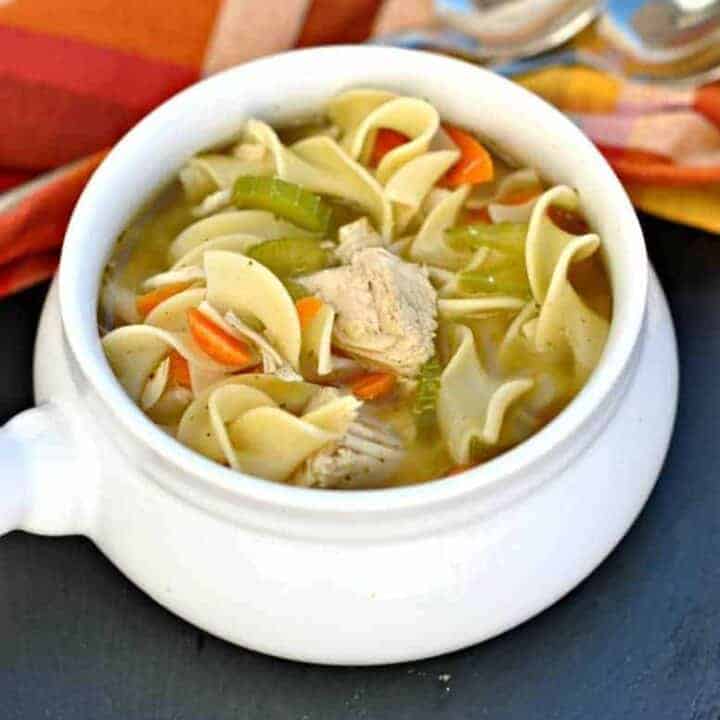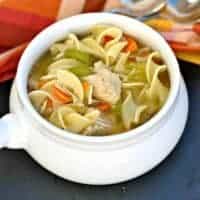 Prep Time 15 minutes

Cook Time 45 minutes

Comfort food for the holidays! Use your leftover turkey for this Noodle Soup recipe or you can also substitute shredded chicken!
Ingredients
32 oz chicken broth
10 cup water
2 cubes Dorot crushed garlic (or 2 cloves)
2 cubes Dorot chopped basil (or 2 tsp)
4 cup cooked and chopped turkey
2 tsp kosher salt
2 cup sliced carrots
1 1/2 cup sliced celery
1/4 tsp black pepper
1 tsp poultry seasoning
12 oz wide egg noodles, uncooked
Instructions
In a large soup pot, heat broth and water over medium high heat. Once soup gets warm, add in remaining ingredients (except noodles) and heat to near boiling, stirring occasionally. Keep covered, this will take about 20-30 minutes, and vegetables will soften.
Once boiling, add noodles and boil uncovered until noodles are desired consistency, about 10-15 minutes. Serve and enjoy!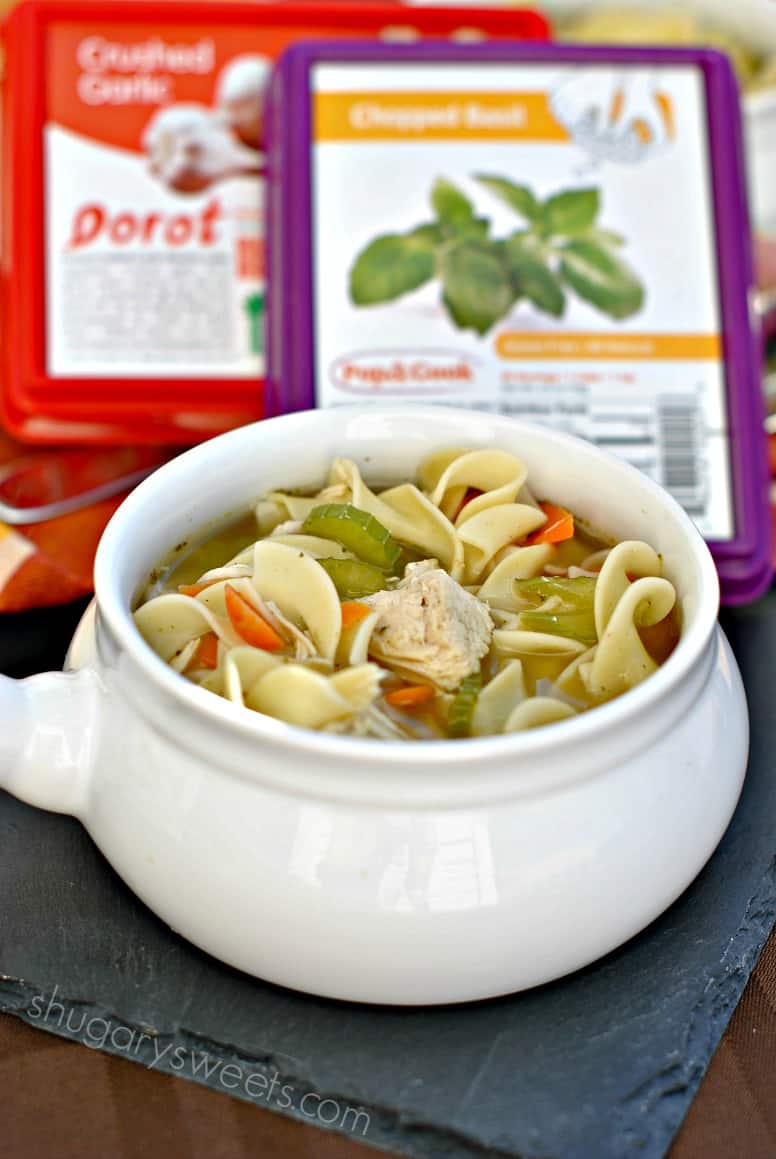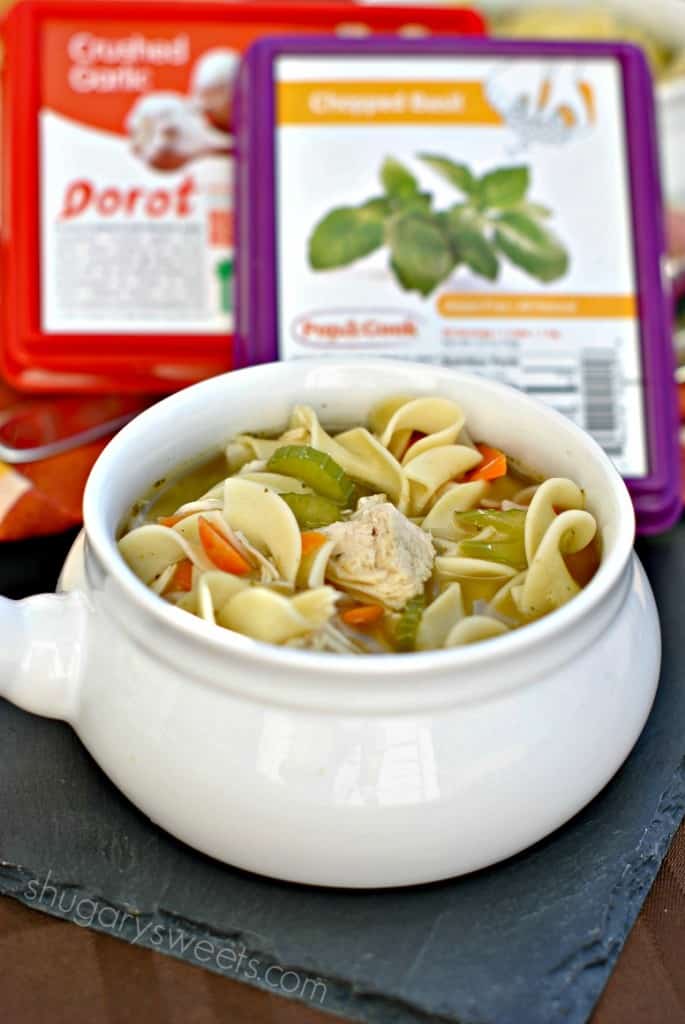 **I have been selected to be a brand ambassador for Dorot and Pop & Cook. I have been compensated for my time. All opinions expressed are 100% my own!**