Comfort food for the holidays! Use your leftover holiday turkey to make this Turkey Noodle Soup recipe or substitute shredded chicken any time of the year.
Love easy dinners? This turkey tetrazzini is a great way to use more of that leftover turkey!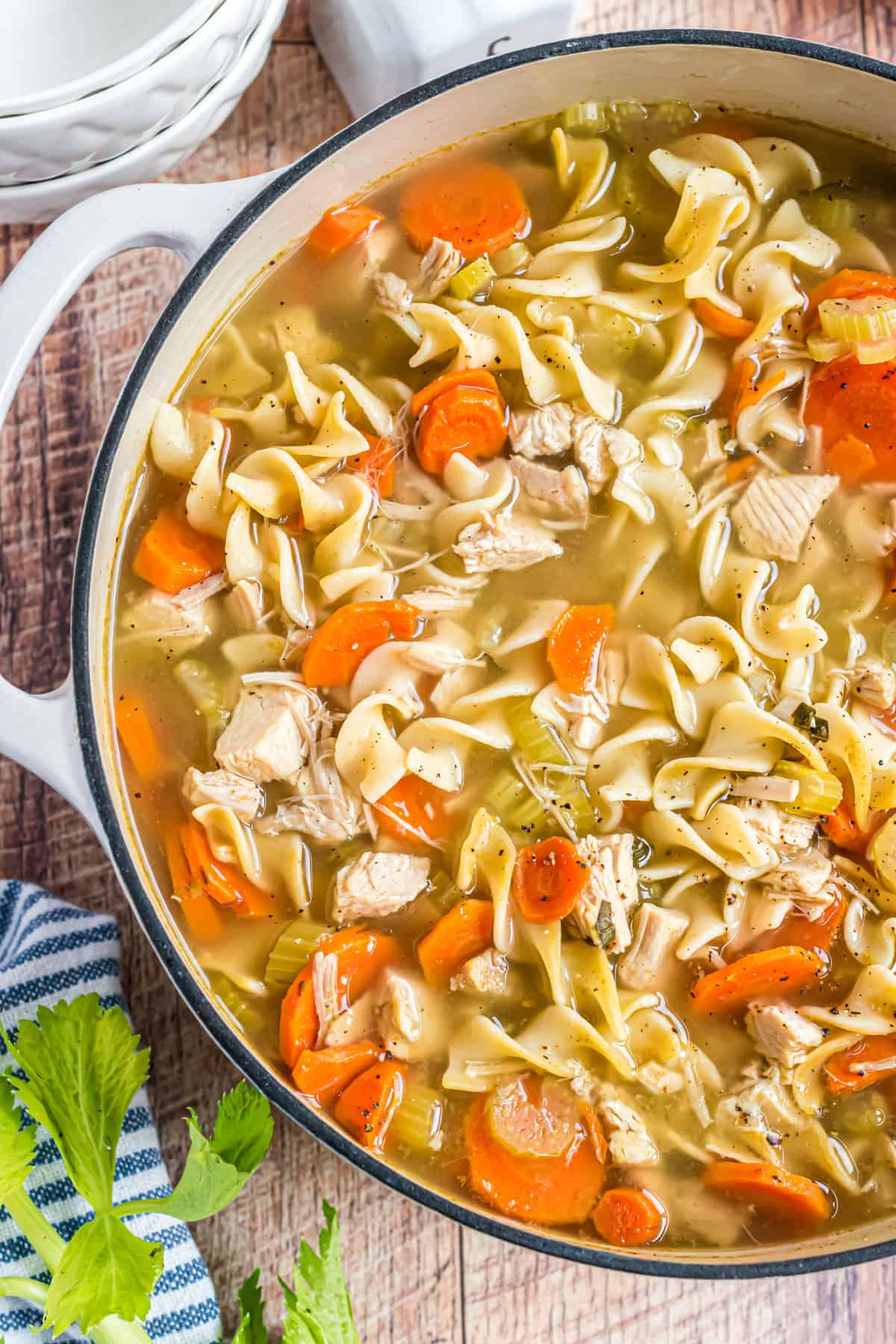 Leftover Turkey Idea
Tender pieces of turkey swimming in flavorful broth with hearty egg noodles make Turkey Soup a standby favorite way to use up those Thanksgiving leftovers.
Today's recipe isn't your ordinary Turkey Noodle Soup!
With garlic and fresh basil, this soup is full of aromatic herb flavor and big chunks of veggies.
Can use leftover turkey or chicken in this versatile soup.
Freezer friendly!
It's everyone's favorite leftover turkey meal! Serve this soup with our delicious turkey hand pies for a "soup and sandwich" meal!
Ingredient Notes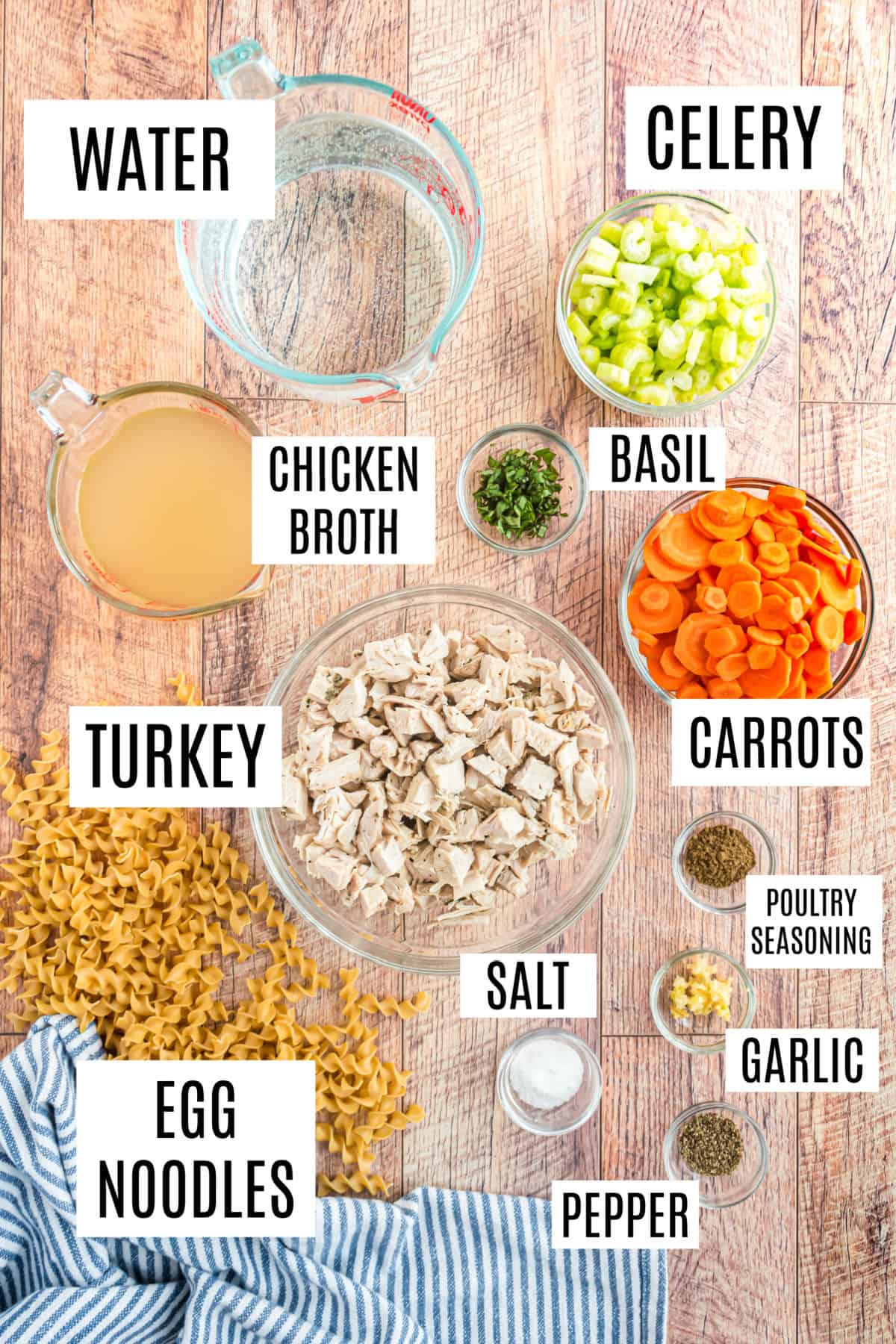 Cooked Chopped Turkey – Cut leftover turkey into bite sized pieces or substitute cooked chicken instead! I've made this with a rotisserie chicken (shredded) from the grocery store with excellent results too!
Chicken broth – Or substitute vegetable broth if you prefer.
Basil – I use fresh basil or basil that I froze fresh for best flavor.
Egg noodles – I use the wide egg noodles and add (uncooked) to the soup toward the end of cooking. If freezing the soup, do NOT add the noodles.
Easy Instructions
This soup comes together so easily with just one pot! Heat the water and broth in a large stock pot, then add carrots, celery, garlic, turkey and the seasonings.
Keep the pot covered while you bring the soup close to boiling, stirring occasionally for about 20 minutes. This lets the vegetables soften and gets the flavors mingling and melding. Add the egg noodles and bring everything to a boil until the noodles are cooked through.
If you like your noodles on the more toothsome side, they'll be done in about 10 minutes. For softer noodles, cook a few minutes longer.
Ladle into bowls and enjoy!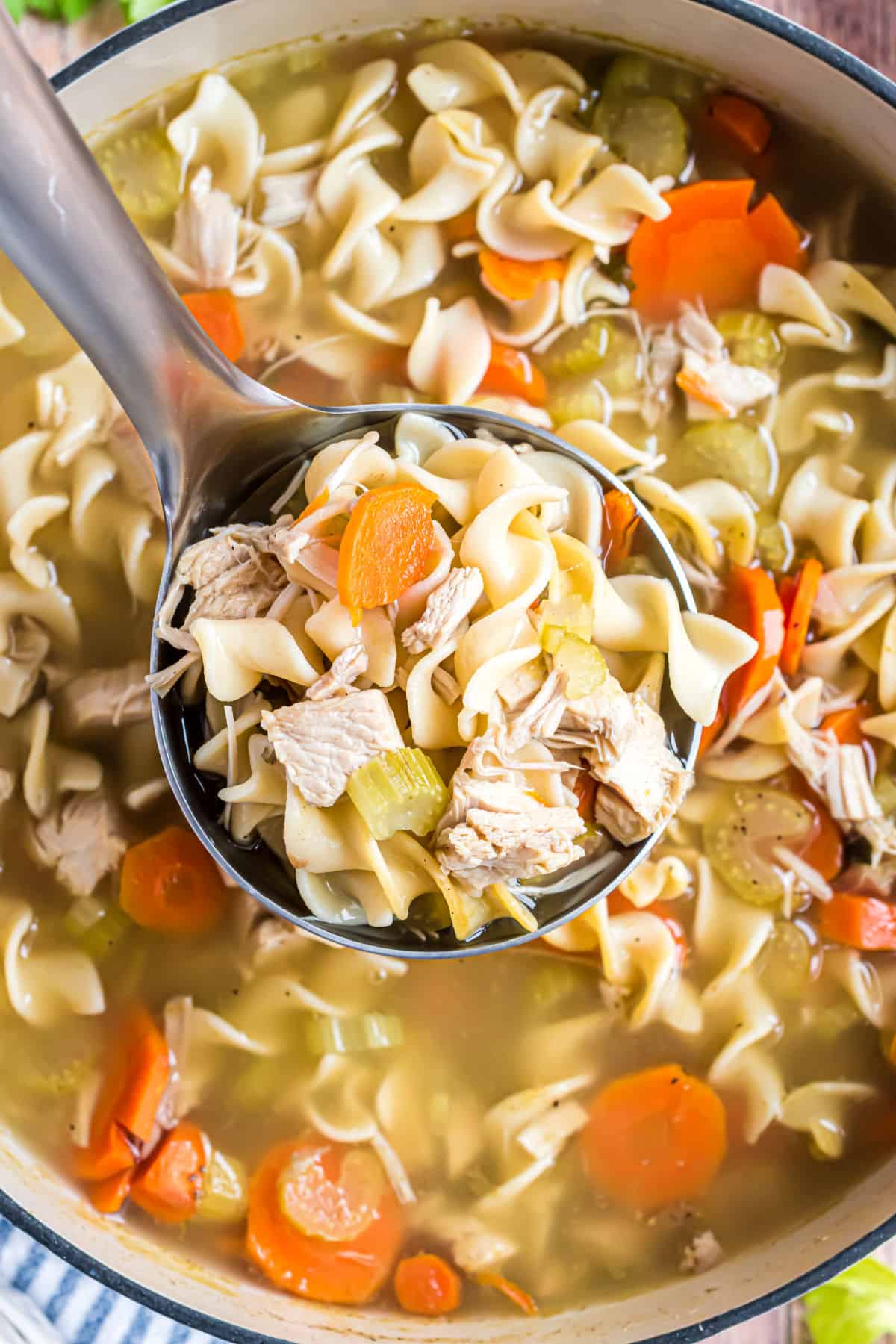 Recipe FAQs
Can I substitute dried basil or tubed basil?
The basil that comes in tubes will work great in this recipe! I haven't tried it with dried basil but I imagine the flavor would work just fine too.
How long does turkey soup stay good?
Stored covered in the fridge, this soup will keep for about 3 days.
Does light or dark meat work better in this soup?
The answer depends entirely on your preference. I usually use a combination of light and dark meat.
Serving Suggestions
One of the best things about having soup on the menu is that it can double as a light dinner or a side dish for a larger meal. Serve a cup of turkey soup as an accompaniment to a salad or sandwich for an easy lunch.
We love eating this for dinner with garlic bread on the side for soaking up all the leftover broth at the bottom of the bowl.
Serve your soup with a basket of fresh Dinner Rolls or Puff Pastry Bread Sticks for a hearty dinner. Or keep it simple and serve with a side of Saltine or oyster crackers to sprinkled on top.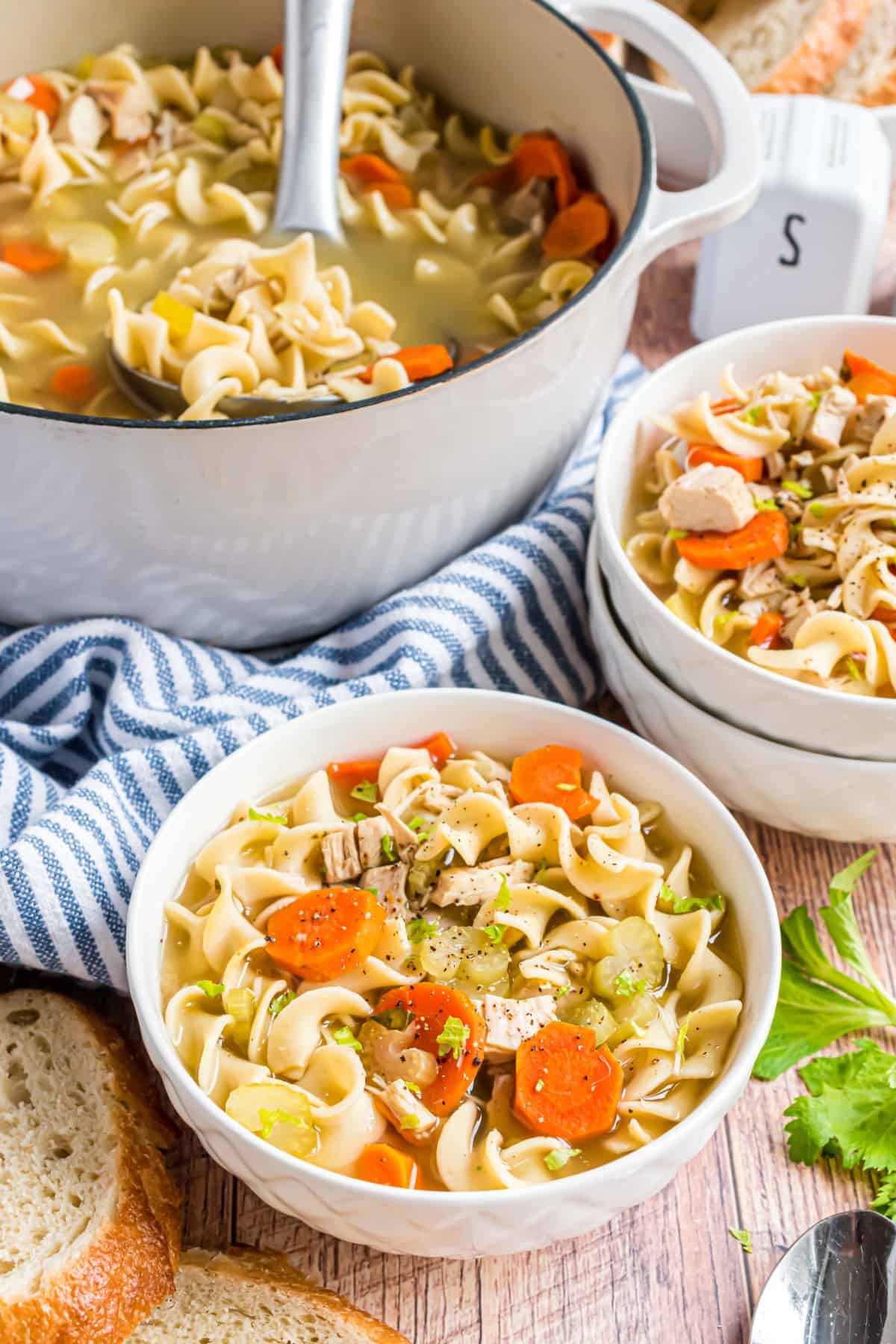 However you choose to serve your homemade Turkey Noodle Soup I hope you love it as much as my family does. We look forward to our post-Thanksgiving turkey soup just as much (or possibly even more) than the actual holiday turkey dinner!