Delicious homemade Peach Crisp topped with Breyers Gluten Free Vanilla. Fresh sweet peaches with the crumbly topping make this mouthwatering dish perfect. The ice cream melting on the warm crisp only adds to that perfection!
**This post was created in partnership with Breyers.**
Be sure to sign up for my email…new recipes in your inbox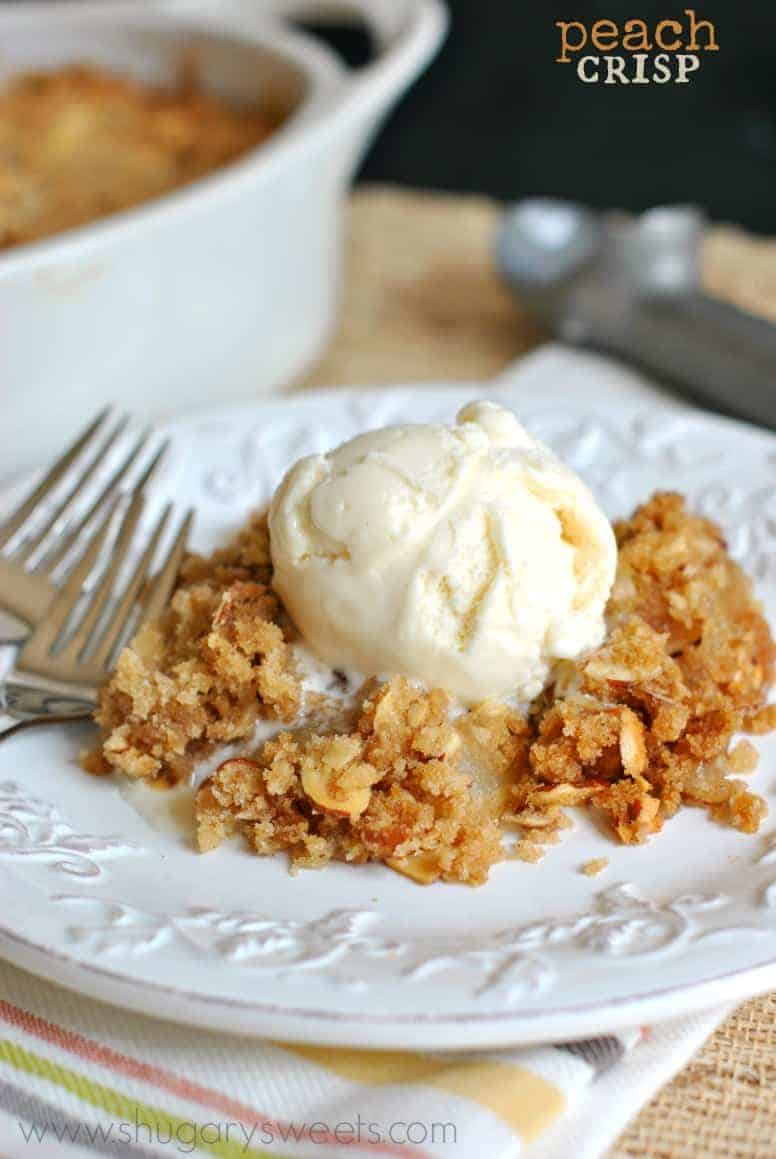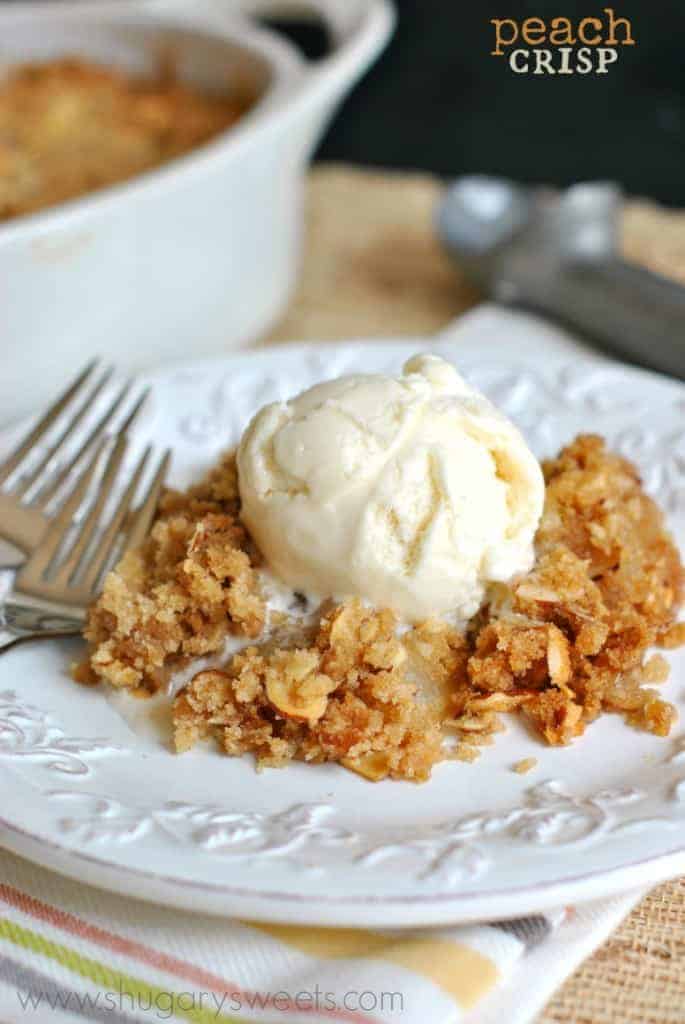 It's funny sometimes when I think about weather. And blogging. And here on the blog I might be whining about the heat of summer. Or the gorgeous fall days.
And I forget that some of you might not be from the midwest. That's midwest USA. There are many of you here from Australia, Europe, even Mexico. And while I'm blathering on about piles of leaves in my backyard…you're dealing with snow. Wait…is it snowing somewhere right now?
So roll call. Where are you all from and what's the weather like today? See in real life, if we were to sit down with a cup of coffee and dessert, we might start our conversation talking about the weather.
Since you can't be here in my kitchen (yes, that would be awkward, possibly even creepy), let's chat in the comments below!
But first, I know you came here for this gorgeous peach crisp right?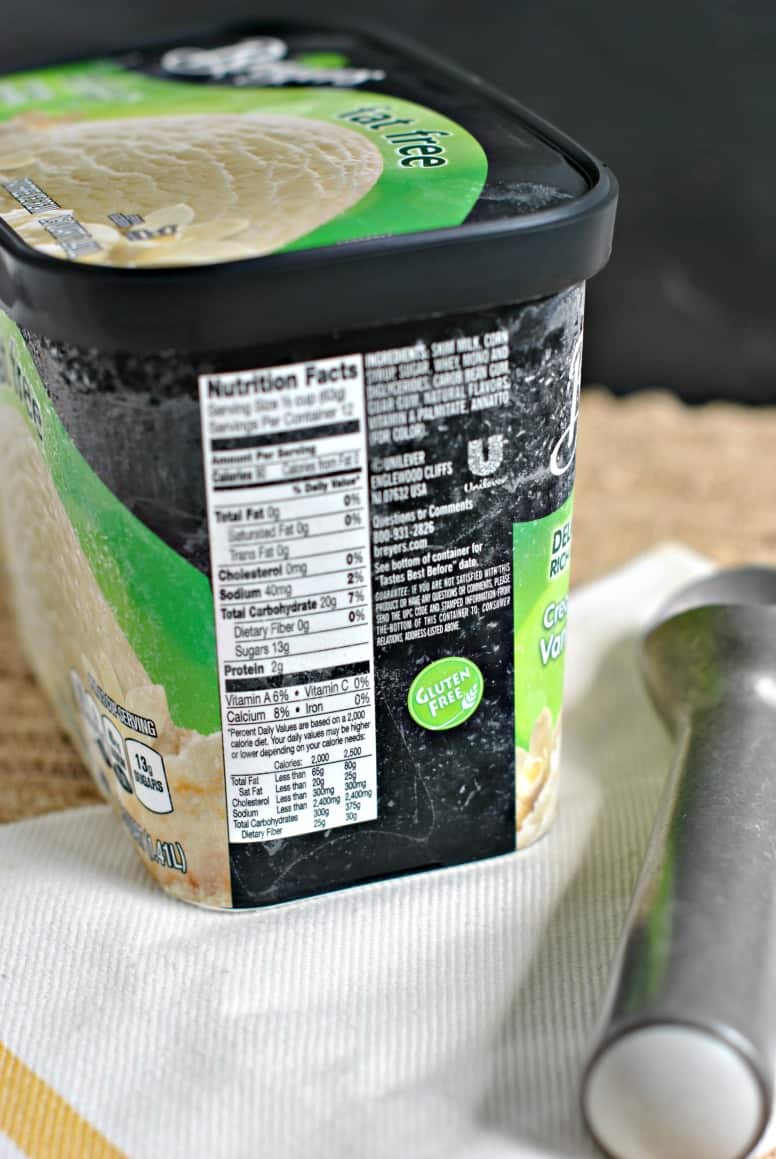 When Breyers contacted me about creating this Peach Crisp recipe using the Breyers Gluten Free Vanilla, I was all like, what??? The original recipe can be found here.
At first, admittedly, I was a bit nervous about making something with gluten free ingredients. I'll be honest, I've not specialized in that area on my blog.
But again, just like many of you are from different parts of the country, many of you also observe different dietary restrictions.
If you weren't aware, Breyers Ice Cream comes in 36 gluten free varieties. I found the fat free vanilla (GLUTEN FREE) for today's recipe, and it was creamy and perfect on the peach crisp!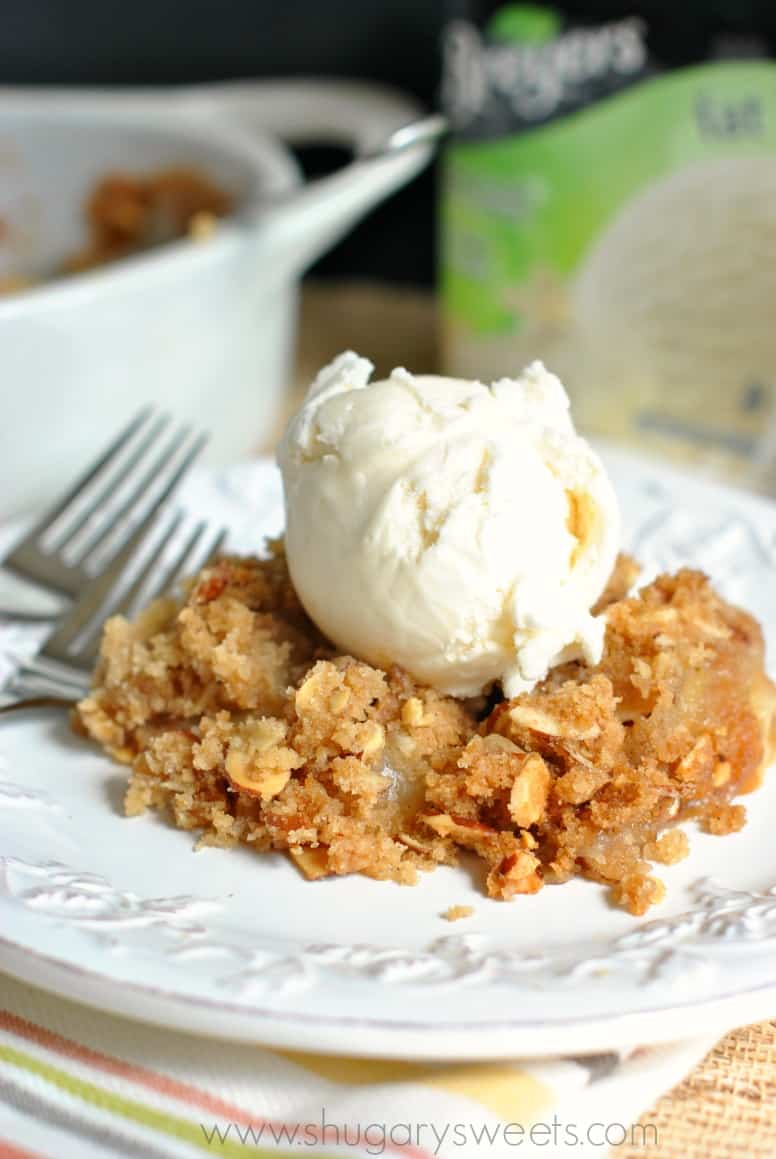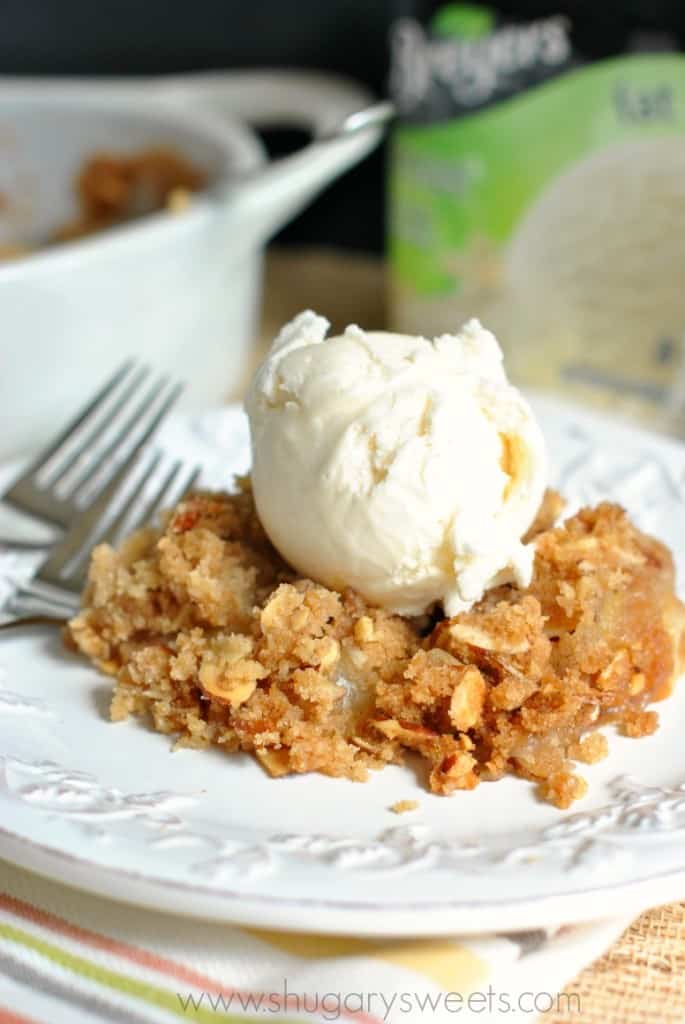 The recipe came together easily, using fresh peaches from the farmer's market. My peaches were so ripe, the skin peeled off in one piece. I found some gluten free baking mix in the grocery store and got to work.
Unlike the original recipe which called for 6 ramekins, I made mine in a shallow 2qt baking dish. I also used an extra peach, can't go wrong with more peaches right?
In addition to the vanilla extract, I tossed in some almond extract as well. I love almond extract, and I love the nutty flavor it gave this dish.
Of course, the scoop of Breyer's Gluten Free Vanilla when it came out of the oven was a necessity. Especially when you wait a few minutes and allow the hot peach crisp to melt the ice cream partially. The creaminess of the ice cream with the spices and fresh peaches…and the crunchy topping..OH MY GOSH!
I think this could be in our regular dessert rotation! No matter where you live in this big world of ours, peach crisp is a perfect dessert. Now, print of this recipe and get in your kitchen. Then, grab a cup of coffee and come back letting me know where you live, what your weather is like, and how much you ate of this delicious dessert!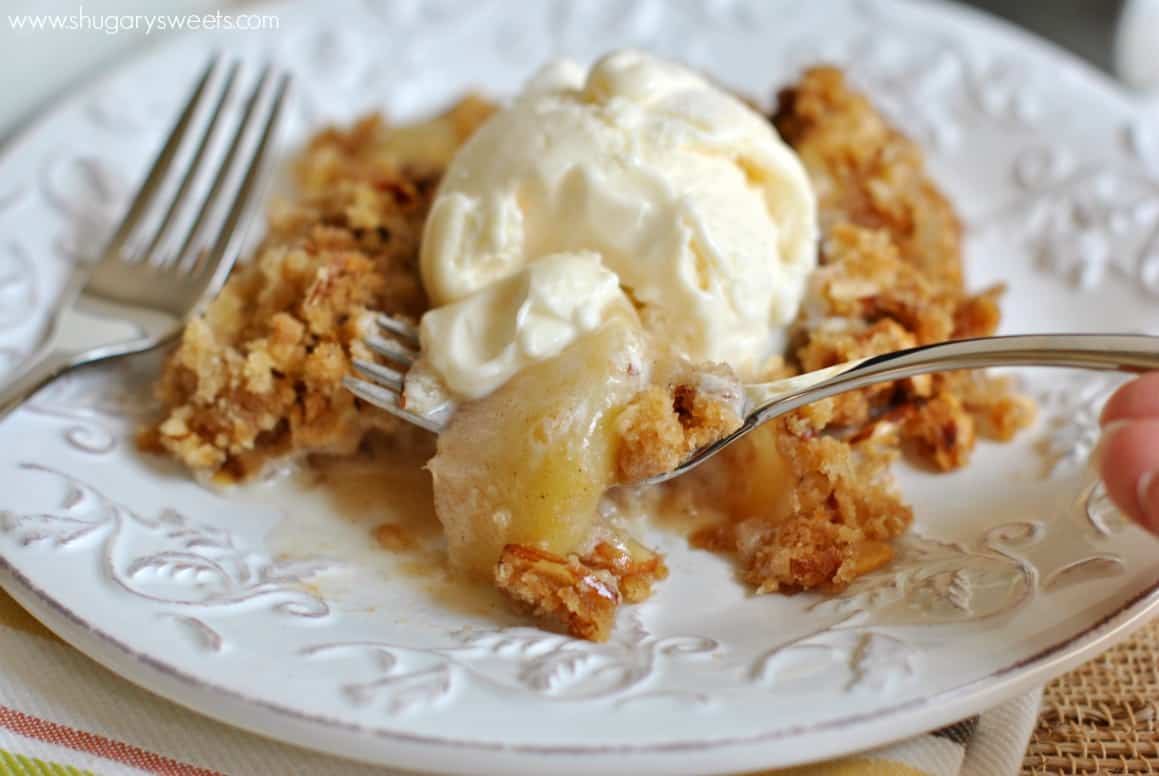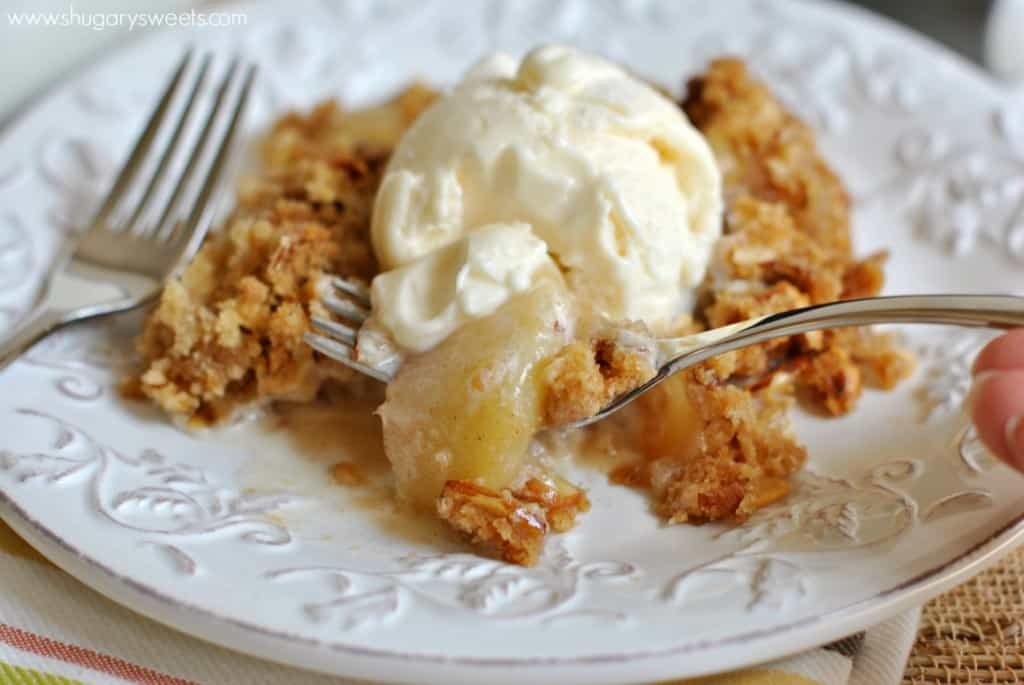 Connect with Shugary Sweets! Be sure to follow me on my social media, so you never miss a post!
Facebook | Twitter | Google+ | Pinterest | instagram | Bloglovin'
Yield: serves 6
Peach Crisp
Prep Time 10 minutes

Cook Time 40 minutes
Ingredients
4 large fresh peaches, peeled and sliced (or about 8 cups thawed frozen peaches)
1 cup gluten free baking mix, divided
1 cup packed light brown sugar, divided
1 tsp cinnamon, divided
1/2 tsp almond extract
1/4 tsp ground nutmeg
1/2 tsp vanilla extract
1/4 tsp kosher salt
1 cup sliced almonds
1/2 cup I Can't Believe It's Not Butter All Purpose Sticks, cut into 1/2-inch cubes
3 cup Breyers Gluten Free Vanilla (I used fat free)
Instructions
Preheat oven to 375 degree F.
In a large bowl, combine 2 Tbsp of gluten free baking mix, 1/3 cup light brown sugar, 1/2 tsp cinnamon, almond extract, nutmeg, vanilla extract and salt. Mix until combined. Fold in fresh peaches, gently. Spread evenly in a shallow 2 quart baking dish. Set aside.
In large bowl (I used the same bowl) combine the remaining gluten free baking mix with 2/3 cup light brown sugar, 1/2 tsp cinnamon and almonds. Mix gently. Add I Can't Believe It's Not Butter cubes and combined with a pastry cutter (or two knives) until mixture resembles coarse crumbs. Use hands if desired. Sprinkle over peach mixture.
Bake for 40-45 minutes, until bubbly. Serve topped with Breyers Gluten Free Vanilla.
Notes
recipe lightly adapted from Breyers
NOTE: Carefully read the ingredient statements on all food labels each time you make food choices and to ensure you are choosing Breyers Gluten Free  varieties.
 Connect with Breyers:
website | facebook | twitter | pinterest
**Today's recipe was created in collaboration with Breyers. While I received compensation to share the photos and recipe, all opinions are 100% my own**